Wedding Wishes and Messages: Finding "the one" is not an easy feat, and many people have to search long and hard for their soul mate. So celebrating the weddings of your friends and family members is something that should be important and cherished in your memories. Marriage is obviously a great day for the groom and bride as well, and so you want to give them your sincere congratulations for finding "the one". Well, with these messages, you can express how happy you are for the lucky couple, and you can give them encouragement to look towards their new futures. When it comes to giving these wedding messages to the bride and groom, it is better to prepare a card with a handwritten message on it to show your utmost sincerity. But you can also post these messages with a picture of them on Facebook or Instagram with your own unique tag, to spread the good news to the world.
Wedding Wishes
Wedding wishes always means you are thinking of the person and you wish them the best in the next chapter of life. Check out our big list of wedding messages.
Congratulations! We want you two to live happily and make many babies together.
Finally the two lovers have got their final destination. Wish you a very happy life together.
Congratulations! You have married for the first time. Let's also make it the last time.
Congratulations on your wedding, wishing you a very beautiful happy life ahead.
I hope you have the greatest wedding of all time. You are such an inspiring couple, and your love can only get stronger with time. Happy wedding!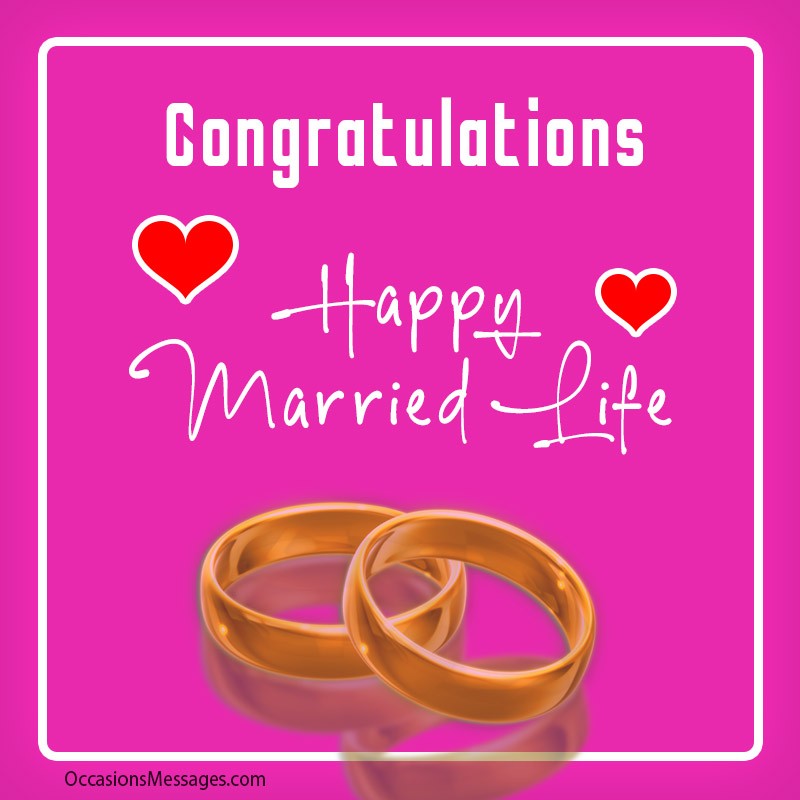 Congratulations on the beginning of something romantic and beautiful. Happy marriage.
Marriages are the association of two bodies, two hearts and two souls. May these two souls become one and their hearts be joined with eternal love, hopes and understanding. Congratulation to both of you.
You are an amazing couple and you deserve each other. I wish you have a beautiful married life.
Now it's one blood, one challenge, one focus and one life! Stay happy forever. Happy future together.
May the love that brings you two together today grow to a level that it will be immeasurable and inestimable. Happy married life.
As flowers grow beautifully in the fields, so shall your love grow for each other day by day. May you enjoy total happiness and good health. Congrats.
Congratulations. I wish you two luck, and remember that you are walking this path of life together.
You guys make me wish I had what you have. I fell lucky to be a witness to how much you love each other. May you remain healthy, wealthy and in love. Happy married life.
As you begin a new journey today I wish you an amazing, adventurous and an enjoyable journey all through, May your marriage be forever fruitful.
Happy Married Life. I hope that your future together will include prosperity, joy, and most of all, a love that never burns out.
Congratulations on your wedding. I support you all the way, and I know that you made the right decision.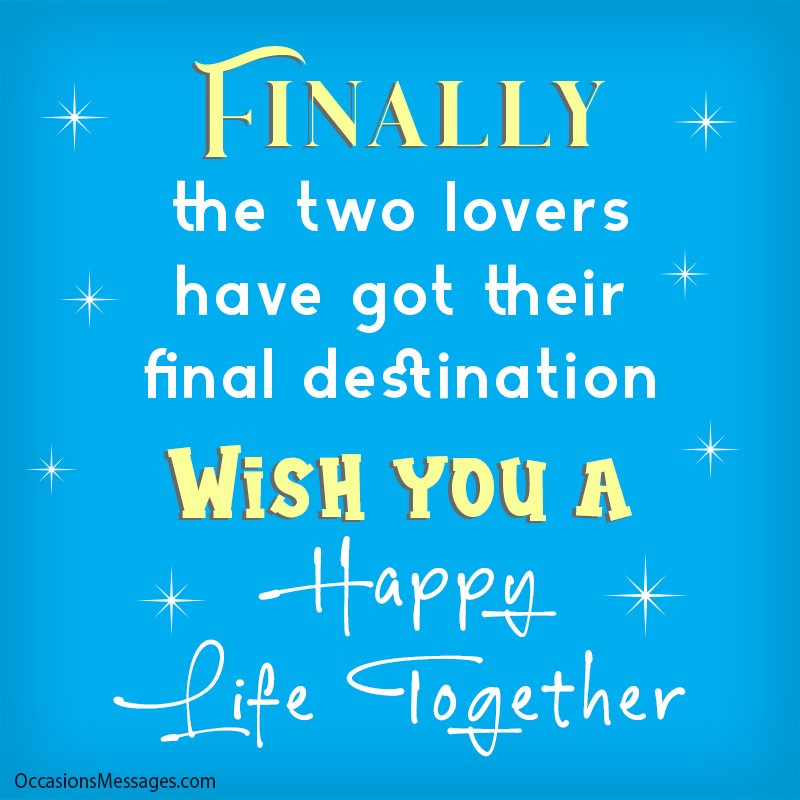 Like finding a needle in a haystack, it's not easy to find your soul mate. But you did! I am so happy for you, and I know that you two will have great lives together.
Congratulations. I can already see that you two have a bright future together, and you are going to light up this world. Go out and show them what love really looks like!
I am so happy for you two. But just some advice: never give up on romance. No matter how much time passes, I hope that you two will still find joy in each other and that your love will never grow stale.
Congratulations! I thank God that you have found the one that specially created just for you to love. Best wishes to both of you!
You both vowed today that till the day you die, you will love each other and protect each other. All I ask is that you two keep your promise to each other. Happy Wedding!
I thank God that you were able to find happiness and love. I pray that you will be a faithful spouse and a wise parent when the day comes.
There are many ways to show love and we wish you a ton of it on your wedding day.
Congrats on your wedding, you brought us all joy with the beautiful words you exchange, I wish you a happily ever after.
People say it's not possible to have a fairy-tale romance with anyone. But now you two can prove them all wrong. I wish you the best "happy ever after!"
I am extremely glad that you two married, and I hope that you two will chase after your happiness together. Best wishes.
May all of your memories be as sweet as honey. May your home never see bitterness. Enjoy your moment.
Read Also: 70+ Wishes for Newly Married Couple
Marriage Messages
Marriage messages should be heartfelt and sweet so that the person getting married to their love feels happy to be doing what they are doing. Here are the best marriage wishes.
Congratulations on your wedding. May God bless your marriage with boundless joy, fruitfulness, and favor.
You have just taken the next step of your life, but now when you look behind you, you will see two sets of footprints instead of just one. Congratulations.
Everyone here wants the best for you! So go out there and make yourself happy!
Congratulations on getting hitched! Now you have someone else to look out for, and to grow old with. I have no doubt that you'll be happy together. Cheers!
Happy wedding. I wish you long life and good health to enjoy everything you need in life.
Like the story of Romeo and Juliet and titanic, are true stories of endless love. So keep the love burning and History will be yours. Enjoy your marriage.
Cherish every moment today, cherish every moment tomorrow, and cherish every moment from now on. You both still have a lot of life to live. Enjoy the ride. Together.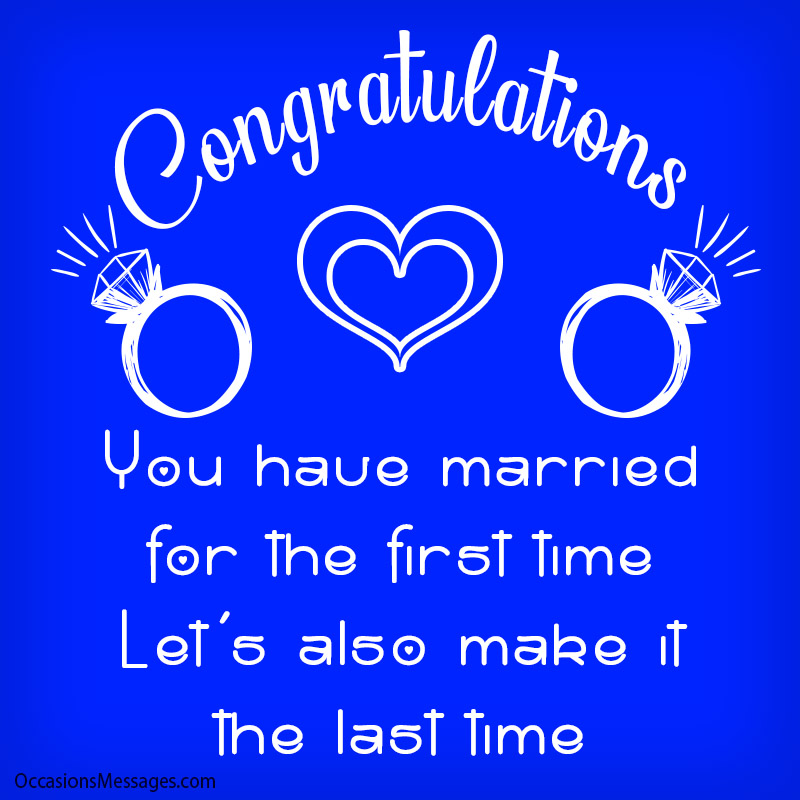 I promised you that I wouldn't cry but it won't be easy seeing as you are getting married. Congrats!
wo beautiful lives joint together where their beautiful heart will beat as one. May happiness, love, prosperity and good health be yours. Happy Married Life.
Congratulations on getting married. You're now going to spend the rest of life every single day, every hour, every minute, with your spouse.
I pray that your relationship with each other will stay stronger than steel, and that when the time comes, you will be good parents to your children.
I am so glad that you found the one that will always remain beautiful to you even after they lose hair and get wrinkles. You are so lucky that you found someone who you can hold hands with forever, and remember to never let go. Congratulations.
Congratulations! May your married life begin with unconditional love and ends with forever love. Enjoy your new home.
I will forever celebrate your union for it is pure, great and admirable, may you grow as a team and may favor and fortune follow you. Congrats!
Beautiful ceremonies are made of beautiful people, thank you for inviting me to your wedding; it was simply breath-taking. Congratulations!
You will experience an intense amount of love today. I will try not to cry for you. Happy marriage.
May all the stars shine bright for you, may everything you've ever hoped for be found in today's union and may you always be in love with each other. Happy marriage!
I believe congratulations are in order, I am happy to see you two finally making it official. I wish you years of happiness and unforgettable fun. Be blessed.
Today reflects how a marriage should be; I envied you and your spouse walking on the aisle. You were just too adorable. Happy Married Life.
Finally, you have found your true soul mate, In whom you entrust your heart forever. I wish you the very best for your future.
You mean so much to me and all I want to do is to see you happy. Enjoy your wedding day my dear.
You both look so perfect for each other. As you take this step always look forward to a wonderful future. Congratulations!
Wishing you both a happy wedding. May you have a peaceful home and may God true love be with you. Congratulations!
Related: 80+ Funny Wedding Wishes and Messages
Wedding Wishes for Groom
Here are some cute list of wedding congratulations messages for groom. For more options, see 100+ wedding wishes for groom.
Oh man, you are getting married. There's a lady who is lucky to have you. Don't ever forget that, now go get her, she's waiting for you. Congratulations to marriage.
She seems like the one you have been searching for all your life. Congrats my dear, I am happy you finally found the woman of your dreams.
You are going to have the best wedding of all time my friend. Just know that we got your back like a chiropractor. Happy married life.
My love, I thank you for giving me this special honor to be your wife. I promise to stand by you no matter what storms we have ahead. I love you so much.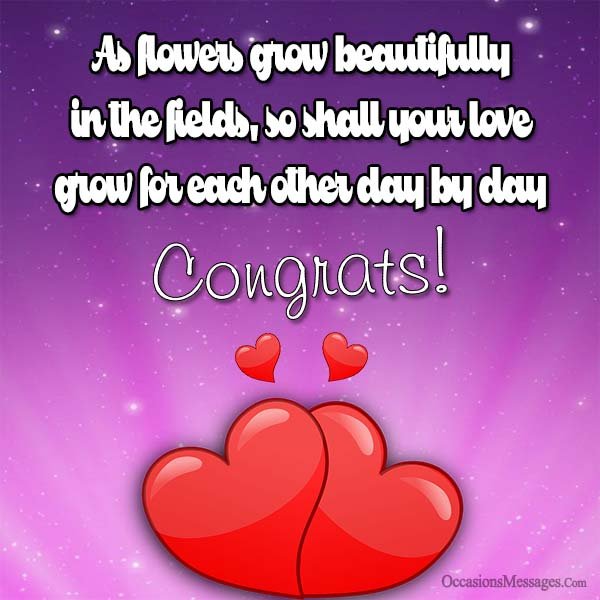 We have had some wild times as single men but now you are starting a family. We wish you the best marriage of all and don't ever forget you got us. Congratulations!
We wish you the happiest of weddings. We have known you for a very long time and you are an incredible man. So don't ever doubt yourself for a second. Happy married life.
May all of our days together be as beautiful, amazing, and full of cherished memories. To our future together as husband and wife, I ask for the blessing of God to fill our lives forever.
A groom today, a husband tomorrow. I still can't believe it. Well, it doesn't change the fact that we wish you the best of marriages. Have the best one!
You truly deserve a wonderful wife. You have been a very good role model to us. With your big heart filled with love, may you enjoy love to the end of the world. Congratulations!
 A beautiful home is always created. May you be the best husband to your wife and the best father to your kids. Congratulations!
Wedding Wishes for Bride
Here are some heartfelt and sincere wedding congratulations messages for bride. For more ideas, 90+ wedding wishes for bride.
And just like a fairy tale, the beauty fell in love with the beast and they lived happily ever after, congrats dearest, you've tamed the beast. May your marriage flourish!
Congratulations! May your love continue to shine as you journey through life together with your husband, May smiles always be upon your face. Best wishes to you beautiful bride.
May you get the best out of life as you tie the knot with the man of your dreams; he is yours forever and always, be proud of him. Congrats on your beast beauty.
Girl, you look beautiful today. Your dress is on point, your make up is on point, and your shoes are on point. You have an incredible wedding happening and you will get married to an amazing man.
You look great! We don't have to have you worry about anything today. We just want you to have a happy marriage to an amazing man. We love you!
May today's "I do" mean more to you than any other words said, I hope you have a happy and fruitful marriage my dears.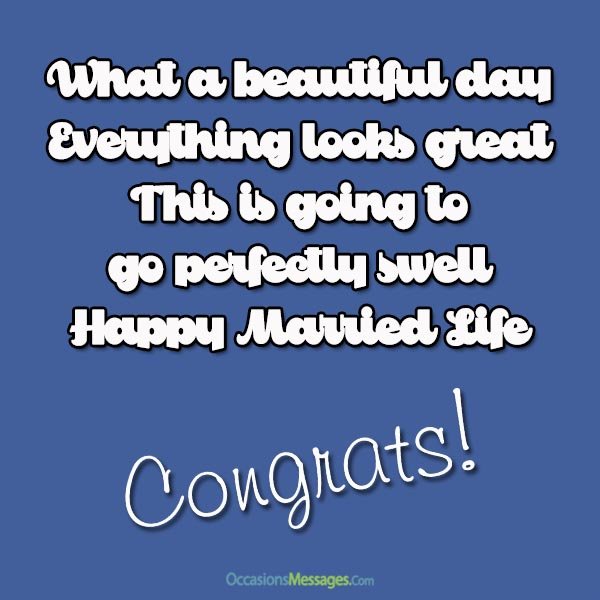 I know your heart may start skipping beats when you see him walking to you. But that's what this day is all about. Have a great wedding girl.
A girl dreams about this moment for a very long time and now you got it! Have a happy life together. I hope that this will be everything you hoped for and more.
What a time to be alive! You are going to have a beautiful wedding without a doubt. You look absolutely beautiful and you couldn't make a man happier. Have a happy married life.
I know that this might be a scary moment but at the same time, it is a very happy time. The bells are ringing for you girl! You are the star of this romance. Congratulations to marriage.
Wedding Wishes for a Friend
Here are the best wedding wishes and messages for your friend and best friend. For more wishes, check out 90+ wedding wishes for friend.
My friend, may the happiness of today follow you always on your journey. Congratulations on the wedding!
My special friend, words can't express my deepest joy of witnessing you tie a knot with your beautiful wife. Enjoy your marriage life.
Congratulation friend happy married life. Take notice, your wife will not always look beautiful like she looks today but nonetheless, appreciate her endlessly. I wish you all the very best.
Dear friend. Congratulation on the big step you are taking. I have seen you together and I am assured you were meant to be together. I wish you nothing but happiness joy and a lot of love.
This union is between my two closest friends. I will always be here whenever you guys need me. But I have a feeling that I will always need you more. I love you guys.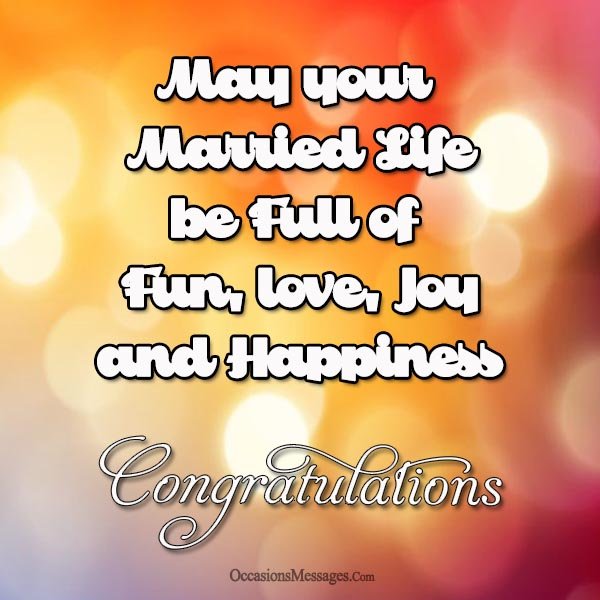 You deserve every bit of joy you are feeling right now. Wishing you a very happy married life my friend and may your life's dreams and hopes come true. Happy Married Life! Brother.
May your love never fade, May the days always be bounty and may you always be the reason why the other smiles and is thankful. Have a blessed marriage my friend.
May there be an ornament like a shining star, may there be a cloud of fragrance flowers, and may great amount of happiness enter the home that you get married. Wish you a very happy life together.
I'm so happy for you guys, may your marriage flourish and may you always have each other for all eternity. Happy married life.
Life is full of sweet memories and forever moments, this is definitely one of them, may you always remember the reason you said I do today. Have a happy marriage dear!
Newly Married Couple Wishes
Wedding Wishes for Newly Married Couple: A marriage is the beautiful journey of two hearts and souls; it is filled with new beginnings, new hopes, feelings and glimpses of dreams, yet to come true. Here are some lovely messages.
Cheers. To the loveliest newly married couple in the world. Best wishes.
I am very thankful to God for making this day special for you both. Wishing you all the best for your future together.
Happy marriage, happy home and happy ever after, may today be the best day of your lives, may you find more than one reason to enjoy and make merry.
Congratulations on your marriage. Wishing a very happy married life with lots of joy, pleasure and good memories.
Always thank God you found each other, for that is the true reason why falling in love becomes the best feeling ever. Happy wedding.
I am happy to be a witness to this spectacular union between you two. I wish you the very best marriage life has to offer. You are the best.
Some get scared when they hear of marriage forgetting that for it to work; it needs belief from both sides. When you believe and give no room to doubt, it always works. Happy married life.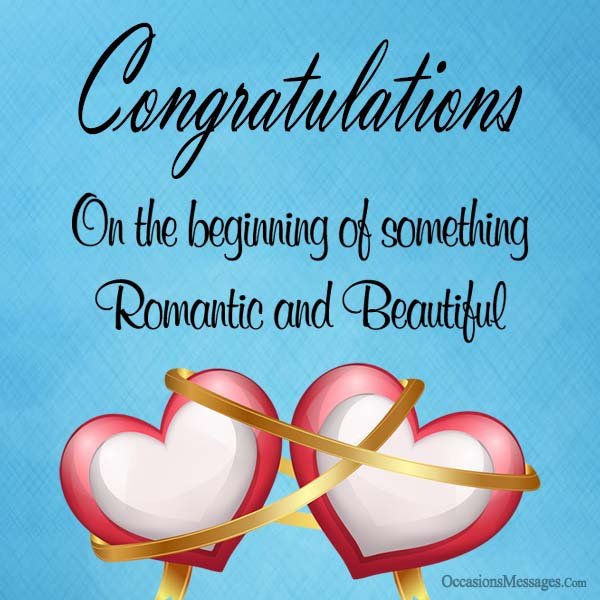 I'm very happy for this special day of your beautiful and amazing wedding. May God bless and unite your hearts together to the end.
Time moves fast when you are in love. You are now getting married and I wish you the best day of your life. May this day be as you have always dreamed of and may all you expected come to pass.
Memories are to be made, family to be started. Today marks the beginning of the times. This wedding is the celebration of it. All the best in your life together.
Congratulations Messages
Wedding Congratulations Messages. There are a lot of things you could say but for the day wish them the best and show your love and support. Choose one of these messages; they might help get your message along.
Wow! This is going to be a beautiful day for you. You are going to have a wonderful ceremony, you are going to look amazing and we are all going to be here for you. Congratulations.
Man, we used to have some wild times together. I hope you have an incredible wedding and a satisfying marriage. Don't ever forget, you got us as friends.
What a beautiful day! Everything looks great. This is going to go perfectly swell. Have a happy future together!
You really do show the true definition of love. Its loyalty, its strength, its togetherness, it's a feeling you will never forget. I wish you a happy marriage.
We wish you guys the happiest of weddings. We want you to know what love is and hope you can't get enough of it.
It gives me so much joy to see you two together. I knew you two would get married someday. I wish you all the very best in your marriage, May the fire of love always burn.
Wow, today is the day you are getting married. They say you meet your significant other as an angel from the heavens. But the truth is, you two spent an amazing amount of time. Best wishes to you two!
Listen, you look like a million bucks, your friends are for you, your family is here for you, I'm here for you and there is a lovely woman ready to have her whole life with you. Don't stress it. We got you.
Let us get ready to sing and cheer as you two will walk down the aisle! A toast to a wonderful wedding!
Not many days on this earth can compare to this one. Getting married is an experience unlike any other. So, we wish you the happiest of marriages.
Read More: Advance Wedding Wishes and Messages
Wedding Wishes From Parents
Here are some wedding congratulations messages for bride and groom from parent.
The moment I met you both, I realized your hearts was with each other. Congratulations on your wedding.
Hope you find peace, love, and fulfillment in each other and to enjoy your lives together like never before. May your wedding bring you all blessing in life and may you be blessed with kids.
True love makes you restless, a feeling that has no definition but makes you feel beautiful. It's time to wear the crown of pride on your head, enjoy it, and have a fantastic married life.
My heartfelt congratulations to you my daughter, you have really made us proud. Love your husband and give him a happy home. Happy married life. My princess.
My warmest love and gratitude go to your family, for raising a wonderful person like you. May goodness and mercy follow you both. Enjoy your marriage.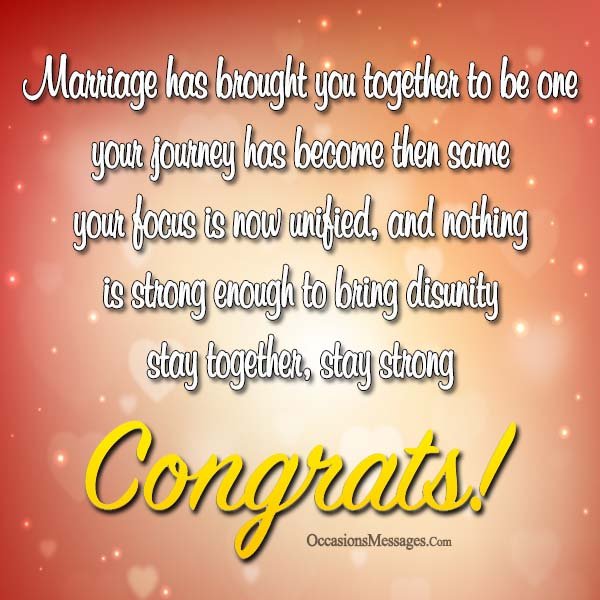 Congratulations! You're now married, and you have united together with your soul mate. But keep in mind that by marrying each other, you united something else, Your families.
The woman is the reflection of her man and vice-versa, your love for one another should be limitless, through this, all obstacles will be triumph able. Happy married life.
Today is going to be the day, a new family is born. We couldn't have lovelier days on the earth. The both of you are going to have a lovely marriage and we wish you the best of days.
Today is the day you have been planning for a very long time. You are getting ready to start a family, have healthy babies and have a long love such as life. I don't expect anything else from you.
You are going to have a great wedding. You are going to marry the man of your dreams. We wish you a satisfying love life. Congratulations to marriage.
Wedding Messages for Family
Need some sweet wedding messages for all your family members? We've got you covered.
We wish you a happy married life dad! You are going to look great in your tuxedo, you will have so much swag, and you won't even break a sweat. Enjoy it!
Feel like eating at a restaurant, you go with your wife. She is your utmost priority, we are still in the game, no hard feeling bro Enjoy your home!
A love that will be consummated through a wedding. That's going to be you man! I'm still shocked but I wish you the best. All love being sent your way. Congratulations to marriage father.
Have a happy life my mom. You do not get many moments like this in life. But today, you will get to experience something truly rare. Congratulations!
On this day, I hope you celebrate the birth of your life together. You are joined in holy matrimony and nothing can ever come between you two. Cheers.
You look fabulous, absolutely stunning. That man who will be walking his way to you will not be able to resist you at all. Happy married life mother.
As beautiful as today is, as wonderful as you both feel and as gorgeous as you look together. Congratulations son. Stay happy forever.
I remembered when you were little; you used to play act your wedding. Now you are actually here and I know it will go well. You have definitely practiced enough. Happy wedding son.
It's a special day for the most important people in my life. Today is just the beginning of your life together. I love you guys and I wish you nothing but the very best. Happy married life son.
Daughter, remember to always submit yourself to your groom he is your lord, love him like he is your missing half, make him your hero. Congratulation on your wedding.
I know that this day has been stressful in terms of planning. You have done enough worrying as now it's the big wedding day. Trust me; it will go off without a hitch. Happy Married Life daughter.
Have a happy marriage girl! You are going to look great, with all your friends and family here to support you. We know that this day will be incredible.
Bro. I am happy for you, it's your day. Remember we are no more your first priority, it's your woman. Congratulations on your wedding.
They say he who finds a good wife finds a good thing. I could see the joy in your eyes and I knew you found the best. You choose her, she chooses you. You are one, have a happy marriage my brother.
I see the love between the two of you and I know your marriage will last of lifetime. I hope to celebrate much of your anniversaries. Congratulations brother.
You two love birds made for each other, I wish your lives be filled with eternal love, happiness, joy and pleasure. Wishing you both a very happy new beginning with hopes and love. Happy wedding.
Weddings are Splendid but the people who make their union are what that makes the day specials. Cheers mates. have a happy marriage my sister.
Marriage is a beautiful union. You made it spectacular. Today is your wedding and I wishing you all the best sister.
Just seeing you together give me envy. I wish I can find what you have. I know you will be happy together forever. Congratulations uncle.
We can hear the bells ringing. You know what that means right? You two have now become one. Happy married life aunt.
Congratulations nephew. I wish happiness, joy and love, now and forever.
Thank you for making me one of those who witnessed the beautiful wedding ceremony, to forever more. Congrats my darlings niece.
A beautiful ceremony, a new found love, the beginning of a family. This is what weddings are all about. Happy married life cousin.
More Options: 60+ Belated Wedding Messages
Funny Wedding Wishes
Here are some cool list of funny wedding messages and wishes. Make them laugh.
All right, it's the day you have been waiting for! Let's hope you don't trip on the way to the altar. That wouldn't be fun. Have a great one!
Congrats! You are getting married. We are never going to see each other again! heheh. I'm just kidding. Maybe.
This is like a Disney movie, minus all the fluffy singing animals. Have a happy future together.
I hope you have a great wedding. I hope you get the best handcuffs! I mean wedding ring, ever! In all seriousness, I hope you are truly happy. That's all I want for you.
Today is the beginning of a lifelong war. Prepare the guns, sharpen the swords and ready the battle plan! You must be ready! Now I'm kidding. We don't have any swords. Congratulations!
I'm so glad you got married first. Now I know how much I need to save up for this big event. Thanks! And congrats!
Today is the day you will enjoy the rest of your life. Now you will get old and fat together! YAY! All jokes aside, I wish you the best wedding ever!
Remember when you get into the wedding limo; make sure your dress is not in the door frame. Happy married life.
You are getting married! Woo! That means. All the romantic dinners with cuddling ever. Yay.  Happy wedding.
Now that you are married, you have to tell her your vows. You should definitely promise that you won't get a beer belly. Trust me. Add a smile face on the paper. You got it.
Long Wedding Messages
Here are some long wedding congratulation messages and wishes.
Through marriage, you two have already begun to grow and take root as a tree that will only grow larger from here. I hope that together you two will be strong like the trunk of an oak tree, and that your arms will be supportive to your children like branches. I hope that no matter how strongly the wind blows, or how harshly it rains, that you will stand strong through it all and that your love will be like leaves that will be like a shield.
Love is eternal and it is forever. The two of you should always seek to love one another on a daily basis, you should always seek to support one another every time, bear your spouse when they seem unbearable, stay together when you find it difficult to understand one another, don't give room for hatred, don't harbor what you need to share, talk about everything. happy married life.
Marriage is like when two great chefs are coming together to form a partnership in other to cook a nice delicacy, but no matter how good the two chefs are they can't cook a nice meal without the right ingredients. The ingredients for a good marriage are patience, endurance, self-sacrifice, dedication and endless love. Have a great life together.
Your love is a favor done unto me, for me, you are the break of morning and the enchanted evening. As long as I live, may my abode always be in your heart and I will never care for any dwelling. You are my life and on this special day you are with me, Happy Wedding Anniversary to my beloved husband.
In the drum is rhythm, in the anklets are jingles, The bride is in a veil, in the groom's head piece is the groom, Wherever you both go, may springtime spread, May they only get the happiness, my heart has made a prayer, My heart is happy, for I have decorated the party with songs, may they Color this spirit and life in only love's colors. Happy togetherness. Congratulations on your wedding.
Happy Married Life Wishes
Many more wedding wishes and happy married life messages for all.
Marriage has brought you together to be one, your journey has become then same, your focus is now unified, and nothing is strong enough to bring disunity stay together, stay strong.
I wish you luck in your future endeavors, but remember, you're not alone now. Remember to encourage and support each other in everything that you both do, and don't expect everything to be perfect.
May happily ever after follow you throughout your marriage, this is my wedding wish for you. Have a great honeymoon, bring us back lovely photos.
Eventually, I can see smiles on your face. May this bold step bring you all happiness of life and you both get all the satisfaction throughout your life. Have a happy married life together!
It is a beautiful day to be celebrating the most beautiful couple I know of. Have a blessed and amazing wedding, may each day be better than the last. Congrats my dears!
People say wedding is for the hardworking ones, but with love in your heart every hard work becomes easy. Have a blissful home my friend.
Wishing a very happy marriage to you guys. May this journey bring a lot of happiness, peace, pleasure and success. May God shower all His blessings to this wonderful couple and maintain a balance of love between both of you. Congrats.
Men and women have paired up since the beginning of time, now you two will continue the tradition. Happy married life.
Marriages are settled on skies. May God guide this couple with happiness, peace, love and pleasure. No sorrow comes enter in their lives. Wishing you both a lifetime of togetherness.
Marriages are one of the most precious and sacred blessings of God in this planet earth and you both are blessed with this event, share your happiness, love and togetherness. Happy married life.
Living with each other is going to bring up little annoying things that you never noticed before about your spouse… But if you really love them, you'll love every annoying little thing about them as well. Welcome to the life of the married!
I remember when I first heard you are a couple. I closed my eyes and wished you'd get married because I saw how much you meant to each other. My wish came true, and I know my wish for you to be happy also will.
Now that a new journey has commenced, you too must seek to outdo one another in showing honor and kindness to yourselves. That is the only competition you should engage in. stay blessed forever, happy married life.
You have made it this far, you have crossed the finish line. How I adore you guys, you made it. Am so proud of you, I hope you stay happy, all the days of your life together.
It's your wedding, the day you having been preparing ever since you were a little girl. It looks beautiful. You look beautiful I wish the happiness of the day the joy of the night and the love of lifetime.
My eyes used to smile but sometimes have moisture inside them, I had everything in my life but there is a lacking of you, what else I need for my life. You came in my life and my colorless life become colorful. Happy wedding anniversary.
It's time for your marriage! Now we get to enjoy as we want! Woo! Congratulations on your wedding my friend.
May your love never fade and may it blossom into off springs that will have each of your best features, this is my wedding wish for you dears.
Marriage is like a challenge, most people do tryouts, but only a microscopic few are successful. I solely believe in you guys to perform excellently well.
Today is going to be a day to remember for the rest of your life. Marriages are often a beautiful moment, full of joy, love and promise. Everyone who goes to this big ceremonial event gets to see a great act of love. There is so much preparation, planning and stress, you can't help but smile when you see those that will be getting married finally get to that altar. I promise that this will be a fun day for you as well as you get to dress up to the occasion. You will want to write some well made wedding wishes and we got you covered!