Today is going to be a day to remember for the rest of your life. Marriages are often a beautiful moment, full of joy, love and promise. Everyone who goes to this big ceremonial event gets to see a great act of love. There is so much preparation, planning and stress, you can't help but smile when you see those that will be getting married finally get to that altar.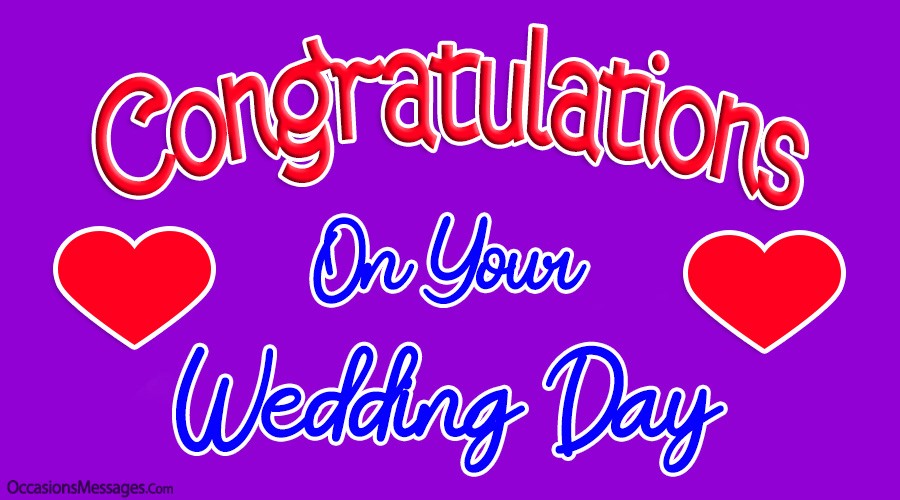 I promise that this will be a fun day for you as well as you get to dress up to the occasion. You will want to write some well made wedding wishes and we got you covered! Come and check it out!
Wedding Congratulations Messages
Come on! Let's get this celebration on the road. We want to see you two become one already. Happy married life.
Have a happy marriage! We want you two to live happily and make many babies together.
The woman is the reflection of her man and vice-versa, your love for one another should be limitless, through this, all obstacles will be triumph able. Happy married life.
Today is going to be the day, a new family is born. We couldn't have lovelier days on the earth. The both of you are going to have a lovely marriage and we wish you the best of days.
Marriages are one of the most precious and sacred blessings of God in this planet earth and you both are blessed with this event, share your happiness, love and togetherness. happy married life.
Marriage is a union between two people who are in love. It is a bound by trust, faithfulness and loyalty. I wish you remain as happy forever as you are today.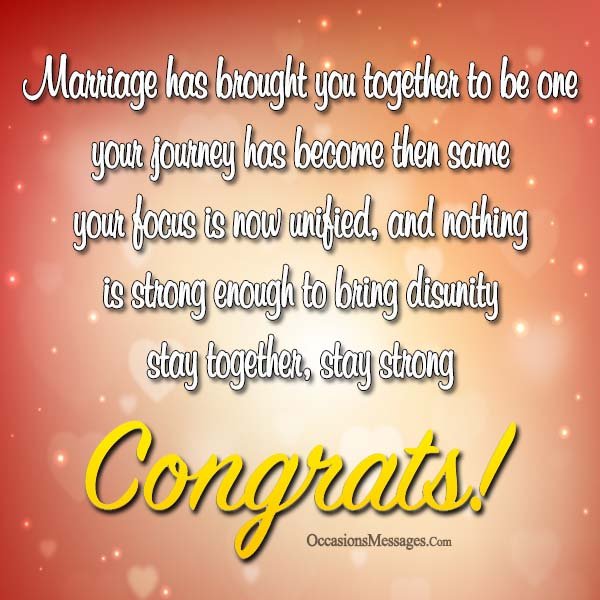 I hope you have the greatest wedding of all time. You are such an inspiring couple, and your love can only get stronger with time. Let us see to it that you have an unforgettable day. happy marriage.
You do not know what may happen tomorrow. But today we wish you a happy life together. We wish you the strongest of love.
Marriages are the association of two bodies, two hearts and two souls. May these two souls become one and their hearts be joined with eternal love, hopes, understanding and passions. Congratulation to both of you on this wedding journey.
Finally the two lovers have got their final destination. Wish you a very happy life together.
You are an amazing couple and you deserve each other you are sweet you make each other smile. That is the best part of you. I wish you have a beautiful married life.
May you both maintain the divine promises and vows of marriage. Congratulations on your wedding, wishing a very beautiful happy life ahead.
Now it's one blood, one challenge, one focus and one life! Stay happy forever, happy married life.
Short Wedding Wishes
Congratulations on the beginning of something romantic and beautiful. Happy marriage.
Cheers. To the loveliest newly married couple in the world. Cheers.
You will experience an intense amount of love today. I will try not to cry for you. Happy marriage.
Men and women have paired up since the beginning of time, now you two will continue the tradition. Happy married life.
Everyone here wants the best for you! So go out there and make yourself happy!
Never has a day arrived like a wedding. Now yours is here and we wish you a marriage full of love.
I promised you that I wouldn't cry but it won't be easy seeing as you are getting married. Enjoy my friend.
There are many ways to show love and we wish you a ton of it on your wedding day. You got this!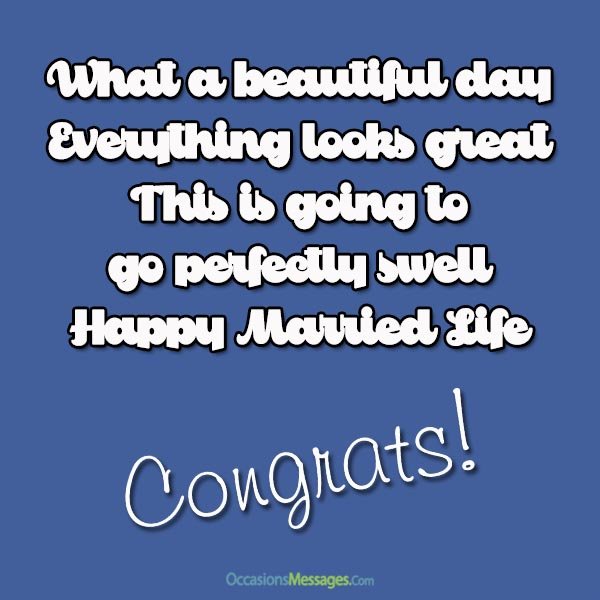 Funny Wedding Wishes
All right, it's the day you have been waiting for! Let's hope you don't trip on the way to the altar. That wouldn't be fun. Have a great one!
Today is the day you will enjoy the rest of your life. Now you will get old and fat together! YAY! All jokes aside, I wish you the best wedding ever!
Remember when you get into the wedding limo; make sure your dress is not in the door frame. Happy married life.
I hope you have a great wedding. I hope you get the best handcuffs! I mean wedding ring, ever! In all seriousness, I hope you are truly happy. That's all I want for you.
Today is the beginning of a lifelong war. Prepare the guns, sharpen the swords and ready the battle plan! You must be ready! Now I'm kidding. We don't have any swords. Congratulations to marriage!
You are getting married! Woo! That means. All the romantic dinners with cuddling ever. Yay.  Happy wedding.
I'm so glad you got married first. Now I know how much I need to save up for this big event. Thanks! And congrats!
Wedding Wishes for Groom
Oh man, you are getting married. There's a lady who is lucky to have you. Don't ever forget that, now go get her, she's waiting for you. Congratulations to marriage.
You are going to have the best wedding of all time my friend. Just know that we got your back like a chiropractor. Your lady is waiting. You got this. Happy wedding.
All right, let's have a quick talk. If you ever feel like you got cold feet, the reality is you got ice in your veins. You are as cold blooded as they come. You are a sexy looking man and your future wife can't wait to see you.
We have had some wild times as single men but now you are starting a family. We wish you the best marriage of all and don't ever forget you got us.
We wish you the happiest of weddings. We have known you for a very long time and you are an incredible man. So don't ever doubt yourself for a second. Happy married life.
A groom today, a husband tomorrow. I still can't believe it. Well, it doesn't change the fact we wish you the best of marriages. Have the best one!
Wedding Wishes for Bride
Girl, you look beautiful today. Your dress is on point, your make up is on point, and your shoes are on point. You have an incredible wedding happening and you will get married to an amazing man.
You look great! We don't have to have you worry about anything today. We just want you to have a happy marriage to an amazing man. We love you!
I know your heart may start skipping beats when you see him walking to you. But that's what this day is all about. Have a great wedding girl.
A girl dreams about this moment for a very long time and now you got it! Have a happy life together. I hope that this will be everything you hoped for and more.
What a time to be alive! You are going to have a beautiful wedding without a doubt. You look absolutely beautiful and you couldn't make a man happier. Have a happy married life.
I know that this might be a scary moment but at the same time, it is a very happy time. The bells are ringing for you girl! You are the star of this romance. Congratulations to marriage.
Wedding Wishes for Best Friend
Congratulation friend happy married life. Take notice, your wife will not always look beautiful like she looks today but nonetheless, appreciate her endlessly. I wish you all the very best.
May you always remain in the midst of happiness, may no sadness or any grief come near you, may age have no impact on you, May this prayer of mine become true, may God always keep You smiling, As You are always smiling. happy married life my dear Friend.
Dear friend. Congratulation on the big step you are taking. I have seen you together and I am assured you were meant to be together. I wish you nothing but happiness joy and a lot of love.
This union is between my two closest friends. I will always be here whenever you guys need me. But I have a feeling that I will always need you more. I love you guys.
This time is so beautiful, let me sing and dance in ecstasy and allow me to say what I have in my mind. This is the, I was waiting for, today is the wedding of my best friend, lets party begin and may God join this togetherness forever. Happy wedding.
May there be an ornament like a shining star, may there be a cloud of fragrance flowers, and may great amount of happiness enter the home that you get married. Wish you a very happy life together.
Cute Wedding Wishes
This day is blessed, the union of two great people that is what I see. I will forever pray for the best. I love you guys so much. I hope you do enjoy the times.
There are many moments in time that will become invincible memories. They will be moments were we live forever. This day will be one of those days. We wish you both the happiest of marriages.
I never knew when this day would come for you. But now that it has, we don't know what to do other than to be really proud of you. Go out there and meet your beloved! congratulations on your marriage.
You guys make me wish I had what you have. I fell lucky to be a witness to how much you love each other. May you remain healthy, wealthy and in love. Happy married life.
As you begin a new journey today I wish you an amazing, adventurous and an enjoyable journey all through, May your marriage be forever fruitful.
May the Love that brings you two together today grow to a level that it will be immeasurable, inestimable and inexhaustible. Happy married life.
Romantic Wedding Messages
Marriage is an honourable thing between man and woman; you make it a worthwhile by learning to please one another always. Happy married life.
To the newly wedded couple, just one advice for you appreciate yourselves every time, respect yourself every time even when you make mistakes, correct yourselves in love and give yourselves reasons to smile always.
I am happy to be a witness to this spectacular union between you two. I wish you the very best marriage life has to offer. You are the best.
Some get scared when they hear of marriage forgetting that for it to work; it needs belief from both sides. When you believe and give no room to doubt, it always works. Happy married life.
Time moves fast when you are in love. You are now getting married and I wish you the best day of your life. May this day be as you have always dreamed of and may all you expected come to pass.
Memories are to be made, family to be started. Today marks the begging of the times. This wedding is the celebration of it. All the best in your life together.
Wedding Wishes for Family Members
Wedding Wishes for Mom
On this day, I hope you celebrate the birth of your life together. You are joined in holy matrimony and nothing can ever come between you two. Cheers.
Have a happy life my mom. You do not get many moments like this in life. But today, you will get to experience something truly rare. Congratulations!
I am so happy that you got married! Now I get to have all the drinks I want for the next couple of days! Woo! Congratulations to marriage.
A marriage is the beautiful journey of two hearts and souls; it is filled with new beginnings, new hopes, feelings and glimpses of dreams, yet to come true. Many congratulations to both of you on your wedding. Have a peaceful life ahead.
You look fabulous, absolutely stunning. That man who will be walking his way to you will not be able to resist you at all. Trust us. You are drop dead gorgeous. Happy married life mother.
Wedding Wishes for Dad
When a man meets a woman, sometimes desire is uncontrollable. In this case, you went after her with a fervor that couldn't be match. Now we wish you a happy marriage and satisfying love.
We wish you a happy married life dad! You are going to look great in your tuxedo, you will have so much swag, and you won't even break a sweat. Enjoy it!
Feel like eating at a restaurant, you go with your wife. She is your utmost priority, we are still in the game, no hard feeling bro Enjoy your home!
A love that will be consummated through a wedding. That's going to be you man! I'm still shocked but I wish you the best. All love being sent your way. Congratulations to marriage father.
I will be your best man without a doubt. I want you to have an incredible wedding so I took care of it. Now go and do your thing. Happy married life dad.
Wedding Wishes for Brother
Bro. I am happy for you, it's your day. Remember we are no more your first priority, it's your woman. When you feel like partying it's with your wife, don't bother to call on us. When you feel like eating at a restaurant, you go with your wife. She is your utmost
They say he who finds a good wife finds a good thing. I could see the joy in your eyes and I knew you found the best. You choose her, she chooses you. You are one, have a happy marriage my brother.
People say wedding is for the hardworking ones, but with love in your heart every hard work becomes easy. Have a blissful home my friend.
Wishing a very happy marriage to you guys. May this journey bring a lot of happiness, peace, pleasure and success. May God shower all His blessings to this wonderful couple and maintain a balance of love between both of you. Congrats.
I see the love between the two of you and I know your marriage will last of lifetime. I hope to celebrate much of your anniversaries. Congratulations on your wedding my brother.
Wedding Messages for Sister
Always remember that iron sharpened iron, you should always give strength to your spouse when there is no strength. Happy married life sister.
Marriage has brought you together to be one, your journey has become then same, your focus is now unified, and nothing is strong enough to bring disunity stay together, stay strong.
You two love birds made for each other, I wish your lives be filled with eternal love, happiness, joy and pleasure. Wishing you both a very happy new beginning with emotions, hopes and love. Happy wedding.
Weddings are Splendid but the people who make their union are what that makes the day specials. Cheers mates. have a happy marriage my sister.
Marriage is a beautiful union. You made it spectacular. Today is your wedding and I wishing nothing but the best? This adventure may you satisfy each other and each of every time.
Wedding messages for Son
Now that you're together, wife render unto your husband due benevolence, don't deprive him of anything good and likewise also the husband to the wife, with this all things are possible. Happy married life son.
As beautiful as today is, as wonderful as you both feel and as gorgeous as you look together, sorry to tell you that it won't be like this forever but always seek to complement one another. Stay happy forever.
I remembered when you were little; you used to play act your wedding. Now you are actually here and I know it will go well. You have definitely practiced enough. Happy wedding son.
Now that you are married, you have to tell her your vows. You should definitely promise that you won't get a beer belly. Trust me. Add a smile face on the paper. You got it.
It's a special day for the most important people in my life. Today is just the beginning of your life together. I love you guys and I wish you nothing but the very best. Happy married life son.
Wedding messages for Daughter
Daughter, remember to always submit yourself to your groom he is your lord, love him like he is your missing half, make him your hero. Congratulation on your wedding.
I know that this day has been stressful in terms of planning. You have done enough worrying as now it's the big wedding day. Trust me; it will go off without a hitch. Happy Married Life daughter.
Have a happy marriage girl! You are going to look great, with all your friends and family here to support you. We know that this day will be incredible.
Today is the day you have been planning for a very long time. You are getting ready to start a family, have healthy babies and have a long love such as life. I don't expect anything else from you.
You are going to have a great wedding. You are going to marry the man of your dreams. We wish you a satisfying love life. Congratulations to marriage.
Wedding Wishes for Uncle
Wow! This is going to be a beautiful day for you. You are going to have a wonderful ceremony, you are going to look amazing and we are all going to be here for you. Now don't worry about us, you know we love you. Do your thing.
Just seeing you together give me envy. I wish I can find what you have. You are nothing but blessed and I know you will happy together forever. Congratulations uncle.
Man, we used to have some wild times together. I hope you have an incredible wedding and a satisfying marriage. Don't ever forget, you got us as friends.
What a beautiful day! Everything looks great. This is going to go perfectly swell. Have a happy future together uncle!
You are going to celebrate the time of your life today. We wish you nothing but happiness on this wedding of yours. I wish you happy married life uncle.
Wedding Wishes for Aunt
We can hear the bells ringing. You know what that means right? You two have now become one. Happy married life aunt.
You really do show the true definition of love. Its loyalty, its strength, its togetherness, it's a feeling you will never forget. I wish you a happy marriage aunt.
We wish you guys the happiest of weddings. We want you to know what love is and hope you can't get enough of it.
It gives me so much joy to see you two together. I knew you two would get married someday. I wish you all the very best in your marriage, May the fire of love always burn.
Wow, today is the day you are getting married. They say you meet your significant other as an angel from the heavens. But the truth is, you two spent an amazing amount of time. Congrats aunt!
Wedding Wishes for Cousin
You two are very brave. You are becoming married and becoming one. No one ever told you that marriage is actually a force of nature. Prepare to weather the storm. Happy married life cousin.
Marriage time! Wedding bells! Limos! Getting rice thrown at you! What more could you want?
Listen, you look like a million bucks, your friends are for you, your family is here for you, I'm here for you and there is a lovely woman ready to have her whole life with you. Don't stress it. We got you.
Let us get ready to sing and cheer as you two will walk down the aisle! A toast to a wonderful wedding!
Love is a beautiful and inexplicable thing that happens between two people. It brings them together and holds them together, it gives them a solid foundation for what you're about to build in a family. Happy married life cousin.
Wedding Wishes for Nephew
You know, today couldn't have been a more perfect day to have a wedding. We wish you two the best!
You were meant to be, these days is spectacular for it's the start of your lives together. I wish happiness, joy and love, now and forever. Congratulations nephew.
A beautiful ceremony, a new found love, the beginning of a family. This is what weddings are all about. Enjoy!
It's another beautiful days and I have been given the pleasure of seeing the beauty of love in this war ton world. May you give each other happiness in your life together. Cheers nephew.
Not many days on this earth can compare to this one. Getting married is an experience unlike any other. So, we wish you the happiest of marriages, and know that we are here for you no matter what.
Wedding Wishes for Niece
Congrats niece! You are getting married. We are never going to see each other again! I'm just kidding. Maybe.
If asked to attend the wedding again, I would, for you not only showed true love but a deep respect for one another that was admirable, may your love never fade. Happy Married Life Niece.
May happily ever after follow you throughout your marriage, this is my wedding wish for you. Have a great honeymoon, bring us back lovely photos.
Thank you for making me one of those who witnessed the beautiful wedding ceremony, to forever more. Congrats my darlings. Congratulations Niece.
This is like a Disney movie, minus all the fluffy singing animals. Have a happy future together.
Long Wedding Messages
Your love is a favor done unto me, for me, you are the break of morning and the enchanted evening. As long as I live, may my abode always be in your heart and I will never care for any dwelling. You are my life and on this special day you are with me, Happy Wedding Anniversary to my beloved husband.
Love is eternal and it is forever. The two of you should always seek to love one another on a daily basis, you should always seek to support one another every time, bear your spouse when they seem unbearable, stay together when you find it difficult to understand one another, don't give room for hatred, don't harbour what you need to share, talk about everything. happy married life.
Marriage is like when two great chefs are coming together to form a partnership in other to cook a nice delicacy, but no matter how good the two chefs are they can't cook a nice meal without the right ingredients. The ingredients for a good marriage are patience, endurance, self-sacrifice, dedication and endless love. Have a great life together.
Marriage is no doubt for mature minds, let not any challenge caught you unguarded, when there is any problem you look into it and fix it. If your car developed a fault, you don't dump it or throw it away, you fix it. So if there's any problem, fix it. Love your spouse with the whole of your life, divorce isn't an option. Stay blessed happy married life.
In the drum is rhythm, in the anklets are jingles, The bride is in a veil, in the groom's head piece is the groom, Wherever you both go, may springtime spread, May they only get the happiness, my heart has made a prayer, My heart is happy, for I have decorated the party with songs, may they Color this spirit and life in only love's colors. Happy togetherness. Congratulations on your wedding.
Many More Wedding Wishes
You thought that I was going to miss this? Never in a million years. You are going to have the greatest of times this year. I know it. Happy life.
 remember when I first heard you are a couple. I closed my eyes and wished you'd get married because I saw how much you meant to each other. My wish came true, and I know my wish for you to be happy also will.
Now that a new journey has commenced, you too must seek to outdo one another in showing honor and kindness to yourselves. That is the only competition you should engage in. stay blessed forever, happy married life.
Marriages are settled on skies. May God guide this couple with happiness, peace, love and pleasure. No sorrow comes enter in their lives; they both hold the beauty of this dream. Wishing you both a lifetime of togetherness. Happy wedding.
You have made it this far. You have crossed the finish line. How I adore you guys, you made it. Am so proud of you, I hope you stay happy, all the days of your life together.
It's your wedding, the day you having been preparing ever since you were a little girl. It looks beautiful. You look beautiful I wish the happiness of the day the joy of the night and the love of lifetime.
My eyes used to smile but sometimes have moisture inside them, I had everything in my life but there is a lacking of you, what else I need for my life. You came in my life and my colorless life become colorful. Happy wedding anniversary.
I hope you forever remember the times, the joy and happiness. I will always be here to cheer you on. It gives me joy to see you happy, in love and comfortable with each other. I see the joy in your faces. Congratulations Bestie.
It's time for your marriage! Now we get to enjoy all the drinks we want! Woo! Congratulations dding my friend.
May your love never fade and may it blossom into off springs that will have each of your best features, this is my wedding wish for you dears.
Marriage is like a challenge, most people do tryouts, but only a microscopic few are successful. I solely believe in you guys to perform excellently well.
The remarkable tape of your wedding keeps playing nonstop in my head, you guys killed the show and made every single person at the event to reconsider marriage.
---
You May Also Like:
Wedding Congratulations Messages for Bride
Wedding Congratulation Messages for Groom
Romantic Wedding Wishes and Cards for a Newly Married
Funny Wedding Wishes and Messages
---