Good Night Messages: Do you desire to put a smile on someone's face before they close their eyes and fall asleep or you want a very special person to have sweet dreams because he/she has read your beautiful good night text message?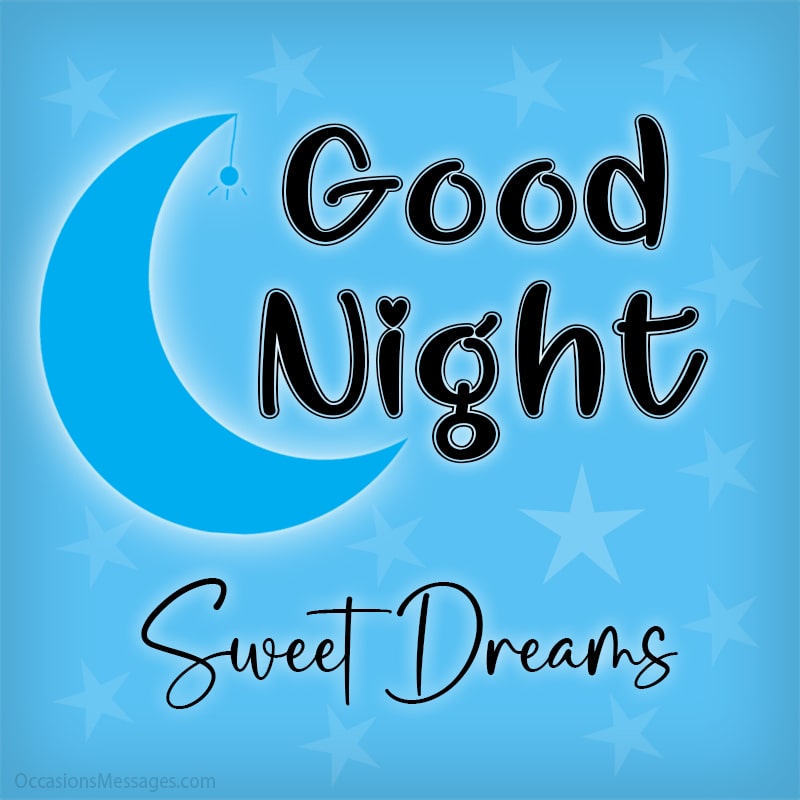 Then you've come to the right destination, as we've got a great collection of good night messages which can fit perfectly for lovers, married couples, a person from your family or just good friends. Some of these include.
Sweet | Romantic | Friend | Boyfriend | Girlfriend | Husband | Wife | Cute
Good Night Messages
Good Night my life, see you in a while in our dreams.
I can't wait until morning so I can be in your arms again. Sweet dreams my love!
Good Night my love. I will ask the radiant moon and its star friends to watch over your rest to give you only wonderful golden dreams!
Do not fear the darkness; I will be here taking care of you. Lovely sleep dear.
If you lie in bed tonight and have your eyes closed, an angel will kiss you on my behalf. Sweet Dreams. I'll text you again.
I would love to be a bird to fly to your bed and whisper sweetly in your ear: Good night honey!
We may not have a mansion or luxury car, but we are incredibly lucky because we have the most valuable thing in life: our love! Good night dear.
Just thinking about how much I love and miss you keeps me from falling asleep every night. Good night my love!
A flood of love, a cloud of roses, a pillow of sweetness, a sheet of sweet dreams, and a restful sleep… May all these treasures accompany you always. Happy dreams.
No matter how far you are, you never fail to flood my deepest thoughts. Lovely sleep dear.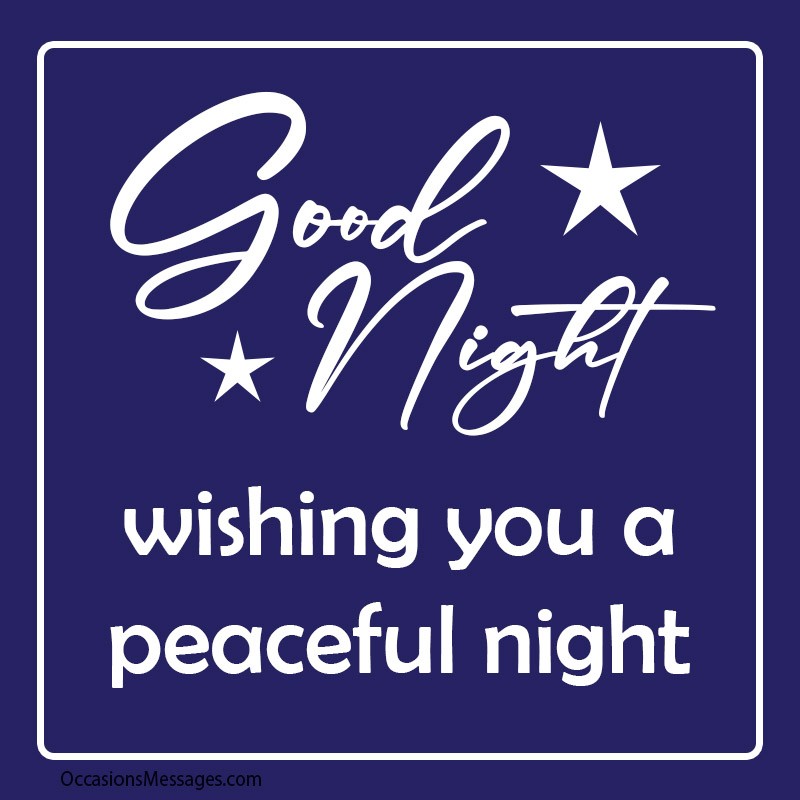 You are the only reason for my smiles, my triumphs, my joy and my desire to live. Good night my prince.
You are my luck; you are my star, so I love you from the bottom of my heart! I wish you the most beautiful dreams. Loving kiss my angel
I am in my bed; you are in your bed. One of the two is in the wrong place. Sweet Dreams dear.
I don't want to bother you lately, maybe you'll be happy to hear from me! I just want to dare one more thing: to wish you a Lovely Sleep.
Sleeping without wishing you a peaceful night is a dormancy violation in my opinion! Good Night.
Good night and dream of gold, however your dreams cannot be sweeter than mine, because I dream only of you.
I wish you to spend the sweetest and most peaceful night ever, and now that I have known you, I too can have my magnificent "golden dream"! Good night my sweet darling.
I wish you a great night and wish that an angel watches over you! I also hope he is efficient, because you are important to me!
The stars are counted by millions, like the kisses that I would give to you soon. Goodnight dear!
I hope this message serves as a good night whisper. The distance is killing me; I wish you were here honey!
Read Also: Top 35+ Good Night Messages for Crush
Romantic Good Night Messages
Good Night My Love. I love you to such an extent that I would dream of you every night until the end of my life.
Although we are in different places, the moon is witness to how much I care. Sweet dreams my love.
I wish you a sweet night and, if you feel embraced and kissed, it will be me who holds you tightly and who fills you with kisses! Good night my life!
This is my sweet serenade of good night my love, now close your beautiful eyes and make sweet dreams!
I wish you to fall asleep in the soft cotton of the night and wake up in the sweetness of honey in the morning. Good night dear
Stop, wait, and don't fall asleep. I want to wish you a good night and sweet dreams.
Sometimes I wake up at night, take a look at you for a moment and feel so good to see you sleeping calmly and having beautiful dreams.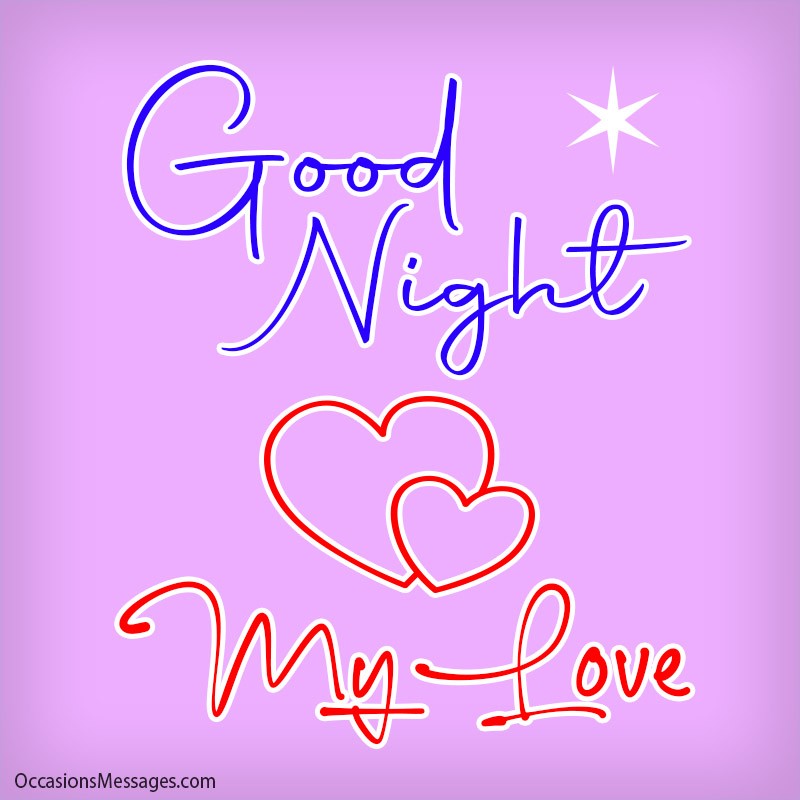 There is nothing like going back to my castle and finding my beautiful queen waiting for me. I love you so much, sweet dreams.
My most beautiful dream is always and only you, because it would be impossible to find a better protagonist than you, my love! Good Night!
Good Night. I could not sleep without telling you how much I love you and how essential you are in my existence. I will always love you.
You won't be alone tonight. Place your head on the pillow; I've filled it with a thousand kisses. Good Night sweetheart.
The worries are for the day! Forget them all because the nights are made for dreams! Have a good night my love!
Read More: 50+ Romantic Good Night Messages for Lover
Good Night Messages for Friend
Good night, dear friend. wherever you are, may your night be blessed. Deliver your dreams into the hands of God and let him accomplish them all!
Dear friend, I wish you a blessed night of peace and tranquility. May your soul be in harmony and may serenity prevail in your heart!
Good night friend. In my prayers, I ask God to keep you and inspire you to rest, balance and peace.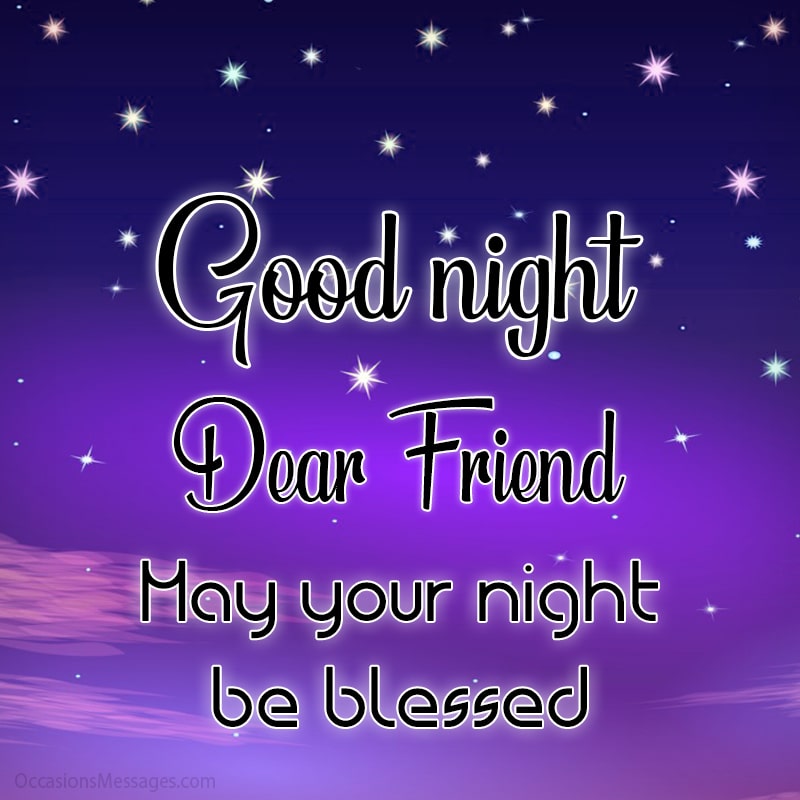 Before we fall asleep, I want you to know that you deserve to be happy, for the wonderful person you are. Lovely Sleep, dear friend!
Dear friend, I write to you to make your night a good one. May your dreams be peaceful as well!
May this good night message be the best caress that invites you to rest and help you have the sweetest dreams my best friend.
Here's a friend who loves you terribly, and is as well happy that you exist. May my good thoughts give you beautiful dreams always. Lovely Sleep.
Read More:  Best 60+ Good Night Messages for Friends
Good Night Messages for Boyfriend
Good Night my lovely boyfriend. You are the dream that everyone would like to have.
You can tell a baby not to cry, you can tell the birds not to sing, but you can't tell my heart not to love you. Good Night my king.
No matter how exhausting your day has been, it has come to an end, now you just have to rest. Lovely Sleep my love.
Observing the infinity of the sky with all those stars that shine bright, I always remember you my prince.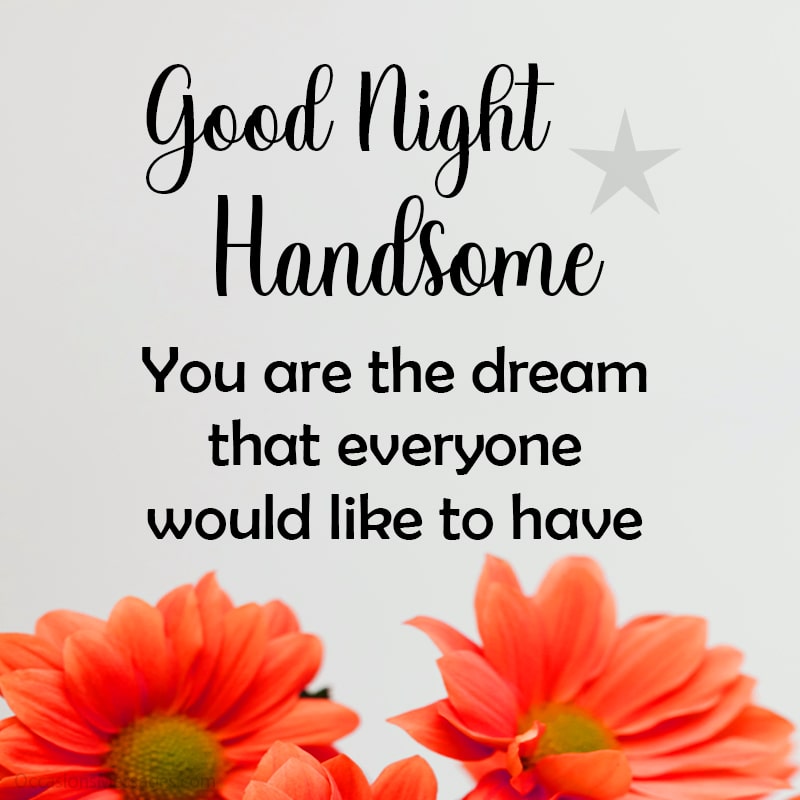 Sleeping by your side is the best gift that God has given me, so I wish you a Sweet Dreams my prince.
Tonight I will look for your face among my dreams, and when I find it, at the first gust of wind I will fly to you just to tell you: goodnight my love!
Rest well, my king, but first, let me fill you with kisses and hugs, whispering in your ear, how much I love you!
More Options: Best 50+ Good Night Messages for Boyfriend
Good Night Messages for Girlfriend
However far it is, however difficult it becomes, there will always be a beautiful way to tell you. Sweet dreams my love!
Saying good night is not simply a way to end the day, but a loving way of saying that I thought of you before going to bed. Sleep well dear!
The only time I don't think about you is when I sleep, because that's where I dream of you. Good night my baby.
Have the most wonderful night and know that I will be by your side when you wake up. Sweet Dreams my lovely girlfriend.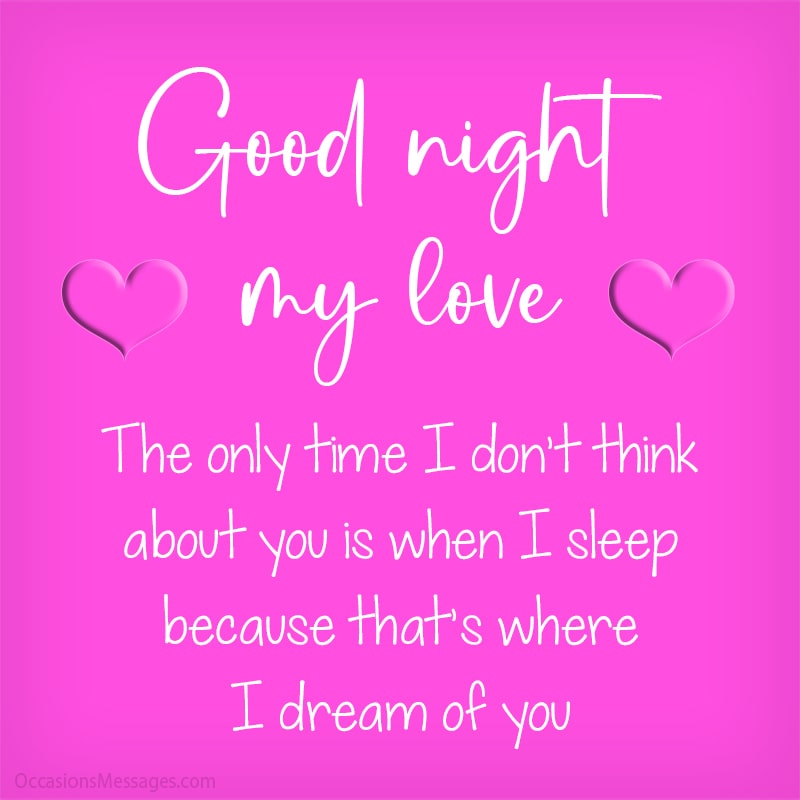 I don't want to fall asleep because the reality with you is more beautiful than any of my dreams. Goodnight My Angel.
For the night to reach its fullness, it needs the moon and the stars; I, to achieve happiness, I only need you. Sweet Dreams my love.
Good Night my love! May this night come very soft and fragrant, may the aroma of joy and peace be everywhere around you!
Related Article: Sweet 35+ Good Night Messages for Girlfriend
Good Night Messages for Husband
Good Night my love! Before I fall asleep, I want to tell you that you are the most charming husband of all, and I am always proud of you.
Sweet Dreams dear. Nothing makes me happier than sleeping by your side every day, and feeling your protective hug!
I love everything about you, baby! And that is why I want your night to be full of beautiful dreams to give strength to your day tomorrow. Lovely sleep my king!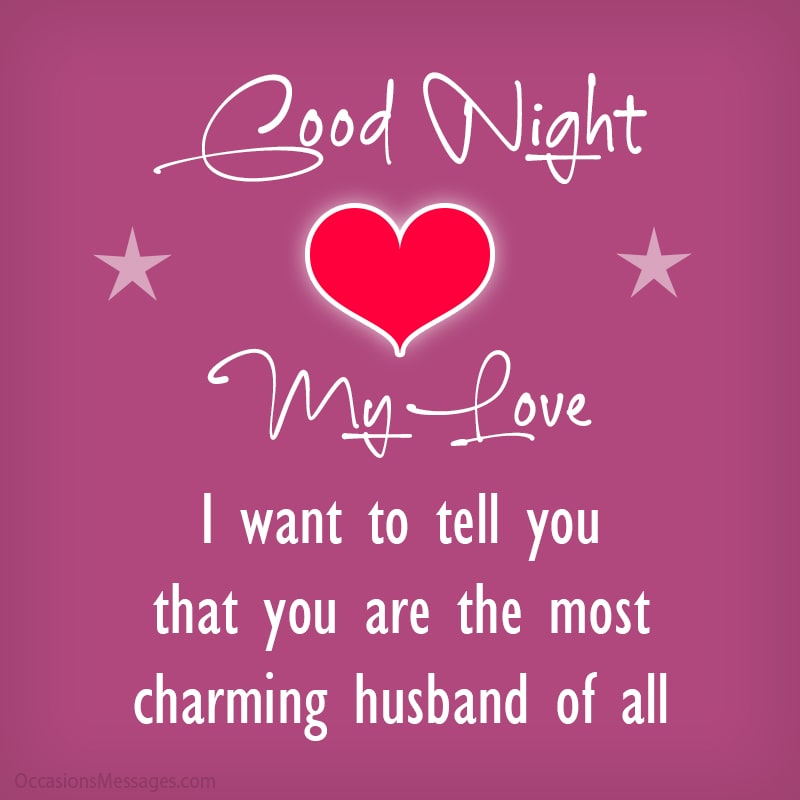 Nothing lifts my spirits more, after a long day, than curling up beside you, like tonight. Goodnight my love.
Goodnight sweet princess of my heart, you will be in my dreams, and I in yours. Wait for me!
There is no greater blessing than being able to sleep with you, night after night. I adore you; have a restful sleep, my life.
Hey dear! You are that goodnight that I would like to be able to receive forever, until the last beat of my heart. Sweet dreams my beloved angel.
Good Night Messages for Wife
I love it when night falls because it is when we have time for both of us. Good Night, queen of my life.
I always dreamed of sharing my life with a great woman, without a doubt you have exceeded all my expectations. Sweet dreams my beautiful wife.
Sometimes, I wake up at night and when I see you sleep as calm as an angel, I feel happy to have formed a family with you. Lovely Sleep dear.
Good night my sweet half. Your love makes me experience wonderful sensations always!
I send you an enchanted kiss hoping that the stars of destiny will illuminate the way to reach your beautiful lips. Goodnight my sweet half!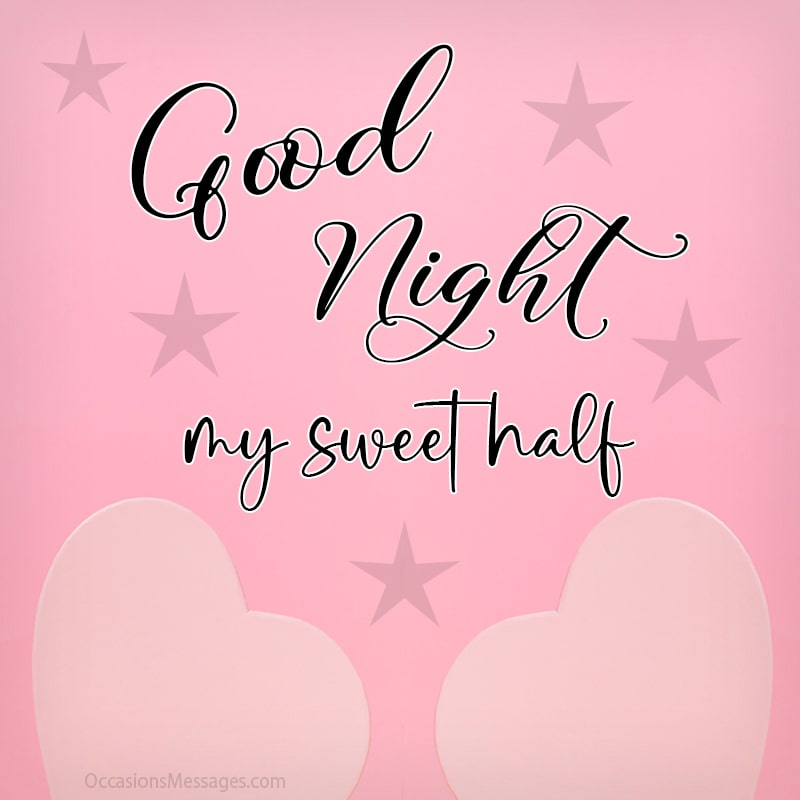 It's very cold tonight, but I love it because it's the perfect opportunity for us to sleep cuddles sharing our great love. Have sweet dreams, my beloved wife.
You are the light that accompanies me every night towards my sweet and deep sleep, and while I try to fall asleep, I hope I can dream of you.
Good Night Wishes
Happy Dreams my little angel, I miss you so much. Fall asleep quickly and dream fine, I will be with you again soon!
If my love can contribute to a great night's sleep, then I send it to you with all my heart. Sweet Dreams.
I love falling asleep while hugging you because then, I can have the most wonderful dreams. Happy Dreams Honey.
I hope to appear in your dreams tonight, if not please come to mine. If none of this happens, we have to see each other again tomorrow.
When you are in your bed, think about what has made you happier and with a smile, stay sound asleep. Lovely Sleep.
Thank you my love because every day that passes, you teach me that life has many wonderful things and that we have thousands of reasons to feel happy.
Before going to sleep I would like to thank you for everything you do for the family, the desire you put into difficult times strengthens me a lot. I would never change anything about you, I love you. Good night, my darling.
Can you see the angels sleeping quietly? But only an angel stays awake, protecting you day and night! Sleep well dear
As children, we used to dream of angels, without realizing that what we really craved was a company that filled our hearts. Today I can categorically affirm that you are the physical representation of that angelic being, I love you. Lovely Sleep dear!
May this light breeze bring you the melody of my heart to wish you sweet dreams! Goodnight my sweet darling!
It's amazing how, despite sleeping together, I almost always dream of you, imagining what we will achieve from here for a few more years with the effort that we have been putting into our plans. Sweet Dreams dear!
SHARE ON