Wedding Wishes for Bride: I love weddings, but mostly, I love the way brides look at their weddings. Weddings are the most emotional events out there, there is always too much love going around and that is the best feeling in the world. If you have ever been helplessly in love, or if someone has loved you endlessly, then you will understand how a bride feels when she is walking down that aisle towards her prince charming. Weddings are joyous events and such events deserve the best of everything from the best clothes to the best food and the best company around. Here are some wedding wishes you can send to the bride to appreciate them for inviting you to their wedding and for choosing you to be among the best.
Wedding Wishes for Bride
Happy married life great bride. May God bless your home.
Happy married life to this wonderful new and gorgeous bride, may you be blessed in your marriage and in all your endeavors. Enjoy it.
Congratulations. All my best wishes for this lovely bride.
Stand by your man and give him endless support. Happy married life. Stay blessed.
Today you look so beautiful that everyone feels like making you their bride. Congratulations.
The day is finally here; having the perfect man by your side for the rest of your life is the most exciting feeling in the world. I hope you enjoy each and every second of it. All the best!
Your husband is really a lucky man. May your union be blessed by the Almighty God. Happy future together.
This day brings tears to my eyes, everything looks so wonderful. Have a great day my dear, you deserve the best, truly.
It's a wonderful day to be celebrating two very wonderful people, I wish you nothing but the best as you embark on this wonderful journey together.
Most Popular: 200+ Wedding Wish to Write in a Wedding Card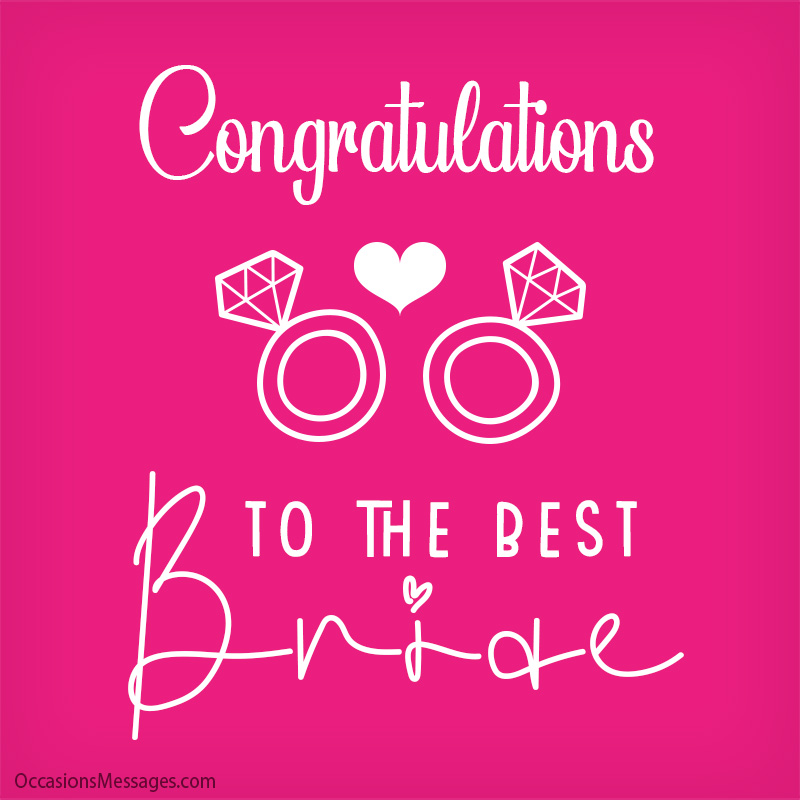 Happy married life to this beautiful bride. May your home be an example to the kind of home every bride would dream of having. Enjoy your beautiful and holy matrimony.
Wishing a very happy married life with lots of joy, pleasure and good memories.
Don't hold anything back, love endlessly give without wanting anything in return. That is what marriage is all about. Happy married life.
I will always be here for you if you need me, but for today, put on that wonderful smile for you are marrying the man you fell in love with. I wish you happiness, today, now and forever.
May the two of you bonded in everlasting love. Wishing you a blissful married life ahead.
You look beautiful in your wedding gown darling, I hope he knows how lucky he is to be having you as a wife, you are a gem and anyone who knows you can say that for a fact. I wish you all the happiness in the world dear.
You are looking so amazing in this wonderful outfit of bride. May your life give you every reason to smile and happiness.
Soon you have to shift to your partner's home and spend your whole life there. All your memories will always be in our heart like the season of spring. Wishing you all the best for your future. Enjoy the life full of happiness.
You always look beautiful but today you look dashingly beautiful, congrats bride of ours, you are the most beautiful girl in the crowd.
I can see you are happy, I can see you are glad, I can see that everything will work out just fine for you now and forever. Congratulations on your marriage.
He not only chose a wife, but a bride who will forever love and cherish him, I envy him. Have a great married life beautiful bride.
Read More: Beautiful Wedding Wishes for Daughter
Your love is about to come in your life like the spring and will remain in your heart forever as your true love. Wishing you a Happy married life.
The bad side of every marriage is when the two people stopped caring about one another; I pray your marriage won't experience this down turn. Happy married life.
Wow, you look wonderful dear, the day is yours and nothing can change that, have a hearty day beautiful, May you and your love be happy for life. Happy marriage.
The success of a home is largely dependent on how much a woman is ready to sacrifice. May God help you through all challenges that may arise. Happy married life.
Marriages only work when both partners give their 100%. If you do this, you will get the best outcomes. Have a wonderful life ahead for soon to be the bride.
He is finally going to be your husband, the one you depend on, you make a beautiful couple and now that you are tying the knot, I wish you happy future together.
The woman is always the owner of the house; you must never forget to put your house in proper order and always support your man. Happy married life beautiful bride.
One of the secrets to a successful marriage is when a man sees a cheerful woman that never gets sad and is willing to make him happy at all cost. Enjoy your home.
You are really an example of what consistency means. You have always been a good girl right from high school and everyone always wanna have you. Happy married life beautiful bride.
I cannot believe how amazing you look with that dress on, you are surely the jewel in this place and I can't help but be happy for you. Thank you for letting me be part of the day.
You get today to be the princess that transforms into that amazing queen I hope you finally get your own fairy tale ending. Happy marriage.
A man will build heaven and earth for a woman willing to give and sacrifice bountifully for him. Keep your love intact. Happy married life great bride.
Congratulations on your wedding. I wish you all the best and may your home be fortified with all beautiful things.
People Also Read: Sweet Wedding Wishes for Sister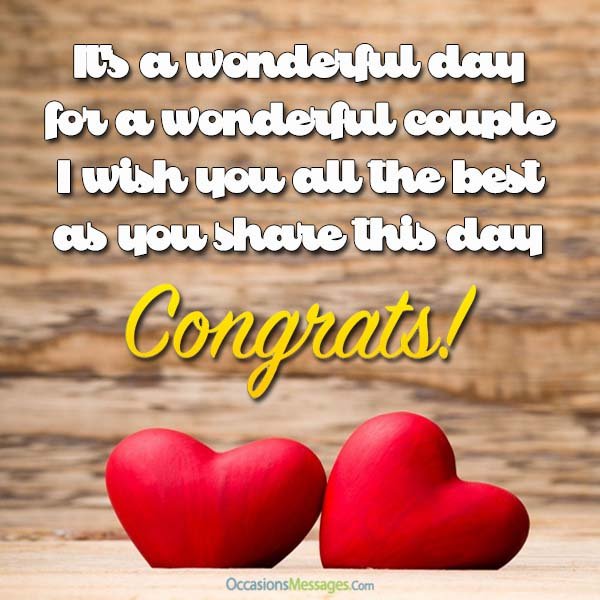 It's a wonderful day for a wonderful couple and I wish you nothing but the very best as you share this day. You look beautiful darling, enjoy your day. Happy future together.
All your dreams and amazing desires in your innocent heart are about to come true, tears of joy are trickling from the eyes and your wedding procession is on the way. Have wonderful marriage my sweet bride.
Your love and consistency show the wonder and the fragranced buds of your dreams are blooming, soon you are going to write the stories of your faithfulness on your partner's heart. Have wonderful journey of life.
All the spring seasons, crazy nights, a bed of roses and fragranced flowers are for the bride to be. I am so happy, you are going to start your new life. Have a wonderful journey of life.
The dreams of your love make you restless, making the heartbeats uncontrollable as this agitation did not occur before. Soon you are going to put a crown of bride on your head, have a fantastic married life.
Bride – a story of moments and tears of eyes of her parents that must flow. We wish you see all the happiness and good memories come into your life. Happy married life my child.
Getting your father's prayers, may you never memorize your parent's home as you collect everlasting love from your in-laws and you get the peace of the world. Happy married life my beloved daughter.
May you get the spring season every time, May the laughter always be upon your lips. Wishing you a Happy married life – the delicate branch of my garden.
May all the grace you possess today shine on you as you venture into marriage hood. Be blessed dear bride, thank you for making me part of your witnesses.
For a bride as beautiful as you there are no words. Be blessed and I hope you enjoy your marriage life, you choose a good shining knight.
Happy married life to my dear friend. More blessings await you; however, we still have all of today to celebrate the success of your wedding.
I love celebrations, and I love it more when it relates to me like your wedding. I was so happy for you that some people think I was out of my mind.
Related: Cute Wedding Wishes for Niece
Recommended Content: Wedding Wishes for Granddaughter
SHARE ON