Wedding Wishes for Granddaughter: Weddings are more important to the bride than the groom or so they say, growing old and getting to see your granddaughter getting married is a joy most grandparents live for. Weddings are joyous occasions; they are the events most women look forward to so they can cheer and most men to learn from the groom. As a grandparent it is your duty to share a little advice with your granddaughter since you've passed through the stage they are at. Share one of our wedding messages below with your granddaughter to ease their anxiety as they go through the next rite of passage that is marriage with love and support from you.
Wedding Wishes for Granddaughter
Congratulations on your marriage my sweetheart!
Happy married life, granddaughter. Wish a lot of happy years together!
Congratulations to you on this special occasion my wonderful granddaughter. I wish you a happy life.
As you walk down the aisle my beautiful granddaughter, know you have my full support and love, may you love each other till death do you part.
You are a special someone and you deserve to be treated like a princess, I hope marriage suits you my beautiful granddaughter, I love you and I hope he loves you more!
Congratulations. Wish you both a very happy wedding.
Happy married life granddaughter, it is such a blessing to me that I could see my granddaughter get married, I'm so fulfilled today. I hope you'll enjoy every bit of it. God bless your home.
Congratulations on your wedding! I am grateful that my granddaughter is making me proud today.
The main and the most important thing in our life is love. I am glad you found yours and I hope that you'll be fruitful in your new home.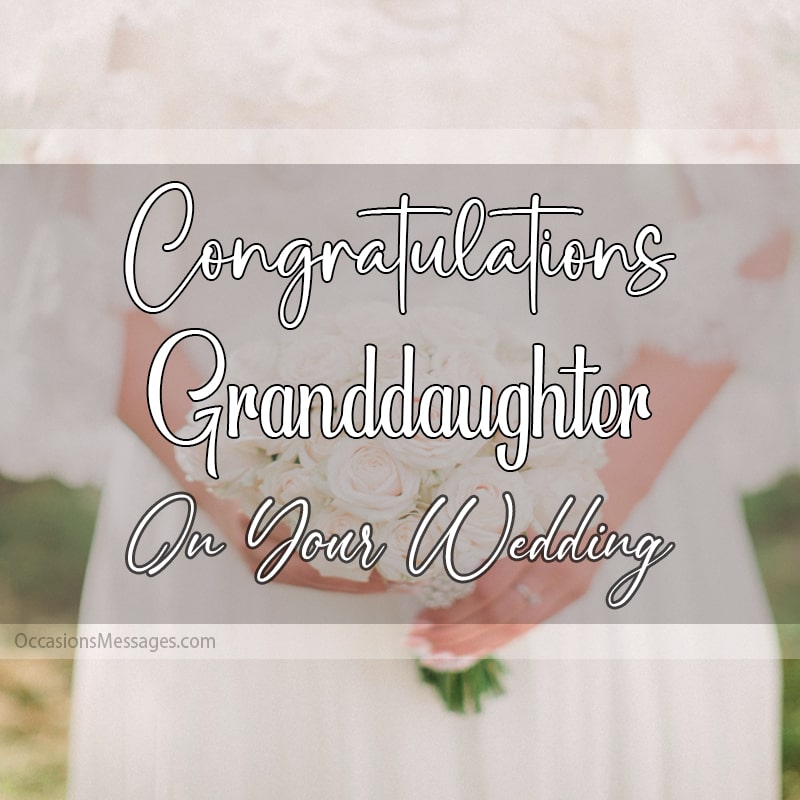 You are a gem anyone would be lucky to possess my granddaughter; I hope marriage will give you a million reasons to smile each morning!
Every person on the face of earth can perform the most extraordinary deeds just for the person they love, I wish you a happy home granddaughter as you tie the knot today.
I have never seen your smile as broad as it is today my beautiful granddaughter, from a little girl to the woman who stands before me, Congrats on your wedding my darling.
The fire in your eyes reminds me of the young love I shared with your grandfather my beautiful granddaughter, wishing you every ounce of happiness in marriage sweetheart.
I may be old, but I am truly blessed to see love at its best. Thank you for giving me a chance to be part of your wedding my granddaughter, I love you!
I ate till I was full and danced like it was my birthday in short your wedding was the best. I pray that your life together follows the same pattern.
Happy married life granddaughter, it is so clear how lovely you find this man you're marrying today. You told me you asked for angel, but God gave you him. It's so beautiful. Enjoy your union.
I asked God to give me more years to see my granddaughter, but he gave me more years to even see her married. I'm grateful. Happy married life granddaughter.
Love has never changed; it's the same as what we experienced when we were so young long time ago. I hope you'll dwell in it throughout your lifetime. Congratulations!
My beautiful granddaughter getting married was one of the best news I've heard in a while. I wish you a beautiful marriage darling, I am so happy for you.
Read More: Marriage Wishes and Quotes for daughter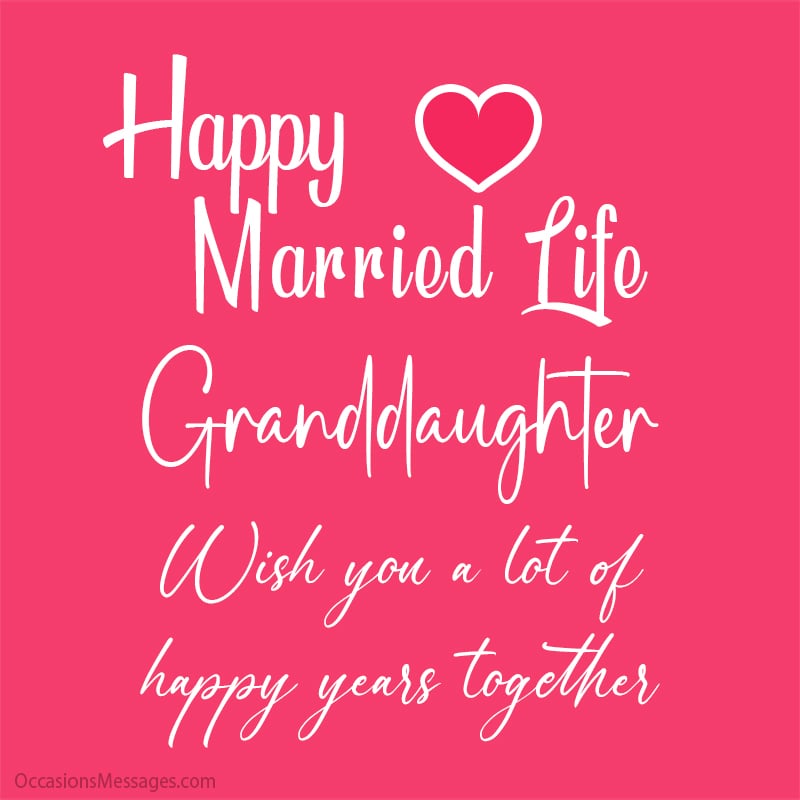 To my amiable granddaughter, my only wish is that you bring me a great grandchild soon, and please make it quick. I'll be glad to have three at once. Happy married life.
You don't know how blessed I feel to be part of this day my beautiful granddaughter. May you enjoy your wedding and beautiful marriage my sweetheart.
Happy married life to you to my awesome granddaughter; don't forget those stories I used to tell you, it'll make your home the best you could ever be. Enjoy your new home.
Happy married life to you granddaughter, please don't forget to understand that the dearest person to you from now on is not your mom or myself. It's your husband. Take good care of him always.
The beauty and character you inherited from me makes you the dream of any man, I am proud of you my granddaughter. Congratulations!
You've always been the one to put a smile on my face, today I'll see you smile for another as you tie the knot, wishing you an awesome wedding my granddaughter.
They say love is a feeling that can't be explained in words, I can definitely see the love between you two my granddaughter, I know you'll have your happily ever after. Congrats!
Marriage is never an easy road that is why people date first; I hope you have known each other enough to know you can't be apart. Congrats on your wedding my granddaughter.
More Options: Best Wedding Invitation Messages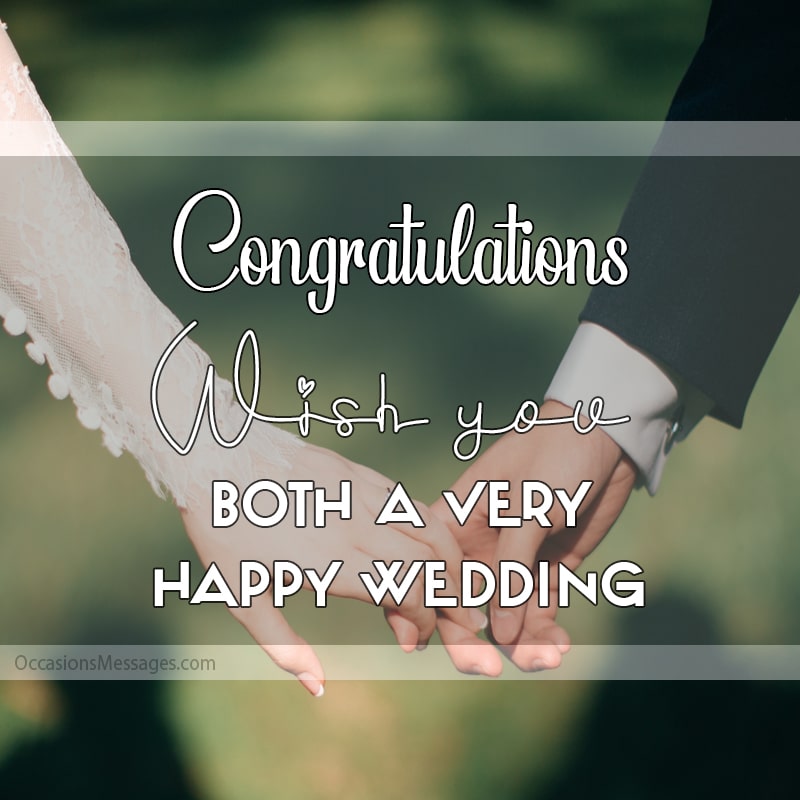 I have seen love bloom and I have seen it either, all it takes is patience and a never ending urge to fight for what you love my granddaughter. May you win always!
May your love never die my granddaughter, always try to keep things alive, wedding is just the first part, marriage, is a part you'll have to work on forever.
I will never be too far when you need my counsel and advice my granddaughter, I have been here before and watched your mother too; I'll always be here for you. Congrats sweetheart.
Life is not as short as they say, finding the right person to live with through the pain and hurt that life brings is one of the best things ever. Congrats my granddaughter.
Your courteous, attentive and kind attitude since your young age made me know you'll be a good wife. I'm glad that you're getting married. Happy married life granddaughter.
You have to be patient, commuted and indeed in love to make your new union work out as planned. Never give up on love.
Related Article: 60+ Sorry Messages for Not Attending Wedding
Last Updated on September 22, 2022
SHARE ON