Wedding Messages for Friends: Wedding are colorful, cheerful, a great time and a chance to see someone we know cross the line between the being the single person to vowing to spend the rest of their lives with the ones they love. It is a big step and as a friend you should be there for them, standing by them and cheering them on. Your presence is the greatest gift you can give to a friend who is getting married.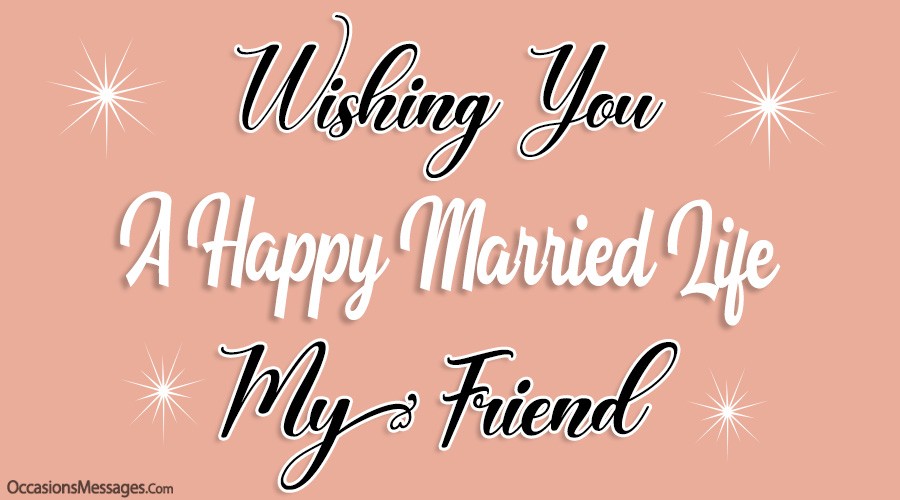 When they feel they have back up, they feel more relaxed happy and the wedding is perfectly perfect. You can go the extra mile and send them a little message of hope, love and most importantly support for the day.
Wedding Wishes and Messages for Friends
I am so happy to be sharing this day with you, it looks perfect and I can just tell you are going to have the best time ever, not only for today but for the rest of your lives together.
I never thought you would settle down, I guess she's the one and might I say I am proud of you for taking that step. I hope you have the most amazing time as you say those vows my dearest friend.
Finally, two souls become one and two hearts beat as one. All the very best for your future and happy marriage.
Congratulations on the lifetime togetherness. May your love thrive stronger with every passing day. happy life together my dearest friend!
I couldn't be happier for you right now, you finally found the one and you are going to walk down the aisle with them. Have the greatest times of your lives my dear friend.
May you both have a wonderful life ahead and many congratulations on your wedding.
Don't worry my friend I am here, to support you, hold you and wipe away the tears of joy you are going to have the most amazing and perfect wedding.
May God bestow all his blessings, happiness, success, peace, pleasure, companionship and love to this wonderful couple. Have a stunning life journey ahead. Happy married life.
What more can I surely say? He is perfect, you are perfect, you both look perfect and the day looks promising. As you say those vows remember, I will be here as a friend always, Have a wonderful wedded life!
Now your arms become a home of someone special and your heart is the shelter and you are not supposed to walk alone from this day and onwards. I wish you all the best for your wedding.
And so the new adventure of life has begun. Congratulations on your wedding my friend.
This is one of the biggest steps of your life; you finally stop being the single entity, being incomplete and finally complete yourself with the perfect person. Congratulations on your wedding my dear friend.
May God guide this beautiful couple with the best of their understandings and love. happy life together my dear friend.
I have been biting my nails thinking of what could make this day more special but nothing can be added. You have the one waiting to get married to you and you have both of your lives to look forward to. So have a great wedding my friend.
Wishing you a very happy marriage my friend. May God grants all his blessings to this beautiful couple and saves from the evil eyes.
Wishing you a very a happy future together. Never stop flirting and dating with each other.
It's your wedding day, the day you have been planning for all your life, it is finally here and the one is waiting for you. Say I do for your happily ever after begins with those little words.
May you both fallen in love again and again with the same proportion. happy married life my friend.
May you have a happily ever after, you look beautiful and I know this day will turn out as you wish. So put on those dancing shoes and dance all the day long, for the wedding bells are yours for the entire day.
Hold each other hands and enjoy this beautiful journey of love, emotions, understanding and togetherness. Congratulations on your wedding my sweet friend!
I couldn't be happier seeing you in that dress, I hope you have the time of your life as you walk down that aisle and say I do, I wish you have an amazing married life my friends.
This is the blessings of god that you both get protection and security in each other and the reasons and necessities of happy life. Good luck for your life's beautiful journey. happy married life.
Wish you a very happy life. May your Mr. Right is always the right one for you.
The tears are overflowing in my eyes; I can't believe it is you I see up there, I am super happy for you my friend, wishing you happy married life.
This is the mercy of god that you both tie in a knot. I wish you all the best for your life's journey. happy marriage to both of you!
Wishing you a very happy wedding to the bride and groom. May you both get the everlasting love and sacrifice for each other.
The happiest day of a man's life is when he is joined with the woman of his dreams; I hope you have the best time ever as you celebrate your wedding. I love you mate.
Eventually, your wedding put a full stop on your love story. May this event bestow all happiness of life and you both get pleasure and satisfaction throughout your life. happy life together!
What is more spectacular than an occasion that brings the most important people in one's life together? The union of man and woman for a greater, better and brighter tomorrow? Have each other, love each other and share your happily ever after now and forever.
May your feelings, emotions, love and understanding thrive robustly with time. Wishing you a very happy wedding my dearest friend.
Love is compassionate even at the worst condition. Try to love and to be loved, this is the only happiness of life. I wish you all the best for your life. Congratulations on your wedding!
The best part of one's life is to get married to their love one. I wish you both a very happy married life. May your life's dreams and hopes come true. Happy marriage!
May you both share the memories of togetherness, tolerance over mistakes and promises to always hook up with each other. I wish you all the very best for your wedding life. Happy marriage!
I wish a very happy life together and hope that you both enjoy learning the differences between themselves in order to get the happy couple perfection.
Eventually, the beautiful love story has reached to their final destination. I wish you all the best for your wedding. Hope you both get the peace and pleasure onwards.
Another chapter of life has been started. May this chapter learn the lesson of sacrifice, compromise, love, trust, and affection. I wish you both a very happy future together!
I am happy just because of you that you are happy. This is the best part of your life; hope you will enjoy a lot this journey. happy married life!
Wishing you a very happy married life my friend, now you can take revenge for your stolen heart by taking her last name.
What a great day this day is in your life, today you leave the stage of being a boy to being a man. May God bless your home and may you be very productive in all you do. Happy married life.
It is obviously a new path that you will commence today, let your heart not be troubled, give room for tranquillity and all things will always work out for good. Happy married life.
Love and understanding is the major key to unlocking the sweetness of every marriage. Always seek to understand each other and the result will surprise you. Have a conjugal bliss.
The love you have for each other is so strong that it's glaring for all to see, my most heartfelt wish for you is that your love will keep growing for each other as days pass by. Happy married life.
A home is always as beautiful as what we made it to be, may your home be very fruitful and may you be a great father to your children. Happy married life, enjoy every bit of it.
Marriage is an institution of learning. Every day, every month and every year in it is meant to bring you something new to understand. May God bless and uphold your home. Happy married life my best friend.
Marriage brings about a transformation that is irreversible and irresistible. May it bring you a positive and impacting change. Happy married life. Keep enjoying every blessings that comes with it.
It's a whole new life now; you no longer think for yourself, you no longer care for yourself. It's a fantastic world; I wish you happiness and good tidings in your new home.
Happy married life my friend. In this kind of life, sharing is paramount especially if you desire a good home. Happy wedding best friend.
May everything you dream of in regards to marriage come to surface in reality. Happy married life. Stay blessed.
May you together with your wife have a fulfilled life, great achievement and endless joy in all you do. Have a wonderful marriage.
May you together have long life and good health to enjoy everything you need to enjoy as a couple. Have a blissful home. Stay blessed.
The two of you are so compatible that it feels like you were just made for each other from heaven. May your marriage be fruitful and may you both grow to love one another so dearly. Enjoy your conjugal home.
A life of person is not in what he own, but in how much he is able to affect people and able to love. May God bond you together with his eternal love. Happy married life.
Congratulations on finding your life journey partner. May God guide the two of you jealously and may you continue to do exploit. Enjoy everything about your newly wedded bride.
After all the waiting, after all the expectations and preparation. It is finally coming to a reality. Happy married life to you. May your home bring you all that you look forward to having in no time.
As you get married today, may your life know nothing but lots of love and may you be blessed beyond limit. I wish you a glorious marriage and a lasting home.
Marriage brings people to learn a lot of things. Sacrifice is all that you need to understand. Learn to please one another and your home will be a happy home. I wish you a happy and wonderful marriage.
What a wonderful world it is, and it's incomplete without a spouse in it. May your wedding truly bring you fulfillment and may you complement one another. wish you a happy wedding.
You have waited for this moment all while long, but now it is here. Wishing you a lifetime of love and commitment, that you may enjoy your stay together. Have a fruitful marriage.
Today is the greatest day of your life, you deserve every bit of joy you are feeling right now. I wish you a glorious and fulfilling marriage. Stay blessed.
As you are taking a new step in the journey of life today, may you fly on eagle's wing and may all that pertains to you be in good shape. Enjoy your marriage.
Being here today as a friend really means a lot, I wish you all the happiness in the world as you venture into marriage hood.
It's a blessing to be at a friend's wedding, someday you might just be in mine, until then, may your future together shine brighter than the brightest star.
Being a friend at your wedding shows how much I care and support your union, may only good things come your way as you spend the rest of your life together.
It was a beautiful ceremony, surrounded by beautiful people, I am proud to be a friend amidst them, have a blessed marriage.
My admiration for you tripled after your successful wedding event. I haven't seen you happy in a very long time. I hope you find such type of happiness in your marriage.
Congratulations to the latest couple in town, may all your prayers be answered and you find comfort and unquenchable love in each other.