Wedding Wishes for Friend: Weddings are colorful, cheerful, a great time and a chance to see someone we know cross the line between the being the single person to vowing to spend the rest of their lives with the ones they love. It is a big step and as a friend you should be there for them, standing by them and cheering them on. Your presence is the greatest gift you can give to a friend who is getting married. When they feel they have back up, they feel more relaxed happy and the wedding is perfectly perfect. You can go the extra mile and send them a little message of hope, love and most importantly support for the day.
Wedding Wishes for Friend
Congratulations on your wedding my dear friend.
Happy Married Life my friend. May you both fall in love again and again.
I hope you have the most amazing time as you say those vows my dearest friend. Congratulations.
Happy Marriage to both of you! I wish you all the best for your life's journey.
Finally, two souls become one and two hearts beat as one. All the very best for your future and happy marriage.
And so the new adventure of life has begun. Congratulations on your wedding my friend.
Happy life together my dearest friend! May your love thrive stronger with every passing day.
It's a blessing to be at a friend's wedding, someday you might just be in mine, until then, may your future together shine brighter than the brightest star.
May you both have a wonderful life ahead and many congratulations on your wedding.
Don't worry my friend I am here, to support you, hold you and wipe away the tears of joy. You are going to have the most amazing and perfect wedding.
May God bestow all his blessings, happiness, success and love to this wonderful couple. Happy married life.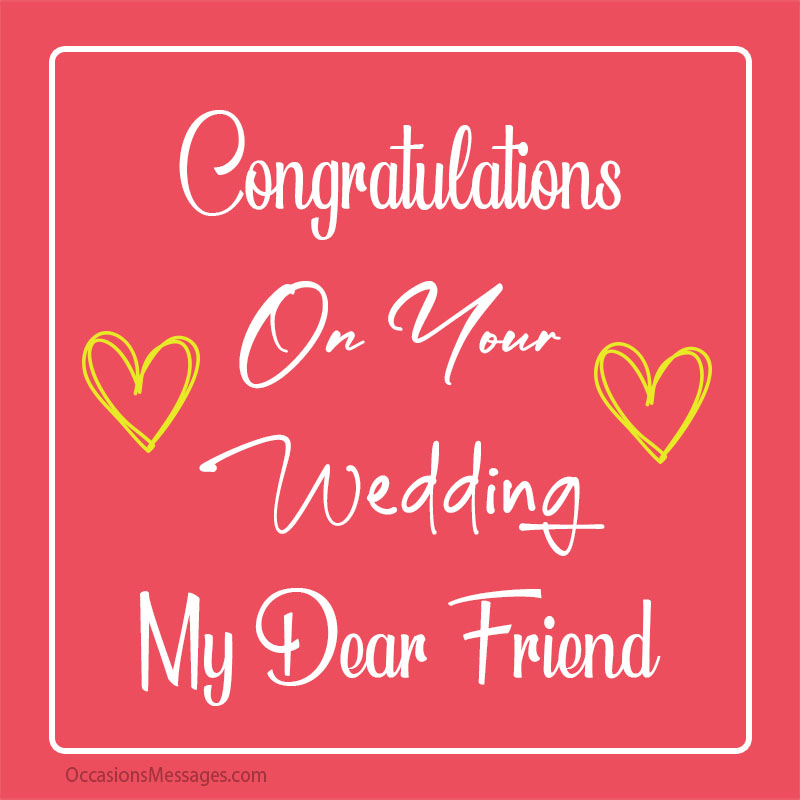 Congratulations. May only good things come your way as you spend the rest of your life together.
I couldn't be happier for you right now, you finally found the one, and you are going to walk down the aisle with them. Have the greatest times of your lives my dear friend.
May you have a happily ever after, you look beautiful, and I know this day will turn out as you wish.
What more can I surely say? He is perfect, you are perfect, you both look perfect, and the day looks promising. Have a wonderful wedded life!
I hope you have the best time ever as you celebrate your wedding. I love you mate.
May God guide this beautiful couple with the best of their understandings and love. Happy life together my dear friend.
Eventually, the beautiful love story has reached to their final destination. I wish you all the best for your wedding.
Wishing you a very happy marriage my friend. May God grants all his blessings to this beautiful couple and saves from the evil eyes.
Wishing you a very happy future together. Never stop flirting and dating with each other.
As you get married today, may your life know nothing but lots of love and may you be blessed beyond limit.
It's your wedding day, the day you have been planning for all your life, it is finally here and the one is waiting for you. Say I do for your happily ever after begins with those little words.
Congratulations on your wedding! I wish you all the best for your life.
Hold each other hands and enjoy this beautiful journey of love, emotions, understanding and togetherness. Congratulations on your wedding my sweet friend!
I couldn't be happier seeing you in that dress, I hope you have the time of your life as you walk down that aisle and say I do, I wish you have an amazing married life my friends.
Most Popular: 200 Wedding Congratulations Messages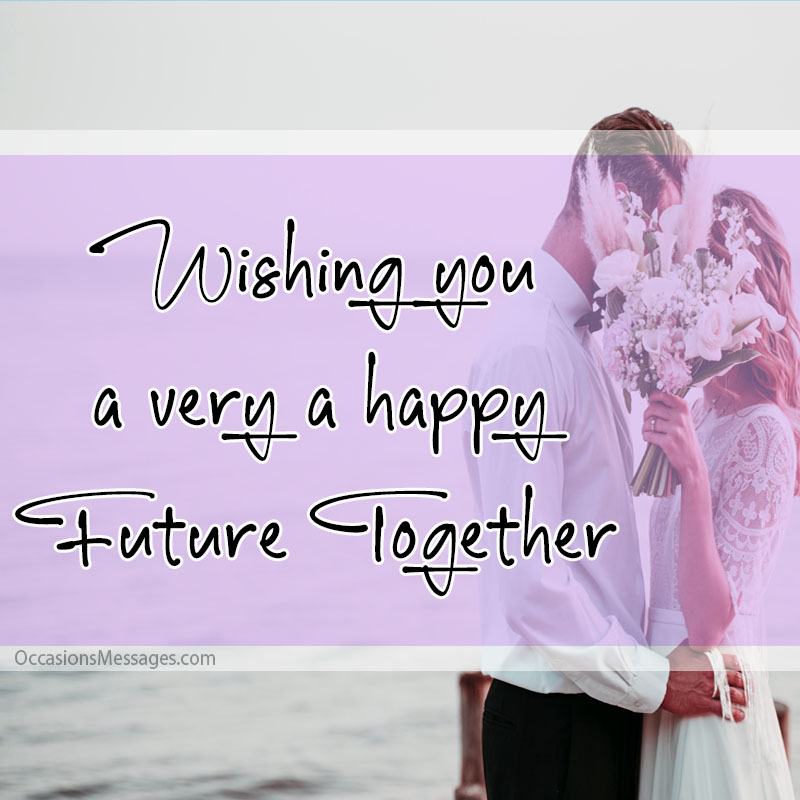 I wish you both a very happy married life. May your life's dreams and hopes come true.
The tears are overflowing in my eyes; I can't believe it is you I see up there, I am super happy for you my friend, wishing you happy married life.
Wishing you a very happy wedding to the bride and groom. May you both get the everlasting love and sacrifice for each other.
May your feelings, emotions, love and understanding thrive robustly with time. Wishing you a very happy wedding my dearest friend.
Wishing you a very happy married life my friend, now you can take revenge for your stolen heart by taking her last name.
Wedding Wishes for Best Friend
Congratulations my best of friends. My warmest heart wishes and love from me to you on this special day. May the Good Lord Bless your marriage and fill it with endless love.
You are my lucky charm best friend and that is why I am super happy you found the love of your life, I hope marriage will give you something to always smile about.
It's a beautiful day for a couple as special as you; I wish you an amazing marriage life with little children of your own. I will always be here for you best friend, no matter what. Congratulations!
Read More: Top 50+ Wedding Wishes for Bride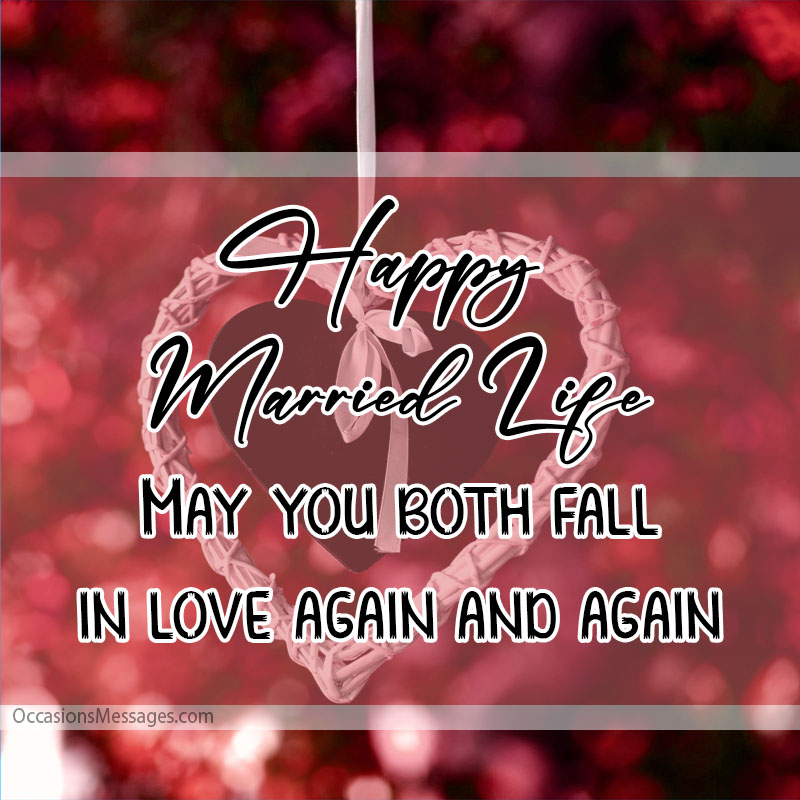 I say goodbye to having you all to myself and hello to making new moments and memories with your family, congratulations on your wedding best friend.
Can't believe you're getting married to the most beautiful woman on earth. Happy wedding my friend and enjoy your new home.
I am glad to not only be a witness at your wedding but as your best friend, wishing you the most amazing time as you tie the knot. Good luck in marriage!
Wishing you all the happiness and blissful married life my sweet friend. Don't forget to let love, trust, understanding and respect to be the Pillars of your lives. Congratulations!
A journey for two hearts madly in love with each other. This road will have sharp curves, potholes, rumps and others. Patience is the best driver you need. Relax and enjoy your happy Marriage life.
I was with you from the first day we met best friend, and I will always be here to the end, wishing you a lasting and successful marriage, I love you.
Don't be scared of family life because it's the best thing you can have in life. A beautiful life together with a beautiful wife and kids. What a blessing. May you have a fruitful marriage.
You are my best friend and I want nothing but the best for you, enjoy everything marriage has to offer, wishing you a life full of smiles together.
You are so amazing my sweet and lovely friend. Am glad you have taken this step of life. May your journey be fruitful. Congratulations on your marriage.
May this wedding day bring many opportunities to your way, to explore every joy of life & turning all your dreams into reality. May God bless your home.
This day means as much to you as it does to me, enjoy your wedding day best friend, you are a queen who deserves the crown on your head.
Related: Best Wedding Messages for Groom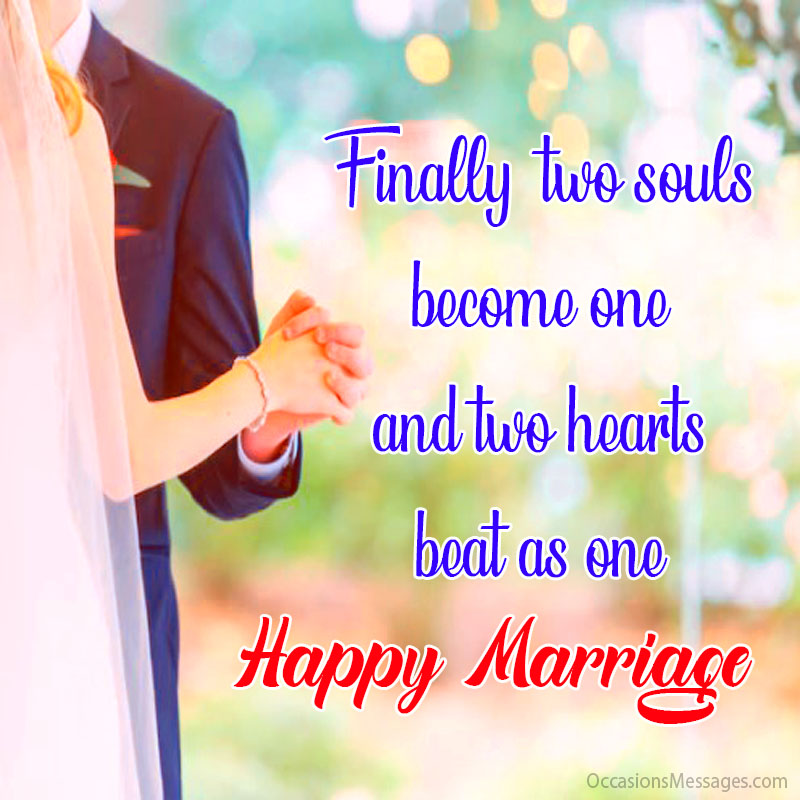 May you enjoy your marriage with all the best wishes. Happy married life my sweet buddy Stay bless and enjoy your happy life together with your new-found wife.
From my heart I want to congratulate you and wish you all the best in everything you and your new home deserve. May God open all closed doors and give you peace. Happy Married life.
Wishing you a lot of success in your journey of building a home, where you are going to have sets of new friends. Stick to them forever. Congratulations on your moment of wedding my friend.
There is nothing so beautiful and amazing to take up responsibilities. May all your dreams come true for this great step of life. May God bless your home and give you peace. Happy married life.
Congratulations!! May your marriage home be a blessing and fruitful.
I was a bit jealous at first, but I knew you were in love when you started cancelling our plans for the new ones you had together. Enjoy your wedding day.
Happy Married Life Wishes for Friend
What a great day this day is in your life, today you leave the stage of being a boy to being a man. May God bless your home and may you be very productive in all you do. Happy married life.
May your wedding truly bring you fulfillment and may you complement one another. Wish you a happy wedding.
Love and understanding is the major key to unlocking the sweetness of every marriage. Always seek to understand each other and the result will surprise you. Have a conjugal bliss.
My most heartfelt wish for you is that your love will keep growing for each other as days pass by. Happy married life.
A home is always as beautiful as what we made it to be, may your home be very fruitful and may you be a great father to your children. Happy married life, enjoy every bit of it.
It's a whole new life now; you no longer think for yourself, you no longer care for yourself. It's a fantastic world; I wish you happiness in your new home.
Happy married life my friend. In this kind of life, sharing is paramount especially if you desire a good home. Happy wedding best friend.
May you together have long life and good health to enjoy everything you need to enjoy as a couple. Have a blissful home.
The two of you are so compatible that it feels like you were just made for each other from heaven. May your marriage be fruitful and may you both grow to love one another so dearly.
Read Also: Wedding Wishes and Messages for Brother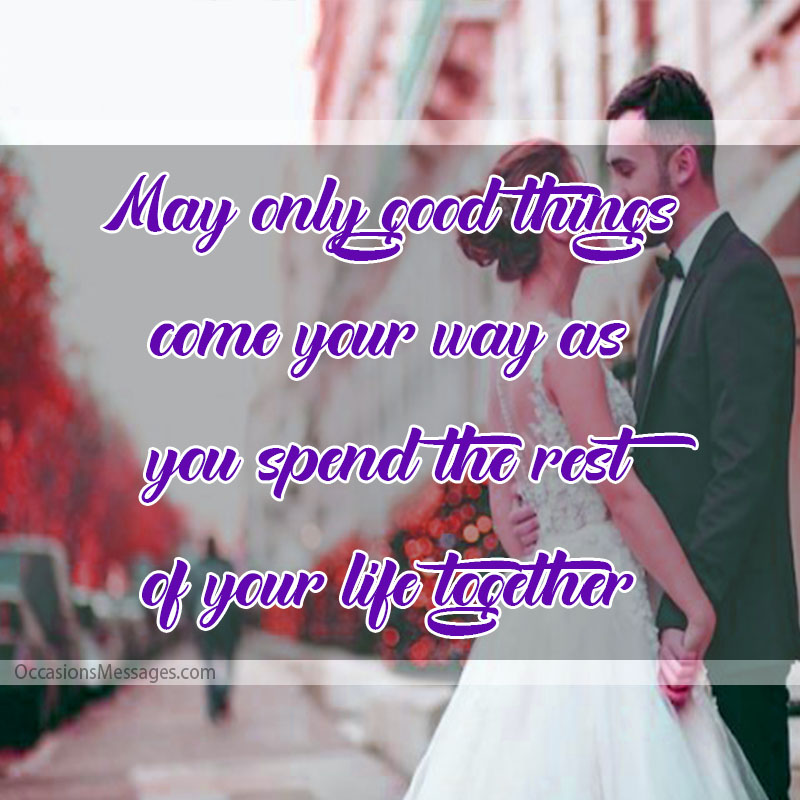 After all the waiting, after all the expectations and preparation. It is finally coming to a reality. Happy married life to you. May your home bring you all that you look forward to having in no time.
Marriage brings people to learn a lot of things. Sacrifice is all that you need to understand. Learn to please one another and your home will be a happy home. I wish you a happy and wonderful marriage.
You have waited for this moment all while long, but now it is here. Wishing you a lifetime of love and commitment, that you may enjoy your stay together. Have a fruitful marriage.
As you are taking a new step in the journey of life today, may you fly on eagle's wing and may all that pertains to you be in good shape. Enjoy your marriage.
Being here today as a friend really means a lot, I wish you all the happiness in the world as you venture into marriage hood.
It was a beautiful ceremony, surrounded by beautiful people, I am proud to be a friend amidst them, have a blessed marriage.
Congratulations to the latest couple in town, may all your prayers be answered, and you find comfort and unquenchable love in each other.
Recommended: Wedding Congratulation Messages for Sister
Funny Wedding Message for Friends
A woman deserves a better half in every marriage, but I pity your wife who made a bad choice of marrying you because you have no good side left.
Marriage is like signing a contract without reading the terms and my best friend willingly signed the documents without any hesitation.
Happy Married Life to my best friend, always member that night outs and spending time with the clique is outdated.
Food poisoning kills more men than car accidents so do not ever offend your new bride, it will be a big blow for me to organize my best friends funeral.
I cannot be happier for you because you single-handedly sold out your freedom on the altar of marriage and as your best friend I would recommend you.
According to a popular saying "a blind wife and a deaf husband makes an ideal couple" I expect to see changes in your appearance the next time I see you.
Wedding Wishes for Friend and Best Friend. I can't survive without my best friend; I know I am not the only person who shares such sentiments. They are the extra sibling we get to choose, and they are indeed the people who get to know us best. Being there for your friend during a relationship is important but what's more important is being there whenever they need you. During your best friend's wedding I am sure they need you more than they need anyone else there. You are a part of them and sharing this day with you means as much to them as it will mean to them. So pick one of these birthday wishes for friend from here and show your friend how far you are willing to go for them.
SHARE ON