Birthday Wishes for Brother: Brothers are the men in our lives that protect us like an entire police force, love us with no strings attached and hold up their mothers when they are despaired and sad. They are the only good men in our eyes because for us, they are responsible enough to be and that means they can never do any wrong. How then do we give these amazing men our birthday wishes?
How can we show them how much we value and care for them? Brothers are important and we should at least try and show them their importance through messages. Choose a birthday wish to send to your brother from the ones here below.
Birthday Wishes for Brother
Here are some cute and sweet birthday wishes for your brother.
Happy Birthday, to a brother who cares like a mother.
May your life be filled with joy, laughter and prosperity. Happy Birthday bro.
Happy Birthday brother! You are my friend, my companion and my partner in crime.
I feel lucky to have a brother like you and to get to share many unforgettable moments with you.
Happy Birthday, lovely brother. Nobody can occupy your unique space in my heart.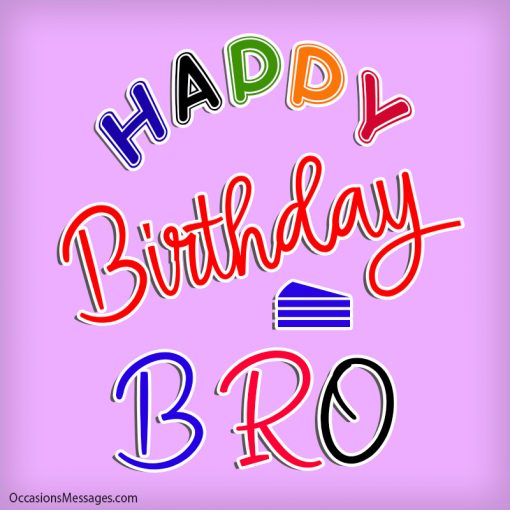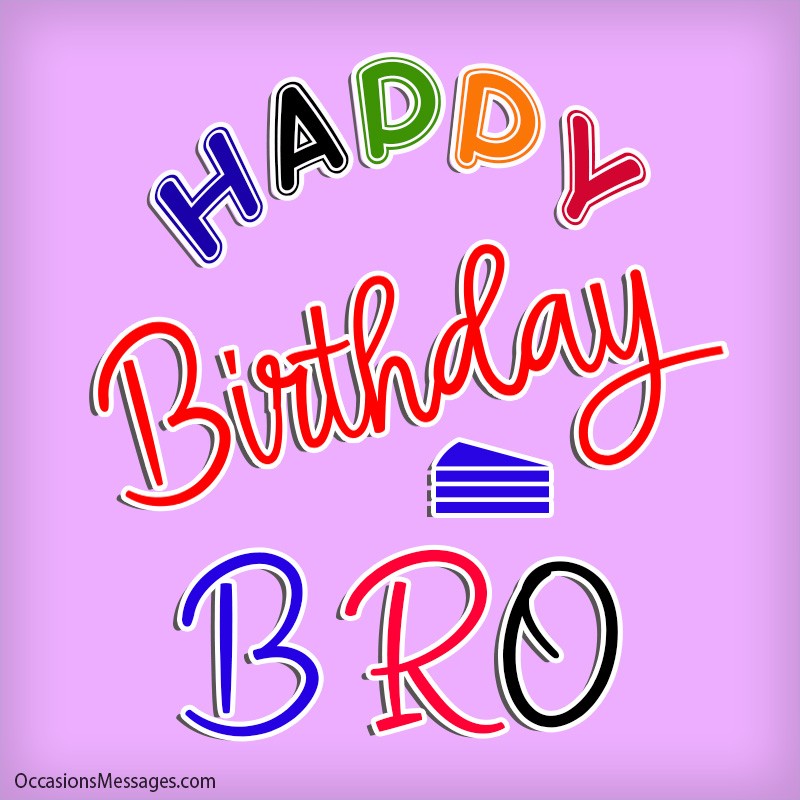 Happy Birthday brother! You are such an amazing person; I cannot imagine my life without you.
Happy Birthday. You are the best description of the word brother, so selfless and compassionate, just like an angel sent from heaven.
Happy Birthday brother! Another amazing year for an amazing man! Enjoy. I Love you.
Words will not be enough to describe you; you are one of a kind, keep soaring. Happy Birthday, bro!
I am sorry I could come up with a gift for you; I hope my presence and love will be enough to give you a memorable birthday.
Congratulations! You've completed another journey around the sun without giving up on the way, we are proud of you.
May you get your heart's desire today and every day of your life. I love you bro, have a nice day!
Happy Birthday Bro. I race you to the cake. Why are you still reading this? I'm already running to the cake!
Happy Birthday, bro! Thank you for being my role model, confidant, mentor. Keep being the best! I am always here for you.
I've watched you grow and live. I pray to always be there for you as you grow older. Get ready for some pranks tonight bro!
I like you just like myself because you are my brother, so I will put in total dedication to your birthday as if it is mine.
Some say brothers are annoying, but I don't know where they got their bros from. I'm lucky to have you as my brother. Happy Birthday.
I promise to protect, love and encourage you all the steps of your life. I will try my best to see you grow into a man people will look up to. Happy Birthday!
You're full of laughter and tears, fights and games, hugging and kissing. In short, perfect brother. Have a glorious birthday.
Everyone deserves a brother like you, but there is only a copy which is luckily mine, and I do not intend to share even on your birthday.
On this special day, a special person was born and a special blessing is what I wish him on this auspicious day. Happy Birthday to you brother!
Brother from Sister
As a sister, choose a beautiful birthday wishes to send to your brother on his special day. For more ideas, see these 130+ unique birthday wishes and messages.
Happy Birthday bro. I appreciate you so much, thank you for always making your sister's dull days bright.
I can never live without you brother. You make me the luckiest sister in the world and you deserve the most amazing birthday.
Sometimes, I consider you as my superhero, you are the best brother any sister can be blessed with. May all your wishes come true.
Everything in the world will come to an end but the love I have for you has no end. Happy Birthday, my treasured brother.
You have not only proven to be a man, but a great man at that brother, I am glad I can praise your name as a sister and as a female. You make me proud, splendid birthday.
If you were not my brother, I will marry you and keep you in the most treasured place of my heart, because you're special. Happy birthday! Special.
Brothers and sisters are as close as hands and feet, that is why I can never let you roam free, have the best birthday yet brother, you are loved.
I love our parents for giving birth to you because not all brothers bring a smile to their sister's face. Happy Birthday to you.
Thank you for being selfless enough to love me, protect me and care for me. I love you so much, happy birthday!
Brother from Brother
Here are some cute ways to say happy birthday to a brother from a brother.
I look up to you as an icon and wish the best for you on your birthday.
The great moments of our youth will be in our hearts, things that we never forget! Happy Birthday brother.
There is a little boy inside the man who is my brother… Oh, how I hated that little boy and how I love him too. Have an awesome birthday bro.
Dear brother, I may not have been the role model you wished for. But on this special day, I solemnly promise that I'll strive to be the best for you.
I feel sorry for people that do not have a brother; I enjoy your company and all the crazy things that we did as Kids. Happy Birthday.
Today is your birthday; so, let us paint the town in lovely colors. Have a very happy birthday my dear bro.
Though we fight and quarrel nevertheless, you will always remain my brother, and not even me can change it, so your birthday is a great deal for me.
It's your birthday, be happy and rejoice, your better days are ahead. I wish you a long life.
You came, you saw, and you conquered. What more can I say, than to wish you more wins and blessings. Have a very happy birthday bro.
Funny Wishes
Need some funny birthday wishes for brother? Check out these messages. For more, see best 75 funny birthday wishes.
Happy Birthday, brother. We will always be the siblings that hanged out until dark and fought on the dinner table.
You may be a bother, but you are definitely my brother, I hope all the hair in your head falls off as you celebrate another year of growing old.
You really are turning into an old man, have fun before you're too old.
May this birthday make you fat and lazy, so I can finally be the one to show off. Have an amazing birthday dear bro.
You will definitely grow to be an old, grumpy, toothless man dear brother. But don't worry; I will always be there to laugh at you. Enjoy your birthday!
I would love to throw a cake at your face brother, not because I hate you; just because I want to annoy you. So stay alert. Happy Birthday bro!
I can't wait to see you walk with a cane, yell at people for being annoying and lose your boyish charms. Enjoy your day!
I will always love you irrespective of our differences; I don't have the power to change you, so we are stuck like glue.
Short Messages
Here are some cute list of short birthday wishes for brother.
I will forever live to make sure you are happy. I love you bro, enjoy your day.
Happy Birthday. On this day my parents gave me the best gift of all: you, my brother.
Have a great and amazing birthday my brother, you will always be in my heart!
As you turn a year older today, may all your dreams come true and may cake never run out.
May this birthday be all you've ever hoped for. Hope all your wishes come true!
You are my pillar and the most important man in my life dear brother. Have a great birthday!
May you stay blessed on your birthday and may each wish come to pass for you. Hearty birthday bro!
Happy Birthday brother, may your days be filled with happiness and joy. I love you!
I've never had many friends or people I can depend on. Yet you were always there. Thank you brother.
Happy Birthday Bro, may this day bring you happiness, love and hopefully unforgettable memories.
For Older Brother
Best ways to say Happy Birthday to your older brother.
Happy Birthday, elder brother. I will make your birthday party bigger than you want it.
I will never forget all of your encouragement towards me, I followed each and every word, and ever since, my life had proper shape. Happy Birthday great brother.
Happy Birthday brother, it seems age is really coming on your side, because all the hair on your head are already disappearing. Heheheh. I wish you a beautiful celebration. Stay blessed and get more hair.
I feel more secured whenever I remember I have you as an elder brother. I choose your birthday to thank you for your undying love and support.
You are the most important asset in my life. I cannot imagine life without you. You protect me, and I love you so much.
What would I have been without a brother like you? We eat together, we sleep together and we play together. Happy Birthday sweet bro.
For Younger Brother
Here are some birthday greeting messages for your older brother. For more ideas, see these amazing birthday wishes for boys.
Happy Birthday to a special younger brother, you never cease to surprise me with the level of your knowledge.
I can't believe I see you turn a new age. I promise to make all your wishes come true, love you bro. Have a beautiful Birthday!
Yeah! Isn't it great to see that little man become big? Of course, it is. Happy Birthday bro, I'm glad you're plus one today.
I have come to realize that a brother is a teacher. You taught me how to be cool even when I am angry. Living with you builds my confidence.
My brother has finally made it to the big 21. I believe now you have to buy me a beer!
Congratulations on your birthday, dear Brother. I know it will be very blessed because you're a very good person and you have a big heart.
For Married Brother
Here are some special birthday wishes for married brother.
I admire the man you've become today dear bro, you've really turned yourself into a father I am proud to be related to. Have a blessed birthday!
You are very lucky to be married, brother; I count on your wife to make your birthday worthwhile.
I wish to be comfortably married as you someday; it is nice to wake up next to ones love on a birthday. Enjoy your day.
Happy Birthday bro, take good care of your wife and kids. I have been expecting this day for a very long time.
Today marks the birth of a brother like no other. Kudos to you and your family for the food and hospitality. I wish your birthday is celebrated every week.
You are already a good version of yourself, may this new age teach you how to be the best version of yourself bro. I love you. Happy Birthday.
For Adult Brother
Here are some birthday messages for adult brother that will make him happy. You may want to see these
You are my role model and I love you so much. Have a wonderful birthday my dear brother.
Forget your troubles and have fun today, we only celebrate you once a year and you turn a new age each time. Happy Birthday.
We take a lot of things for granted, but I will never take celebrating my brother's birthday for granted. You are special to me. Have a great birthday! bro.
I had to stay awake in order to be the first person to wish my lovely brother a happy birthday.
I am honestly happy to get to see you turn a new age. You have been the greatest rock in my life.
You have always been a part of who I am today, and I thank you for that. Have an auspicious birthday bro.
For Twins Brother
These birthday wishes are written for twins brother celebrating their birthday.
I was not only blessed with one amazing brother, but two, have an amazing time as you celebrate your birthday dears.
May you have a favorable birthday my brothers, you are a pair of joy, happiness and good nature and I love you so much.
May you always have each other's backs, you are both amazingly dear to me and I wish you both a carefree birthday!
May today be the continuation of your awesomeness; you are both amazing and smart individuals with a blessed birthday from us all.
I've walked a lot, and I've seen a lot of people, but none of them are like you. Have an amazing birthday my amazing brother.
Have a gleeful birthday my pair of twin brother, I must be the luckiest person in the world for I get to see you both grow old and enjoy each and every moment.
Happy Birthday Brother
Many more beautiful birthday wishes for your brother.
Good siblings shouldn't be the ones to forget a brother's birthday. Your birthday is in my brain archive. I never forget it even for a moment.
You are a strong, great, headstrong man and I could not be anymore proud of you. I really love you brother. Have a great day.
The truth is that I always loved you even when I acted like I hated you. Yes, we fight but that's just a necessity and it's normal.
Brothers can be disturbing and very annoying, but they can also be loving and fabulous just like you. It is our birthday, not yours.
You're a great brother and a great friend and you deserve the best birthday. Have a great day bro.
Happy Birthday big bro. I would love to be like you but I would never love to beat my younger bro like you do to me. Anyways, you'll always be my best friend.
Happy Birthday. I can only wish you the best in life and many more years.
It's another 365 days of your life, be happy and rejoice because this marks the beginning of many achievements for you. Happy Birthday! Brother.
What more can I wish to a loving brother like you, than the best of life and fulfillment. Happy Birthday! My blood.
Happy Birthday. I love you with all my heart. You're the best brother in the world. God bless you.
May your birthday be unforgettable and be one of the best you ever witnessed, dear brother. Never forget that I always got your back.
The sky is the limit for you, brother. New doors will open for you after your birthday, and you will smile all through the year and be thankful to God.
I am proud to have you as my brother, I appreciate everything about you and on a day like this I wish you love, peace and joy as you celebrate. Have a beautiful day.
I may not have money to give you; I have neither gold nor silver, but I wish you above all this day, prosperity and many more years of return. Happy Birthday! Sweet brother.