On your special occasion, who would you love to see? Wedding invitations are important for they not only make the recipient aware of your event, but make them feel lucky to be part of it. Wedding invitations should be short and brief, but it's your day and it's mostly the information you want to convey on your special message to the special person you want involved in your wedding.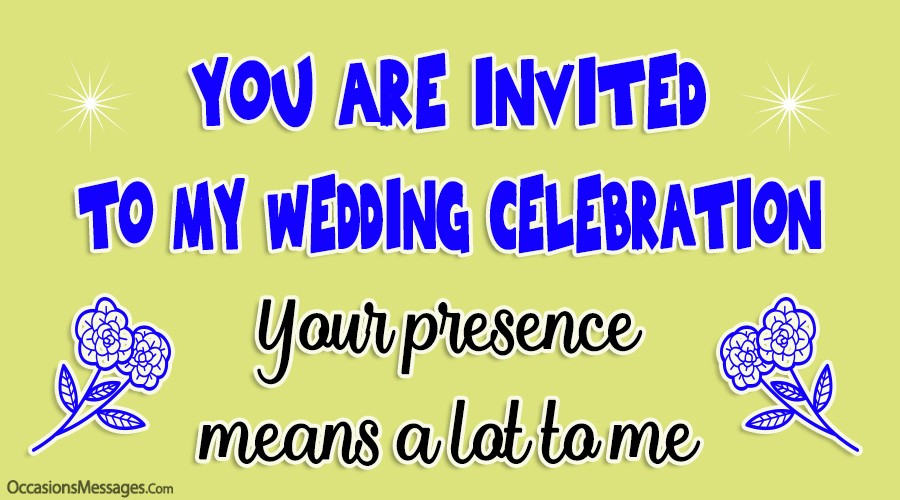 No matter the length, send one of these messages to your special guests and make them feel more than blessed to be chosen to be part of an event as special as the one you'll be having.
Unique Wedding Invitation Wording
I personally request the honor of your presence at my marriage ceremony where I'll be uniting with my wife for the rest of my life.
My family and I together with the families of the bride invite you with your family to celebrate us on our delightful day. Please don't hesitate to come. Thanks.
"With love, nothing can go wrong for when you have each other, that's all you need." Please grace us with your presence as we tie the knot.
"Life is short, but whenever I am near you, a second turns into a millennium." We would love it if you would be part of our wedding.
I am formally announcing to you of the love between myself and this girl, we will like you to come and hear us say our vows, we'll hope to see you.
We want to only announce the wedding when the invitation card gets out but you should know before then sir. It'll be a great joy to have your presence.
"As times fades, our love grows like the flowers in spring." Please be a part of our amazing wedding, we would love your presence.
"Your flaws are the best part of you for they show me you are human, I love you now and always." We would love it if you were part of our wedding. Please consider.
What a beautiful day of joy it'll be, and we invite you as we celebrate our new life together, please join us there as it'll be very important to us. Hoping to see you.
Nothing will make more sense than the pleasure of your company is at the marriage uniting between my lovely wife to be and myself. Please make it a dare.
"My heart aches for you, now that I have found you, I am never letting go of you." Please be part of our beautiful ceremony, we would love you to come!
"If this is love, then it must be the greatest feeling of all." Please join us as we say our vows to each other, your presence will make a great difference.
The love between my lovebird and I has pushed us to this place right now and we are tying the knot next month. We will find it pleasurable to have you at our wedding.
Marriage is the obvious thing that gives love recognition. I hope you'll be there to witness myself and my wife to be as we declare our vows for one another.
 "Words said but now words are put to play, I can't wait to be with you forever." We would love it if you would be part of our wedding.
"Growing old with you is a blessing I long to enjoy." Consider yourself part of our occasion; we would be happy if you graced us with your presence on our wedding.
Today I am joyfully writing you for you to know of our scheduled wedding slated for next month. Your seat is reserved. Please be there. So we could love each day of our togetherness forever.
Our day of celebration of love and friendship will be coming up next month and we can't afford to not have you there. Please plan towards attending; you're so important to us.
"One step at a time, now, we make a step towards eternity my love." Please be a part of our wedding, your presence will make a lot of difference.
"May the autumn leave fall like the everlasting promises we make to each other." You are invited to our wedding as our special guest; I hope you will be available.
To keep moving in life with extreme happiness, all you need is love. I have found love and two of us are becoming one. But it won't push through without your availability. Please be there.
Love is the greatest adventure and I am really happy to have begun mine and I want to establish my love for my wife to be. So please come to our wedding next week. Thanks.
"You are worth each step, each joke, each tear and each moment, I love you." Please come and be a witness to a magical event, we would love your presence.
"For when the sun goes down, all I think of is waking up next to you." You are invited to be part of our wedding; I hope you will be available.
It's my wedding day friends. Who would I write to if not you, I hope each one of you will take care of some logistics on that day but the most important is your presence.
My wedding day is really fast approaching and my pleasure will be to have my friends looking at me from afar while I say the vows. Make sure you're present there friend. Thanks.
 "You are my love, my life and without you, I don't know what I am doing." Please be a guest at our wedding, we would love your presence!
"I have not known love like this, for it doesn't exist without you." I hope you will be available to witness our beautiful matrimony; your presence is highly required.
To my loyal friend that loves me so much; I cordially invite you to my great occasion coming up in the next month. Please make it a date with the bride. Love you.
With friends like you my marriage is a city celebration; I'm using this medium to invite you all classmates and friends to my wedding. My joy will only be full when I see you there.
"A world without you is a world without me, you are my world." Please be a part of our wedding, we would love it if you could attend.
It's my happy day Friends. I wouldn't want anyone of you to miss my special occasion or I'll cry, and you wouldn't want the charming bride to cry. Make my wedding great by being present.
Good day wonderful friends that God gave me, my wedding is coming up next two weeks and I would be really happy if all of you can be present. Thanks so much.
"In the words of Mignon McLaughlin "In the arithmetic of love, one plus one equals everything, and two minus one equals nothing."" Please join us as we tie the knot, your presence will be highly appreciated.
Thank you for inviting me to the wedding of the year. I had a lovely time seeing you express your love in front of the whole world. It was purely romantic.
"My love for you grows fonder each day, and there is nothing I wouldn't do for you, that is why I say I do now and forever." We would love it if you attended our wedding.
I hope my wedding day is convenient for you Friend, if it's not I can shift it to have you all there. My only joy will be to see you all. Make it a date.
I your darling friend who would do anything for you cordially invite you to my wedding that will be holding in the next week. Please join me as I tie the knot.
It'll be my greatest joy to be looking at my friends face as I say the vows. I know you'll make me laugh even from afar. Please come around friend, it'll make me happy.
Guess what friends; I'll be marrying the most beautiful man in my life in the big city where we all met. It'll be so joyful to see you all there. Make it a date.
All over my heart are songs of love; please join me as I sing this love song for my darling wife to be on the altar. Your presence will be highly appreciated at our wedding.
---
You May Also Like:
Inspiring Wedding Wishes and Cards for Couples
Wording Examples for Your Wedding Thank You Cards
---