A wedding is a beautiful union between two people who over each other, it is the declaration of their love for each other in front of the people they hold dearly. Brothers are awesome dudes we are given for free to piss us off and meddle in our lives, but they do that out of love and we know we can always count on them when we need them.
So being there for them on their wedding day is an important thing to do. Share a message of support and love showing him you will always be there for him too and that he made a wise choice on his new life. Here are some messages you can send to your brother on his wedding day.
Wedding Congratulation Messages for Brother
Dear brother, I am very happy for the great step you have taken. Finding a soul mate is the most wonderful feeling. I wish you a happy wedding. May God bless your home.
This world is always not fair to some of us. How come you found this beautiful lady. And I am still single. All the same, I wish you a happy life together. Congrats.
Applause to my brother, He found the one to spend his life with. So on this special wedding day, I congratulate you both and welcome to the family sister-in-law.
As these campaigns pop in the rejoicing of your special day, I pray your love will flow for each other. May you feel shoes of your grandfather and stay in love. Happy marriage boy!
May you have a happy married life. May your union last a lifetime and may all the love you share keep burning with endless flames. Enjoy all your times together to the end brother.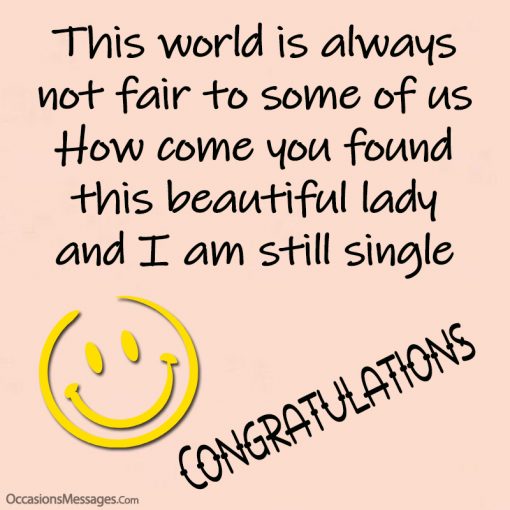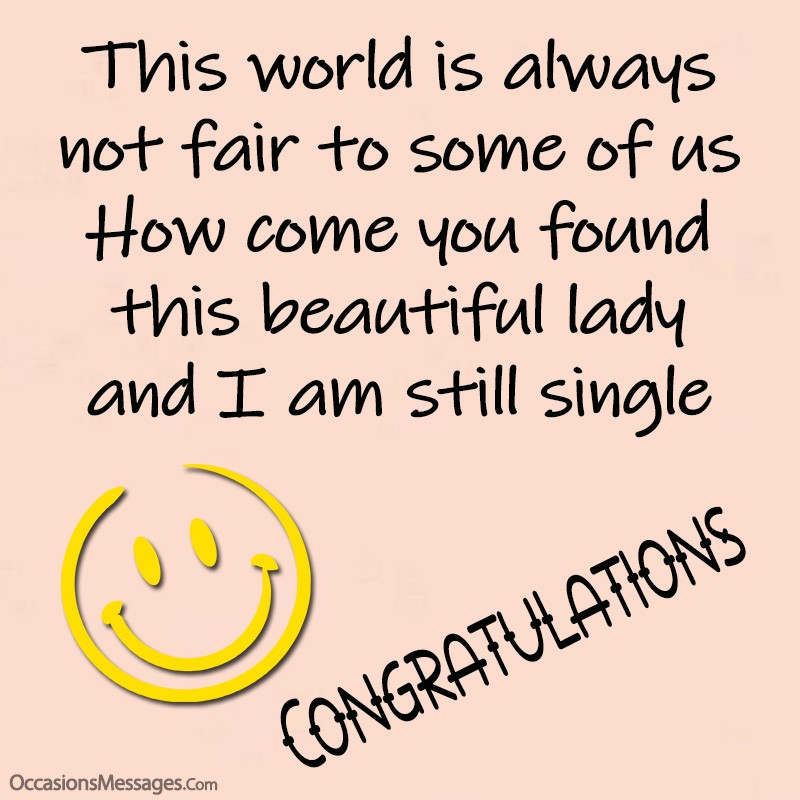 As I stand by you this special day, it brings me great joy! My warmest heartfelt love is with you. May you enjoy each moment of your new life. Stay blessed.
May the joy, love, and happiness from your wedding day follow you for the rest of your lives. I wish you all the best in the days ahead. Congratulations Bro.
Finding true love is not something so easy. But you have proved that there is always someone for everyone. My brother, I am so proud of you. Have a happy marriage life.
Brother, you made me know how it feels to love someone. I wish you an endless marriage that does not get broken. Happy Married Life.
This life is full of surprises. Special people deserve nothing but the best of everything. I really feel blessed witnessing this wonderful union. I wish you a happy marriage and may you enjoy endless love.
Congrats brother! I wish you a fruitful and prosperous marriage. May you be a responsible man for your wife and kids. Don't follow friends, don't drink, and happy home will be yours forever.
Your journey is long. Keep up the love, faith, and trust for one another. Be real to each other and let the endless love be your portion. Congratulations on your wedding.
May your home be filled with happiness. May your life be filled with loving kindness. As your little sister, I am so happy for you! I wish you Happy married life brother.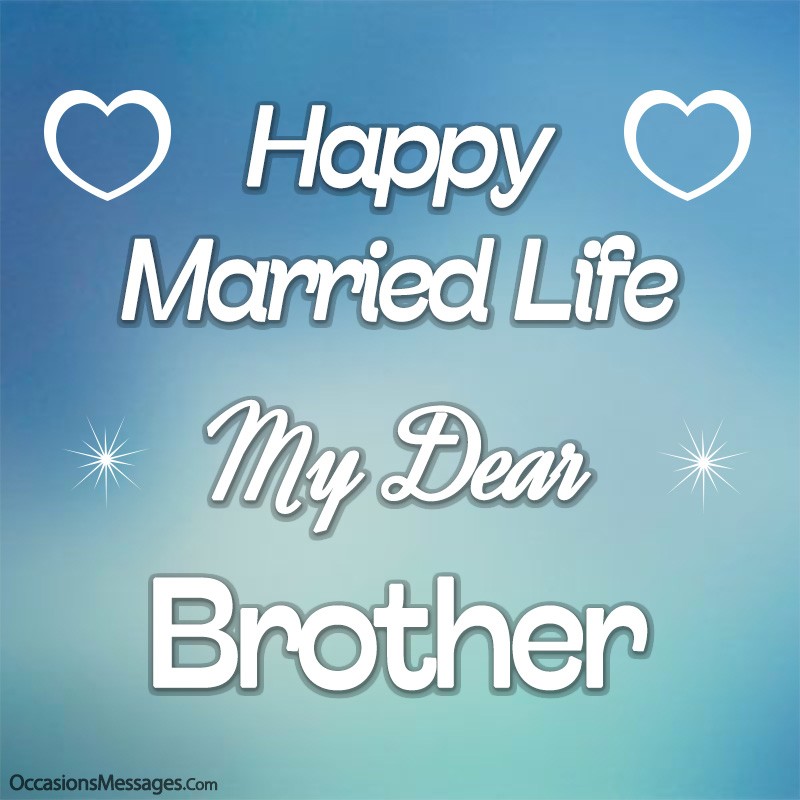 Accept each other's differences. Understand each other inner feelings. This path you chose is the rightful way. Your wife loves you but we love you more. Congrats on your wedding.
I feel so blessed to be presented for this special wedding ceremony. The best I have seen in years. True love, respect, trust, and understanding are everything you need. Congratulations! Enjoy your day.
Congratulations Brother! Love is a beautiful thing to be shared. Embrace it with all your heart and have endless happiness. May your bond be strengthened at all times. All the best in your marriage.
To the most beautiful couple, May your love last forever and may your bond be of great achievements together. May your smile lights up your inner candles for life. Happy wedding brother. Congrats.
May your bond remain untarnished to the end. Any evil mindset against your union shall never hold. But rather, May your union be of great value to both families. God bless your marriage.
May God fill your life with everlasting happiness. My Bro, marriage is like Tom and Jerry. The story is never complete without the other. I want to wish you a happy and lovely marriage life.
Love has no ending my dear brother. Remember no one can create a perfect home for you. So let not a 3rd party comes between you. I wish you a lasting marriage of love.
Have a beautiful marriage brother and may all your life together be filled with too much togetherness and love. Congratulations!
Happy married life good brother; you've tried your luck today by putting all of your efforts into forming a home. I'm sure it'll be a success. Enjoy the beauty of a home.
May your marriage take you from low to high and from rags to riches. You deserve all of that and many more. Happy married life precious brother. I'm missing you already.
Happy married life stubborn brother, now the world is at your feet, let's see how you can control it, I hope you'll do well in building a great home. Stay blessed.
In marriage all addiction must be leg away to attain a good stability. Your addiction should be your family. Take the wise word and your home will be great. Happy married life brother.
It's a beautiful day to celebrate a beautiful couple, you are really blessed and I hope someday I can experience the same joy bro. congrats on your wedding!
You finally found someone who'll hold you down, who'll make you happy and who'll always be by your side. I hope you realize you are lucky bro!
It's a beautiful day to be celebrating two love birds; I hope yours is forever together. Congratulations on your wedding my brother.
Happy married life brother. I hope marriage will bring out the flexibility we've all waited to see in you. Because you appear to be too rigid. Nothing is fixed in marriage. Enjoy your home.
Congratulations Groom and brother. May you find all the needed reasons to stay together in time of need and trying times. You were made for one another. Happy married life. Be blessed.
Money is good but it will fix nothing in marriage, learn to be together always and do things together. It's the most prestigious thing in marriage. Happy married life brother.
Happy Married life brother. Always remember that love is joy abiding, never forget to dwell in it always. May your home bear good fruits.
They say he who finds a good wife, finds a treasure and receives favor from the Lord, you definitely look favored. Have a blessed marriage my dear brother!
The day was definitely made for you, the hour and all the people here look in awe as they see how happy you look together, never take that for granted. Congratulations bro!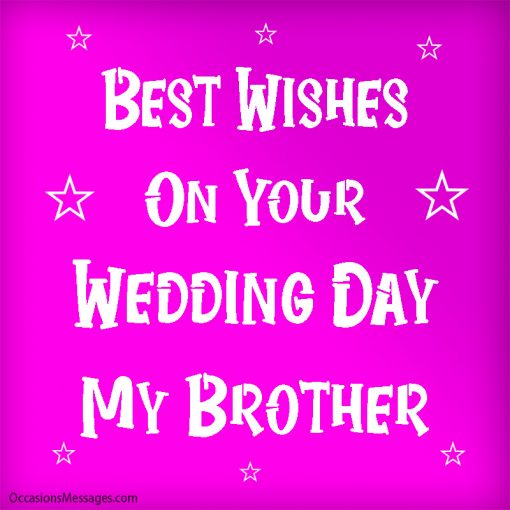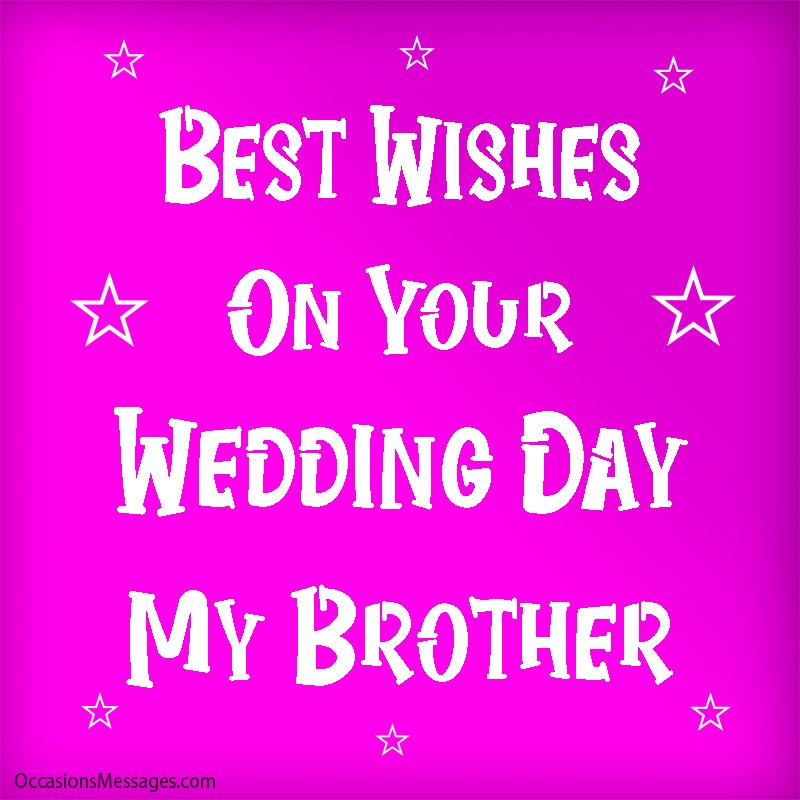 The world needs great homes like the one that was set up this day. May your home bring forth good children to grace the face of earth and impact it. Happy married life brother.
There are weaknesses in everyone brother and your new wife obviously has one. Only God is void of any, always love her even in her weakness. Happy married life brother.
Learn to focus on the strength of one another, that is how you get the best from yourselves dear brother. Enjoy your home like you enjoyed chocolate when you were young. Cheers.
Don't ever try to dig into the past of one another, it should be left there, rather enjoy in the best possible way the moments that the day gives. Happy married life brother.
She finally tamed your wild spirits, made you into the man you are, I hope you realize how lucky and blessed you are. Congrats bro!
May love, blessings, faithfulness, honor, love and respect shine through your wedding as you say I do and forever more. Congrats bro!
Happy married life brother, the only hot and excruciating challenges that people face in marriages come when they are not together. With togetherness, you'll enjoy your home.
I understand the kind of joy that fills your soul today. It's really a proud moment in one's life. I remembered my own time also. Hehehe. Very lovely. Happy married little brother.
Staying together means you'll enjoy different level of successes together. I know you don't wanna miss those experiences brother. Happy married life. Be good.
The moments that are saddest to witness in marriage will come, but may it come when you're best prepared for it dear. Be strong and don't be scared. Happy married life brother.
A fine girl for a fine brother, hope you experience the joys of love, and a good family. I know you'll make a good home. You are lucky brother!
May fortune always favor you and your new family, may you never lack and may you always find luck. Have a blessed marriage dear brother congrats.
Time of stress may come, when nothing will seem to be interesting at all. Perseverance, patience and love will always push you through these stressful time. Happy married life brother.
This is the vow you made today, to stay with one another in health and in sickness. Let No other charming lady come in between. Hehehe. I wish you happiness brother.
Ignorance, prayerlessness and unforgiveness are the enemies of marriage. Your only weapon against them is love and your support for one another. Happy married life brother.
Don't get careless about your marriage at any point in it. Don't allow the enemy to come in and spoil all that you have. Happy married life brother.
May she always stay true and royal dear brother, may she make you feel like a king, may you always be happy and have a long future together, those are my wedding wishes for you.
Beauty lies in the eyes of the beholder, I see more in the two of you together than apart. I wish you a long and happy marriage. Congrats dear brother!
It's the commencement of a journey on the road of marriage. Flat tire will occur, the engine will need coolant and oil. The most important thing is to enjoy the journey. Happy married life brother.
With carelessness and inability to sacrifice. Many built a home of hell on earth. I pray your home will be a heaven on earth to enjoy till death do you path. Happy Married life brother.
Encourage one another, love another, pray for and with one another. With these the sun and the moon will even favor you if they could. Happy married life good brother. I'll miss you.
A wedding fit for the king that is my brother. Finally settling down I see. Hope to see you grow fat and healthy, for you have found a woman for keeps.
If you did settle down, then we can all also do. I am proud to be a witness at your wedding dear brother. She is definitely lucky.
For what you've decided to become, I wish you a life full of immense joy. May everything you build together have a strong foundation. Congrats bro!
I envy you, what youhave, what you share, but I am also so very happy for you, for she makes you smile the most. Hope you guys last forever and ever little bro!
My dear brother, this is a new phase of life, I can't believe you finally found the one. I hope you make each other happy, enjoy your wedding day.
Two heads are better than one; remember that through every decision, argument and choices and you'll see yourselves grow as one. Congrats bro!
You finally found her or may I say she finally found you dear brother. Congrats on your marriage and the promised future you have together, I wish you happiness.
Be a blessing to her as she is to you dear brother, make her happy as she made you giddy when you first got her number. Congrats on your wedding dears.
This ceremony is definitely blessed dear brother and I wish you nothing but happiness and lifetime memories, you are lucky.
May this be the best day so far in your life brother, she just made you the king, rule your kingdom with awe and admiration. Congrats on your wedding.
You are a lifelong friend and a caring brother; I hope you find a lifetime of happiness in your new union.
I thought it would be impossible for you to marry but I was wrong. Welcome to the married men league.
Dear brother, I am happy for you and your bride. May you enjoy unlimited peace and happiness together.
You play a big part in my life as a brother, there is no universal theory for a perfect marriage but I trust you to hold it down.
All marriages experience ups and downs, but you really love each other and that is what matters. Happy Married life, brother.
Congratulations, Brother! I woke up to this surprise news in good and rejoiceful faith. All, I ever wished for is you to be happy. Enjoy every moment of your love life. God bless your marriage.
May your river of gladness never run dry after your wedding as you begin a journey into an unknown future of a million possibilities.
Today marks another fantastic day on my calendar; it's your wedding day; nevertheless, our task is to make it the best known to humankind.
---
You May Also Like:
Inspiring Wedding Wishes for Groom – Congratulations Messages
Funny Wedding Congratulations Messages for Bride and Groom
Best 200 Wedding Wishes and Messages to Write in a Wedding Card
---