Wedding Wishes for Groom: What words sound proper for that lucky man tying the knot to his special lucky soul mate? wedding messages go a long way in making a groom's day bloom with the thought of someone looking out for them. There are never the perfect words one can speak out or say to this happy man, all you can do is wish him the best in his future and congratulate him on taking a step towards a cheerful tomorrow. Here are some wedding congratulation wishes and messages you can send to your groom showing him your love and support throughout his marriage and happily ever after.
Wedding Wishes for Groom
Happy married life. May God shower your marriage with blessings and lots of love.
Congratulations to the man of the moment! May you experience undying love and happiness throughout your marriage.
Finally, found the one who'll cook, clean, love, respect and hold you forever. You are lucky and so is she, congrats my brother, may you have a happy ever after!
You are a king and you just found your perfect queen. May the both of you give birth to princes and princesses. Happy married life my dear
The celebration never ends, the fun never stops. May your marriage never lack love and excitement. Wishing you the best.
The both of you are lucky to meet each other. You are the perfect man for her and she is the perfect woman for you. May your union last forever.
You look charming in a wedding suit. Your charisma makes you cute, and I hope your children have your good looks. Wishing you a happy married life.
Happy married life together! I wish you all the best in the world.
I have waited for this day for long, and now it's here. May you experience a fine and outstanding marriage.
Good news, you just signed up to be a father, a husband, and a son-in-law. I wish you the best on this incredible journey. Congratulations!
Most Popular: Best 200+ Wedding Wishes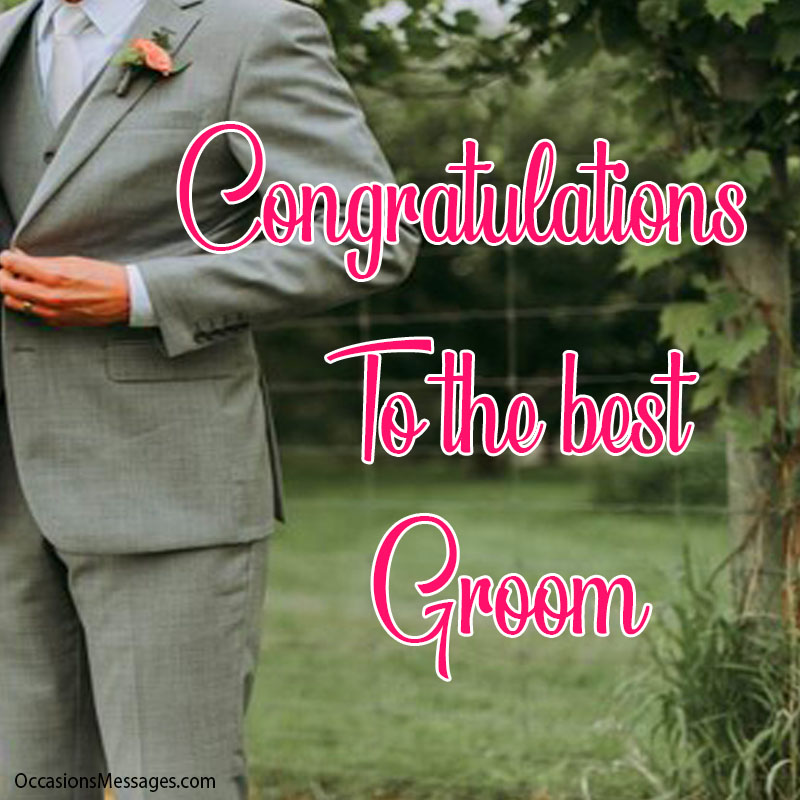 May your marriage serve as examples for other couples to adopt, may your love for each other never die.
Just like the sky never change colors, may your love and affection for each other never change. Happy married life my friend.
May the bond that keeps marriage together keep you together, may your love grow stronger daily and may you achieve a lot together. Congratulations!
Destinies have brought you together. Hence, you must enjoy every bit of your time with one another. Wish you a happy married life, my brother.
Good things do take time, you have been together for so long and now I am so happy to see you two finally tying the knot. Congrats, she really does love you!
You are finally a man worth any lady's heart. May marriage be the longest honeymoon you'll have.
She turned you from the boy you were to the man you are so be sure she will turn you to the husband you are going to be, Congratulations on your wedding day. I am happy for you!
You finally found the one who'll love you till the end, I am so happy for you guys, may your marriage blossom and may you always have each other for all eternity.
She is lucky to have you, just as you are lucky to have her, this was definitely the right move, the right path and trust me, you will have a great time.
I never thought this day would come, but it is finally here and you look more handsome than ever. I am happy for your choice. Congrats!
From this day henceforth, you shall no longer be addressed as a boy but a man.  I pray you have the courage to bear the burdens of marriage.
Related: 60+ Wedding Messages for Brother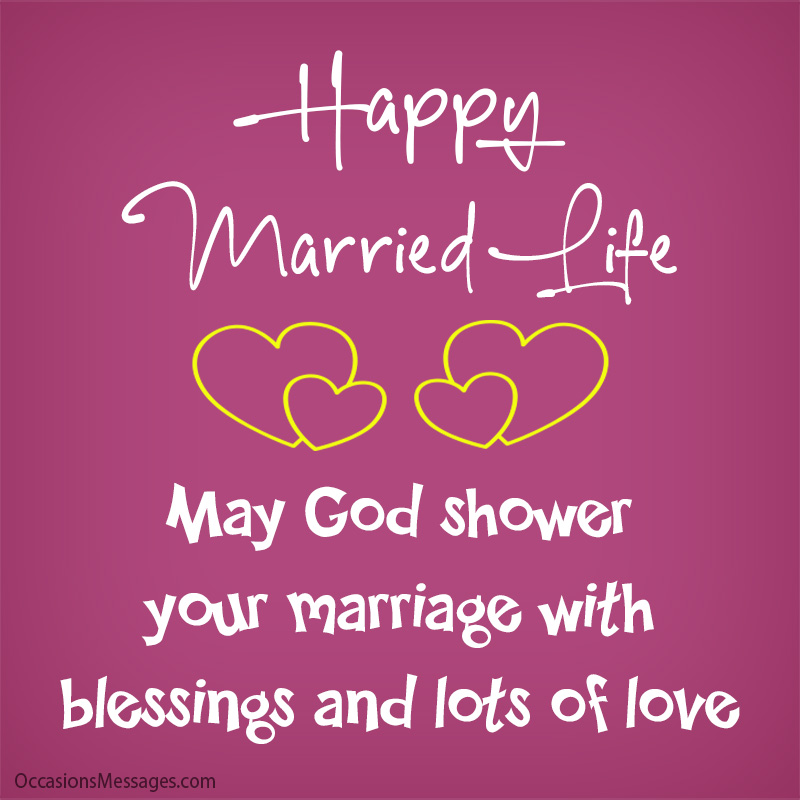 You will definitely make her happy, you will make her glad, and you will be the best thing that has ever happened to her, so relax, congratulations bro!
May your union bring fruitfulness. May your marriage lead you to greater achievements in life. I wish you a happy married life.
Making the decision to become a married man is one of the best things that can happen in your life. I pray your marriage bring you good things and many accomplishments.
Before now, marriage was a fairy-tale to you and you always have something against it, but a pretty lady can change a fairy-tale to become reality. Congratulations on the wedding!
People get married for different things, to get children and for pleasure, but it's a thing of pride to know that you get married for love. Congratulations groom. Enjoy your new home.
Congratulations groom and brother on your wedding, despite the fact that you are the least handsome amongst us all, you always find your way with beautiful women. Enjoy a blissful home.
Congratulations on your wedding. May you have a joyous marriage.
Congratulations, you have picked the best woman to spend your life with. May the both of you find everlasting and ever growing love. Wish you a happy married life.
Nothing is as special as seeing a close friend get married. May the love in your home blossom forever. Happy married life pal.
Through thick and thin, I can assure you she will be there for you. You have made the perfect choice, congratulations on your wedding day, you really do look sharp.
She has the heart of an angel; she tamed your wild side and showed you a side of love you never knew. Have a great marriage and a happily ever after, Congrats!
May your wedding day represent everything you have dreamed of, and may your marriage glow with happiness.
Congratulations friend and groom. The commencement of today's journey means your flirting days are over. Hehehe. I'm glad that could finally happen to a playboy like you.
People Also Read: Wedding Wishes and Messages for Son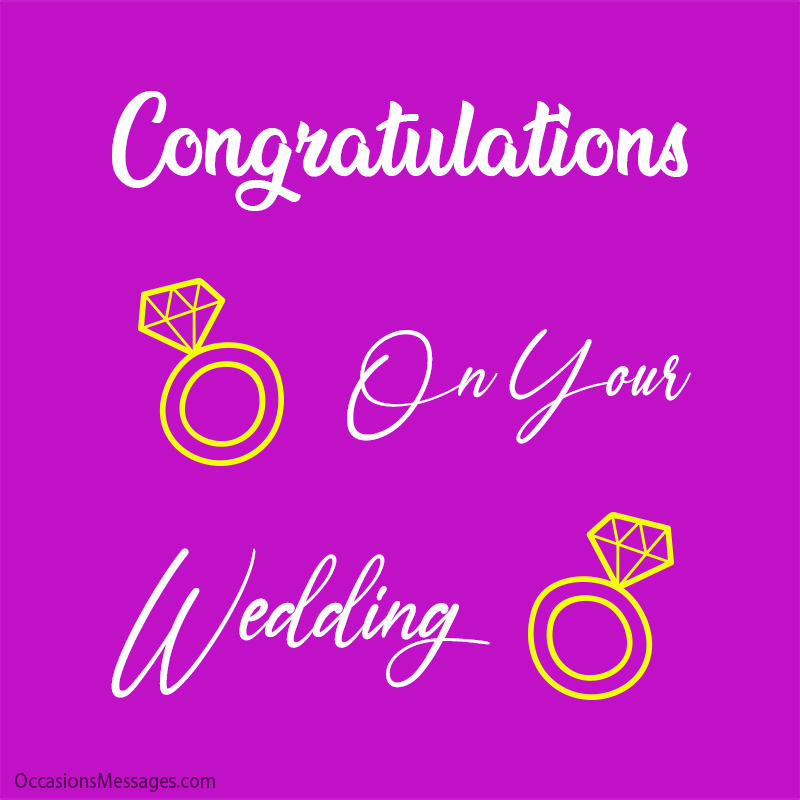 There are a lot of people who would have made a wise choice by choosing this lady, but she waited for you instead. She's a rare gem and you're a lucky man. Congratulations groom and buddy.
So long as your love is true, it can conquer anything that stands in your way. I love you guys and know you were made for each other. Congrats!
I can't believe you finally found the one; you have been searching for as long as I can remember and now I know you finally have the right one. Congrats bro!
Congratulations! Welcome to the most exciting journey in life. I pray you make the best decisions for your family as the head of the home.
Happy married life my friend. You are no longer a bachelor but a responsible man. Get ready; soon you will be changing diapers. I wish you the best.
You two are so sweet together that I'm sure your marriage will be a tasteful one. I wish you happiness and the sweetest things that come with togetherness.
The good ones are always taken, but in this case, you not only make a handsome groom but sure enough a husband any woman would be proud of. Congrats!
Thank you for making me part of this day, seeing you as a groom has really made me open my eyes. Have a blessed marriage.
Congratulations dear groom, you finally made a step towards a beautiful direction, she makes you a better man. May marriage fit you like a glove.
My wedding wishes go out to you and the lovely partner that possesses only good traits. For your kindness and steadfastness, you shall have a beautiful married life.
I wish you well on your wedding because you support me in times of distress, so don't be surprised if I do the unimaginable dance, it's all for you.
Read More: Wedding Congratulations Messages for Friends
Read More: 100+ Wedding Wishes for Nephew
SHARE ON