Advance Wedding Wishes: It is never too early to send your wedding wishes to a couple soon to get married, in fact, it may be a way to warm up those cold feet and ensure they have a beautifully perfect wedding, saying "I do" to the person of their dreams. I think it is encouragable to send a little pre wedding message to show your love and support of the love they have groomed into forever with the one they love. Early wedding wishes are good for any couple receiving them, so why not feel inspired by some of these messages or maybe choose from one of these messages to give the couple an unforgettable day.
Advance Wedding Wishes
I hope you'll stand in front of the mirror this morning and appreciate the greatness of the Lord upon your life. May your joy be full through as you marry today. Congratulations in advance!
What a day of joy it is, you probably won't sleep till dawn. You don't have to worry; you'll enjoy a great marriage. Congratulations my dear friend.
I really can't wait to see you come out in that specially made white gown, I'm sure only few angels will look better than you today. Wishing you a very happy marriage in advance!
May this love you have between you two radiate throughout your marriage life, I couldn't be happier being part of the day. Congrats on your upcoming wedding.
I still wonder why all of your hair dried off even at your youthful age?. I hope your wife will make it grow back. Hehehehe. Sweet brother I'll miss you a lot. Happy married life.
May I start by saying I wouldn't miss your wonderful day for anything in the world, your love has encouraged me to search for love of my own. Congrats on your upcoming wedding.
I may not be the romance type but what you have shown each other is definitely something worth hoping for. Hope to be there on your wedding.
May your wedding be something to always cherish and remember for all eternity, wishing you unending happiness my dears.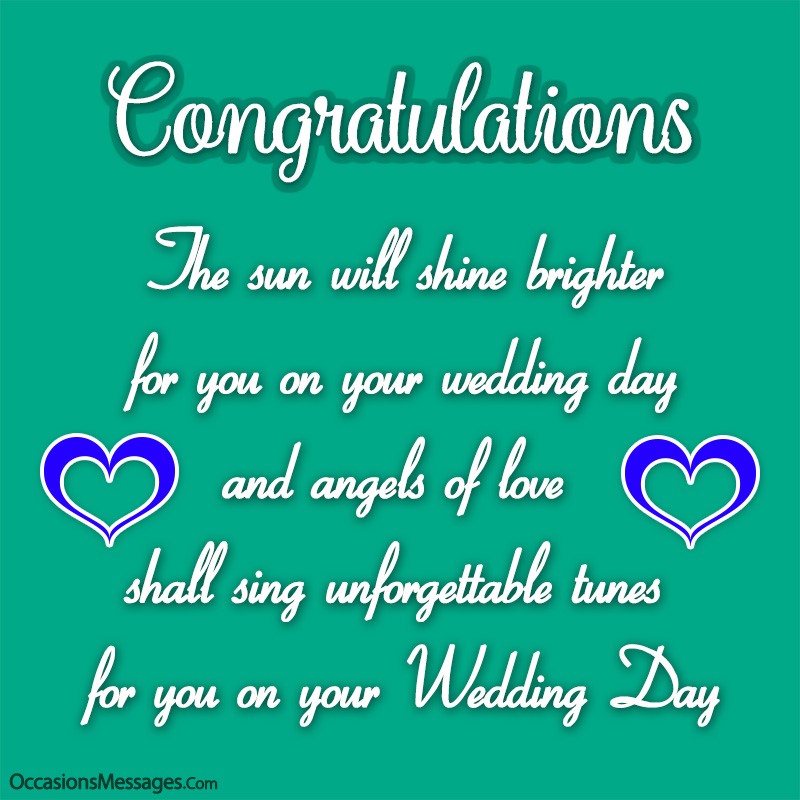 It's almost your wedding day and might I say everything seems perfect, hope to be a witness to the vows and promises you'll make for each other.
From the moment you met up until the moment he proposed, I still feel the same love between you two and I believe you will have a great marriage, congrats in advance.
There will be a collection of several thoughts running through your mind as the day break. But I want you to feel relaxed. It's your day. Congratulations on your wedding day.
Some days will never fade away so easily in our memories because it's a day that brings lots of joy. I wanna wish you a prosperous home and lots of children. Congratulations.
It's a memorable day in your life my dear friend and I want to make sure I share the best of it with you. I'm so happy for you. Wishing you a beautiful married life in advance!
I will be so caught up in the excitement of your wedding that I might forget to send you a wedding wish, so I decided to do it now. Happy Married Life.
You can make it work, you can make it unforgettable and most importantly, you can make it through forever. Congrats on your upcoming wedding.
You will make a beautiful bride and he a handsome groom, relax, you love each other to last a lifetime and beyond. Congratulations to this wonderful couple in advance!
The sun will shine brighter for you on your wedding day, the clouds will be especially puffy on that day and angels of love shall sing unforgettable tunes for you on your upcoming wedding.
Congratulations to you on this day dear sister, you've attained success in every aspect. I hope you'll enjoy success in your marriage also. Enjoy your home sis.
Recommended Content: Best 200+ Wedding Messages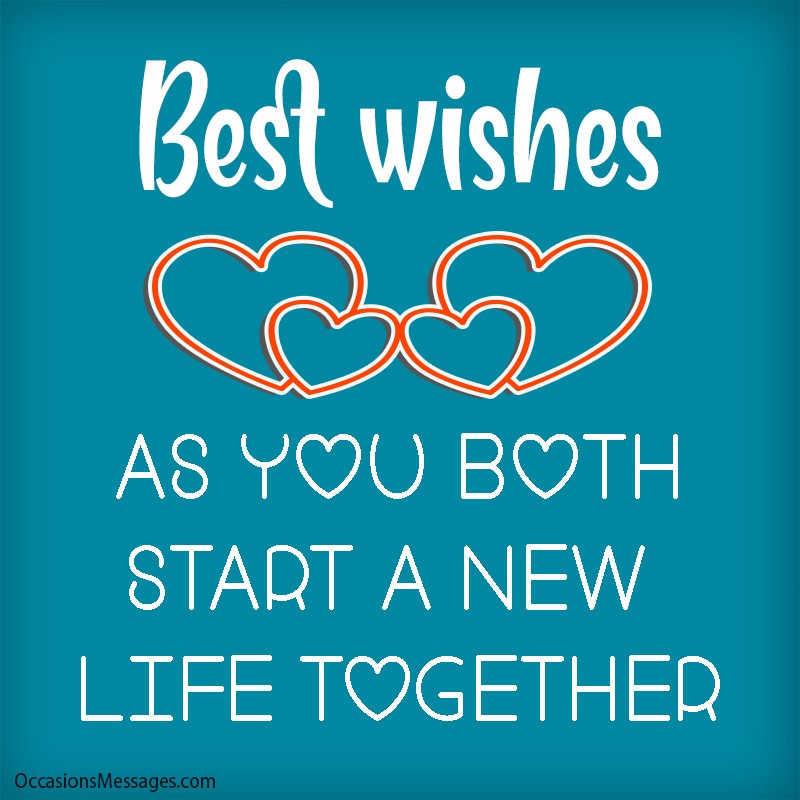 When the heart beats nonstop, it shows something wonderful is about to happen, so no worries about that. I wish you a great and wonderful marriage.
I hope someday I will be as lucky as you, but until then, I will admire and learn from both of you, you are my idols. Congrats on your upcoming wedding.
Nothing brings more joy than two families uniting as one, you will make that possible and I know there is nothing more important than that, looking forward to your upcoming wedding.
I will always wish you the best now and forever, you have taught me a lot from the love you share and I hope to always know you have my support. Accept my advance congratulations!
The old people who are still in love started just like you would start today. A lot will happen in the marriage. Stay tight and together. Happy married life brother.
Tears of joy will flow from my eyes as I see the most beautiful couple yet step out and make their vows to each other, happy early wedding wish.
One day at a time, that's all it takes to last forever, hoping and wishing you the best wedding ever. Congrats on your upcoming wedding.
Congratulations to you my dear sister. I still can't imagine it that you would leave us all behind. The time we spent together were wonderful. I won't forget. Happy Marriage in advance!
Couldn't sleep through the night with the thought of you leaving. I'll really miss you so much. I love you daughter and I hope you have much love in your new adventure. Enjoy your marriage.
It's been a serious concern for me how mom will survive alone at home without you there. May God bless your new home. Please always visit mum once in a while.
Popular Article: Wedding Wishes for Friend and Best Friend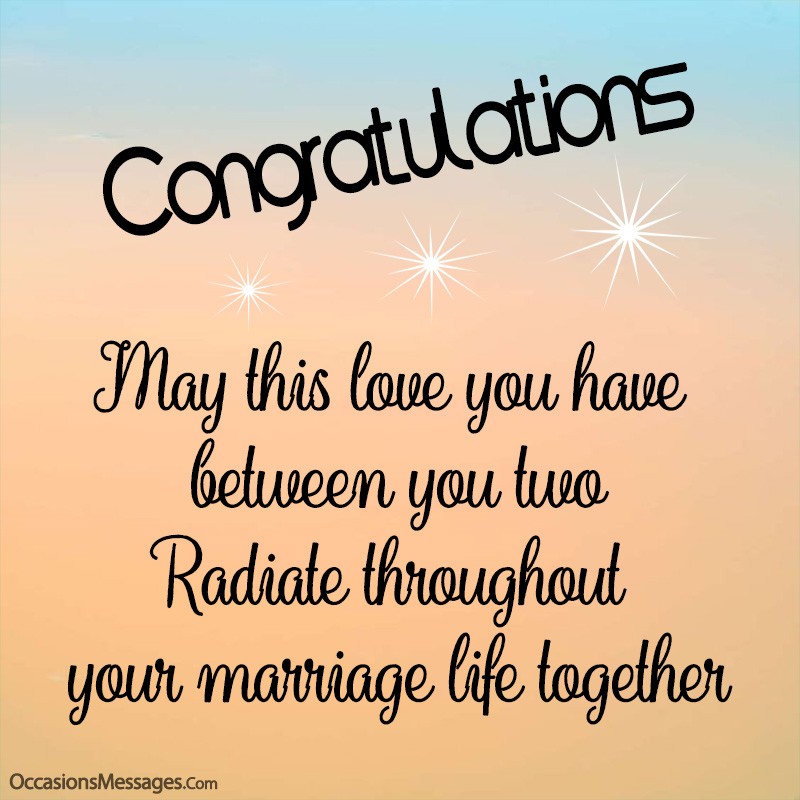 My soul and spirit will walk with you as you tie the knot, wishing you nothing but happiness my pretties. Congrats on your wedding in advance!
Each day as we get closer to the D-day, I pray and hope that all doubt will be erased; I know you will have a fantastic and unforgettable day and hopefully marriage.
Naughty brother ? amongst thousands of reasons not to sleep, I know the only one reason why you can't sleep today. Hehehe. Just wait a little more and she's all yours. Happy married life brother.
I know nothing will go wrong for the love you have for each other will suffice any obstacle, wishing you a lovely upcoming wedding.
Oh I'll miss you uncle. Couldn't stop thinking of you through the night. You are a valuable person and I wish you well in your new adventure with your wife. Congratulations on your marriage.
So you'll later get married, I thought you're shy to talk to women, what a beautiful wife you're set to marry. Sharp guy ?. I wish you all the best as you marry today.
It is a giant step you've taken today, but it's also a step for the brave ones. I'm so certain that you'll do well and your new home will flourish. Wishing you a happy married life in advance!
I sent you first wedding wishes because I want to be the first to congratulate you and declare my total support towards making it a success.
Wedding is an institution created by God for the fulfillment of the purpose for us, so be mindful to always involve God in all that you do to achieve total success.
SHARE ON