When it comes to family, everyone is important; there is nothing one cannot do for one's own family. So when it's your daughter's birthday, the little girl who cherishes these days the most, you go all out. You start with a little cake or maybe a special breakfast, some even give them money just to go shopping with their friends,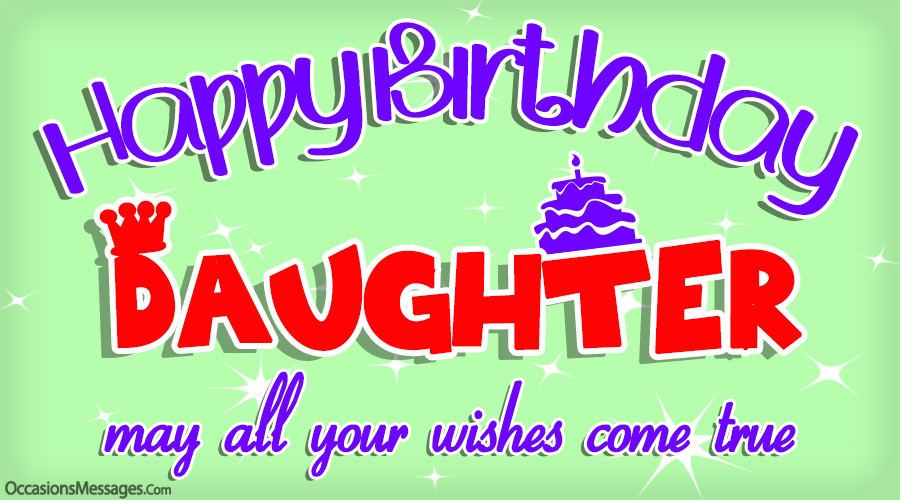 but does that really make them see how much you love them? What if you aren't close on the morning of their birthdays? Why not send them a short message to show them how much you care and love them. Here are examples.
Happy Birthday Wishes for Daughter
I have never loved a woman more than I love you. You are a very lucky lady as there are millions that wanted my heart but no one ever got it. Happy Birthday my daughter.
She is smart, she is beautiful, she is ANNA! Happy Birthday my love. Keep breaking those barriers.
I look forward to your birthdays because they remind me of how far you've come as a darling child and how far you will go.
I waited for nine months to see you, for the first time and from that moment I felt completely happy. My pretty girl, I want to wish you all the happiness in the world.
Happy Birthday my daughter. Now you may consider me an old man but this old man can still get down and party. Let's dance my beautiful daughter.
I have never been more proud in my life then when you were born. I was so happy to see you for the first time. It was such an incredible moment that I'll never forget it. Happy Birthday.
You are the best thing that ever happened to us pumpkin. Never forget that mom and dad love you forever. Happy Birthday, princess.
Happy Birthday, daughter. Keep being an amazing woman helping people in need and bringing glory to our name. Remember that we love you very much.
Everyone always ask about you when they come over. I guess my daughter has picked up her popularity from her old man. Don't ever forget who taught you.
If they'd told me I would have a daughter as beautiful as you, I'd think they were lying, may you continue to grow beautiful as you grow older darling. I love you!
You are the best my dear daughter, and there is not a day that goes by that I won't remind you of that. Make your birthday memorable dear!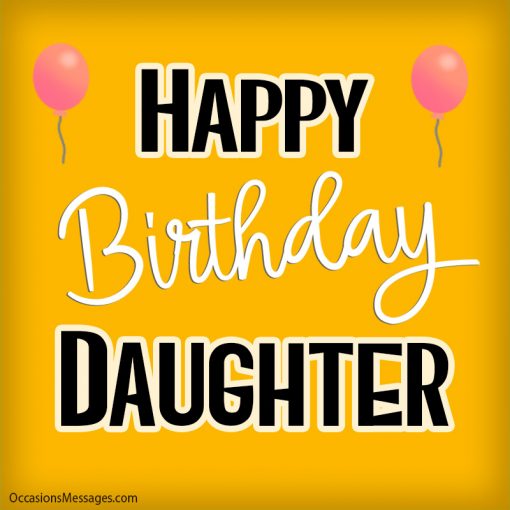 Your mother has always tried to get me to dance. Now that it's your sweet sixteen, I am not obliged. But the jokes on both of you because I've always known to dance.
If you were a big brat, I would have gotten you a big fart in a jar. I would have left in your room too. Thankfully, you are not. So, you will have an awesome birthday instead my daughter.
My daughter is a very important lady in my life. There are many ladies but I am responsible for you. Every day has been a gift to have you. Now I will make today special for you. Happy Birthday baby girl.
I am here for you, I will always protect you, love and nature you. Never be afraid to come to me when you need anything. I will always be here for you honey.
Happy Birthday to you, my wishes for you are that, you grow as old as the hills, as bright as the sun, as beautiful as the mountains and as strong and courageous as a lion, I love you.
I am blessed because I have a daughter as awesome, as beautiful and as amazing as you, may you live longer than the seasons my dear, I love you!
I will always be here for you my daughter for you are the best thing to ever come to my life. May this birthday only give you smiles!
You came into my life at the time when I needed you and you gave me the biggest reason to fight every day. You are my beloved daughter and would do anything to see you happy. I hope you can enjoy your birthday.
I am your mother, but you can trust me and I wish the best for you. I love you with all my heart and on this special day I want to wish you a happy birthday.
Time passes quickly, and now I see you've turned into a beautiful young lady making me feel very proud. Do not forget you can come to me anytime.
I remember when you were little; all you ever wanted to do was cuddle in my arms like a little cat. Now that you are grown up, all you want to do is cuddle with me like a little cat. Nothing has changed. Happy Birthday my daughter.
Honey as we celebrate your birthday today I want you to know that you have become the woman I always thought you would be. I am proud of you my daughter!
Your mother and I have never been so blessed in both our lives combined, you are our gem and we love you so much. We pray you live very long!
Hearty birthday my beautiful daughter, you are special to me and I couldn't be prouder to have you as my daughter. Have a great birthday!
Birthday Wishes for Daughter from Mom
Happy Birthday princess, you have grown to be a very pretty and humble woman, I couldn't be any prouder. I love you.
I don't want you to be anything like me love, I want you to be better, you have the potential, and I know you can be great; you just have to believe in yourself. I love you honey.
You make me glad to be a parent; I could never ask for a better daughter, happy birthday sweetheart, I love you.
You must have wondered why I always got your back even when you are wrong, you will have a better understanding when you are a mother. Happy Birthday my princess.
Witnessing you grow into an adorable lady has always lightened me up, may your birthday serve as a continuation of the wonderful work in progress. Mommy loves you.
I am glad to have a daughter of my heart, you are my answered prayer. Your birthday reminds me of your conception and birth.
Daughters could be a handful but you have shown me the importance of a daughter in one's life. I crave the opportunity to be your mom in the next life. Happy Birthday.
You are like a replica of me not because I am your mom, your actions and ways bring back beautiful memories of when I was younger. Happy Birthday, pumpkin.
I may always nag at you sometimes, but that doesn't mean I don't love you. I love you my daughter, I hope you enjoy this day. Happy Birthday, and never forget, your mom love you!
My daughter is growing up so fast; this sends tears in my eyes. I am always going to be here when you need me, you are amazing!
Birthday Wishes for Daughter from Dad
Happy Birthday princess, you will always be daddy's little girl. I love you a lot. I hope you have a blast. Enjoy this day!
Happy Birthday wishes for my daughter, you are an amazing young woman and I could not be any prouder. I love you so much. Have a blast.
You are all I ever wanted, you are the best part of me and I see what you are capable of. You can rule the world; you already rule my heart darling.
I was happy when the doctor announced that my wife gave birth to a girl. Life has offered me the chance of having more caring women in my life. Happy Birthday.
Happy birthday to you my beautiful daughter; you have proven that a female child is equal to a male. Warm birthday wishes.
Thank you for your extra love and care; you are a daughter with an angelic mind. I am always proud of being your father. I will buy you anything for your birthday.
I join other in the celebration of my little jewel, may your birthday celebration be the best in previous years. You can always count on daddies cash.
I will always care for you as I care for your mother. I am a happier father because of you and I have never had regrets on you. Enjoy your birthday to the fullest.
There is nothing I wouldn't do for you honey, you are the most important thing to me, happy birthday dear, I love you a lot!
My little girl is growing up into a strong, independent and respectable woman. I love what you are becoming.
Funny Birthday Wishes for Daughter
I really hope you'll grow to be an old toothless granny with lots of wrinkles on your face. Happy birthday my darling daughter!
May you kiss a million frogs to finally get your prince charming dear daughter, always remember I'll be watching though. Enjoy your special birthday!
I am so happy that I get to see you age dear, the older you become, the younger I feel. Just kidding, have an epic one.
I can't believe you're the same little girl who used to cry over little things, you're growing to be one beautiful girl and I couldn't be happier. Enjoy your birthday my daughter.
Someday, you will grow as old and as wrinkled as your grandmother, so enjoy your youth my beautiful daughter, before you grow toothless. Blessed birthday!
I have never seen a little girl eat so many sweets, be careful my beautiful daughter. Too much sugar can make you ugly, just kidding, hearty birthday!
May this birthday give you immortality, youth and lots of frogs you can kiss, just kidding, you are my princess and I will forever love you my daughter!
I can see your smile is getting as broad as a frog's my dear, that's really scary. Wishing you a fantastic birthday my daughter.
May this birthday be filled with lots of cake and ice-cream to fill my tummy. Have a hearty birthday dear daughter, to many more cakes.
You bring a lot to our lives and I am happy that today you bring a new age for us to celebrate and tease you with. Heartiest birthday dear!
Short Birthday Wishes for Daughter
You are like sugar honey ice tea. Sweet and amazingly homely. Happy Birthday my dear.
My beloved daughter, I want to tell you how much I love you, I feel very proud of you and wish you a happy day.
My daughter having you in my life has been the greatest joy I have ever experienced. Happy Birthday sweetheart.
Another birthday with my beautiful daughter is more than I bargained for. I will always love you!
Have an amazing birthday my darling daughter, you have given me so much to be thankful for. I love you!
With you in my arms I feel like the greatest person in the world, have an amazing birthday my beautiful daughter!
Have a great birthday experience, which is your reward for being a good friend and adviser.
I thank the heavens you're my daughter always, enjoy your birthday princess! May all your wishes come to pass.
I wish the best for you my beloved daughter on your birthday today and I wish you happiness in your life.
Happy Birthday, I love you so much. Enjoy this day, may all your wishes come true.
You are beautiful, you are courageous but most of all you are my little girl, now and forever. Have a sweet day baby. I love you.
You can count on me, any time any day. I love you so much honey, happy birthday! I hope you have a blast!
Birthday Wishes for Adult Daughter
I am only handling you the way a good father will handle her adult girl and I hope you will understand that very well in your heart.
To my beautiful damsel, I say happy birthday. It's your birthday today, go out and catch some fun. May you grow in wisdom as you grow in age. Remember, mom's always here for you.
Do I have anything to say? I don't think so. Do I have anything to write? I think so. Happy Birthday to you daughter. Welcome to adulthood. Happy journey to the best daughter in the world.
The journey has been rough. You've gone through hard times. You've seen so many negative things but you're only growing. Happy Birthday to you. Glad, you're fully grown and now making waves.
It's a great accomplishment for me to have a daughter like you, you are truly special and the bond I have with you will always be my delight.
I hope every word of advice will sink into your heart. It is expedient that you take to them, because I care about you my only daughter. Happy Birthday to you. Mom cares a lot.
Birthday Wishes for Married Daughter
Happy Birthday my lovely newly wedded bride and daughter, I hope you are loving everything about your newly found home. May it be a great home for you, your husband and my coming grand-kids.
Just because you're married doesn't mean I won't send you a happy birthday wish like I'm used to doing. Daughter, you remain in our heart forever even though you're taken.
I hope my mission is accomplished today. I have planned to be the first to send you a birthday wish even before your husband. Happy Birthday to you daughter. Dad loves you a lot.
The joy of parents is to see their children grow and flourish in their lifetime. Glad you're flourishing in all areas daughter. Happy Birthday to you. Greetings to husband and children. See you soon.
Always remember that we will do only little to help you now, your husband has that responsibility. Make sure you stay together my daughter. Happy Birthday to you. Enjoy your special day.
There are special things that always make marriage a beautiful thing. Love, Respect, and special commitment to one another. Always be conscious of those things my daughter.
Best Wishes for Younger Daughter
You are our precious jewel and each time we get to celebrate you, we feel blessed. Have an amazing birthday little one, you're loved.
Happy Birthday dear one, you may be the youngest by age, but you definitely have the biggest heart.
You are the youngest of my daughters and my precious jewel. You can count on me to always love, respect and protect you. Happy Birthday.
I don't mind having more daughters; you and your elder sister are one of the best things that ever came my way so your birthday is as important to me as water.
May this birthday make all your wishes come true little one. You are our treasure and we love you so much.
You have been a great, big beautiful addition to this family and we adore you. I hope you'll be the one to outlive us all.
Best Wishes for Older Daughter
Heartiest birthday sweetheart, as you fill our tummies with cake, I hope we fill your heart with joy. Enjoy!
You have not only been a role model to the young ones but a big blessing to your mom and dad. May this birthday be the beginning of something special.
You have been a good example to your younger sister; you represent an ideal lady who has brains, mental strength, and beauty. You have made me a fulfilled parent.
You are everything I've ever hoped for in an older daughter and I would like to wish you the most amazing birthday yet.
I am satisfied with your style and manners; I never knew that I could raise an amazing daughter. Your younger sister sends her birthday regards.
I thank God for an older daughter such as yourself, you have given us joy and happiness and we pray that God blesses your life abundantly.
Cute Messages for Step-Daughter
Have a great birthday my dear step-daughter, I thank God for you each and every time and I hope He'll bless you with a thousand years.
You are not only beautiful on the outside, you are beautiful in the inside too, never forget that my dear, you are loved.
May this birthday bring you cake to fill your tummy and joy that will fill your soul. Have an amazing birthday dear step-daughter.
Happy Birthday to you, you make me glad to be a father; you are all I could ever wish for. I am happy to have you. I love you.
To me, you aren't just my step-daughter, you are the daughter I've always hoped and prayed for. Enjoy your special day!
Each birthday I get to celebrate you is a blessing to me. Have an unforgettable day my dear.
Sweet Messages for Daughter-in-law
I may not be your parent by birth, but you are definitely my daughter by luck. Have an awesome birthday. I am blessed to have you in my life.
You are a great addition to our family and we love you very much. Have an epic birthday daughter-in-law.
Thank you for taking good care of my son. I pray you have a long and gracious life. Enjoy your birthday daughter-in-law.
You are a blessing to me and I love you so much, may your kindness be passed on to thousands as you celebrate your birthday today.
You have turned my boy into a man and I appreciate you for that. Have a jovial birthday dear daughter-in-law.
You are a sweet girl, strong, brave and amusing; I hope you got that from me. I love you dear, and I honestly hope you enjoy this day.
Many More Wishes for Daughter
I hope that when you turn out the candles can make a wish that will come true. We are your parents and we love you with all our hearts. We wish you much happiness in this day and forever.
My pretty, intelligent and brave daughter is growing into a strong woman. You give me joy and I love you for that, may you enjoy this day baby.
Today I cannot give you the embrace, but do not worry, this weekend we'll come say hello and then we'll go celebrate your birthday in style. Congratulations!
Have a lovely day my dear daughter. I ask the Lord to bless you with much wisdom, to protect you from evil and guide you so you can make the best decisions. You're a great woman and I'm very proud of you.
Happy Birthday my Daughter! Today marks the beginning of a new year in your life. It is my hope that this year all your dreams will be fulfilled and that you will find your true self.
May today bring your wishes, which are as beautiful as your smiles, to reality. No matter how old you are; you will always be my little Angel.
An amazing daughter like you is worth celebrating. You are a jewel and this is the best way to define the love I have for you.
My sweet darling, I'm so happy that I have you as our daughter. You are a rose because you exude beauty and happiness. The best gift God has given me is you.
Happy Birthday dear, you are all I could ever wish for. I look at you and I know you have a bright and beautiful future. I love you.
Your birthday is the talk of the town to make it a grand event. I got your back on the finance; an upright daughter deserves the best.
I could never trade this feeling for anything in the world. You are the daughter I am proud to celebrate today and always.
I hope your dreams come true today and that they may be as wonderful as you my darling daughter. Love you to the moon and back.
It's your birthday and there is nothing else I'd rather be doing. Have a blessed and awesome birthday my amazing daughter!
Many pray for just a daughter but I have more. As the eldest I share more memories with you, may your birthday add more fantastic moments to our growing collection.
I have always counted on you to have a successful future; the bright future I saw has started taking a wonderful shape. Happy Birthday to you my elder daughter.
Heaven knew I needed company in my life so she granted me a wonderful wife and daughters. I wish on you many more happy birthdays.
Your innocence and purity make me love you more; you will always be my cute little bunny irrespective of your new age.
I am happy to witness your birth and your birthdays, as we celebrate another may you flourish in all ramifications.
Thank you for being an amazing daughter, you have only made me proud. You deserve all the care and generosity you are shown on your birthday.
It is always relieving for a man to goes back home to the warmth of his family after a stressful day; you have been my comfort. Happy Birthday my beautiful daughter.
It's your birthday and it's special to not only you but all the family. Nothing brings more joy to a mother of deep understanding.
You are finally at the age where you'll get zits as big as your face, don't worry, I will still love you regardless. Have a hearty birthday sweetheart!
You always find a way of making me smile; I smiled today when I woke up to your birthday. You might be younger but equally important as your elder sister.
My little princess is a year older today; your sister says she is anticipating your party to be wonderful. You have my undivided love.
Today is your big day and not even your elder sister can steal your groove on the dance floor. I will be coming with my dancing shoes. I might be a bit old but I still got moves.
The love of my life is a year older today, so I have a good reason to celebrate; I will still love you when you are old and wrinkled. Happy Birthday to you daughter.
Dear daughter, I woke up with a smile on my face after dreaming about you and coincidentally, it's your birthday, so I already know that you will have a good time.
As my daughter, you are my world and my future, and there is not a thing that I would not do to make you happy. What are your plans for your birthday party?
Everyone deserves a daughter like you, but unfortunately, you are the only mine which comes as a surprise. I do not know God loved me so much. Happy Birthday.
Happy Birthday to you the angel of my life, I'm incredibly delighted that you added another year in good health and sound state of mind.
My lovely daughter is a year older today; it is always amazing to be part of a beautiful celebration like your birthday. Enjoy the rest of the day.
The princess of our house is a year older today, so every other person and I are getting ready as the event of the millennium unfolds.
On this day, a pretty princess was born and life has been filled with magic ever since. Happy Birthday to the fairest little girl of them all!
Your cheeks give me life and your hugs are the best. Happy birthday to the sweetest girl on earth!
You deserve all the love and beauty in the world. Never forget this as you grow older. Have a very happy day.
One more year is added to your life today and perhaps even another inch. Wishing you a happy birthday and love that loves every inch you will ever be!
May the remaining years of your life be pleasant, calm, and less turbulent. I wish this on you because you are the best daughter alive.
Happy Birthday darling daughter, Calamity shall never come your way after your birthday; you shall progress in life with a supersonic speed.
Happy Birthday to a lovely young lady! You're beautiful, amazing and smart. I could not have asked for more!
Age is just a number when I think of all the love inside there is for you. Many birthdays may pass but you'll always be the baby girl who delightfully changed my world.
May this day bring you reminders that you are loved in and out of seasons, smiles that sing sweetly to your soul and arms that you can always call your home.
Everything in life will come to an end but not the love that I have for my wonderful daughter. Happy Birthday to you.
Congratulations to you dearest daughter, you might be a year older to others, but you will always remain my beautiful little royalty.
From a baby girl with the brightest eyes to a woman who is fun and wise, I've watched you transform right before my eyes. I'm truly proud of the woman you've become.
Some women were made but you were created in love. I hope today celebrates all the lovely ways you are and will become.
To my beautiful daughter, celebrating you is my everyday joy but today is extra special. For only a few years ago I would've never imagined the beauty your life brings.
I always wanted a good daughter, but to my greatest amazement, I got the best of them all on this day many years ago.
I fell in love with you at first sight on the delivery bed for being my daughter and processing a standout beauty. You keep getting better with age.
Celebrating a daughter who means a world of difference to life with her beauty and grace. Have yourself a remarkable birthday!
Wishing you a day that brings exciting calm, chocolate of your favorite kind and the reminder that you are a celebrated and integral to our lives!
Cheers to another year, a new milestone and the new excitement they will bring. Have a beautiful day.
Daughters are to mothers as petals are to a rose – delicate, bright and certainly the most beautiful part of the picture. Happy birthday to my petal!
Beauty is from within and could also be by looks. However, you process both inner and outer beauty to qualify you for the prettiest daughter. Happy Birthday.
A poem for your birthday. Roses are red; Violets are blue. There is no other daughter that is finer than you. I hope you like it.
You're as vivacious and full of sparkle as the glitter that you love. Sending happy greetings to the girl that stole my heart since the day she was born!
Happy Birthday, pumpkin! May all your wishes come true. Stay soft, sweet and beautiful as you are.
You remind me of the fresh spring air and summer's carefree breeze. I hope today will bless you with happy memories to last you in each and every season.
Everyone loves you not just for your outstanding qualities but also for your simplicity and brilliance. I am happy for your birthday, my dear daughter.
Life has truly blessed me with the special daughter that you are. Wishing you every ounce of love from every soul that you've touched today and forever.
Smile because love and light always shine down you and if only for the birthday cake, I wish you everything that is good. Happy Birthday daughter, your dad.
Thinking of you on your birthday, and I am amazed at how each stage has given new growth in every way. Have a terrific birthday celebration!
Life has brought us through a lot and the journey is still unwinding. Wishing you patience, strength and unfailing resilience as you celebrate a new milestone.
It is easy to predict that the future reserved the best for my daughter judging by the excellent ways you approach issues. You are a package of brains and glamour.
Blessed and beyond is the way your life has touched mine. So I take this time to wish you the very best, more blessings and happiness for your birthday and all the others to come.
Wishing you a happy birthday, long life and all the successes beyond what you may aim for. Have a lovely day, your mom.
To the best daughter life has gifted me, May your birthday and all your tomorrows find loved, blessed, happy and in perfect health.
I love looking at you as you do your thing, only as every stream has a source, you are mine for happiness. Have a lovely birthday.
God has blessed me with two very beautiful angels. He also blessed me with the ability to lead and teach both of you great things. I'm glad both of you have done amazing.
 Have been known to be many great things. Now I will add "father" to that list. Happy birthday my daughter and thank you for giving me a gift no one can give me.
Happy Birthday darling, as you turn a new age, may you grow wiser and braver than ever before, I love you darling.
Dear daughter, you are the greatest thing to ever happen to me. I will always do my best to take care of you. Happy Birthday.
Happy Birthday dear daughter, you are daddy's little princess, I will forever take care of you. Don't ever be afraid to come to me with anything.
You are turning into a queen our little princess. Have an unforgettable time as you celebrate this and every birthday my dear.
Happy Birthday to you, I love you so much. You make me happy, you are my joy. I will forever love you dear.
Today I remember when my life changed, you turned me from a boy into a father and I hope I am doing a great job at it.
Happy Birthday darling, I hope you enjoy this day. I hope all your wishes come true; all I hope is that you have a happy and fulfilling life.
I sometimes know we might not be cool, but I know you know I love you so much. I hope you carry on with your grace.
You are my daughter, beautiful and very smart girl who filled my days with happiness. I love you and I wish you many congratulations on your birthday.
If there is anything you can ask for, today would be the day to ask for it. If you get it, is a different conversation in entirety. But don't forget that I love you my daughter.
It's your special day my daughter. We are celebrating another day when you were delivered into my arms. At least, now you are no longer wearing diapers. Woo! Have an awesome day.
In a few years, the world will know what I see in you that makes me love you more than I should love a daughter. Keep some cake for me.
Never trade your happiness for anything because a smile looks good on you, and it makes me happy to see my daughter bright and alive.
I don't know how to be happy without you, like my daughter, you bring a friendly and homely alternative during bad days.
you make me so happy, I feel blessed that I have you here with me. I love you sweetheart; I will never take you for granted.
May this birthday bring you lots of joy and amazing nostalgic moments to put a never ending smile on your face. You are forever loved!
Everyone thinks that I am crazy over you, and they are right; it is hard to have a daughter like you and not get excited, especially on their birthdays.
With every passing day I see you grow; become more beautiful and more intelligent. You are a wonderful girl; I am very proud of you, I want to wish you much happiness on this day.
Happy Birthday to you, I cannot believe how fast time flies, I do enjoy each and every moment we get to spend together, I hope our bond never breaks.
Many fathers are scared when they have daughters. I've never been more sure of myself in my whole life. Have a very happy celebration.
For me you will always be my beautiful girl because I love you with all my heart. Have a very happy day my beautiful daughter.
You are not only a very beautiful lady, but also have good feelings and are very clever, so I'm very proud of you.
I've always wondered if my daughter was going to be a pink princess or a tough tomboy. I am so glad I steered you the right way. Consider that my gift to you. Happy Birthday my daughter.
This is the best day of my life; it reminds me that I have an angel to take care of, happy birthday dear daughter! I will always love you.
You have a great heart, enough to love anyone, enough to accept anything. I love you for being yourself, and for making us proud, happy birthday to my sweet girl!
---
You May Also Like:
Wonderful List Of Birthday Wishes for Daughter from Mom – Perfect Messages
Birthday Wishes for Daughter from Dad – Messages for Daughters of All Ages
The Best 200 Happy Birthday Wishes to Make Someone's Day Special
Great List of Birthday Wishes for Ladies – Happy Birthday My Sweet Lady
---