Wedding Wishes for Nephew: Wedding are one of the most emotional events known because it isn't just a day two people who are in love get to tie the knot, it is also a day when a rite of passage is passed, when a young man becomes a family man and a young woman becomes a wife and mother. During this time, it is important to send wedding wishes. If it's your nephew who is getting married on that special day, why not send him one of these wedding wishes for nephew below and see a smile form on his face, one that can never be erased.
Wedding Wishes for Nephew
Happy married life sweet nephew. May God bless your matrimony.
Congratulations on your marriage nephew. I wish you a prosperous and blissful home.
May happiness find all its expression in your newly formed home. Congratulations on your wedding nephew.
Congratulations, nephew. You look handsome, and the day looks as promising as your future together. Wishing you every good thing on your wedding.
May everything good in this world be yours, may you live happily, may you grow happily together and may good fortunes find you always my nephew. Congrats on your wedding!
Happy married life nephew. I wish you a successful marriage.
I shed a tear, not because I am sad, but because I can't believe I am a witness at my nephew's wedding, you bring us joy, always. Congrats!
They say he who finds a good wife finds a good home; I hope you have a beautiful home seeing as you now have a good and beautiful wife dear nephew. Congrats on your wedding.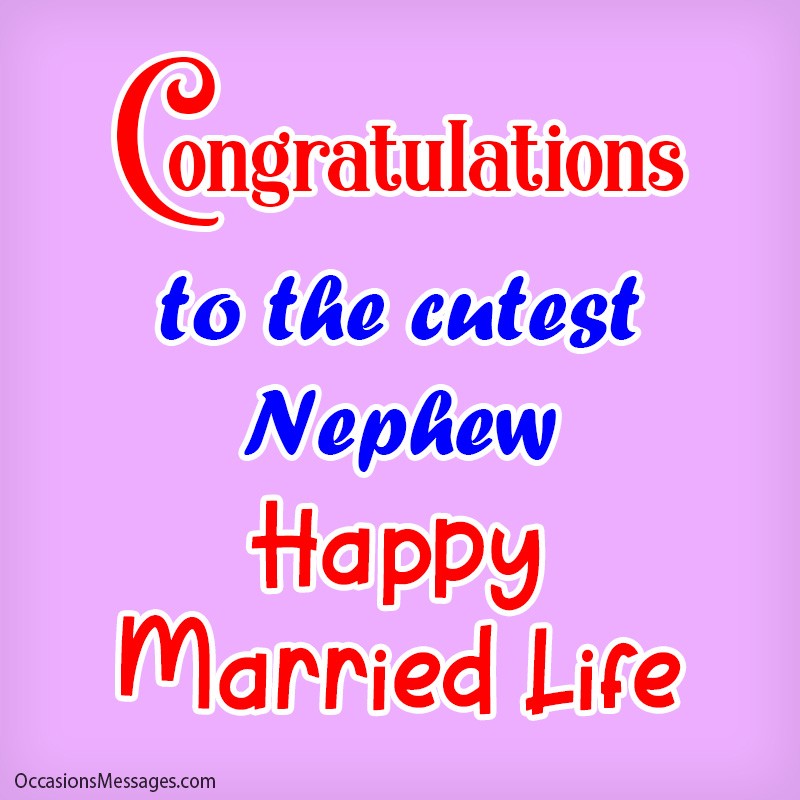 Happy married life nephew. I pray that the bond that brings you two together will last for eternity and as years passes by, may it go stronger and firmer. Enjoy your beautiful home.
Have a blessed marriage dear nephew, you've always been one to make me proud and today is no exception. Congrats on your wedding.
Congratulations on your wedding day nephew. People often say "happily ever after" is what the wish, but I wish for "Exhilarations forever till eternity" enjoy your home dear nephew.
I hope you learn to love, appreciate and be there for each other always dear nephew. Congrats on your wedding.
May you two continue to enjoy this charming love that brought you together. And may it never stop flowing in your heart forever. Happy married life nephew.
I know that wedding will be as awesome as you dear nephew, you look handsome, and I bet she looks like a queen in her dress. Let's go out and enjoy your wedding!
I hope this day will be one you will forever remember, have fun as you celebrate your wedding to your beautiful misses. Congrats nephew!
Such a beautiful bride you have found for yourself. Your sight for good things is so interestingly beautiful. Congratulations to you nephew. I wish you a prosperous home.
Specials people like you my nephew deserve a special day like this, enjoy every bit of it. I hope she knows how lucky she is to have a husband like you. Congrats on your wedding!
You're so handsome in your suit today; even old women wish they had such a great guy like you. May God bless your home with beautiful children.
Getting married at this youthful age is so much a blessing especially when two love birds are involved. A lot of people wish to have this kind of story. Happy married life nephew.
Read More: Wedding Wishes and Messages for Son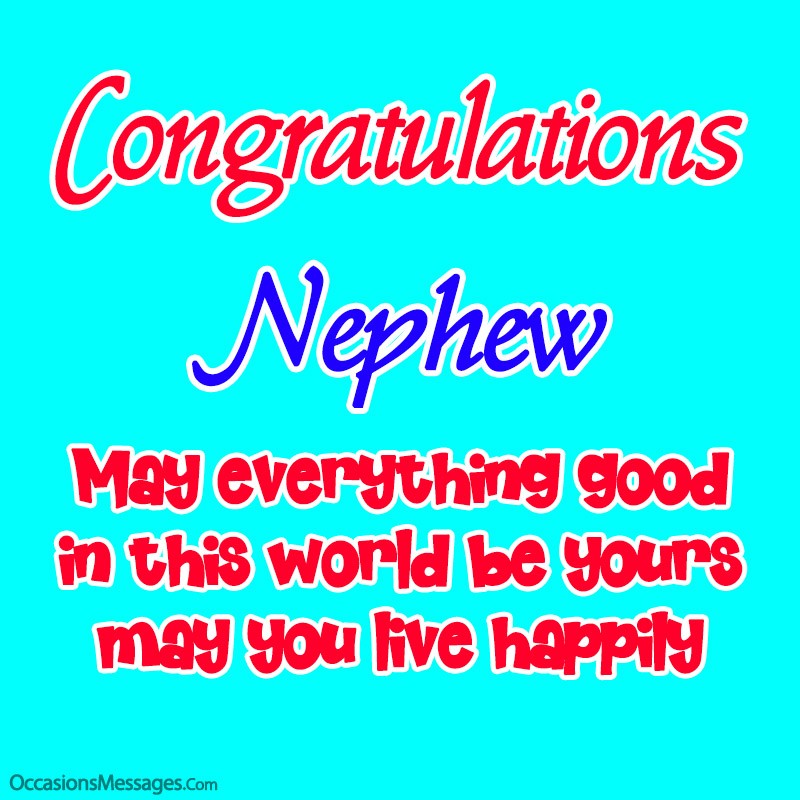 I wish the latest couple of the century a happy married life. The key to a long-lasting marriage is to remain married and support each other in all things.
May I just say how happy I am to be part of this day dear nephew, you truly are blessed, and I hope your love grows stronger each day of your married life.
A little birdie told me that someday, my nephew would be the proudest man amongst us all, that birdie wasn't wrong for today you walk with the greatest pride, congrats on your wedding.
May the joy that today brings not only last with today, may it last for all the days you two will spend in your lifetime together. Happy married life nephew. Enjoy your marriage.
May this day be as blessed as you are nephew, you are truly a gem and I wish you every piece of joy as you walk down the aisle and wait for your beautiful bride.
It is not easy to have come this far and reach a conclusion on who you want to spend the rest of your life with. I'm glad you've found each other. Happy married life nephew.
 I remember you two as children, now you are betrothed to each other and saying your vows. I am proud of the man you've become dear nephew, make each other happy.
The most important expression in marriages, what are you thinking, how are you feeling, are you OK and most importantly I love you. Don't do without those things. Happy married life nephew.
Forget what you've heard and do what you know is right for both of you. Have a great and hearty marriage life dear nephew, you are loved.
Congratulations dear nephew, I want you to know that Marriage is very interesting as much as it's important. Make the right choice to enjoy every bit of it.
Also Read: Funny Wedding Wishes and Marriage Messages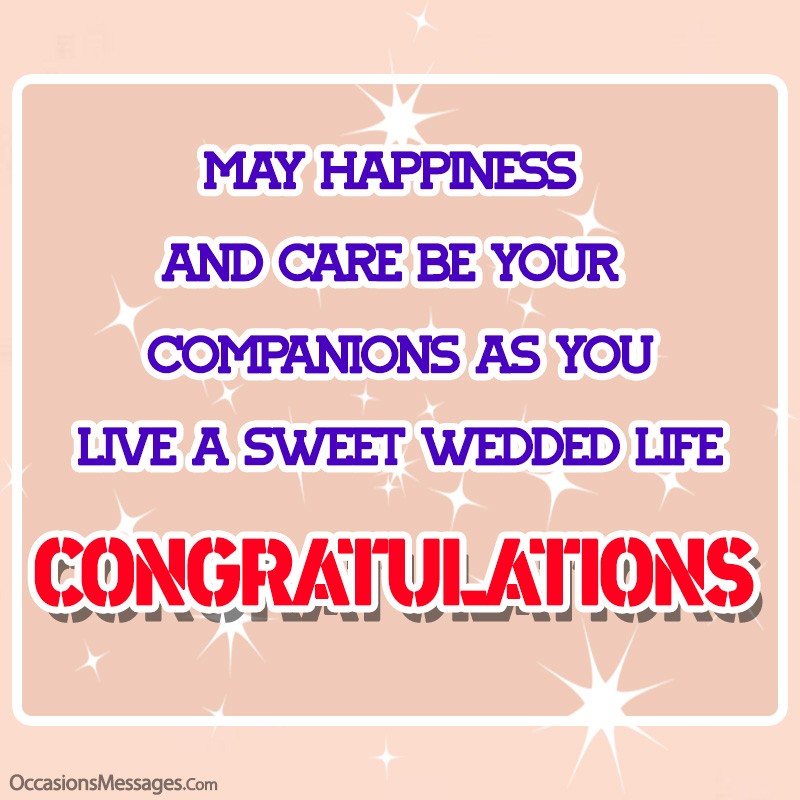 I always pray for blessing upon blessings for you and your family, you are my nephew, and I am happy to be part of your wedding today, wishing you nothing but the best.
Have a beautiful marriage dear nephew, you are a great man, and you found yourself a great woman, make a great family for we all love you dearly.
Wedding is a sign of love between two unified and perfect hearts. It's so wonderful to behold such a beautiful event. I wish you a beautiful life after today. Happy married life nephew.
I hope you'll have many children as you start this home, but not as many that they would come in between you two. You existed before the children. Happy married life nephew.
I wouldn't want to miss your wedding for anything in the world, because you're such a responsible boy. I wish you happiness and good tidings always as you tie the knot. Happy married life nephew.
Marriage is only beautiful when two people madly in love come into it. All of your stories are over the place. I hope your love for one another won't ever stop. Happy married life nephew.
As much as you love each other today, don't forget that there's need for you to be devoted to one another, that's how you enjoy your marriage. Happy married life nephew.
People Also Read: Top 50+ Wedding Wishes for Uncle
SHARE ON