Wedding Wishes for Uncle: Uncles can be fun, weird, strict, rich, whatever they want to be but we can all agree that with their characteristics we all love and appreciate our uncles for who they are and what they represent in our lives and we wouldn't trade them for anything in the world. What happens when your uncle finally decides to settle down with that special someone in their lives? Wishing them the best using a message can be an effective way to show them that you care and that you are thinking of them on their special day. Below, we have simplified the work for you by writing down some wedding messages you can send to your uncle to show him how much you care about him and his happiness. Use one of the messages below to show your uncle how much his wedding means to you.
Wedding Wishes for Uncle
Congratulations! I hope your wedding is as perfect as you dear uncle.
May you receive a lot of blessings and happiness as you tie the knot. Congrats uncle!
I wish you a long and lasting marriage, may everything you'd planned for the day go well.
You've always done what's best for me and I hope today, you do what is best for you. Wishing you a happy and long marriage!
It is a beautiful day to be celebrating an amazing man, wishing you a happy and successful marriage.
I love you more each day, and as you marry today, I just wanted you to know that you have my full support.
Congratulations! May all the days in your marriage be as beautiful as this beautiful day.
Marriage is beautiful when two people are willing and committed. I hope everything works out perfectly for you. Congrats!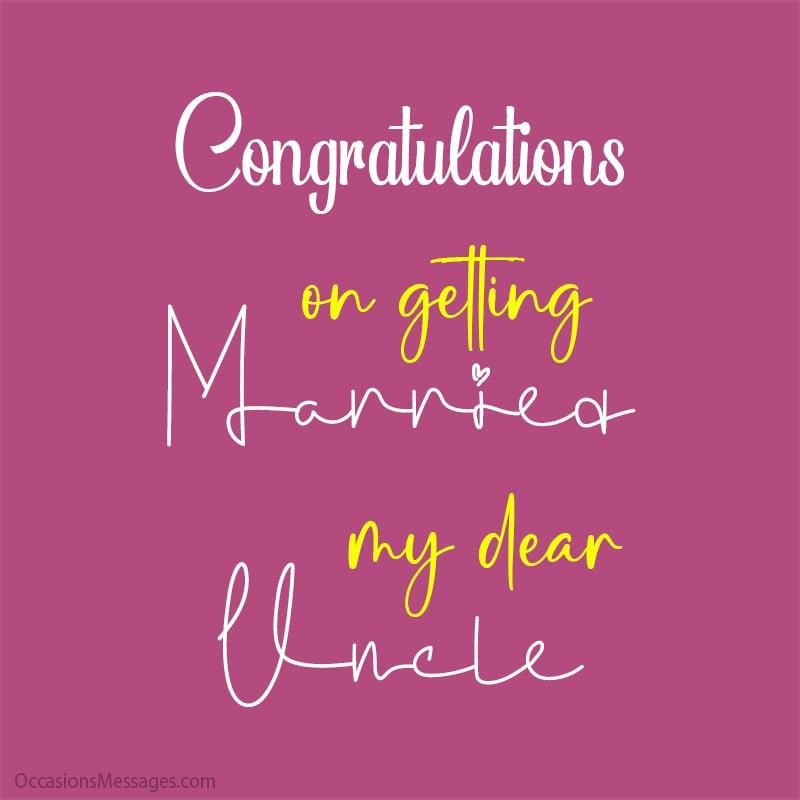 Thank you for always being there for me uncle, I hope to see you happy, blessed and fruitful on your marriage.
May you enjoy the blessing and happiness that comes with being married to the woman of your dreams. Congrats on your wedding uncle!
I am glad that I lived long enough to see this day, enjoy your wedding uncle, may everything go as you'd hoped. Congrats!
I wish you happiness, joy and all the good things that come with finally tying the knot enjoy your wedding uncle.
Seeing you this happy uncle was all I've ever hoped and wished for, I wish you every bit of luck as you enjoy your wedding, have the best time ever.
Having you as an uncle is one of the things I appreciate most. Have fun as you celebrate your marriage to your beautiful wife, I hope all works out for you.
Happy married life to the newlywed uncle, I'm so delighted to be part of this amazing day, I do hope that one day I'll do such, because you made it look so beautiful.
Happy married life to this special kind of uncle, ever dynamic in comics. Heheheheh. I hope your wife will get to enjoy all those jokes. I wish you happiness in your new life.
Congrats on your marriage. I hope you enjoy this beautiful day uncle.
Happy married life wonderful uncle, may the love journey that officially begins today blooms forever. Congratulations. I wish you great things in your home.
Everything has its time now it's time to support my uncle as he weds his beautiful bride, wishing you the best on your wedding day.
Congratulations on your wedding, may marriage be the paradise you've been sorting after my loving uncle.
Read More: Best Messages to Write in a Wedding Card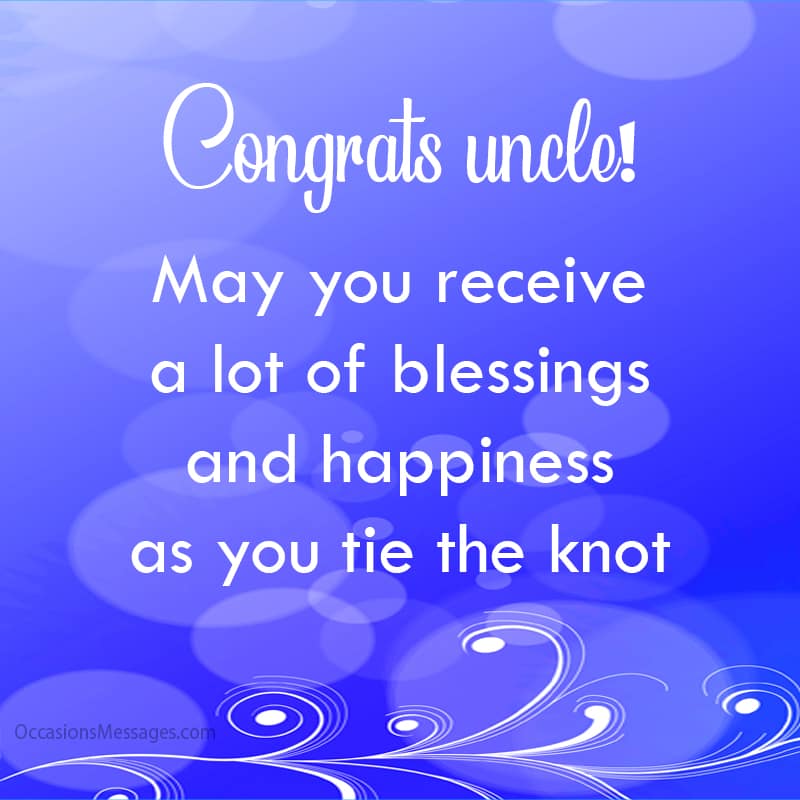 I'm glad that you specially invited me to your wedding. You're such an awesome person and I'll love to carry your 3 kids come after 9 months. Happy married life uncle.
Congratulations on having a great wedding. Everything was on point and most especially, you were the icing on the cake, you wowed everyone present
Some things weren't meant for some people but I know marriage certainly suits you uncle. Wishing you the best as you walk towards your bride on this amazing day.
Congratulations aren't enough to show how much I appreciate being a witness to your wedding uncle, have the most fun and may all you've dreamed of be attained.
Each year I thank God for you, now I am thankful that I get to see my uncle tie the knot to his beautiful wife. Have the best time ever.
Lots of pleasure comes with togetherness between a man and a woman who are so much in love. I really hope you'll get to enjoy all the pleasure. Congratulations on your wedding!
Marriage is a big step and you are definitely ready for it, may everything you've hoped for be attained, you are a blessing to us all uncle.
There is never a day I won't wish the best for you, today is no exception uncle, I hope you have fun as you celebrate your wedding and all the good things life has to offer.
You have my love and devotion my dear uncle, and I hope everything works out for you as you venture into marriage. Good luck in marriage!
You are a special person in my life and I forever want what's best for you, enjoy your wedding and all the good things life has to offer. Congratulations!
Happy Married life sweet uncle, I hope this journey will give you daily excitement and I hope it will last until the end of time. God bless you and your new home.
More Options: 50+ Wedding Invitation Messages and Cards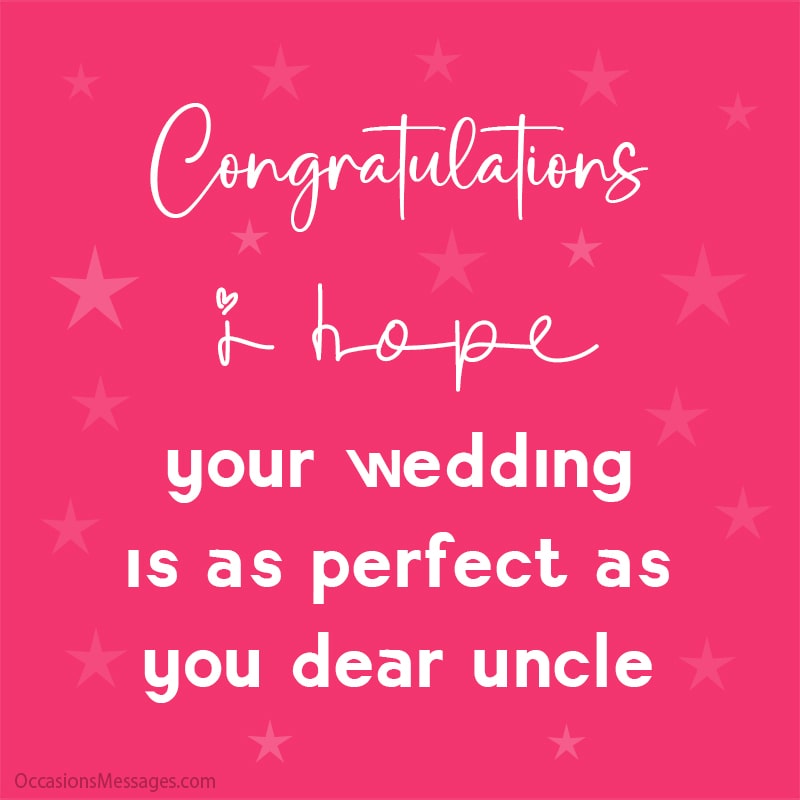 Cheers to the beautiful bride and the beautifully ugly groom who is my lovely uncle. Hehehe. I want to wish you a very happy married life. I'm sure your marriage will be exciting.
Each season brings new things I am glad this season brought you together with the one you truly love and adore; I wish you the best wedding ever uncle.
I hope I am not too early for congratulations uncle, you deserve happiness for you have given me happiness throughout.
It's so exciting to see you this happy; I hope this happy day won't end today because you deserve to have it forever. Happy married life uncle. God bless your new home.
I have to commend you and your spouse for a lovely wedding. It is evident why you were so attracted to each other, something like a perfect blend.
Now your responsibility has increased rapidly uncle, but don't forget that the responsibility of pleasing your wife should be prioritized above others. Keep up with your responsibility. Good luck in marriage!
A strong bond has brought you two together this day, may that bond never grow weak at any point in time and may you last longer together. Congratulations on the wedding!
May your marriage enjoy all the best features that make a home perfect and comfortable. And I hope that you'll triumph in all conditions. Happy married life dear uncle.
Heartiest congratulations to the greatest uncle that has existed to me, thanks for ever being present for me in times of need. I hope you'll have all you need for a successful marriage.
A perfect match is really difficult to find nowadays, but great joy comes to the one who finds it. I'm glad you've had luck, uncle. May it bring you eternal joy. Happy married life.
Read Also: Sorry Messages for Not Attending Wedding
SHARE ON