Special events are always hosted by special people. A wedding is one of the special events celebrated because it brings two families together. It can also act as a family reunion where you get to see most of the members of your family once in one place. When the niece's wedding comes up, as an aunt or uncle, you can send them a wedding wish.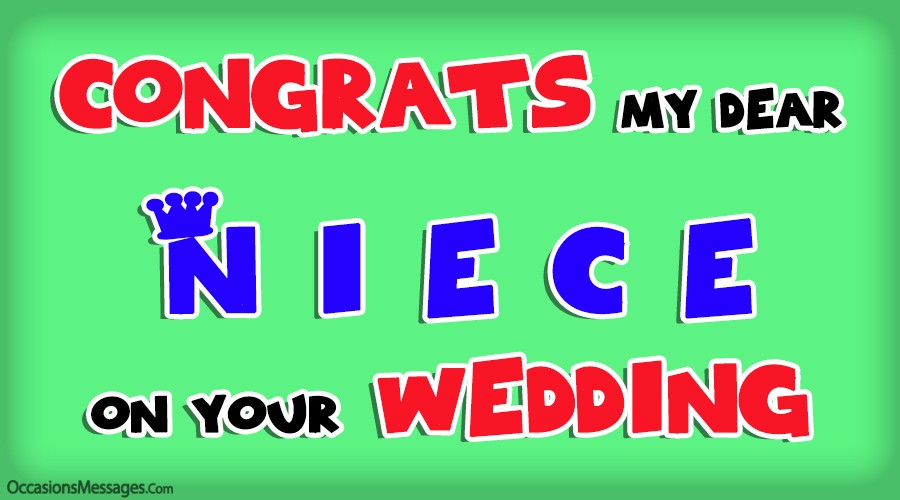 Wedding wishes make the bride feel supported and it also shows that it's not only her parents who look out for her but also her extended family, her aunts and uncles too. Share a wedding wish with your niece and see her smile throughout the day. Special people deserve special things the most, for it reminds them how special they are.
Wedding Congratulation Messages for Niece
You have the kindest heart my niece and I hope it lives on with you as you grow older with the man you love. Congrats on your wedding.
First best is falling in love, second best is being in love and then comes marrying the one you love and spending forever with them. Wishing you love and joy on your wedding niece.
You are truly the best definition of love my niece for I see the love between you two radiate from the way you look into each other's eyes. Congrats on your wedding.
It's almost hard to believe two attractive people who have loved each other for years come together to live forever. It is a beautiful love story. Happy married life niece.
When two happy souls come together to make it happen, it is called marriage, ensure to stay happy even when the house is on fire. Enjoy your home niece.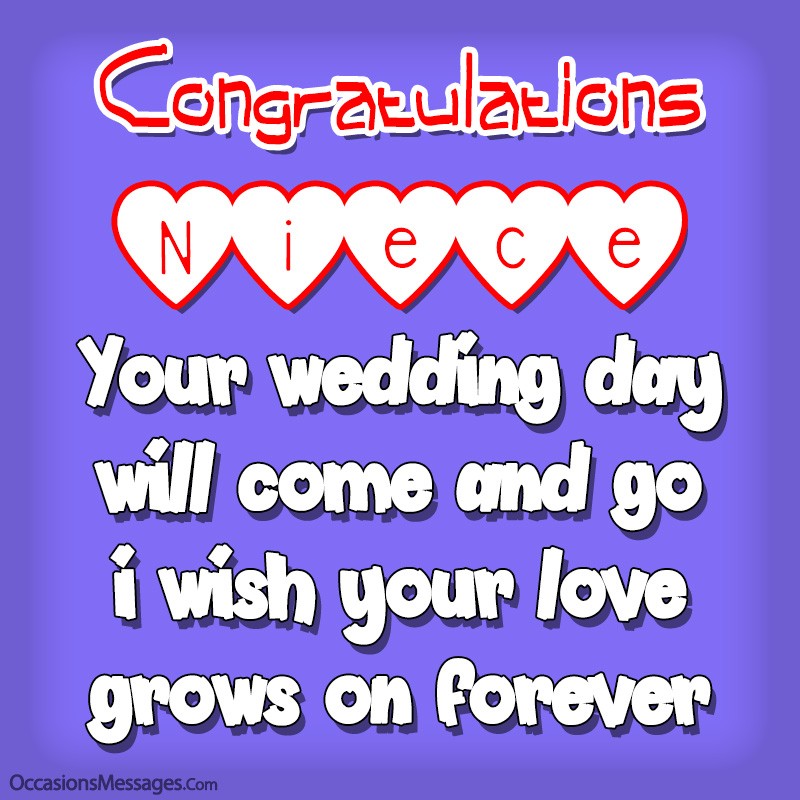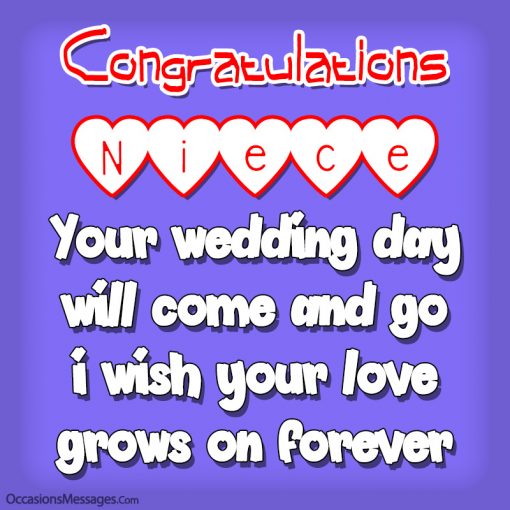 How could you have grown up so fast Niece and it's further surprising that you're getting married. May joy continue to abide with you and your new family. Congratulations on your wedding!
May the angel of love and devotion walk with you as you celebrate each other, you are a blessing to us all and we wish you nothing but the best as you get married dear niece.
You are the best part of each other and after today, you will be joined as one, I hope marriage will treat you kindly my dear. I love you my niece congratulations.
They say falling in love is easy, getting married a choice, but staying together is always a struggle that I know you two can survive. Congrats on your wedding my niece.
It is a journey that has started with love, but love won't be enough to keep moving. Every provision must be made available from both of you. Happy Married life niece. Bless you.
Learn to add to your love, commitment, long suffering and ability to bear one another, then you will have a fulfilled home. May your home be enjoyable. Congratulations niece!
I think of you and the woman you've become and I can't help but feel proud, you are amazing and I hope you enjoy each second of marriage celebration my niece.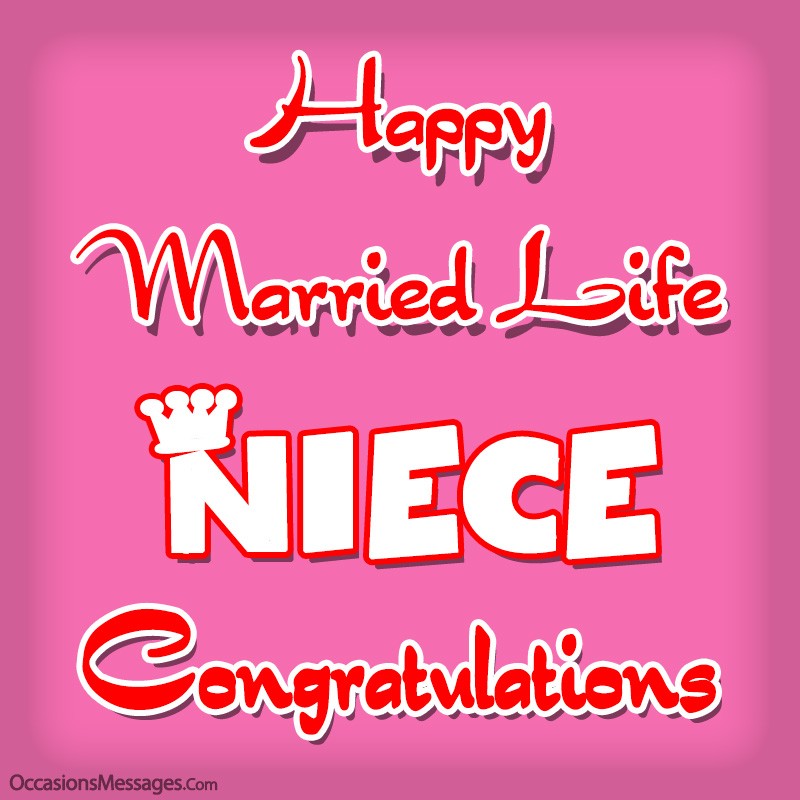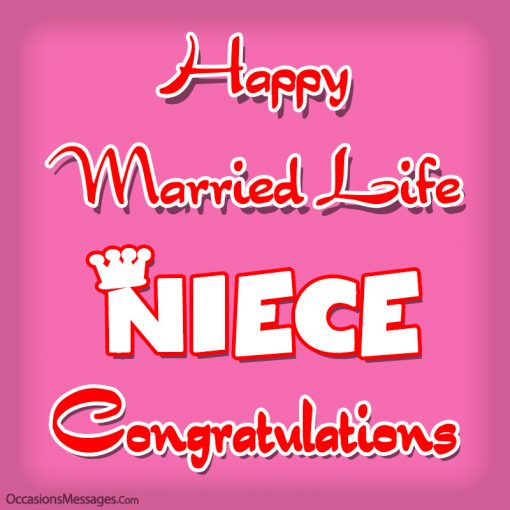 I hope this day will be part of your best days, for this day marks the beginning of your forever, always wishing you the best my niece. Congrats on your wedding.
Your love for your family is so encouraging but now you must go ahead and form your own family and love it dearly. Happy married life niece. God bless your home with everything.
No marriage will ever have it easy, we've been through it also, but you're brave enough to face it that's why you're now married. Be joyful in everything in your marriage. Wish a lot of happy years together!
Whenever it becomes difficult, never run away from challenges. Overcoming it will help you in your marriage and it will strengthen you for what is to come. Good luck in marriage!
What God has put together, no man can put asunder, have a peaceful, fruitful marriage my niece, may all you plant grow.
It all starts with a set towards him, then you say I do and we await the beautiful grandchildren we know you'll have. Congrats on your wedding my niece.
As the sun sets over your special day my niece, I wish you nothing but luck, a good time and unforgettable memories as you tie the knot to the love of your life.
In today's world people always want all the responsibility on men alone, don't give any chance to such in your home. Both of you must work it out. Happy married life niece.
Don't ever try to get out of sight of one another, that's how you achieve another level of love that lasts forever. Happy married life niece. Please enjoy your new home on a daily basis.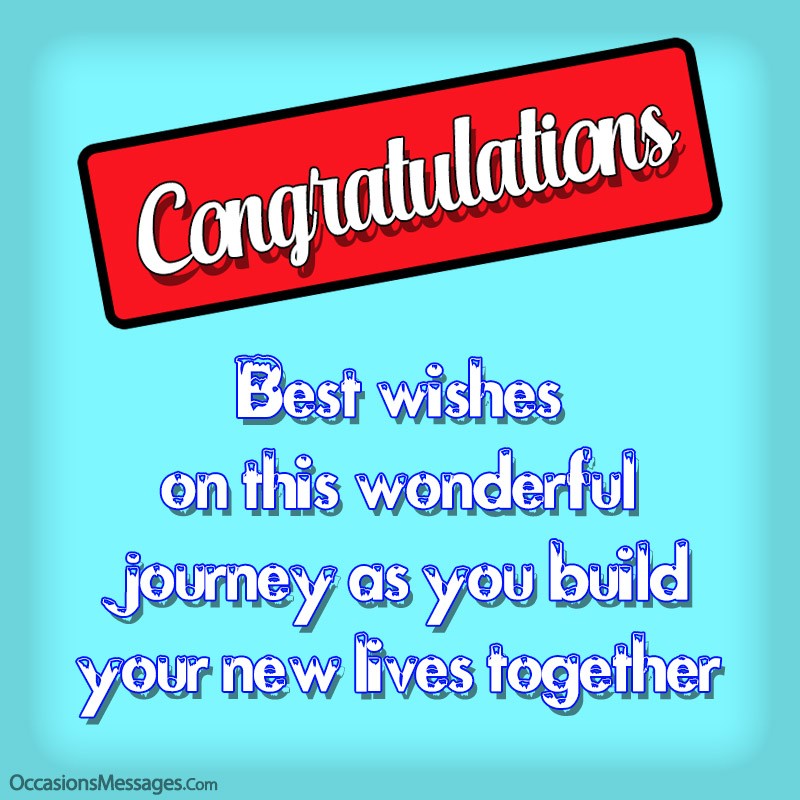 Remember that children, marriages, and flower gardens reflect the kind of care they get. I see you cared enough my niece, have an unforgettable wedding love.
Love is often the fruit of marriage my niece, if it wasn't for the love you share between you two then we wouldn't be here cheering you on. Wishing you a happy forever dear.
Let your love reach out to one another without holding back any element of it, give it all out and it will come back to you in a thousand-fold. Happy married life delightful niece.
The care you have for one another is such a special one and I do hope that your hearts will be filled with much of it that last. Happy married life niece. Lots of love.
There is nothing more important than settling for nothing less, your journey begins my niece and I wish you nothing but the best. Congrats on your wedding.
From the moment you were born, you were a gift to us, now; you are a gift to him too. Have a successful marriage my niece, I love you always.
Be all in all for each other, no one should take that spot in your heart, may your love life be the type to encourage people to love more. Have a spectacular life together niece!
Let your love life be filled with a practical manifestation of humility. You are such a beauty together; I pray the beauty will last for eternity. Happy married life niece. Enjoy every bit of it.
Don't ever rush to live life away from one another, live for and with one another every day of your life till you are both no more. Happy married life niece.
May your new home be filled with every form of blessing and may your life will be complete and perfectly okay with one another. Congratulations niece. With lots of love.
As much as you are a lucky lady today niece, your husband is so lucky to find a lady like you. May you both cherish the uniqueness of one another forever. Congratulations!
When it seems like it is stormy, draw closer to one another, storm is meant to bring separation, conquer it by growing more intimate. Happy married life niece. Love you a lot.
It is your duty charming niece to make sure that no other woman pleases your man in any way, being it dressing, cooking, or character. Get your man satisfied with everything. Congratulations on the wedding!
Your relationship before marriage might be important, but it's not anything like marriage, so learn to do more even now than you've done before while courting. Happy married life niece. God bless your home.
Behold the loveliest couple in the whole world, but the story isn't as smooth as it looks today. But it's a thing of joy to witness your love story. Happy married life niece.
Congratulations on signing off from the bachelors and spinsters association. The members of the married couples union welcome you with open arms.
You finally did it. Nevertheless, marriage is an institution where both parties should serve and perceive. It becomes a burden when only a party is at the receiving end.
---
You May Also Like:
Beautiful Wedding Wishes for Daughter
Belated Wedding Wishes and Messages
---