Wedding Wishes for Son: There is nothing that makes one feel more blessed than seeing your child grow into a fine young adult, even better bringing home that person in their life that makes them happy. When your son brings you that daughter you've always hoped for him, it brings a feeling of appreciation and a deep sense of gratitude. Wedding wishes should be in order, and the best way of doing that is by writing down some of the most beautiful unforgettable words for them that they will forever cherish and remember. Send your son one of these wedding wishes and see their confidence build up when they know you love and support their decision.
Wedding Wishes for Son
Happy married life son. God bless your home.
Congratulations, son. Wishing you happiness, love, joy and grandkids for me. I love you!
Today is the day when everyone remembers the food they ate and the fun they had. But it's for you the day when you'll remember your love pledge to your wife. Happy married life son.
Today marks a great day in your life. It's a day you either remember and smile or remember and cry. But I'm sure you'll always smile. Have a great marriage ahead son.
I have been looking forward to this day since the moment you came into this life. I hope this marriage will mean new things for you my son, congratulations!
A man without a wife is like a tree without leaves. A man without a good wife is like a seed on barren land. I hope your wife will be the best. Happy married life son.
We all need somebody to hold, love and make a family with, I am happy you found each other. Congratulations on your wedding my son.
Since the first time you introduced her to me, I knew she was the one from the way you looked at her. Wishing you every inch of happiness in your marriage life my son!
And today, you'll be saying bye to your mum and I. But that's not a forever bye. It's a temporary one which means you're leaving my house forever to live with your wife forever.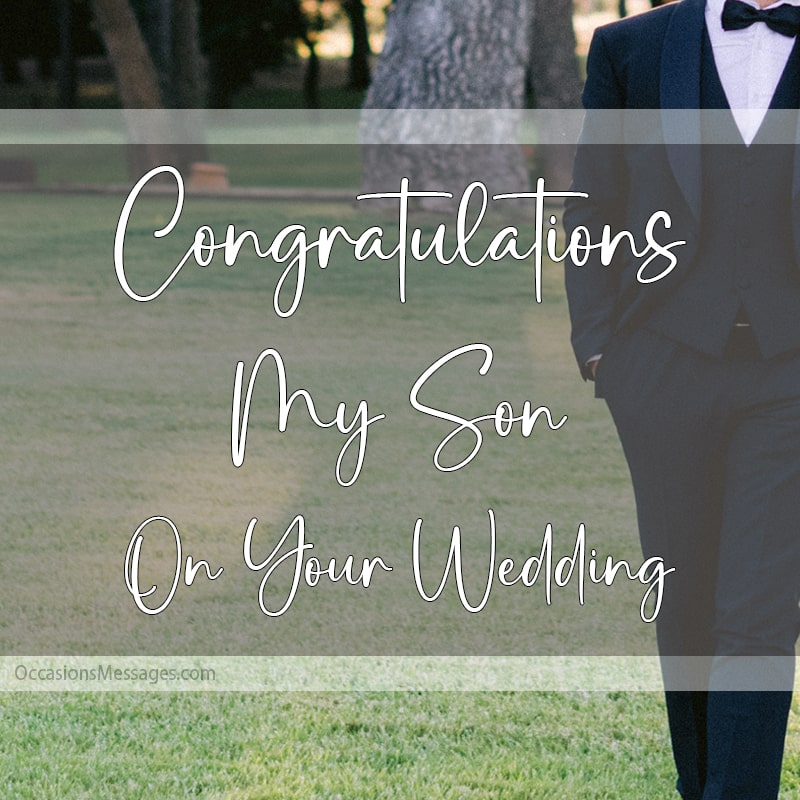 The speakers are about to burst into shout of music. People are about to burst into tears of joy. Happy married life son. Love you today and always.
Congratulations my son! I am proud you made the right choice with the right woman.
I can't begin to describe how happy I am that the day is finally here, I hope to forever be your first lady but I know I will soon be replaced. Hearty married life my son!
It's your wedding and might I say, you look handsome my son, I fully support you in this life and hope that your Mrs. will make you happy always. Congrats on getting hitched!
Happy married life son. My wish is to see you next year with your bouncing baby boy and girl. I hope that'll come to be. Have a blissful ceremony and successful marriage.
Each day is a blessing with you and now, it will be a blessing for someone else too. Hearty wedding and marriage life my son!
It's your wedding day today. I am the happiest mother on earth. Happy married life son. Love you.
I may not be the best person to give you marriage advice, but I will be the right ear you can come to any time. Congratulations my son, may you make each other happy.
Tears fill my eyes for I have never seen a more beautiful ceremony. Wishing you every ounce of happiness in your marriage, I love you my son!
Sometimes in life, the woman you love won't love you. But I'm glad both of you are madly in love with each other. Welcome on board. Youngest couple in town. God bless your new home.
Read More: Top 50+ Wedding Wishes for Groom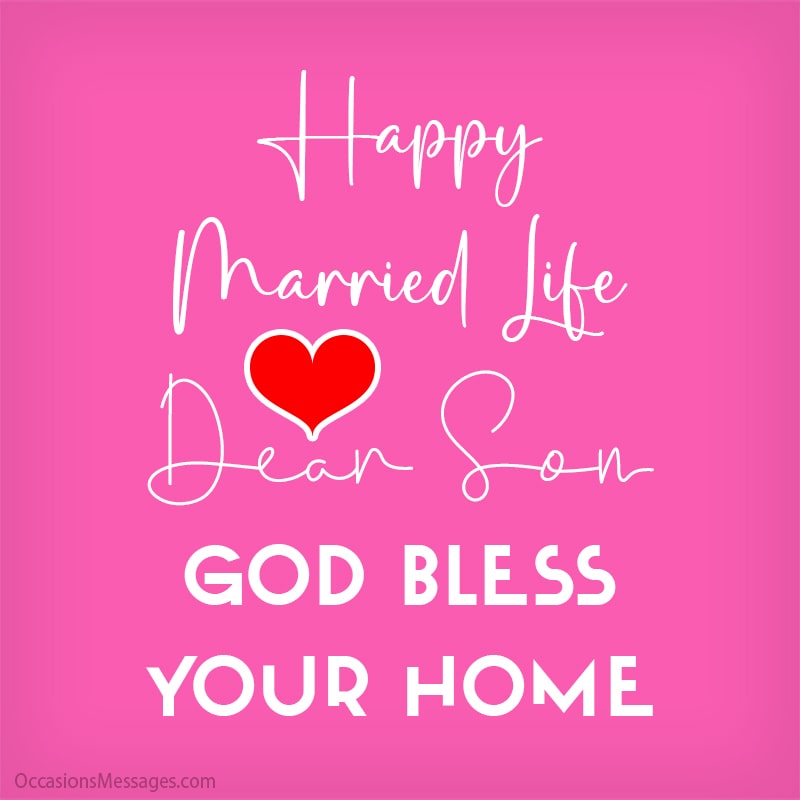 When two souls are joined in pure holy matrimony, there is nothing that can separate them, wishing you the best on your wedding my lovely son!
Love is like a mango tree. It has the ripe and unripe fruits. When we wait for the unripe to get ripe, they'll also be good. Patience is love. Patience is marriage. Enjoy it.
Since the first day I laid my eyes on you, you became the most important thing to me, and now, you get to experience what we have. Congrats on your wedding my son!
As you walk down the aisle today, I can proudly say, I raised a man, not a boy. I am proud of you now more than ever. Congrats on your wedding my son!
One step at a time and you will finally reach the place you want to be. Wishing you a happy married life my son, take it slow but hope to hear of some grand kids soon!
It's your wedding day? I still couldn't believe it. I'm glad I was able to raise a son who is responsible. Oh! I'm a successful father. You make me proud in all ways.
I will never be too far if you need me my son, she is my daughter as much as you are my son and I love you so much. Congratulations on your wedding day!
The possibility of this wedding working out is 100 percent. Everyone at the wedding believes in you to have a remarkable life.
Looking at you and your spouse, I think it's logical to say that you will have beautiful offspring's. Your wedding made us realize the extent of your beauty.
Falling in love isn't much easy. Proposing to the one you love isn't easy. Saying "I do" to the one you love isn't easy. But marrying the one you love is the best thing.
Read Also: Heartfelt Advance Marriage Wishes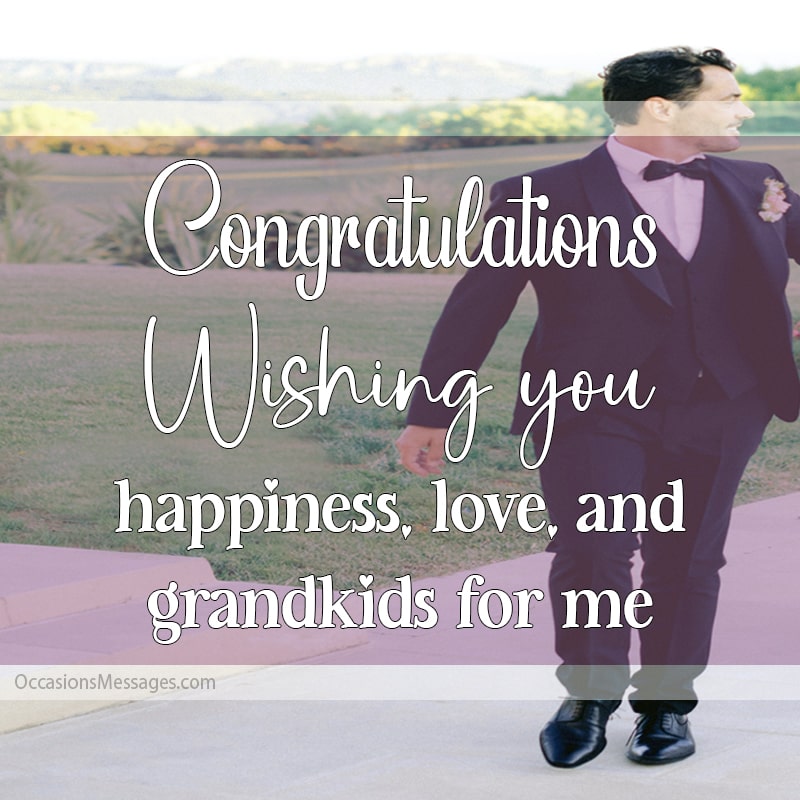 A wedding day is a day that remains forever like a birthday. All you need do is to celebrate anniversary each year. So, make your anniversary worth it. Love you son. Glad you're getting married.
The road you are about to venture in is never smooth, but with the right choice, I believe it will be the most unforgettable rough road you'll pass through. Congrats my son!
A wedding day isn't all about the feasting. It's not about the celebration. It's all about the joining together of two lovers who will live together forever.
Face your fears and settle your worries. Climb the mountains and calm the storms. In every area, it's do or die. You must keep living your wife always. With love from your dad. Happy married life.
Recommended: Happy Wedding Wishes for Friend
Last Updated on September 14, 2022
SHARE ON