I hope someday I get to see my daughter grow up and get married, and I am sure that is a wish for any parent. Wedding wishes for your daughter on her wedding day is mandatory, it makes one relax and feel the support from her family especially her parents.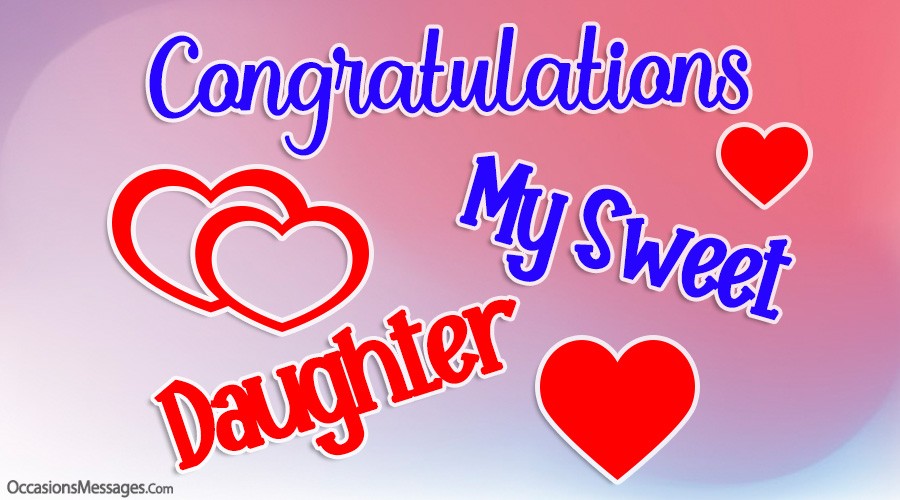 As she walks down that road, I am sure you have special words for her that you definitely want to let out, if you don't know how to say them, look at the wedding wishes to your daughter below, they may convey your message, or help you write a better one for your little princess. After all, it's her day and she does deserve the best.
Wedding Congratulation Messages for Daughter
Your transition from the very little innocent girl of mine to the very pretty wife of another man is great and awesome to witness. Happy married life daughter. Enjoy the special day. You are loved.
To my sweet daughter. The journey has been long, but here we are today letting go of you into the arms of this great and gentle man. May you be blessed forever daughter.
I am happy that I get to be part of this day dear daughter, always wishing you the best in everything you do. I love you, congrats on your wedding.
Tears of joy fill my eyes today as I see how beautiful you look on your wedding gown dear daughter. Your marriage is truly going to be blessed.
One of the greatest blessings every mother would want to have is seeing their little daughter get married. I am so glad I could see this day. Happy married life daughter. God bless your home.
Marriage is for really brave people, the week will only run from it. I'm glad you've made a big step today and I hope you'll be brave to continue enjoying it. Happy married life daughter.
From my little angel to the wife I see you'll be, congratulations to you my dear daughter, joy fills my eyes as I see how happy you are together.
You made a good choice dear daughter, you are finally going to see what marriage is like, I wish you all the happiness in the world. I love you!
People think marriage is a bondage, but it is actually the courage to gain liberty that leads to marriage, it can't be taken by just anyone. I hope you'll enjoy it my daughter.
May your home give you a platform to utilize all of your ability to the maximum efficiency. Happy married life sweet daughter of mine. May your home witness the greatness of God. Remain blessed.
May the angels that have looking over you now be there as you embark on marriage life my lovely daughter. Congrats on your wedding!
It's your day and I am more than happy to be a part of it. Thank you for all the joy you brought to our lives darling daughter, hope you'll get the same from your husband.
You're the only person on earth who has your kind of nature and your husband choose to be with you. Just enjoy each other every day until you both grow old. God bless your marriage.
A home can be a paradise if everyone involved can be a part of its making. Don't ever stop working on your home, it's you that decide your type of home. Happy married life daughter.
May this holy matrimony be blessed, may it produce the best, have a happy marriage life my only daughter, you are the best thing to ever happen to me.
May the sun come out today to shine over this beautiful couple set in front of me, may you receive only good things on your wedding day my beautiful daughter.
I hope you'll get all the motivation in the world to find it easy and pleasing to be with each other forever without having the need to complain. Happy married life daughter.
Marriage is not a joyfully experienced one-time visitation; it should be a long-life time experience. Enjoy this as you are married today. Happy married life daughter. Together forever is our desire for you two.
Strength or intelligence cannot make a home tick in the right direction. Wise people can have broken homes. Only conscious and continuous effort can make you have a home that is good. Happy married life.
Always be there for one another, for nothing matters more than having someone you can always count on. Be blessed on your wedding day my princess.
As you walk through marriage life together, may any and all obstacles make you stronger. I love you to the moon and beyond my lovely daughter!
You must be tough enough to concentrate on your home and you must work really hard to make it work. Happy married life dear daughter. I'm going to miss you a lot at my home.
Don't just get married for love alone; envision a great home and then you'll have all you want in it. Vision is expedient to a great home. Happy married life daughter. Wish you all the best.
You mean so much to me, and today, you mean so much to someone else, stay happy loved and blessed. Congrats on your wedding my daughter!
I am blessed to be part of this day, but even more blessed to have a daughter as fine as you. I wish you only the best as you embark on your marriage life.
Everyone dream of great homes when they are getting married, the ones who will have it will put energy into it. Don't ever stop working on your home. Happy married life daughter.
Life is easier for those who are willing to experience it in full. May you be willing and able by God's grace to enjoy every good thing of life. Happy married life daughter.
You are truly a child of mine, beautiful, caring, loving and strong, may he always be happy with you and you with him. Congrats on your wedding lovely daughter!
Children are so important in marriages. They are the fruits that comes from God. May your life become excellent as you get married. Happy married life daughter. Please don't miss us too much.
May your choice of love today, bring you an end result of fulfillment and awesomeness. Happy married life daughter. You two looks great together like you were made for one another. Congratulations.
The only wise one is the one who values responsibility in all ways. May God bless you as you take up this responsibility of setting up a new home. Happy married life.
As you tie the knot today, remember, your souls, heart and mind also become one. Wishing you the very best, congrats on your wedding my dear daughter!
Have fun today my beautiful daughter, you look amazing and everything is perfect just like you. Wishing you the best on your wedding!
I plan to have a wedding like yours, everything was perfect, and in place, you and the spouse also put up a fantastic show.
Life is all about progress. Congratulations for making this huge and important progress in your life. I hope you won't ever regret it.  Happy married life daughter, you'll be greatly missed.
A lot of things have changed in this generation compared to ours, but one thing remains the same, the love language. I'm glad you've found yours. Happy married life daughter.
The food and drinks were my landmarks of your wedding reception; I ate till I was robust while you did your thing please can you have a wedding every other weekend of my life, I had the best experience in a very long time. I love you guys.
The most powerful tool for the reconstruction of the world is proper marriages. When homes are properly built, the whole world will have good citizens living in it. Happy married life daughter.
It is with much joy and sorrow that I let you go, you are a wife, and soon to be a mother and I know you will be the greatest out there. Congrats on your wedding my daughter!
May you always have each other even when times get too tough, you are a wonderful woman, and I am sure you will make a more wonderful wife. Congrats on your wedding my daughter!
---
You May Also Like:
Best Wedding congratulations message for Bride
Early Wedding Wishes and Messages
---