Wedding Wishes for Sister: She was once that naggy, small/ big, snitchy sister whom you love and treat like your best friend, now, she is a beautiful bride ready to walk down that aisle and say I do to her prince charming, the guy whom she used to sneak out just to go see. Being there for your sister on one of the most important days of her life is really important. Sending a wedding wish for sister can go a long way in calming her down and showing your support for both her and her forever babe. Wedding messages can act as a reminder of when they once were and can help tame a marriage when the times seem rocky. Here are some wedding wishes you can send to your sister to show her how much you care and love her.
Wedding Wishes for Sister
Congratulations my wonderful sister, I wish all the happiness in the world.
I will miss you so much, but I am so happy for you. Congratulations sister.
Happy married life sweet sister. Stay together forever.
Congrats on your wedding. May you have a beautiful and successful marriage my dear sister.
May your love never quench and may God bless your home. Happy married life my dear.
The queen finally found a befitting king, you are my greatest treasure sister, and I wouldn't want anything but the best for you.
Congratulations! May your love story be told with wonderful memories. May your Journey last forever in true love and affection.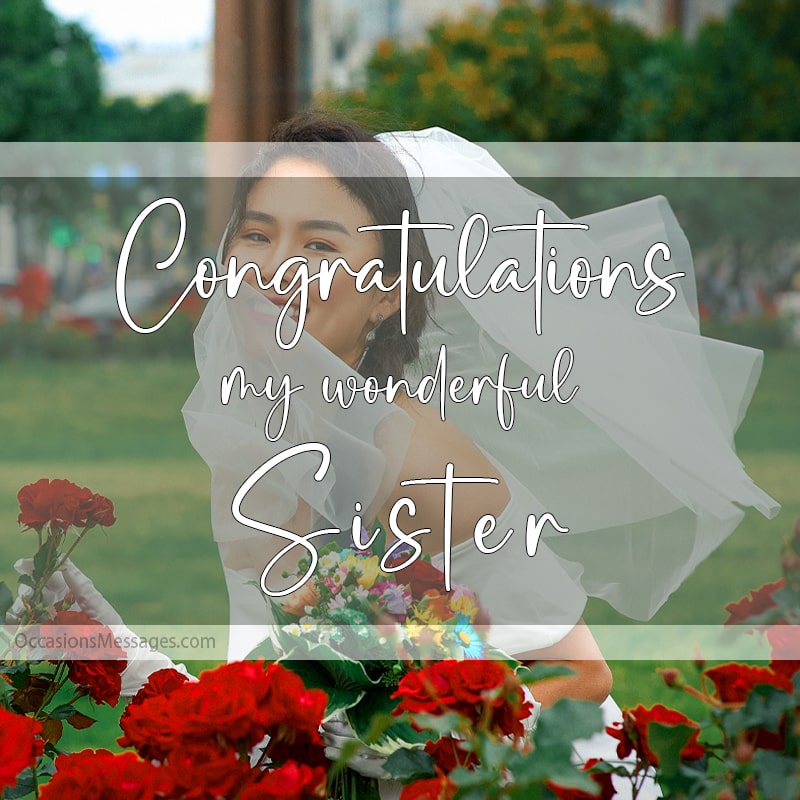 Happy married life sister. Never give up on each other.
You are my favorite sister but today you depart from me to your husband. I will always miss you. Enjoy your marriage life with all your heart desires.
My dearest sister heartiest congratulations. You have chosen the best partner who will always keep you happy.
Congratulations on your wedding sister. I wish best of luck. Enjoy your home.
On this special day of your wedding, you are the most beautiful of all brides. And I am so proud to be here. I wish you the very best of luck.
Congratulations my dear sister, you do make a beautiful bride and he a very handsome groom. May everything work out for both of you little dears!
Be blessed, be happy and have the time of your life, it's your wedding after all.
Congratulations on finding a wonderful partner to embark on a beautiful life together. I wish you a happy wedding.
Happy married life my dear sister. I know you are going to be an awesome wife. I know you will be the best mother and I know you will give a happy home. Congratulations.
You made him want to become the man he is, he made you want to become the best woman there is, sister you found your better half and he found his, Congrats!
Congrats! My best wishes and blessing be with you to the end.
May this day be one of your happiest days my dear sister, you look beautiful and I am sure, he will definitely be the husband you've always been looking for.
Read More: Wonderful Wedding Wishes for Bride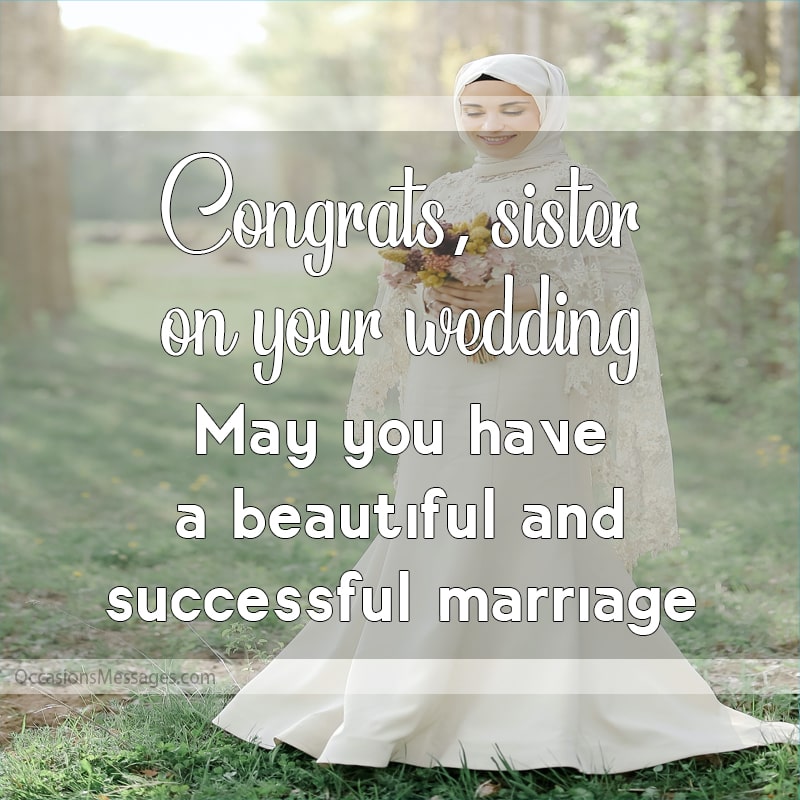 My beautiful sister is finally tying the knot to a very lucky man, he is lucky for when my sister loves, she loves for real. Have a beautiful marriage, I love you!
You've always been my protective elder sister and best friend. Now I am going to miss you. But I wish you all the best in your new chapter of life. Have a happy married life.
Happy Wedding day sis, I love you so much and I hope you will have a beautiful and an endless marriage.
May your story from today henceforth be happily married ever after. Nothing less than that is desired for a precious sister like you. Happy married life.
My sister is finally getting the dream wedding she's always hoped for, you look beautiful my dear, congrats on finally tying the knot, hope I'll be next!
Even as you begin your new life, I'll always be there for you sister. Keep up the smile and I'm wishing you and your new husband an incredible life together. Congratulations love.
Best wedding wishes to the most beautiful sister amongst the girls; your husband is fortunate to have married an angel such as you.
You are heading towards a new chapter of your life. From being a loving daughter, to a caring sister to a Wife, May you enjoy everything you need in life. Happy Married Life my sister.
It's every girl dream to be happily married to a caring and responsible man, I'm happy that my sweet sister achieved that desire today.
May this be one of your most glorious days sister, you finally found a man worth giving your life for. I wish you nothing but happiness.
Seeing my sister marriage is a phenomenal experience, I hate that I'll have to share you, but your happiness is my priority. Happy married life.
As you are going to be totally in control of the house, May you be blessed with a happy home. May love be the key to your home. And may God bless you both. Congratulations!
Read Also: Wedding Wishes to Congratulate your Friend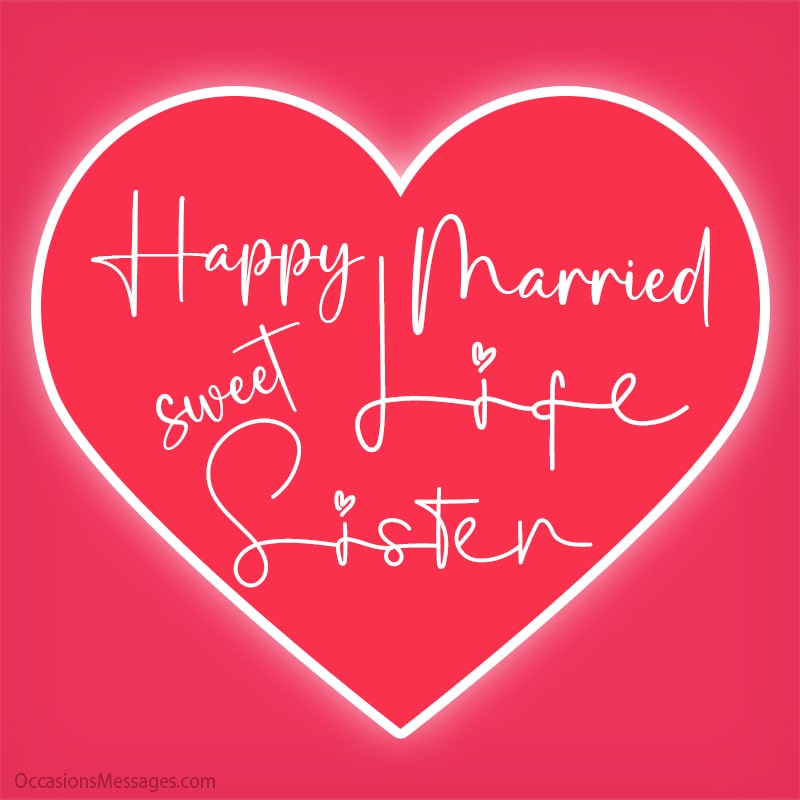 May God protect and guide you all the way through your lifetime journey sister. You are going to be an awesome wife. Enjoy this special moment with much love. Happy Married Life my sister.
Now that you are finally married, I hope I would not miss you as much as I already feel. It would not be fair to kidnap you from your husband.
Congratulations! You are the strength and the source of happiness to your husband. May this wedding day opens doors and bring you all your heart desires.
You'll always see more handsome men than your husband, some of them are distractors and they disrupt homes, don't give attention. Your husband is all that you need. Happy married life sister.
I pray you'll receive strength to bear the weight of your husband every time he…. Hmnnhmnnn… Heheheheh. He's so cute and so big. Enjoy and endure your marriage sister.
Cuddles are good especially when not asked for, give it to one another every now and then. It always keep love fire burning. Happy married life sister.
Although you are my sister-in-law, from the first day he introduced you to me I knew you were my sister. Thank you for making him the man we all knew he could be.
I feel lucky to be part of this day where my beautiful sister finally finds the man of her dreams, time to wake up and make it work my beautiful sister!!
May each day give you more reasons to love him and appreciate him, may he be the one you can't do without and may you have a blessed and beautiful marriage dear sister!
It is never an easy road but the steps boldly taken count, be proud of your man and stand by him for as long as you said I do to him, he'll be yours for life. Congrats sis!
Never let any petty thing come between you two, you are now a team, standing as one, I admire what you have but glad that my sister is the one who has it. Congrats beautiful!
It's your wedding day, a day to celebrate the love you found and the love you'll forever love hold and cherish, may God bless your marriage my beautiful sister!
You are not only a blessing to us but now to your groom also, may you get the best out of marriage hood. I love you sis, congrats on your wedding.
I hope I will still play a significant role in your life after being wedded to your husband. You still occupy the position of a sister and ally to me despite your wedding.
More Options: Belated Wedding Wishes and Congratulations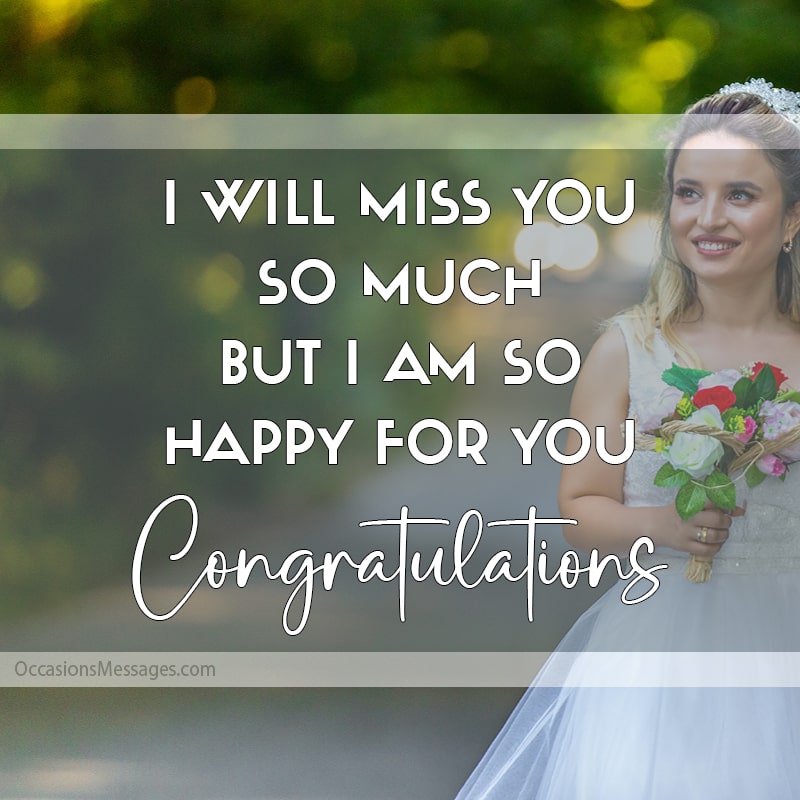 I wish that life after your wedding would be as successful as your wedding; you are a lovely sister therefore only good things will come your way.
I am a sibling to the bride of today that alone feels me with pride and joy. This marriage is definitely going to stand the test of time.
Witnessing you walk through the aisle almost made me cry, my beautiful sister is happily wedded to a deserving husband.
Dear sister, are you aware that you are the brightest bride of today, even by your natural beauty, you stand tall amongst other brides.
Happy Married Life to the jewel of all brides, which is my sister, I pray that your new union will be the starting point of other positive event.
Most people run from marriage because they don't want to be hurt, but you are one of the bravest to take the bull by the horn despite the odds.
I am glad to attend the most fabulous wedding of the year; only you can organize such a fantastic event, may you have such wisdom to plan your marriage life.
SHARE ON