Wedding Anniversary Wishes for Friends. For many people, their wedding day is one of the happiest days of their lives when they embark on a new journey with the person they intend to spend the rest of their lives with. It's a journey full of joys and rewards, but it also comes with some of the toughest challenges we will face in life.
That's why it's important to celebrate the day our friends began their life-changing journey, and show them our love and support for this most sacred of institutions. So here is a selection of greetings and messages you can use to wish your friends a very happy wedding anniversary.
Wedding Anniversary Wishes for Friends
The best ways to show our love and appreciation for our friends on their wedding anniversary is by sending them a cute wedding anniversary wishes for friends.
Happy anniversary, my friend! May life be everything you hoped it would be.
You two make an amazing couple. Happy Anniversary to you both.
Happy wedding anniversary to my two favorite people in the world.
You two look so great together! Have an amazing anniversary, dear friend.
Happy anniversary to the perfect couple! May your journey be filled happines.
Here's to a spectacular anniversary and many more to come!
I've never known two happier people. Happy wedding anniversary my dearest friend.
May all your days be as happy as the day you met! Happy Anniversary!
You still light up each other's eyes. Love and kisses for your anniversary!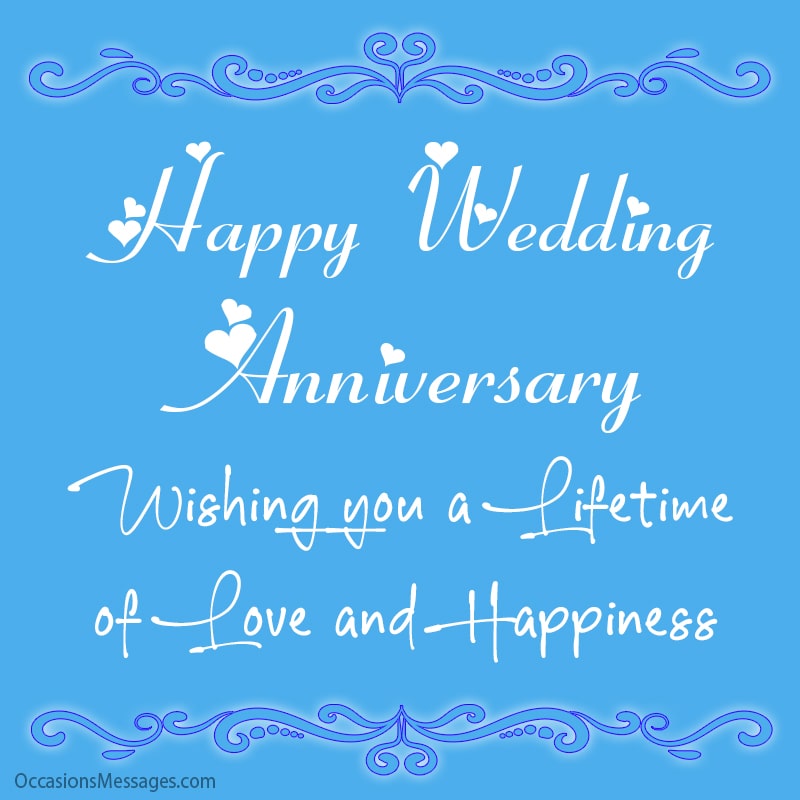 You guys were destined for each other! Happy wedding anniversary to the best couple!
Happy anniversary to the loveliest couple! May you grow stronger with each passing year.
Congratulations on another year of togetherness. Wishing you endless happiness!
Warmest wishes on your special day. May your love continue to blossom, and may you create countless beautiful memories together.
Cheers to the couple who fills our lives with laughter and love. May this anniversary be the beginning of new adventures!
Wishing you both a lifetime of love and laughter. Happy anniversary,
Happy anniversary to my dear friend! May love and laughter continue to light up your lives.
Read More: 50+ Thank You Messages for the Congratulations
Wedding Anniversary Wishes for Best Friend
It's time to celebrate the day two awesome people joined their lives together. Happy Anniversary!
Love has brought out the best in you. Happy Anniversary, my best friend!
The hand of fate has never touched two happier people. Have a great anniversary.
You two are so much in love! I wish you many happy anniversaries!
It's amazing to see how much your life has changed for the better. Happy anniversary, friend.
Happy Wedding Anniversary. You two seem to have the perfect life together!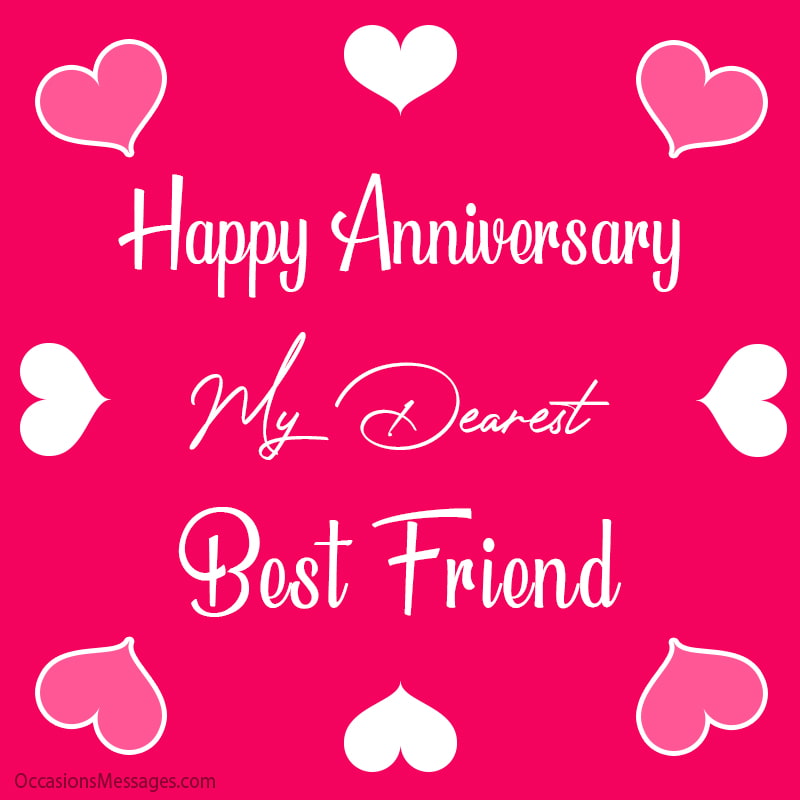 Every day you two grow closer and closer together! Enjoy your anniversary!
Happy Anniversary, my dearest best friend! Let's celebrate the start of your most amazing adventure.
It's official! You are the most awesome married couple! Wishing you a memorable anniversary.
Each year you two grow happier and happier! May God bless your marriage!
More Options: Thank you Messages for Wedding Gift
Funny Wedding Anniversary Wishes for Friend
The cake's long gone. The honeymoon's history. I guess you guys really were meant to be together! Happy Anniversary!
Nobody ever sees you guys fight. You must really tear the place up when nobody's around! Happy Anniversary!
The secret to a great marriage starts with remembering your anniversary. You're welcome!
Hey, you guys made it another year! Either that's love or somebody took out a really good life insurance policy.
Happy Anniversary from the Society of Divorce Attorneys! Thanks for nothing!
Marriage is a compromise. You both give something up, and nobody gets what they want. Well, Happy Anniversary!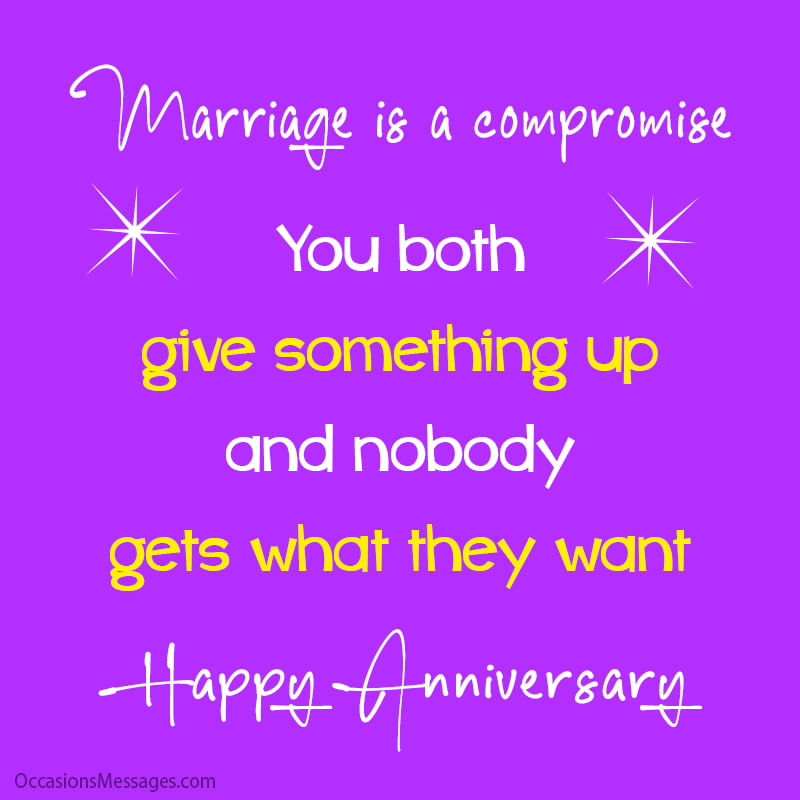 They say love is blind, and boy did you prove it! Happy anniversary, friend!
They key to a successful marriage is knowing who's boss: the baby crying at two in the morning! Happy Anniversary!
They say people start looking alike after they've been married long enough. You poor thing!
Congratulations on another year of putting up with each other! Wishing you both endless love.
People Also Read: Best 20+ Funny Wedding Wishes
1st Marriage Anniversary Wishes for Friend
Congratulations! You made it through the happiest year of your life. Happy 1st wedding anniversary friend.
It's great to see how much you've guys have grown together. Happy First Year Anniversary!
One down and a lifetime of Happy Anniversaries to go!
You never thought you'd get here, and yet you've come so far. Happy Anniversary!
After the first year, the rest is cake. Happy Anniversary!
Happy 1st marriage anniversary. Here's to many more years of happy matrimony, my friend.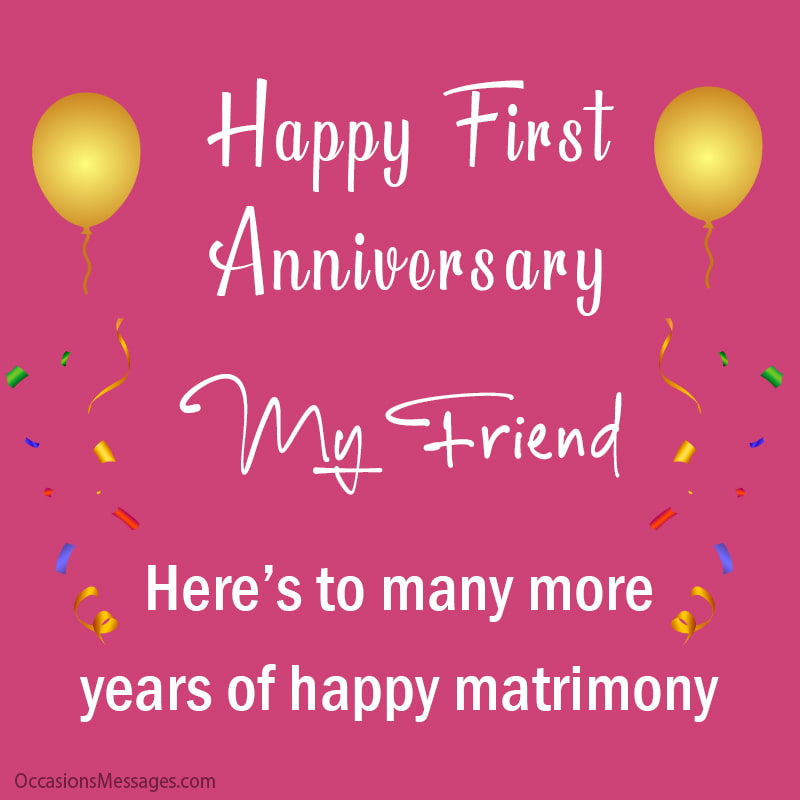 It's inspiring to see what a happy family you guys have made. Happy Anniversary!
Happy first wedding anniversary my friend! I know it will be a year to remember!
One year into your awesome adventure! Happy Anniversary!
You can only have one first anniversary! Here's to an amazing one!
Marriage Anniversary Messages to Friend
You two are an inspiration for so many married couples. Happy Anniversary!
Another year spent with the one you love! Let's celebrate!
Who says happiness cannot be measured in years? Happy Anniversary! Wishing you many more.
Wedding anniversaries are for appreciating the person most to dear to us! Have an awesome one!
With each passing year your bond grows stronger. Have a great anniversary!
Flowers wilt and candies melt! But the gift of continued love and support lasts a lifetime. Happy Anniversary!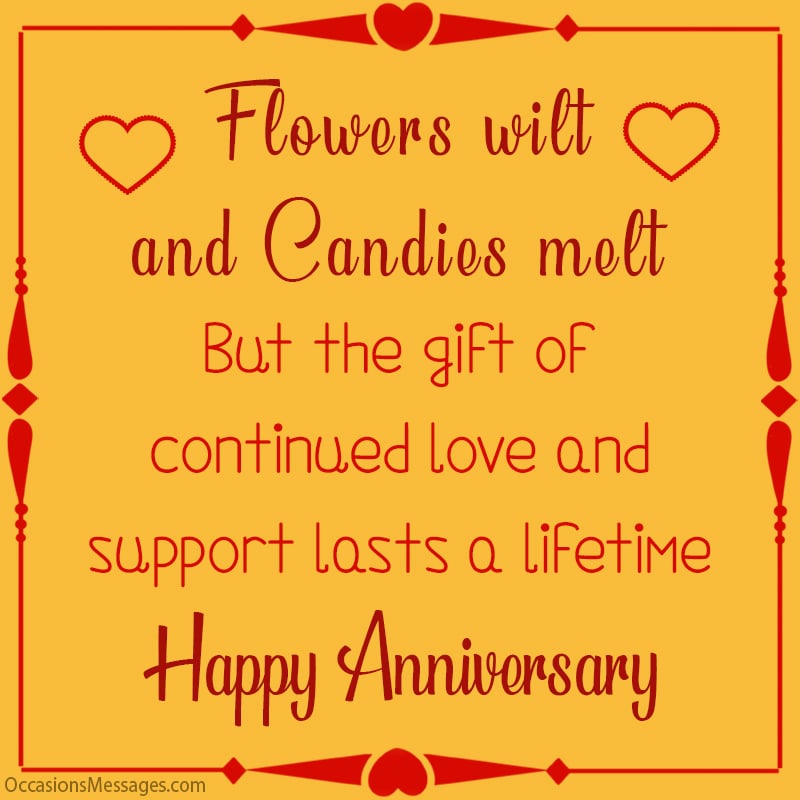 I love how you keep that spark that kindled your relationship burning. Have an amazing anniversary!
That love that you still have in your eyes is infectious. Happy Anniversary, friend!
Each year I see my friends' mutual love nurtured and cultivated. May that love bloom for eternity! Happy Anniversary!
Let's party! We have to celebrate another year of your marital bliss! Happy Wedding Anniversary to both of you!
Recommended Content: Best Wedding Wishes & Messages
SHARE ON