Wedding Wishes for Colleague: I haven't had many colleagues over the years but I can truly say they are people you should look out for. Some colleagues are fun, others are strict but whoever they are, they are worth working with for they bring a sense of belonging and ease to the workplace, otherwise, how would your workplace be like if you had no colleague? When they finally feel like they want to settle down with, they most likely will invite you to their wedding. Don't make it awkward by going empty handed; sometimes the best gift can be kind words to the colleague as he ties the knot. Luckily, we have made things easier for you, choose one of these messages below and share it with your colleague, I am sure he/she will appreciate it.
Wedding Wishes for Colleague
Congratulations. Wishing you a happy married life dear colleague.
Our deepest love and best wishes to both of you. Have a spectacular life together!
Congratulations! My dear colleague. Lots of love and happiness to you.
I am blessed to be a witness at such a glorious ceremony; I can tell you'll make each other really happy. Congrats on your wedding.
Congratulations! May this day be the beginning of pure happiness and endless love. Happy wedding Mate.
My best of wishes for the new life and your new home. Congratulations.
May this wonderful day bring you all the best in life. Congratulations! Enjoy life now.
I wish you happiness that will forever shine on you and your blessed life together. May your happily ever after be filled with blessings and joy.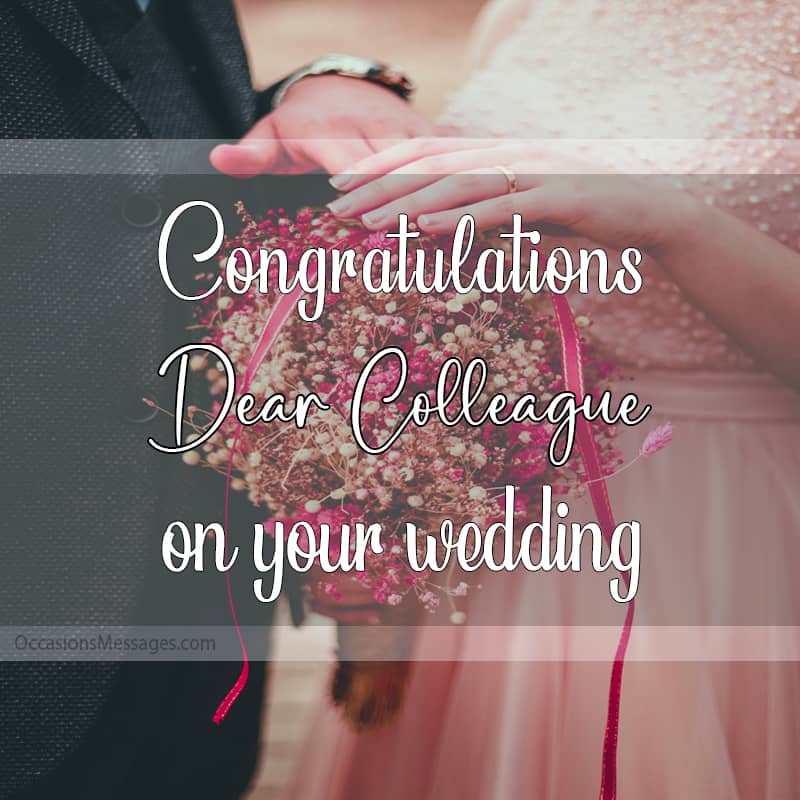 Taking such a step is bold and admirable. I am sure you'll make each other really happy, wishing you the best throughout your married life together.
I'm so happy to be part of this wonderful marriage ceremony. I wish you a long happy fruitful marriage my dearest friend. May your journey be smooth to the end. Congratulations on your wedding!
We are all happy for you and our deepest love and very best wishes to you both. Keep smiling for each other. Congratulations!
My best colleague and my role model. What a great step you have taken. May God bless this union and give you all you desire through this journey. Happy married life.
I was there when you two met, I saw you fall in love with each other and now I am blessed to be a witness at your wedding. Congrats dear colleague, you two are truly meant to be.
As time passes by, I hope you find a million and one reasons to want to spend each second of forever together. Wishing you a blessed marriage dear colleague!
Marriage is a road worth venturing if it's with the right person. I believe you've made the right choice, enjoy each moment as your wedding day goes by perfectly.
On your wedding day, my only wish to you is the vows you made to each other stay stronger today, tomorrow and forever. May God bless you with love. Congratulations! Colleague.
With your kind heart and loving nature, you have been blessed by God with such an adorable partner for life. Wish you the best during this new stage of life. Have a happy married life.
When you invited me to your wedding, I never thought I'd see so much love in one place. I hope your love grows fonder each day. Congrats on your wedding colleague.
Popular Content: 100+ Sweet Wedding Wishes for Friend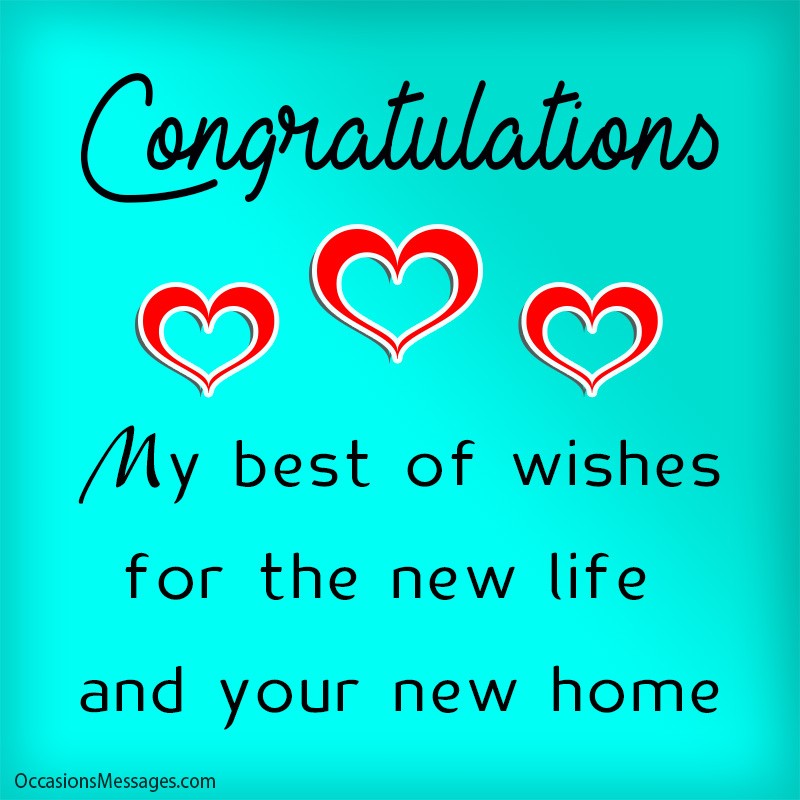 You were always the office clown and today, I get to see you serious and smiling as you tie the knot with your beautiful bride. I wish you all the best on your special day.
The day's made me emotional, it's such a beautiful occasion and I am truly blessed to be a part of it dear colleague. Enjoy marriage and all the beautiful gifts it bears.
It's so beautiful to see two lovely souls smiling together on this special day. May your heart's deepest love never fade and may all your dreams come true. Enjoy your day and Happy Marriage life.
A home built on endless love, is a home of peace. May this joyful moment bring wonderful things and creation of lifetime memories together. Stay in love and enjoy your wedding day beautiful Couples.
May you be blessed with wonderful kids. May your home be filled with good health, success, long life, and all other blessings from God. Happy married life.
As the sun sets on your blessed day dear colleague, I wish you a lifetime of smiles and joy throughout your married life. I hope you see the true meaning of love.
This beautiful day calls for endless celebrations. Life has been so good to you in finding a woman of virtue. Congratulations! Happy marriage life colleague.
You have promised love, devotion and faithfulness to each other, I hope you'll receive nothing less. I am wishing you a blessed marriage dear colleague. Congratulations!
Thank you for making me a part of this beautiful day, there is nothing more precious than seeing two people in love declare it for the whole world to see. Enjoy your wedding colleague.
As you travel on the pathway of life together, may your love grow stronger every day. May you enjoy this wonderful blessing from God to the fullest. Good luck in marriage my colleague!
I'm so sorry I have not been able to attend your wedding, but all the same my warmest wishes go to you. May you enjoy your new life with abundance love and success. Congratulations!
Read More: Wedding Congratulation Messages for Boss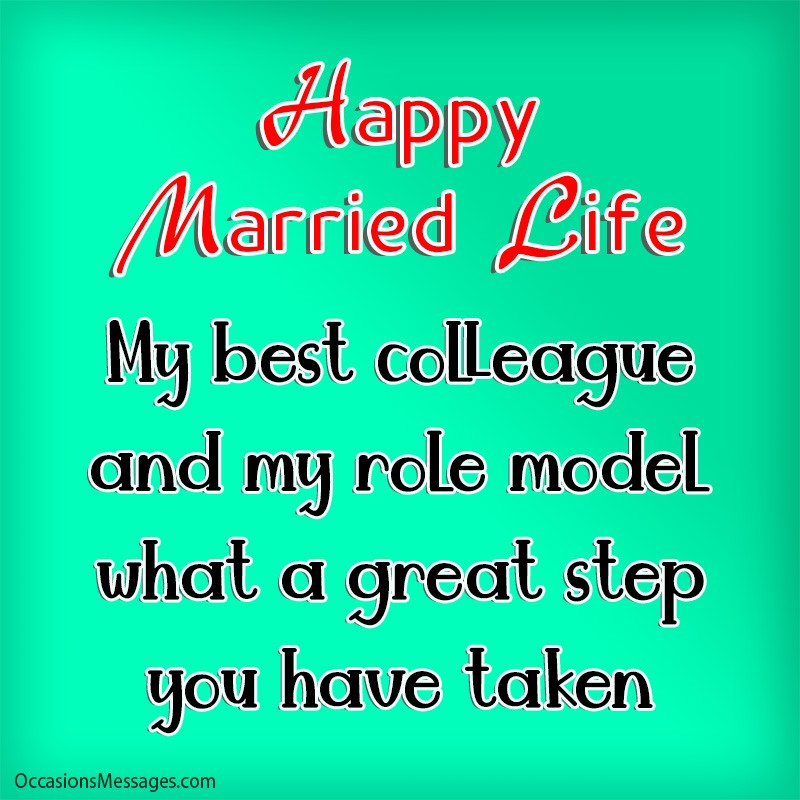 Life is full of little surprises; the person you thought couldn't have been ends up to be your soul mate. I hope you enjoy your married life together colleague.
Today is just the beginning; it is not over yet nevertheless just as you smashed the courtship barrier, I expect you to do justice to marriage.
Wishing you and your Spouse the best during this lifetime journey. I'm very much inspired to see you getting married. Soon I will be the next in line. Have a Happy Marriage Life.
May your Journey be full of marvelous adventures. We're so happy that you've found someone that complements your personality. Have an endless marriage and a fruitful home. Congratulations colleague!
Every couple walking down the aisle wish for a lifetime together, but not all prayers reach heaven; I know you are one of the lucky few that will make it.
It takes two to tangle but a lifetime to be together and happy, wishing you an awesome wedding dear colleague, just take it one step at a time.
Make the most out of the day, it is just for you two dear colleague, you are blessed with a great groom and I can see he feels the same way about you. Good luck in marriage!
Both of you, on this delightful day, I seek God's protection, success, love and all that you both desires. Be courageous for each other endless love and affection. May you both enjoy a fruitful marriage.
More Options: Sorry for Not Attending Wedding Wishes and Messages
SHARE ON