When you have a family, you eventually will start considering having kids. Having kids is a beautiful part of life which comes with its own set of responsibilities. From the pregnancy, to child birth, to raising these beautiful little angels, there are many moments which you will remember. You may have many worries and it is fair for you to have them as you want the best for your children.
Your child's birthday is often a grand affair as you get to celebrate another birthday for their birth. You will be excited as we are here to provide birthday wishes for your son. Let's have a happy birthday.
Happy Birthday Wishes for Son
This day reminds me that I gave birth to the love of my life. I hope you have a nice day son.
There is nothing I wouldn't do for you. You are my own flesh and blood. I love you son.
I could not be prouder of the man you are growing up to be. I love you so much, enjoy this day.
Happy Birthday! Hopefully this year, you don't cry if we paint your face with frosting again. I love you son.
You are a man now, and I am so proud of you. Remember to keep working smart, loving family, and being the good man I raised.
You have grown into a man. I remember you used to be the boy asking for cookies and running around thinking you were batman. You have grown well. Happy Birthday my son.
You are worth more than a thousand others, sugar. I am blessed to have you as a son. Cheers to many more years.
Son, you are the joy of my life. I would like nothing more than to see you happy, successful and doing what you love. So enjoy this day.
You used to be my little mitten. Now you are all grown but still my mitten, nonetheless. I look forward to many more birthdays champ.
I thank god every day that I was blessed with a handsome, healthy and intelligent son. Stay smart and strong. Happy Birthday!
Another year has passed for you my son. I know that life seems long right now but I promise you the years will move faster than you can imagine.
Congratulations son, on the completion of another beautiful year. Keep up the pace, and the sky will only be the beginning of your success story.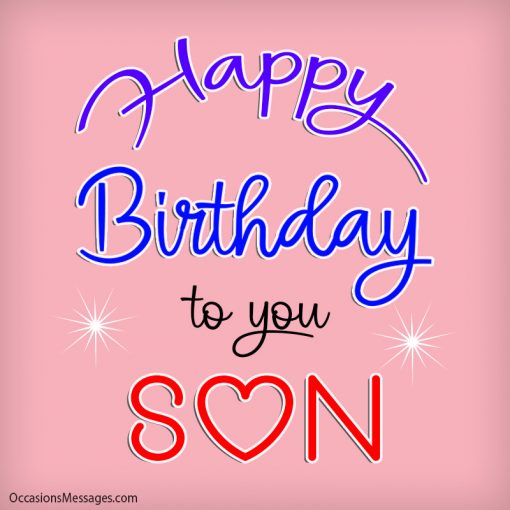 My wish list for you so long, it can never be short. I want you to be happy and have the best of everything. You are my son and I will forever be grateful for you.
You are never alone. You will always have your family here to support you no matter what.
It's your birthday! My son, I wish you another year of great luck, health and wealth. Stay happy!
You will learn the world in all its glory my son. There are many life lessons which will prove invaluable to you. Remember, that I will always be here for you. Happy Birthday my son.
Am I the only one feeling abnormally happy, it all started when I remembered it is my son's birthday, so explain to me if you also feel the same way.
It is a great privilege by God Almighty to make me witness my son's birthday in good health and sanity. Let's look forward to enjoying the rest of the day.
Happy Birthday! My son has gotten older. But no matter how old you get, we will always cut this cake for you and have a party! Go have some fun. This day is for you.
You are strong, adorable, brave and sweet young man; you can be whatever you want to be. I am your biggest fan, happy birthday, I love you.
It's your birthday baby; I want you to have fun. I will do everything in my power to make you have the most amazing bash ever. So sit back and watch son.
There have been many times when you scared us silly. We may have yelled at you but we love you and want no harm to come to you. You have a place in our heart for life.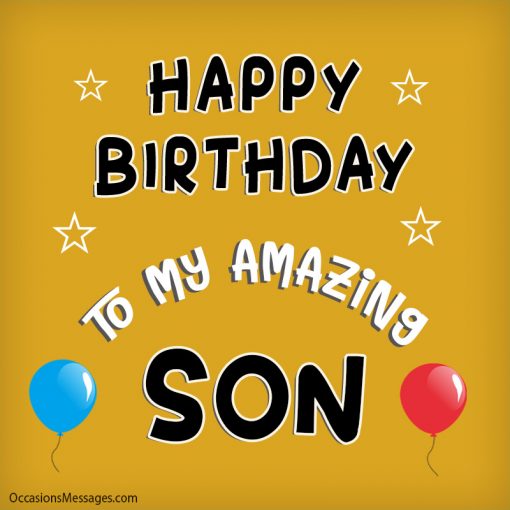 All I could see in life is that it's a normal life, not until you came around, then I was able to see something completely different, you're a sunshine to this world. Thanks for shining my path. Happy Birthday to you.
Having a family is always a rewarding experience. Raising you has been one of the greatest parts of my life. Thank you my son for giving me that. Happy Birthday!
You never fail to make me feel proud of you. I know that I am hard on you but I do it because I know you can do so much. You surpassed even my expectations.
The memories that I have shared with you so far are forever engraved in my mind. I hope to make more. You are a son any parent would be proud of. Enjoy this day son.
You are growing older little man. I will always be here whenever you need me, even when you don't. So enjoy your birthday.
Words cannot adequately express the emotions, delight, and accomplishment that we feel on your birthday; we've raised a son who's a genius in the making and an excellent example to his younger brother.
Birthday Wishes for Son from Mother
I have never been happier than since you were born. I always thought being a role model wasn't that cool. But since you were born, it doesn't matter anymore.
Life isn't perfect. There have been so many moments when you scared me out of my wits. But you know what, each moment with you was worth it. Happy Birthday son.
Birthdays are a special day to remind someone how much they mean to us. Well, today is your birthday son. We may be busy often but today is a day to remind you how much we love you.
Happy Birthday, you are a part of me, a part I feel completes me. You are my world. Have a glorious birthday.
Have a nice day son. I know there is one thing you can never resist no matter what. It is birthday cake and we got the best cake of all time. Dig in!
Thank you for bringing so much joy in my life. I would like nothing more than to see you happy. That is my main wish for you son.
You were pretty when you were a young lad. Now you are a mature man with a great head on your shoulders. We have never been more proud. Happy Birthday.
Son, I always want you to keep a mindset of a student. There will be never enough learning to do in this life my son. If you keep learning, you will never fail.
you are an awesome you are brave and you make me proud. You make me happy and I feel blessed when I see you every day. Enjoy this day.
I'm delighted I carried you for nine months even though you kicked seriously hard and hurtful. You've grown to be a gentleman I can rely on, have a fun filled birthday.
Birthday Wishes for Son from Father
As our son, you have filled us with so much pride. As our son, we can never lie to you. We love you so much from the minute you were born. Now it's your birthday and we love you just the same.
Many people see you as a boy. But I can see your future as a man. No one will ever make me prouder than you. I love you my. Have a wonderful birthday.
Birthday's here! You have become a dancing machine! Now it's time to bust a move. Have a lovely day.
Just name anything you would like for today. I will make it happen, you mean the world to me, happy birthday darling I hope I can make this day unforgettable for you.
You have been the chip of the old block growing up. You are just like your father in more ways than you can imagine. It makes me feel so much warmth in my heart when I see it.
It is your birthday! I love the fact that it is your birthday because I get to brag on how you are my son. I love you kid. Don't ever forget you have family. Dream big.
You are the most amazing man in this world. I love you and I want nothing more than for you to enjoy every single day of your life. Happy Birthday son, I love you so much. I want you to have fun today, enjoy each and every moment, for I sure will.
Happy Birthday to the most amazing son of all time. Sure it may be cheesy but you are my son and you make me smile like someone told me to say "cheese!"
I remember when you were a young boy, you loved action figures. Now you are older and love cars. If you were a car, you would be a 1969 mustang. Have a wonderful birthday.
Having a son will always be a source of joy to a father; having you makes me delighted because you share some of my features. May you celebrate many more years ahead.
Funny Birthday Wishes for Son
Your mom has ordered a sweet birthday cake for you, it's going to be strawberry flavor because mama knows your favorite delicacy, what's left is for me to notify the fire department to help blow your candles.
We're both happy for your birthday from two different perspectives. You're delighted because you added a year and we're happy because it reduces our responsibilities as a parent. Please grow faster.
There's no controlling the amount of cake and sweetened biscuits you'll consume today on your birthday, however, if you've got a running stomach we'll be visiting then doctors office, remember how much you dislike the doctor's office, so do good to caution your intake of sweets.
My dear child, always remembers that birthdays are reminders of fewer years we have to spend on earth, as such, ensure you have a lot of fun on your birthday because our days on earth are numbered.
Take this as a word of advice coming straight from your father's heart; you're just a year closer to shoulder the responsibilities of others. There's nothing exciting about that but with time you'll adjust.
Whenever we get into arguments, I always laugh because I remember years ago when you were just a toddler who had no opinion. Happy birthday son
One cannot prejudge some things in life; no one would have expected you to look so handsome and masculine. Your birthday brought back old memories. You make your mum and I a happy parent.
You're permitted to celebrate your birthday anyhow you deem fit, just don't forget that such privileges don't extend until tomorrow. We love you our wonderful son.
Once upon a time, there was a little boy who was the apple of his parent's eyes, he added another year today, and his parents are beaming with joy.
Treasures are not easily identified; however, we knew you were special the moment you kept us from sleeping with your cries. We chose your birthday to tell you this, my beautiful treasure.
Short Birthday Wishes for Son
I know you'll grow up to be the man I know you to be. Have a grand birthday my son. I love you.
You make me proud and that is something precious. I wish you a really Happy Birthday!
I may not have much, but rest assured whatever I have, I will give to you. Hearty birthday!
May you always follow your heart and may it always lead you in the right way. Have joyous birthday!
Never forget that I will always be here for you. Have a radiant birthday my boy.
We're proud to be your parent; you're so perfect for a son. Your birthday delights us.
The sun will always shine bright for you dear one. May this birthday be brighter than the others.
Happy Birthday to one of the greatest sons alive, you've made us proud parents.
Celebrate your birthday knowing you've been a marvelous son to us. We love you with all our hearts.
I brag about you with my friends; there's no man that won't be happy to be your dad.
Birthday Messages for Adult Son
Life isn't just to celebrate years but to celebrate fruitful years. You're now grown and you need to start working on yourself. I trust you son. Happy Birthday to you. Live long son!
I couldn't believe I gave birth to a man like you. You've touched many souls and you've made many happy and glad. You promised that you'll be kind and you are. Have a wonderful birthday.
I couldn't wait to wish you a happy birthday. You've been my strength when I was weak. You're my happiness and my strong tower. You're my joy.
It doesn't matter your age; you'll always be a child to your parents. It doesn't matter where you are; you mustn't forget where you're coming from. Always remember this son. Have a beautiful birthday.
On this day, some years back, you were born. You brought laughter to our faces and you brought joy to our family. You're grown now and you're still our happiness.
I wish you the best in all of your endeavors. I wish your dreams come true in this coming year. As you start a new year, I wish it'll be a new dawn. Have a lovely day.
The love I have for you is strong and I will always show it to you on a daily basis. I hope you'll enjoy this great day of yours, son.
Birthday Messages for Married Son
Like your dad do says" it's the wife of a man that would best explain him". I'm glad your wife has great things to say about you. This gives me joy always.
Would you close your eyes for a while and open? If you did, what did you see? You'll notice that after darkness, there was light. Yeah! Happy Birthday, glad your wife is a light.
It's always the happiness of parents to see their children happily married and also joyfully celebrating their birthdays with their families. This is all I've lived to see.
The beauty of a man beholds in the eyes of his wife. The beauty of parents beholds in the eyes of their children. Son, you're a beauty to us. Wishing you a very
Awe! It's your birthday and you're not celebrating with us but with your immediate family. It's so painful I couldn't sing like I always did but I'm glad you're happy.
Be kind and generous. Have your goals, vision and mission. Never give up because you're becoming a father soon. Be courageous and love your wife. These are my words for you. Happy Birthday.
After series of experiences in my life I realize that only few things matter and among those few things are family, I really cherish you son.
Birthday Messages for Younger Son
You have been a blessing to me and to us all my dear son. I hope you grow to be a strong, handsome and brilliant fellow. Merry birthday!
I celebrate this day with you because you are a blessing to me and I love you so much. Have an ecstatic birthday baby, I am proud of you.
You are the reason that I became a mom for the second time; you are my pride, my joy and my handsome little boy. Joyous birthday!
I thank God for you each day and today, I thank Him for another year of your life my son. Have an epic birthday dear, you are loved.
Thank you for being who you are, you are the reason I smile all the time. Happy Birthday to you!
I wish you a long and healthy life my baby, may you always have and may you never lack. Thank you for making me a father again.
Being our younger son qualifies you for all the love and affection you can get from us. We love you so much, and we're happy for your new age.
We were lucky to achieve the feat of having two sons; you being the younger should make you happy because you're the baby of the house and be full with extreme excitement because it's your birthday.
Birthday Messages for Older Son
You are my first son, the one who welcomed me into parenthood. I love the fact that I get to see you grow older. Have an unforgettable birthday.
May this day bring you closer to the ones you love most, may it give you wisdom to be a better big brother and may it also get you lots of presents. I love you.
You are better than the best my son, you are strong, intelligent and handsome and I wish you the best in this life. Buoyant birthday!
Each day I get to spend with you is a blessing and each year you turn older is another year I turn older too. I am proud of you.
I have the best son in the world, you make me so happy and I hope I can share that happiness with you today on your birthday. Enjoy each second of the day baby.
May this birthday be the birthday you get all your wishes to come true. You are a blessing to me and I love you so much.
You've been a good reference and example to your younger brother; we're happy for the elderly traits and qualities you have portrayed. Happy Birthday to a leader in the making.
You can always count on us, and we're ever ready to support you in anything you venture into, you've grown a year older today. Have a very happy birthday son.
Birthday Wishes for Twin Sons
You are definitely heaven-sent, you complete my life and I hope I complete yours as well. Have a splendid birthday my twins.
I thank God for my beautiful boys each day; you are definitely a gift I can never take back. Happy Birthday my twin boys!
May this birthday lighten your hearts and free your spirits, you were born as a pair and I hope you love each other till the end of time. You are loved.
I love you with everything I have my twin boys; you are my joy and pride. I wish you a long and happy life. Have a delightful birthday!
I am a fortunate parent of twins, may this birthday give you knowledge to know right from wrong. Have a peaceful birthday dear ones.
You mean the world to me and I love you so much my twin boys, you make me happy and I hope I can give you all you'd ever wish for. Enjoy your birthday!
Birthday Wishes for Son-in-Law
Dear son-in-law, there are many people in this world that have come and gone in our lives. You have stuck around and proved how much you want to be here. You never gave up even though we had a tough relationship at first. Happy birthday!
Happy birthday son-in-law! There are not many people I would want to marry my daughter. But you are more than able in my eyes.
Someone somewhere made for each other, you are the beautiful creation of god for my daughter and we can say that "Made for Each other". Happy birthday dearest Son-in-law!
I hope you will keep my daughter happy and safe. Happy birthday son-in-law. Promise me that you will do your best in that and I promise to not turn away from you.
You are an ambitious and competent person who always sees the picture to its both ends. Wishing you a very delightful birthday!
Birthday Messages for Stepson
You are an awesome boy, stepson, and I just hope you have the most splendid birthday ever. I am here whenever you need me and even if you don't, have a beautiful birthday.
To a very rare and nice boy who happens to be my stepson, thanks for filling up the big hole in my life, I count myself a lucky woman to have you in my life. Happy birthday stepson.
I am glad to be part of your life; you have shown me that you are brave, strong and worth each and every moment. I hope you do enjoy this day stepson. Happy birthday.
Happy birthday to my great stepson, you are the reason for my latest joy and happiness. May you continue to grow in wisdom. Stay blessed. Have a beautiful birthday.
You are definitely a person I am proud to be related to, you show me love, care and appreciation and I hope I can reciprocate. Have a great birthday dear stepson.
Best Wishes and Messages for Son
Bringing you up has been one of the easiest task I've ever done. If you are a country, you are so easy to govern. Happy Birthday lovely son. Stay blessed.
You are the most important little man in my life. My love for you is unconditional. I want you to be whatever you want to be. I will always be here. Enjoy this day.
Happy Birthday. I know that it is your birthday but I am so excited to celebrate your birthday! It won't make sense to you until you have kids. Trust me.
Today reminds me of a lot of this, but mostly; it reminds me that I have something worth living for. I want you to have fun today, have a blast my baby boy.
It's your birthday again, this is such a blessing. I want you to know I am very proud of you and I couldn't ask for more. I love you.
Have a wonderful birthday; you are everything I ever wanted and I wouldn't trade you for all the diamonds and gold.
Right words are difficult to come by because it's your day and you are such a good lad. May your life be full of joy and happiness. Have a beautiful birthday.
I hope today will be the first day among many that I will focus all of my love and attention on you. You are a special boy. Happy Birthday son. Enjoy your great day.
The totality of my life is summed up in three letters SON and the only expression I can give is in three words I LOVE YOU. Happy Birthday boy. Enjoy your special day.
Sons of your age group do not measure up to you in terms of intelligence and performance. I wonder how mature you will be after a few more birthdays.
I give thanks to God for keeping you alive to witness another birthday, you are a troublesome son, but I would not trade you for another.
You are so perfect for me, and I decided that it will be a cool idea to have more sons; everyone is in awe of your personality, and they are ready for your birthday.
The positive impact that you have on me as a son is massive; it is not surprising that your peers look up to you. Do have a befitting birthday.
Whenever I look at your handsome face, I remember how fine I was when I was much younger; I guess these are traits that parents pass to the children.
Happy Birthday my dearest son. The clock will not stop tickling so ensure to execute all your birthday plans before the day is over.
You have gotten so big and so smart. I know I am getting to be very old but I hope you never forget about us. We love you and hope you will continue living well.
We can learn much from a younger generation. But we also have a responsibility to provide you a great role model. I hope you learn much from me as much as I can learn from you.
You will always be important to me; nothing and no one will ever replace you. I will be here for you, I promise. Have a wonderful birthday.
There are many moments in my life that I remember. None compared to holding you in my arms for the very first time. I love you my son. Happy Birthday! You are too big to carry now.
It has been a joy raising you my son. You have never failed to make me smile. I love you so much.
You are the greatest son of all time. I am sure that all parents say that about their kids but it is always true. I love you. Have a beautiful birthday.
You have always been one to make many people laugh and smile. You are a bundle of energy and joy that brighten many days.
I will protect you, love you and be here for you when you need me son. Happy Birthday dear and never forget my love for you cannot be measured by any instrument.
If you are going to celebrate your birthday, you are either going hard or going home. Since it is your birthday my son, go hard since you are already home. How's that for convenience?
Your evolution into a man is such a great thing to behold. Happy Birthday son, enjoy this special day.
Every parent will beam with lots of pride if they have a son like you; it's a great joy you are called by my name.
Every moment with you has always been priceless, no moment with you can be forgotten, because you are so glorious my son. I love you till the end of time.
Nothing can push aside the love I have for you; I am willing to sacrifice anything for you. Happy Birthday. Enjoy this beautiful day of yours.
You never cease to make us happy; it is always a happy moment after another. I'm glad it is your birthday, so I can reciprocate in cash and kind to a deserving son.
I experienced a void in my heart until I had you as my son; whenever you are around, there is always a reason to laugh. Today is yours, and we are happy to play a part.
You are my son, my best friend, someone I dearly treasure and I am happy to celebrate with you today and every day.
There's nothing left for me to say but I love you every day, every year and every inch you grow. Happy Birthday.
The memories of your birthdays are still fresh in my mind; fortunately, I will be adding another to my collection. I am so excited for you, my son.
I am not a perfect parent because they do not exist, but I will always try to do my best to make you happy as a son, especially on your birthdays.
Happy Birthday son, whenever my friends complain to me about their sons, I bow my head to smile because you are the best and I got you all to myself.
From toy horses to tying your first time, I have beamed with pride that you are a part of my life. I will always love you.
Many men roam the earth but none can compare to you. I'm happy to have a son like you.
Love is your smile and your wonderful hugs. On your special day, may you be reminded of our love as much as you've blessed us with love.
The atmosphere is different from other days, and it's probably because of your birthday, it is a sign that my son is extraordinary from the rest.
Remember to say a wish before you blow your birthday cake, so the angels give you a birthday present, trust me, son, it works, but you have to believe.
I thank God the sun shines on you each day. Happy Birthday to a wonderful son! We all love you.
Loving you throughout the years gives me a deep sense of joy my world could not do without. Happy Birthday!
Celebrating a son any mother would be blessed to have. I'm proud of the man you are and will become.
To the little boy who stole my heart at first glance and whose smile is as sweet as cake, happy birthday. You are great!
No matter how tall you get or how your hands no longer fit, you will always be my little boy. Cheers to being a year older!
An upright son deserves commendation on his birthday, so I take this once in a year opportunity to commend you for managing your life very well.
There is a need to spoil you today because birthdays only happen once in a year and it is your turn, nevertheless, ensure you celebrate like a responsible son.
Happy Birthday to my lovely son, do not believe any lies people tell to tarnish your image. You are one of the best humans that I know so relax and enjoy the day.
The sky sings sweetly as I gaze on your playful laughter zooming in the shade. You are my joy alive and loud. Have a great day.
It is indeed a pleasure to have the opportunity to share every joy, pain, success and sorrow with you. Thanking my lucky stars for one more year to care for you.
Grateful for one more year to love you, lift you and be here for you. Happy Birthday, my son.
Your life was my greatest gift and I hold you close to my heart. May today and your tomorrows hold as much hope as you've given me.
Happy Birthday to my growing boy! I often pinch myself to see if it's a dream but every gym sock reminds me that your presence is real.
Love, life and laughter to the brightest boy I have ever known. Today is your day and with love we celebrate the wonderful person you are!
On this day umpteen years ago, the world rejoiced to welcome the life of a royal boy. Happy Birthday to the prince in my life.
Your radiance is far-reaching, a true delight to my soul. May today be as happy as you have made me. Happy Birthday!
My heart believes that you are every bit as beautiful as the flaws you sometimes frown on. You are celebrated as you are but most of all with love.
I see greatness in your shouts and even in the gentle way you are. Happy Birthday to my superstar.
As you get older I want you know that my love will walk with you wherever life takes you. You will always be my baby boy.
Some call it fate but you're a beautiful dream that my heart finds delight in coming true. Happiest of birthdays to you!
You're big and strong and beautiful. I love all the ways you are different from every little boy. Celebrating my unique son, today and always!
Time with you is always time well spent. Wishing for many more years to have more time to love you, my boy!
With every birthday comes new experiences and new reminders that no matter how finite may be, at every step of the way you can find my love.
Not all families are privileged to have sons; we're grateful to have you amidst us. May you celebrate many more birthdays in good health.
We wouldn't have been happier as parents if we had someone else as our son. You offer us more comfort than we'd expected in a son.
Happy Birthday to son, may you live to fulfill all your life goals and desires. Enjoy the day while it lasts.
Calling you "son" has been one of our favorite words and giving birth to you has been our most significant achievement. We wish you a Happy Birthday celebration.
Our son is a year older today, may the good things of life accompany the day because you deserve all the blessings of this season.
We always wanted a son of your type. We were delighted when our dream came to fulfillment on this day. Happy Birthday son.
I laugh at my friends who often say they're comfortable without a son because they don't have one; your birthday reminds me of the beautiful moments in the labor room.
Whenever your father is away, I miss him less because you have adopted a lot of his fatherly traits and I'm convinced that you're growing up to be a good husband. Happy Birthday to you my handsome son.
I'm a fulfilled mother because I was able to give birth to a wonderful gentleman on this day many years ago. Always remember you're the joy of your mother.
Men are outstanding and magnificent in every family structure. I'm a happy mother because I have you and your father as my protectors. Happy birthday to you my little man.
Happy Birthday son. You're growing into a well-cultured citizen of this country. You've already shown us how mannered you are and I'm proud to be your father.
You're a special blessing to me; I never knew fatherhood could be this interesting. You're a son worth celebrating on his birthday.
Have a fulfilling and glorious birthday celebration; I'm delighted as a father for your happiness because you've been an upright son.
I said a prayer this morning to thank God for adding another year to my wonderful son. You have been the source of my joy. I'm gratified to be your father.
You've enjoyed excellent progress since we gave birth to you. May you live many more years to maximize your potential.
You're one of our greatest gifts; your addition has favored our family a lot. We feel so delighted it's your birthday.
May the years ahead of you be brighter than those of the past, no parent wouldn't be glad to have you as their son.
Just like your elder brother you've justified the importance of having a male child. We feel lucky to have you in our lives. Have a fascinating birthday.
We love the fact that we have two intelligent sons, just as your elder brother behaves couth we expect non-less from you. May your birthday be the beginning of a massive breakthrough in your life.
Your character and attributes are distinct from that of your brother, you've diversified our scope as a family, and how will your birthday not bring us so much joy?
Our eldest son has added a candle to his birthday cake, may you burn many more birthday candles in life. We're extremely happy for you. Happy Birthday.
We plan on celebrating your birthday in a grand style because you've been an efficient son and loving elder brother to your brother and sisters.
Do not try to dodge the attention and care thrown at you later today; it is part of a parent's duty to shower a good son like you with praise on a birthday.
---
You May Also Like:
Happy Birthday Wishes for Everyone in Your Life – Best Birthday Wishes and Messages
Amazing Birthday Wishes for Son from Mother – Cute and Inspirational Messages
Smile, It's your Birthday! – The Best Birthday Messages for Son from Father
---