Birthday Wishes for Boys: Boys can be so unconcerned with their birthdays. They are more concerned with football and all those many things and forget their birthdays. That is why it is important to remind them how important their birthdays are. Birthday messages may help you in a very big way.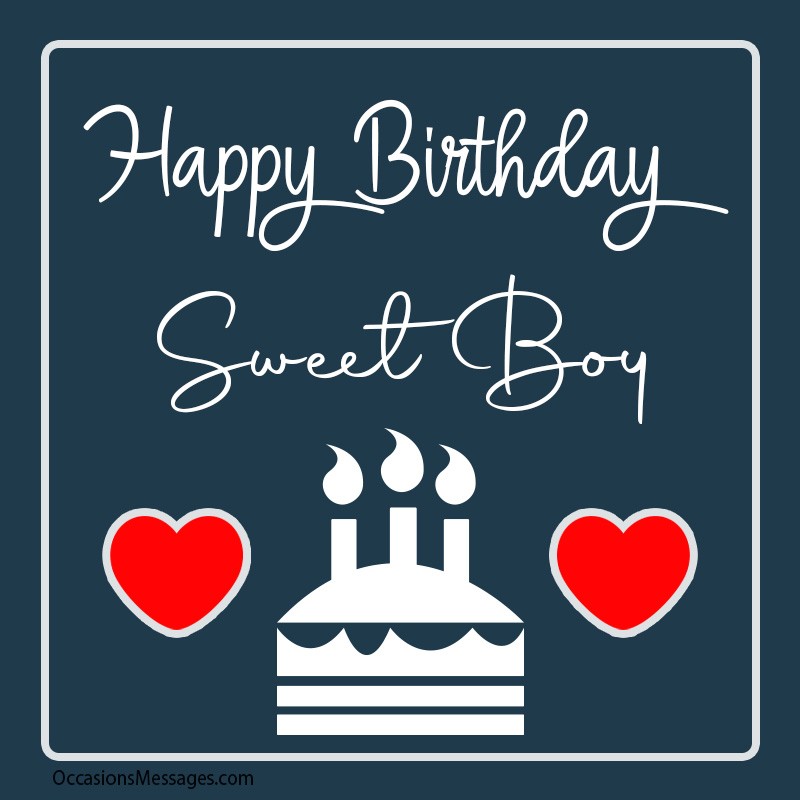 Birthday wishes for a boy serve as a reminder of love for him. So endeavor to choose from our big list of birthday messages and send to a boy celebrant to make him feel happy on his special day.
Heartfelt | Short | Funny | From Father | From Mother | Sweet
Birthday Wishes for Boys
Happy Birthday to a boy who has a heart of gold! Enjoy your special day!
You are the most amazing boy I have ever met; I hope you enjoy your birthday. Make it big, make it last, that is my only wish.
You are a very special boy who will grow into a strong young man. I know you will have a great day.
To our golden boy on his special day, Life is filled with many treasures and the greatest of all is you. Happy Birthday!
Happy Birthday to a young boy who would be likely to become Superman.
Today is the birthday of a sweet boy who is loved by his family and friends. You are incredibly special to everyone.
It is my duty to remind you that on this day a special handsome boy was born and that he is all mine. Happy Birthday.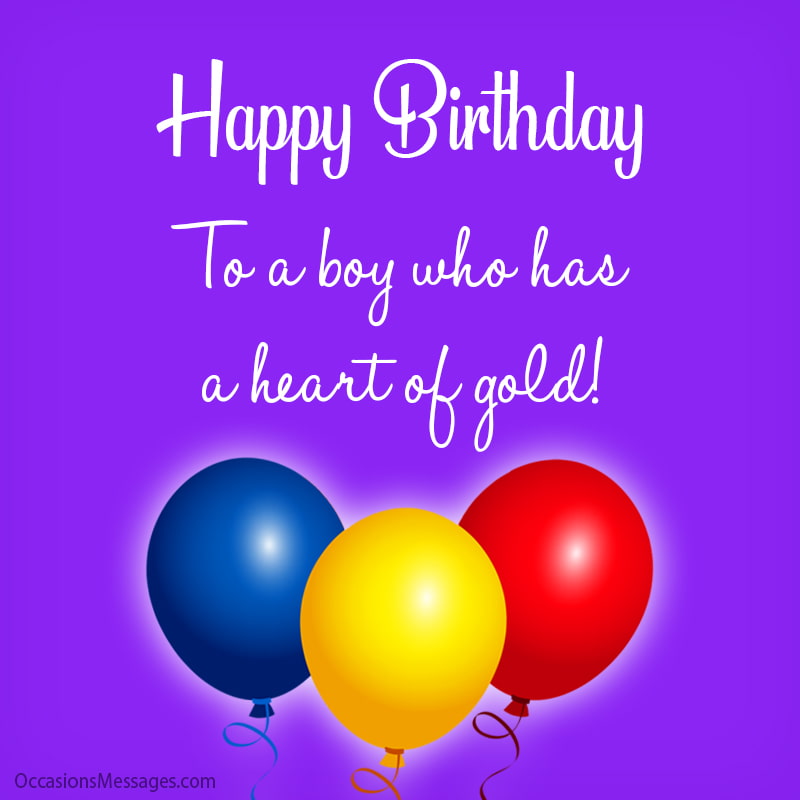 You are the sweetest boy I have ever had the pleasure of being related to. I love you bro, have a beautiful day.
Happy Birthday to a strong, brave and sweet boy, you are what a man should be. I always feel safe with you by my side.
Happy Birthday young lad! Today is a day to have awesome cake, play time and laughs. Do not ever forget it.
Happy Birthday my young friend. You are an incredible individual who has a genuine spark in the world. Enjoy your special day.
My little prince charming is 365 days older; your birthday holds much importance to the family and me.
Get up! It's your birthday; you get to enjoy all the candy and the sweetest cake made of love from me.
Have a lovely day dear, you are the greatest man I know of, may you grow to be wise, awesome and true to those around you.
Happy Birthday to a boy who will grow up to be a strong man. You have a special heart that knows no bounds.
you are all I could ever hope for. As you grow into a man, I hope you do enjoy everything life has to offer.
Every memory, love and sweetness you have shown to me, I will never forget. Have a lovely day my cute boy.
For all the joy you have brought into my life, I thank you and hope you surely get to enjoy this day to the fullest.
You are going to have a long life filled with ups and downs. Do not forget you have a family who loves you and wants the best for you. Enjoy your day!
Your birthday will never be as important to you as it is for your proud mother. Happy Birthday, my boy.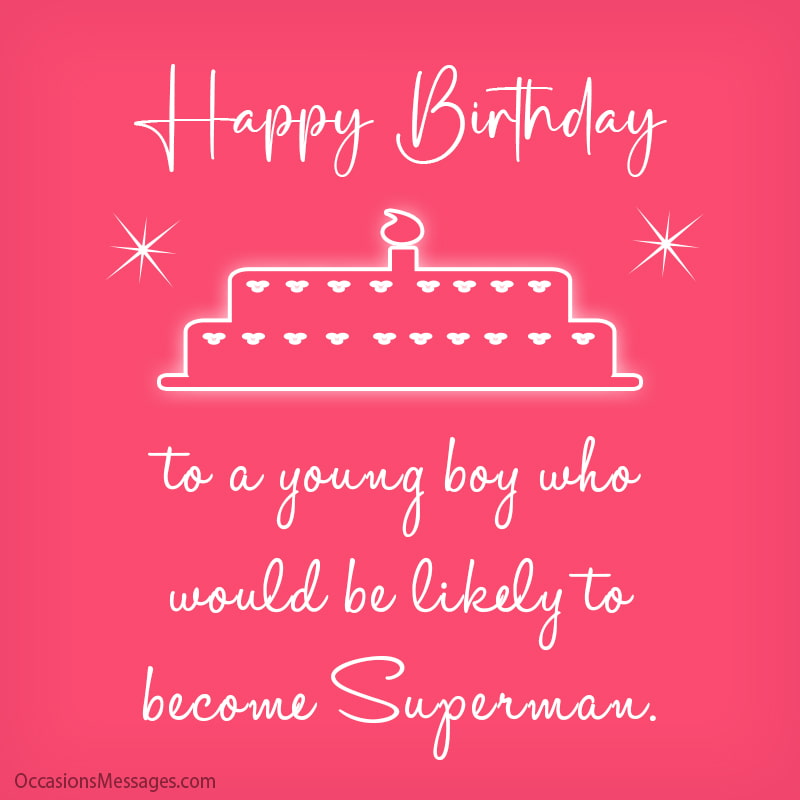 Time flies faster than the American airline; it seems like it was yesterday that we celebrated your first birthday and you are two already. Happy Birthday.
You complete me honey, you are the reason I wake up every morning with a smile and sleep laughing. Have a cute day my sweet little man.
You still have a lot of years to fulfill your dreams despite your new age so be relaxed and have a very happy birthday.
Whatever you end up doing with your life, the joy you've brought to my life will be your greatest accomplishment. Happy Birthday.
You could never understand just how much your coming into this world means to your Mom, but I'm going to keep telling you anyway!
Recommended: Best 400 Happy Birthday Wishes & Cards
Short Birthday Wishes for Boys
Happy Birthday to the world's cutest boy, you grow more handsome by every passing day.
Birthdays come and go, but the joy you've brought into my life is the gift that keeps on giving.
Happy Birthday! My love for you grows deeper and stronger every year.
Happy Birthday. I hope you have fun today because you only turn a new age once a year.
Happy Birthday to a special boy, you are awesome and I know you will have as much fun as you want.
You are a special baby boy who I pray for every passing day, may your new age be the start of a greater future.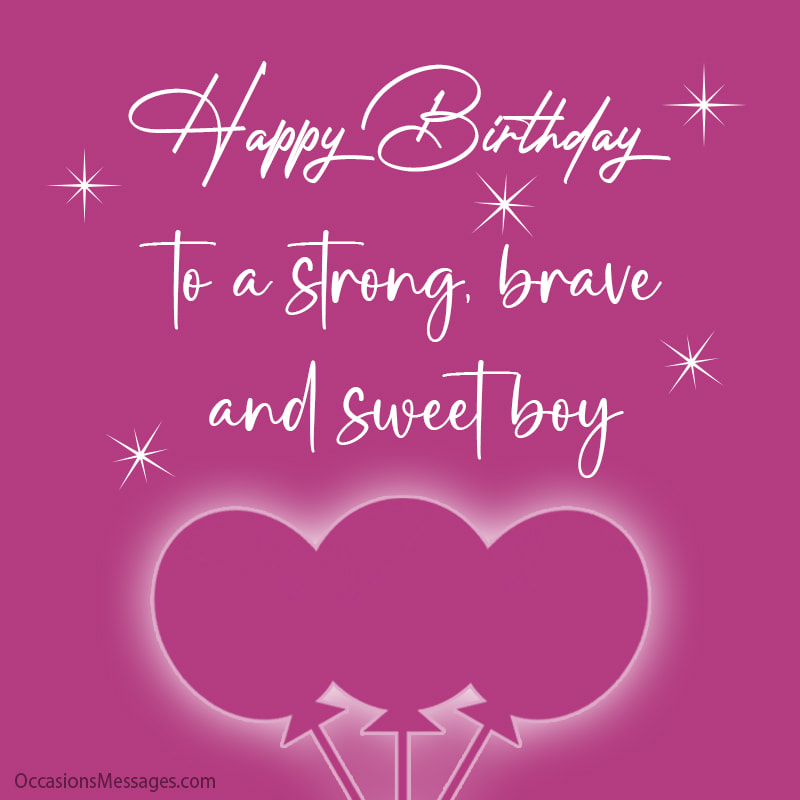 Happy Birthday to a boy who has a ton of love and respect.
Happy Birthday to the world best boy, I look forward to spending more years with you.
Thank you for being so close to me, so close to my heart. I love you so much darling.
It's your born day, the day you get all the presents before Christmas.
You will have one of the best birthdays of all time. I know it. Enjoy and have a magical day.
If all your wishes come true, I would want every day to be your birthday because you are a boy that we all hold in high esteem.
People Also Liked: 300 Best Birthday Wishes for Brother
Funny Birthday Messages for Boys
As a special boy, I made you a magical cake that only the fire service can put off its candles. I cannot wait to burn the whole house down in your name.
Birthdays are amazing; you get the opportunity of eating all you want, you also get to purge the next day from too much sweet and candies.
Enjoy your birthday! Things only go downhill from here.
It's your birthday, the day we all treat you like you must be special or something.
Happy Birthday baby boy, remember that age increases and never decreases, so birthdays is not to celebrate you but to remind you of your demise.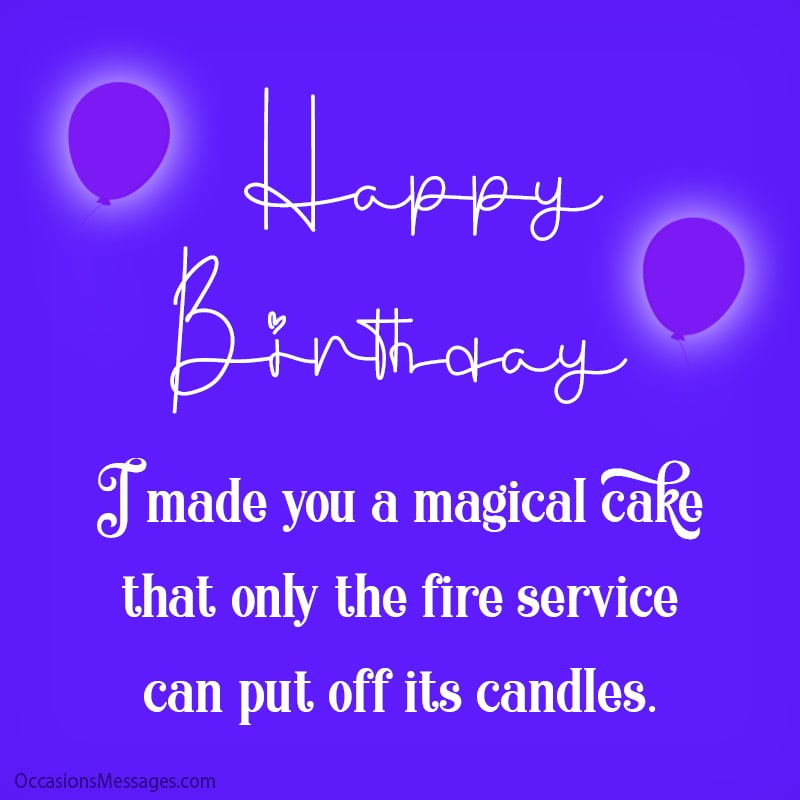 I planned to get today's birthday boy a present that is precious and costly for your birthday then I remembered that you already have me.
Every year you look more and more like you're father. Wait, that's a compliment! Really! Happy Birthday!
Today is the day to enjoy eat all the sweets and goodies that you want. Hey, your dentist has bills to pay too, you know!
You know, if every day was your birthday, you'd only live about three months!
On your birthday you should have to give out gifts to everyone who put up with you all year long!
For more options, see: Top 250+ Amazing Birthday Messages for Nephew
Birthday Wishes for Boy from Father
Being a father is good but having a son like you is better. I celebrate your birthday with utmost excitement and gratefulness for a rare gift as you.
Happy Birthday, my dream finally came true the day I had you as my son, people say that you are my replica and your looks and behavior justifies it.
You mean the world to me, Happy Birthday son, you are amazing loving and I am glad I am part of your life.
Happy Birthday. Days pass, years maybe but the time we spent together can never pass from my mind. I love you darling and I am proud to be your dad.
I don't know what I would do without you in my life, you complete me, make me a proud father. Hope you get to enjoy this day.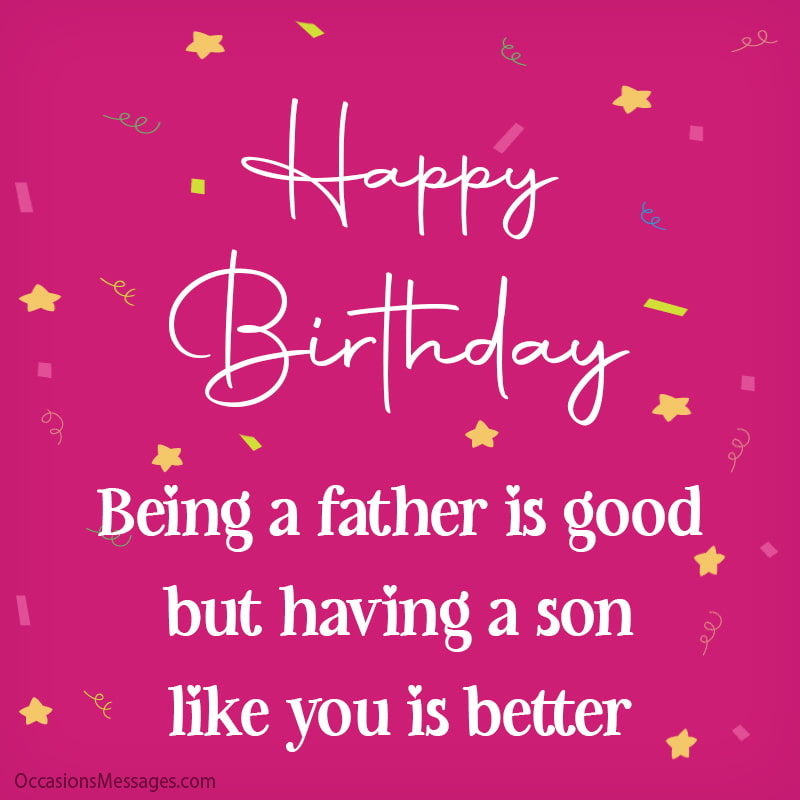 Always remember that as long as I am alive, I will always love you as a son and do everything manly possible to make your life comfortable. Happy Birthday.
Though I've tried to give you everything I can, it's everything you've given me that makes me proud to be your Dad. Happy Birthday.
Year after year you take longer and longer strides towards becoming the son that any father could be proud of. Happy Birthday.
Your mother and I are looking forward to spending another amazing year with the most awesome son around. Happy Birthday!
One day you'll have children of your own, and then you'll understand just how much you mean to me. Happy Birthday, son.
For more wishes, see the Best 200 Birthday Wishes for Son
Birthday Wishes Boy from Mother
I am happy to be among the few lucky mothers to have a boy, as your clock a year older, I promise to be always there for you.
To a mother, few moments compares to her baby birthday, the joy of parenthood and being responsible for life is next to no other. I love you my boy. Happy Birthday.
In life, having a great son is a significant achievement, and you are the perfect example of a legend in the making. Happy Birthday.
Baby boy, you are the best thing that has ever happened to me. Your smile warms my heart. Happy Birthday, mom Loves you.
Thank you for coming into my life baby boy, I am the luckiest woman in the world. I can see the man you are turning into and I am sure the world will definitely need you. Happy Birthday.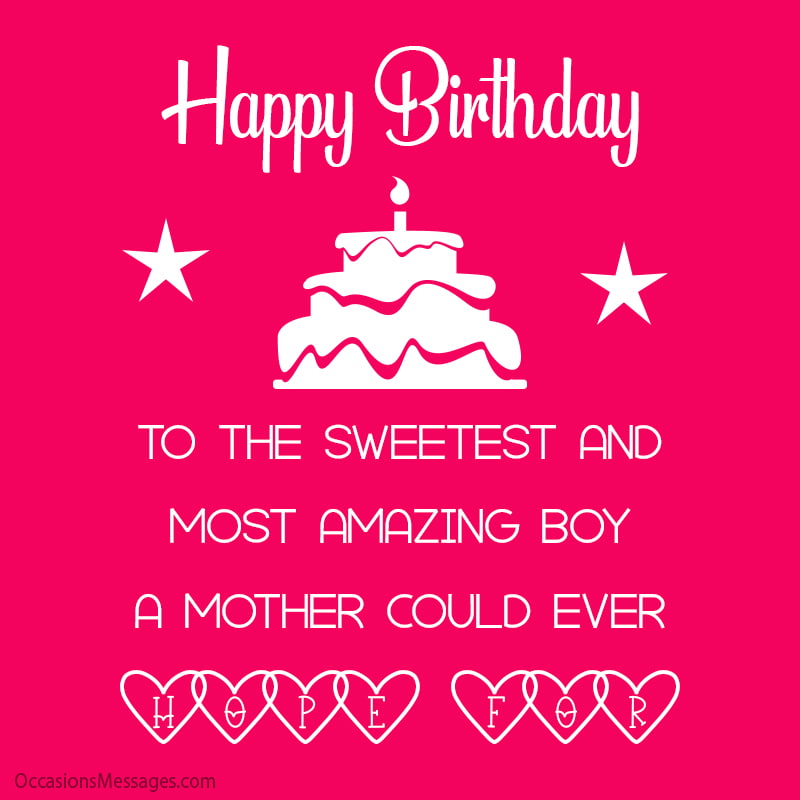 I can't believe how fast you have grown, from the first time I held you in my arms; I knew you were to be an awesome man. Happy Birthday my prince.
Happy Birthday to the sweetest and most amazing boy a mother could ever hope for!
It's amazing how the loving bond I have with my son just keeps growing stronger every year. Have a great birthday, son!
The few years you have been on this world have been the most precious years of your proud mom's life. Happy Birthday.
Each year as the candles burn on your birthday cake, the flame of love and pride in your mother's heart burns even brighter.
You may want to see: 120 Special Birthday Wishes for Grandson
Happy Birthday Messages for Boys
Happy Birthday. I am sending you this colorful birthday wishes from the innermost part of my heart so you can know that I genuinely care about you.
Happy Birthday boy. You know what will happen today? Today, we will celebrate your birthday. Trust us; we will do some of the best work you have ever seen.
You are an incredible young man who has plenty of potential and a ton of promise. Do not forget to make yourself happy at the end of the day.
Thank you for being my friend, I can always come to you with anything and that means a lot to me. I hope you get to enjoy your birthday.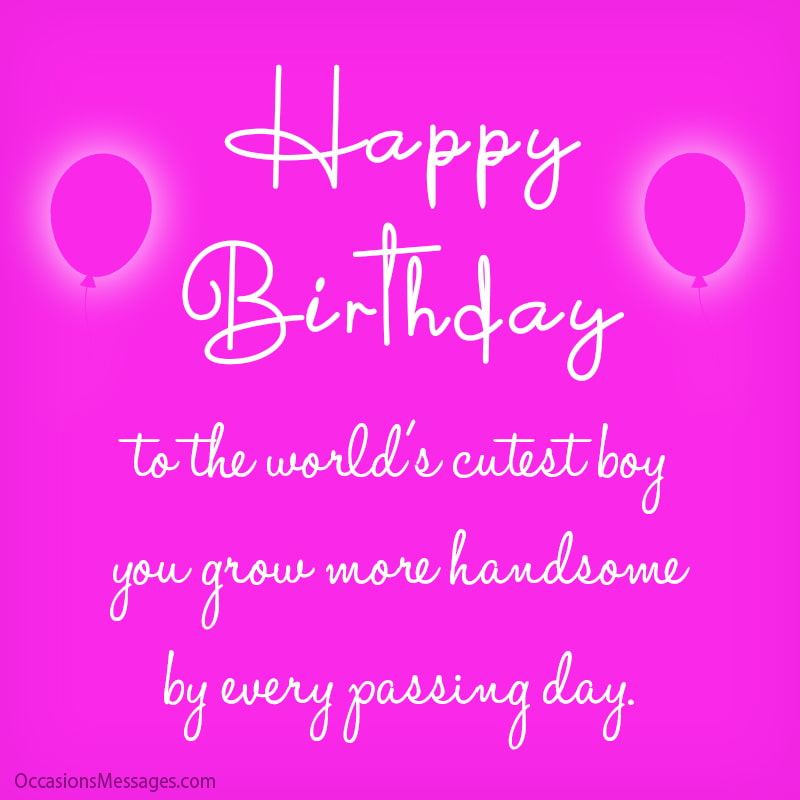 I thank God for bring you into my life, every day with you has been a blessing. Enjoy this day and everything that comes with it. Have a wonderful day.
Magnetic, Awesome and neat, you are a real man and I love you for who you are. Have a great day.
It's your day, so do as you wish. I hope you have fun. Take care of yourself and whenever you need me or not, I will always be here for you.
Dear young boy who is one of the most genuine people on this planet. I hope you have one of the best birthdays of all time.
Happy Birthday. I will never forget this day for a very long time; your first birthday is spectacular because you look as strong and healthy as other older boys do.
I cannot remember how I spent my 2nd birthday, so I intend making today one that will linger in our memories forever. Have a beautiful day.
I envy your parents on your birthday for a job well done; your intellect surpasses that of three years old boy, I hope you keep moving at this pace.
For more birthday messages, Check out this article. Happy Birthday for Him! | Wishes for Men
SHARE ON