Birthday Wishes for Son-In-Law: Sons-in-laws are those special young men who come into our lives as part of the family for a reason best known to your child. They have the tendency of changing the life of those around them by becoming part of your family. You learn to love, appreciate and see the good intentions they have towards not only your child but each member of the family. They are amazingly selfless and awesomely giving. That is why when it comes to special days like their birthdays it is nice to show them that they are not only your in laws but they are also part of your family. Here are some birthday messages you can send to your son-in-law on his birthday.
Birthday Wishes for Son-In-Law
Happy Birthday, Son-in-law! You are truly a special person especially in my daughter's eyes.
Happy Birthday to the man of my daughter's dreams.
To my son-in-law, let us celebrate your birthday. It is not every day I get to have my in laws over.
You have a good sense of humor and your company is very enjoyable, we all love you so much. Wish you a very happy birthday dear son-in-law!
Happy Birthday son-in-law. I am glad that my daughter decided to marry someone like you.
Blow out those candles with joy, blow them out with a wish and with a hope that everything you wish for from deep down inside will come true. Happy Birthday.
Happy Birthday son-in-law, you are a great addition to my family and I will always be happy to share each moment with you. Enjoy your birthday!
Happy Birthday son-in-law. First and foremost I would like to thank you for bringing back the glow in my daughter's eye. I hope you have a fantastic time as you celebrate this day.
Your purity and sincerity are the best part of your personality. I wish you a wonderful birthday!
I can firmly say that you have been nourished in the arms of a queen because you treat my daughter as your princess. I wish you a very happy birthday my great son-in-law!
Read More: Top 75+ Funny Birthday Wishes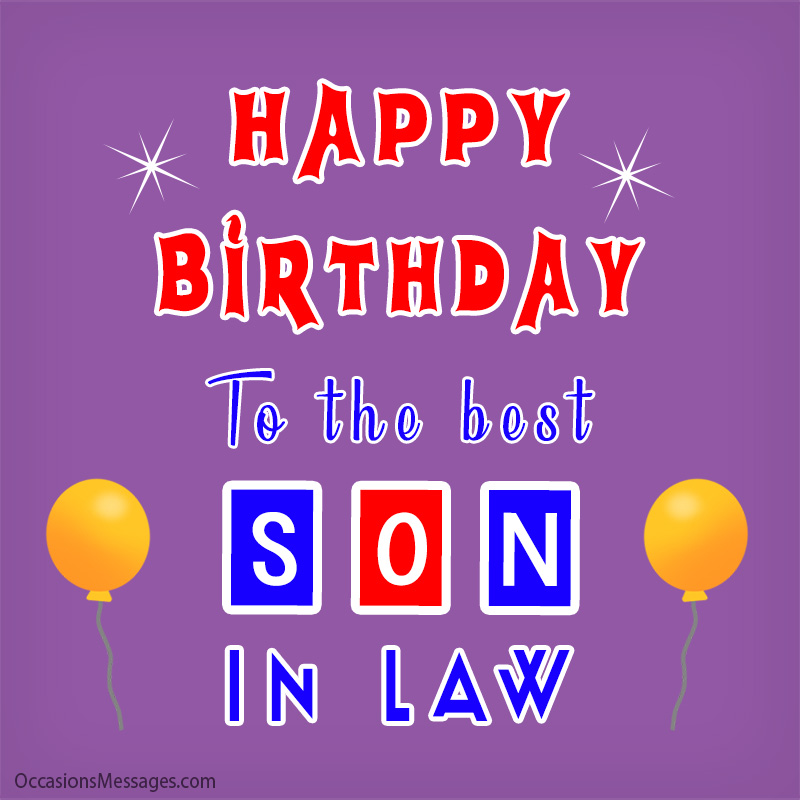 Happy birthday son-in-law! You are an incredible individual that makes me happy for my daughter. It is my hope that you two stay happy and work out all your problems.
You are a great son-in-law, a true father and a great man. May all your wishes come true as you blow off all those candles. Have a beautiful birthday.
You are the first love of my daughter's life and I respect you a lot. Thank you for being a part of my daughter and our life. We all wish you a very happy birthday!
A million words cannot express the joy I feel in seeing you two happy together my son-in-law, may your birthday be the beginning of more new sweet memories. Happy Birthday!
You are a son-in-law worth looking up to, I see the smiles in your faces and I can tell you that each and every moment you get to spend together will be as awesome as today. Happy Birthday.
Happy Birthday my sweet son-in-law! You always treat my girl as she is the last woman of the world and you always care your in-laws as they are your own.
Happy Birthday my son-in-law. My daughter will love you now and forever. It is my hope that you give her the same courtesy as well.
Not everyone has a good relationship with their son-in-law but you are really a rare kind of man. Happy Birthday.
Related Article: The Best 200 Birthday Wishes for Son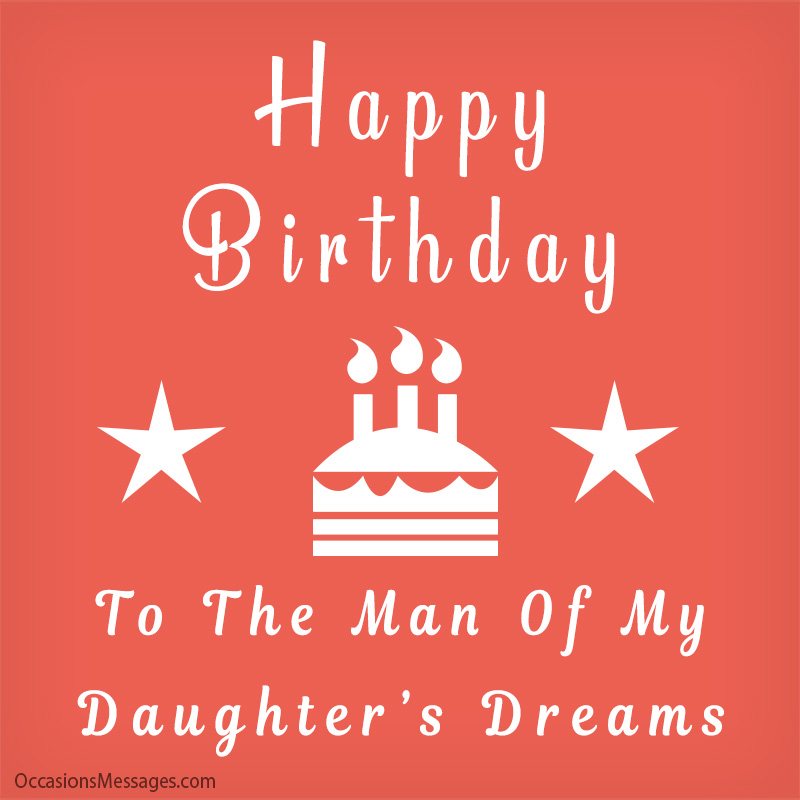 I cannot help but wait for you both to give us grand kids. Happy Birthday! son-in-law, I better see those children while I am still alive or I'll haunt you.
This must be a grand season, I celebrate a Son-in-law that not only accepted us but also loves my daughter with a pure heart. Have a beautiful birthday.
You are that person who gave everything to my daughter; parents actually want that their daughter spends a happy life with her husband. I wish you a very happy birthday my dearest son-in-law.
How old are you now Son-in-law? I bet you are wise enough to know moments like these come to us to enjoy and not to look down upon. So have a great time, you celebrate your birthday only once a year.
To my son-in-law, I know that you two are busy especially with our grand kids but visit us! We miss you both. Happy Birthday. We don't mind babysitting them.
I saw you both grow up, but I never thought you would be my son-in-law, I had prayed for it a million times and now that it has come to pass, I feel as though I have a son to celebrate his birthday with.
You made my daughter's life more than a paradise. Your eternal love makes her selfish that she forgot her parents, but we are pleased that she is happy. Happy Birthday to you.
The more I get to know you the more happy I get knowing my daughter is safe, have a beautiful birthday dear, you are welcomed.
You might also want to see these Happy Birthday Wishes for Your Daughter-in-Law