Sons-in-law are those special young men who come into our lives as part of the family for a reason best known to your child. They have the tendency of changing the life of those around them by becoming part of your family. You learn to love, appreciate and see the good intentions they have towards not only your child but each member of the family. They are amazingly selfless and awesomely giving.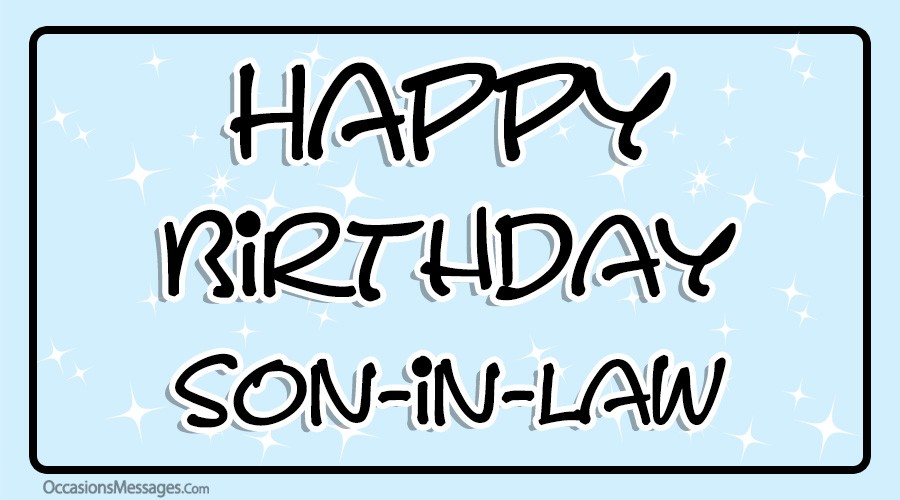 That is why when it comes to special days like their birthdays it is nice to show them that they are not only your in laws but they are also part of your family. Here are some messages you can send to them during their birthdays.
Birthday Messages for Son-in-Law
This message goes out to the most amazing young man in my life, you are truly a brave and Nobel young man and I couldn't be gladder that you are whom my daughter chose. May your birthday bring you all the wishes you have in your heart.
Son-in-law! You are truly a special person especially in my daughter's eyes. Happy birthday!
You are the first love of my daughter's life and I respect you a lot. Thank you for being a part of my daughter and our life. We all wish you a very happy birthday!
You are a Son-in-law worth looking up to, I see the smiles in your faces and I can tell your marriage, and each and every moment you get to spend together will be as awesome as today, your birthday.
Not everyone has a good relationship with their son-in-law but you are really a rare kind of man. Happy birthday. I hope that you guys have had a great one.
You showed me something that most men don't, you showed me ambition and courage, to go after what you want and get it. I hope this grace never leaves you as you celebrate your birthday Son-in-law.
This sacred relation of Son-in-law has created by God since when my daughter got married to you and we always valued as the family member. I wish you a very happy birthday.
It is salient that you're really brought up from a very good home, your character and everything about you portrays that always. We are glad you are our son-in-law. Have a beautiful birthday.
To my son-in-law, let us celebrate your birthday. It is not every day I get to have my in laws over.
You have a good sense of humor and your company is very enjoyable, we all love you so much. Wish you a very happy birthday dear Son-in-law!
You deserve all the good things this world has in store for you, so as my birthday wishes to you Son-in-law, I wish you nothing but health, wealth and the light that keeps burning in your love. Happy birthday.
Happy birthday son-in-law! You are an incredible individual that makes me happy for my daughter. It is my hope that you two stay happy and work out all your problems.
Blessings will always follow you because you've always done well with our daughter, which brings us so much satisfaction. We are happy with your attitude. Happy Birthday son-in-law.
This must be a grand season, I celebrate a Son-in-law that not only accepted us but also loves my daughter with a pure heart. Have a beautiful birthday.
Hey son-in-law. I wanted to tell you Happy Birthday! I am glad that we have a relationship were we both can communicate without yelling.
Happy birthday to the man of my daughter's dreams, you love is everlasting!
You are that person who gave everything to my daughter; parents actually want that their daughter spends a happy life with her husband. I wish you a very happy birthday my dearest Son-in-law.
I can see what you are made of, a true father, a great Son-in-law and a great man. May all your wishes come true as you blow off all those candles. Have a beautiful birthday.
I know at first I didn't want to accept what was happening. It's tough seeing my baby girl grow up. But you are now my son-in-law. Happy birthday. Visit us sometime.
Words are not enough to define the positive traits of your personality, but I just want to say you are the best Son-in-law who is the real blessing for our lives. Happy birthday great Son-in-law!
Our family is not completed without you; we never make any program for visit and outing without you. To keep you at the top in all family matters is our foremost responsibility. Have a beautiful birthday!
How old are you now Son-in-law? I bet you are wise enough to know moments like these come to us to enjoy and not to look down upon. So have a great time, you celebrate your birthday only once every year.
Son-in-law, we may have had plenty of disagreements but at least we can say we were honest with one another. Happy birthday! Let us only celebrate today. No fighting.
To my son-in-law, I know that you two are busy especially with our grand kids but visit us! We miss you both. Happy birthday. We don't mind babysitting them.
I can firmly say that you have been nourished in the arms of a queen because you treat my daughter as your princess. I wish you a very happy birthday my great Son-in-law!
Your purity and sincerity are the best part of your personality. I wish you a wonderful birthday!
I saw you both grow up, but I never thought you would be my Son-in-law, I had prayed for it a million times and now that it has come to pass, I feel as though I have a son to celebrate his birthday with.
A million words cannot express the joy I feel in seeing you two happy together my Son-in-law, may your birthday be the beginning of more new sweet memories. Happy birthday!
I am glad that my daughter decided to marry someone like yourself. Happy birthday son-in-law. You are a blessing.
The family doesn't owe only blood relations but it also considers the people who come into our life with a solid reason and have taken the special place in our hearts. You are one of them. Wishing you a very happy birthday my dearest Son-in-law!
The way you care for my daughter and the way you respect your all in-laws is really a true blessing for us. I wish you a very happy birthday sweet Son-in-law!
Blow out those candles with joy, blow them out with a wish and with a hope that everything you wish for from deep down inside will come true. Happy birthday Son-in-law!
You get only a day, the day can never be repeated, it can be named so but it will never be the same as the last. So enjoy each day as it comes Son-in-law, you don't get to repeat it. Have a jolly good birthday!
We can fight for the rest of our lives or we can put aside our differences and have a meaningful relationship. Happy birthday son-in-law. Let us put an end to all the bickering. Let us talk like men.
I cannot help but wait for you both to give us grand kids. Happy birthday! Son-in-law, I better see those children while I am still alive or I'll haunt you.
My daughter spoke very highly of you before you came into that door. You should consider yourself blessed she wanted you to be OK and accepted. Happy birthday my son-in-law. Welcome to the family.
Dear son-in-law, I remember how worried you were at first when you walked through the door. Happy birthday. I was just as worried as you were.
You made my daughter's life more than a paradise. Your eternal love makes her selfish that she forgot her parents, but we are pleased that she is happy. Have a wonderful birthday dear Son-in-law!
Men are what their mothers prune them and you are the most precious man who possesses all the attributes of dignity, honor, love, devotion, sacrifice, compromise and respect. I wish you a very happy birthday dear Son-in-law!
You always treat my girl as she is the last woman of the world and you always care your in-laws as they are your own. Happy birthday my sweet Son-in-law!
Happy birthday Son-in-law, you are a great addition to my family and I will always be happy to share each moment with you. Enjoy your birthday!
I know for a fact that my daughter loves you and I can see your love for her in your eyes. That's all in an in law can ask for. Happy birthday.
My son-in-law, I had a whole bunch of emotions running through my mind when you first came into this house. Part of me wanted to hurt you, part of me wanted to welcome you. My daughter loves you and you do her. That's all that matters.
First and foremost I would like to thank you for bringing back the glow in my daughter's eye. Happy birthday Son-in-law, I hope you do get to have a fantastic time as you celebrate this day.
Happy birthday son-in-law. We have hoped that our daughter would bring a man back to this home and not a boy. She didn't disappoint with you. Stay great.
Your level-headed efficiency, enthusiasm, and openness are the reasons of your success at every step of life. I wish you all the best for your future endeavors. Happy birthday my dear Son-in-law!
Your arrival in our lives transformed our complicated lives into the simpler one. I pay all my thanks to this great person. Happy birthday dear Son-in-law!
My daughter will love you now and forever. It is my hope that you give her the same courtesy as well. Happy birthday my son-in-law.
It is always a moment when a father meets their son-in-law. But, I don't feel fear for my daughter leaving her in your hands. You look more than ready. Happy birthday!
On this beautiful occasion of your birthday we all family members wish you a very happy birthday and just want to say that we all love you so much. Happy birthday our dearest Son-in-law!
It will take a lot of searching to find another son-in-law who could blend so easily into the family like you. You're a blessing to us. Have a great birthday.
It is really thrilling how you've rapidly made progress in your career line. It shows you really want a great future with our daughter. Happy Birthday son-in-law.
The more I get to know you as a son-in-law the more happy I get knowing my daughter is safe, have a beautiful birthday dear son, you are welcomed.
Life can really surprise us, you are a blessing and I am happy you are making my daughter happy dear son-in-law, let's celebrate you today as you turn another year older.
Today is your day son-in-law, enjoy it, make the most of it and live to remember it, remember each day is given, but each moment is a gift. Have fun.
---
You May Also Like:
Top 100 Unique Birthday Wishes for Son – Lovely Messages for son
Adorable Happy 26th Birthday Wishes, Messages and Quotes
---