Happy 2nd Birthday. Two year olds are cute, adorable and so hearty, they always smile and their cries are sweet. They like attention and sweet things. That is why it is important to throw them the best birthday ever. Make the day memorable for them, so they will always know how much thought time and love you put into their birthday.
Here are some messages you can send to that cute, lovable two year old in your life, to show them you will always be there for them, on their birthday and each and every event of their life.
Birthday Messages for 2 Year Olds
It is time to celebrate the birthday of a brand new soul. You are only two years old after all. Your first year is mainly you pooping all over the place. Have a good time little one.
Happy birthday to a super cute 2-year-old! You look so cute I can just eat you up for how yummy you look.
Not all moms have little superheroes as I have. Have a great second birthday my love.
2 years is a long time. I can't believe you are complete grown. You can walk! Have a magical day.
Did you know that 2 year olds can make the harshest women or man smile? They are just irresistible to their lovable charms. Have a gorgeous day.
Happy birthday! Let's sing for the 2-year-old. The second year of life. The next coming of a generation. Muah!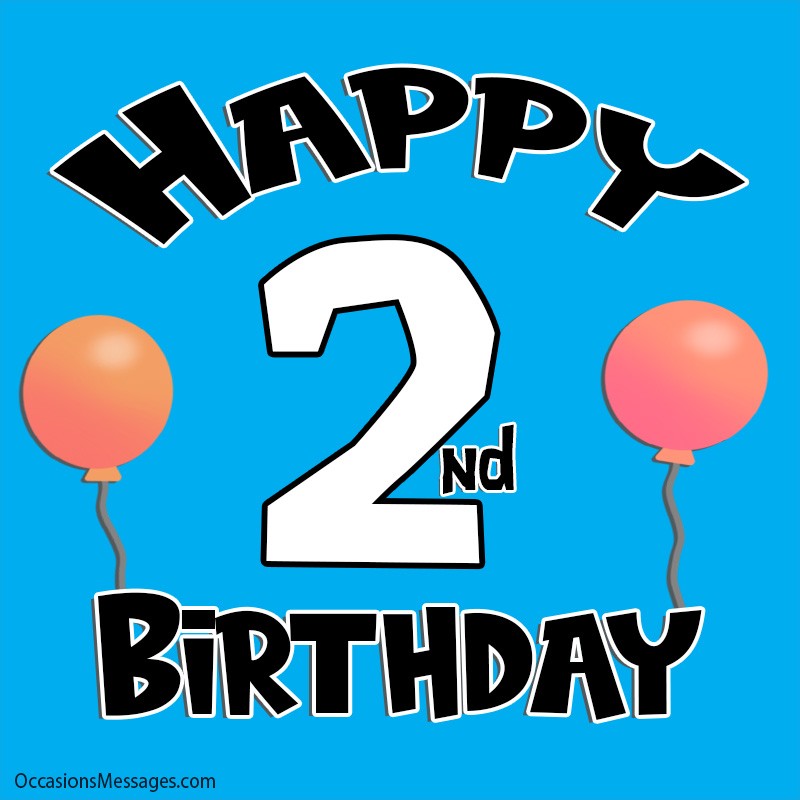 Oh my god! You are the most adorable little 2-year-old baby I have ever seen! It is unbelievable how cute you look. And you are growing up so fast, it's like you are going to be twenty before you know it! Have a wonderful day.
I Love the adorable little man who walks like penguins. I love you so much, baby. Have a great second birthday.
My adorable little baby, I can't believe how fast you have grown; I hope you enjoy this day with all that comes with it. Happy 2nd birthday love!
It's your birthday little one, I hope you eat a lot of cake and have a lot of fun. You are amazing and I am happy to be here with you.
May you find all the world's comfort and happy moments throughout your life. Have a sweet day.
Cute 2nd Birthday Wishes
You are going to be an amazing person someday, I can tell from the way you are now. I hope you have a great second birthday my dear.
You are a great person with a big heart and an adorable smile, I will shelter you from any harm imaginable, just be happy my sweet child and have a blessed second birthday.
I am happy to be here, happy to be part of your second birthday. I know this day will be memorable to you. You are my now and forever.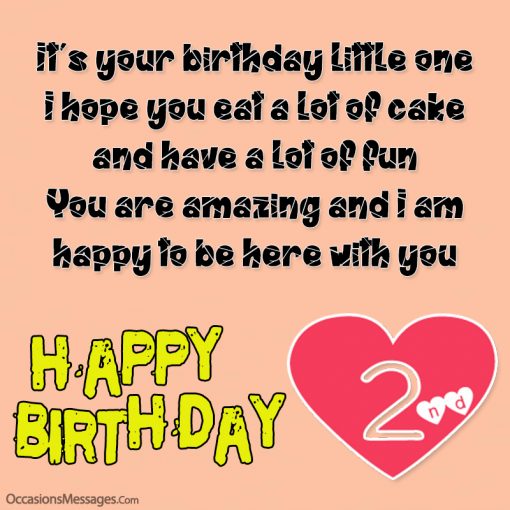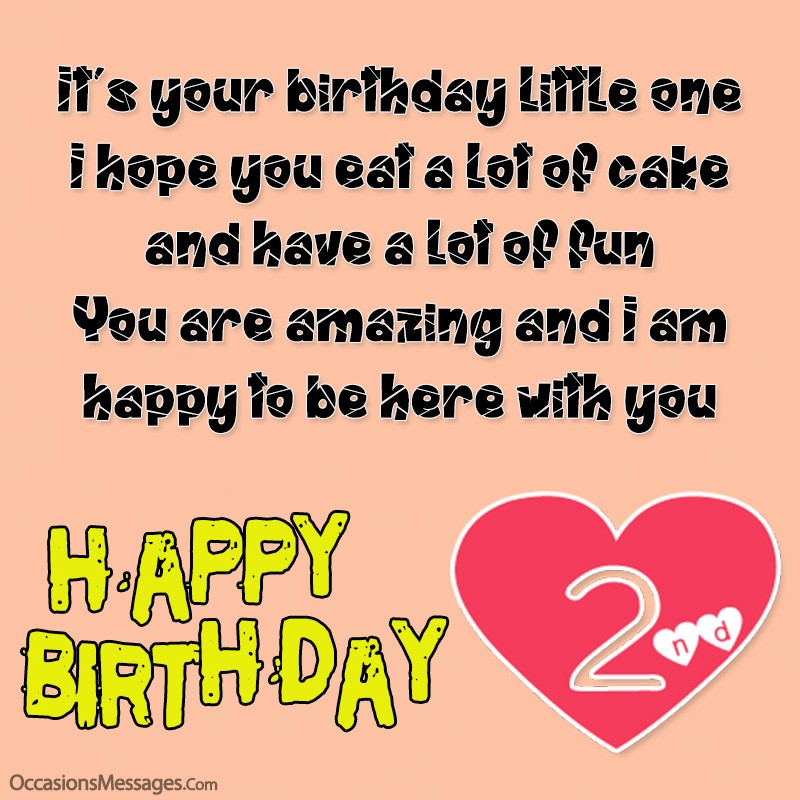 You are a blessing, a great addition to my life, I hope you enjoy this birthday with all the candy, sweets and hearty wishes. I love you baby.
I am honestly blessed, to look into the eyes of such a beautiful two year old. I hope this day is forever with you. Have a hearty day my dear.
2nd Birthday Wishes for children
It's your day sweetie; you get to enjoy all the cake and sweets you can have. I hope you wear that smile for the rest of the day. I love you and want nothing but the very best for you.
You are a piece of love, God has gifted to me and say handle it with care. I love you my cute little child. Have a stunning 2nd birthday.
I wish you all the great things this world has to offer, you are a great kid and I know someday you will change the world. Happy second birthday cutie!
You are the reason my life is as perfect as it is my angel and I thank the heavens that I get to share your 2nd birthday with you, enjoy the warmth my love.
Since the first time you were placed in my arms, I knew it would be me and you forever my sweet 2 year old; I love you so much and wish you nothing but the best in life.
You are my precious gem and I am ready to spend 1001 years with you my lovely 2 year old. Enjoy your day.
For a Baby Boy
My brand new baby boy got a bit old and reaches the second milestone of life. I wish you a very happy day sweetheart. You are adorable.
My life -my baby. May you save from evil eyes and have a healthy, wealthy life ahead.
Came straight into my lap from the heaven's brightest star. Enjoying to share my time with you in the car. Have a great second birthday my sweetheart.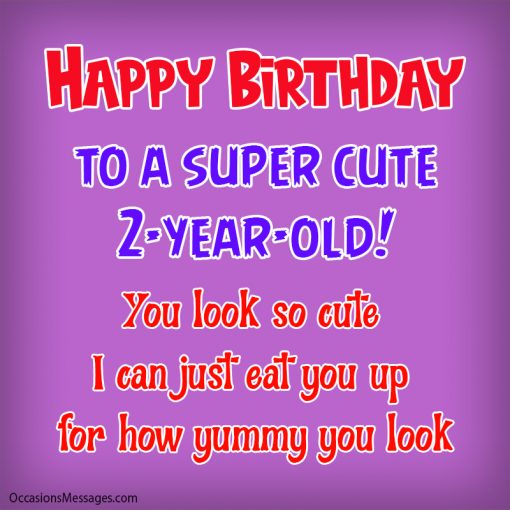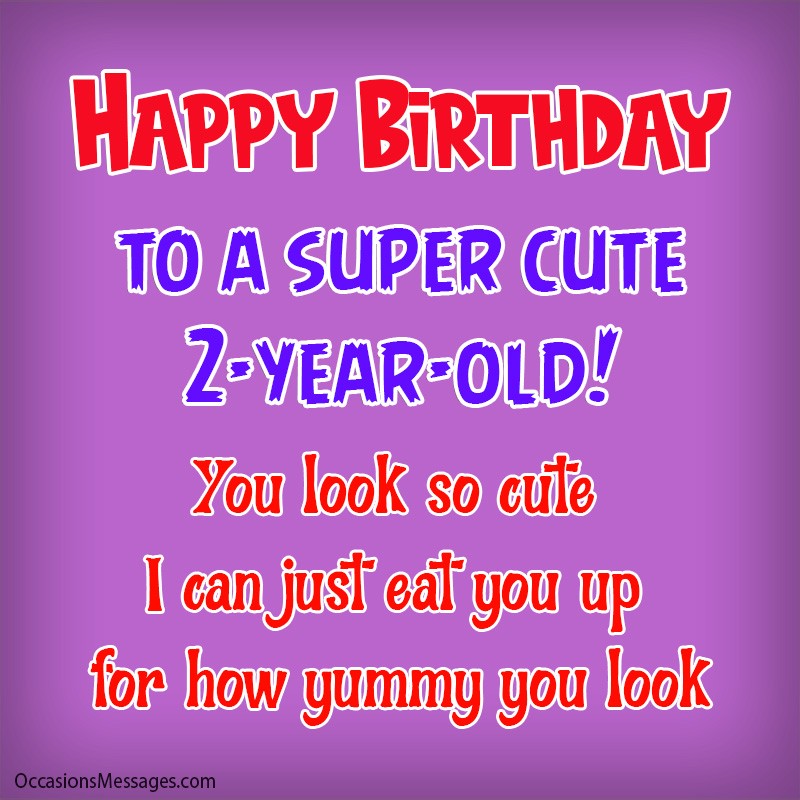 After your arrival, my life has completely changed. I have forgotten how to live free. I spend my all time with you. Wishing you the loveliest day sweetheart.
You are my little and security for future. You are my clone and I cannot share you with anyone. You are my love, my sweet child. Wishing you a great a nice day.
For a Baby Girl
Happy second birthday honey, you are truly an amazing additional and I can never take you for granted. I love you, have a beautiful day.
Happy sweet second birthday my dear, you are going to be a great person someday and I love you so much. Have a beautiful celebration.
I forever hold you in high esteem, you are an amazing kid and I love you so much. I hope you enjoy the cake and sweets on your second birthday my beautiful baby.
From the day I hold you in my arms and make you sleep in my lap, you have been sheltered in our thoughts and hearts. Have a wonderful day my love.
A precious gift sent directly from heavens that complete my entity. I wish you a great happy 2nd birthday. May you have thousands of outstanding moments.
For Son
You're little and timid but your light is bright and glowing. I'm glad you're with me. Enjoy your great day.
Happy 2nd son. When I was your age, I was not privileged to have a tricycle, but you now have everything. I'm happy to see you happy.
I wish you my lovely little man good health and good strength to be a sport man when you grow up. Happy 2nd Birthday son.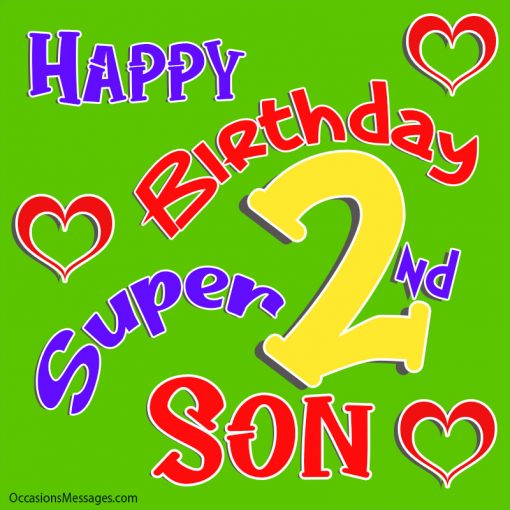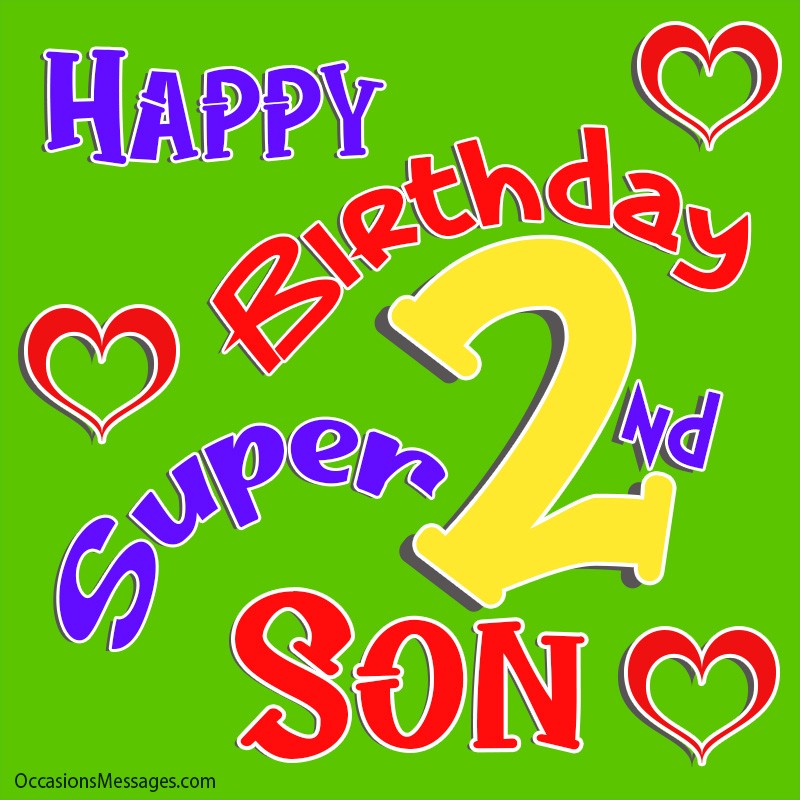 The only joy that find its way into my heart today is in seeing that I'm able to provide a very good life for you since birth. Happy 2nd son.
The key to an outstanding life is in showing you the pathway of the Lord; I will do my best in showing you that path. Happy Birthday son, 2-year-old!
I will withhold nothing good from you, because I want you to get the best of everything in this short life. Happy 2nd my boy.
For Daughter
Happy birthday pretty little girl with chubby cheeks. I want to touch those cheeks every day. Happy 2nd Birthday beautiful daughter.
Happy 2nd daughter, I have nothing in mind yet, that I'll want you to become other than becoming like your mother. She's a great wife and mom.
I am determined and passionate about guiding you through the right path, you're my little girl and I love you. Happy Birthday daughter, 2-year-old!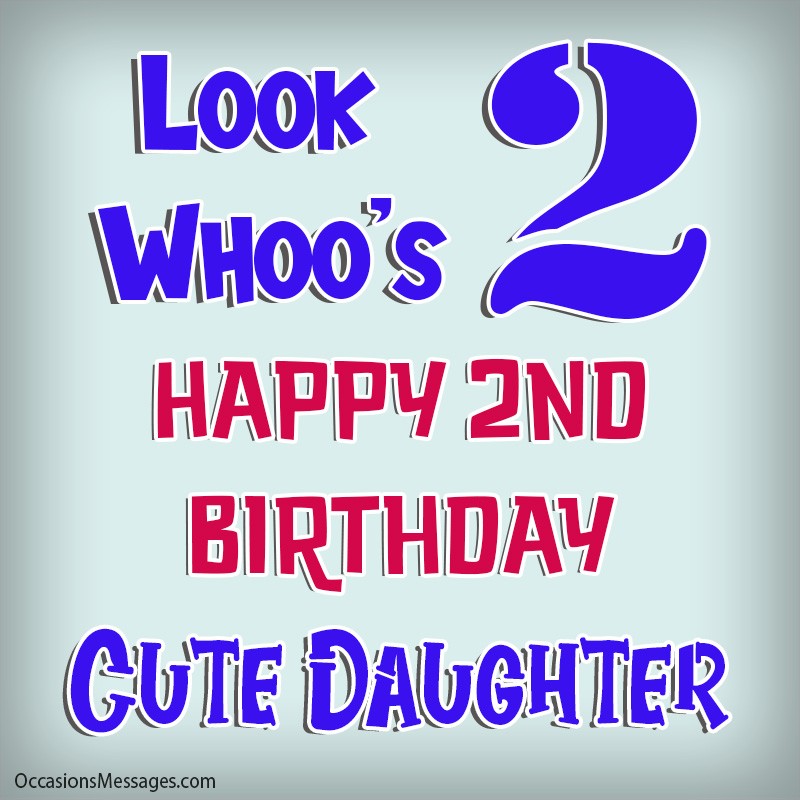 I will do my best to give you a great life, but apply your ways to the path of wisdom and it shall be well with you. Happy 2nd daughter.
Being a mother is naturally in the making of every female, can't believe you're already willing to take care of me even at this age. Heheheh.
Your birth has brought honor to my family, may you forever be relevant and honorable in your generation. Happy 2nd dear daughter.
For Brother
Happy birthday brother! There are not many 2 year olds I get excited for. But you are a loveable exception. Have a beautiful day.
I want you to know that we love just pinching your cheeks and pulling your toes. Seeing you kick around like an adorable little monkey is one of the best things I have ever seen. Happy birthday little 2-year-old.
2 years? It's been two years already since you have been born!? Oh my lord. You are growing up so fast. What am I going to do with you when you get so big! i hope your birthday is just wonderful brother.
Did you know that you drove your father crazy during year one? Did you know you are only going to drive him even crazier during year 2? Well, you do now. Happy 2nd brother!
For Sister
I need to know something. What in the world does a two-year-old baby think about? Hopefully it's not just bottles and diapers all day. Happy Birthday. Let me know the answer to one of the world's greatest mysteries.
What a way to go. You have become double your age. That's wild. Happy birthday to one of the most lovable two year olds out there! Have a lovely day sister.
I often sing high praises of children. Mainly because they are so good in listening and being absolute wild. I see good things coming to you in the future. As long as you keep doing what you are supposed to. It's going to be grand.
I need you to know something. You are one of very few kids that will hang out with us and one of the even fewer kids I would approve of. Have a fantastic day.
For Grandson
Dear grandson! We cannot stop talking in babble speak to you. It's impossible to not do that when you are such an adorable 2-year-old.
Happy birthday to one of the cutest little kids around. 2 years is nothing but a number. You are going to be great just watch.
You are the foundation of you parents love and you live within our hearts. Have great day my dear grandson. we love you so much.
I have no doubts about your chances of clocking 100 years, though you celebrate your 2nd birthday today, it is evident you will stand the test of time.
For Granddaughter
Words alone cannot express the joy I feel being here on your second birthday. I hope you know how much you mean to me dearest.
Good things come to those who wait and I had waited a ten years long period then I heard the news of your arrival. Happy 2nd birthday my granddaughter.
You are just a two years lovely child and you are too talkative. You speak in your distorted words all the time which is quite impressive and attractive. I just love it. Have a wonderful day sweetie.
You are the sweetest girl who put every color in my life and make it colorful. Your smile is my killing weapon. Happy 2nd birthday pretty little granddaughter.
For Cousin
Today, I celebrate the birthday of this amazing two year old, I hope you grow to be wise, hearty and always keeping it real. You are amazing.
I will love, protect and be here for you always, I just want you to enjoy your birthday to the fullest, so blow off those candles dear. Have a beautiful celebration.
Happy birthday to my super baby, you are turning two and might I say, oh sweet baby how big you are. I wish you all the joy my dear.
You bring joy to my life, light to my dark days and I couldn't be gladder having to share your birthday with you. I love you and hope you Have a sweet day.
For Niece
Happy 2nd Birthday to my little sweetheart, I cannot remember how I spent mine, but I will ensure that yours is memorable and worth remembering. Have a lovely day niece.
It is the day when we celebrate the 2nd birthday of my little one; I cannot wait to see you grow into a troublesome wee lad.
Let us create a beautiful memory for your 2nd birthday. An amazing angel like you always deserves happiness, and I plan to contribute to making you laugh louder. Have a wonderful day.
Time flies quickly, it was like yesterday when I heard of your birth, and you are already two today. Stay happy our little bundle of excitement.
For Nephew
Congratulations to the little sweetheart that I love so much, I am proud that you are two years old today. You made your mummy and others so excited. Have a fantastic day!
I pray for a lifetime of ease, favor, and accomplishment on you, may your life be as colorful as the rose flower that grew on the fertile ground.
I know this time you are too little to see what is going around your surroundings. So I am telling you this is the celebration going on the honor of your second birthday and one day I will show you these captured moments. Happy birthday, nephew.
You are the mom's superhero and dad's Prince. All the happiness and pleasure come in the way of your life. Have a great time today.
Birthday Greetings for 2-Year-Olds
You are such a prime miracle of my life in the form of a cute baby girl when I lost my all hope. May you have long life and good fortune. Have a magical day.
Your fingers might be little but you have cover to hold it securely that's your dad's big fingers. Have lovely 2nd birthday sweet child.
All my happiness and peace are concerned with your sweet smile. May your smile maintain on your face forever. I wish you a very happy celebration sweetheart.
You are the ocean of my desolate life. May your life be filled with happiness, joy, and pleasure and you spend a long prosper life. Have a gorgeous day.
Happy 2nd birthday dear. May God always keep a protective eye on you and accompany you reliably in all your ways!
You are two years old now, and we are proud of what you've already accomplished. Have a blast!
Happy 2nd birthday dear. May life show you all its little and big miracles, and only have nice surprises in store for you!
Happy 2nd birthday dear. We are so happy that you exist and are excited to see you grow!
Have a very happy celebration dear. Joy and big deeds will definitely be your lot as you grow older.
---
You May Also Like:
Amazing Birthday Wishes for Kids – Messages for a Children's
Happy Birthday Baby Messages for a baby boy or a baby girl
Birthday Quotes and Messages for Everyone in Your Life
Best Happy Birthday Wishes and Messages for Boys
She is so beautiful – Happy Birthday Wishes for a Girl
---