Happy 1st birthday. Having a baby is the greatest joy one can feel. The cute bundle of joy, their toothless smiles and cute whines. They not only bring joy to our lives, but they bring joy to all those around us. Parents, neighbors, siblings and everyone who has had a little baby they adore so much can tell you that their first birthdays are a big deal.
That's why, they deserve every little special thing one has to offer, from the cutest baby toys to the most beautiful little birthday messages that they will one day read and feel loved. Here are some messages you can send to those one year old children to show devotion, love and a whole lot of heart-felt birthday wishes.
Happy 1st Birthday Wishes
Lots of love, wishes, hugs and kisses for your child. Have a lovely day.
You are the season of spring in my life, my entity has completed with your presence. You are my lovable baby.
My little angel turns one, sharing this moment with you makes my heart skip all the beats you know. As you read this, my birthday wishes to you is that you grow strong, adorable and as cute as ever. Happy 1st birthday little one!
All my love and care are only for you and you are my cute adorable baby. Happy first birthday my darling.
Loving you is easy, holding you and keeping you safe from any harm imaginable makes me feel like a god. I will forever be here baby, as you grow, grow knowing I love you so much.
My cute baby has completed the first year of his life, I wish you a very happy birthday my little son and I love you so much.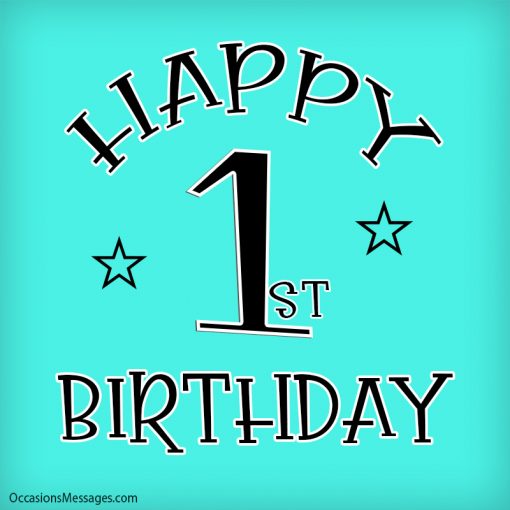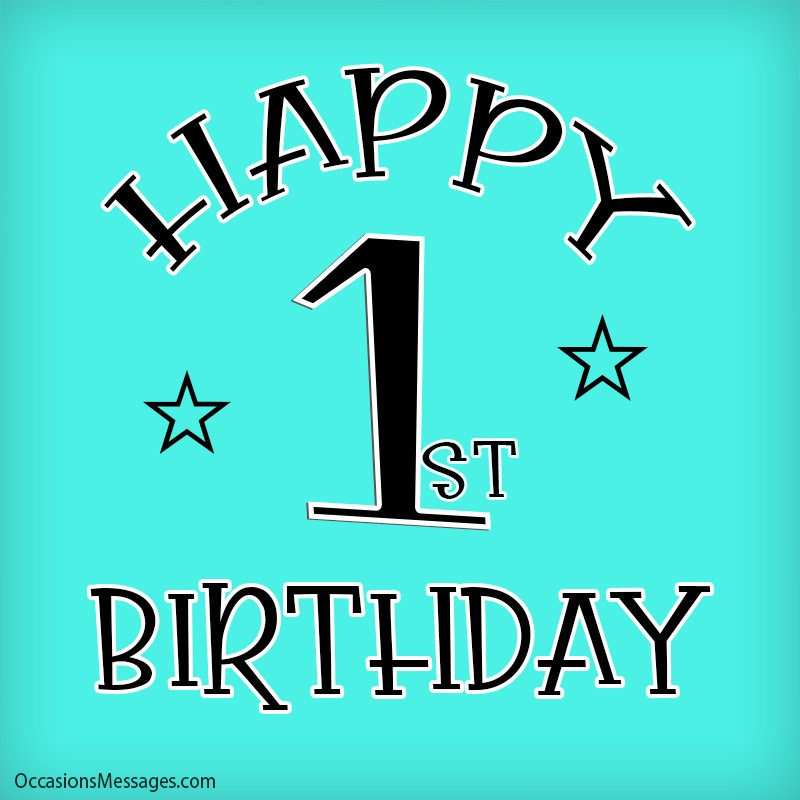 I thank God for giving me the privilege to share your first birthday with you. You are an amazing little kid and I can assure you, life has definitely been better since you arrived. Love you lots baby.
Words can never be sufficient enough to describe the joy I feel whenever I have you in my arms. You are turning one year old and I know I am lucky enough to hold you a few more times before you can walk by me.
You are as precious as sapphire and diamond. My world revolves around you. Happy 1st birthday my darling baby.
I wish everyone will just become like a little baby that you are, free minded, ever smiling and always happy. Have a great day son.
You are the tiniest piece in our family but you have enough potential that you have stolen everyone's heart. Happy 1st birthday my little cute baby.
Your smile and naughtiness are capable enough to kill our frowns. I wish you the best happy 1st birthday.
Cute 1st Birthday Greetings 
You brought joy into my life, you changed me from the young lady I was to the mother I am now. I will forever do right by you my little one, as we celebrate your first birthday I wish you more joy, more love and a whole lot of more cakes baby.
You are priceless dear baby, and the fact that you turn gives us hope that we may see you turn into a toothless grandpa. Have a beautiful celebration.
Your wide and lovely eyes, chunky little nose, your delightful smile and screams, your innocent face, soft hands, and feet provide me the endless peace and happiness. Happy 1st birthday my dear child, I love you so much.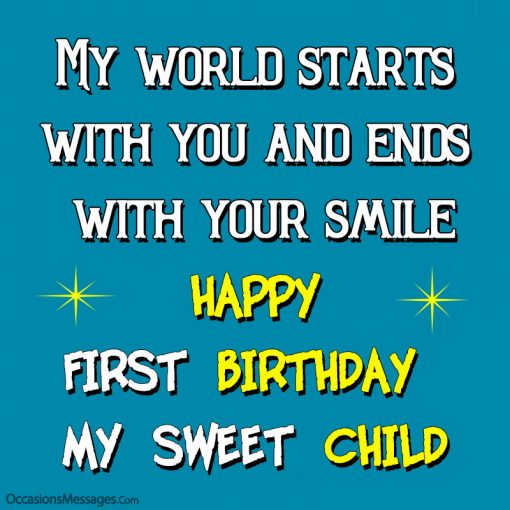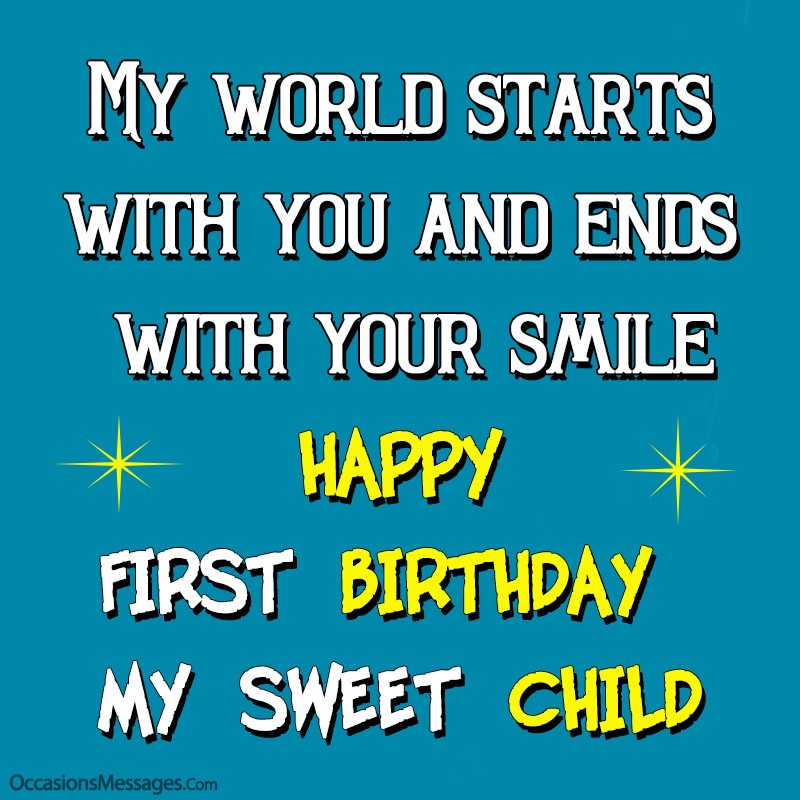 Your cute laughs and screams give life to me at every moment. I wish you a very happy 1st birthday my angel child.
I promise to be there with you, to hold you close, to be by your side and to be the one that always puts a smile on that cute little face of yours. My 1st birthday wish to you is that you smile and realize what you have.
Funny 1st Birthday Wishes
Congratulations on your 1st birthday dear and if someone calls you old, don't mind: hit him with your cane!
Have an awesome day dear. On this special date, may you receive many gifts; But from others, because mine. I forgot to buy!
Happy 1st Birthday honey! The day is yours, but the party is ours, let's celebrate! Have a nice day.
I thought about buying the candles for your birthday, but I saw that there wouldn't be so many on your cake. Have a good time.
Have a wonderful day love! Today, I hope to do something special for you: attend your party!
1st Birthday Wishes for Kids
The fun is on the way just because of 1st birthday and everyone is gathered here to wish your birthday.
I have seen a million babies but none of them are like you. Welcome into the world baby, happy first birthday, may you grow to outlive us all.
You are the clone of my entity and you are as cute as I was in my childhood. Happy 1st birthday my sweet child.
Birds are chirping, stars are shining and flowers are saying, today is your first birthday. Have a fantastic day my dear daughter.
I am lucky I get to be in your life baby, you make me feel what most people crave for, the love a child can shine on you. Shine on me baby, today and forever. I love you have a hearty day.
For Son
Attention, devotion, a shoulder to lean on and a friend forever, these are all the things you will never have to look for. As we celebrate your first birthday with you, I hope you know we will all be here, now and forever.
You have magical powers which reduce my tensions and tiredness. Happy 1st birthday my sweet baby.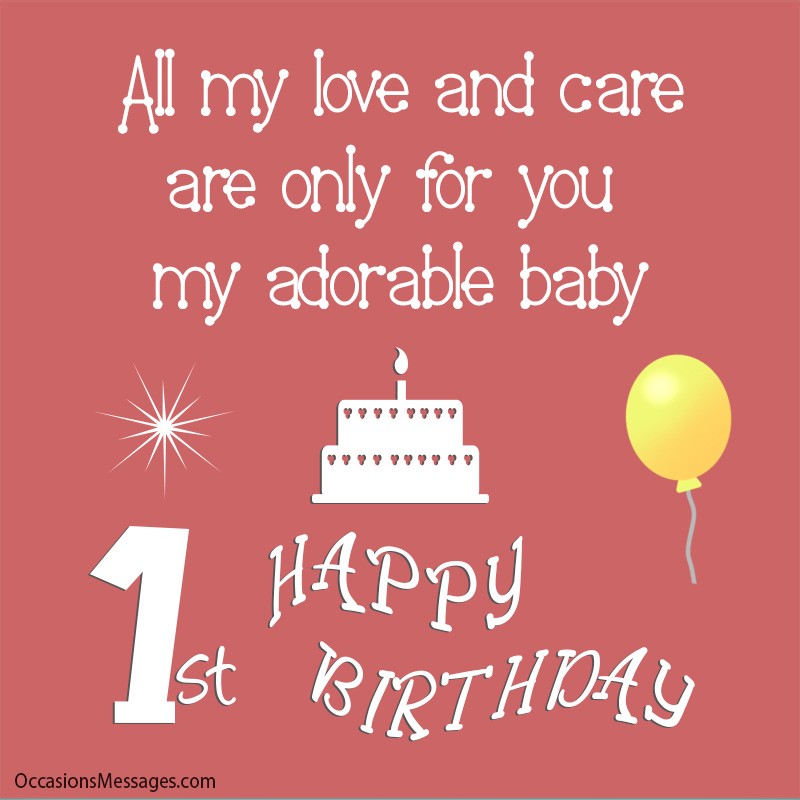 My world starts with you and ends with your smile. You are very nearer to my heart. Happy first birthday my son.
Your each distorted word that you try to speak is very special for me, especially when you call me mum with your broken word, I feel so excited.
At 1 you can already sleep all day long, I wonder what you'll do when you become a teenager. Hehehe.
For Daughter
May you grow up to be smarter, wise and intelligent and your purity and innocence always be consistent. Happy first birthday my daughter.
Everyone is enjoying your first birthday, but you are unknown about your surroundings, but one day I will show you the celebration of your 1st birthday.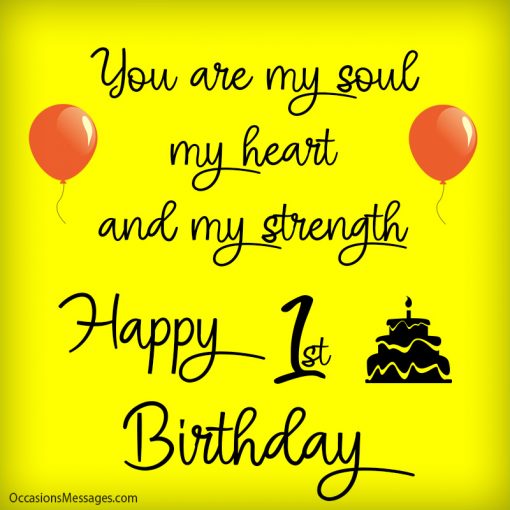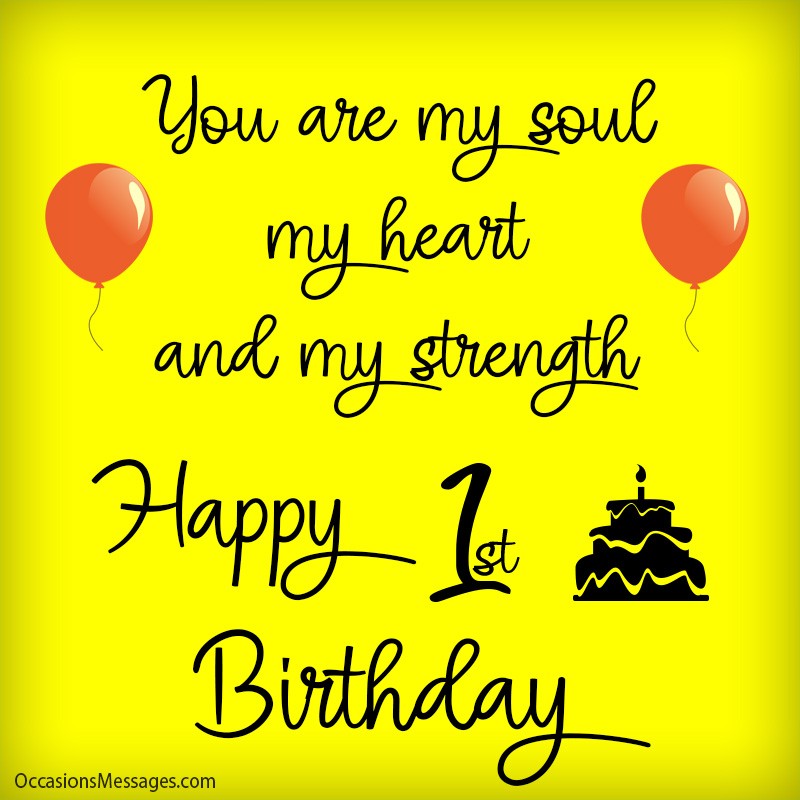 Wishing you a very happy birthday, honey. May you get all the happiness, peace, success and pleasure ahead in your life.
May the good luck and fortune always be with my child. Have a wonderful celebration.
You are my soul, my heart, and my strength. May God give you success and happiness throughout of your life.
For Baby Boy
Happiness is when your 1st -year child say mummy with his garbled word. Happy first birthday my sweet and adorable child.
You are the sparkle of our expectations that spouted in our heart. You are the blessing on my desolate life. I wish you a very delightful day my sweet child.
A mother's first love is only for his child and I am even ready to give my soul for the sake of your happiness. I wish you a very happy first birthday my honey bee.
This the best day of my life, because God granted me the world's best gift on this day and that is you, my child. You are nothing but the reason of my existence, my happiness and peace. Happy 1st birthday dear baby boy.
There are very few days like this one, because today marks the start of a divine journey on earth. May this journey be delightful unto you. Have a fantastic day boy.
For Baby Girl
Your smile gives warmth to my heart and when you are move to tears, it breaks my heart. All I wish to see is your smile and I'll do anything for that.
I just hope that it's me you'll resemble when you grow up, because I love you so much. Don't tell your mother please. Happy 1st birthday baby girl.
If you could be food, I would eat you up because you are too cute. But obviously your mother won't let me. Heheheh, I will settle for some cakes instead. Happy 1st birthday pretty kid.
The journey of a thousand years starts with a step. Today I am happy to be there while you take the first step. May you have an adventurous journey in your sojourn here.
Your mother is really a lucky woman because she gave birth to you, a wonderful cute princess. Before you know it, every man will want to have you. Have a blast baby girl.
For Niece
In life, the joy of every parent is to reproduce someone of their image, and thanks to God for giving you to us. We wish you a long and prosperous life. Have a beautiful celebration niece.
Having a cheerful kid like you is a thing of joy to your parent, you are always cheerful. The only thing you could cry about is food. Happy 1st birthday cute baby.
Happy birthday pretty young baby, I know you may find it really difficult to remember this day, but you are much loved.
The love that everyone has for you now is so much, that even if you poop on their body, they dare not hit you. Enjoy it while it last buddy. Have a magical day niece.
Your soft hand and leg, your tiny little face, your soft little chuckle. I can have them all day if you let me. Happy 1st birthday cute baby, May you have a good and fulfilled life.
For Nephew
I can't believe that you have grown up so fast that you are already this big. You must thank mom for that. Happy 1st birthday my little nephew, mom loves you.
The wonderful news of your arrival into this world gives mommy and daddy the reason to be so happy up till date. Mom and Dad loves you forever baby. Happy 1st birthday nephew.
You clock one today but you've already done a lot of things that aren't your first. Hehehe. Enjoy it.
To a cute and wonderful baby, we cherish every bit of hour, minutes and second you have spent with us here, we hope to see you become great in life.
When babies are at this stage, they really look cute and innocent. How I wish you can remain like this, but you will soon grow up. I really love you. Have a lovely day nephew.
For Cousin
Today we celebrate you our wonderful cousin. Even though you are too young to understand this, you will be glad we did this for you when you're grown.
Today you are 1! A significant number, I want to hope that this is just one out of many years of achievement and fruitfulness that lies ahead of you.
May God preserve and guide you in the journey of life, it's the start of the journey for you and may you cover more grounds.
As months went by, you brought more joy to us. We even fight over who to change your pampers, because it's a joy doing it for you. Happy 1st birthday baby, wish you many more.
For Granddaughter
I am so sure that this is just the first of the many years you will spend with us here. We cherish and love you. Happy 1st birthday granddaughter. You rock our world.
I can never have enough of that pretty little smile, I am proud to be sharing your first birthday with you. My wishes to you are that you never luck a single thing and that you may get to enjoy the beauty of the world all day every day. I love you granddaughter.
Happy 1st birthday my cute baby, what a pity you can't take ice cream and pizza. But don't worry, in a couple of years you'll have some. Have a long and healthy life.
You are a loveable little baby, may your life be as colorful as the rainbow in the sky. Happy first birthday granddaughter.
For Grandson
Hope your first step will be a good one, because if it isn't you might get disappointed seeing it on a footage when you grow up. Have a beautiful celebration grandson.
You are turning one today my dearest, I hope it's the beginning of you growing older than most of us, have a blessed day baby.
Enjoy your first birthday for it is the one you will never remember but we will never forget. Have a hearty time my dearest grandson.
I have been blessed to be a witness to your spectacular growth, I know I may not have a lot but all I have I give it to you. You are my new beginning and with you I find meaning and purpose. Happy 1st birthday my little baby, I love you a lot.
Darling baby, as you turn one, I promise to love, hold, keep, protect and hold close always, you are my angel.
---
You May Also Like:
Happy Birthday to you – Sweet Birthday Wishes and Cute Messages
Birthday Wishes for Infants – Happy birthday for Babies
The Best List of Birthday Wishes for your Lovely Granddaughter
---