Happy 1st Birthday Wishes: Having a baby is the greatest joy one can feel. The cute bundle of joy, their toothless smiles and cute whines. They not only bring joy to our lives, but they bring joy to all those around us. Parents, neighbors, siblings and everyone who has had a little baby they adore so much can tell you that their first birthdays are a big deal. That's why, they deserve every little special thing one has to offer, from the cutest baby toys to the most beautiful little 1st birthday messages that they will one day read and feel loved. Here are some messages you can send to those one year old children to show devotion, love and a whole lot of heart-felt birthday wishes.
Happy 1st Birthday Wishes
Here are the best first birthday wishes and messages for babies.
Happy 1st Birthday. Lots of love, wishes, hugs and kisses for you baby.
You are the season of spring in my life, my entity has completed with your presence. Happy Birthday my lovable baby.
Happy 1st Birthday honey! The day is yours, but the party is ours, let's celebrate!
Happy 1st Birthday my baby. You are as precious as sapphire and diamond.
Happy 1st Birthday, sweet, little child! We love you so much.
You are the tiniest piece in our family but you have enough potential that you have stolen everyone's heart. Happy 1st birthday my little cute baby.
Birds are chirping, stars are shining and flowers are saying, today is your first birthday. Happy Birthday.
Happy 1st Birthday to your little bundle of joy! May there a lifetime of more to follow.
My little angel turns one, sharing this moment with you makes my heart skip all the beats you know. As you read this, my birthday wishes to you is that you grow strong, adorable and as cute as ever. Happy 1st Birthday little one!
All my love and care are only for you and you are my cute adorable baby. Happy first birthday.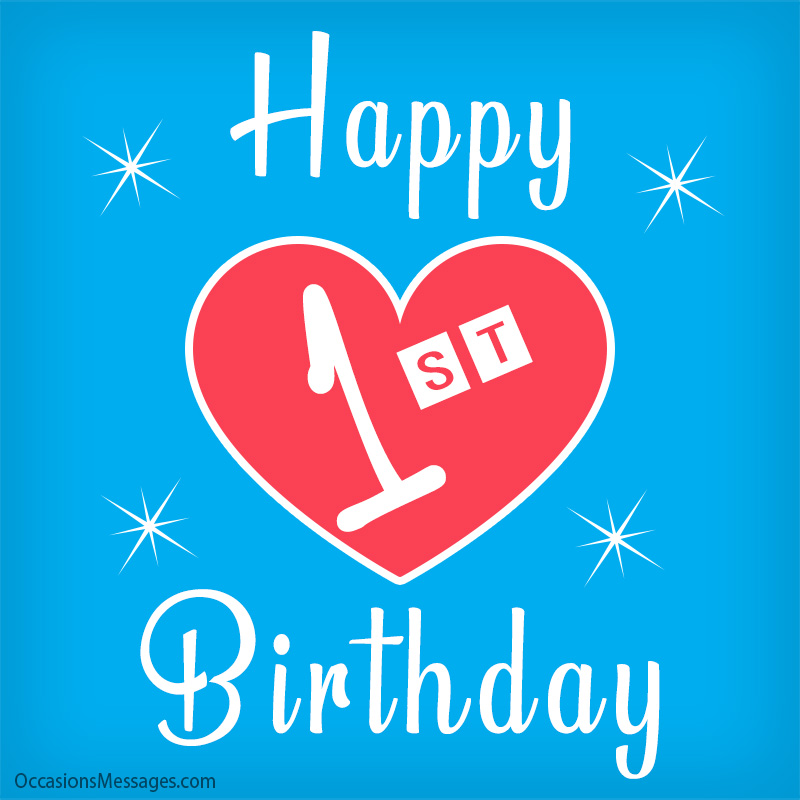 My joy, my pride, my future, my happiness, I wish you the most fulfilling first birthday.
Life won't bring you several opportunities to become a one-year-old again, but I do hope you'll enjoy your birthday.
You brought joy into my life, you changed me from the young lady I was to the mother I am now. As we celebrate your first birthday I wish you more joy, more love and a lot of cake.
Angels are beautiful, they have pure spirit, that is who you are to me my angel. Happy 1st Birthday.
The first year, the first birthday. Such a wonderful, miraculous time. Happy Birthday precious child.
Your wide and lovely eyes, chunky little nose, your delightful smile and screams, your innocent face, soft hands, and feet provide me the endless peace and happiness. Happy 1st birthday my dear child.
Wishing your first birthday, little one, becomes one of many, many more, full of happiness and miracles.
Happy 1st Birthday. I promise to be there with you, to hold you close, to be by your side and to be the one that always puts a smile on that cute little face.
There are gifts and there are great gifts, you are simply the greatest gift to your parent baby. Happy Birthday.
Hello cute hero, May your Birthday be a blissful one filled with joy and lots of love.
Happy 1st Birthday baby. All I see in your eyes is sweetness, greatness and strength.
I thank God for giving me the privilege to share your first birthday with you. You are an amazing little kid and I can assure you, life has definitely been better since you arrived. Happy Birthday.
I have seen a million babies but none of them are like you. Welcome into the world baby, happy first birthday.
Hello pure-hearted one, from my inner love, I wish you an awesome birthday
I wish everyone will just become like a little baby that you are, free minded, ever smiling and always happy. Happy Birthday.
Read Also: 150+ Best Birthday Wishes for Daughter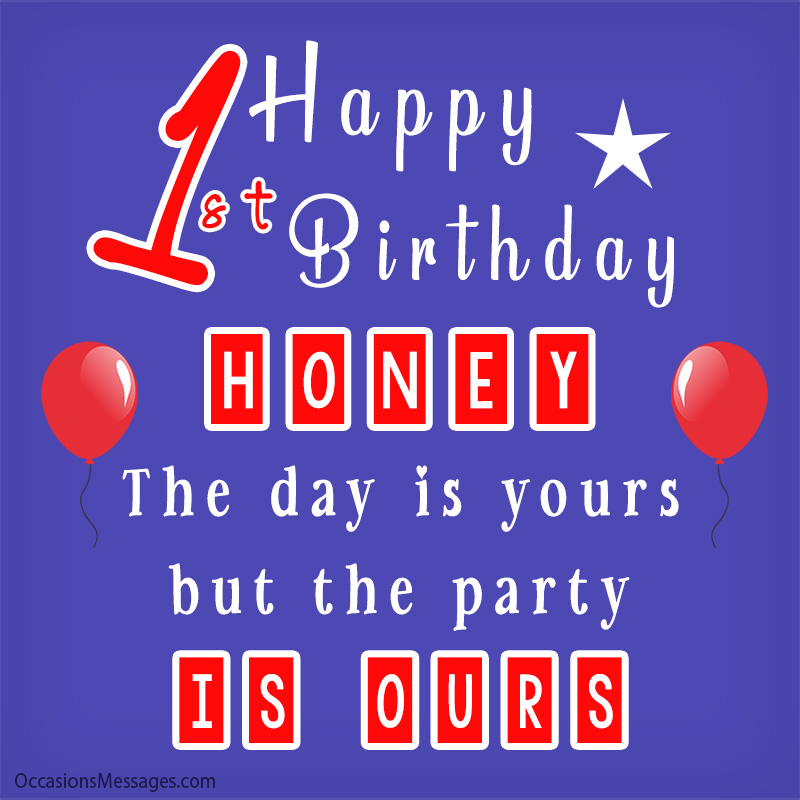 You are the clone of my entity and you are as cute as I was in my childhood. Happy 1st Birthday my sweet child.
Happy Birthday to our pretty little princess. Enjoy your special year as you keep growing.
Happy first birthday granddaughter. You are a loveable little girl, may your life be as colorful as the rainbow in the sky.
Words can never be sufficient enough to describe the joy I feel whenever I have you in my arms. You are turning one year old and I know I am lucky enough to hold you a few more times before you can walk by me.
Today we celebrate you our wonderful grandson. Even though you are too young to understand this, you will be glad we did this for you when you're grown. Happy 1st Birthday.
For Baby Boy
Here are some cute happy 1st birthday wishes for a baby boy. For more ideas, See these 70+ birthday wishes for baby boy.
Happy 1st Birthday to my sweet and adorable baby boy.
A mother's first love is only for his child and I am even ready to give my soul for the sake of your happiness. I wish you a very happy first birthday my honey bee.
My cute baby has completed the first year of his life, I wish you a very Happy Birthday.
Happy Birthday to you, handsome baby boy, may your unique day be filled with sweet and genuine smiles.
A very happy birthday to our amazing little angel, we cherish you so much.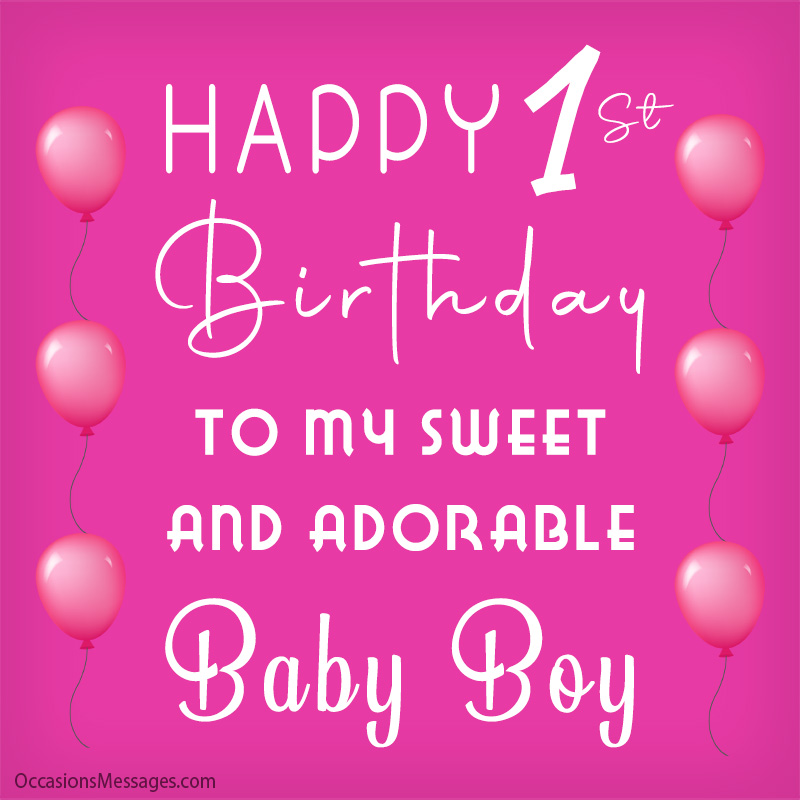 Happy 1st birthday dear baby boy. You are nothing but the reason of my existence, my happiness and peace.
Enjoy your first birthday for it is the one you will never remember but we will never forget. Happy first birthday
For Baby Girl
These sweet happy 1st birthday wishes for a baby girl. You may want to see 80+ birthday wishes for baby girl.
Happy 1st birthday baby girl. Your mother is really a lucky woman because she gave birth to you, a wonderful cute princess.
For one angelic baby. I sincerely wish you a wonderful, gracious, lovely and a beautiful Birthday!
Your smile gives warmth to my heart and when you are move to tears, it breaks my heart. All I wish to see is your smile and I'll do anything for that. Happy Birthday.
May this birthday be the beginning of many more to come, may you enjoy the creamy part of the cake and may you grow to be a toothless oldie. I love you.
Hello cutie, today is your birthday, be merry for you are well loved. Happy Birthday.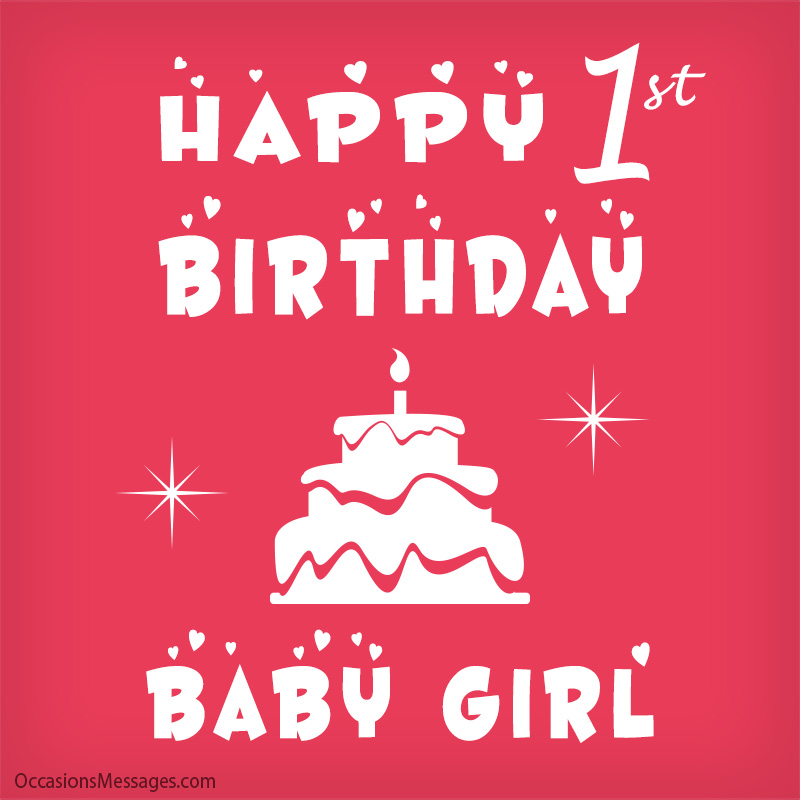 Your soft hand and leg, your tiny little face, your soft little chuckle. I can have them all day if you let me. Happy 1st Birthday cute baby girl.
If you could be food, I would eat you up because you are too cute. But obviously your mother won't let me. Heheheh, I will settle for some cakes instead. Happy Birthday 1-year-old.
For Son
Use one of these first birthday wishes for your son.
Happy 1st Birthday son. You have magical powers which reduce my tensions and tiredness.
Happy first birthday my son. My world starts with you and ends with your smile. You are very nearer to my heart.
The source of river never dries, you are our source of joy. Enjoy your special day little son.
Happy Birthday dear son, holding you in my arms makes me feel like the luckiest person in the world. I never want to miss a chance with you. I love you.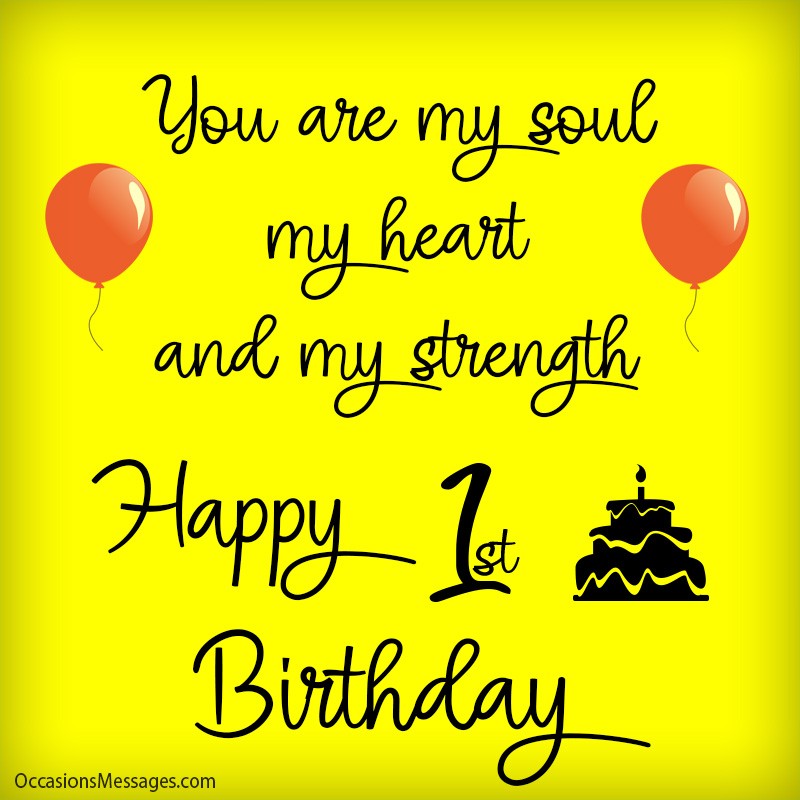 My love for you little prince is beyond the ocean deep, because your arrival make my world good. I hope you'll be protected by the most supreme God.
Your each distorted word that you try to speak is very special for me, especially when you call me mum with your broken word, I feel so excited. Happy Birthday.
Attention, devotion, a shoulder to lean on and a friend forever, these are all the things you will never have to look for. As we celebrate your first birthday with you, I hope you know we will all be here, now and forever.
Related: 200+ Cute Birthday Wishes for Son
For Daughter
These are the cutest first birthday messages for your daughter.
Happy 1st Birthday, daughter. May the good luck and fortune always be with you.
Happy Birthday. You're charming, lively, lovely, witty and pretty cute. You are a perfect human to me.
Wishing you a very happy birthday, honey. May you get all the happiness, peace and success ahead in your life.
Happy first Birthday. You have the most beautiful eyes I have ever seen. May they always see the good in people.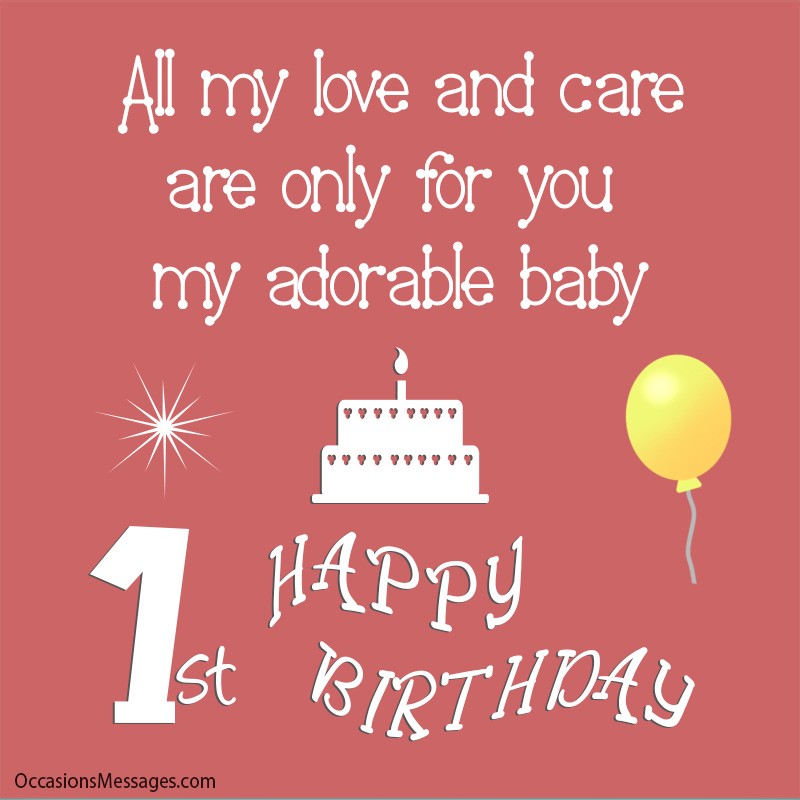 No matter how young you are, you have occupied a space in my heart that cannot be filled by anything else. Happy Birthday.
May you grow up to be smarter, wise and intelligent and your purity and innocence always be consistent. Happy first birthday my daughter.
You are my soul, my heart, and my strength. Happy 1st birthday. May god bless you with everything.
For Nephew
Here are some birthday wishes for a nephew turning one.
Happy 1st Birthday nephew. Your arrival into this world gives mommy and daddy the reason to be so happy up till date.
You clock one today but you've already done a lot of things that aren't your first. Hehehe. Enjoy it.
When babies are at this stage, they really look cute and innocent. How I wish you can remain like this, but you will soon grow up. I really love you. Happy 1st birthday cute nephew.
For Niece
Use these birthday messages for 1-year-old niece.
The love that everyone has for you now is so much, that even if you poop on their body, they dare not hit you. Enjoy it while it last buddy. Happy 1st Birthday niece.
I can't believe that you have grown up so fast that you are already this big. You must thank mom for that. Happy 1st birthday my little niece.
To a cute and wonderful niece, we cherish every bit of hour, minutes and second you have spent with us here, we hope to see you become great in life.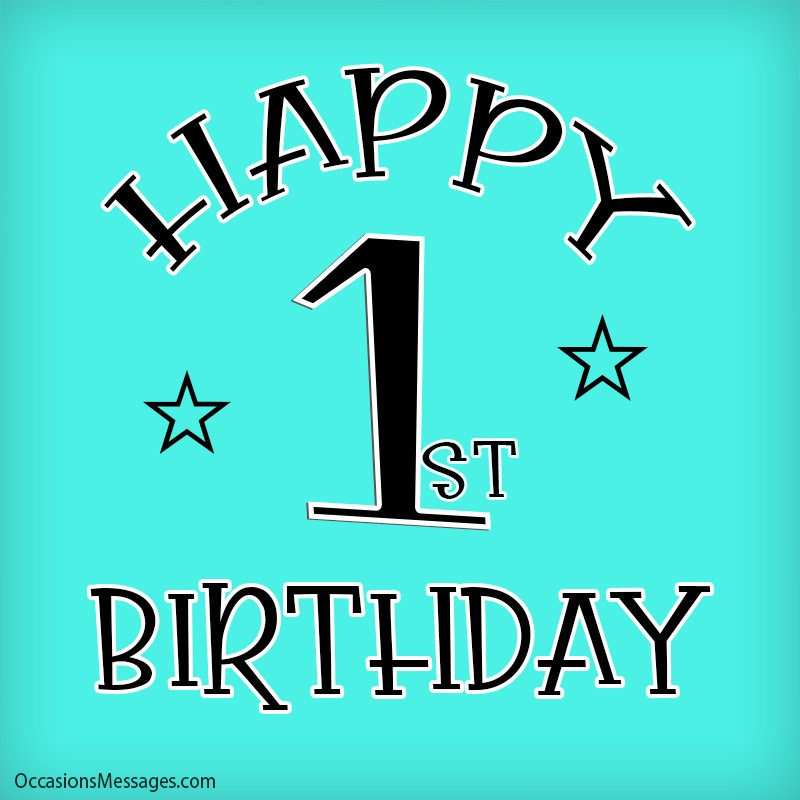 For Parents
Looking for the best 1st birthday messages for baby's parents? We got you covered. These messages are sweet and adorable.
Your little bundle of happiness is turning into a year old- today; I wish you more of happiness and joyous celebration.
Happy Birthday. May your little precious angel grow in strength and love under your guidance.
We all know a child is a marvelous gift from God. I pray that your beautiful child lives long and grow in health for life.
I want to personally congratulate the parents of this new infant. Happy 1st Birthday.
Hoping your beautiful child's first birthday is a joyous one for you all.
Their first birthday is so precious and memorable. Happiest and healthiest of birthdays to your little angel.
Funny Messages
Here are some funny first birthday wishes for boys and girls.
Happy 1st Birthday. You poop everywhere because you don't care, but we care. Heheheheh.
Happy Birthday to the liveliest kid in the whole world, your charm is really hard to resist and your cry is difficult to neglect.
Happy 1st Birthday dear. On this special date, may you receive many gifts; But from others, because mine. I forgot to buy!
I thought about buying the candles for your birthday, but I saw that there wouldn't be so many on your cake. Happy Birthday one-year-old.
Have a wonderful day love! Today, I hope to do something special for you, attend your party!
Happy 1st Birthday my cute baby, what a pity you can't take ice cream and pizza. But don't worry, in a couple of years you'll have some. Have a long and healthy life.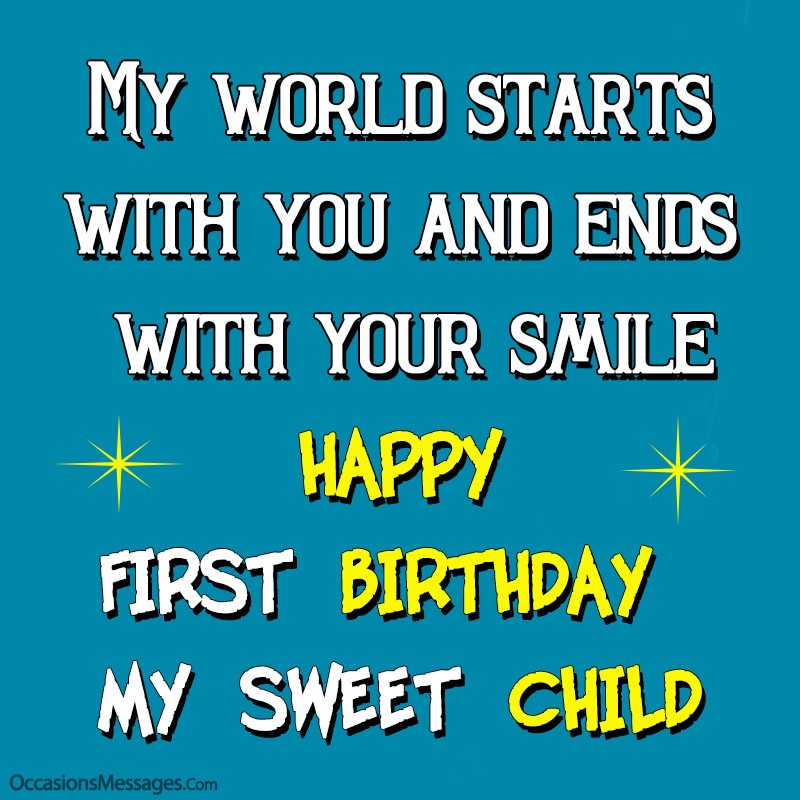 Happy 1st Birthday Messages
Here are some sweet birthday messages for a baby turning 1.
Can you believe it's your daughter's/son's first birthday already? May you be greeted with nothing but happiness as you celebrate his/her first year with you!
Happy first birthday to the smartest kid in the entire universe today.
Wishing you profound happiness and nothing but the same to your little one on this very first birthday.
As you cradle your beloved child in your arms on his/her first birthday, rejoice in knowing this happiness will only increase as the years go by.
What kind of happiness can compare to this you feel on your child's very first birthday? Just wait another year…and then many more!
Related Content: Happy 2nd Birthday Wishes
---
Babies are the most innocent creatures in the world; they bring a lot of joy to those around them. Birthday messages for a one-year-old child can be read to them, they say it is good to communicate with an infant so as they recognize those around them and also help them grow in speech. Sweet first birthday wishes can go a long way in making their smiles stick to their cute little faces throughout the day. Why not go all the way out, choose a messages from one of these that reflect how you truly feel in your heart. You can never go wrong with a sweet little message to a baby girl or a baby boy!