Birthday Wishes for Twins: Having twins is a double blessing; having two angels at the same time is a feeling that cannot be taken lightly or for granted. Special days deserve to be remembered always and forever as part of their lives, you have to make the day unforgettable for them. Send them a little birthday message that will remind them of the love you have for them and the unspoken unbreakable bond they have among themselves.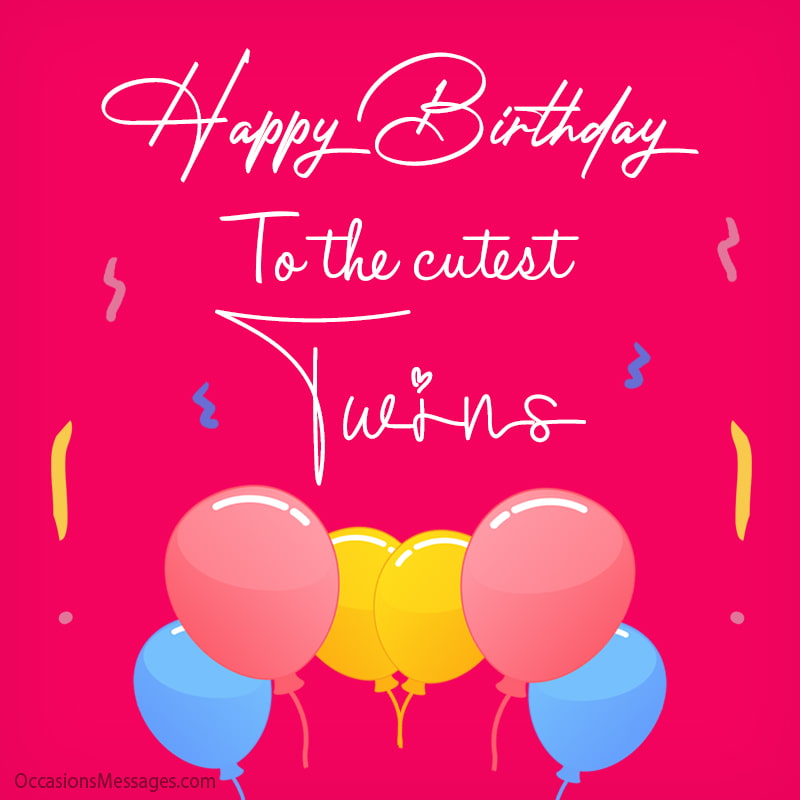 Send them a birthday message on their birthday and you will definitely have put a smile on two awesome bright faces. Here are some messages you can send to your special twins turning a new age.
Birthday Wishes for Twins
Happy Birthday to the best twins! You both deserve a life full of joy and good health. Congrats.
On this precious double date, I would love to congratulate you both for being so amazing.
Have an awesome day my favorite twins. May God continue to bless and illuminate your lives.
Happy Birthday to the twins which I've got so much admiration for! I pray that you will continue to enjoy God's blessings and protection.
Happy Birthday to two of a kind! May your birthday be double the fun and twice as memorable.
My awesome twins. Today, I wish you much peace, love, blessings and good health. Have a beautiful day!
Wishing you both a happy birthday filled with twice the love, joy and cake!
Words cannot describe the joy I feel to be here with you right now. Have fun and may all your wishes come true!
Today we celebrate not one, but two incredible people!Happy birthday to the dynamic duo who make life twice as sweet.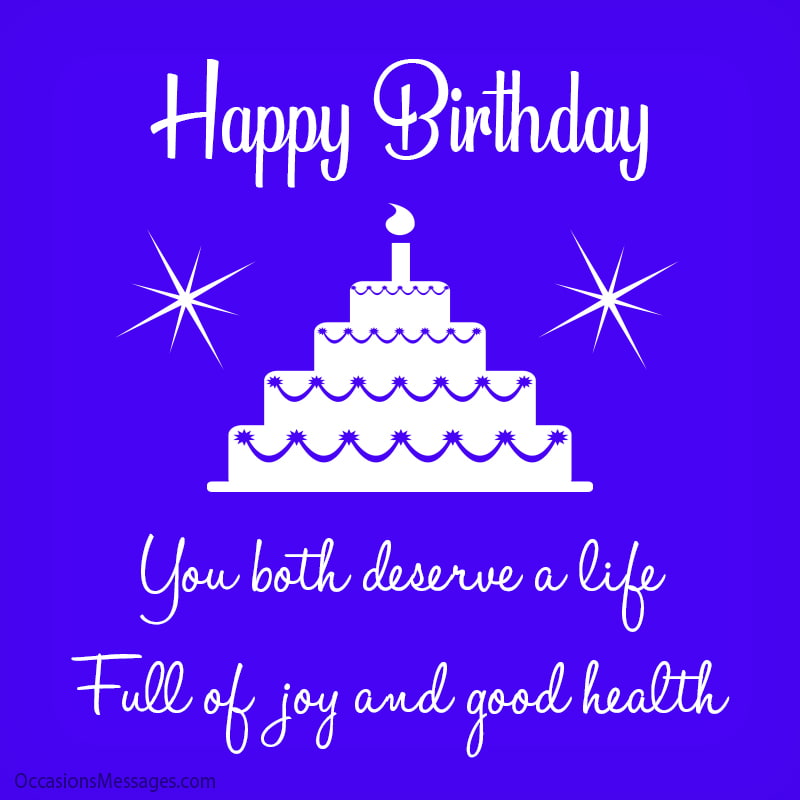 The pleasure of having twins is unparalleled, you've got to see two people who look exactly alike, who wears the same cloth but are totally different. Happy Birthday.
Happy Birthday. The mirror twins are a year older; I derived that name because it's tough to differentiate between the both of you.
I am lucky because I have two loves of my life, I love you both so much and hope you enjoy your day my darling twins, you are appreciated!
Happy Birthday glorious twins. May all the provision needed be made available for you. You deserve the best of everything you'll get.
Happy Birthday two people known as one. Enjoy your special day, twins.
You two fight over everything, I hope you won't fight over my wishes for you. I only have one wish for both of you. Happy Birthday to you two.
Many people wish they were a twin, but just a few have the chance to be. I hope you experience double fold of increase on your birthday.
Happy Birthday my lovely twins, may you grow to be strong, healthy, wealthy and definitely hearty.
Happy Birthday my darling twins, you are turning a year older and I am happy to share the day with you. Have fun my darlings, you are blessed!
Twins are not just inseparable when their body sticks together, but they are inseparable when they truly love one another. Happy Birthday my inseparable twins. I love you so much, enjoy your day.
It is fun to be around twins, while one wants a glass of water the other begin to cry and ask for a glass of milk. Heheheh. Two people that acts strange.
When I'm with both of you, I feel peace telling you everything. Happy Birthday to you and to you.
I hope you will enjoy more and fight less this year; you both are so strange that no one must get in between whether you play or fight. Happy Birthday.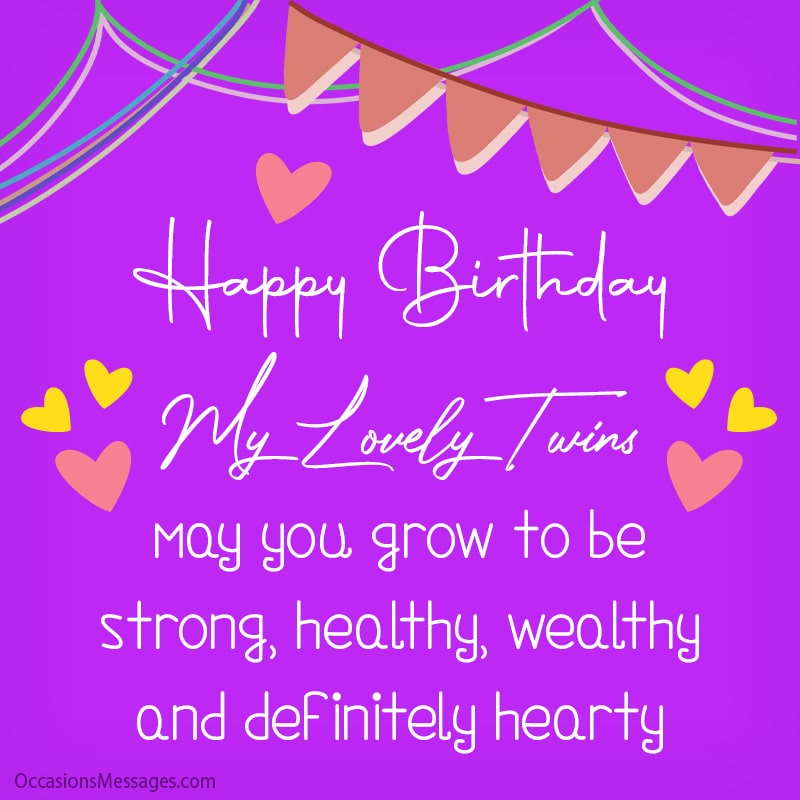 You are exceptional set of people and you are my favorite set of twins, may your glory shine forever. Happy Birthday.
Happy Birthday my dearest twin, how happy you make me, I miss you and wish you all good things life has to offer. Have fun on this beautiful day.
Twins are wonderful and delightful creatures, they never cease to amaze you every time, they can love hard and hate hard. Happy Birthday twins. May God bless you both and grant you long life.
It's wrong to compare twins but you two have a high level of similarities, and sometimes I begin to wonder if it is medically possible. Happy Birthday to you and you.
There is not a day that goes by that I don't think of you, how happy you make me feel and how lucky I am to be sharing in your birthday.
All the beautiful things of life shall not elude you both as you progress in life. Happy Birthday to wonderful twins.
Life is simply like this, what you want so much, someone else has it but don't appreciate it. I wish I have someone who looks like me. hehehe. Happy Birthday twins and friend. Have fun.
I never thought I'll have children, but God did his miracle and he gave me you twin. Nothing more could be better. Happy Birthday.
I wish I had a beautiful voice, I would sing the birthday song for you, may you have fun on this day my dear twins.
You are uniquely unique and I hope you know how happy I am to be sharing this day with you. Have fun as you blow out the candles dear twins, may you grow older than the hills.
I cherish twins as treasures and rare gems, you are a fantastic creation of God, and I thank your parents for giving birth to you.
Funny Birthday Wishes for Twins
Happy Birthday, twins. It surprises me that you both can agree over a thing, this shows that even pepper can be friends with the eye. Heheheh. Enjoy your day.
I do not like twins because you get to celebrate your birthdays on the same day, that is less food and drinks for me.
Giving birth to a set of twins is comparable to economic inflation, suddenly; all the cost on clothes and everything changes respectively. Happy Birthday.
Happy Birthday to you people, you are twins but so identical that one looks Korean while the other looks Russian, and your parents are from neither country.
You both make a funny pair; the angels were right when they paired both of you together, and I hope you live long to offer us constant laughter.
Twins are simply two people that cry over everything and wants to be treated better than every other person. Heheheh. May they have lots of joy growing up together.
I have faced many troubles in my life, many challenges, many hurdles but none like raising twins. Heheheh. Happiest birthday, Keep enjoying every good things God has provided for you.
For more ideas, see 100+ funniest birthday wishes, messages.
Birthday Wishes for Twins from Mom
My little babies are growing up so fast, I am super happy to be the mother of such a blessed pair. Have the best birthday my twins I love you my darlings.
It's a great blessing for a woman to have two sons/daughters who were born in the same year, on the same day and in the same hour. May God bless you twins. Happy Birthday.
Another year with you is the best gift anyone can ever give to me, you are priceless my dear twins, make mama happy by having an unforgettable time dears.
You are the best thing to ever happen to me and what's even greater, you came as two, have the best birthday my lovely twins, you make me a proud mother every day.
I can never imagine my life without you my dear twins, you make motherhood the best experience in my life. Have a very Happy Birthday.
Hearty birthday to my lovely twins, you are mama's treasure and I love you to bits, never forget how much you mean to me.
Birthday Wishes for Twins from Dad
My lovely babies are growing a year older today, and I get to be the lucky father who'll watch them grow and be more blessed each birthday as it passes. I love you!
You are the greatest gift God's ever given me, I am happy that I am part of you as your father, have the happiest birthday my dear twins, I love you.
I will never forget when I was dating your mother, she always wanted twins, I am surprised she was able to have them. Happy Birthday twins of mine. You both look so beautiful.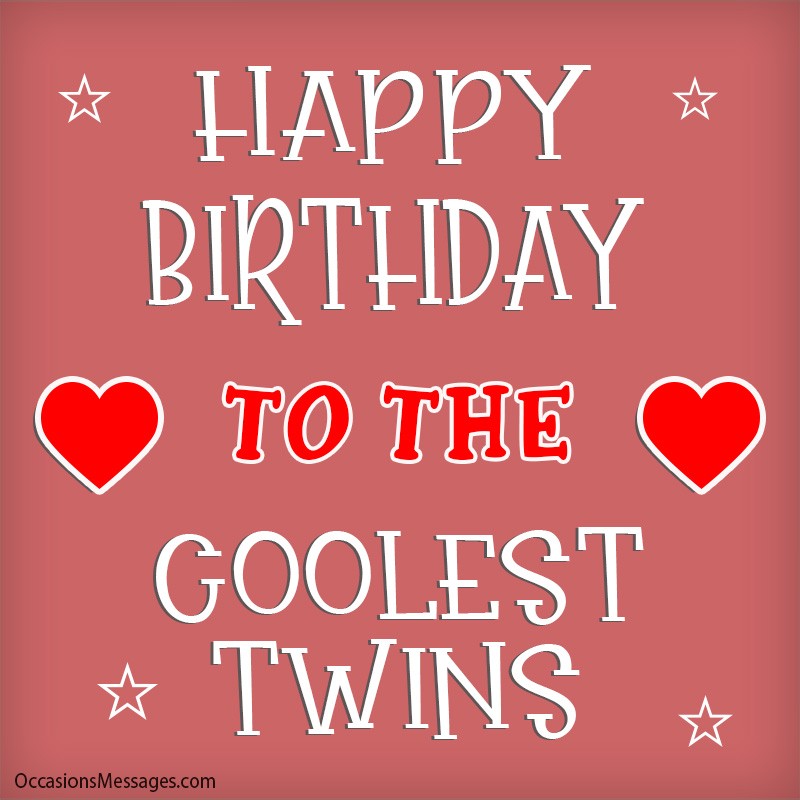 I am lucky father because I have the best twins in the world, I love you two more than anything. Have the best birthday in the world.
They say double trouble I say double blessing, you are the most amazing twins this world has ever known and I know that because I am your father. Happy Birthday.
Enjoy your birthday for it was made especially for you my darling twins, may everything go well with you, your dad loves you so much!
Read More: Amazing 400+ Birthday Wishes for Everyone
Birthday Messages for Twin Sons
Hey! Sons Do you know what I just observe; Cute has U in the middle! No wonder you two are sweet and awesome. May it be a special day.
Now I can go to bed with a fulfilled heart, my dreams have come true now that you are in my life. Happy Birthday twin sons. Enjoy your special day. Mom loves you a lot.
In life, something's are never planned, but they do happen for a reason. Having two sons once was never my idea, but it has changed my whole life.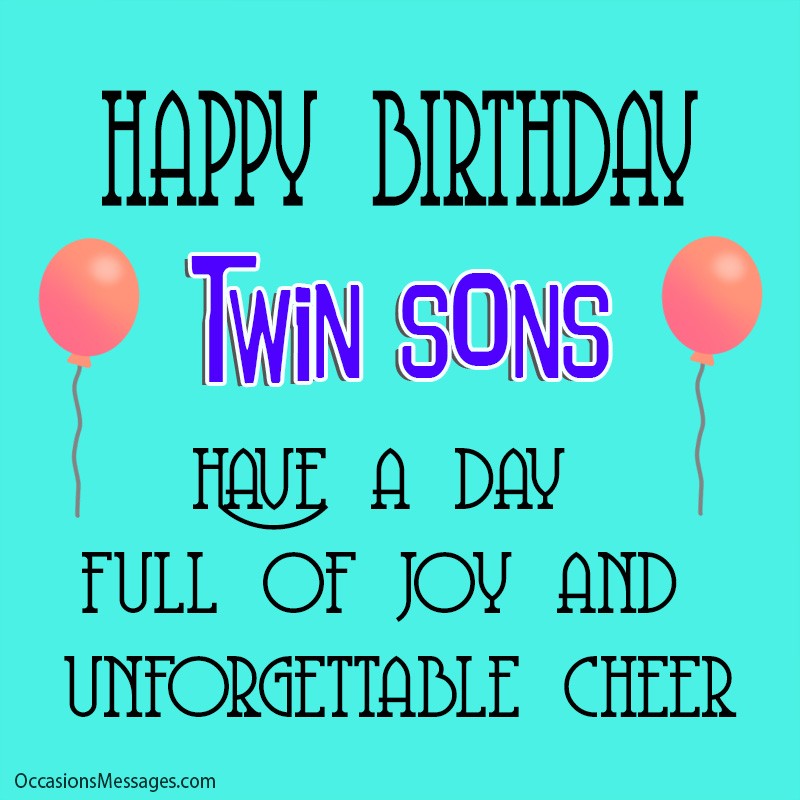 Happy Birthday Twin sons, even though you both don't get to see me as much as you'd have loved to, you are always on my mind. Enjoy your special day my boys. Dad cares.
Have a day full of joy and unforgettable cheer my dear twins. It's your birthday, make the most of it. Have a great day my loves.
I can never imagine life without the two of you; you have made each day something worth looking forward to. Have a lovely birthday twin, you are a blessing.
Happy Birthday Twin Daughters
No poems, no ecstatic words. I just want the whole world to know that I LOVE YOU my Princes with all my heart. Happy Birthday twin daughters.
I really love my two little girls, and I wouldn't want anything to take your place in my heart. Not even my job. Happy Birthday twin daughters. I cherish you so much. Mom loves you.
How I wish we can all be like this together and forever because your company delights me so much. I hope you will enjoy today like no other day. Happy Birthday twin daughters.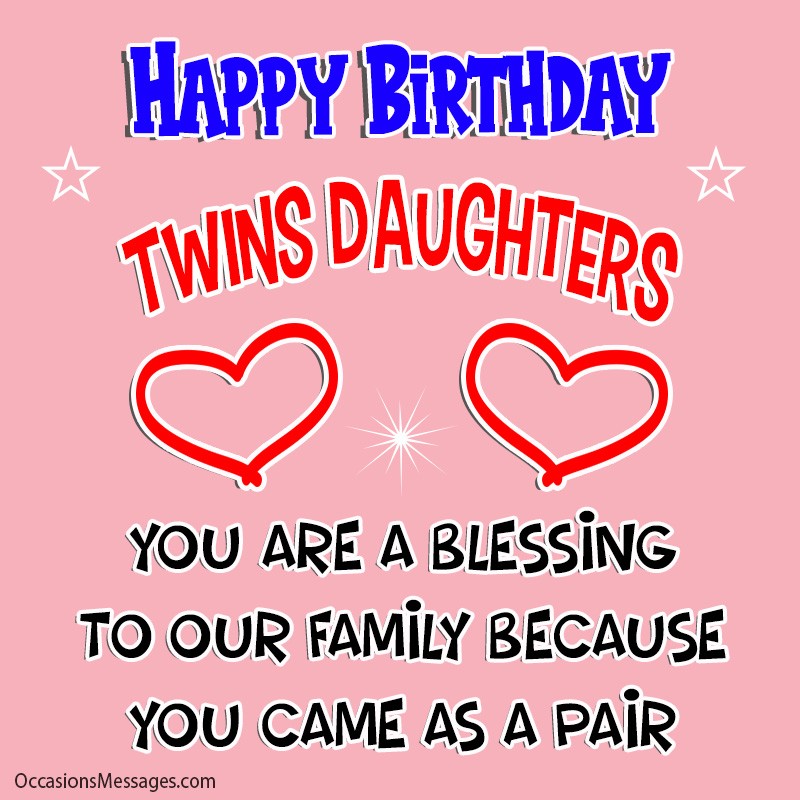 Luck found me in life when I had you. It wouldn't even be in my widest dream, that I'll have twins. You're both worth more than anything to me. Happy Birthday.
Having a daughter is already equal to ten sons, but having two beautiful daughters is equal to twenty! May God preserve you my two little angels. Happy Birthday.
You both came into our lives at unique moments, you both share wonderful qualities, something that brings pleasure. Happy Birthday our beautiful twin daughters.
For more options, see Top 300+ Happy Birthday Daughter
Birthday Wishes for Twin Brothers
I am always certain that nothing can be so challenging with you around, you proffer solution to every challenge. Happy Birthday twin Brother. Your brother loves you so much.
A kind of joy erupts from within me anytime I see that I have a brother like you beside me, there's never a dull moment. You are my best friend.
How I wish I can take the place of one of you to show you how you should cherish one another better. May this year bring you more together. Happy Birthday twin Brothers.
You are the kind of brother I wouldn't trade for anything else, even though we fight a lot. May this year be great for us both.
Happy Birthday to the most adorable twins in the whole planet earth, how I wish we were siblings, I would have shown you off on a daily basis.
Happy Birthday twins, you are a blessing to our family because you came as a pair; always remember that you are unique and phenomenal.
Related: 300 Best Birthday Wishes for Brother
Happy Birthday Twin Sisters
We were created together with so much of resemblance, but there is much to us than that. I love you a lot my other half. Happy Birthday twin sister, you are awesome.
I feel really honored to have lived in the same womb with you for 9 months. I guess you have been my confidant right from there.
It's actually mysterious how two people can have everything alike from their looks down to their interests. May God preserve you both in goodness. Enjoy your glorious day twin sisters.
I am a lucky sister, I cried unto God for a sister, but he gave me two, not only two, but good and cute two. Happy Birthday twin sisters. I will always love you.
Double girls and double trouble, but your trouble will forever be my source of catching fun. I love you both with your trouble. Happy Birthday twins sisters. Enjoy every bit of this great day.
To the twins that have smiles that brighten a dull room, you are the angels of the world, have a hearty birthday as you turn a year older, I love you a lot!
Birthday Messages for Twin Boys
You are definitely double trouble boys, you bring the fun to your own birthday. Have a blessed and amazing birthday twins, you are loved.
I am thankful that I get to spend the day with you, always remember that I will always be here for both of you my dear twins, have fun boys.
You will never be alone as long as you have each other, enjoy your birthday my beautiful twin boys, you are a blessing to us all. Happy Birthday my handsome little men.
Words alone cannot describe how amazing I think you are, you are a pair of blessing and I love you to the moon and back, enjoy your day twin boys, I love you.
I can never get enough of you, your presence always makes me happy, have a great and awesome birthday, one you'll never forget.
I wish I was as lucky as you, you always have one another, through thick and thin, I hope this birthday will make you appreciate each other more.
Read More: 100+ Happy Birthday Wishes for Boys
Happy Birthday Twin Girls
Beautiful ladies such as yourselves don't age, they grow to be beautiful princesses and then amazing queens, enjoy your day my sweethearts, and I love you!
I am super blessed to know a pair of twins as pretty as you, I wish you a blessed birthday full of the prettiest things you deserve it. Enjoy babies!
How blessed are you to have each other, you are the best thing in the world and I love you twins, have the best birthday my pretty girls, always in my heart.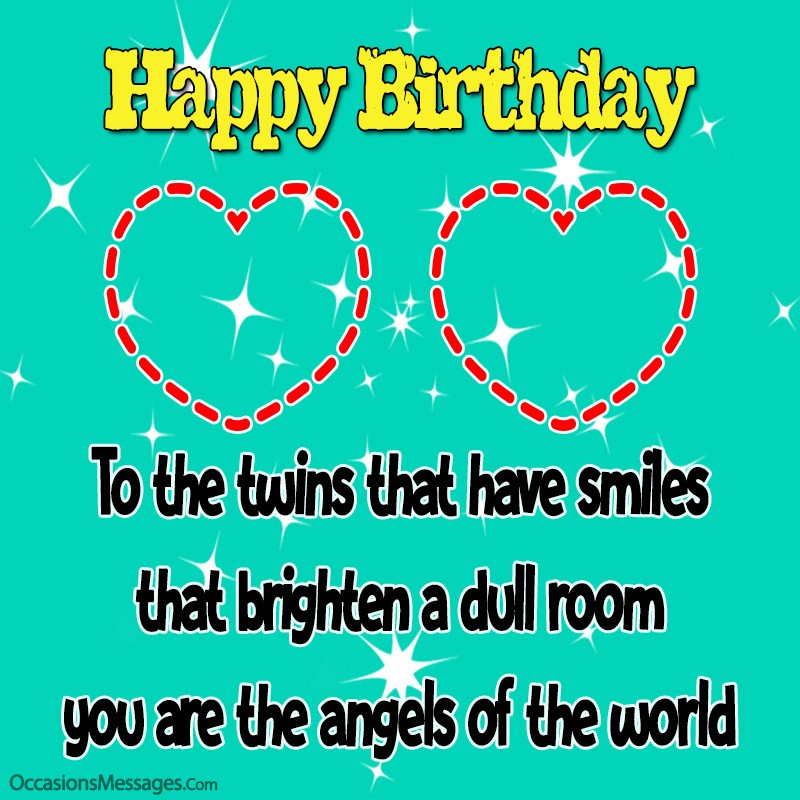 May this day be bigger, brighter, heartier and more amazing than the last my pretty twins. Girls like you deserve the best from such a day.
Have a great birthday my beautiful twins, you are thought about, loved, cared for and protected by guardian angels who love you so much. May this day be as you'd hoped.
It's a beautiful day to be celebrating such angels, you are loved, appreciated and you always make my day. Have a cute birthday!
For more ideas: 100+ Happy Birthday Wishes for Girls
Birthday Wishes for Twins Friends
Anyone who hates twins will have a rethink when they meet both of you; you are special distinct and spectacular in different ways. Happy Birthday my friend.
You have really grown into beautiful human beings. I hope your plus one will be a reason you keep those smiles on your faces.
It's always a blessing to know that I have two friends that will always be there for me, you are the best set of twins I know of and I am happy to share this birthday with you. I love you!
Twins are a double blessing that's rare amongst humans, happy birthday to spectacular beings who have a beautiful and loving heart.
Having someone of your replica is nice, it's like having another you right next to you, a lot of people envy you and wish their Birthday could be this dynamic.
The best thing about being a twin is that you are born with your best friend, so never feel alone, you will always have each other.
Happy Birthday Messages for Twins
You make me happy and glad each and every time I see your beautiful faces. Have fun as you celebrate this birthday!
Happy Birthday my darling twins, you are double what I expected and I appreciate the joy you bring to my life. I love you loads my dears, you are amazing!
I hope this day reminds you of how lucky you are to have each other, no boredom, no feeling left out, you have each other forever. Have a great birthday my dear twin nieces.
It's a beautiful time to be celebrating two beautiful persons. Have fun my dears, you are the reason for the little gathering put together. I love you dear twin nephews.
Life is so ambiguous and we all want different things, some wants twins but they don't get to have them while some don't, but God gave it to them.
I hope you will lessen your mom's job on you guys. If you do so, I have a precious gift for you. Enjoy your special day my boys. Uncle loves you.
Like my sister always says, some of the best things in life come in pairs, like you two. You're lucky to have a mother that will do anything for you.
Twins are the set of people that gets attention from anyone at any time; especially when they move together, people always want to see the wondrous identity of twins.
Having you two is the best thing that can ever happen to me, you are a blessing and I hope you have fun as you celebrate this birthday, may all your wishes come true hearts!
You may be twins but I see each of you differently, you each have a personality and no matter what you may share, you are both different individuals, have fun as you turn older my loves.
Just because two people look the same, doesn't mean they have the same dreams. So follow each individual dream, who knows where it will take you, hearty birthday my loves!
To me you are two unique souls united by birth. Have fun as you celebrate your birthday with those around you, Happy Birthday, you are loved!
Last Updated on April 25, 2023
SHARE ON