Birthday Wishes for Grandpa: Having a grandpa and celebrate his birthday can be a very amazing thing; it is a blessing to know such an old, wise and capable person from eras far much beyond your own. A grandfather has so many years of being on this big blue beautiful earth. With all those years comes experience which cannot be gained by other means. There are years of joy, sadness, success and failing. You can learn much from your grandfather, and he can do so much for you, you don't even realize it.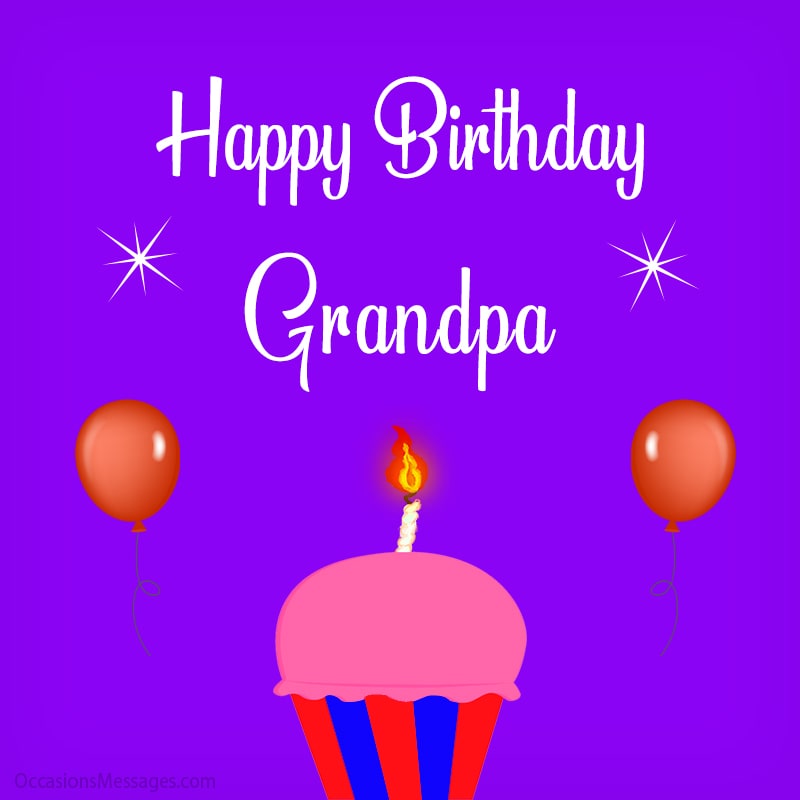 Listen, we do not know how much time is left for our elderly folk but while they are around it is wise to give them a birthday wish. If you don't know what to tell your grandfather on his birthday, we got you covered.
Wishes | Short | Funny | From Grandson | From Granddaughter | Messages
Birthday Wishes for Grandpa
Let your grandpa know you're love and thinking about him on his birthday with one of our sweet, simple and funny birthday wishes for grandfather.
Happy Birthday, grandfather. Even though you are old, you can move like a young guy.
Best wishes for your birthday, grandpa. God bless your new age with super health and grace.
Happy Birthday, Grandpa. I hope someday I'll grow to be as wise and as amazing as you.
You may be old grandpa, but you definitely are young at heart. Hope each day give you more reasons to smile.
May this birthday bring you a lot of joy, cheer and love granddad.
Seasons come and go, but your love and blessings always remain. Have a nice day.
Happy Birthday to my hero, my confidant and my friend. My love for you will never end.
Happy Birthday grandpa. I want to light a candle for your birthday, but the numbers would be so much it can't contain your cake.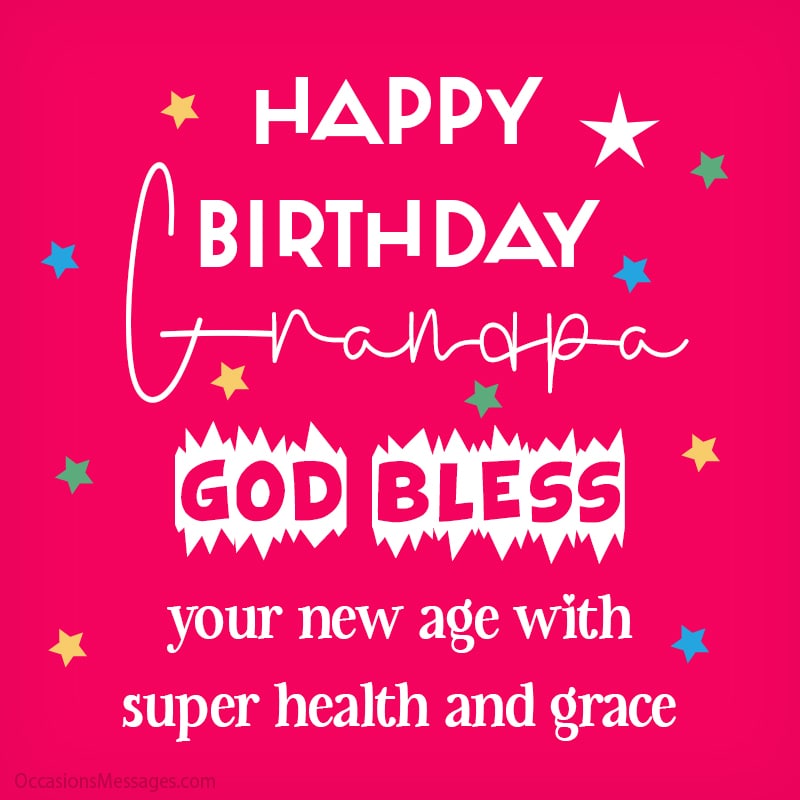 Happy Birthday to the best man in the world. Your legacy will stay forever ingrained in my heart. Enjoy your day.
You have always been a strong man and I know you will live longer than any of us, enjoy your birthday granddad.
You are my shining star grandfather. May you continue to increase in age and strength. Happy Birthday.
Your age is a proof of God's blessings. Continue to enjoy such blessing now and forever.
May this day be a start of better days to come. I wish you many more birthdays' grandfather.
My grandpa is my best friend!! You look really young to be that old. Wishing you a very Happy Birthday.
Happy Birthday to the person who deserves everything, love, care and devotion. May you live thousands of happy years, my dear grandpa.
Life means so much when you have a very big family with so much love and with a witty grandpa. Happy Birthday, we hope to have you for many more years.
All of your birthdays in the past are sweet, so I hope today's event will be the best.
You are one of the best people in my life. You have so many stories and I only want to learn more and more from you.
Happy Birthday to you my dear grandpa, you mean the world and heaven to me, so I will continue to cherish you in life and death.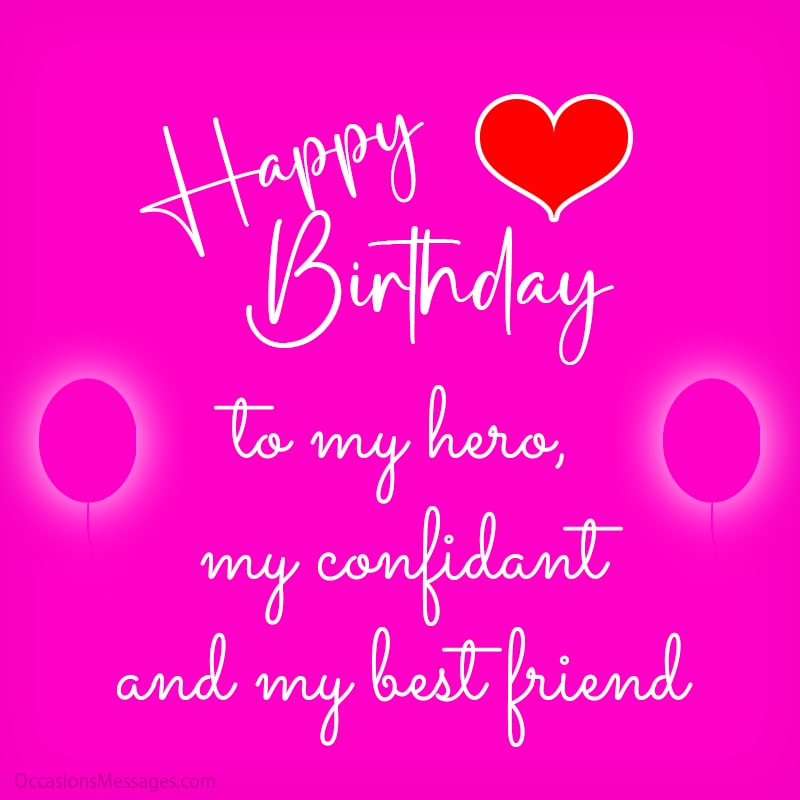 Happy Birthday grandfather! I love you so much. You are one of the best person in my life.
Happy Birthday grandpa! Thank you for always being there for me. You are one of the few that I could always count on. I love you.
One of my most excellent luck in life is having a wonderful grandpa like you; only God can give such a priceless gift.
Happy Birthday to you! Your hair may be as white as snow, but your heart is the purest gold and days of sunshine in your smile. I love you, Grandpa.
I just hope to be like you some day. Thank you for the great moments we've shared. Have a great birthday grandfather.
It is true that nothing can replace a motherly care, but it is also true that nothing can take the place of a grandpa's love. Happy Birthday grandpa, you are highly loved.
Grandpa, you are one of the wisest men I have ever known. You are like a walking encyclopedia. Happy Birthday.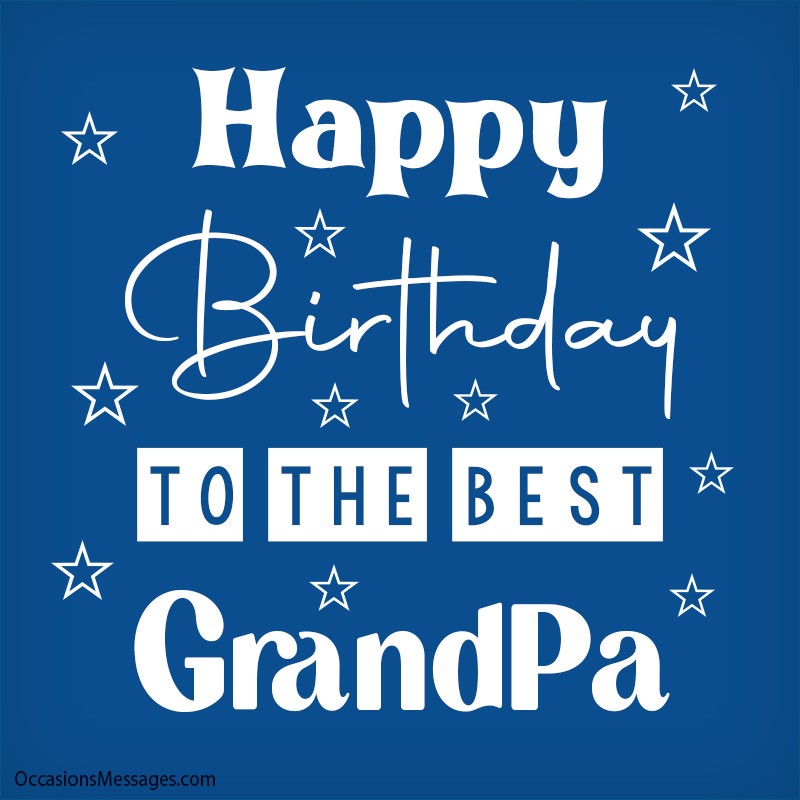 May the stars guide your ways, angels protect you and heavens accept you and keep you as strong for the remainder of your days.
Happy Birthday, my Grandfather. My respect and admiration for you will never stop growing.
I am blessed to have you, and I am glad that you have always been there for me. I wish you a Happy Birthday.
Many happy birthday wishes ran through my head, but they all pass the same message of love and appreciation to a wonderful grandpa.
This is to let you know that you are special to me and forever irreplaceable. Happy Birthday grandfather.
You are not just my grandfather but my mentor, consultant, guru and more than my friend. I love you a lot. Wishing you a very Happy Birthday.
Happiest birthday to the man who holds a sacred place of my heart. May your years continue to be filled with the happiness and warmth you always gave.
Most Popular: 400+ Happy Birthday Wishes
Short Birthday Wishes for Grandfather
Here some short and sweet birthday wishes for your grandfather.
To my grandpa, my all-time hero, I want to wish you a happy birthday.
I want to wish the most inspiring person I know a happy birthday. Have a beautiful day grandfather.
Happy Birthday grandpa! You are a wild man who lived a wild life! Let's rock out like wild child! Woo!
You taught me that you are never too old to enjoy a birthday. Happy Birthday to you.
I do hope you haven't outgrown your love for candies. Happy Birthday grandfather.
Happy Birthday old man! You are a very special man who has a gold heart. You are a man of legends.
Happy Birthday grandpa! You can be happy knowing you have grand kids who love you!
The world would be a better place with more people like you. Have a happy birthday grandfather.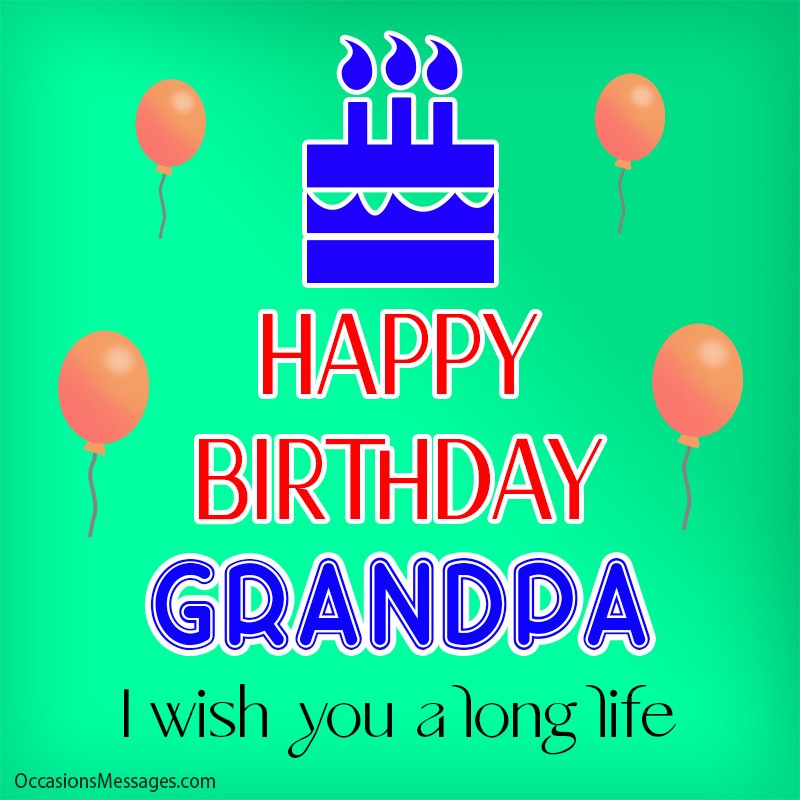 Time is no match for the coolest man on the planet. Happy Birthday, Grandpa. We all love you.
You may not be here forever but my memories with you will live on. I love you. Have a lovely day.
Happy Birthday to you Grandfather. I am grateful for one more year to appreciate you.
Thank you for teaching me that in life everything comes with effort. I love you so much!
Full of zest, charm and love. You are the best. Happy Birthday Grandpa. I love you so much.
Read More: Best Happy Birthday Wishes for Men
Funny Birthday Messages for Grandpa
Give your grandpa a good laugh on his special day by one of these funny birthday wishes and cards.
Happy Birthday grandfather. We have to buy so many candles for you that we had to get two cakes! Not really, I'm just kidding.
I wish I could come spend your birthday with you grandpa, but it's too far away, and I can't walk with my heels to your place. Enjoy your birthday, thinking of you!
I will not fail to remind you how ugly you have become after a few birthdays; your look is scary. Hehehe. Happy Birthday.
Judging by the number of candles on your cake, it is easy to predict your age. The world is already overpopulated. hehehe. May you have many more.
The journey of life always start from being a kid, but looking at you and all that you have done, it's quite unbelievable that you have once been a kid. Heheheh happy birthday grandpa! I love you.
Happy Birthday, Grandpa. I hope you live longer than Methuselah. hehehe. You can do it.
Age is just a number because despite being my grandpa, you are as strong and clear headed as a young man that just left college.
Grandpa from Grandson
Here are some birthday wishes you can send to your grandfather as a grandson to make his day more special.
I hope our grand bond will grow stronger as you grow older grandpa. I am lucky to be the grandson of such an awesome man.
You are like a second father to me grandpa, you have been there for me all my life. Happy Birthday.
You represent all that is right and pure in my life grandpa; I hope you'll grow old enough to see your great grand-kids.
You created in me a man that will forever make you proud grandpa, thank you for being my greatest mentor. Enjoy your birthday.
You are an inspiration to me. I love you so much more than you can ever imagine. Happy Birthday.
You emulate the man I want to be someday grandpa, you are amazing, and I wish you the best as you celebrate more years to your life!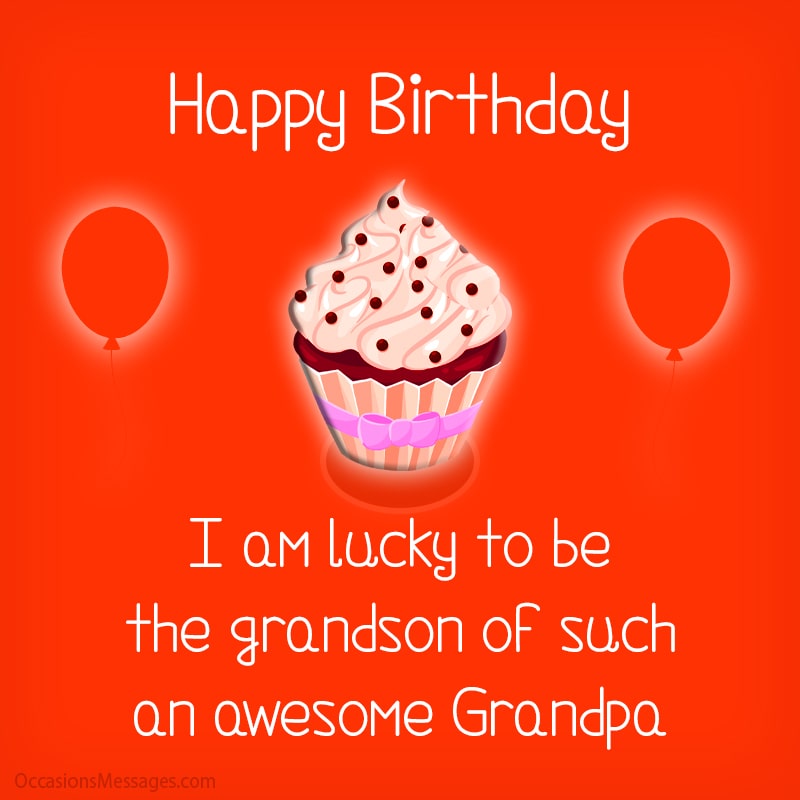 You make me want to be a better man grandfather, your advice and kind words definitely help. I wish you a long life.
You are a true definition of a man, you are kind, gentle and loving and I hope someday I'll grow up to be just like you. Enjoy your birthday grandfather!
Just as love never grow old, so shall your blessings and grace remain with you as in the times of your youth. Happy Birthday, granddad.
You correct me when I am wrong and show me the right way to behave as a man should. You are a legend grandfather, enjoy your birthday.
Grandpa from Granddaughter
As a granddaughter appreciate your grandfather on his birthday by one of the messages here and put a big smile on his face. For more options, see best list of birthday wishes for elderly person.
I know you keep forgetting who I am: I am your granddaughter and I love you so much. Enjoy your birthday grandpa.
I am the woman I am today because I have a very old grandpa who's educated me so much on life. Hope you live long.
I must be the luckiest lady in the world because I got to meet one of the most amazing men ever. Wishing you a great birthday granddad.
You are my hero; you taught me many things that have greatly impacted my life. I love you Grand Dad. Happy Birthday to you.
I love and appreciate you because you always have a way of making me smile. Thank you for all the laughs and giggles, I hope you enjoy your birthday grandpa!
I doubt that I will ever find a man as wise as you grandpa; I hope you live longer than any of us. I love you so much.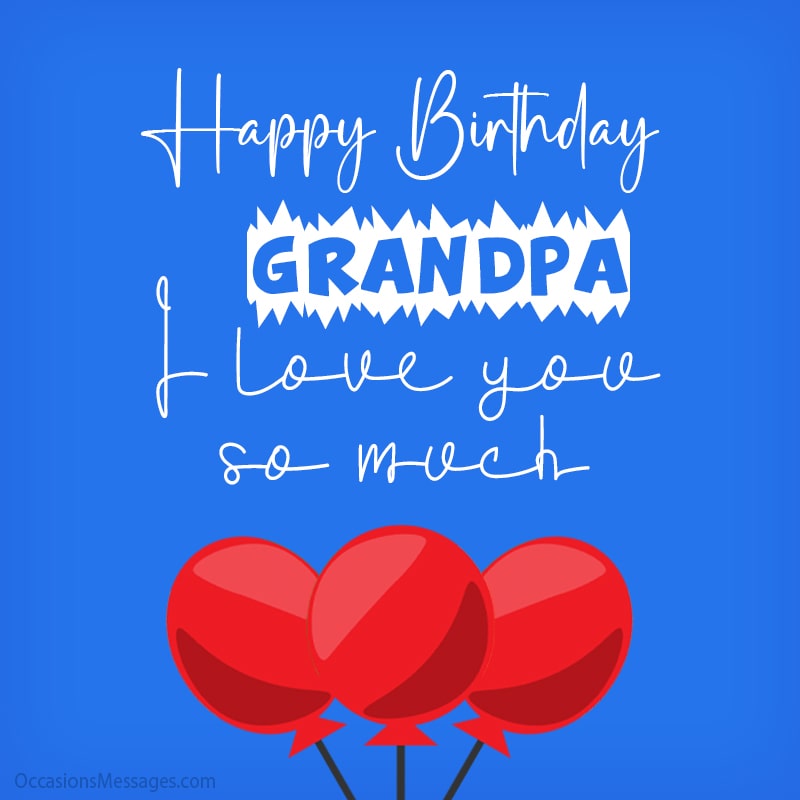 Your joy will never reach its limits. You will continue to experience a greater level of joy and peace. Happy Birthday, Grandpa.
Hope this new age come with all of the good things that life presents. Happy birthday, Grandpa.
Happy birthday grandfather! Your wisdom has made you an excellent teacher and an amazing friend. Stay awesome!
The name grandpa doesn't seem to do you justice. Anyways, have a great birthday indeed and keep the smiles' grandfather.
See More Options: Happy Birthday In Heaven Wishes
Birthday Messages for Grandfather
Use one of these cute, simple and heartfelt birthday messages for grandpa.
My world is only complete with you in it grandpa. It's only right that you celebrate this day to the fullest.
Having you around us till now is a great blessing from the Supreme Being, now we hope to have you around forever. Happy Birthday grandpa, stay young forever.
Grandfather, I know you have had many birthdays, but this will be the best one. Why? Because now, you have grandkids.
Your age has increased by one today, but you are still the same lovely and caring grandpa I knew since I was little.
Grandfather, you are so selfless. You have taken care of me so much as I was growing up. I am going to start taking care of you.
A good man like my granddad has a great character and not just a big wallet. You deserve the happiest birthday.
I know many people will tell you happy birthday but none of them are your grandkids! All jokes aside, we love you grandpa.
Accept my humble birthday gift grandpa; I love you so much, and I hope my love is enough to make you happy today.
You must be having the secret to staying young. I can't even imagine how it feels to have lived that long. Have a glorious birthday.
Grandpa, you are one of the few people I look up to for advice and direction, and you always direct me on the right path, so I cannot be less happy for your birthday.
Happy Birthday grandpa! I know that I have so much to learn in this long life. But you are indeed one of the best examples I want to be. You are awesome!
I only hope and pray that I live half as long as you have and still remain as strong as you. You are the coolest grandpa I know.
Checking the calendar was my obsession before today because it will be ridiculous to forget my lovely grandpa's birthday; I would not forgive myself.
You are an inspiration to me, and I am glad to be here as you blow out the candles on your birthday cake. Wishing you a long and happy life!
You have taken care of me when I was a baby. You used to tell me the best bedtime stories. Now I am going to do well to take care of you.
Today will be the best in the history of a birthday celebration because we will be having a special grandpa and grandchild moment like never before.
Dear grandpa, be ready for loud music and celebration with family members and friends, people see your birthday as an opportunity to say thank you.
Nobody gets out of this life alive, so it is essential to appreciate the people that matter the most to us in life like a grandpa on his birthday.
We think that you are one of the last men on earth. You are so tough and strong; I want to be just like you when I am older.
In this special day, I just want to thank you for everything you did for me, and tell you I love you with all my heart.
Dear grandfather, look around you and see the whole family together in your honor, ready and prepared to celebrate this day with you.
Granddad, you have told me many interesting stories. Some of the best ones are of my parents when they were babies. You are the best. I love you.
Dear grandfather. This is to let you know that I appreciate you and want to thank you for the teachings and guidance.
Happy Birthday grandpa! We are one of the best families around because of you! Thanks for being so freaking awesome!
You are my world wonder. I am honored to have you in my DNA. How you've made it this far amazes me. Happy birthday to you grandpa.
You are the best grandfather alive. I have already invited family and friends, so expect for a full house.
They say perfect people don't exist, but ever since I got to know you, you've never been anything short of a perfect man to me. Enjoy your old age.
The best thing that ever happens to me was getting to know you; a lot of my friends didn't grow up to know their grandparents. I'm happy to know you grandpa.
It is a widespread belief that grandparents are old, grumpy and wicked, but you have negated the theory as mentioned above, I consider you as a friend, shield and backbone.
As you start another long journey of 365 days, may you have the fortitude to withstand life's numerous challenges; your type of granddad is uncommon.
Life can be lonely when nobody cares about us, but I have a conviction without a doubt that you care about me. May you live many more years to continue your function as my granddad.
It is a lovely day; you have done it once more, growing a year older is not an easy task, congratulations grandfather.
Great men deserve high praise at intervals like on a birthday. You are the best grandpa ever, and I am proud of you.
Today is the world's best grandpa birthday, so you deserve an accolade as a well-deserved winner. Enjoy the fun and excitement
Happy Birthday, Your life taught me that the richest men are not very successful in life; a man has to be an exceptional citizen, father, and grandpa to be successful.
I hope that the world will see you for who you indeed are and will give you the respect you deserve on your birthday as the best grandpa.
Even as my grandpa you can still do things that young boys in their 20s cannot do, so you are new age shows no adverse effect on you.
As I look at my own father, it is clear to see that it takes a great man to raise a great man. Happy Birthday to the greatest Grandpa on earth!
You're the greatest storyteller and one of my dearest friends. Happy Birthday Grandpa! Cheers to another year for us to be friends!
Your hugs have healing powers and your stories have always made my day. I hope you have an awesome day.
Happy Birthday Grandpa. I wish the world had more men like you, but I am most grateful that I've spent many years to know you and to look up to you.
My greatest adventures are the ones I've had with you. I am happy to share one more year with you; one more year to discover the world with you.
You've never scared getting old and as we celebrate one more year added to your life, your boldness has continued to inspire me. I salute you.
I can't thank you enough for all you've done for my life. Grandfather, you're special and your love stays in my heart. Happiest of birthdays to you.
You are all the special things a grandfather could be. Words cannot sum up all the things you mean to me. Happy Birthday Granddaddy.
Happy Birthday Grandfather by Age
You might also want to wish your grandpa a happy birthday by age. Use one of these links below.
50th B'day | 55th B'day | 60th B'day | 70th B'day | 80th B'day | 90th B'day
SHARE ON