Happy 85th Birthday Wishes. Every culture throughout history has placed its aging people on a pedestal and prized their wisdom. By the time a person has reached their elder years, he or she has experienced all of life's joys and endured its tribulations. Too often in modern times we get caught up in the rush of daily responsibilities and distractions, and we forget to take time to let our aging relatives know how much we value the wisdom they have imparted to us.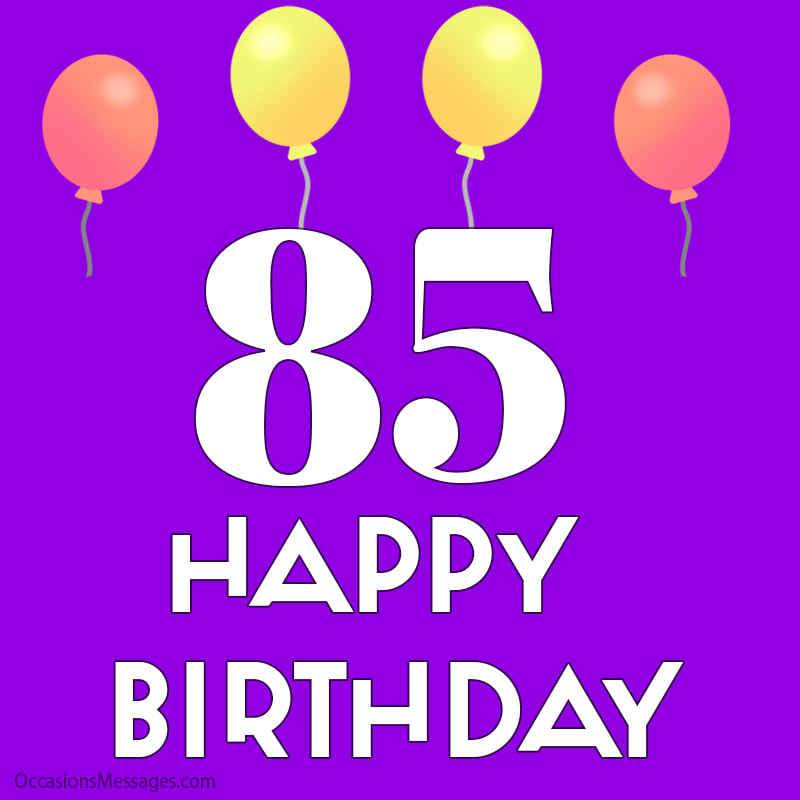 We can show our appreciation solemnly or with humor. Here are some happy 85th birthday messages that are perfect for paying homage to our aging loved ones on their 85th year here among us.
Sweet | Funny | Friend | Grandpa | Grandma
Happy 85th Birthday Wishes
Happy 85 Birthday. May you continue to inspire everyone around you with your zest for life.
Your 85-year journey has earned you the wisdom of ages. Have a great birthday!
Hey, 85 looks great on you! Cheers to another year of awesomeness!
No work. No kids. Sleeping late every day. 85 is like being a teenager again. Happy Birthday!
I want to be just like you when I get to be your age, except richer and better-looking. Happy 85th Birthday!
You've traveled a long road in life. You've witnessed all its bumps and beauty. Happy 85th Birthday.
You made it to 85. Jump for joy! OK, well maybe just lift up on your walker a little. Have a very happy birthday.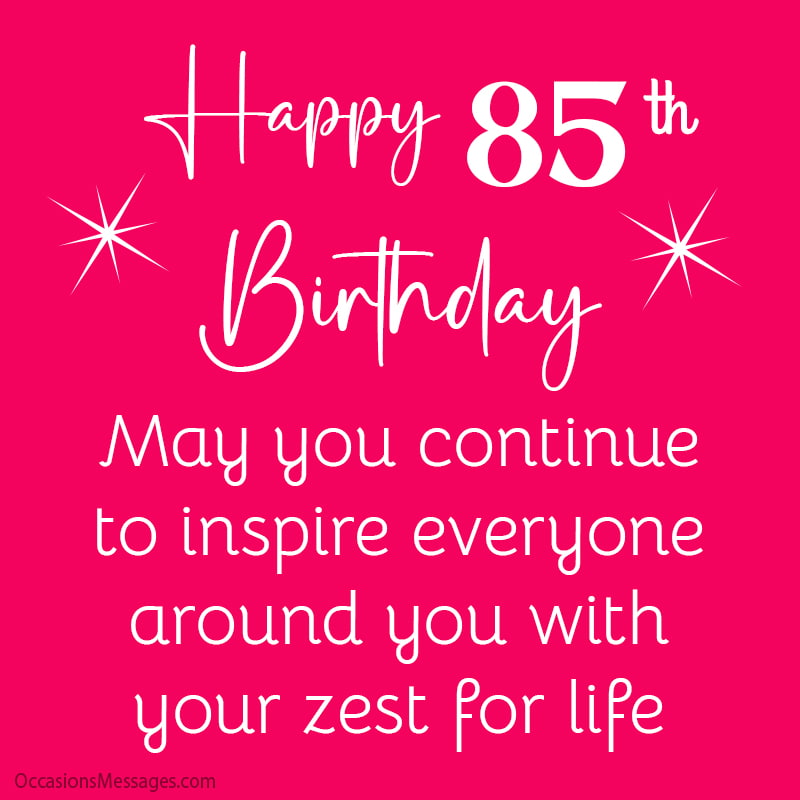 So you're 85 today, but who's counting? You're as energetic as a 25-year-old. Keep breaking those age stereotypes!
What's the secret sauce to looking fabulous at 85? Must be all those years of wisdom, love, and a sprinkle of fun.
Happy Birthday. Your 85th lap around the sun is complete, but you're far from done. Onward to another year of incredible you!
You've completed 85 years of awesome. That has got to be a record. Happy Birthday!
Hitting 85 is a big deal, but you make it look like a walk in the park. Happy Birthday to the coolest 85-year-old!
In your 80s you finally have the time to do what you've always wanted, but you don't want to do it anymore. Happy 85th Birthday!
At 85, you have made it through some tough times and come out ahead. You've earned every wrinkle. Happy 85th birthday!
Happy Birthday. At 85, you've got more than just years; you've got a legacy of love and wisdom.
At 85, you're not just living; you're thriving! Happiest of birthdays to you, and May your smile continue to light up rooms.
Reaching 85 is like getting a VIP pass to the Life Experience Club. You've earned it. Happy Birthday, you legend!
Funny 85th Birthday Messages
Happy 80th Birthday! The best part about being in your 80s is that you can hardly remember all the stupid things you've done over the years.
By 85 you learn to appreciate inner beauty, because there sure isn't much to look at on the outside. Have a beautiful birthday!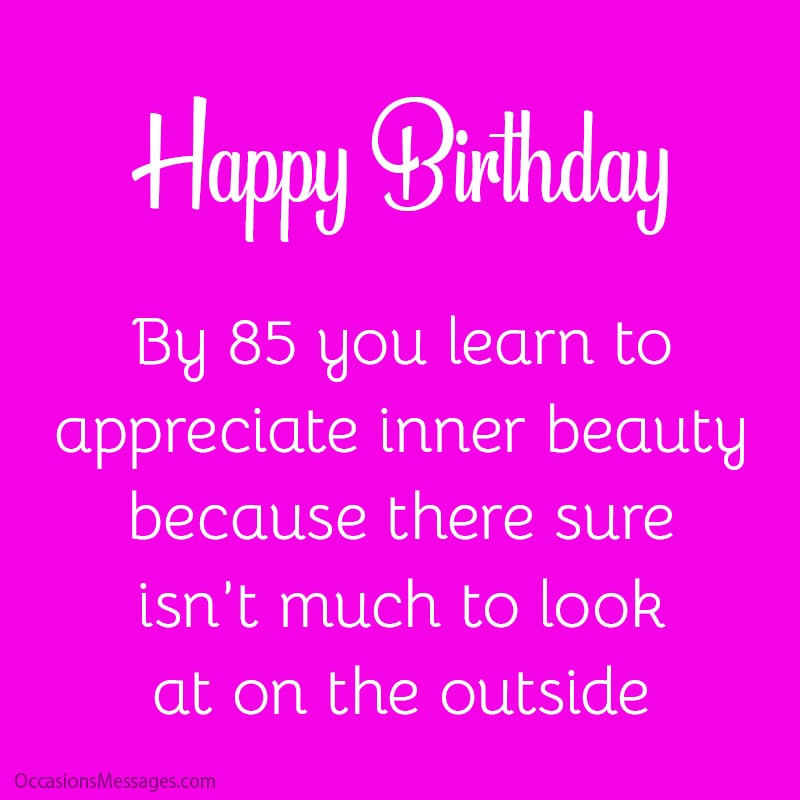 At 5 you're driven by enchantment, at 45 by ambition. At 85 you're driven by a motorized cart around the supermarket. Happy Birthday!
Nobody tells you what to do when you're 85. You wouldn't be able to hear them anyway. Have a great birthday!
Every day is a blessing. But by 85, each day can start to feel like a real pain the neck. Have a great birthday!
I wanted to send birthday wishes that made you feel young again. But the telegram shut down ages ago. Happy birthday, old timer!
When they told me you were an octogenarian, I thought you only ate squid and octopus. Happy 85th Birthday!
Happy 85th Birthday Friend
Happy 85th Birthday, friend. Your life's a canvas and at 85, it's a masterpiece! May you keep painting your dreams true for years to come.
With 85 years under your belt, you're basically a walking history book, a pretty cool one, at that. Happy Birthday!
Eighty-five and still awesome? Happy Birthday. You're the ultimate example that age is just a number.
Time flies when you're having fun, huh? Suddenly you're 85 and still dancing better than anyone. Have a blast today my best friend!
If 85 years have taught you anything, it's how to throw an epic birthday bash. Let's make this one count!
A remarkable 85 years lived, and yet, you're still the trendsetter of the family. Keep it up, fashionista!
You've hit 85 like a rock star hitting the stage. Let's make this birthday a standing ovation for you! Have a very happy birthday.
Recommended: Top 30+ Birthday Wishes for Friend
85th Birthday Wishes for Grandpa
Happy 85th Birthday to the finest grandpa in the whole world!
Grandpa, you always know how to make me smile when I'm feeling down. Have a happy 85th birthday!
Nobody can boast a more exceptional grandpa than mine! Have a super awesome 85th birthday, Grandpa!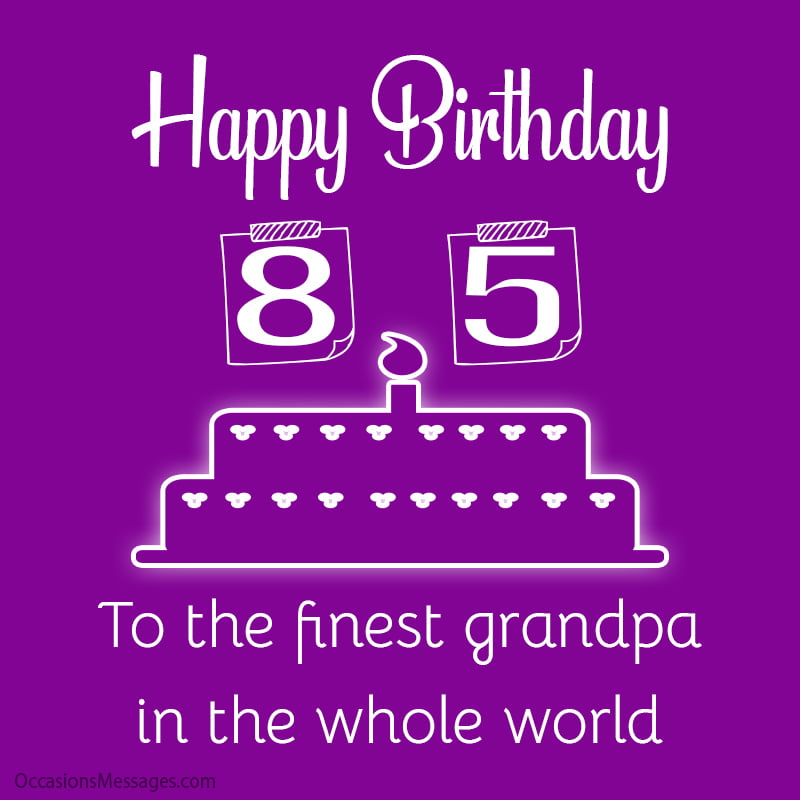 At 85, you've gathered so many stories, each one better than the last. Happy Birthday, you amazing raconteur!
Happy 85th birthday, Grandpa! You take the meaning of the word special to a whole new level!
I always know I'm going to have an amazing time when I'm with my grandpa. Happy 85th birthday!
Read More: Happy Birthday Grandfather Wishes
85th Birthday Wishes for Grandma
Happy 85th Birthday, Grandma! You know how to turn all of life's troubles into sunshine and rainbows.
There's no way to hide it, Grandma. Your awesomeness shines brightly! Happy 85th birthday!
Read More: Happy Birthday Grandmother Wishes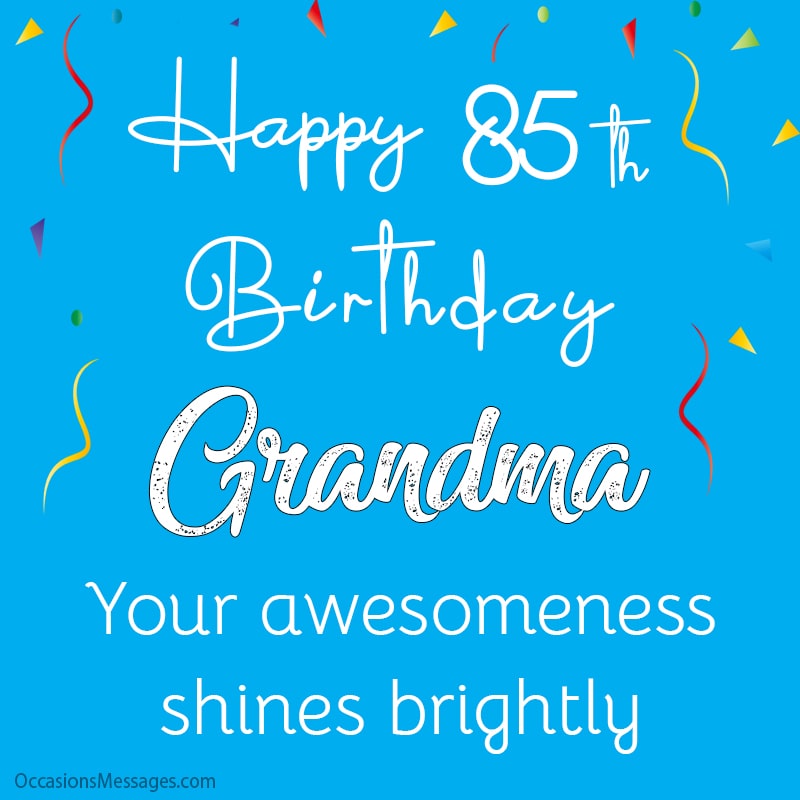 I don't know what I would do without my super grandma to keep me feeling on top of the world. Have a great 85th birthday!
Happy 85th Birthday, you marvel! You've got the charm and energy that people half your age envy. Keep turning heads!
I hope to one day be even half as amazing as my grandma. Happy Birthday!
Grandmas have the supernatural ability to fix every problem with an afternoon snack. Happy birthday, Grandmother!
See More Options: Happy 90th Birthday Wishes
Last Updated on November 17, 2023
SHARE ON