Happy Birthday in Heaven: It is always sad to lose a loved one. Nevertheless, we can keep their touch burning in our lives by recognizing occasions that mattered to them like their birthdays. Birthday wishes for those who passed away, It seems extravagant to observe a full blast party, but a heavenly birthday message on their social media page or to a close relative is not a bad idea.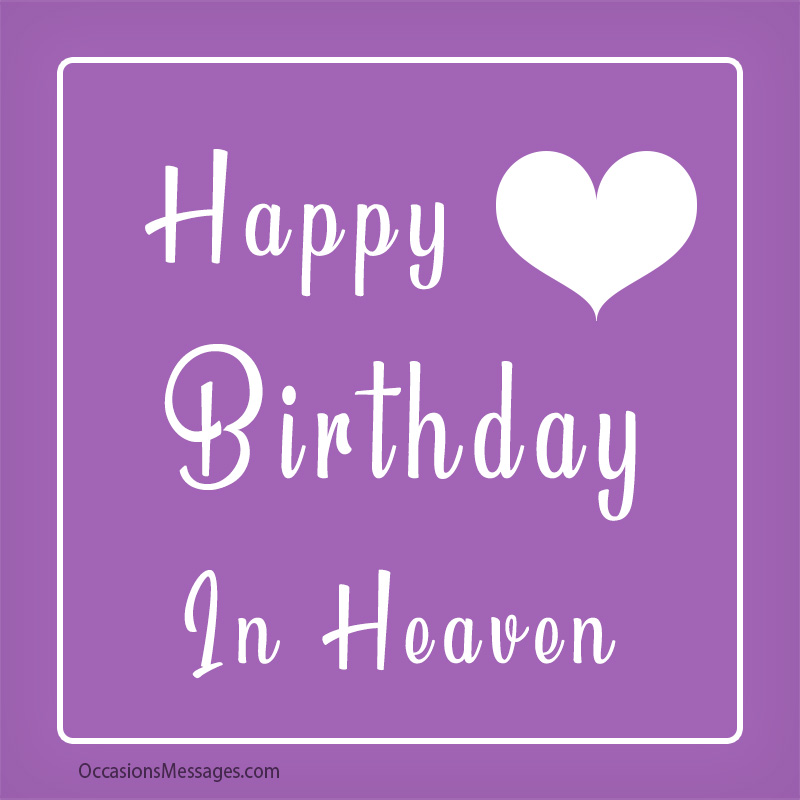 It may seem like a small gesture, but sending Happy Birthday wishes to our loved ones in heaven can bring us peace and comfort knowing that they are still with us in spirit. So, if you know someone who has lost a loved one and their birthday is coming up, take some time to send them Happy Birthday wishes in Heaven.
Heartfelt / Dad / Mom / Friend / Brother / Sister / Grandpa / Grandma / Husband / Wife
Happy Birthday in Heaven
Happy Birthday in heaven. I'm still blowing out the candles for you.
You are a year older today and despite you are in a better place, I wish you a very happy birthday in heaven!
Hope you enjoy our prayer for you from here. Wishing you a very happy birthday with angels.
Each year I wish I had the power to turn back the hands of time. I love you a lot, but heaven loves you more. Happy Birthday.
Just when we thought you were gone, here's another reminder. Happy Birthday! Heaven is lucky to have you.
I miss you so much, you deserve to keep having birthdays! Happy Birthday in paradise my love!
Happy Birthday in heaven. This is still your special day.
Happy Birthday. Did the angels up there remember? I hope they did. If they didn't, don't worry, I got you. Lots of love.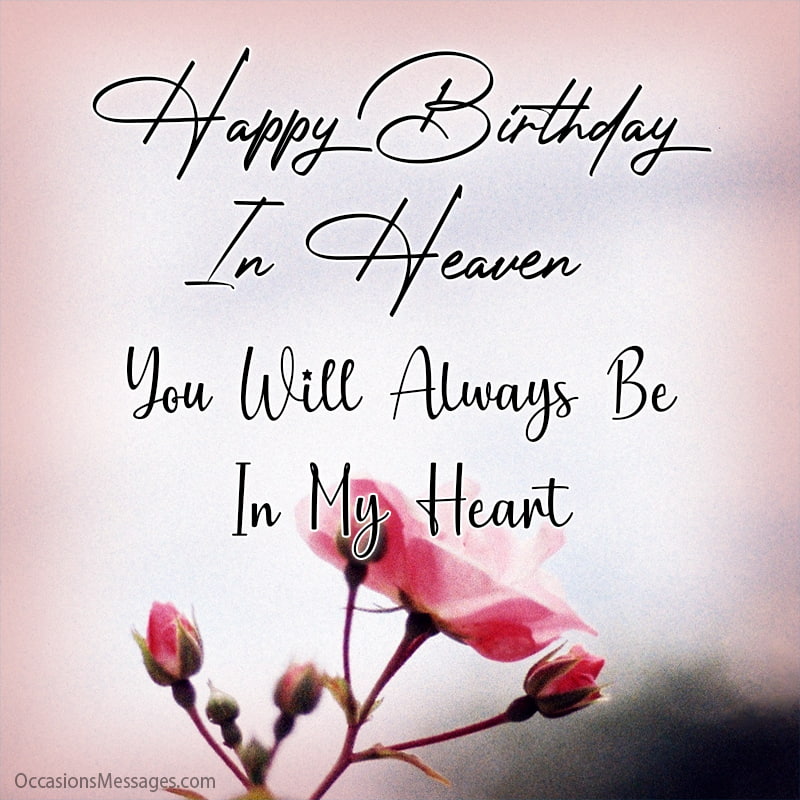 Happy Birthday to the angel that had to return to a lovely home, do not worry; we all will meet in no time. Have fun wherever you found yourself.
We are throwing a surprise party just for you. I bet you weren't expecting this one. Happy Heavenly Birthday.
Today is bright and beautiful, I guess people in heaven are already celebrating your birthday.
If you get any gifts I will enjoy them for both of us. I wish you a sweet Birthday in heaven!
While some people might be crying on your birthday, I choose to smile and reminisce on all the beautiful moments we spent together. Happy Birthday in paradise.
Best wishes to you on your special day. We going to party like nothing's changed. Happy Birthday!
I plan to do something special for the needy on your birthday because that was your routine when you were alive. I miss your caring and beautiful nature.
Don't worry you won't miss the party, we got you! Right in our hearts. May you have a beautiful birthday in heaven!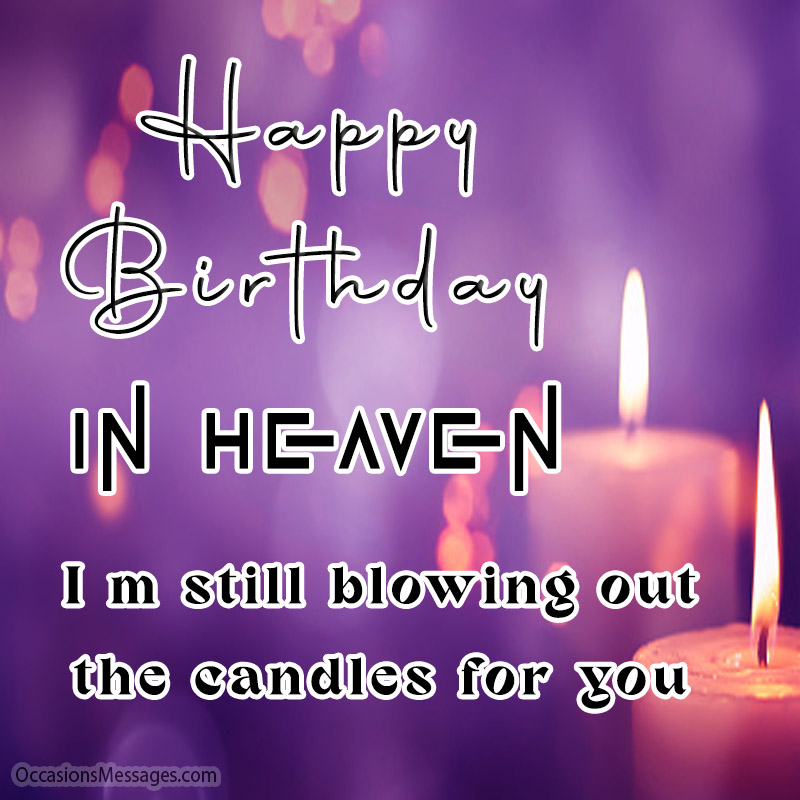 Happy Birthday in heaven; my heart skipped beats when you left me; nevertheless, you are in the best place to be on your birthday.
I am on earth and you are in heaven don't mean a thing on your birthday because you are the same lovely person and I have to say that I still love you.
Congratulations to a lovely birthday angel that departed to serve a higher purpose in heaven, nothing can make me forget you in this life and after.
Some people will cry their eyes off on your birthday because your lovely memory keeps flooding in, but I am different, those memories make me durable without you. Have a happy birthday with angels.
Birthday Wishes for Dad in Heaven
Happy Birthday in heaven to the greatest dad that ever lived.
Thank you and wishing you the best won't ever stop. Happy Birthday to you my dad in heaven!
Happy Birthday dad! Even though you're gone I'm still the luckiest son ever.
So glad I turned out just like you. I'll celebrate today for the both of us. Happy Heavenly Birthday dad.
Nothing feels the same without you around. Now I know how it feels to live without light in this dark world. I wish you a heavenly birthday cause that's where you are. Happy Birthday dad.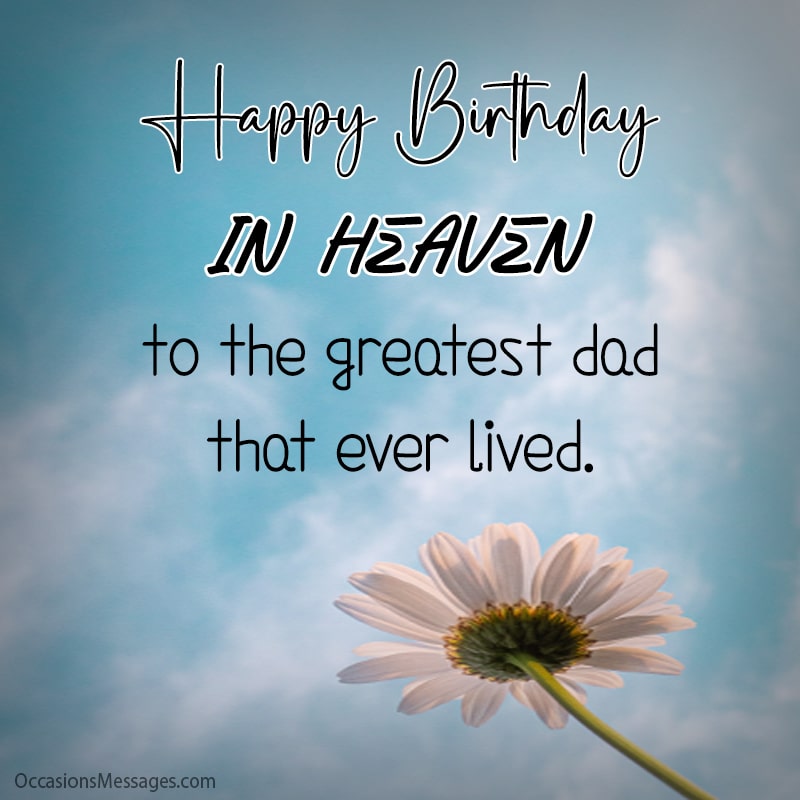 Dear daddy, I love you more now that you are gone. I would have done everything humanly possible to keep you. Happy Heavenly Birthday Dad.
I hope you are having the best birthday celebration in heaven, dad. The earth is already agog and ready to rejoice with you in our little way.
Remember to ask the angels at the heaven's kitchen to bake an enormous cake for your birthday party. Happy Birthday to you dad in heaven.
Related: 200+ Happy Birthday Wishes for Father
Birthday Wishes for Mom in Heaven
Happy Birthday in heaven mom! We are still giving you roses.
To my Angel aka Mom literally. Happy Heavenly Birthday.
Happy Birthday, mom. You were the best mom on earth before you left for heaven; I know you will also be the best over there.
You said you would be gone someday, but it feels like your still here. Happy Birthday mom.
No better way to celebrate you than to let you know I'm doing the things to make you proud. Missing you so much.
I find peace looking up at the sky on this special day of yours because I know you are among the stars, shining your light forever. Happy Birthday mom.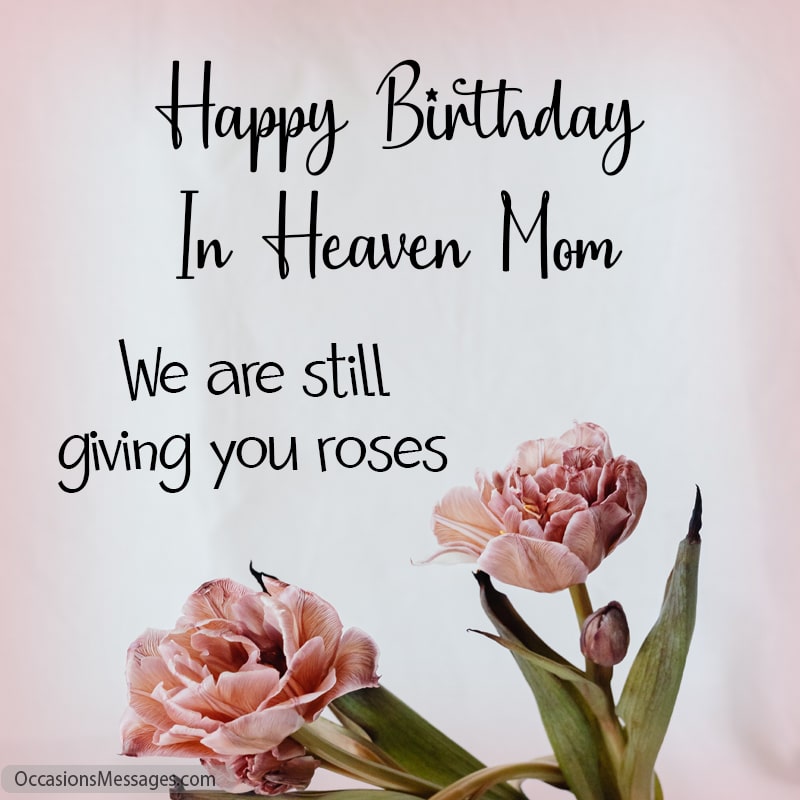 Happy Birthday in heaven mom. I miss you and I miss the beautiful birthdays you had and the way you handled yourself as a responsible mother.
I cannot forget you for a minute because you are the fuel that keeps my heart beating. Happy Heavenly Birthday mom. I can feel a mother's love in my veins.
Congratulations dear mother, on adding another year to your age. I miss you so much. May you have a wonderful day in heaven!
You taught me to give thanks to God in all situations, so I stopped bothering about why God took you away. Happy Birthday. May you have a good time in heaven.
Read Also: Best 200+ Birthday Messages for Mother
Birthday in Heaven Wishes for Friend
Happy Birthday in heaven, my friend. I told you we would always be besties.
Still my best! You haven't been replaced. Happy Heavenly Birthday friend!
Happy Birthday. Don't worry I'm going to celebrate like you still here.
This is the first time we partied in different places. Happy Birthday my best friend in heaven.
My birthday gift to you will be verbatim because we are far apart and in different worlds. I hope they also celebrate birthdays up in heaven my best friend.
Death is just a means to another better life and experience, so it does not stop me from wishing you have a very happy birthday in paradise, friend!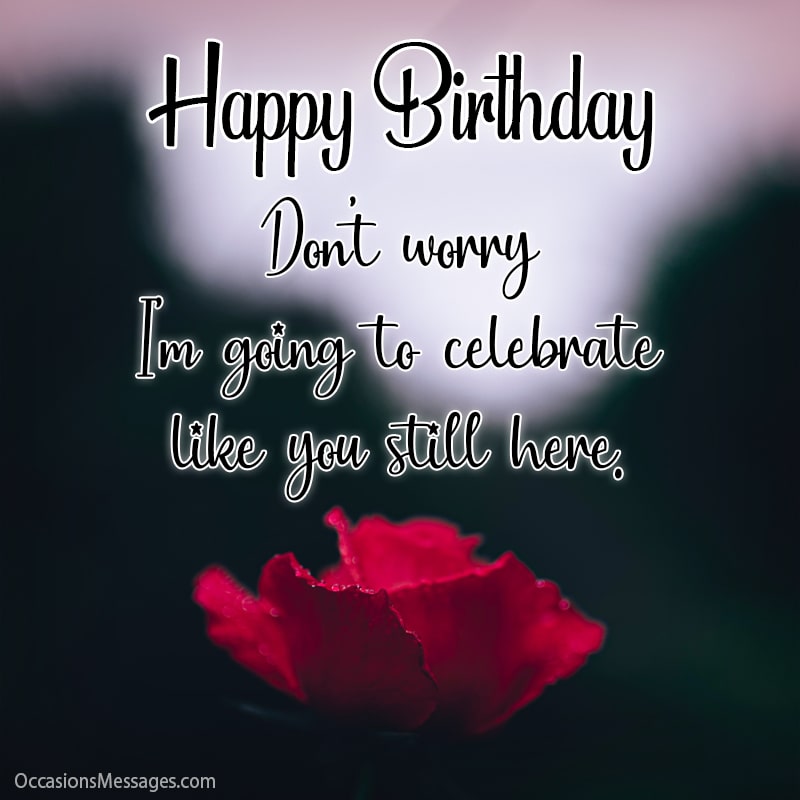 Birthday in Heaven Wishes for Brother
Hey brother. You've always loved a quiet and peaceful life. I'm sure you're getting your wish now. I'm still here though, causing a lot of noise, but I still miss you. Happy Birthday.
Happy Birthday in heaven brother. Each year the reminder of your absence hurts, but I'm sure you'd tell me to move on. I really miss you.
I will like to say a wish for you today but you are with God now and I know he will grant you everything your heart desires. Happy Birthday brother.
Remember how we used to have those quick fights on virtually everything? I wish we could have one last fight now. Happy Heavenly Birthday brother.
As long as the sun shines and stars beam their lights so you will remain forever in my heart. Happy Birthday brother in heaven!
Everybody's clock stops ticking whenever God wants, so I did not curse when I heard the news of your demise. Happy Birthday in heaven. Happy Birthday in heaven brother.
Birthday in Heaven Wishes for Sister
Happy Birthday in heaven sister. You're a beautiful soul, and I know you're currently filling heaven with all your goodness. I'll always love you.
Happy Birthday to the one I shared all I have with: my thoughts, secrets, fears, joy, makeup and even clothes with. Even now, I'm sending my best wishes for you to heaven.
On this special day, I am wishing you an angelic wish cause that's what you are. And I also wish that the angels celebrate this day with you in heaven. Happy Birthday, Sister.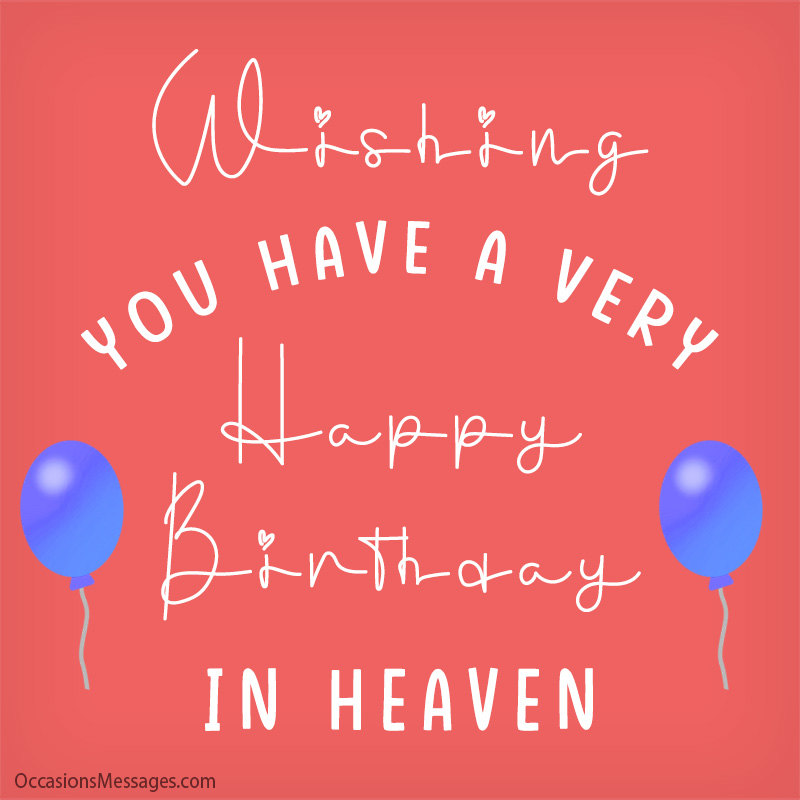 I took your stuff without permission but it wasn't stealing. I loved to punch you hard some days yet I always wanted you by my side. To my greatest paradox, even up there in the skies, Happy Birthday!
I played your favorite song this morning and I wish you are here to dance with me on your special day. However, I hope everyone dances with you in heaven. Happy birthday to a dear sister in heaven.
You were born and immediately you became my closest friend. We were a strange bunch weren't we? I miss you.
Happy Birthday Grandpa in Heaven
I still see you in my dreams and wake up smiling because you always look happy in heaven. Happy Birthday grandpa, you are ever in our heart.
Happy Birthday in heaven grandpa! I still got all those wise nuggets you left me, and your stories make me muse a lot about life. You were indeed amazing.
I cry whenever I remember that you are gone but your birthday brings so much joy. Happy Heavenly Birthday, I miss you so much.
I'm with Grandma and we're both sending you lots of love on this day. Even in Heaven, continue to spread your good cheer. Happy Birthday Grandpa.
If only you could see my mind straight down from heaven, you will discover that the void that your demise caused cannot be filled by anyone else. Happy Birthday in heaven grandpa
It is another birthday of yours, but you will celebrate without me this time around, I miss our grandfather and grandchild moments. Happy Birthday in paradise.
Happy Birthday Grandma in Heaven
You told the best stories. I miss your voice and the emotions in them. You are and will always be an invaluable gem. Happy Birthday Grandma, I wish you a peaceful rest.
Happy Birthday to the most amazing Grandma in the whole world. Though you're gone now, there's no one that can ever take that title away from you. Have a wonderful birthday in Heaven.
I sometimes wish you're not gone, but I guess God needs you more than I do. Happy Birthday in heaven, grandma.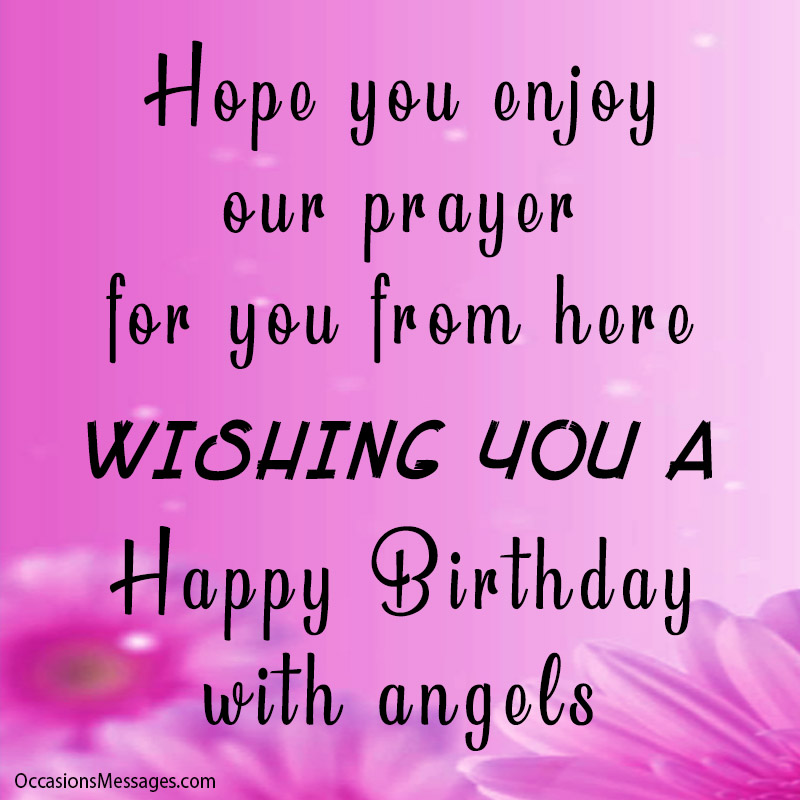 You did your bit as a responsible grandma before departing to your final resting place, where there is no sorrow and death. Happy Birthday in heaven grandma.
Happy Birthday, Grandmother. You taught me the most valuable life lessons and raised me to be who I've become today. Keep resting in His arms forever cause you deserve that peace.
Happy Birthday to you sweet grandma in heaven. I will neglect my sorrows and celebrate your birthday like there is no tomorrow.
Read More: Best Birthday Wishes for Everyone
Happy Birthday in Heaven Husband
How did you do it? Bearing all those responsibilities and still being sane! You were indeed strong not just physically but at heart too. Happy Birthday in heaven, husband. Rest secure in your Creator's arms.
You died but I am sure you are always here to watch over me. You are my guardian angel and I can feel every bit of your presence around me. Happy Birthday to my husband in heaven.
Even though you are not here, your thoughts of you linger in my heart forever. Happy Birthday husband in heaven. You are definitely irreplaceable in my heart.
You said we were going to last forever but you left before forever could come. It hurts but I'm bringing myself to terms with it. Happy Birthday my chocolate candy. Rest in eternal peace.
If God could grant me a wish today, I wish that He brings you back because I miss you every day. Happy Birthday to my dear husband in heaven.
You're somewhere watching over me in the sky. Though I miss you the most today, I'm confident you've got my back. Happy Birthday in heaven, my king.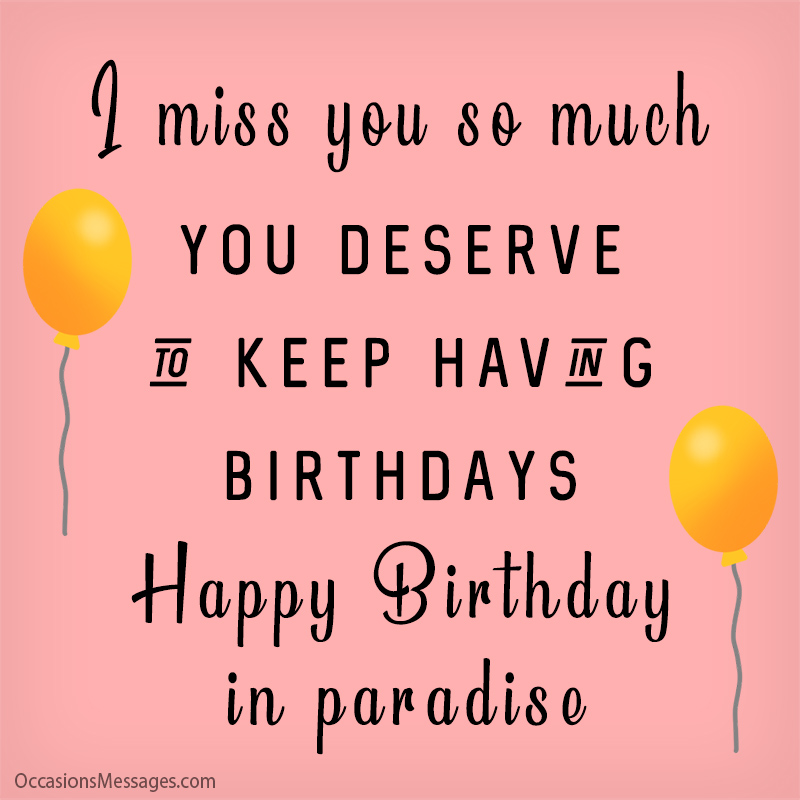 Happy Birthday in Heaven Wife
From the kids and I, we wish you a very Happy Birthday sweetheart. Life seems a mess without you, but we'll pull through. I will always love you.
You are an inseparable part of me, and I really wish to talk to you. However, I know heaven listens and they will deliver my message to you. Happy Birthday my wife in heaven.
I miss you is an understatement, the memories we had together will forever live on in my heart. Happy Birthday wife and I hope heaven celebrates with you today.
We'd promised we wouldn't leave each other, yet I watched you leave. It's another year without your smile. I wish you were here. Happy birthday in heaven, my queen.
I miss you more as each day comes by, moments with you feel endless and the memories of you I will cherish forever. Happy birthday my dear wife.
The kids miss you greatly and I also have been left miserable. You meant the world to me sweetheart, and you still do. Happy Birthday in heaven, my love.
Losing a loved one is never easy, especially when it's someone who held a special place in our heart. Their absence leaves a void that is impossible to fill, and special occasions like birthdays make us miss them even more. But what if I told you that even though they are no longer with us, we can still celebrate their life and keep their memories alive? Yes, we can do that by sending them Happy Birthday wishes in heaven. Though they may not be with us physically, we can honor their memory by taking a moment to reflect on the happy times we shared and sending them birthday greetings that express how much we still love and miss them.
SHARE ON