Birthday wishes go a long way in making someone's birthday special. If you are lucky enough to have a 60 year old in your life, then never let their birthday go without sending them a card to tell them how much you appreciate them and how important they are to you.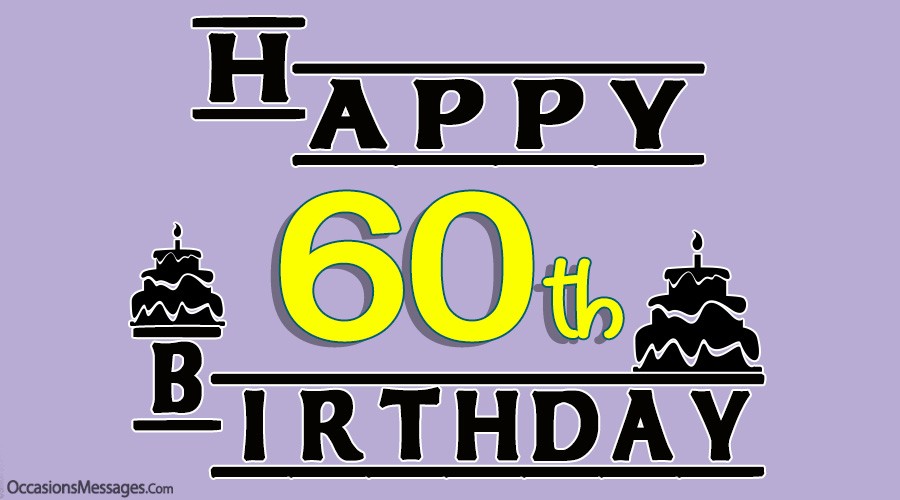 Birthday messages go a long way in reminding someone that they are on your mind constantly, birthday messages should be heartfelt, special and exciting so as to bring out the love from those around. Here are some birthday messages you can send to a 60 year-old to show them how much you love and care for them.
Birthday Wishes for 60-Year-Olds
It is really a rare privilege to be this old, God has blessed you among many other people on the face of the earth, we must thank him for his kindness. Happy 60th birthday.
Happy 60th birthday! What do I wish for you? I wish for an awesome rest of your life. Keep showing people how wrong they are to doubt your awesomeness.
Wow. You are 60 years old?! It doesn't feel like it. Nor does it look like it. Happy birthday!
Happy 60th birthday, I wouldn't want to be anywhere else but here, thank you for being a big part in my life.
It's your 60th birthday, so dye all that white hair, put on your best clothes and go have some fun. May you live longer than them all.
Happy 60th birthday old timer, you are someone I like very much and I hope to keep close. I love you and hope you blow more and more candles.
May you enjoy good and sound health as you clock 60 today, may you never see the need to visit hospital often mom. Enjoy your special day, we love you so much.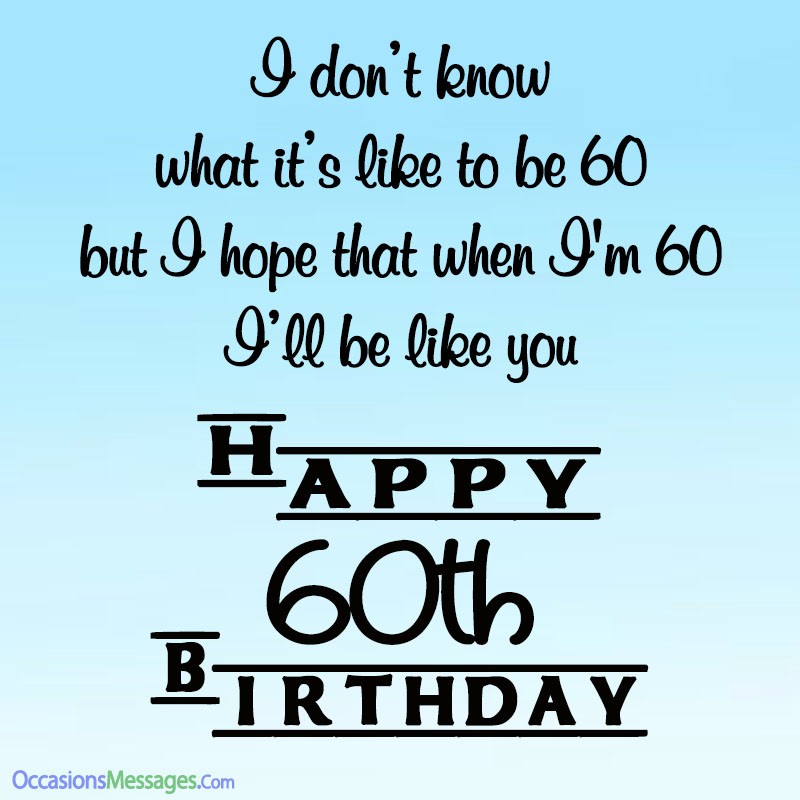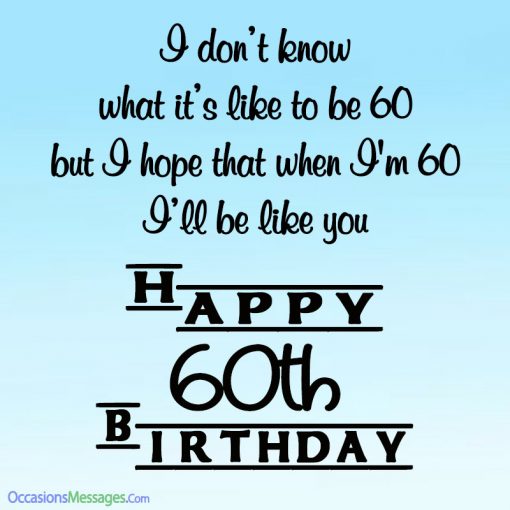 I don't know what it's like to be 60 but I hope that when I'm 60, I'll be like you. Happy 60th birthday to the coolest old guy I know.
This is an incredible time to be alive. Just because we are 60 doesn't mean we can party it up. Happy birthday!
I love you loveable 60 year old, you make each day memorable and I love the advice you give. I hope you grow older my friend.
I look up to you and I hope you make the most out of the day, live and have fun old timer, you are grand and I love that.
You are such a role model to me as you lived a long life that is more impressive than the life of ten different men. You gave me so many lessons and I thank you.
Happy 60th birthday! I know you are not as young as you once were but you are going to party like an animal today. Let's do it!
Your words will always ring in my ear and I will always listen to them over and over again in my brain whenever I want to relax. You're such an inspiration. Happy 60th birthday sir.
Happy 60th birthday oldie, you make me feel happy inside and I am glad to be getting a piece of your 60th birthday cake.
Happy birthday oldie, you are now 60, write a new chapter and make more exciting than the last, I will always be here for you.
It seems you have a plot whenever you reached a landmark of age. When you clocked 50, you established a school. I can't wait to know the plot this time around. Happy 60th birthday dad.
What can I possibly say or do to make this day even more special to you, I hope I live as long as you have; I love that I can still rely on you for anything. Happy 60th grandpa'!
How glad am I to be sharing your 60th birthday today, you have taught me a lot and I hope you enjoy this day and all the gifts it has to offer.
The path to adulthood seems to be slow, but the path to old age seems to be very fast, it's really unbelievable my wife is sixty today. Happy 60th birthday my one and only love.
For a Friend
To have spent 60 years is worth commending, you've achieved a lot through the years, and I'm proud of your numerous achievements in life. Happy 60th birthday my friend.
Knowing you attract benefits I don't intend losing anytime soon and you've impacted me in different ways; I just can't help but celebrate your 60th birthday.
You are the coolest 60 year old I know and I am happy to be part of this day. Make great memories, live love and have a beautiful birthday dear friend.
You don't look a day older; you are more youthful than ever, you bring out the best in me and for that I thank you a lot. Have a nice day my friend!
Happy 60th birthday my friend. You have been around for such a long time and I always smile when I hear some of your crazy stories. Thank you for all of it!
For Grandpa
When I look at you and your age, I could see that there's virtually no correlation. Now I see why you have lived life in a good way. Happy 60th birthday grandpa. Have fun.
It's time to create that bucket list if you haven't already. I don't know what your list is going to look like but I am curious about it. Have a cute day dear grandfather.
I am glad and at the same time sad to see that you are getting really old and one day I might not see you anymore. May that day never come.
A 60-year-old man have seen it all and the truth is youthful ones must always listen to advice and counsels. I will never cease from listen to you. Happy 60th birthday grand pa.
Many people prayed for it but they couldn't have it. We are glad to still be with you up till this age. May you witness many more. Happy 60th birthday grandfather. Enjoy your old age.
For Grandma
It's your 60th birthday grandma; you are growing old in a young way. Have a great birthday and a sweet rest of your life. I love your wisdom and great advice and hope to inherit them all.
Thanks to grand ma that we have the best mother in the world, she has transferred the care you gave to her unto us. We are eternally grateful. Happy 60th birthday sweet grand ma.
Happy 60th Birthday old geezer, you are a good and amazing woman and I hope you know how valuable you are. Have a great birthday my dear grandmother, I love you so much!
You have lived an epic life, one filled with stories and crazy adventures. It's been a blast and let's go out with a bang. Happy 60th birthday grandmother.
Great women live a long and honorable life, you are a great woman and I am happy to be a part of your 60th birthday. May you live longer so I can earn more of your wisdom.
Best 60th Birthday Wishes
It's your 60th birthday, my only hope that this day brings you so much joy and cheer that you smile that youthful smile that makes me want to be just like you when I turn your age.
60 years? Now I know why I always go to you for advice. You have sixty years of life experience that can be replicated. Happy birthday!
I always enjoy our talks about the past. Hearing some of your stories makes me want to live life to the fullest. You're my inspiration.
This is the club people enter without invitation or initiation; I want to welcome you to the group of people that are getting old. Have fun staying.
I think cuteness will naturally be found in your blood because you seem never to really get old no matter how fast those numbers count. Happy 60th birthday sweet mom. Keep being beautiful.
I like being around you, I always learn so much and I hope you know how amazingly amazing you are to me. Have a hearty birthday and a grand time as you celebrate 60.
Take the day off and just count your blessings, I am sure at 60 there is a lot to be thankful for, I am thankful for you old timer, happy birthday!!
This is going to be an awesome party. The 60th birthday means you are sixty years young! All jokes aside, you look great and I wish you the best.
For your 60th birthday, I hope you have the cleanest bill of health and that nothing else matters. Keep living and make yourself a legend.
You have redefined what a sixty years old person should look like with your young and magnificent look. Happy 60th birthday dad. Enjoy every bit of this year.
Happy birthday to the only 60 year old person who knows me well enough to know what I do, when I do it and how I do, I highly appreciate you old timer!
I love you so much and I hope you know that, I am glad to be a part of you. Have a hearty birthday and may all your wishes come true.
Happy 60th birthday my friend. We may be old dogs but it doesn't stop us from going. I love you. You've been around for a long time and I will be here for you.
This is time to make our voices be heard as we take a turn into our final act. We get to make this an awesome 60th birthday. Enjoy my friend.
The mark of 60 is diamond. We must appreciate God for keeping the man we love till this moment. Happy 60th birthday to my love and the father of my children. Stay blessed.
No one wants to get old, but we love the fact that we got to stay at home eating good food and reading the paper. Enjoy your getting old my friend.
Happy 60th birthday buddy! Did you know that when you become 60, everyone listens to you and thinks you are the best? Well, surprise!
Last year when I clocked 60 you kept on making fun of me, but today it's my turn to make fun of you. heheheh. Welcome to the group. Enjoy your stay buddy.
A birthday is another day but at this point, it feels like just another day. Happy 60th birthday! If you were to wish for anything in the whole wide world, what would it be?
Your beauty works like magic, it made dad stay glued to you wherever you go, I can't stop laughing when I see him gaze at you. He really loves you. Happy 60th birthday charming mom.
You are such a great old man; every youth wants to listen to you because you always want them to learn from your endless experience. We wish you many more years.
To the mother of all mothers we celebrate you, it is still unbelievable how you have so much motherly control over our mom, we love you grand ma.
I always wonder why dad keeps going to the gym from age 50, now I understand he doesn't want to get old. Heheheh. Happy 60th birthday dad, you are still looking younger though.
You are God's gift to our family, you made the family name and all that it is known to be today is your handy work. Happy 60th birthday grand pa. I wish you long life and health.
You're 60 today and still keeping it real, I envy your tenacity to have overcome numerous life challenges as they surfaced. I'm proud of you.
Every day spent alive is a blessing because we're not promised tomorrow, having spent 60 years is worth commending, may it be the best of your years.