Happy 80th Birthday Wishes: A lot of people are not lucky enough to reach their prime age, and those that do sometimes feel too tired to celebrate the day. If you know of someone who is turning 80 years soon, then these messages are for you. Appreciating the old is something we should do more often because they are the ones who have lived long enough to really tell you how much change there has been over the past couple of years. So no matter who they are to you, your grandparent, your friend, or just a grumpy old neighbor who screams at you to get off their freshly mowed lawn, choose one of the messages below and send it to them and put a smile on their old faces.
Happy 80th Birthday Wishes
Happy 80th Birthday! May the good God help you live stronger and healthier.
I wish you many years ahead with strength, grace and perfect health. Happy Birthday, 80-year-old!
Age is bliss, and you age gracefully each time we celebrate your birthday. Happy 80th Birthday my dear, you are a gem.
May this day bring you immeasurable joy, health and a lot of cheerful moments. Have a hearty 80th birthday.
Happy 80th Birthday. Love, joy, and peace will never depart from your dwellings from now and forever more. I love you.
You are better than the best and I am definitely lucky to get the chance to linger in your life, have a bright and happy 80th birthday.
Happy 80th Birthday. You are a blessing to me and to all those who've had the chance to get to know you.
You are more precious to me than life itself, thank you for always making me smile my adorable 80 year old friend.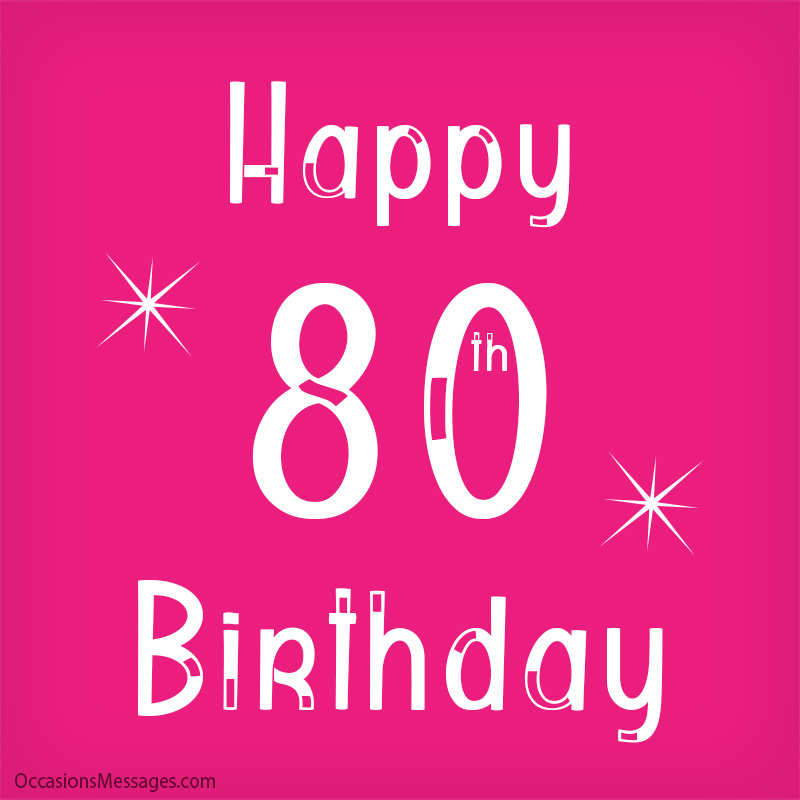 I celebrate you with great joy and peace; you are a rare gem to come by. Happy 80th Birthday.
I know you are usually grumpy old geezer, but it's your 80th birthday, enjoy each moment like it's your last.
You shall continue to glow and enjoy good health even as you clock 80. I wish you all the right things in life now and forever. Amen.
I wish you could see through my heart to see how much love I have for you; your birthday is a perfect chance for me to let you know.
Birthday parties should be in a grand style, so I am counting on you to come up with something sweet.
You are a great person and an inspiration to many that is why we celebrate your 80th birthday with you today. Enjoy each moment.
May your 80th birthday be the best one yet; I love celebrating you and today is no exception. Enjoy your day!
May the best of your today's be the worst of your tomorrows my sweet adorable 80 year old grandpa, I hope someday I can be as happy as you.
Someone once told me that 80 is the new 30, have an enjoyable time as you celebrate your birthday old timer. You are blessed.
Growing old with you is all I've ever wanted, have a great 80th birthday and may all the desires of your heart make you smile today.
It's a wonderful day to celebrate a wonderful person such as yourself, have an amazing 80th birthday, and may all the desires of your heart be met.
More Options: Best Birthday Wishes for Husband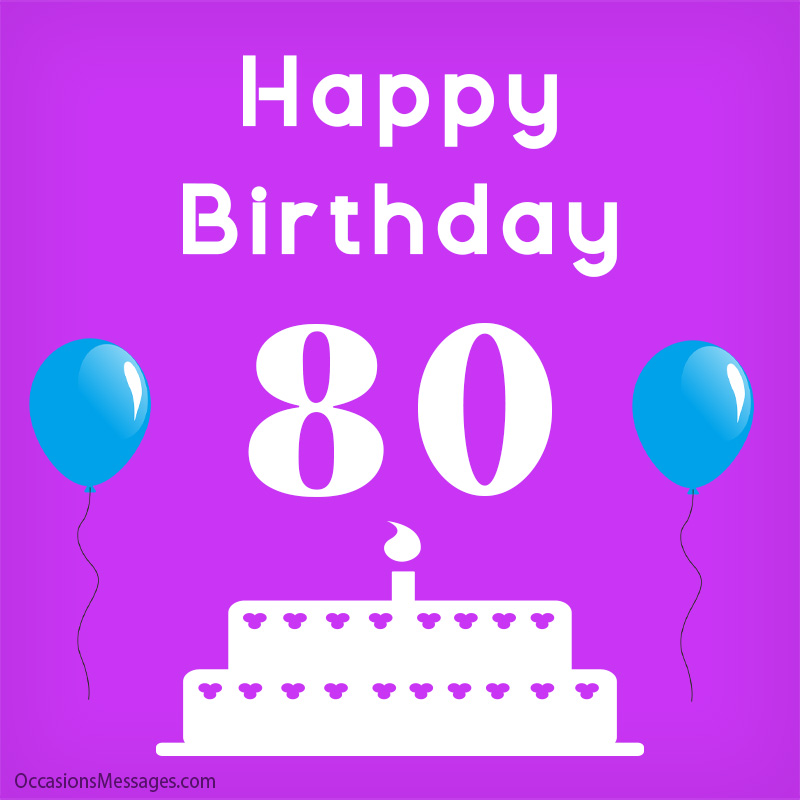 I can see you are growing older my dear, 80 is a beautiful age full of blessings and a lot of happy and cheerful moments. May each second of your birthday be the best.
As you celebrate your 80th birthday today, God shall multiply your joy, peace, and happiness. You are a blessing to us all. Have a glorious 80th Birthday.
You still live life to the fullest even at this ancient times. You are an inspiration to many. I love you and Happy Birthday.
Happy 80th birthday my beautiful grandmother, I thank God for you each and every day, you are a blessing to me and to my life.
Your wisdom and strength are a support to many, continue flowing in God's many support and grace. I love you, Daddy. Happy 80th Birthday.
You've taught me a lot of things, you've shared your wisdom with me freely, I thank you for that my 80 year old friend. May you live longer.
You are a helper to many; your life has been an excellent source of motivation for all those who live close to you. I love you. Happy 80th Birthday.
Your life will remain in you fully; you will never be sad in your life. Happiness and grace will continue to be your portion for the remaining part of your life.
Read More: Happy Birthday Messages for Wife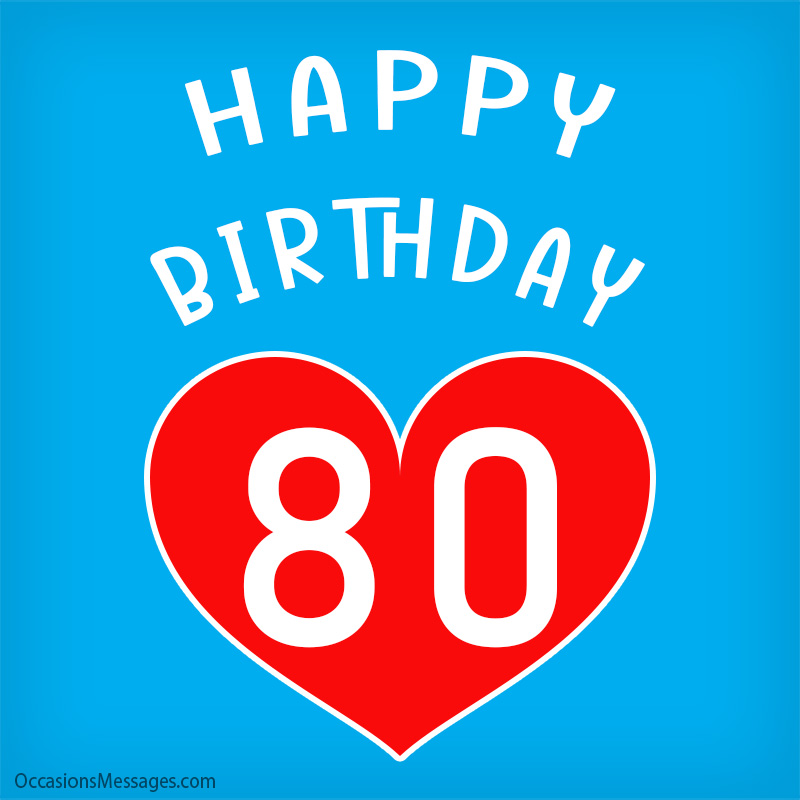 You shall be replenished with full strength, grace and happiness. Nothing shall lose from your health even as you grow older. I love you. Happy 80th Birthday.
As you clock 80 today, I wish you joy, full strength, good health and peace all the many more days of your life on earth. Happy 80th Birthday to you!
We will definitely bring our time back today, you were always such a wild young lady and I hope that hasn't changed. Enjoy your 80th dear.
Each day with you is an opportunity for me to learn something new, today, I'll learn how to party at 80; I really have high hopes today.
Age has been a friend to you and I am happy it's given me the chance to see you at 80, have a great birthday darling, you are amazing.
You do not only inspire, but you also help people know the way to go after they are inspired. I am where I am today because of your help. God shall continue to shower on you more strength and happiness. Happy Birthday.
People Also Liked: Happy 90th Birthday Wishes
SHARE ON