Happy 50th Birthday Wishes: Messages for a new 50 year old can be the best way to welcome them into this new chapter of their life. Birthdays are special times when you have everyone who means the world to you and being there as such a special person means a lot. Think of the person and what you would like to hear on your birthday and trust me. He or she wants to hear the same thing when they turn older; here are some happy 50th birthday wishes you can send to a new 50 year-old to wish them the happiest of time as they turn a new age with a pure heart.
Happy 50th Birthday Wishes
Happy 50th Birthday to the most beautiful person I have ever met.
Roses are red and violets are blue, no one is better than you. Happy 50th Birthday to you.
Goodbye 49 and hello 50. I wish you a very happy birthday.
You are under arrest for being too sexy as you hijack the hearts of all the young ladies. Happy 50th Birthday.
Happy Birthday. You are still awesome at the age of 50, I just say wow.
This is a special wish to a special person on this special day, may you have the best of everything as you turn 50.
It's your 50th birthday and might I say you look younger than ever. Happy Birthday my dear.
Happy 50th Birthday my dear, you are a great person and having you here more is the best gift I can ever have.
The privilege of clocking this age seems to be yours, but indeed it is ours, we are so glad to have you. Happy 50th Birthday.
Oh I almost forgot it's your birthday, I'm sure you can't even remember that. hehehe. Happy 50th Birthday buddy.
On your mark, get ready and go! You are fifty. It's unbelievable, now let's go to a hundred, it's achieve able. Happy Birthday, love you.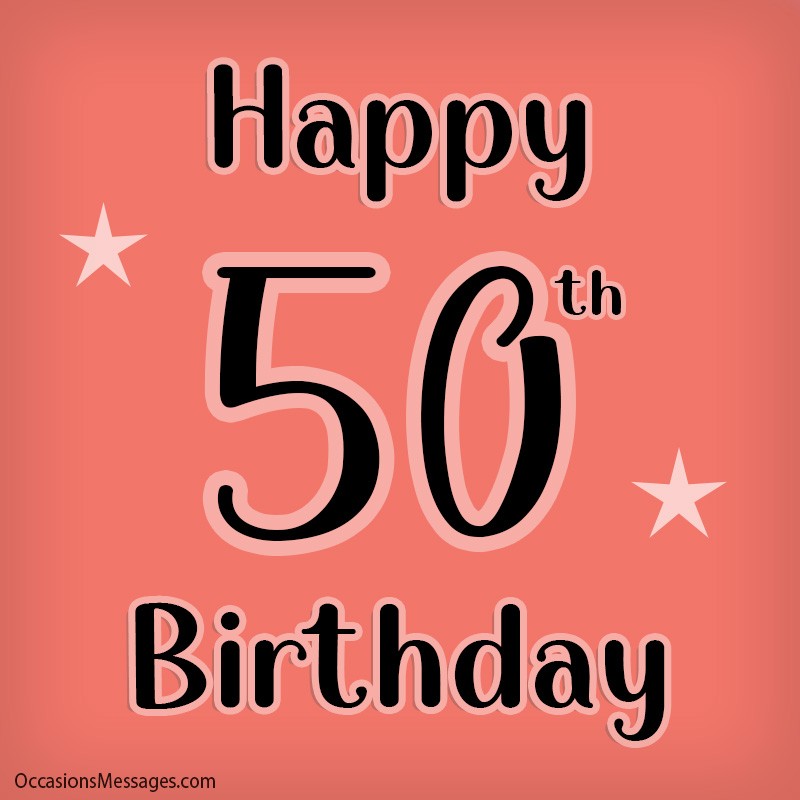 It's your 50th birthday and I couldn't be more happier sharing this day with you, you are a diva and deserve the best that life has to offer.
Happy Birthday. May your 50th birthday shine like the golden color.
Have fun on your 50th birthday party, enjoy life, live, laugh and fall in love all over again. Hearty birthday!
Happy 50th birthday my chocolaty uncle, besides sweets, you are my most preferred choice.
Happy 50th birthday. Wishing your special day, blessed with beautiful sunshine, happiness, smiles, and peace.
The less you respond to the negative thoughts, the more peace you find in your life. Happy 50th birthday.
Time is everything truly, but I always wonder how you develop to this kind of admirable person. I hope I can develop into something close to this. Happy 50th Birthday.
The best wishes for a good father on his 50th birthday will be to have a long life, good health, good life and lovely night with his wife. Hehehehe.
You are the man you wanted to become when you were a little boy and now I hope you feel even greater for everything you've achieved in life. Have an awesome 50th birthday my friend.
I wish you good things, great times and unforgettable moments as you share your 50th birthday with the one you love. Enjoy each and every second.
I can see the old wrinkles come on that beautiful 50 year-old face of yours, just kidding. Age is bliss, and you are growing old blissfully, may you experience the same peace.
Everyone needs a guardian, they can have it, everyone needs a mentor, but not everyone will have it. I'm honored to have you. Happy Birthday.
Read Also: Top 90 Birthday Wishes for Grandpa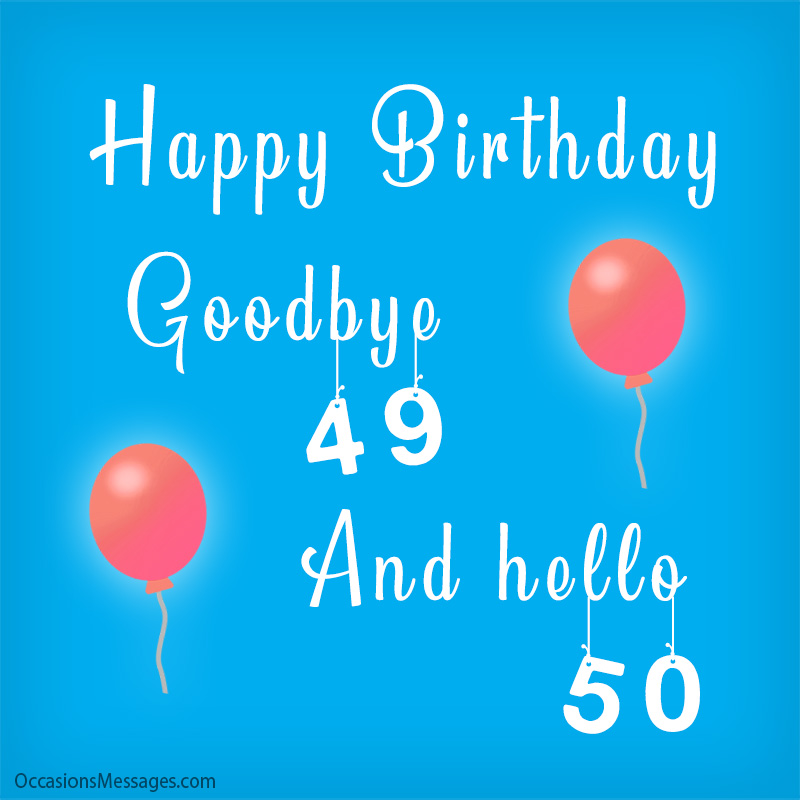 Happy 50th birthday dad, we have always obeyed your instruction, but today we want you to have fun and enjoy your party!
Happy Birthday new beautiful 50 year old, you are an amazing person and we need you still. May you blow a million more candles. To this age and more to come, cheers.
Happy 50th Birthday to you mom, you have been there for me through all this time, I wish I can return the favor.
As you turn 50, I hope you know you've done a lot. I look up to you for the morals you bestowed on me. Have a great and successful 50th year dear mother.
You are an elegant biscuit, a judicious chocolate fudge cake, and a gleaming pancake. I wish you a sweet Happy Birthday, May your life becomes sweeter as much you are.
You will always look perfect in my eyes, whether you are 50, 60 or whatever age you get, wishing you all the best as you celebrate this day.
Life is just too fast that it always seems as if yesterday never existed, today you are 50, tomorrow you will be 70, that's how it looks to. Happy Birthday to you.
Your desire, your dream, and your vision made you the champion among all. May you have thousands of happy moments in your life. Happy 50th Birthday.
You have crossed your golden jubilee but your energy level is much higher than the younger people and your talent can still produce terrific results. Wish you a wonderful 50th birthday.
I have learnt a lot from your inspiring personality. Have a wonderful 50th birthday.
Happy 50th birthday love, you are a special person and the world needs more people like you. I am glad to be by your side as you celebrate this day.
Also Read: Top 150+ Birthday Wishes for Grandma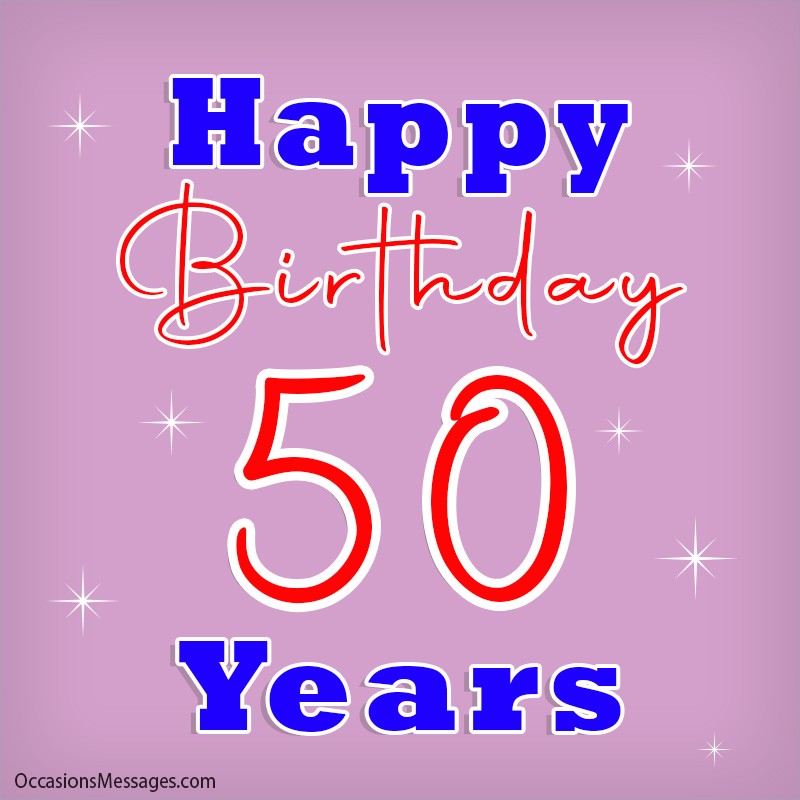 As you light your birthday candles, think of all the things you have and blow them out knowing you are the luckiest person alive. I love you dear.
Because you are the best daddy my love for you makes me want to share my youth with you but it's not possible. Happy 50th Birthday, I do hope you'll enjoy it.
Happy 50th birthday dear, you are a great person and everyone looks up to you. Cheers to this birthday and many more birthdays to come your way.
You are one of the greatest people I have ever worked with; you always win me over every time. I felicitate with you on a day like this my great colleague.
Just keep aside your age and enjoy every moment of your 50th birthday. Once the day has gone, it will never back again. Happy Birthday.
Your birthday is an indisputable chance to show you of your invaluable worth to us as children, this is a golden year that we will enjoy every bit of it with you.
Related Content: Best Happy 55th Birthday Wishes
SHARE ON