Elderly people are a great addition in anyone's life. We love the way their wisdom rubs off on us, the way they tell stories of the olden days and the way they sometimes forget. They are always to be a joy around, because even if they don't remember who you are at times, they always greet you with a warmness.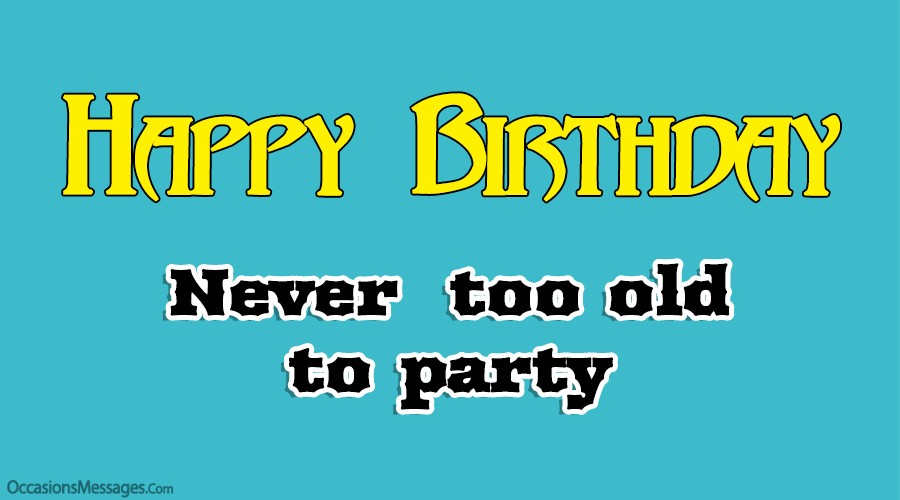 On their birthdays it can be an amazing thing to send them messages, messages they can read and smile to. There is nothing more precious than putting a smile on an old person's face. Here are some wishes one can send to an old person to remind them that you remember them too.
Birthday Wishes for Elderly Person
From black to gray, from smooth to wrinkled, and from young to old. What a journey of life you took. Special moments like this we say a big Happy Birthday. God bless your aging life.
Heroes are not born but they are made. You are a living proof of a hero. It's your birthday today. You deserve all the best wishes ever. Happy Birthday, enjoy your day.
This bright sunny day looks warm to wish the most special man all the best wishes. The table set for your birthday looks beautiful. This reminds me to wish you a happy birthday with a hangover.
Your beautiful made up stories; your sweet voice touched me. Today is your special gift from God. Receive it with open arms and ask God to bring back your teeth. Happy Birthday, Hero
Our family is blessed having a Methuselah of present days. Your age is a great proof of a miracle. God bless you and give you good health. Happy Birthday, granny!
Granny, I want to wish you a Happy Birthday. May you enjoy this moment with much love, happiness, warmth and good health.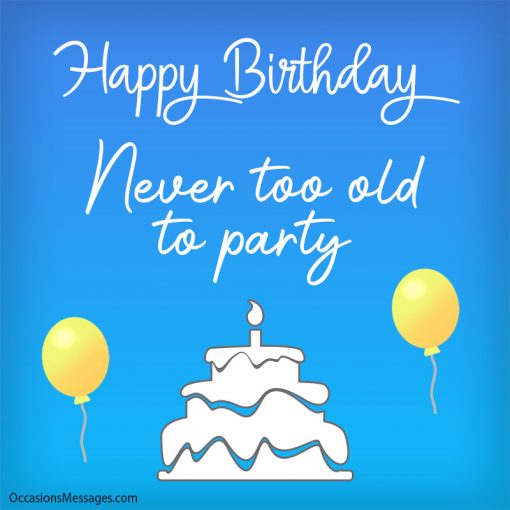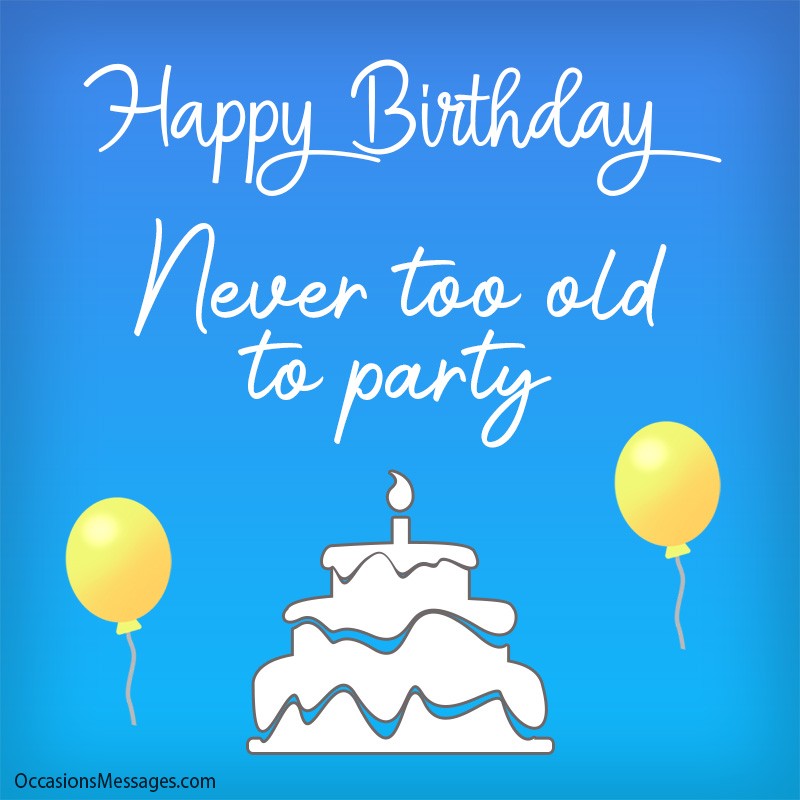 In this life nothing is much better than what you planted in my life. You taught me how to love and share with the needy. Thank you for making me better. Happy Birthday. Enjoy your day.
May the good Lord give you more years for your good works. We love you and we say Granny you are the best. Enjoy your special moment today with candles and cakes. Happy Birthday.
You are past your prime, old timer, but you know how to boogie that you are in your twenties; you truly know how to enjoy life. Have a great birthday.
You always tell me not to get old. But I can't guarantee you that. I can guarantee that I can become as cool as you when you get older. Happy birthday!
Happy birthday. You are aged, but your wisdom is young and fresh. I love that you can share with me all your wisdom and now you have another year of sharing your wisdom with me. Have a super fantastic birthday!
You are the most advanced in age person I know of, I hope you have a great time dear. You are a joy in my life and I hope to keep it that way forever.
There are many years between you and us but it doesn't change my love for you at all. If you ever need someone to walk you across the street. You can call me. Happy birthday!
You are growing older by the day that is a good thing because I now get to enjoy your wisdom more. I love you so much; I am here because of you. Have a beautiful birthday.
You are a senior citizen I love and adore with every little piece of me. Have a fantastic day oldie, I hope you remember how to boogie, for tonight; Happy birthday to you. We dance in your honor.
You may be older. But it only makes you more distinguished and sophisticated. Happy birthday old timer! You are awesome!
You know that there are many different ways to say happy birthday to an elderly. Here, we are going to dance till we break some hips (hopefully we don't)
I never knew someone could have such an influence on me, when we first met, I was lost. I am now who I am because of your words, I hope you have a great birthday old timer.
Happy birthday! You have lived an epic and long life which we all love and admire. You are inspiration to me to make the most of every moment, without question.
I will forever hold you in high regards, you are an amazing man and I love you to bits. You are a big part of me and I wish you nothing but the best on your birthday you doddery.
Funny Birthday Wishes for Elderly 
It's your birthday today Mr. Tom, don't forget to set traps on your cake because Jerry is here. Be ready for trouble. Happy Birthday Grandpa.
Happy Birthday, I got some lovely presents but I am sorry the birds are having your birthday party in the trees. Only those with wings are invited.
Happy Birthday to the only soldier without a rank. But fought all the battles in life. Enjoy this day with your cake medal and numerous balloon gun salutes.
We are going to celebrate your birthday like its 1969! You are going to have show us how they partied then though. Happy birthday old timer!
I asked Santa to bring back your teeth for your birthday present. Instead, Santa brought you bone. So you will need to hire me for your birthday as your bone cracker. Happy Birthday!
Hey! We can't lie about your age anymore. Happy birthday gray haired wonder. We love you.
Happy birthday! We didn't have enough space on your cake to put all the candles so we bought two! Don't worry. We invited enough people to eat it all out. Let there be cake!
Sweet Birthday Wishes for Elderly
Your Grey hair says it all you are growing older. I am happy to be sharing this birthday with you, have a good time grandee, you deserve it. Happy birthday to you.
You are an elderly person, but your heart is as young as a new day, I hope you enjoy this day dear. Happy birthday, have a grand time.
You taught us a ton when we grew up under you. Happy birthday! We will cherish every moment we have had with you. We love you!
There are many moments you have had with me where you wanted to pull out your hair. Well, what's left of it. But thanks for taking care of me and having patience with me. Happy birthday!
Happy birthday! For your birthday, we are going to make you feel young again today. But if you are sore again tomorrow, I can't do anything about that.
Birthday Wishes for Elderly Father
No one can ever compare to you, you are one of a kind and I love you a lot. I hope you enjoy each and every moment that we spend together. Happy Birthday father!
You make me look forward to each day; you are a precious stone that will never be overturned by any bitterness. I love you a lot. Happy Birthday father.
You are one cool old dude. There are not many cool old dudes on the planet. So that's quite impressive and I have to say, you don't look half bad for an old timer. Happy Birthday dad!
I am happy to spend this birthday and every birthday with you old timer, you make the days' worth looking forward to. Have a grand birthday.
I may have never known the love of a grandparent, but your love sustains me in a way I can never describe, I hope you get to enjoy this day grandee. Happy birthday dad.
Birthday Wishes for Elderly Mother
Happy birthday mom! We know that you have gotten older but you are still a young person to us. You never let the kid in you die. For that, we can never stop having fun.
Happy birthday to you lovely old mom, you are an amazing gift because you are the most important person to me. Have a great birthday, you are a cool old-timer.
You know that you are the coolest guy we have ever known. You have never let anything stop you from achieving your dreams. That makes you bad to the bone in our eyes. Happy Birthday mother!
We wish you a happy birthday! We know you have had many birthdays over the years but we hope that this one will top every single one you have had up to this point. We love you!
Your wrinkled face, moist eyes and shivering hands narrate the story of your hectic past. May you find peace and relief onwards in your life. Happy Birthday to you mom.
Birthday Wishes for Elderly Uncle
Wishing you a very Happy Birthday uncle, no matter how old you are but your heart is still young. May the peace and happiness be with you forever.
Old age has its own worth; people give more respect to the oldies. So, you don't worry about your age just think you have become a respected person. Happy Birthday my sweet uncle!
What the younger people will be energetic as you are. It is great to see your liveliness and energy. Happy Birthday my dear uncle.
Wisdom comes through old age, so many congratulations to you on getting one more year older. Happy fifty-sixth birthday my dear uncle.
We all enjoy being around you. You have stories that last a lifetime. I guess that's what happens when you have a really epic lifetime. Happy birthday uncle!
Birthday Wishes for Elderly Aunt
People at their old ages becoming bored and egg headed, but your personality becomes more lively and cheerful. And we enjoy a lot your company. Happy Birthday dearest aunt.
All my decisions remain pending until I don't seek your consultations. Your wisdom and knowledge are mind blowing; it helps me to take good decisions. Happy Birthday my dear elder aunt.
It is the great honor for me to celebrate the birthday party of my dearest aunty, you are not integrated in my blood relation but we share a relation of love and hearts. Happy Birthday to you!
There are many things that can be said today but I think only one thing needs to be said above all the rest. We love you and we are going to make today the best birthday you have ever celebrated.
May you get relief from every pain, May your life filled with happiness and pleasure and may you spend a healthy wealthy life. Have a wonderful day. Happy Birthday aunt!
Birthday Wishes for Elder Grandfather
The big deal is to maintain your prestige, cheerfulness, vivaciousness and intelligence at your old age and no doubt, you have made successful this deal. Happy Birthday grandpa.
Humans live three times, when they are kid, when they are young and when they are at their old age. So, this is your third phase of life, live it fullest and enjoy every day as it's your last day. Happy Birthday grandfather!
Get the most out of every moment while you are at your old age. Happy Birthday!
Happy birthday to one of the wiser individuals on this planet. You have given so much to us. We cannot thank you enough for everything you have done. You are the best!
I just simply love your personality, how you maintained yourself at this age, gracefulness and intelligence still alive in your personality. Happy Birthday my sweet grandfather.
Birthday Wishes for Elder Grandmother
Why you are so worrying? Science has innovated the blessings of makeover which can hide your silly wrinkles on your face. Happy Birthday my old but younger lady.
Every oldie possesses a child inside them. Happy Birthday my dearest grandma. I love to enjoy your company when your inner child comes out.
It is the real blessing to have a shadow of elder people in the home. Thank you, my great grandmother your rationality, principles and laws are authentic. Happy Birthday to you.
The intensity of love between two people has come to an end with the time, but I wonder still in the age of seventy, the love of you two is maintained. I wish you a very Happy Birthday my dearest grandmother.
With the growing age, people become so possessive and overprotective, but i still love you so much, you are my everything whatever the traits you have. Happy Birthday grandma!
Cool Birthday Wishes for Elders
You are the wisest person I know and I am lucky to know you and share this birthday with you. Live long oldie, you are loved by all those who you know.
You are not only the oldest person I know of, you are also the most interesting one and the one I would never want to lose. I love you and wish you the best birthday yet.
I don't know how you used to do it back in the day, but here, we sing for those with their birthdays on, can't wait to sing for you oldie.
You are an awesome person! We have learned so many life lessons from you that we cannot express enough gratitude for. You think we would have figured something out by now but we decided on this epic cake. Happy birthday!
Our family owes many thanks to you. You have helped all of us for so long throughout your life. Happy birthday!
Though you are fifteen years older than me, but we live like as best friends, crime partner and secret holders. Wish you a very Happy birthday my dearest elder sister.
You are one of the best people I have known. Happy birthday! You taught me so many lessons from all your hard fought experiences. Thank you for being such a guiding force in my life. Let us celebrate!
No one can say you have crossed your golden jubilee; you are as young as you were in your twenties. Happy Birthday My sweet friend.
You are not as young as you used to be, but your heart has the warmth of a thousand men. I hope you do enjoy this day and everything the day has to offer.
---
You May Also Like:
Happy Birthday Wishes for Grandpa – The Best Messages for Him
Happy Birthday Wishes for Grandma – Cute Messages and Cards for Her
The Funniest Birthday Messages and Wishes – Make Them Smile
---