Most young person hope to grow old someday and some old person hopes they could be young somehow, but everything has its time. Being a grandparent is not only a gift, but a privilege, and being a great grandparent is a blessing that only some people get. When your grandson's wedding comes by, you feel happy and ecstatic to be able to see the day, that's why you wouldn't miss the day for anything in the world.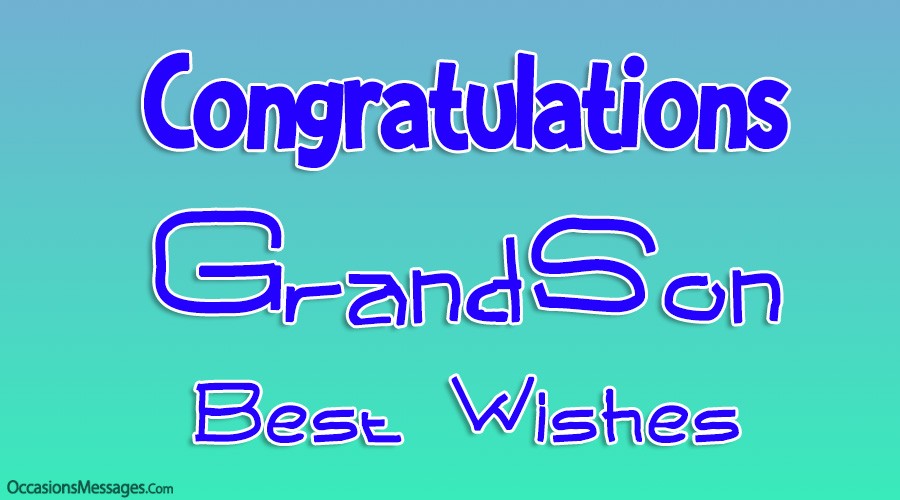 Sharing a little piece of advice with your grandson on marriage can go a long way. Share one of the messages below with your grandson on their wedding to show that you are thinking of them.
Wedding Congratulations Messages for Grandson
Marriage has a little bit of everyone dear grandson, I wish you the best as you say your vows to the woman of your dreams. Congrats on your wedding sweetheart.
You are one of the most important things in my life, watching you grow from infant to this stage of marriage is amazing and I am glad I could witness it. Congratulations grandson.
I have lived quite long enough to recognize a blessing when I see one, you are all I have always prayed for and I am glad it's your wedding grandson.
I would have traded all I ever worked for just to be at your wedding grandson, you mean the world to me. Happy married life.
Seeing you getting married is a blessing I can't take for granted grandson, you make me the happiest grandparent in the world. Thank you for this.
I hope love always prevails and never fails you my handsome grandson, you don't know how happy I am today seeing you tie the knot. I wish you every bit of luck in love.
I wake up every morning praying to God for me to witness this day just like your father's. May you find love and comfort in your marriage. Happy married life baby.
You are one of the few people I live for grandson and I cannot imagine my life without you, may you receive heavens blessings on your wedding and beyond.
Happy marriage celebration to the best amongst all grandsons, I am very proud to have you extend our lineage. Wish a lot of happy years together!
I have been married to your grand mom for as long as I can remember, there is nothing sweeter than love my boy. Take it from your old man, Congrats on your wedding.
I know the road to marriage isn't smooth, marriage is rougher, but with the right person, you can overcome it all grandson, wishing you the best in all your endeavors. I love you.
I have been alive long enough to know a good girl when I see one, congrats grandson for housing one.
Your marriage reminds me of your mothers, I thank the heavens for today because we have experienced only happy memories with you and we all hope you can transfer this same lobe to your new home.
I mostly feel way much younger whenever I'm with you, and your wedding today reminds me of many years back, I trust you to remain married just as your parents and we your grandparents.
I am happy just to see you happy grandson, I hope marriage will be kind to you as it has been to me. Thank you for making me a part of this special day! Congrats!
You not only make me a proud grandparent but a lucky one at that. I wish you the best as you venture into marriage hood my boy. Congrats on your wedding grandson!
Right from the moment my daughter conceived you we knew you were destined for great things, it's funny how time flies, the little boy of yesterday has chosen to be a husband today.
I wish you a beautiful and fulfilling married life ahead of you, it could be tough but love is all that is needed to weather the storm when challenges arises. Happy married life grandson.
I wonder how times flies so quick, your wedding makes me remember that of your dad's, it feels like it's yesterday. Congratulations grandson.
You have always had luck and charm by your side my grandson, I am glad you used them wisely, wishing you the best on your wedding my dearest boy.
I am happy to see you happy and I am glad you are as amazing as you are, wishing you a successful marriage my beautiful grandson.
Not all things can be bought with money, one might spend a fortune on wedding planning but cannot buy happiness, I wish you grandson and your bride a happy married life rooted in true love.
I totally agree with the adage which says the best thing in life are free, your bride got you without having to spend a penny, grandson, you're the best thing in our lives.
Truly happy for your wedding, my grandson finally gets to experience living with a woman other than myself and your mom. Congratulations!
I wish you all the best as you walk towards your bride grandson, I will always be here to cheer you on. Congrats on a beautiful wedding and a promising happily ever after.
I must be one of the luckiest old timers; most of us just get to hear about it, I get to experience the joy of seeing my grandson wed. Wishing you every ounce of happiness!
A grandson's wedding isn't different from a son's to me because they both are mine to be cherished and celebrated. I count myself fortunate enough to witness and celebrate your wedding with you.
I once thought happily ever after was only associated with romance novels and movies alone, but just as me and your parents I challenge you to have a fairytale experience.
You are very bold to have taken a step such as this. You are now married and I wish my grand kid the best marriage ever.
As you say your vows today, remember everything you love about your wife to be and keep that close to your heart grandson, I hope you have a fantastic day.
I will always be here for you my lovely grandson; I really do feel blessed to see you getting married to that wonderful woman. Enjoy your wedding!
My little boy has grown into a handsome and charming prince; I was filled with overwhelming joy and excitement at your wedding. I wish my grandson the best he can get.
Congratulations on your wedding grandson, welcome to the circle of the real men. Enjoy your newly attained status and take good care of your bride.
I am happy because my little grandson is all grown up and ripe for marriage; take care of your family as you have been cared for. Congratulations on your wedding!
I know you love her from the way you look at her grandson, I pray you have a memorable wedding and a sweet happily ever after my precious boy!
I am lucky because I feel loved, I see love and I am a witness at my grandson's wedding. I really do wish you all the happiness in the world my precious son!
Marriage could be costly to some, I want you to put into use all the lessons you have learnt from your parents because it surely wouldn't be just a jolly ride. Good luck in marriage!
I am the most happy individual on all planets that exists, I finally get to watch my grandson take to the alter in a holy matrimony. Happy married life.
I knew this day would come, and that I would be here to experience the joy that comes with seeing my grandson wed his bride. Enjoy your day my lovely boy, I love you so much!
Your wedding is worth celebrating grandson, nevertheless, I get to compete for your undivided attention with your wife, I hope you reserve the time to check on me occasionally, you are highly favored son.
I feel like it's my wedding, I feel fulfilled and proud having to grace an elaborate celebration of love, I am the happiest granny at least for today. I love you grandson.
Happy married life to the most compatible couple of late, may you enjoy living together and have no cause to go separate ways.
Welcome to the world of the married where the word I does not reflect in our dictionary but we. You will never be alone again.
---
You May Also Like:
Wedding Wishes and Quotes for Son
Belated Wedding Congratulation Messages
---