Happy 30th Birthday Wishes: Turning a new age is always an exciting experience, from the onset of the day to its ending. But what happens to a 30 year old? Turning thirty can be a scary experience. A thirty year old has it in their mind that they should have most of the things figured out, no excuses. As a friend, you should be there to encourage them as they turn this new age, make them have fun and for that day, they may relax and live a little. Here are some happy 30th birthday messages you could send to a person turning newly 30, to show your care, support and love.
Happy 30th Birthday Wishes
Happy 30th Birthday. May every desire of your life fulfilled.
Wishing happy 30th birthday to the person who lives in my heart.
Happy thirtieth birthday to the most special person in my life.
You are as young as you feel, not as you look. I hope you have a fantastic thirtieth birthday. I love you and wish you all the best.
Happy Birthday! You have crossed 30th age, but you still look like a teenager.
Relax, it is your day and nothing is going to change the fact that you look good and ready to face this new age, it's your 30th birthday so I expect you to have fun. I love you dear.
Happy 30th Birthday. You have been blessed in your 29th year; I hope the same luck follows you.
I have been with you through thick and thin and you have been there for me too. Happy 30th birthday, you are special.
Happy Birthday. The most outstanding and secure years of life are on the way.
Read Also: 80+ Birthday Wishes for Husband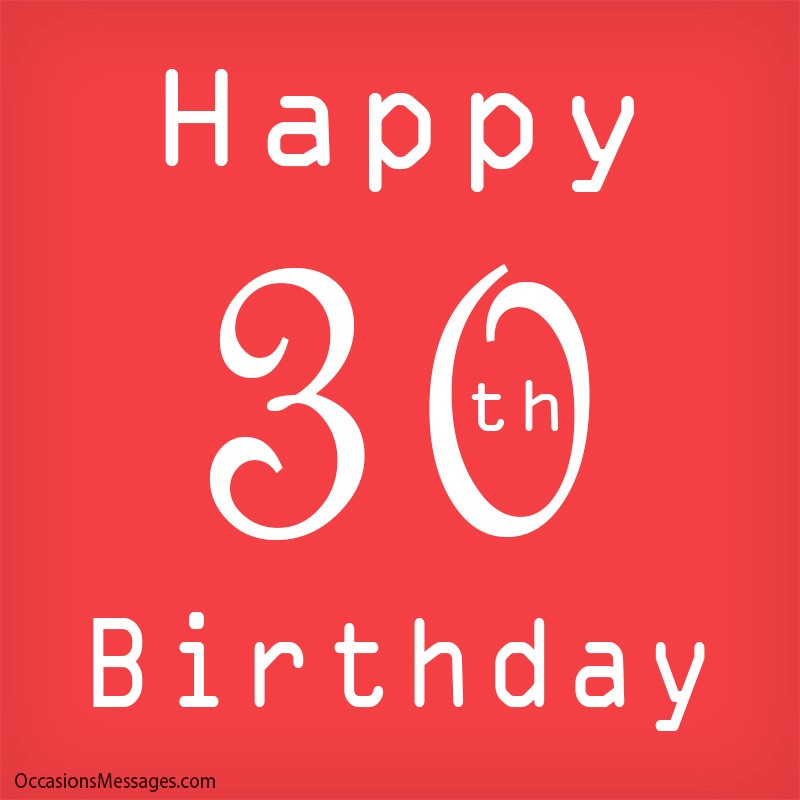 My thirtieth birthday wishes for you are that you grow wiser than any professor, wealthier than the richest man on earth, healthier than yesterday and greater more and more each time.
30 is a great mark of achievement, as you clock that age today, may you continue to encounter greatness every way. Happy 30th Birthday
Happy 30th Birthday, my friend. Enjoy your beautiful and sunny day.
Stop behaving like a child, now you have crossed 30 years of your life. Wishing you a very happy birthday.
Happy Birthday, 30 year-old son, you make life seem beautiful and I know you will make the most out of this beautiful day.
Happy 30th birthday brother, now you become an adult man and your youth put a step forward towards the elderly. Enjoy your day.
Happy 30th birthday. May you live a long life with no worries.
Nothing about life is bad, it depends on how we see it, clocking 20 is good, but clocking 30 is really great. Happy Birthday.
Read: 75+ Romantic Birthday Wishes for Wife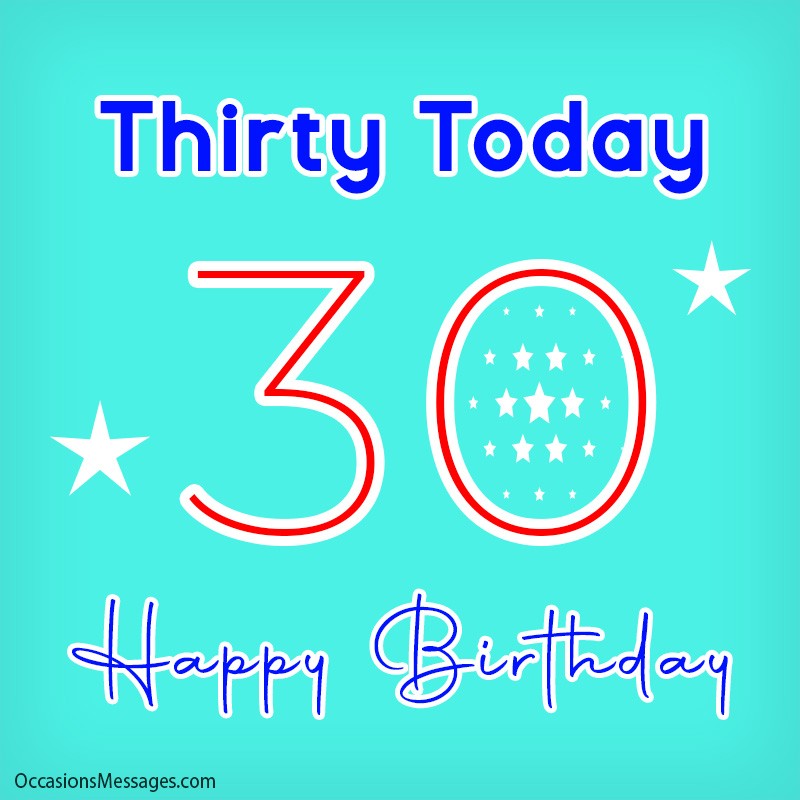 I am happy I get to share this day with you, happy 30th birthday sweetie, you are a great person and I love everything about you.
It's your 30th birthday my sister, oh how time does fly. I hope you've achieved what you wanted to achieve so far. Happy Birthday.
May your 30th birthday be the beginning of good and amazing things. I hope you take charge and surprise them all. Hearty birthday my love!
Happy Thirtieth Birthday. Now you are grown enough to take your decisions.
What can I possibly say to make you feel any older, #just kidding, you are a special person and I do love you. Happy birthday.
Your belief at this age will determine how far you will go in life; it will determine what becomes your reality. Never settle for less.
As much as having money at this age is important, never forget to cater for your health. Money without health is useless. Happy Birthday 30-year-old. Enjoy life to the fullest.
A lot of youth seek for power when they reach this age; never you forget that your power is in your ability to control your thought and your mind.
As you clock 30 today, govern your life by the principal of excellence and you will achieve a lot more than you think you could.
For More Options: See These Best Happy 35th Birthday Wishes
SHARE ON