Happy 30th Birthday. Turning a new age is always an exciting experience, from the onset of the day to its sad ending. A day age with new and exciting discoveries, but what happens to a 30 year old? Turning thirty can be a scary experience. A thirty year old has it in his mind that he should have most of the things figured out, no excuses.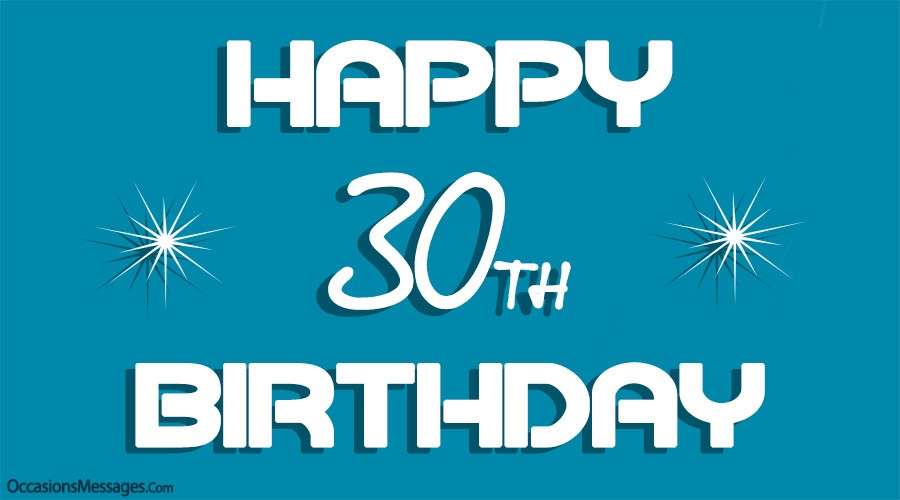 As a friend, you should be there to encourage them as they turn this new age, make them have fun and for that day, that they may relax and live a little. Here are some messages you could send to a person turning newly 30, to show your care, support and love.
Birthday Messages for 30 Year Olds
You are as young as you feel, not as you look. I hope you have a fantastic thirtieth birthday. I love you and wish you all the best.
Relax, it is your day and nothing is going to change the fact that you look good and ready to face this new age, it's your 30th birthday so I expect you to have fun. I love you dear.
Wishing happy 30th birthday to the man who lives in my heart all 30 days of the month.
I have been with you through thick and thin and you have been there for me too, I cannot think of anyone else I'd rather share the day with other than you, have a hearty 30th birthday darling, you are special.
Maturity doesn't follow age. It props up when you start sensing others concerns and you are grown enough. I wish you a very happy 30th birthday, May every desire of your life fulfilled.
Have a blissful 30th birthday – the most outstanding and secure years of life are on the way.
Wishing you a very happy 30th birthday. May you have thousands of happiest moments which make your world secure and delightful.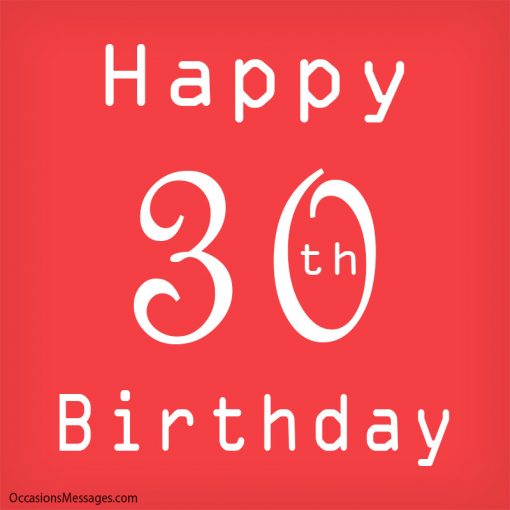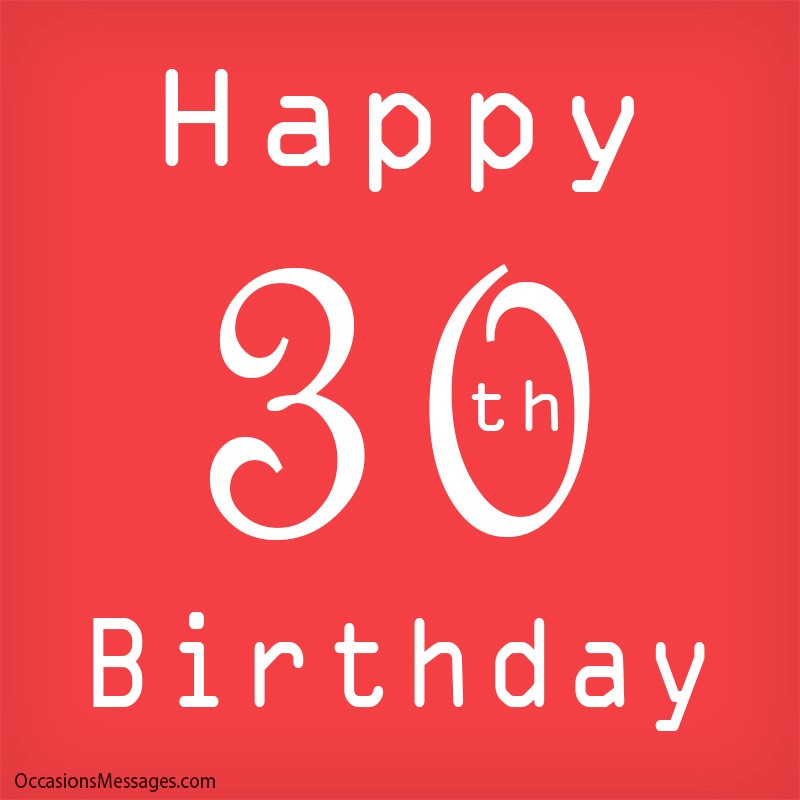 My thirtieth birthday wishes for you are that you grow wiser than any professor, wealthier than the richest man on earth, healthier than yesterday and greater more and more each time. Do enjoy your thirtieth birthday my friend.
Have a wonderful 30th birthday, now you are mature enough to tie into a knot. Waiting for the big day of your life.
You are still amazing and have a dashing personality. Happy 30th birthday.
I never want to lose you, I will never take you for granted, I will always look up to you, I say this because I mean it, and you are a thirty year old I would love to be someday. Happy Birthday!!
Wise words won't tell you how to live your life, but the experiences and people around you may make you enjoy it. Have the people whom you hold close next to you as you turn thirty, and you will see the gift life holds for you.
Happy 30th birthday, you are standing at that position where you can easily predict your future. Happy midst of your life.
Cute 30th Birthday Wishes
You have crossed 30th age, but you still look like a teenager. How good you maintained your physique. Have a wonderful 30th birthday.
The key to peak and unbeatable performance at this age is consistency. Be consistent with everything you do and the sky will be your beginning.
This is the time for you to know your uniqueness, because you are certainly different from every other person on earth. Happy 30th birthday, discover yourself.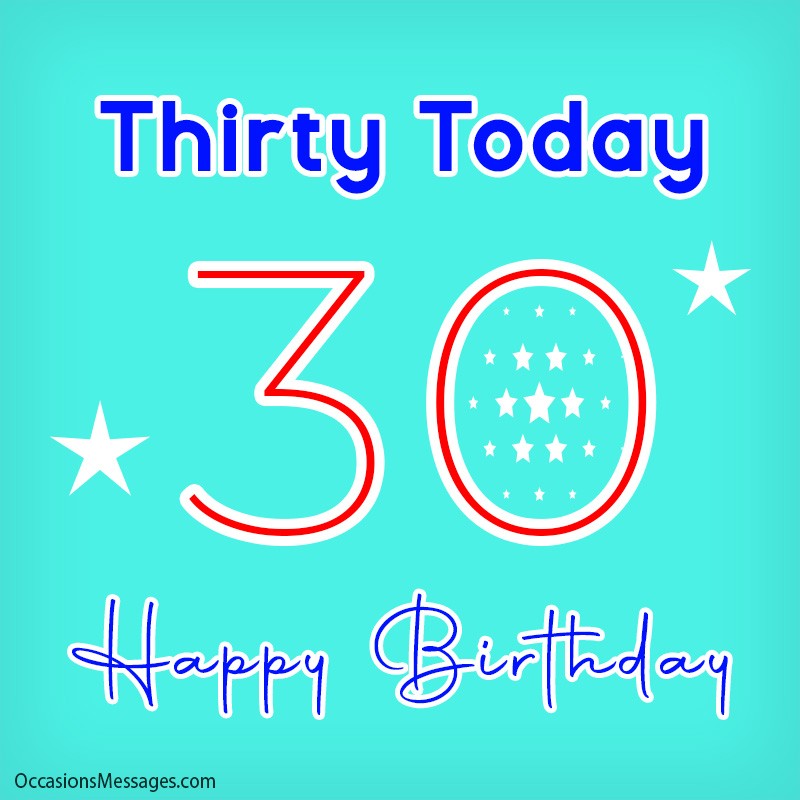 30 is a great mark of achievement, as you clock that age today, may you continue to encounter greatness every way. Happy 30th birthday
Happy thirtieth birthday my friend, you are a great person and I hope that you find the courage to push all what worries you aside and have fun. I wish you all the best as you turn this new age.
It's your 30th birthday, I celebrate you and the fact that I get to be part of this wonderful day, may those dreams that haven't come true yet come true for you as you venture into this new age. I love you.
For a Friend
Nothing in this word would stop me from telling you how amazing you are, I wish you the best as you embark in your new age. Happy 30th birthday my friend!
Happy thirtieth birthday to the most special person in my life, my wish for you this time is that you may find what you are looking for. Do enjoy the day.
May you prosper in all ramifications as you clock this special age today. Happy 30th birthday to you friend. Enjoy your beautiful and sunny day.
Don't forget you are 30 today, you must take charge of your own life, whatever happens to you is your responsibility. Make good decisions always.
Guide against every self-limiting belief, they are the biggest mental road blocks. If you conquer them, you are on your way to greatness. Happy 30th birthday friend.
For Son
Stop behaving like a child, now you have crossed 30 years of your life. Grow up and be mature. Wishing you a very happy 30th birthday.
You have learnt a lot in life before you reach this beautiful age, now is the right time to put those things into practice to earn you everything you desire to have.
One of the greatest habits you can learn at this age is self-control. It will save you of a lot of stress and trouble. May you have it in abundance. Happy 30th birthday son. Enjoy it.
As you face mid-life crisis and all the unbearable things that come with being 30, I know you'll face them all with a brave face, have fun on your birthday dearest.
I love you my 30 year old son, you make life seem beautiful and I know you will make the most out of this beautiful day, have the happiest of birthday ever dear one.
For Daughter
As you celebrate your 30th birthday today, may all your desires and wishes come true, thank you for all the unforgettable moments and for being a big blessing to my life dear.
The intensity of obscurity to which you can fall down and still survive is an accurate measure of the altitude to which you have the desire to get in touch with.
The best formula to chase and have what you want at this age, is to possess a resilient spirit, and never give up, spirit will give you huge triumphant. Happy 30th birthday daughter.
Just ignore offensiveness and rudeness, when people show their rudeness to you, they evaluate who they are not you. Do not take them personally. Put a lip lock silence and see the outcome. Happy 30th birthday beautiful daughter .
Happy 30th birthday daughter. Try to control your attitude then you are able to control every situation and its consequences. Have a beautiful day.
For Brother
You only get the chance to live once, enjoy your birthday once a year and be mean with it. So don't let this opportunity pass you by as you turn 30, happy Birthday brother!
Happy 30th birthday brother, now you become an adult man and your youth put a step forward towards the elderly. You deserve a vibrant lament as your youth was.
Always indulge in principals that will change your life for the better, never dip your hands into any bad thing. Happy 30th birthday. Keep getting better.
Chase your dreams with all of your might and with all of your power, you have no limit except you limit yourself. Happy 30th birthday bro. The sky is your starting point.
This is the right time for you to use everything that God has deposited into you. Remember you must use them all. They are in there, discover them and use them.
For Sister
There is this idea for great accomplishment at this age, and that is effective communication and integrity. Never joke with those things. Happy 30th birthday sisiter.
It's your 30th birthday my sister, oh how time does fly, you are now older than them. I hope you've achieved what you wanted to achieve so far. Have fun!
Happy 30th Birthday my sis, you have been blessed in your 29th year; I hope the same luck follows you. Have a hearty time my dear!
May your 30th birthday be the beginning of good and amazing things. I hope you take charge and surprise them all. Hearty birthday my love!
30 is the new hip, fun age, release all the stress and worries today by having an unforgettable 30th birthday party!
Best 30th Birthday Wishes 
Have happiness and good fortune in your life, always put a lovely smile on your face and never lose your self-confidence as it is the key to success. Have a wonderful and stunning 30th birthday.
For achieving long-term values you must need to push back your instant pleasures, fun, and wishes. Have a wonderful 30th birthday. May you live a long life with no worries.
Nothing about life is bad, it depends on how we see it, clocking 20 is good, but clocking 30 is really great. Happy Birthday to you. Have fun.
The objectives of your future and your past experiences will take you in the right direction and facilitate you to make healthy decisions. Have a fabulous 30th birthday.
Happy 30th birthday, now you are grown enough to take your decisions and make your life beautiful by your hardworking and good fortune.
You are a great life example, they said you might not live up to twenty years of age, but today you are 30. That's inspirational enough for me.
It's really good to be alive today. For some other people it's just another day, but for you it's your special day. Enjoy every bit of it.
At 30 the thought of every man is how he will accomplish great things. As long as you have it in mind, believe you can achieve it. Happy 30th birthday buddy. Enjoy every bit of it.
Now your world revolves around your thought, find a better way to enhance your thought and you will have a good life. Happy 30th birthday. Have lots of fun.
What can I possibly say to make you feel any older, #just kidding, you are a special person and I do love you for all your worth. Happy 30th birthday, May all your wishes come true.
Happy 30th birthday my dear, you are a brave soul and I know you will get all you desire through all the qualities you possess. Happy Birthday dear, may all your wishes come true.
Always listen to your parents whether you become the parent of a child because they are more experience about the life and always give you right suggestion. Have a wonderful 30th birthday.
Do not enlighten your dreams to the world just show them and finest way to forecast future is to build it. Have a stunning 30th birthday.
Bright future is always concerned to those people who burn their present. Wishing you the good luck and happy 30th birthday.
Your belief at this age will determine how far you will go in life; it will determine what becomes your reality. Never you settle for less.
This is one of the most important moments in the life of people, because good life stories are made at this age. Make good life stories for yourself.
As much as having money at this age is important, never forget to cater for your health. Money without health is useless. Happy 30th birthday. Enjoy life to the fullest.
Happy 30th birthday to you buddy; it is an age to attract great people that brings about great circumstances into your life. May God guide you to attract them in no time. Have fun.
I am happy I get to share this day with you, happy 30th birthday sweetie, you are a great person and I love everything about you.
Have a wonderful 30th birthday. Keep trusting in the attractiveness of your dreams and get a secure future.
Keep focus all of your energy to make a change, the world is interested in creativity not in orthodox. Wishing you all the best for your healthy future and happy 30th birthday.
Wishing you a very Happy Birthday. Stop tormenting yourself what you did not achieve just concentrate on what you suppose to gain.
Have a great 30th birthday; you are very concern about people, their related things and about life that determines about your maturity.
A lot of youth seek for power when they reach this age; never you forget that your power is in your ability to control your thought and your mind.
As you clock 30 today, govern your life by the principal of excellence and you will achieve a lot more than you think you could.
---
You May Also Like:
Happy Birthday Wishes for Cousin – Fabulous Birthday Messages
Birthday Wishes for Step Brother – Cool Wishes for Him
---