Happy 35th Birthday Wishes: What is so good about turning a new age? Is it the gifts, or the feeling you get when you see everyone who means a lot to you share a piece of your cake? Turning a new age is always welcomed with a lot of good and kind gestures from those around. As a friend or someone with someone turning a 35 years, try surprising them with a message that will make them smile and be glad. Happy 35th Birthday Messages are a good way of saying something you really mean; here are some messages you can send to that special someone.
Happy 35th Birthday Wishes
Happy 35th Birthday. May your day be filled with so much love and happiness.
Make a wish as you blow out those 35 candles and believe it will come to pass. Happy Birthday.
The glow of your heart can be seen on your face, it's a good thing to see you joyful. Happy 35th Birthday my friend.
Happy Birthday. May 35 years be enough reason to always be thankful and cheerful.
You bring joy, laughter, heartiness and so much more each day. I hope 35 will bring more of that too.
Happy Birthday. You are the bravest man/woman I know of and I hope you enjoy your 35th birthday!
A world without you would be meaningless, happy 35th birthday wife, you are awesomely loved!
On your 35th birthday, I wish your life be filled with love, goodies, and pleasure.
Happy 35th Birthday. May this birthday be one of the best you've ever had.
You are special and that is why I want to wish you the best 35th birthday ever, I love you sweetheart!
You are 35 now but still, you look 25 years cool boy. Have a wonderful birthday. May you have many more.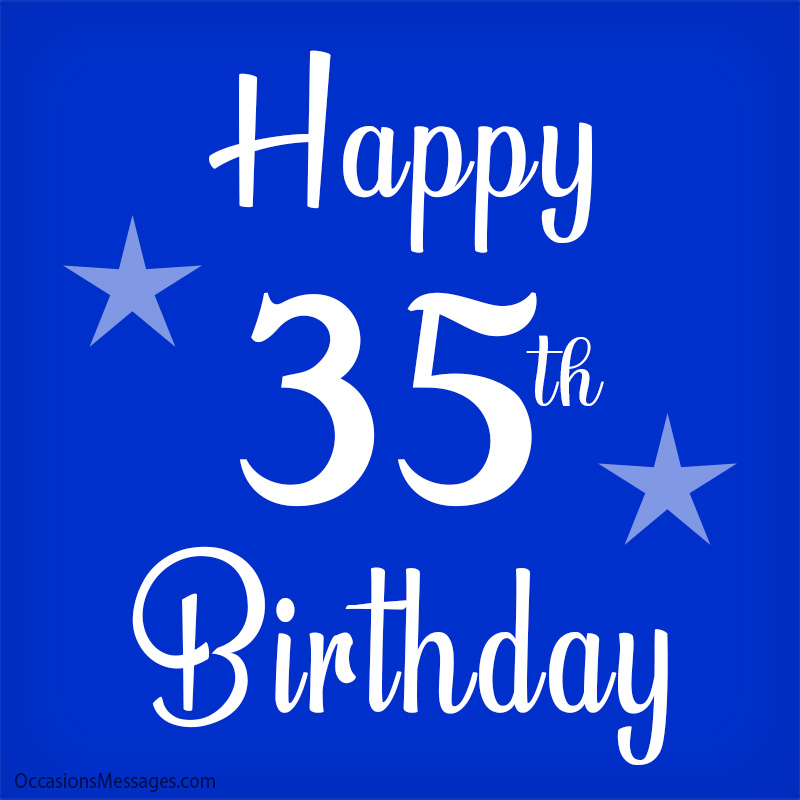 Happy 35th Birthday my love, you are a good person and I hope you live long enough to see your efforts bear fruits, we love you!
My world wouldn't go on without a brother who has sacrificed so much for me. Happy 35th Birthday bro. God bless you.
Life is itself a story book and you are the hero of your story. Happy 35th birthday to you my husband.
I would do anything just to see your 35th birthday be the most awesome you've ever had, so sit back and relax, I got this!
Experience doesn't come with longevity and Cleverness doesn't come with age. Because you seem to have it all even at 35. Have a cute day.
I must say wow, you are standing with a perfect combination. That's the one-half of youth and one-half maturity. Have a wonderful 35th birthday son.
Live your life to the fullest. Wishing you a very happy 35th birthday my sweet wife.
Another birthday and we are closer than ever, you are my best friend and sharing your 35th birthday with you is an amazing feeling!
Happy 35th Birthday my darling, May all your wishes come true and may they impact your life positively!
I am so grateful to God for not placing a price tag on you. The world will not be able to pay for everything you have done for it. Happy Birthday to you.
Happy Birthday sir, your wisdom exceeds your age and so shall it continue to grow and glow. You are a great inspiration to me.
Birthday's celebration is the oxygen of spirit. Let's add a new spirit in your life. Celebrate your 35th birthday with loads of fun.
Read More: Best Birthday Party Invitation Messages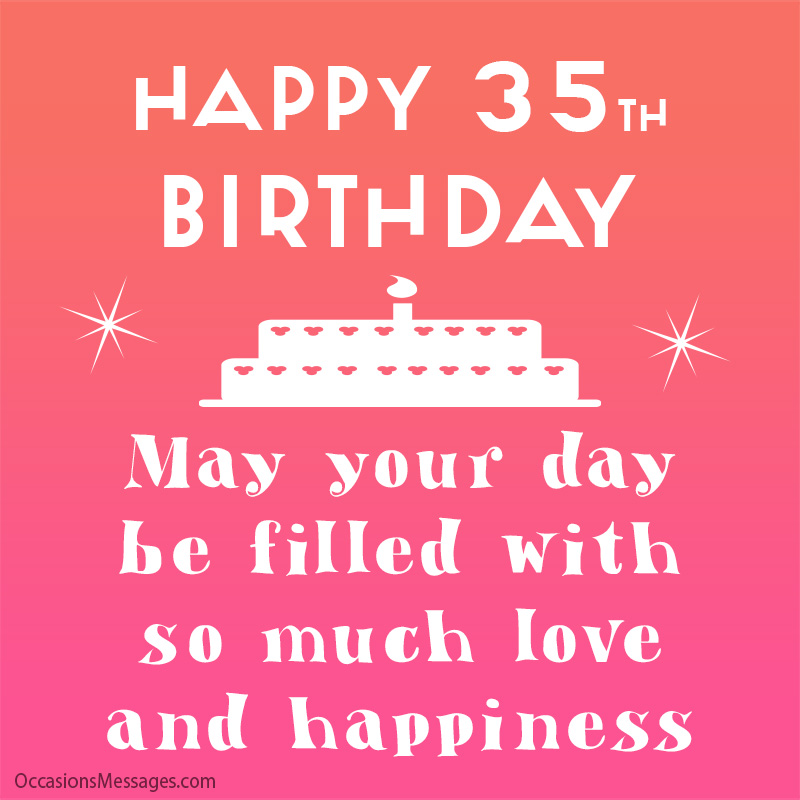 You will always be my only reason to look forward to another second, minute, hour, day, week, month and year. Happy Birthday!
Who wouldn't acknowledge the smile of someone like you. It's ever charming. Please Keep the smile. It's your trade mark.
Do good, be good and feel good, it's your 35th birthday, you aren't growing any younger, enjoy the moments!
You have an impressive personality. You can make any one fall in love with you. Wishing you the love and happiness. Happy 35th Birthday, sweetheart.
You are not too old to act like elderly. Come join us and let's celebrate your biggest day. Happy Birthday, 35-year-old.
I trust you more than I love you. You are my best friend, my leader, my mentor and my all happiness belongs to you. Wishing you the lifetime happiness and love.
I'm sure there'll be like 10 or more people like you in this world, but the best version is you. Happy 35th Birthday dear friend.
Happy Birthday to a man of his life. I am so admired from your way of living. Have a nice day.
Just do whatever you want. Don't be so scared to follow things that make you feel happy. Happy 35th Birthday daughter.
It's your birthday, we are going to have fun tonight, put on that lovely party dress and celebrate 35 years with style.
You are important to me, and I hope I say that often because I would never want to lose you, enjoy your 35th birthday!
Also Read: Happy Birthday Wishes for Accountant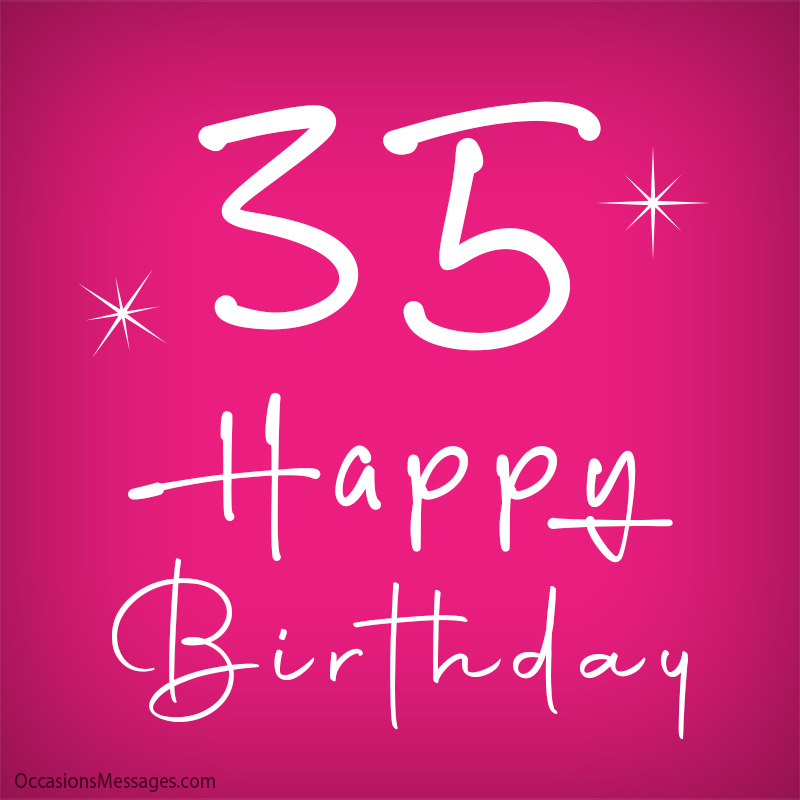 It comes only once every year, so enjoy your 35th birthday for this is the only one; I love and adore you, Have a great birthday! niece.
Happy 35th Birthday my beautiful sister. May this birthday be the beginning of all the luck and never-ending joy you'll live to experience.
Have the courage to follow your dreams. You are the only one who can make his life wonderful. Wishing you have a nice day.
May everything work out for you, may you soar higher, may you aim higher and may all your luck turn into gold. Happy Birthday, 35-year-old!
Greatness comes when your friends still remember you on your big day. Have a wonderful 35th birthday. Our companionship will never end.
It is actually evident and certainly inevitable that you would be like this when you clock 35; it's awesome that you've gone bald. Hehehehe.
Life is worthy of your existence, you are one of the most beautiful in heart person I've ever known. Keep enjoying the adventure. Happy 35th Birthday.
High class people always want to associate with people like them, but you chose to love the poor ones instead. You're an example. Happy 35th Birthday good philanthropist.
May this 35th year brings you a lot of happiness, joy, fun and a life partner too. Happy Birthday to you nephew.
For More Options: Happy 40th Birthday Wishes
SHARE ON