Happy 21st Birthday Wishes: Turning twenty one is an amazing thing, each and every year you get the chance to celebrate your birthday is a blessing. So why not make it memorable for someone who is turning 21. The age comes with a lot of decisions, choices and a whole lot of fun. So welcoming a new 21 year old should be handled with a lot of care and love. Apart from throwing them an awesome birthday, why not also try and write them an awesome message to go along with the day? Here are some birthday messages you can send to that special new 21 years old.
Happy 21st Birthday Wishes
Happy 21st birthday. I wish you a long life and prosperity.
Happy 21st Birthday. Did I tell you how amazing you still look.
To the most amazing 21 year old in this universe, you make my days' worth living and now, I am lucky enough to be here with you. Happy 21st birthday.
Happy 21st birthday. You are so special to me and without you my life is incomplete.
Your childhood is turning into your adulthood. Try to resolve your upcoming debts. Happy 21st birthday

.

Congratulations for leaving the stage of a teenager to climbing up the ladder of adulthood. Happy 21st birthday. May God guide every of your steps.
Whether you are 21 or 81 maturity comes through experiences. Happy twenty-first birthday.
Words all short as I look at how amazing you look as you turn 21, it's a big number, a new age, but I know you can conquer, you always do.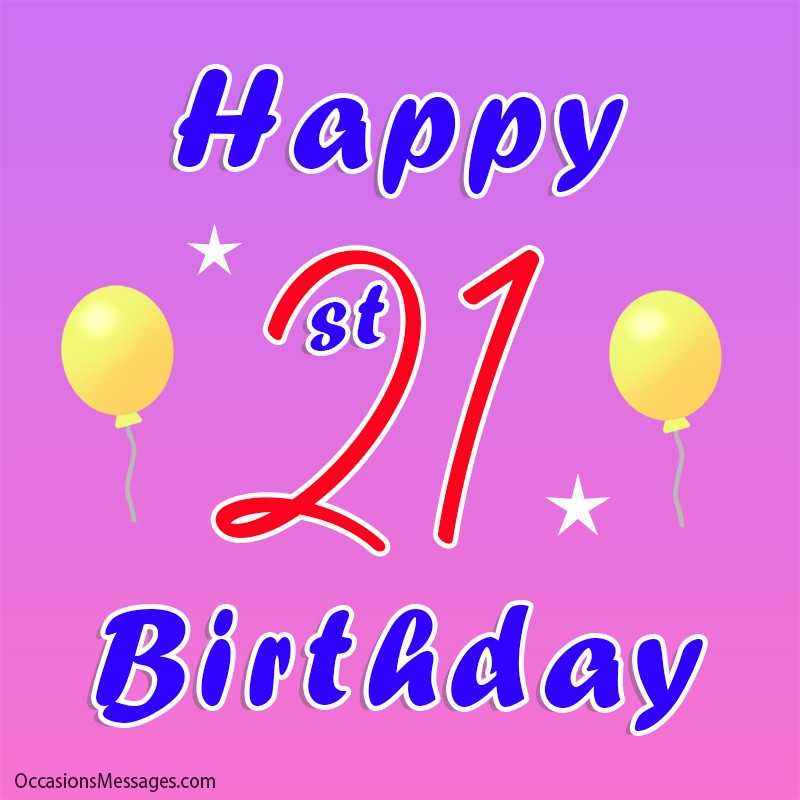 Happy 21st Birthday angel, you make me happy to be sharing this day with you.
Happy Birthday. A great and wonderful year ahead is what you deserve. May God grant you all of your wishes.
Happy 21st birthday to a young and courageous person who will live to be 10001 and more. I hope you have an amazing day.
Happy 21st Birthday son. I wish you have a great and lovely year.
Happy 21st birthday, daughter. I will always wish you the best because you deserve nothing less.
Happy 21st birthday to the most intelligent person I have ever had the pleasure to meet.
Never give up, believe me, you can do everything if you believe yourself.  Happy 21st birthday son.
Happy 21st birthday. May all the desires of your heart come true as you blow out your candles my dearest daughter.
You have made a step ahead in your life and entered into the pretty young age. Happy 21st birthday. May you get unlimited happiness in your life.
You are 21 years young boy and now you are officially permitted to do anything you wanted to do. Happy Birthday dear brother.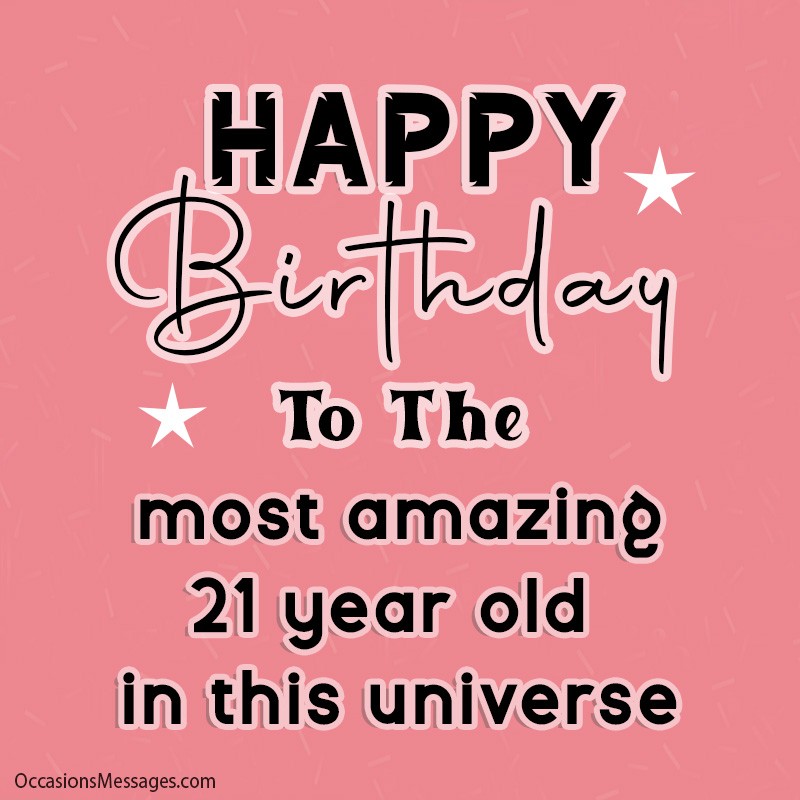 Love is the absolute blessing and nothing can be more worthy than love. I wish you a very happy the twenty-first birthday. May our young age love remain forever.
Happy 21st birthday. You have officially become an adult, so more expectations, responsibilities, seriousness are connected with you.
Happy 21st birthday. Make your future bright and successful and do not waste your youth. Enjoy your big day.
21 is such a great number, but I want to wish you all the best as you celebrate today and hopefully when you are getting close to 100 we can celebrate together. Happy Birthday.
Being my friend makes everything feel right. Happy 21st birthday my dear, the older you get the more glad I am to be beside you.
Related Article: Happy 22nd Birthday Wishes
SHARE ON