Turning twenty one is an amazing thing, each and every year you get the chance to celebrate your birthday is a blessing. So why not make it memorable for a friend of yours who is turning 21. The age comes with a lot of decisions, choices and a whole lot of fun.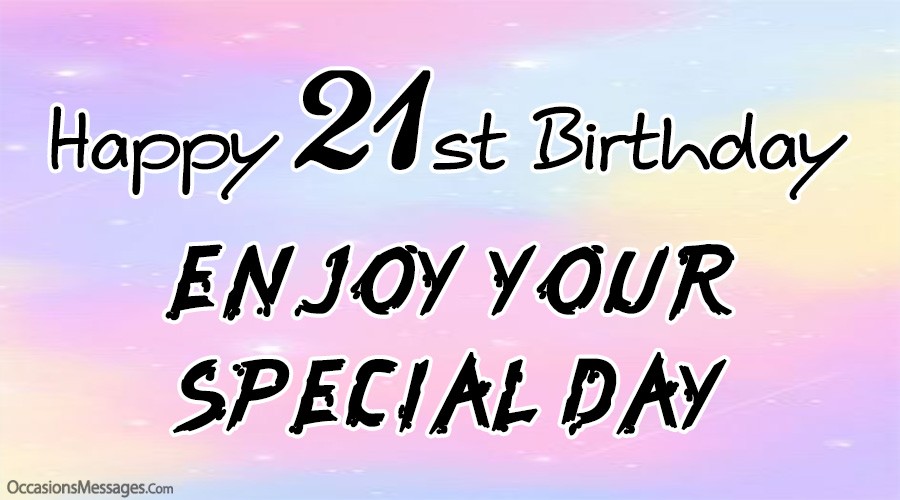 So welcoming a new 21 year old should be handled with a lot of care and love. Apart from throwing them an awesome birthday, why not also try and write them an awesome message to go along with the day? Here are some messages you can write to that special new 21 years old.
Birthday Messages for 21 Year Olds
To the most amazing 21 year old in this universe, you make my days' worth living and now, I am lucky enough to be here for you. Have a great birthday love.
My birthday wishes for you as you turn 21 is that you may finally find that prince that you grow healthier, wealthier and wiser. I love you to the moon and back.
Whether you are 21 or 81 maturity comes through experiences. Happy twenty-first birthday.
You turn 21 that is so amazing, I must be the luckiest person in the whole universe, I get to share in this beautiful occasion, have a blast my love.
21 is no joke, you are getting older, and I could lecture you on the dangers of all you will face, but all I want you to do is to have fun. Live tonight as if there is no tomorrow.
Words all short as I look at how amazing you look as you turn 21, it's a big number, a new age, but I know you can conquer, you always do.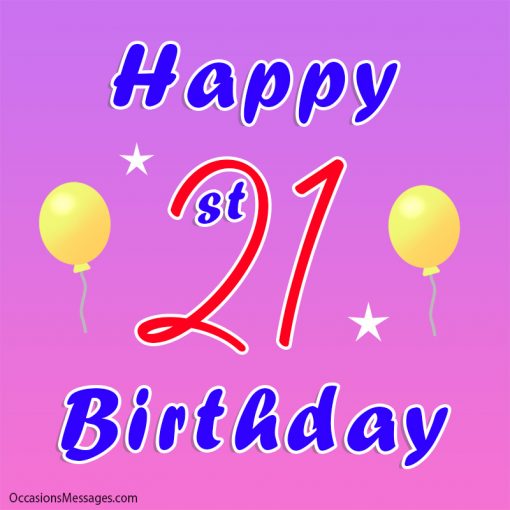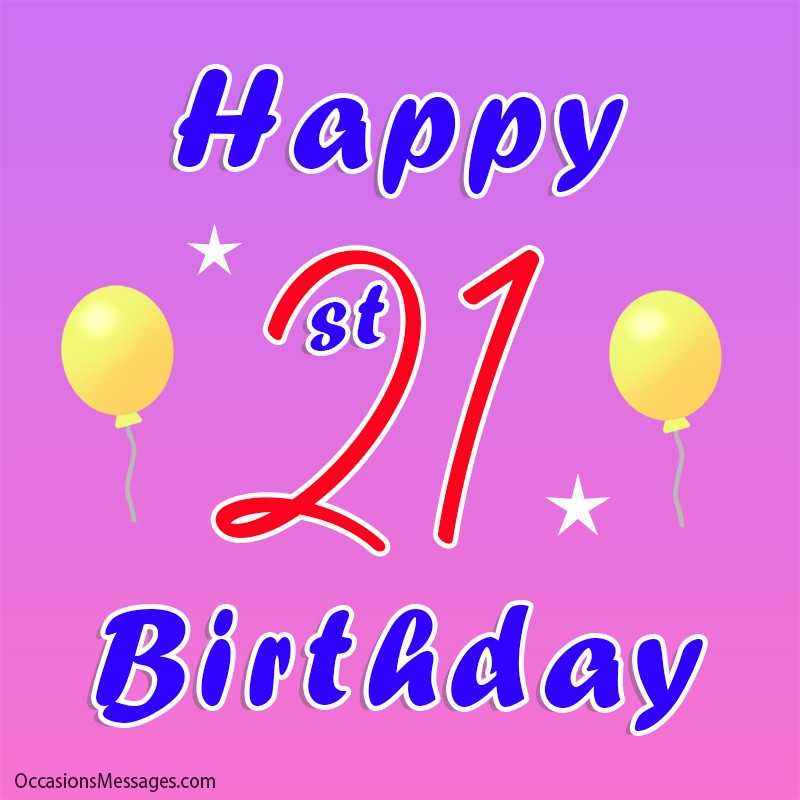 I can't believe how fast you have grown, I love you for all you are and all you are meant to be have a great 21st birthday my dear.
Happy 21st birthday angel, you make me happy to be sharing this day with you, guess I have more time with you now, I love you to death.
You are now 21, a young and courageous person who will live to be 10001 and more. I hope you have an amazing birthday, blow off those candles with pride. I love you.
It's your 21st birthday, did I tell you how amazing you still look. I am happy to be with you, to be by your side and to watch you become the best person ever.
Happy 21st birthday to this gorgeous, magnetic, confident and vibrant person, I hope you have a great day as you celebrate this new age. Have fun.
This day is all about you, from the tallest hair on your head to the sole of your feet, make it about you, and May you have a great time as you celebrate your 21st birthday

.

Words alone don't feel sufficient enough to describe how much joy is in my heart, I hope you get to enjoy your 21st birthday, make it a time to forever cherish and remember, love you.
Happy 21st birthday baby, you are growing into a fine person, I can't help but feel proud of the person you are becoming, have a great 21st birthday

.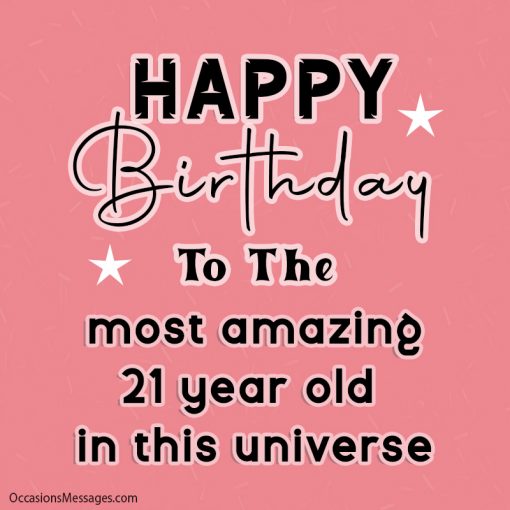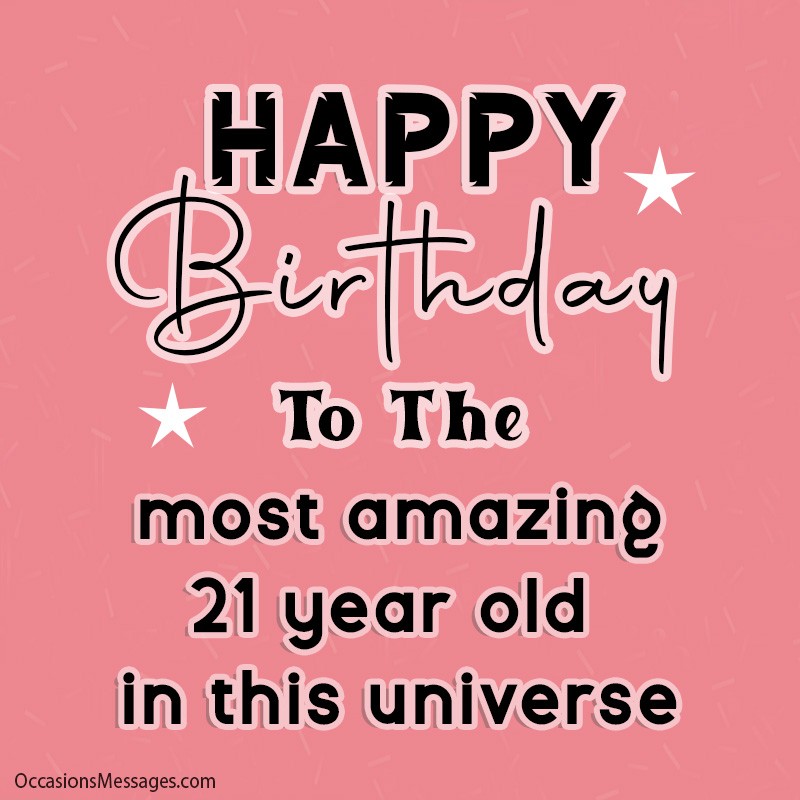 You are now 21?? How fast, I saw you grow into this fine person, and I have to say, I'm proud of you. I hope you have a great time as you celebrate your birthday. You make me happy.
Moving with people that have great mind-set at this age is invaluable, don't ever joke with it. May you be blessed this day and forever.
Happy 21st birthday to the most intelligent, amazing and adorable person I have ever had the pleasure to meet. Let's turn it up!
Remember to always neglect the hypocrisy that has found its way into men affairs, you were made for a lot more than that. Happy 21st Birthday daughter.
Happy 21st Birthday Wishes for Son
It's an age to develop a sense that knows something about everything, act every time in wisdom just as your age depicts. Happy 21st birthday son, have a great and lovely year.
At this age, becoming a man and remaining a kid is a choice and if you were to choose, I know what your choice will be. Happy 21st birthday son, enjoy the fun of the special day.
21 is a sign of perfection and as you clock that number today, it is expected of you that you do things if not totally perfect but to a level of perfection. Happy 21st birthday. Enjoy your special day.
Every nonchalant attitude at this age can be severely punished with regrets. Be wise, firm and rigid with your decision-making. May God help you. Happy Birthday son, 21-year-old!
Happy 21st birthday to you my wonderful friend, now is the time you'll have to take responsibility for every of your actions. I hope this age brings you fullness of growth. Have a blast.
21st Birthday Wishes for Daughter
Remember that choices changes destiny, good choices will not only mean a lot to you but also to those who look up to you. Happy 21st Birthday to you daughter.
I will always wish you the best because you deserve nothing less. You are now 21 and I hope you take advantage of your youthfulness, have a fantastic time dear daughter.
May each of your dreams come true with the new age you've attained. Have the best 21st birthday, may all the desires of your heart come true as you blow out your candles my dearest daughter.
Happy 21st birthday daughter. Remember at this age, opportunities will come, challenges will surface, and obstacles will stand in the way. But remember to always get prepared and you will always overcome.
Never be afraid of your failures. You are rejected just because for achieving something good. Be sincere yourself. Wishing you a very happy 21st birthday.
Many More 21st Birthday Messages
Make your own dreams and try to execute them, otherwise, you will become the part of someone dream which has to be fulfilled. Have a blasting 21st birthday.
Your today's struggles lead in emerging power you want for tomorrow. Have a stunning 21st birthday.
Your every single effort takes you towards your goal. Since you are twenty-one years old and you're strong enough to take your own decisions. Happy Birthday.
Life is the game and we are all stand up at different levels. I wish you all the best for achieving your levels ahead in your life.
Make your goals as your identity not your struggles. Happy Birthday and enjoy the twenty-first year of your life.
Success is revolving around the axis of struggle and you are wise enough to make your struggles successful. I wish you all the best for your future.
Your dream can be productive for devoting yourself towards an idea, endless efforts, and conquering your fears are capable enough for its execution.
The glory of life is achieved just because of hard working. Do not opt shortcuts, they have the potential to mislead towards the destination. Happy 21st birthday

.

Never give up, believe me, you can do everything if you believe yourself. Self-trust is the most necessary parameter for achieving victory.
Since you 21 years old woman. Just remember your innocence is your purity. Never make it impure just because for someone. Happy Birthday!
You have made a step ahead in your life and entered into the pretty young age. Happy 21st birthday. May you get unlimited happiness in your life.
Age 21 is the age of learning; you are not perfect as you are thinking. This is the best growing period of your life; try to learn most out of it. Happy Birthday my sweet sister.
You are 21 years young boy and now you are officially permitted to do anything you wanted to do. Happy Birthday dear brother.
Love is the absolute blessing and nothing can be more worthy than love. I wish you a very happy the twenty-first birthday. May our young age love remain forever.
Do not underrate yourself just believe that you are very special for someone and without you his life is incomplete.
Happy 21st birthday – an era begins for opening new ways towards the desired destination.
Positive thoughts, potent behavior, and moral values produce a powerful mind and a positive change comes into your life. Have a wonderful twenty-first birthday. Be positive!
This is the point in your life when you have officially become an adult, so more expectations, responsibilities, seriousness are connected with you. Wishing you the 21st birthday

.

Your childhood is turning into your adulthood. Try to resolve your upcoming debts. Happy 21st birthday

.

Strong efforts are prerequisite for the survival. Make your future bright and successful and do not waste your youth. Happy 21st birthday. Enjoy your big day.
I wish you all the best for your future and give a quotation for life that complicated paths often leads a smooth Destination. Have a great 21st birthday

.

The biggest provocation of youth is gripping on your idealism and dignity after you drop your innocence. Wishing you the happy 21st birthday.
It's an age that true responsibility comes to display; do your best not to misuse this chance and be the man your generation needs for a complete revolution to take place.
Your birthday is a blessing to me and I must really appreciate the kind of person you have grown up to become. Happy 21st birthday, enjoy and have a blissful celebration.
It's an age to express total freedom but your freedom doesn't mean you should misbehave, be of a good conduct always and you will see the beauty of clocking this age.
21 is such a great number, but I want to wish you all the best as you celebrate today and hopefully when you are getting close to 100 we can celebrate together.
Today starts the countdown to your thirtieth birthday. You must make attempts to perfect some things in your life before you reach that milestone. Happy 21st birthday. I wish you long life and prosperity.
Congratulations for leaving the stage of a teenager to climbing up the ladder of adulthood. Welcome to adulthood. May God guide every of your steps. Have a wonderful celebration.
As you celebrate a unique day like this, may the blessing of the lord that pass all understanding locate you. Happy 21st birthday. Enjoy your special day.
At this age, living life with a deep sense of maturity, honesty and kindness is needed to enjoy life, do not compromise good standard of living and your joy shall be endless.
A great and wonderful year ahead is what you deserve and I want to wish you much more as you celebrate this age today. Happy birthday, may God grant you all of your wishes.
An age to develop really fast. Find your passion, trust in your instinct and never forget to follow the intent of your heart, because through that you will achieve more. Happy 21st birthday, have a blast.
Happy 21st birthday to you my friend from childhood. I remembered how you used to be when we were kids; thank God you are this grown. Enjoy every bit of your special day.
Shed off every pressure of growing up and start enjoying it, because this is when you will live life to the fullest. May God provide guidance for you as you grow up.
As you are 21 today, may you realize your full potentials for reaching that age, and the level of responsibility that follows that age will dawn on you. Happy 21st birthday, enjoy your special day.
Happy 21st birthday darling, I can tell you have great thing coming your way; my wish to you is that you may realize your dream and live it.
Knowing you was a blessing, being your friend makes everything feel right. Happy 21st birthday my dear, the older you get the more glad I am to be beside you.
---
You May Also Like:
Great List of Birthday Wishes for Aunt – Best Messages for Aunt
Happy Birthday Stepson Wishes, Greetings and Cute Cards
---