A new age for that special friend, for that special person, that brother or sister, wife, husband or cousin should be celebrated in the best way ever. Birthday messages are a great way to wish that special someone a happy time as they celebrate their new age. 29 is a special age, the age right before the noticeable 30.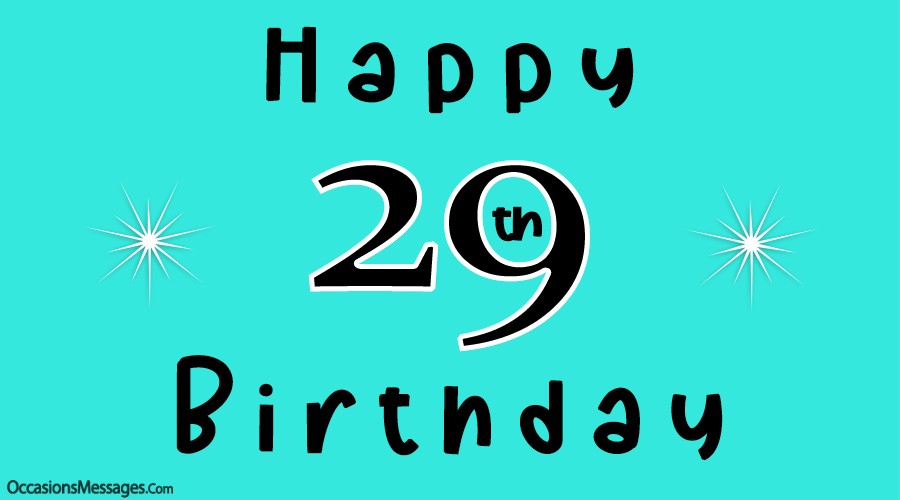 Sending an unforgettable message to that special someone is one of the best ways of making sure that someone never forgets that you were part of their 29th birthday. Send one of these beautiful messages to that special someone to show them your love and care for them.
Happy 29th Birthday Messages
Happy 29th birthday love, you are growing older, wiser and heartier and I love it. May you be more than you are, I love you so much!
Sweetie, age is just a number you don't look a day older than 25. I hope 29 will be the age you learn to appreciate yourself and all that you've become, I am proud of you.
Already 29, time really does fly fast, I hope I never miss a moment of your awesomeness; you are loved, appreciated and important in our lives!
Happy 29th Birthday brother, my prayer for you is that you'll find the key to success and may no one have the ability to change the lock. Have plenty fun.
A 29-year-old person should have the boldness to risk everything, don't hesitate at any point. Live life to the point of tears and the point of success eventually. Happy 29th Birthday.
Don't ever forget that this is your life and even though you're still young, it can end at any time. Do get serious at everything you do. And success is near. Happy 29th birthday to you!
I understand the concern of an unmarried 29-year-old lady, but it's actually not a problem if you don't get your spirit broken. Keep believing and something good will happen. Have a wonderful birthday.
Our lives here aren't going to be forever; probably the most anyone can live is 100. Today you're 29; don't ever toy with doing your best now. Enjoy your 29th year on earth.
I think now is the right time to tell you that I'm ready to get serious with you, I don't want to lose you ever again, and I believe I shouldn't. Happy 29th Birthday my love.
It's your 29th birthday; I can't start to describe how happy I feel to be part of the day. Thank you for being a reason that I smile.
You always have the best birthday I bet 29 won't be exceptional, live long, love hard and most of all enjoy each day as it comes!
May your 29th birthday be more jovial than the last, take the day off and have fun as you celebrate this new awesome age!
You are my longtime friend; you've made everything heartier, happier and more fun. I am glad to be sharing in your 29th birthday, I hope you have fun this time!
I wish you a long life full of fun, heart and a lot of great memories. Happy 29th dearie, I really hope you have a blast!
The older you get the wiser you become, I can definitely see something great and wonderful in you and I know 29 will unlock doors unknown. Have a great birthday love!
My wish for you on your birthday is to have an unmatched desire to create a world that will bring you to the place of your purpose. Happy 29th Birthday dear.
Happy 29th Birthday, no effort at this age is a waste, the one who will lift a mountain begins with removing small stones. So keep on trying. Enjoy your special day.
The mixture of life with love makes life liveable, may you enjoy lots of this as you grow up and may it not end. Happy 29th Birthday.  Enjoy your so special day.
The only choice at this stage of life is to go far in it because there are a lot of people whose destiny are attached to yours. Go for it girl. Have a lovely day.
Life could be mean but don't ever allow it's meanness to get into you. Happy 29th Birthday son. Things will surely get easier soon. Hold on tight to your faith.
When circumstances pushes you to the end of the rope of life, tie the knot and hold on. Don't ever fall off, help will arise soon enough. Happy 29th Birthday buddy.
Happy 29th birthday my love, you are a great addition in my life, I hope you know how much I love and appreciate you. Have a great birthday now and always.
May 29 be the year of great things, great changes and proud paths. Have fun my dear you are an awesome friend and an important addition to my life!
I look up to you most, not for what you have but for who you are, I love and appreciate you and I hope 29 will be the age you have the most admirers.
You have done a lot of good in the 29 years you've lived, I hope you live longer we have not had enough of you. Happy Birthday darling, the world would definitely be dull without you!
Happy 29th birthday my dear, it's a beautiful day to celebrate you. All glasses are raised for you. I hope you have a fun dearest!
Happy 29th birthday my darling, may this birthday fill you with so much love, joy and cheer, may you never luck and may you always have. Have a hearty birthday!
Even if nothing is right yet, I hope your birthday will raise your spirit and make you feel good. Happy 29th Birthday. Enjoy the goodies that comes with the age.
They said you're 29 today, please are you really 29 or 92 because you look like an old man already. Hehehe. May you reach that age by God's grace.
Your appearance looks like that of a person who was born to succeed and not to fail, give your all to make sure of that you compliment your appearance with success.
Happy 29th Birthday dear son, ensure that all of your actions inspire others to dream more and do more. May your new age be a blessing to you and everyone you come in contact with.
Contributing to others joy and happiness will bring complete meaning to your own life, pursue the right thing. Happy 29th Birthday buddy. Special year it'll be.
May help rise for you when you least expect and may life open up its treasury onto you. Happy 29th Birthday daughter. Have lots of fun.
29 suits you well, it makes you blush more, laugh more and definitely live more. I am glad to be part of your 29th birthday dearest!
May 29 be the age you discover new things about yourself, may you have fun and mostly, may you achieve all your dreams and ambitions. Have a hearty day love!
I am glad to see you growing older than yesterday, have a hearty birthday dear, may your 29th birthday be filled with all the happiness and love in the world.
We are nothing but sojourners here; we don't have all the time to ourselves, so we must make judicious use of what we have. Happy 29th birthday to you!
Life may proof not to be what it should be, especially with people we love, but the solution is to keep loving life and everything in it and there'll be an open door. Have a beautiful birthday.
Life doesn't end when you don't have it all figured out at 29, it just often get better. Don't ever give up on trying your best, that's your most important hope. Happy birthday, 29-year-old!
May your 29th birthday be filled with lots of good times and memories. You deserve the best and I hope you get it as you celebrate another year of life!
I can never fully repay you for all the good things you have done to me, but I can definitely wish you a splendid and spectacular 29th birthday, have fun.
Happy 29th Birthday my friend, you have been there for me through good and bad and I hope I can return the favor. Know you can always count on me anytime.
I feel happy that I am part of your 29th birthday, one more and you are finally three zero, I hope you make the last year of being in your 20's unforgettable, I love you!
I watched you as you have grown up, now you are a 29-year old that I am proud to be associated with. May you live long my dear, I love you!
All the words in the cards can never describe how happy you make me feel. Have a hearty 29th birthday dear, may you live longest!
May your 29th birthday be filled with happy surprises: may you fall in love, have fun and make new memories, remember, you turn 29 once in a lifetime!
Stop being so grouchy, you are only turning 29, its time to have fun, put on that pretty dress that shows off your curves and celebrate another plus in your age.
29th Birthdays are filled with lots of thoughts, but much more than all the thoughts in the world, I want you to take time to enjoy this good day. Remain blessed dear.
May today be the greatest day in your life, may you have fun and feel the good things 29 has to offer, I love you dearest, you make me proud.
Happy 29th Birthday to you best buddy, may your days be enriched with riches of Solomon and full of glories that you've never seen before. Have a blast and fun filled day.
Just as grass grows on the field, in and out of season, my love for you grows forever and I hope it will never stop. Happy 29 Birthday to the best partner.
Placing too much of target in the front can wound the spirit when not achieved on time, live a free life at this age my son. Happy 29th Birthday. Have fun.
The soul of a 29-year-old is always and ever hungry for Achievements and desirous for glory. I hope you'll have many victories as you age. Happy Birthday exceptional boy.
Whenever you look to the front or to the back in search of strength, I want you to know that your family is here for you with boundless store of strength. Happy 29th Birthday son.
You always have a smile on your face even when times get really tough, I admire that and I wish I could be more like you. Enjoy your birthday!
Drive away your fear with worthy friends and family, then you'll realize that all is not too difficult after all. Happy 29th Birthday buddy, it's a groundbreaking year for you.
For any elderly person who feels it is easy to be a 29-year-old man, they should try jumping up and down. Hehehe. It's not actually easy. Enjoy your youthfulness boy.
The only thing worth striving for at this age is harmony, at the place of work and at everywhere you can be. It's the best force to drive you forward.
The world has long waited for you to be mature enough to contribute your quota in its upliftment, now is your time to do so. Happy 29th Birthday world changer.
Don't ever try to make decisions that could screw your life, you're at a time where such is not allowed. I want to wish you a prosperous life journey without much of mistakes.
I may not have known you for very long, but as much as I can tell, you are a worthwhile friend and a great person, have a fantastic birthday!