Birthday Wishes for Husband: If you are a wife who is blessed to have a husband you love and respect, you experience a marriage that is rare in the world of today. And when it comes to your husband's birthday, you may find yourself tongue often tied, as he makes you weak in the knees with just one look, you may find your heart flutter as he approaches you and takes your hand. It's often hard to find the best birthday wishes for husband. we've got your covered, show your love to your husband on his special day with the perfect birthday wishes and messages.
Birthday Wishes for Husband
Here are some heartfelt wishes to share with your husband on his birthday.
Happy Birthday, my husband, my partner, my lifelong lover, I will always be by your side. No matter what happens.
My husband, the owner of my thoughts and my heart. I love you so much. Happy Birthday, my king.
You are not just my husband, but my father, my friend, and my everything and you are irreplaceable. Happy Birthday, my sunshine.
I remember my heart almost jumped out of my chest when you took my hand in marriage. Now I hope to make your heart jump every day with my love. Happy Birthday.
You take so much care of me and show me love in your own way. No one gets you like I do and I love you. Have a beautiful birthday.
Every time I see you, I feel honored to be your wife and today is your birthday I feel very happy. I love you very much.
Happy Birthday, dear husband. I was always told that sleeping with someone you love is an amazing experience worth living for.
I know there's a ton of things that you love. Since it is your birthday, I got you a surprise. What is it? Well, that's for me to know and for you to find out.
You are the man of my dreams. The conqueror of my heart and lover of my soul. I am so blessed to have you. Happy Birthday, husband.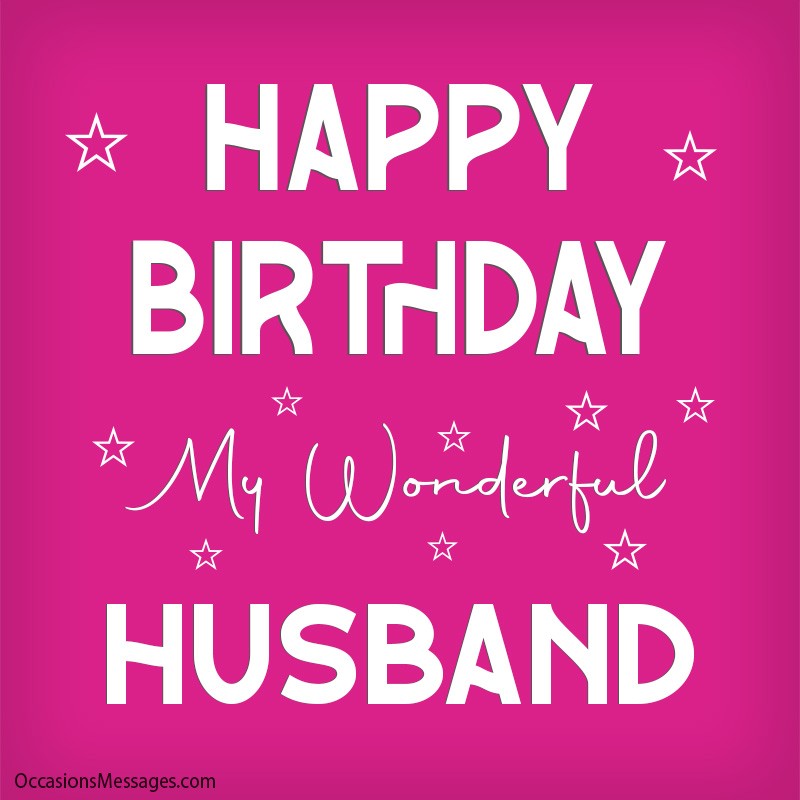 Happy Birthday, my handsome husband! You have to find me in order to get your gift. This will be incredible for me and you.
There is no perfect wish to say to a perfect man and husband like you. May your life on earth keep getting better. Have a very happy celebration.
Today, I'd go back in time and kiss your mother for you, you are a great father and husband and I wish you all the best. Happy Birthday.
I will always be grateful to God for giving me the smartest living man on earth, your wisdom leaves me speechless at times. Happy Birthday, my dear!
It all feels like a dream that is coming true, I can't believe that we met so many years ago, and we still have the same love we did. You are a great husband! Happy Birthday.
You're the man of my life, I am very happy because today is your birthday. Happy Birthday to you my perfect husband!
We said forever, my forever with you is definitely a happily ever after. You are an awesome husband and father. I couldn't be gladder, Happy Birthday love.
Today we celebrate another year of your precious life, my love. You're my husband and I feel very happy to see that you are having a great time. Happy Birthday.
You are one of a kind and I love you so much my dear husband, I hope you'll have an unforgettable birthday today.
You will forever be perfect in my eyes; I adore you and hope you have the best birthday yet my love. Happy Birthday, wonderful husband.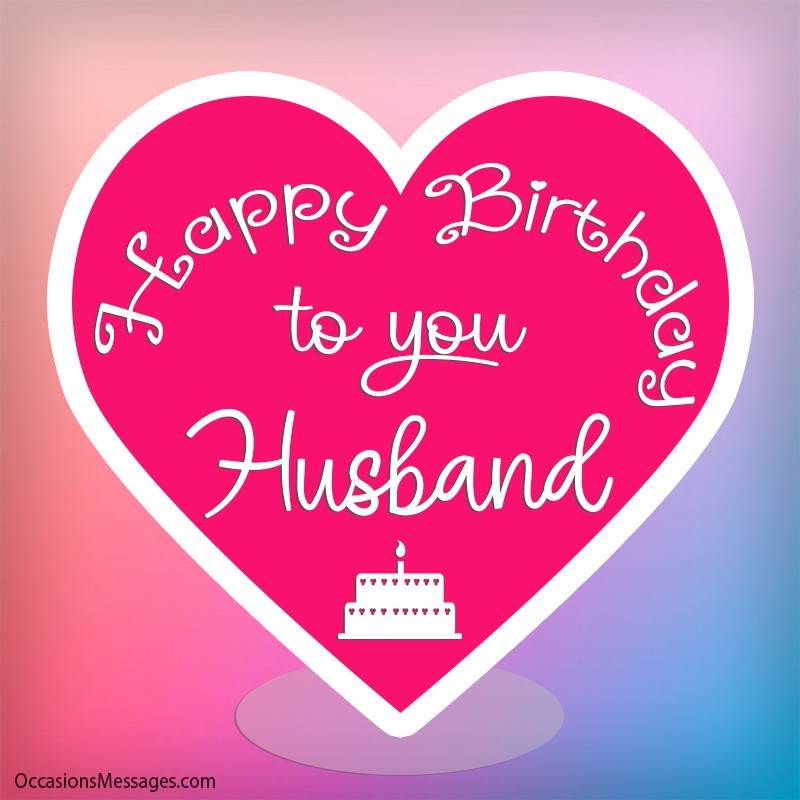 You made me one of the luckiest wives in the world and I love and appreciate you so much. Have a fantastic birthday dear!
I can never get enough of you, you make me so happy, and I am blessed that you turn a year older, wiser and strong enough to make me happy! Enjoy your birthday.
Today is your birthday my husband. I have cooked for you, your favorite meal and your favorite drink. I also have another surprise for you but that's for later tonight. Happy Birthday.
We are a bit elderly of a couple. I would not want to spend time with anyone else but you as we got older. You are my lover for this life and the next.
They say love is hard. They say it doesn't last. They haven't met my husband. I will love you now and forever. Have a very Happy Birthday.
You're an amazing man who I love so much, and with you I'm the happiest woman in the world. I wish you the best in the world.
Romantic Messages
Here are some romantic birthday wishes for husband.
My husband, it's your birthday again. I hope I can make you as happy as you make me, that is my only wish. Happy Birthday.
To the father of my children and to the man I vow my entire being to, have the most delightful birthday yet. I love you so much!
Thank you for sticking with me through thick and thin, you have proved to be my greatest asset. Thank you hubby, enjoy your birthday.
Things aren't smooth, we may fight we may argue but we are always one. I love you hubby, so do us all a favor and have the most fun you can today. It's your birthday!
Happy Birthday darling, you are the best husband a wife could ask for. Thank you for making me laugh cry and for just being there when I need you.
I do not know if we are the most perfect couples, but what I am sure is that our love is pure and true. Happy Birthday my husband.
Happy Birthday to you my husband, my strength and my partner. I get to share this day with you and to have you with me forever.
So many people questioned me when we first got together. I never regretted my choice as I knew you were the man for me. I have never been happier. Happy Birthday to you amazing husband.
They always say a woman reflects her man. I've gotten many compliments saying what an amazing woman I am. It's all thanks to an incredible man in my life. Happy Birthday.
You know that many men don't know how to dance? I am so glad I married a man that can move. We will be dancing the night away my love. Have a great birthday.
Read More: Best 40+ Romantic Birthday Wishes
Funny Wishes
Make your husband smile by one of our funny birthday messages.
I know we aren't as young as we used to be, your bones may make more sounds than mine do but irregardless of that, I love you and wish you a heart-felt birthday!
I think you rushed a little; you look old enough to be my dad, just kidding honey. Have a Happy Birthday and one more year with you is a blessing to me.
Husbands don't come in your brand anymore, trust me I checked, I wish you a long life full of gray hair and grumpy expressions!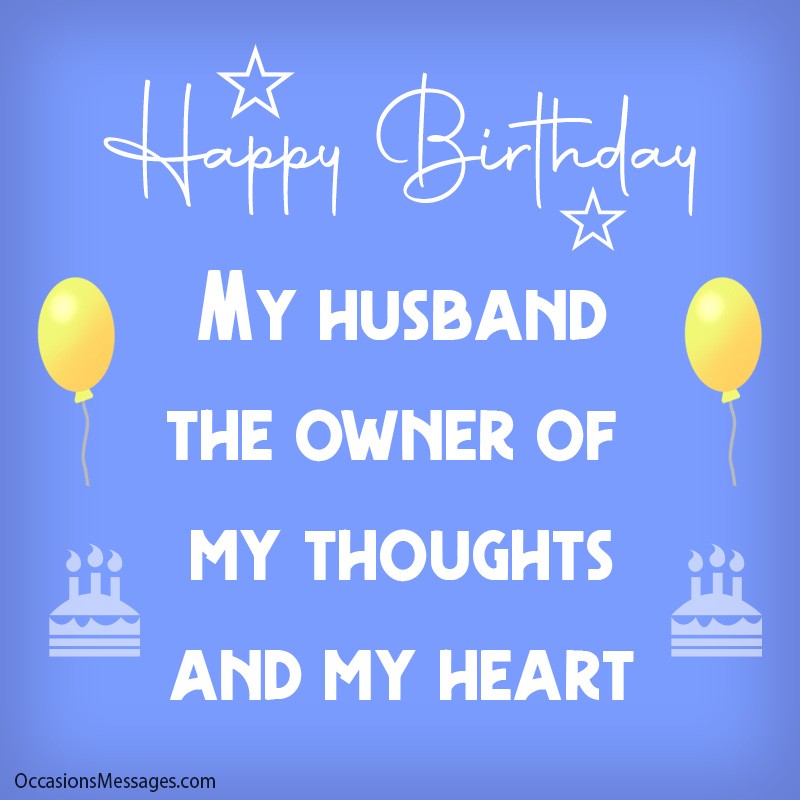 You're already becoming a grandpa dear, you've got the looks for it, just make sure your teeth don't fall off because of the sugar. Have a grand birthday!
May this day give lesser reasons to complain and see the mistakes in everything. Have a fantastic day as you celebrate your birthday old-timer!
Happy Birthday! Our hairs are getting a little grayer my husband. But don't worry. I still think you are handsome as ever. Rawr!
For More Options: Check out these Best 75 Funny Birthday Wishes
Short Wishes
Here are some short birthday wishes for your handsome husband.
Thank you for being the man I still love and would marry all over again. Happy Birthday.
To my amazing husband, I found in you my superman. Happy Birthday, my sweetheart!
You are a good husband and there is no one else I'd rather grow old with. I love you!
Happy Birthday, lovely husband. You are an amazing man and I love the fact that you are in my life.
You are a gift that was hand-picked by God; I love you and wish you the best of everything.
May this day give you peace, love and harmony in your mind and heart. I love you honey.
You are the kindest person I know and I will always be here for you. Happy Birthday my hubby!
Happy Birthday. You are a kind and gentle man and you deserve the best birthday ever.
May today open up doors that will make you better, prosperous and happy, I love you hubby.
Happy Birthday to you amazing husband. May this birthday fulfill all your desires.
We celebrate a man who is a legend to us all. Happy Birthday my husband, I love you so much!
Happy Birthday, Husband
Need more birthday wishes for husband. Here you are. You may want to see these amazing 45 birthday wishes for a man.
I wish you well today and always, may the Lord bless you with many more years of life and excellent health for you to continue with all the plans you have.
The most important thing on this earth is Time. Without it, we would have nothing. Today, on your birthday, I am going to give you all my time. I love you, my husband.
We've shared a lot of good memories in our marriage, I hope today will not be an exception, now let's turn this special day into an exciting one.
As you share your piece of cake with us, I wanted to remind you that you are the most important person here today, and we love you so much!
I can never be ashamed of you. I am always happy to share each and every moment with you. I love you hubby, you are the most amazing person in my life.
Happy Birthday my husband. It's your birthday! Another year to celebrate! For the most important man in my life, who will never be replaced in my heart.
Today is the special day of the strongest, the most incredible, the smartest, and the sexiest man I know. It just so happens that man is my husband. Happy Birthday, wonderful husband.
I love going out with you. I love knowing that others look at you but you are mine and only mine. Happy Birthday, my handsome husband. Let's party.
I celebrate you, not just today but each and every day of my life. I love you so much my husband, you are amazing man.
It's been so long since me and you have gone on a vacation. It is time to enjoy ourselves and let go of work. Happy Birthday my husband.
You always take good care of me when I am down and in disarray. Now it's my turn to take care of you my husband.
There is over 5 billion people on this planet. I am so glad that out of those, you were the one to find me. I'd give myself to no-one else but you. Have a nice day.
The minute I became your wife, I knew that no matter what happens we would be able to handle what life would throw at us. I have yet to be wrong.
My man, my hubby, my protector: my everything. You are my greatest trophy. Today is your birthday and all I wish for is more of you every single day.