Happy 40th Birthday Wishes: Turning a new age is always an amazing feeling. Each age has its own special gifts. Today though, we are talking about the special gifts that come with turning 40 year. Turning 40 might mean that you have your life lined out, that you have that perfect home and that perfect life. But that is not necessarily what everyone turning 40 feels like. As a friend, you have to be there for someone turning a new age, for with each new age comes scares, the best way to show your support and care for a newly aged 40 year old is by sending them a little message to appreciate them and tell them how beautiful they are. Here are some amazing 40th birthday messages that will do the trick.
Happy 40th Birthday Wishes
Happy 40th Birthday. May your life be filled with unlimited happiness.
Welcome to the F-series of life. Enjoy this 40th season to its fullest. Happy Birthday.
Be like a parachute it doesn't work unless it's open, so make your mind and thoughts vast and open to work fast. Happy Birthday.
Happy Birthday. You turn forty but you don't look a day over thirty nine. Enjoy your day dear.
Happy 40th Birthday. I hope you enjoy your beautiful day to the fullest.
You don't look older, but you do look healthier, happier and wealthier. Happy 40th birthday, you rock my world.
Say goodbye to your youth and enjoy the lovely season of old age. Have a fabulous 40th birthday.
Happy 40th birthday buddy. 50 is knocking at the door and at this point there is always the need to achieve everything, I hope you'll be great.
Today my wish and only wish for you is that all of your heart desire can push through very soon. Enjoy your glorious day.
The more you feel, the older you look. Forget the age and enjoy your day. Happy 40th Birthday.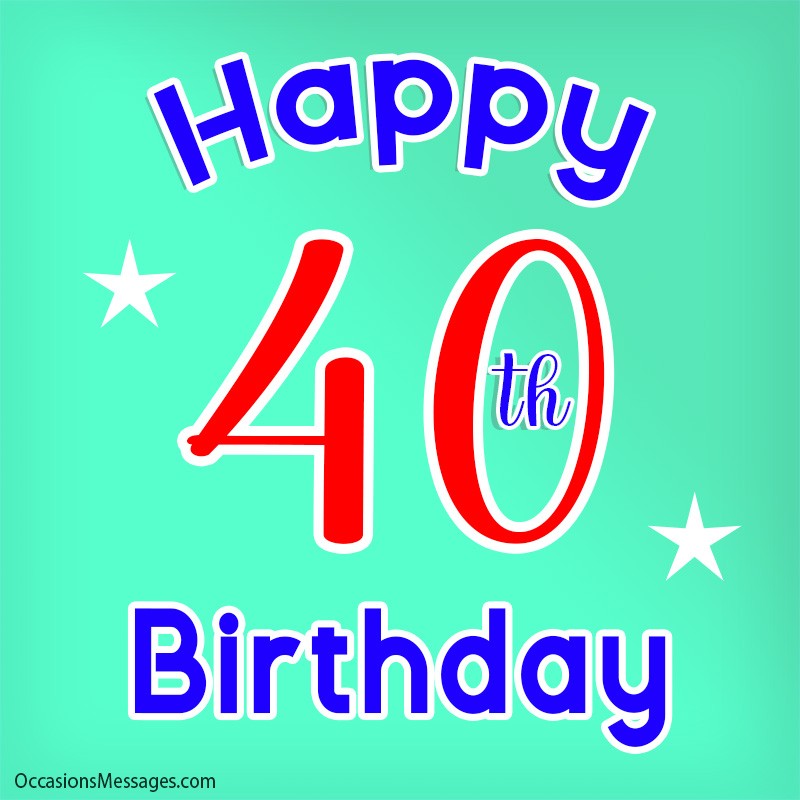 Live your life to the fullest, enjoy every moment and just forget your age. Have a wonderful 40th birthday.
Today is a joyful day for you; I hope this happy moment last a lifetime in your life. Enjoy it.
Happy fortieth birthday darling, you grow handsome by the day and I cannot help but feel lucky when I am with you.
Turn 40 in style, you are an awesome person and I hope you outlive us all. Thank you for making so many unforgettable memories with me. Be blessed.
The older you get the more amazing you become, have a beautiful 40th birthday may all the desires of your heart be met and may you attain everything you want in life.
Happy Birthday brother. Wishing your 40th birthday be filled with happiness and joy.
You are everything I want to be when I reach 40, thank you for being such a big inspiration to my life and the person I never want to lose, enjoy your day, you are great.
Happy 40th Birthday, my friend. keep moving your own way.
A person becomes old when he starts thinking too much, so stop thinking too much and enjoy the beauty of life. Happy 40th birthday.
If I could sing to you, I would but I am afraid my voice is too rough. Happy Birthday. May all your wishes come true as you turn forty.
Happy 40th Birthday to you. Stay blessed and enjoy your special day.
May your 40th birthday be the continuation of the good things happening in your life. Have a fun and blessed day my sister, remember; you are only as old as you feel.
Good things come to those who wait; I can tell amazing things are waiting for you. Have a great and amazing 40th birthday, pamper yourself, you deserve it.
They were wrong to think you'd grow old and wrinkly. Happy 40th Birthday; you are aging pretty gracefully!
Read More: Top 85+ Birthday Wishes for Cousin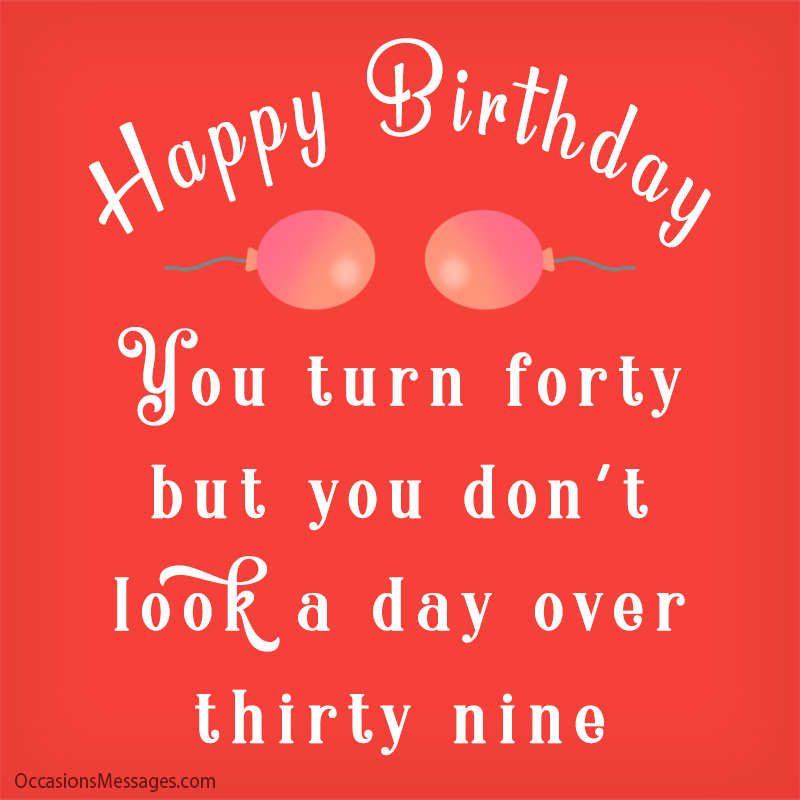 Happy 40th Birthday sweetie, it's your day, make the most out of it. You only turn 40 once after all!
As you celebrate this beautiful and awesome age, may you be blessed with all that is good in this life. Happy 40th birthday. Enjoy your special day in the best way that you can.
Wishing you a very happy 40th birthday with lifetime joy, happiness, success and inner peace.
Life is like a video, every scene brings about something different in our lives, the beauty of it is to enjoy every scene as they are being rolled in. Happy 40th Birthday.
As you clock 40 today, remember that every decision you make must not favor only you, but people around you. 40 is a responsible age, be wise at all decisions.
You are becoming a style icon in the family as in the age of forty you look still young, very energetic and graceful. Have a wonderful birthday.
You are the most energetic, spiritual and admirable woman I have ever met. I still can't believe you are turning forty, you look amazing. Happy 40th Birthday.
Happy fortieth birthday my dear, you are the most amazing person in my life and I do love and appreciate you. I hope this day turns out as you planned.
Do not let your dreams die; keep them alive in your mind. You are not too old that you aren't able to fulfill it. All the best and wishing you a wonderful 40th birthday.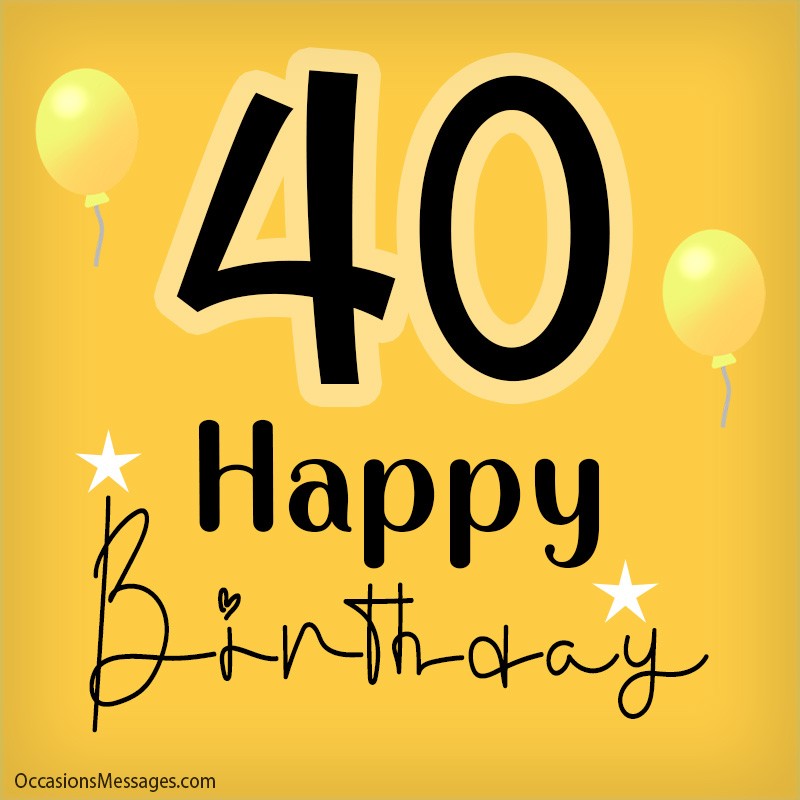 The bad thing about life is also the good thing about it, life doesn't last long and it is long enough to be a good influence on people's live. Happy 40th birthday.
Happy 40th Birthday. You are a blessing to me and without you my life would have no meaning
It's hard to believe you are really forty, you don't seem to have aged at all, you are still the person I look up to and wish to be all day, every day. Happy Birthday to you.
Happy fortieth my dear, you are a great addition to my life and I hope you enjoy each and every special moment in your life. May all your wishes come true as you blow out those candles.
On your special day, I wish you all the happiness come in rest of days, may you shine like sun rays, have a fabulous 40th birthday, anyways.
Related Article: Best List of Happy 45th Birthday Wishes
SHARE ON