How can I wish my nephew, Happy Birthday. Everyone in every family has some cute member that they may want to pinch the cheeks of. They are often treated as if they were their own son if you see them regularly enough. They are often full of life and a joy to know as you are called either an aunt or uncle. Yes, I am talking about nephews. They can be a ton of different things. They can be fun, annoying, a brat, a prankster; you just don't have any idea.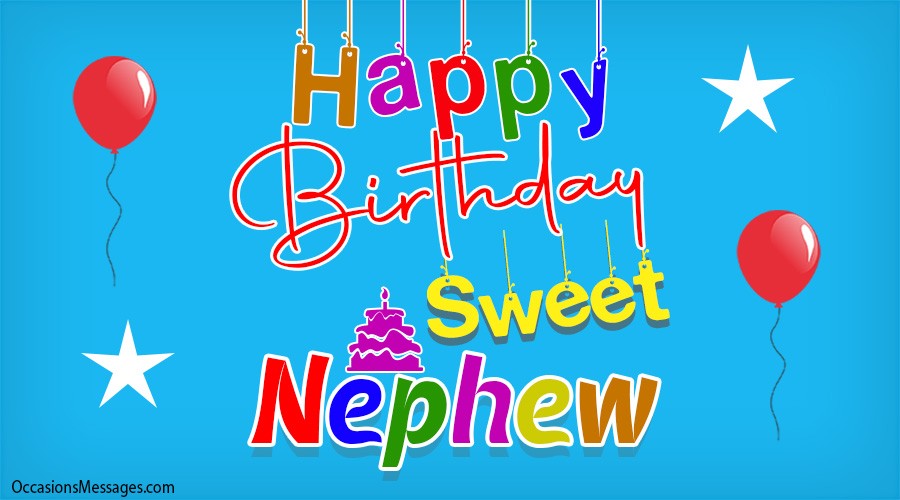 But for the most part, they are young whereas you are older. You are in a privileged position to teach your nephew and be a proper role model. Or, you can be the cool uncle. It's up to you. No matter what the case, you should give your nephew a birthday wish worth remembering.
Birthday Wishes for Nephew
Hey nephew, from deep down, I want to wish you a great birthday.
My nephew is Batman, who will come save the world. Happy Birthday to you.
If I were you, I would postpone growing old. Enjoy your birthday though.
You are not only my nephew, you are like my own son and I feel my life is boring without you. Happy Birthday.
Happy Birthday to a wonderful nephew. You are the sun in this family shining with so much light that you can never be shut off.
If wishes were horses I would have ridden on one to be present for your birthday. Enjoy the moment.
You will have a great day today. It will be full of music, dancing and food. How can that not be a good birthday? Enjoy it my nephew.
You are more than a nephew to me, you are my best friend and I hope I am too. Happy Birthday nephew.
Happy Birthday my dear nephew! Your mother and I have gone through many things together and I will show you the same amount of love I showed her.
Birthdays come and go but great people like you stay forever. Have a beautiful celebration.
My amazing nephew deserves an amazing birthday. I pray you live long enough to see better days.
Let's get some Happy Birthday songs going for my nephew! Have the best birthday in the world!
I thank God for you each day, you are not only my nephew, you are like my son and I would do anything for you. Enjoy your birthday kiddo.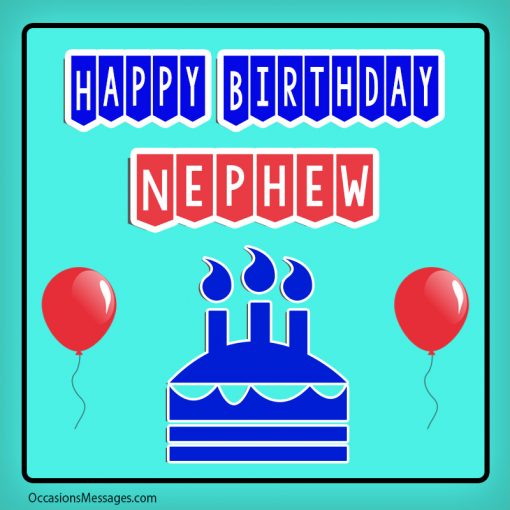 Looking at the stars, I am reminded of the star in you. Have a Cute day dear nephew.
The most valuable jewel around my neck is the arms of my nephew. I love you, my sweet child. Happy Birthday.
You are getting older nephew! It only seems like yesterday when I saw you in diapers, making a mess out of yourself. It is one of my more fonder and stinker memories.
You're my nephew but I love you as though you were my own son because you cannot imagine how happy you've made me.
You are a blessing on this world and I hope you continue to be blessing for all those around you.
My nephew's birthday is the best! I really hope you enjoy this day and live to have many more.
Hey kiddo!! I want to wish you a long, prosperous and fruitful life. Happy Birthday nephew.
Happy Birthday my nephew. I just want you to know that I love you dearly and that if you ever need a place to crash, you can come over.
May you always find luck and may you never lack, and if you ever do lack, don't be afraid to contact me. I will always be here for you my nephew.
I know there is a young lad who will be celebrating their birthday today! Do you know whose birthday it is? That's right, it is yours.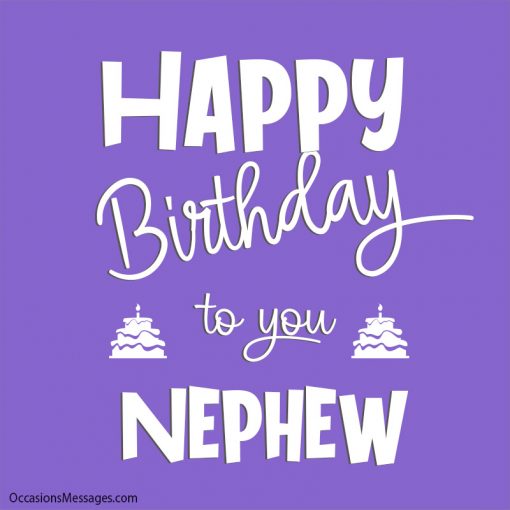 You have not only brought joy and happiness to your parents but also to us all. Have a great day!
I love you my handsome nephew and though you're too young to understand these words I wish you well in your life.
You will someday be the man I know you are and I will always be proud of you my nephew. Enjoy your birthday.
Before now you were my little boy, but now I can call you my little man. Happy Birthday nephew, god bless you.
Oh how I want to see you on this special day of yours, but distance won't allow me. I hope you'll have a very Happy Birthday.
Nephew From Aunt
Being an aunty is the best feeling in the world. Here are some messages you can send to your nephew on his birthday.
Your auntie here wishes you a Happy Birthday! I hope that you love your gift and you enjoy your special day.
Happy Birthday to a fun loving nephew. You are a joy to be around. Keep being awesome.
The best of wishes, for the best nephew from the best aunt. Happy Birthday.
If you were not in my life, I could not have gotten the honor of being called an aunt. I love you so much, my dear nephew.
You know who used to baby sit you a ton of times when you were a baby? That's right your auntie. You drove me crazy, god knows how many times but I still love you.
If life could give me an opportunity to choose my nephew, I would again choose you. Happy Birthday nephew, your aunt loves you.
Today is your special day, you are not just a nephew to me, you are my son. I love you so much.
From your loving aunt to a lovely nephew, as you are a year older today, have fun all through and never give room for sadness.
Happy Birthday my dear. Your aunt here wants to wish you a year of happiness, success and wild memories.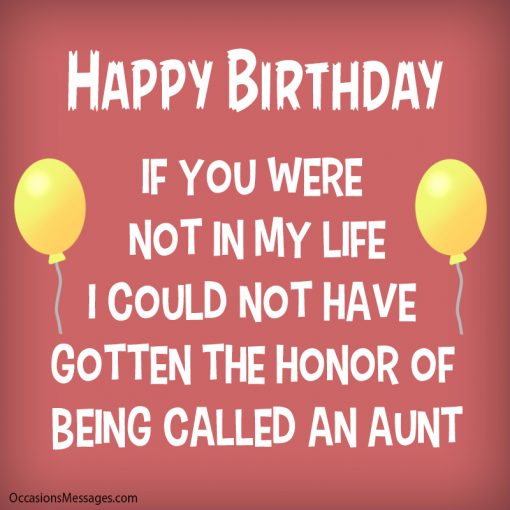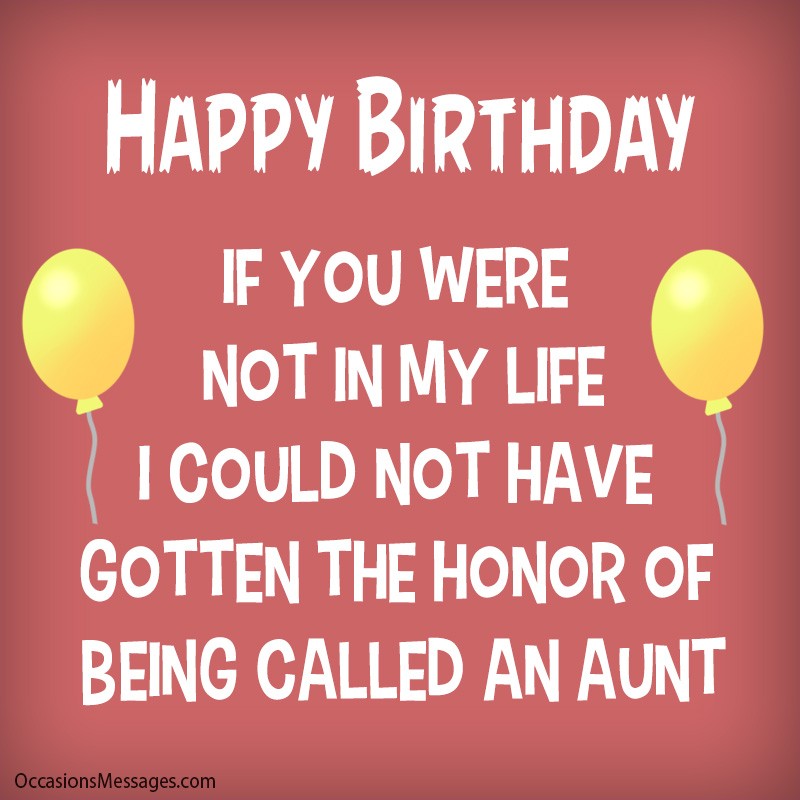 Today is going to be great. I have lots of gifts, chocolates, and candies for my sidekick nephew's birthday.
I am the happiest aunt in the world, because I have the most beautiful nephew that exists on earth.
My nephew. You have an aunt that loves you and will be here for you whenever you are down. Enjoy your special day!
Happy Birthday my dear, the sun shines for you and the stars will sing for you at night for it is your special day, enjoy baby!
Nephew From Uncle
As an uncle here are the best ways to wish your nephew a Happy Birthday. Tell him how much he means to you. For more Ideas, see this list of Birthday Wishes for Boys.
From your super-duper cool uncle. I hope today you have an awesome day like an action hero. Enjoy
Happy Birthday to an awesome nephew from an awesome uncle.
Happy Birthday handsome nephew! You have an uncle who will always have your back and will take care of you. Enjoy!
You are a caring and loving nephew and you never make any difference between me and your parents. May you have a wonderful life.
Life is a beautiful gift from God, make it obvious and enjoy it as much as you can as it is too short for tears. Wishing you good luck.
Your uncle here wishes you the best day and a year of great times. Let's party!
My dear nephew! You are a great individual who has one of the strongest and bravest hearts that I have ever seen. Do not let go of your dreams.
It's a special day for a special person like you my dear nephew; you deserve the best birthday in the world.
You are as sweet as honey, as beautiful as flowers and as precious as diamonds. Happy Birthday to you nephew.
When I look into your beautiful eyes, I see a beautiful smile and how you have fun every time I'm on your side and I feel like the luckiest uncle in the world.
God has granted me with very special things and you are one of them. Wish you the lifetime happiness.
You are the reason of my smile and I really feel awesome in your company. Happy Birthday my lovely nephew.
Funny Wishes
Happy birthday sweet nephew, may you grow older than your favorite dinosaurs. I love you so much.
Laugh and smile all you want as long as you have teeth.
Take a deep breath in and blow out those candles, one day you will be too old to blow them all out without a fan.
Happy Birthday to you. I'm glad you're old, but don't expect me to follow your example.
If I do not give you anything this year do not be offended, I am saving it for next year. Happy Birthday.
Have a great day little precious boy, the older you get the more females will be attracted to you. So eat well, eat healthy and look good always. I love you!
Do not worry! Old age is like a second childhood without hair and teeth. Heheh.
Happy Birthday nephew. Don't eat too many sweets; you might end up toothless like your granny.
After several titles I got through studying, I got a really desirous one after your birth. An uncle. Happy Birthday nephew.
I'm glad I could see my nephew with my football gene, it's really delightful to see you play football, but you're still not as good as me. Heheheheh. Happy Birthday.
I know mum is making your birthday a healthy themed one, but don't worry, I have some sweets hidden somewhere for you. Just ask me nicely.
You have a very handsome face my boy, use it wisely, the ladies will love it. Have a great birthday.
Short Messages
Happy birthday man, you are awesomely awesome and I hope this day turns as you planned.
it's your birthday, call all your friends around and enjoy this fantastic day. Love you bunch!
May this day bring you more joy than the last little nephew, with lots of love and appreciation.
Have a hearty day my little nephew, I love you so much.
You are a wonderful boy, that's why I wish you all the happiness the world has to offer. Have a very Happy Day.
I wish you a life full of success and happiness. I love you. Have a wonderful day.
Today is your birthday and I want to congratulate you and if you have a party you have to invite me.
You are a huge part of me and I love you so much my nephew. May this day be more epic than the last!
You have the smile of a king and the heart of a solider, hearty birthday nephew, I love you.
Your smile brightens my day each time I see you. Have an awesome birthday and may you always be blessed.
Thank you for coming into my life, I love you so much, enjoy your day little prince.
May this day fulfill all your desires dear nephew. You are truly loved and appreciated.
Happy Birthday nephew, you are a sweet and grateful kid and I love you so much.
Have a hearty day full of blessings, love and cake, I love you and I wish you nothing but the best.
Older Nephew
I love you so much, you remind me so much of me and all I wish for if that you may be better than I ever was.
My lovely nephew, you are the greatest gift I could ever receive. I wish you a fantastic day.
Make your own dreams and follow them. Have a nice birthday, my sweet nephew.
I don't have my own son, but God has gifted me a cute and obedient nephew like you. Happy Birthday.
Have a great and unforgettable birthday my dear nephew, you make me a happy and proud.
Happy Birthday to you, the older you get the more challenged I feel. I appreciate the fact that you're in my life. Have a happy one!
Even though you're growing older than I, I hope this day brings you loads of new gifts and that it may be your best birthday yet my dear nephew.
You are older and more prominent and have been an inspiration to me. I wish you a big celebration.
Birthdays are days for joyful noise. Hence enjoy all the birthday noise all around. Today is for you. Have a nice day.
You have been a great inspiration to me. I wish that your birthday is as cool as just as you are. Happy Birthday to you big nephew.
Little Nephew
A nephew like you brings happiness and joy to the heart of people even if they don't see you. You're such a delightful kid. Happy Birthday.
Your sweet uncle wishes you a very happy birthday. May you have the great things in your life.
Happy Birthday, another year with your cute little face in it and your cheeky little behaviors is more than I could ever ask for.
My little man is growing to be anything he wants to be. Have an amazing birthday my nephew.
You are a brilliant child. I appreciate all the times we have spent together. I love you younger nephew.
Love runs in your blood. You will never lack anything you need to move to the next level. Happy Birthday nephew.
Happy Birthday to my nephew who genuinely deserves to be happy today, we're all caught up in your happiness.
Each birthday I get to celebrate you is better than the last. May your birthday today be no exception.
Baby Nephew
My baby nephew is growing up to be a big strong man, love you always my sweetheart. Have a lovely day!
I know a very excellent boy and he is my nephew, your time for stardom is on the way. Happy Birthday nephew.
Love is when your 1-year-old nephew says you 'aunt' with his broken sweet words. Have a cute birthday.
Happy Birthday nephew. You are a rare type of gem, one that can't be bought nor sold.
On your birthday my baby nephew, I wish you grow brighter than all the stars in the universe.
Sharing another year with you is such a blessing; I hope two candles won't make you run out of breathe.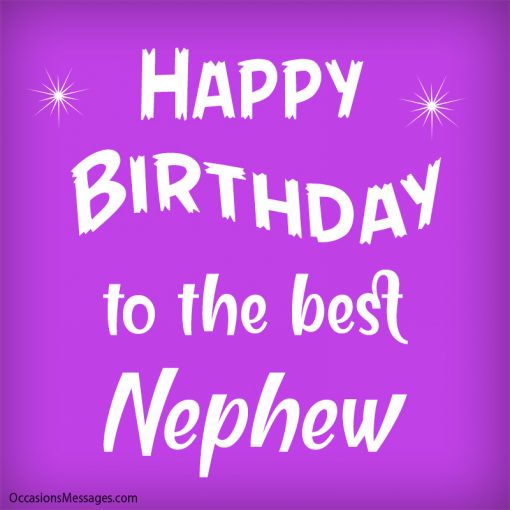 Happy Birthday dear nephew, you don't know how happy enough that you made me an uncle, you are forever a little man I will look out for.
As you take these first steps baby, I wish you goodness, happiness and special moments in your life.
You make me proud to be part of your life. I can foresee only good thing for you.
Adult Nephew
May this day be the best one you'll ever have, you deserve the very best my dear nephew.
My little boy is now a responsible adult who is set to conquer the world; I wish you the best of everything.
You are a star, a pillar and a shining light; I celebrate having such a remarkable nephew amongst our family.
I am blessed to have a nephew like you; you make me feel like the luckiest uncle in the world.
I'm always proud to be beside you because you're so handsome and intelligent. Such a great-nephew. I wish you many more years.
I may be your uncle, but you mean more to me than just being my nephew. Have a great birthday!
Married Nephew
Happy Birthday nephew, you make me a proud uncle and I hope you grow to be one of the best men in the world.
Enjoy today to a maximum with your wife, kids, and well-wishers, I'm so filled with joy because of your birthday.
I will always be the uncle you can count on, the one you can share each and every moment with and the one who will always have your back. Happy Birthday!
I am highly satisfied with the way you handled challenges, you have made marriage and life seem very easy. Happy Birthday nephew.
You are the greatest nephew an uncle could ask for; you make me proud, happy and so alive.
May God bestow all his blessings, victory wakes you up, enthusiasm makes your feast and destiny give you plan.  Enjoy the life.
Twin Nephews
To my favorite set of twins. I am glad it's your birthday and I hope I can make it special for you special nephews.
Words can't describe you, two little beautiful and charming angels. Have a magical day twin nephews.
The fun never ends whenever you two are around, you are such a great duo and always lovely to be with. Happy Birthday twin nephews.
It is always worrisome how you two always want to be with one another, but you never cease to fight when you're together. Hahahah. It is a misery.
Thanks for coming into the life of my sister, she thought everything was over, but you brought joy more than she could ever expect. Keep growing in the right path.
I hope you'll enjoy a double day for your birthday. Hehehe. Happy Birthday twin dear, have lots of fun.
Every twin I know has a beautiful soul and are always willing to help each other. I hope you will emulate that as you grow up. Stay blessed.
Nephew Lives Far Away
I hope to see clips of your birthday party very soon, therefore, live today with joy and gladness because it is your birthday.
You are far away yet close to me than most people I see daily, though you are my sibling's offspring, it feels like you are mine. Enjoy every moment of your day.
I wish you all the best on your birthday and I feel blessed to have you as a nephew despite our difference in location.
You grew so fast that I could not recognize the little boy who runs around. Happy birthday little nephew.
No matter how old you get, you will remain my favorite baby. I love you greatly. May you have many more to come.
Wishing you a lifetime of prosperity, happiness and health! May your success be found in leaps and bounds, as tall as skyscrapers and crisp as the morning sun.
Smile more, have fun and be happy on your birthday, self-love is the most important virtue.
Early Messages
It is 00:01 am; I am still awake to be the first person to wish you a Happy Birthday. You are both a nephew and a son to me.
I wanted to be the first person to do say "Happy Birthday" to the world best nephew," pardon me because its early.
A Happy Birthday wish is better said early than belated, I have a wonderful gift packaged for you to make your day is perfect.
You are more of a friend than a nephew to me that is why I have the right to do things differently, like wishing you a happy birthday before time.
Let it go down in history that I wished my nephew an early Happy Birthday, I just felt like doing something different this time around.
My favorite boy deserves an early birthday present, I also said an early birthday prayer for you, I wish you the best in all your endeavor.
Sweet nephew, the moment my clock ticked 12:01 am, I woke up to send you this message. Very few people enjoy such courtesy from me.
Belated Messages
I am so sorry I couldn't be there this time, but you were on my mind. hope you had an amazing day.
I must have been thinking too hard that I forgot your birthday. Please accept my warm wishes.
I hope you had a blessed and fun-filled birthday dear nephew. Sorry for my late wishes, I promise to make it up to you.
promise I didn't forget your birthday; I must have mixed up the dates. Have an amazing time throughout this new age dear.
I am sorry this is coming late; I got caught up with office work. But it is better late than never.
I am so sorry I couldn't be there, but my spirit was with you throughout. I hope you had an epic birthday dear.
Sorry doesn't begin to describe how bad I feel about missing your birthday. Regardless, I hope you had an amazing time sharing your cake dear nephew.
You have been a great inspiration to the family. I am sorry this is coming late. I love you. Have a great day, nephew.
More Birthday Wishes for Nephew
I wish you a beautiful celebration on this particular day. Continue glowing in greatness and peace. Have a beautiful day.
Feels like a nephew's birthday from a thousand miles away. Happy Birthday!
You are so warm in your heart and smiles lit your face. Happy birthday to you my beautiful nephew.
You are a shining star to be seen by the whole world. I love you greatly nephew.
I hope you slept well because you will not have the opportunity for the next twenty-four hours, feel free to call me if you need anything to make the day glorious. Happy Birthday to you.
May your birthday blessing be as numerous as the stars in the sky; Happy Birthday my handsome nephew.
Every laborer is entitled to his wage; every good nephew should earn a reward at intervals. I know you are eager to see the gift I got for you.
It's a beautiful day to be celebrating another year with you, I may wish you a lot of things but for now, I just wish for many more of these.
Happy Birthday to the nephew I love so much, I will always be the aunt that cherish and care about you.
You are like a son to me; you appreciate me and treat me more than just an aunty. Enjoy your birthday my dear.
I might have missed some crucial occasions in your life but not today. Happy 2nd Birthday, my beloved nephew.
You are growing up fast; I am scared you might catch up with me. Best birthday wishes to you!
Life is filled with cheer every time I see your smile. It brings me joy to celebrate the most beautiful soul I know. Happy Birthday!
Little man, you are growing to be as fearless as your uncle. Have a hearty day my little tiger.
Happy Birthday. You have always been such a troublemaker. How do I know? I am your auntie. Aunties always know troublemakers when they see them! Enjoy this day.
I know when you see me, you think aunty is old. Well, you are right but I am still young on the inside which can keep up with you. Nephews are always a bundle of energy.
All of your aunts look after you especially me, because you are one of a kind and rare nephew. Happy Birthday.
I love you so much my dear nephew, I am not only your aunt but your friend and confident, don't hesitate to come to me with anything my dearest, have fun.
You are the part of my sister's flesh and we share a blood relation and in this sense, you are very nearer to me. I love you so much my ever best nephew.
You are a bundle of energy who will brighten up many people. You are the best. Regards from your uncle.
Enjoy this special day. You will be surrounded by friends and family who love you. It will be the best day!
I am glad I got to be part of your birthday my handsome boy. You may be getting older, but I am definitely wiser.
Happy Birthday little nephew, may the brightest star always shine in your path now for the rest of your life. Amen.
Happy birthday my dear, May all your baby teeth fall out so you can start eating steak like the big boys.
I pray that nothing ruins your birthday!! Save a cake for me. Wishing you have a wonderful day.
Today marks another 365 days that my lovely nephew was born, just like previous times, we are in this together, and nobody should limit our fun.
Happy Birthday dear. You are such a little brat at times but it is quite endearing and cute. So much so that you will love the gift I got you. I know it. Enjoy!
Birthdays are special occasions; it becomes more special when it is a nephews. I wish on you good health, long life, and prosperity all through the year.
You are very small indeed, but you take a lot of space in my heart. Happy Birthday nephew from your aunt who loves you.
If there is one thing I am so sure of, it is that you'll grow to be great, you must now enjoy your birthday.
Today is the birthday of the most adorable child in the world. May all your dreams come true.
I thank the heavens because my nephew is a year older today, we are lucky to have you around so there will be a bash to spice things up a bit Happy 1st Birthday.
Here I am once again blowing my nephews trumpet; today is a special day in your life, so I have invited the whole family to your birthday party.
I love your parents very much because they birthed the world's best nephew some years ago; you have made me proud beyond a reasonable doubt. Happy 25th Birthday.
I relish moments like this; it boosts my adrenaline. I am delighted to witness a birthday of my special nephew. The celebration has already started at my house.
With the passage of time, you are getting very adorable and cheerful. I love to see the changes within you. Have a wonderful birthday, my cute nephew.
Happy Birthday to my dearest nephew, you are growing to be a brave wise young man and I couldn't be more proud. I love you so much.
It's your birthday; you know what that means sweet nephew, a lot of sweets and a cake with your friends. I hope you grow to be smarter, wiser and kind. You have a huge heart.
Happy 25th Birthday to you, have a goal, set a target and make the most of the next 365 days.
Happy Birthday nephew! When you are down, we will be here to take care of you, to pick you up. You are one of the best around. Let's celebrate!
Have a lovely day my dearest cutest most adorably naughty nephew, you are growing taller and with that I hope more ambitions and clever ideas. I love you!
Life is full of good and bad moments, so I'll relish every exciting moment such as my nephews birthday. Thanks for brightening my day.
Live your life the best way you can because you will not live forever, Happy Birthday to my nephew who has many wonderful years ahead of him.
Hey man. I pray you grow old and wise but stay young at heart. Have a great time today!
It's only right that you enjoy your birthday to the fullest. Let nothing come between you and a thousand smiles.
Happy Birthday dear. Today is a day to goof off, have wild adventures and enjoy everything life has to offer us.
Happy birthday dear nephew, I am so glad I get to share another birthday with you. I hope you grow older than your grandpa.
You are the most beautiful part of my world and for me, everything is that part. Happy birthday, my ever sweet nephew.
One of the best things I got in my life is you, my nephew. You are such a great little boy laden with intelligence, mischievousness, and activeness.
Wishing you a bright birthday, as bright as your smile is. Have all the merry in the world handsome.
You are a person who has a golden heart. You will meet many who will try to take that from you. But never let that happen.
I know how much you love cake, at least until all your teeth fall off. Have a great day my awesome boy.
My love for you exceeds measure. Wishing you a Have a beautiful day full of love. Enjoy!!
If I could, I would bring you the skies for your birthday. Have a beautiful day.
I have lots of good and cute nephews, but amongst them all, you're my favorite, you have earned that place in my heart.
You are the perfect mixture of handsomeness, cleverness, intelligence, cheerfulness, and liveliness. Happy Birthday my dear nephew.
This is from me to you motivated by love. Wishing you have a magical day and a fruitful life ahead.
I can't imagine life without you, because you have become a reason, the biggest reason for that matter, for feeling this happy. Have a wonderful day.
On this beautiful day, I want to wish my dearest nephew a fantastic birthday.
As you grow into a man, may God grant you wisdom and light up your ways.
It's a joy and a blessing to have you in this world nephew. Have a wonderful day.
It's only sad that I am reminded of how old I have become by how fast you have grown.
May the heavens keep you safe for the remainder of your wonderful life. Happy Birthday nephew.
I remember how small you were when I first saw you. Now I really can't imagine how fast you've grown.
Wishing you a birthday that goes down as the best birthday ever!
Happy are those who know you as they know an angel. Wishing you an awesome birthday.
Whenever I look at you, my heart gets filled with joy, dear. You are very special to me.
Enjoy your wonderful birthday with a cheerful heart and a happy look. Congratulations!
May your birthday bring a new world of adventures and joy.
The world will be a better place if every family has a lovely nephew such as mine, you are not alone on your birthday, and I will make it worthwhile for you.
My beautiful nephew, today would not be less fun if every day is your birthday, every time I spend with you is fun-filled and exciting.
A year ago, we were celebrating your birthday and it is another 365 days. You mean the world to us dear.
Times I find it hard to differentiate whether you are my nephew or son, I feel so attached to you and always feel excited about your birthdays.
To my little wonder, the relationship we share is unique and exciting, I would not mind if you remain my nephew in my next life.
Not everyone's birthday means so much to me as yours; you have every right to my resources on your birthday because you are a dear and steadfast nephew.
Always believe me whenever I tell you that you are my favorite nephew, your birthday is a perfect opportunity to prove it to you so watch out.
Happy Birthday to the nicest nephew that ever lived amongst men, I am glad that you are mine and I would not trade you for a billion dollar.
A ten-page essay cannot contain my gratitude to God for making my lovely nephew witness another exciting birthday.
I hardly miss my children whenever they are away because your presence gives me equal satisfaction and love. Enjoy more prosperous future ahead of you.
We still have many years ahead of us. However, I will not let your birthday pass without telling you how good you are to me.
As long as you remain, my nephew, I will always show you the care and support that you deserve on your birthday. We are stuck together for this lifetime.
I hope you have a great birthday my beloved nephew, blessings, and prosperity of the day shall be your portion from this day onward.
Good Nephews are scarce although most families have more than one, I am lucky that you are different from the lot. Happy Birthday.
Happy Birthday to my dear nephew, you should have a great day today because you would not have the privilege to such celebration until next year.
There is only one of your kinds in this world; I have not seen a child as compassionate as you have, kept on with the excellent work on your birthday and after.
You are included in those people who make me laugh when I am in the sad mood. I feel very relax when you are with me. Happy Birthday, my sweetest nephew.
I did my best to find a way not to spoil a rare nephew like you, but I just can't help it, you are awesome. Happy birthday cute nephew.
Congratulations to my nephew as he is a year older today, may all the right things of life never elude you from this day onward. Do not forget to send my cake.
Lots of love to my nephew on his birthday, may all your innate potential become visible to men, you are such a talented and unique boy.
The world celebrates your new age my dear nephew, goodness, and health shall be a part of your life during this New Year.
My nephew is indeed a bundle of wonder; I am glad that you are a year older today. you should have fun.
I would like to wish my dearest nephew a happy birthday; our family is the best because we have outstanding talents like you amongst us.
It is hard to believe that you are just a nephew to me, you tick all the boxes of a brother, son and a true friend.
I hardly remember my birthday but I never forgot yours since when you were born. I hold you in high esteem and lucky to have you as a nephew.
Today marks one of the happiest days of my life because my lovely nephew is a year older, we are inseparable, and nothing can come between us.
You are like my own child and I can never turn my back on you. Be assured that whatever you need, whenever you need me, I am here for you always. Happy birthday to you!
Happy Birthday to my ever cute nephew, it's the time for blasting celebration. Lots of gifts, music, and children are here to enjoy your day.
My birthday was much fun because of your impact as a nephew; now it is my turn to reciprocate the favor. I intend to surprise you today.
Congratulations to the celebrant of today may your birthday mark the start of greatness and unmerited favor.
I did not think much of family members until my darling nephew was born, I fell for you naturally, and here I am today feeling so excited for your birthday.
I'm glad to have a nephew like you and of course you are glad to have an aunt like me, we somehow have a lot in common. Happy Birthday to you.
My little nephew is the most handsome man I have ever laid my eyes on. You are growing to be a young courageous and wonderful man and I hope you know that I will always be by your side.
Many people do not know why I am always excited for my nephews birthday; the answer is simple, he reminds me of myself when I was younger and much more handsome.
Happy birthday nephew. You are such different species of person from everyone and we hope to see you at the Top of every ladder we couldn't climb.
Each day with you is a blessing my dear nephew, each moment golden, I wish you a long life with good health and abundant wealth. I love you.
What can I surely say or do to make this day special for you my nephew? Happy birthday dearie, you will never lack so long as I am here with you.
---
You May Also Like…
Best 500 Birthday Wishes and Messages to Make Their Day Special
Cute Birthday wishes for Son – Lots of ways to say Happy Birthday Son
10th Birthday Wishes and Messages – Cute and sweet Wishes
---