Everyone loves to feel special on their birthday, no matter who you are or how many people share in your day, you always have a feeling of appreciation love and fulfillment when someone wishes you a happy birthday, wouldn't you like someone special in your life to feel the same? Birthday messages go a long way in putting the words you want a special someone to forever remember into their minds for safe keeping and if they ever forget thank goodness they have something to refer to.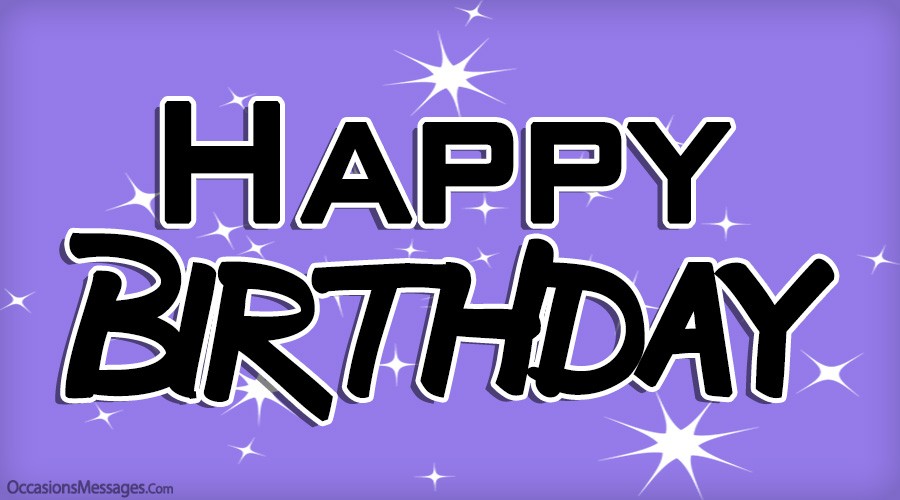 Words are beautiful and sometimes carry more weight than one actually saying them. Send one of these beautiful birthday messages to that special someone and put a permanent smile on their face.
Happy Birthday Wishes and Messages
Life is like a mirror, when you smile everyone smiles back at you. I wish you always smile. Have a beautiful birthday.
I know you might have had some scars before you reach here, but always remember that nothing will change if you don't move on. Don't ever stop moving. Happy Birthday dear.
What a fine man you've grown to be! An embodiment of Charm and Wits! Keep winning over everyone with your charm. Happy Birthday lovely son. Enjoy your great day.
I'd kiss the wind to blow for thee, I'd tell a bird to hum a tune specially for you. There's nothing I wouldn't do to make you happy. Happy Birthday my love and my life.
Whether you're 2 inches away from me, or thousands of kilometers away, nothing will be as close to my heart as you. I celebrate you today. Happy Birthday dear husband.
Within the time between youth and age, lies a thousand barricade, but in the gap between me and you, exists a love to jump right through. Happy Birthday my love. Stay blessed.
If your love were a grain of sand, I will offer you the entire desert as a birthday present. I love you. Have a great birthday.
For your birthday my love, I am sending you this message from a poetry ocean, sea of kisses, just to wish you a Happy celebration..
You truly have nothing to fear, in as much as you believe; you will achieve anything, including the impossible. Happy Birthday dear friend. May you remain blessed forever.
Your action at work last week undoubtedly earned you a whole lot of respect amongst everyone; you showed and demonstrated to fight for the sake of everyone. Happy Birthday boss. You're loved.
I really wonder why people no longer have best friend again, unlike we used to have, then I realized that loyalty is now scarce. But I still find a friend in you.
Everyone deserves happiness; even the crazy ones deserve love. I pray that you will never lack sincere and unending love at every junction of life. Happy Birthday buddy. Enjoy your special day.
Close your eyes open your hands, cross your fingers and hope your wish comes true, I wish you a Happy Birthday.
Your financial contribution into our life is an addition to the proof of your kindness; you have always been very kind to us. Happy Birthday dear uncle. I celebrate you.
No one could ever know that you are not my biological mother, because you have never ceased to treat me like the one you gave birth to. Happy Birthday mother. May God bless and reward you.
I'm particularly affected by your love for me, it's intriguing and I don't know if I truly deserve it. Thanks for loving me always.
As you celebrate a year older today, May happiness unfolding and exaltation unending locate you in all that you do. Happy Birthday dear friend. Enjoy your special day in a special way.
Despite all the breakthrough lately recorded in science, no one could still discover the secret to your unending happiness. It is mystery. Happy Birthday dear father. Enjoy yourself to the fullest.
Another year passed, but you're still so young. I think of you and I hope you will have a good day.
I enjoyed falling in love with any pretty lady, but falling in love with you will bring me utmost delight. Happy Birthday eternal crush. I hope you'll one day be mine.
The man of my desire, the earliest love of my life and the flawless man ever. A lot of girls dedicate these words to their man; I dedicate them to you Happy Birthday Dad.
I know I've spent a little time with you, but I have never had such a lovely time with anyone else in my life. It looks like eternity already. Happy Birthday my everything.
It is the beginning of a new journey in your life; I pray that whatever come along your way, you'll always come out on top. Have a nice trip through the year.
You've always had gorgeous smile on your face, and I pray that you'll keep that at all cost. May this day bring you great things you never asked for.
The pathway and the channel of life has its high and low, and no one can determine when the high and low will be. Make sure you enjoy it all. Happy Birthday brother.
When the light went out from my eyes, I was weak, pale and lost. But you came into my life; you brought happiness and contentment to me. I love you so much.
For this special day I wish you a wonderful birthday, I will be here to celebrate with you. Happy Birthday my friend.
Time passes, and you become older and wiser. Have a very Happy Birthday.
You appear to be innocent and inexperienced, yet brave and daring. Today may happen to be your day, but it's a special day to us all. Enjoy your special day.
Today is a very special day and I want to wish you all the best and a lot of joy. I wish this happiness and joy continue to accompany you every day of this great year. Happy Birthday.
Some people seem old, but feel young. Other people seem young but feel old. And other people like us, feel young and look young. I wish you a beautiful day.
All you want to do tomorrow, do it today. And all you want to do today, do it now because nobody knows what can happen in our world today and what will happen in a moment. I wish you a cute day.
My wish for you is you get to have the best wishes on earth, and I wish this year offers you everything you want. Have a beautiful day.
I love you, I miss you, and I wish you what you expect in your coming days, Happy Birthday.
Another year and you are still the same, you haven't changed. It's great because you are perfect as you are. Happy Birthday.
May this day bring you happiness and joy and may your dreams come true. I wish you a Happy Birthday.
I'm really pleased to be here today by your side. I wish you happiness in your coming days. These words come from my heart. Have a wonderful birthday.
It makes me sad not to be able to be by your side to celebrate your birthday. But I wish this message will show you that I haven't forgotten you.
You're not old, you're still young, and I wish you a long life full of love and joy. Have a beautiful birthday.
Close your eyes and imagine for a moment that all your dreams can materialize, and then open them with a puff extinguish the candles. This is my wish for your birthday.
Happy Birthday, as the Chinese proverb says; we must add life to years and not years to life. I wish you a long life.
It seems that one can count the number of his real friends on the fingers of one hand. However, as regards the number of the candles, I think we will have many hands for you. I wish you a Happy Birthday from your lifelong friend.
The friendship we share is very valuable to me, and I want what's best for you. So I hope that you realize that you're the most expensive project this year and that it begins today.
I wish you, love, joy, happiness, money, friends, and everything you want for your birthday.
And one more candle on a cake, and another year scrolling, day after day, the best day, the day of your birthday. I wish that happiness and success accompany you all throughout your life Happy Birthday my friend.
To the world you may be just one person, but to me you are the world. I wish you a nice day.
My love, every day I wish you happiness, joy, love, prosperity. But today, I wish you a Happy Birthday and more.
I am far from you, but I have not forgotten that today is your birthday. Actually, I am happier because I can finally wish you all the happiness and the love you deserve.
I wanted to offer you the sun, the moon and the sea, the whole universe; I wanted to write you extraordinary poems to wish you a Happy Birthday. I love you.
To the one I love, to the one I hope to live with until the last day of my life, to you my love.
I write these few words to wish you the tenderest birthday and may all your wishes come true. I love you.
Sometimes the simplest things can become extraordinary if they are done with the right people. My best wishes for your birthday.
I wish you a Happy Birthday and remember that you live just as long as you loved.
You are a blessing and I hope God is graceful enough to bless you with the best birthday ever, may this day give you joy my love!
On this day, I promise to be the best person in your life, I will be the shoulder you lean on, the one that always makes you smile and the one to wipe away all your tears and fears.
I never want to see you cry, I never want to see you sad, I always want you to have the best and to have that beautiful smile that lights up my day, happy birthday my love!
A life without love is like a garden without the sun. Have a great birthday! My love.
I have a lot to say to you, a lot to show you and a lot to share; good thing is I know I have time to do it all for you will live longer than all the people you know. Happy Birthday!
Feels like just yesterday you were taking those first steps, now you walk proudly into the world with the strength and pride gained. I love you, have a hearty birthday!
Your birthday is the only important thing today. I wish you a birthday full of hope and faith.
You're not old, you're still young, I wish you a long life. Have a great birthday!
A small gift for a great day, I wish that you have a great birthday.
If this is forever, may we live in this time loop for eternity, you are the only one I want close, I love you my darling and hope you have the best birthday!
You can be beautiful at thirty, at forty fascinating; I wish you a beautiful and fascinating birthday.
You are my favorite person in the world, not for what you wear, or what you physically possess, but for you are the gentlest soul I have ever met. Have a grand day my empress!
Do not worry if the candles are too many. I just called for reinforcements.
Dear Lord may the person reading this have the best birthday ever, may they never lack and may they always smile!
I'm sorry. I forgot to forget that it's your birthday. Have a wonderful birthday.
You are my happiest hello and hardest goodbye, I love you darling, you make everything alright. Love you to the moon and back sweetie happy birthday.
If I could sing to you I would but for now accept my words as a better my voice with lemons just to sing a special song for your birthday. Enjoy!
For your birthday I wish you will spend wonderful moments and receive gifts even more beautiful.
I am not special but you make me feel special, I don't have much, but with you I have all that I could ever want. Happy birthday my love, you're my greatest!
Baby, what would I be without you, may this birthday give you more reasons to live. I love you sweetheart, you are my greatest blessing!
It's nice to celebrate with a person like you, so mature, so wise; I wish you a nice birthday.
You are good, you are great and you are the only air I need to make through another day. I never want to see the pain in your eyes for I believe with me everything is okay.
Daily routine means a lot on the path to success, never joke with your daily activities. Enjoy a splendid celebration day.
My best wishes for you is this, affliction will never be your acquaintance. Peace and joy is all I wish for you.
How we choose to live goes a long way in determining how better life will be to us, the choice is always in your hands son. Enjoy your special day.
You're surely unusually endowed and I hope that will set the pace for you when the time to do exploit comes. Happy Birthday sweet daughter.
Happy this day is finally here so we can thank your mom for bringing the best person in my life. Happy Birthday, you are truly a gem.
Each day with you bring bounty memories and gifts and that is why I am forever blessed to be celebrating you. Heartiest birthday my love!
I celebrate you not only for today, but tomorrow and every day we both shall live, you are the most special person in my life, have an unforgettable day!
I love you so much and hope you always find the best out there, have a great birthday and may today's memories fill your heart and soul with unforgettable memories.
---
You May Also Like:
A Long List of Cool Birthday Wishes and Messages
Top 150 Happy Birthday, my Love Messages
Birthday Wishes and Messages for Everyone in Your Life
---