Birthday Wishes for uncle: Uncles are important in our lives, they are the ones who spoil us when we are kids, listen when no one else cares and love us even though they aren't our dads. It is important to remind them of how much they mean to you, the perfect event is their birthdays. It is always sweet to send your uncle a little birthday message to appreciate him. Show your uncle how much this day not only means to him but to you also. So writing a little message may be awesome and getting him a great gift for his birthday. But it surely puts the point across. So try it.
Birthday Wishes for Uncle
Here are some sweet and sincere messages to share with your uncle on his birthday.
Happy Birthday dearest uncle. The flowers, buds, winds and stars are saying, you are sweetest more than us.
You are sweet like chocolate and caring like parents. Happy Birthday uncle.
You are like a second dad to me uncle I love you so much. I wish you the best life has to offer as you grow older, may you grow wiser and happier.
Loving you is my weakness, missing you is my hobby, playing with you is my style and caring for you is my nature. Happy Birthday my king uncle.
Though we don't have any biological relation with you but you are more than any real relation. You are my sweet uncle. Happy Birthday to you.
You are my greatest source of advice and encouragement. Happy Birthday uncle, I wish you good health.
You have protected me, loved me and cared for me. I can never repay you for all the joy you have brought into my life. I hope you enjoy your birthday.
Happy Birthday, dear uncle! Your fiction stories and interesting chat made us laugh for hours. I do enjoy your company.
You are the man I look up to. The man I want to be when I grow older. I hope you have a great birthday, uncle!
You are the kind of a guardian every young man will pray to have. I appreciate having you around me always. Have a great birthday.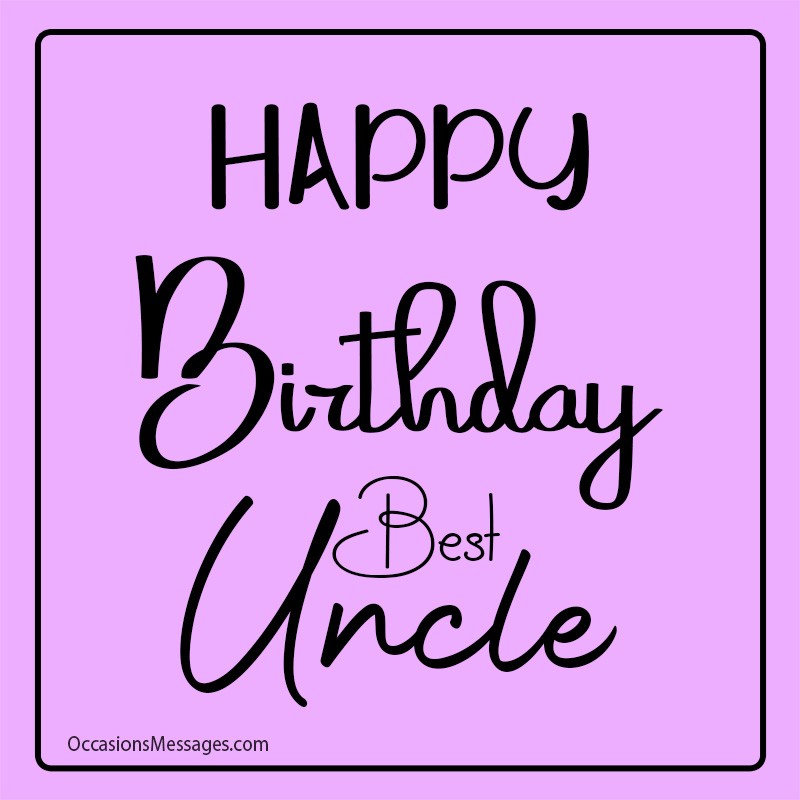 Wake up uncle, it's your birthday! I hope you get to enjoy this day. I wish you nothing but the best in all your endeavors. Be blessed and have fun.
On this day, I thank grandma for giving birth to you. You are a perfect uncle and I hope you have a perfect birthday.
Dear uncle, you are like an energy drink, the more we drink, the more we feel energy. Happy Birthday my energetic, and speed power uncle.
Thank you for being in my life, for being close to me and for loving me so dearly. I hope you have an awesome birthday.
I will prioritize your birthday above every other activity on my calendar to show you how important you are to me. Happy Birthday to you uncle.
Even if the heavens choose to fall or the world gets invaded by aliens, my lovely uncle's birthday will still take place because I said so.
I sent a thousand roses to you in your sleep as the first gift of the day for your birthday. I can send more if you choose to sleep again. Have a beautiful day.
God had a perfect plan when he made you my uncle and gave you a spectacular personality as icing on the cake. Happy Birthday.
I do not care about how people feel about me; what I am concerned about is how to make your birthday a memorable day for you, dear uncle.
You taught me that having smile all over your face every time will make life delightful, even when there is problem. That has always worked for me. Have a great year, uncle!
Favoritism creates jealousy among different people, but for me you are my favorite uncle, I love to enjoy your company and who cares who get jealous. Happy Birthday.
The happiest days are here again, we will celebrate your birthday party in the season of rain. Happy Birthday my dearest uncle.
You are the comedy king in our family. You are simply the god sense of humor. Happy Birthday my ever sweetest uncle.
You must have the best twenty-four hours of your lifetime to celebrate your birthday spectacularly. Have a beautiful day.
Uncle from Nephew
Here are some birthday wishes for uncle from nephew. For more ideas, see these 140 Happy Birthday wishes for dad.
You are like my father, a great counselor, a marvelous teacher. It's an honor for me to say Happy Birthday, dear uncle.
Happy Birthday to the most adorable uncle in the world. You always care me like a father, talk with me like a friend and get connected with me like a brother.
My dad will never stop mentioning your name whenever he's talking to me, you're the express image of what he wants me to become. Happy Birthday uncle. I hope I'll be like you someday.
You taught me some tricks on how to get any girl on campus to like me. Hahaha. It still works fine and like magic. Have an amazing day.
Uncle, you are the most giving man I know of. You have a big heart that will conquer the hate in the world. Have a good day.
Thank you for being close to me, today I thank God that you are in my life. You are a man most men can't be, have fun.
Uncle from Niece
Here are some birthday messages for uncle from niece. You may want to check out these special birthday wishes for a man.
You mean the world to me. You complete me with all the good words you spread, I am proud to be your niece, have a grand birthday uncle.
If I could write about your greatness I would probably need a whole 600 pages. You are awesome uncle, I am lucky to have you in my life. Have a beautiful birthday.
Your advice will forever stick with me. You are my mentor and I will never take you for granted, have an amazing birthday uncle.
God gifted you extra ordinary sense of humor, an amazing nature, a soften heart and gentleness. Wishing you a very Happy Birthday.
Before, I was this boring person, no one wants to be around me, but with your help everyone now looks for a way to associate with me, I can't appreciate you enough. Enjoy your day.
Such a joy to see you climb through the ladder of success after all you've been through, I wish you more achievement as you celebrate today. Happy Birthday.
Funny Wishes
Here are the best funny birthday wishes for uncle.
You are the kind of uncle any person will pray to have because you are always interested in buying things that will make us happy, especially chocolates and sweets. Hahaha. Happy Birthday uncle.
The way you live your life makes me see life in an uncommon way, you've never let anything weigh you down at any time, even if you consume heavy meal. Hehehe. Enjoy your special day.
Happy Birthday, uncle. I really can't wait till the day you'll get married, because you're a really bad cook. Hahaha. Employ a better cook or get married.
Uncle, it's your birthday again. You have surely grown taller, I can see that. But I hope you grow in mind, body and soul. Hehehe. Happy Birthday!
What a genius you are; you aren't good looking and neither are you rich but every lady want to have you hahaha. I am surely coming to learn that trick. Enjoy your day.
The joy of having an uncle is in knowing that there are funny and awkward issues to always discuss hehe. Uncle when was your first kiss! Hehehe.
Short Messages
Here are some short birthday wishes for uncle.
You are a blessing to us all, may you enjoy the day and everything that it has to offer.
Happy Birthday for the most humorous mind person. I wish you have a beautiful day.
You are amazing, and amazing people deserve amazing things. May you be rich in love.
I have joy within me seeing you celebrate today, may you never grow old uncle. Happy Birthday.
You have a good sense of rationality and excellent behavioral attitude. Happy Birthday, great uncle.
You are more than what most men aspire to be, you are awesome in everything you do. Happy Birthday.
Happy Birthday. You are a very rare man, the kind everyone willing to achieve.
Dear, uncle. May you find everything you wish while blowing your birthday cake.
I can't forget a special day like my uncle's birthday; only a cruel being will lose out on the event of the year.
Do not worry about your birthday logistics; you have me at your disposal for the rest of today.
Happy Birthday Uncle
Many more Happy Birthday wishes and messages for your uncle.
What an industrious man you are. You are the dream man of every lady; I hope to be like you. Have a beautiful birthday uncle.
I can't just imagine what my life would be like without you; your words are like a lamp to my feet, always guiding me right.
You are sweet, polite and handsome. Happy birthday uncle may this day bring you joy, laughter and cheer.
You hold my hand when my mom left the world and still you have. Happy Birthday uncle.
Happy Birthday uncle. You showed me how to live a disciplined and principled lifestyle; it is one of the greatest wisdom I picked from you.
May you get the best of every good thing. The best clothes the best shoes the best life. I hope you enjoy your birthday uncle.
I feel happy for your birthday just like it is mine; the reason is not far away because as my uncle, the same blood runs through our veins.
Dear uncle, this is your birthday, words alone can't express how happy I am to be a part of it. Have fun and may all the joy of the world fall at your feet.
Thank you for being the closest person to me. I can confide in you and I always feel better after you advise me. So may you have many more birthdays, I will always need you.
You are the most deserving person in our family; you hold us in our bad times and console us when we lost everything. Thanks a lot for your love, sacrifice, companionship and devotion.