Happy 4th Birthday . Kids are amazing gifts from God, they are the joy of any family and they complete each and every person, they make one graduate from the hyped little teenagers and young adults they were into mature parents. Birthdays are important events for any child, they are the times when they can call over every child from the neighborhood to laugh and make merry.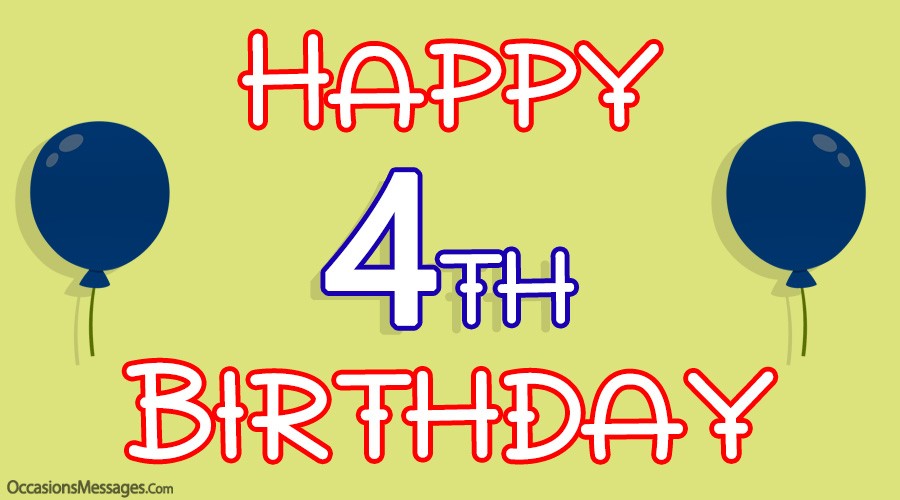 Birthday messages for 4-year-olds should be simple and should send out a message of love, appreciation and a little encouragement as they grow older. Choose one of these messages for that special 4 year old.
Happy 4th Birthday Messages 
Because you cannot know what to wish for, I want to make four wishes for you today because you clocked four years, I wish you health, Happiness, prosperity and lots of love. Happy 4th Birthday.
Don't eat too much cake; you are already too much sweet else you will get diabetic. Wish you a very happy 4th birthday. May you have a beautiful day.
What a great week it is, I clocked 44 yesterday and you're 4 today. May our entire life be full of joy and life 4 ever and 4 real. Enjoy your most beautiful moments.
Hope your 4th birthday brings the ultimate pleasure and once again your parents do something more special for you. Wish you a very happy day.
May your luck never end, may you live a happy and fulfilling life, these are my main wishes for you as you turn 4 my dear child, I love you!
You were really cute at age one, but now you're four times cuter than then. Happy 4th Birthday son. May you enjoy life.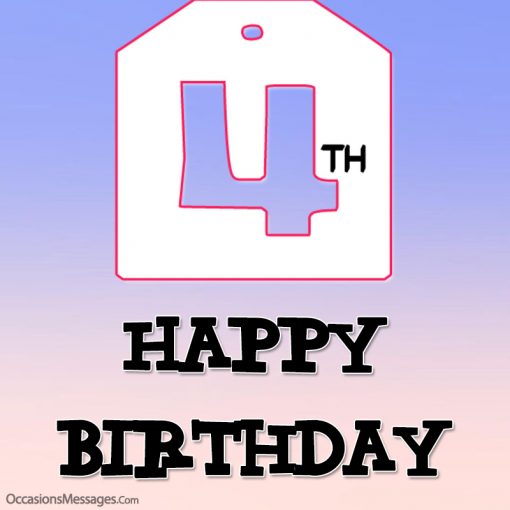 Four awesome years have passed since you came into our lives. I hope there are still many exciting years to come. Happy 4th Birthday daughter. Seize all the opportunity to grow well.
Dear baby, you are the best thing to ever happen to me and I hope you enjoy each second of the day my love. Have fun, live large, live long and may all your lucky stars shine.
Your brightness is beyond that of a 4-year-old boy. I really don't know where you get all these. It's absolutely from God. Enjoy your beautiful life son. Have a good time.
Giving up my identity as a young woman to become a mother is the best thing that ever happened to me and you made it worthwhile. May you be blessed forever.
You are my sweetest nephew and all my sweet wishes for you on your 4th birthday. May you get the best of every moment.
Happiness is when you celebrate the birthday of your cute son. I wish you a very happy day, my sweetheart.
Short 4th Birthday Wishes 
Kiss me, sweet girl I will give it back to you. Wish you a wonderful 4th birthday. May your dreams come true.
Live once but in a right way. Happy 4th birthday. I wish you happiness and joy.
You are the shining star of my sky; with your presence my world brightens. Have a wonderful day.
My life is completed just because of you. May you have a stunning day. Have a beautiful day son.
You are the sunshine by which my day is brightened. Have a great day daughter.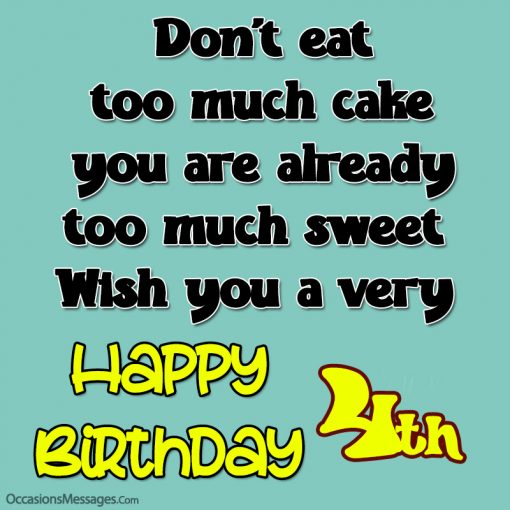 As you add the fourth candle on your cake today, you live till your birthday cakes get crowded with candles.
Happy Birthday.  May this fourth year's birthday cake is four times bigger than your last three birthday cakes.
May every year you add in age be the best year you've seen so far. Have a fantastic day. Stay blessed.
4th Birthday Wishes for a Boy
Birthdays are the blessing but you are the greatest gift to me from God. May you have thousands of happy moments and you remain safe from the evil eyes. Happy 4th Birthday boy.
I call you the most important thing in my life, because I do everything to make you happy and comfortable. May your life become better as you clock 4.
May the angels that have protected you so far continue to do so my 4 year old age. I love you and wish you all the sweetness the world has to offer!
When you're looking for the coolest 4-year-old boy, don't go anywhere; don't even try to look at any other person than today's celebrant. You're so amazing.
4th Birthday Wishes for a Girl
You are the cutest girl as ever I meet. When you talk it feels a teenager is talking. You are so sweet. Wish you a very happy 4th birthday.
4 years already!! How happy and glad you make me little one, grow older, love more and have a jolly good time child!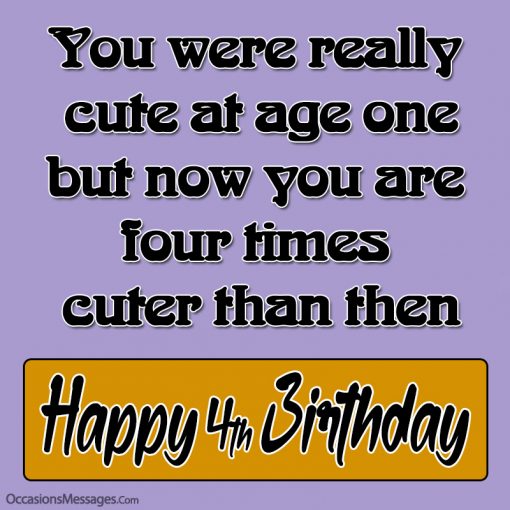 I hope today will begin the great story of your life that we're sure you'll start writing soon. May this year be a beautiful one for you and for us.
Happy 4th Birthday, I hope your birthday cake will be twice your size so that you'll eat it alone and double in size. Heheheh. Enjoy your special day cute girl.
Cute 4th Birthday Messages
Before you came into our lives, we have houses and cars, but nothing can compare to having you, you're my most precious asset. I cherish you forever. Have a wonderful day daughter.
Always be proud of who you are, for I am your biggest fan and I love seeing that beautiful smile on your now 4 year old face. I love you darling!
My lovely handsome child, you are the most precious gift I have and I hope you enjoy this day and all the good things it has to offer.
Happy 4th birthday son, you're rapidly growing up, now your clothes won't be of accurate size again. Hehehehehehe. Enjoy growing. Stay blessed.
The growth of a child is nothing but a miracle; no amount of food intake can unravel that misery. Happy 4th birthday daughter. Keep growing in wisdom and grace.
For Son
May you have thousands of happy moments with loads of fun, happiness, and prosperity. I hope your birthday is just wonderful this year
The goal of my life is to make you happy all time. May this birthday bring an ultimate pleasure and joy. Happy 4th Birthday to you dear son.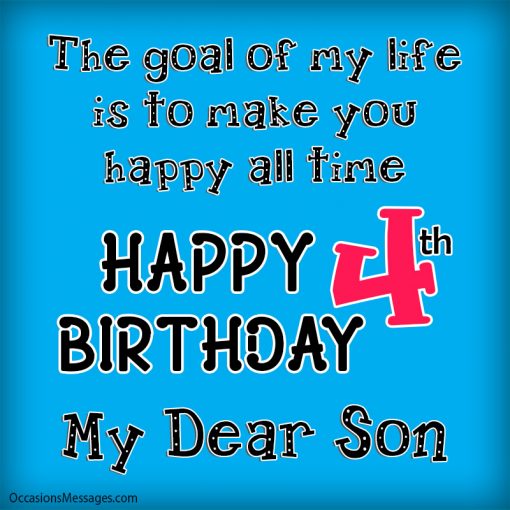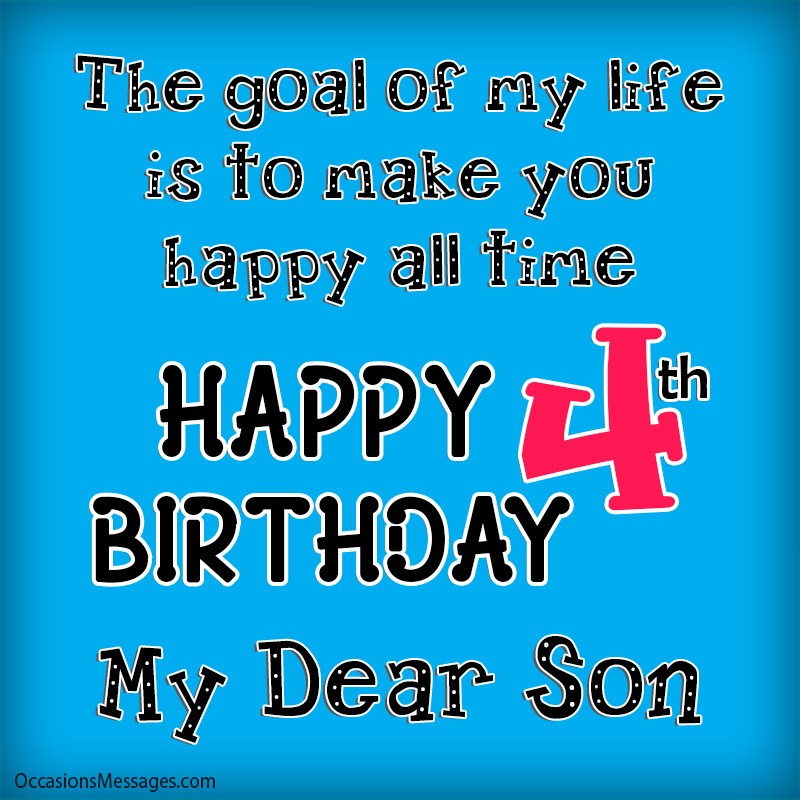 What a great day it is for me because my little son clocks four today. You're super cool, and I'm happy to know and be involved with you.
It is really funny to see how you put words together in other to express yourself. I'm glad that you're growing up bit by bit. Enjoy your special day.
Happy 4th birthday my love, you are truly an amazing and special child and I love you to the moon and back, you are my lucky star love!
For Daughter
Be strong; never be the follower of your weakness, turned into your strength. May you have a blessed day. Happy 4th birthday daughter.
Words are not enough to express my feelings that how much I am happy on your birthday. May you have a long happy life with exciting events. Have a beautiful day daughter.
It delights me so much to know that I gave birth to you, because to me you look like an angel. Nothing can quantify the love I have for you daughter.
If you don't exist in my world and I'm told that there's a four-year-old girl that's so eloquent and intelligent. I wouldn't believe. I hope you'll keep this till you grow up.
When I am with you I forget all my tensions and I just stay happy and happy. Have a nice day. Happy 4th Birthday.
For Brother
Party like you ought to on your 4th birthday, light people's heart and paint your party red. It's allowed on birthdays.
It's a day to rejoice, reflect and be glad. You've been a divine source of joy and we hope you'll be a source of joy beyond the walls of this house. Best wishes bro.
Happy 4th birthday brother, you are the joy of my life and I hope you enjoy each and every second of this day, may you always get what's best for you!
What wishes can a four-year-old make at this age, but I hope you'll enjoy growing up, so that you'll have beautiful moments to remember when you grow up. Have a fantastic day. Stay blessed.
You fill the world with your cheerful laughter and hearty smile. I love you dear 4 year old, I love you and wish nothing but the best for you!
For Sister
Days really do fly fast, you are already 4 years old my precious child, may the Lord bless you with all your needs and may you never lack a single thing my handsome prince.
As you turn four years old today, I hope you have fun, eat lots of cake, drink lots of juice and eat as much candy as you can. Have a great and fabulous time little sister.
This is your 4th birthday sister, I hope you make so many little sweet memories that you'll miss the times someday, you are a good child and I hope everything works out.
It's your 4th birthday my dear child, you are growing so fast and I hope I never miss a second of it, you are precious to me, have a nice day.
You are only four today, but you exhibit traits and character of someone older. I can't wait to see such great things you'd achieve in life.
For Nephew
You are so cute and I got jealous of the people who get to look you daily. Have a wonderful 4th birthday, my loveable nephew.
Believe me when I say I will always be here for you whenever you call, I love you and hope you enjoy this day and all the good things that come with it. I love you so much love. Hearty day nephew!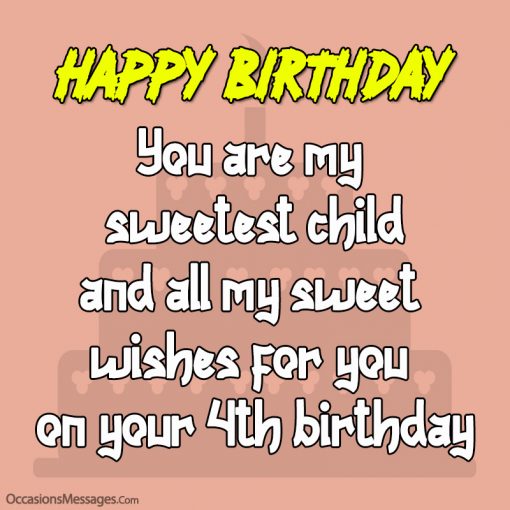 May you always have fun; live today for tomorrow is unknown dear 4 year old. I love you and wish you a grand time as you celebrate this day!
It is truly magical how you've grown this big at four; I hope you'll start working out already. Heheheh. Happy 4th Birthday nephew. Enjoy your special year.
For Niece
Long live the Princess of this great family, she turned four today. I hope you'll experience wonderful things in your life as you keep adding age. Enjoy the celebration princess. Long may she reign.
You stole my heart; you are a true criminal at the age of 4. Happy birthday niece and have a fabulous day and wonderful life ahead.
May your 4th birthday be filled with a lot of love, joy and cheer, May all you hold close be here for you to see you blow out those candles. I love you!
One of the best things in life is to have a friend that you can discuss everything with, I can't wait for you to grow up to become my friend.
For Grandson
Keep your mind away from dirt and try to absorb good things from your surroundings so as to make a loving and pious soul. Wish you all the best grandson.
I am the die-hard fan of your smile as it is the cutest thing ever I seen. All my sweet wishes are for you. May you get the best of everything. May you enjoy every moment grandson.
I know you are too young but I can't control my heart to say you are included in my dream princess. Wish you a very happy 4th birthday grandson. May your day bloom and happiness flow.
Happy Birthday my love, you are more than a blessing to me, you have the best thing in my life and I will always be the shoulder you can lean on each and every time.
For Granddaughter
The greatest wish of every mother is to see their children become great in life but I do something to make it possible, I pray for you always. Happy 4th Birthday granddaughter.
You are the beautiful spring of my life and may this 4th birthday fulfill your all desires. Wish you a very happy celebration.
You are now 4, how fast you grow my little one, may this day be the continuation of the good things that happen in your life. I love you to the moon and back!
When I am with you I don't need anyone else. You are equal to a party. Wish you have a wonderful day.
---
You May Also Like:
Birthday Wishes for Daughter! | Messages for Girls of All Ages
Birthday Wishes for Son! | Clever Birthday Messages for Him
---