Happy 11th Birthday. Kids deserve unforgettable moments with their friends and family during their birthdays and as a member lucky enough to experience the joy of watching them grow older; it is your duty to make it unforgettable. Turning 11 can be a big deal since most 11-year-olds know what they want for their birthdays how they want it also when they want it.
Being a part of their life, you are blessed enough to be a guide in their life, showing them what's wrong and directing them to the right path. Choose one of these birthday messages to share with an 11-year-old on their birthday and I am sure they will have a frog's smile on their face.
Happy 11th Birthday Messages
Eleven start with letter E. which shows an excellent and extraordinary child you've always been to us. May all your days be full of joy. Happy 11th Birthday.
I pray you'll get to places I've never set my foot on, and I hope you'll become what I never became. Happy 11th Birthday son. Enjoy the special year ahead of you.
Exclude sorrows from your life, share your happiness and enjoy the world. Have a great day.
I won't forget when I was your age; I was always sleepless at night watching movies. I hope you'll read your books at night instead of movies. Heheheh.
Happy 11th birthday my dear, you are an awesome person and I hope you grow to your full potential. I love you so much and will always wish you the best.
May all the desires of your life come true. May you live a long happy peaceful life. Happy 11th birthday, sweetheart.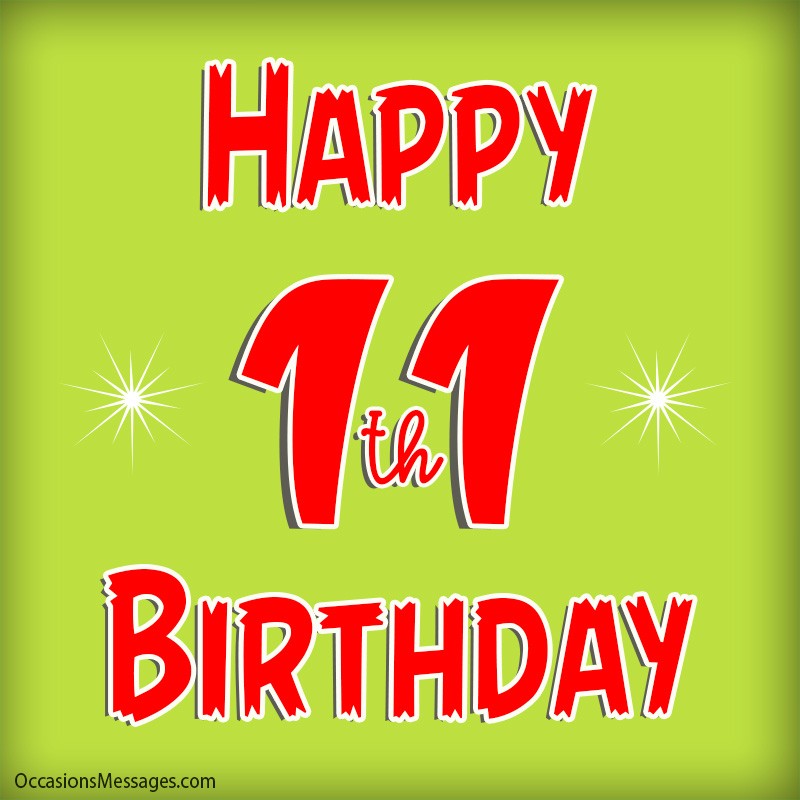 May your 11th birthday be unforgettable, may you have fun, may you enjoy each and every second of the day, I love you so much and wish you a lovely time dear.
May every moment of your life shine like stars. Today is your big day, enjoy to its fullest. Have a magnificent day.
This is the age where kids accelerate to adulthood; I hope your acceleration will be for good and not evil. Happy 11th Birthday. Grow well.
You have been planning for this day all year long, now that it is finally here, I hope you get to enjoy this day with so much happiness it overflows.
Every 11 year old is always willing to grow up to the teenage stage, but I want you to take your time and enjoy now. May you have lots of fun. Have a lovely day.
Short 11th Birthday Wishes 
Enjoy the sunshine and rainbows of life on your 11th birthday and after. Have fun and enjoy the day.
Here's my token of love to a beautiful and amazing individual who is eleven years old today, we love and appreciate you.
Today will be an interesting one for you, birthday cake, party and loads of fun; you deserve it because eleven is not a small number.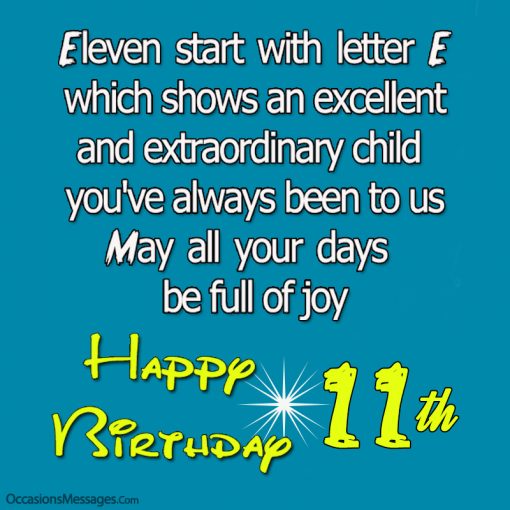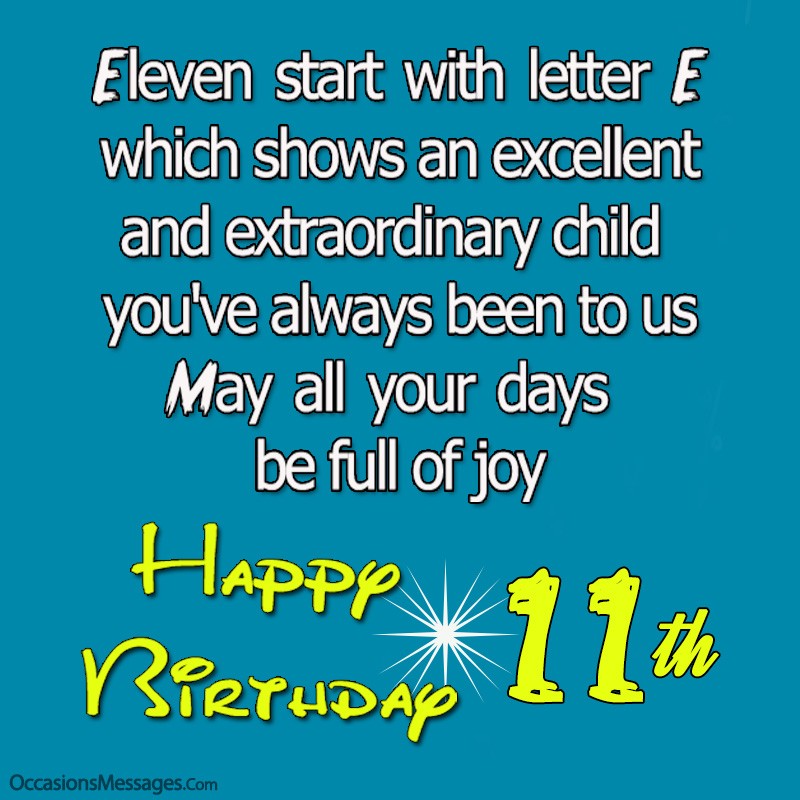 Today signifies the 11th birthday of an icon in the making, may you live more years to accomplish your destiny.
The sweetness of the moment is when you are with me and we both enjoy. Have an awesome day.
The person who is more flexible possesses massive fruits of integrity. Wish you have a beautiful celebration.
May this eleventh year of life bring you the exciting journey of life.
Funny 11th Birthday Messages
It is necessary for me to make you a spectacle of fun on your birthday so prepare for a day filled with gimmicks and sarcasms.
I will only be coming to your 11th birthday party to meet new friends and mock you. Do not worry you can reciprocate when it is my turn.
The most unfair thing I can do is to compare you to an angel because it is your 11th birthday, and we both know you are not.
I wish you happy 11th birthday because it is obligatory, I Don't know how I managed to put up with your lovely face for so long.
You are still young and immature at 11, so the normal restrictions still apply despite tour birthday unfortunately you cannot fast-forward time.
Cute 11th Birthday Wishes 
If I could sing, I would but for now, I wish you a hearty 11th birthday full of joy and cheer, may all your wishes come true my dear.
You're one of the kids that never gives problem to parents and I'm sure even at your teenage, you will give us peace of mind.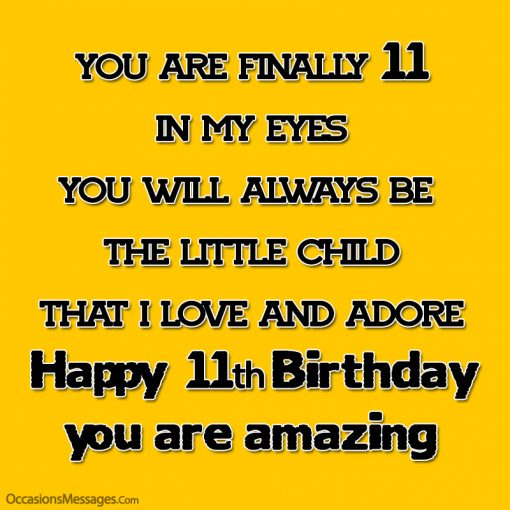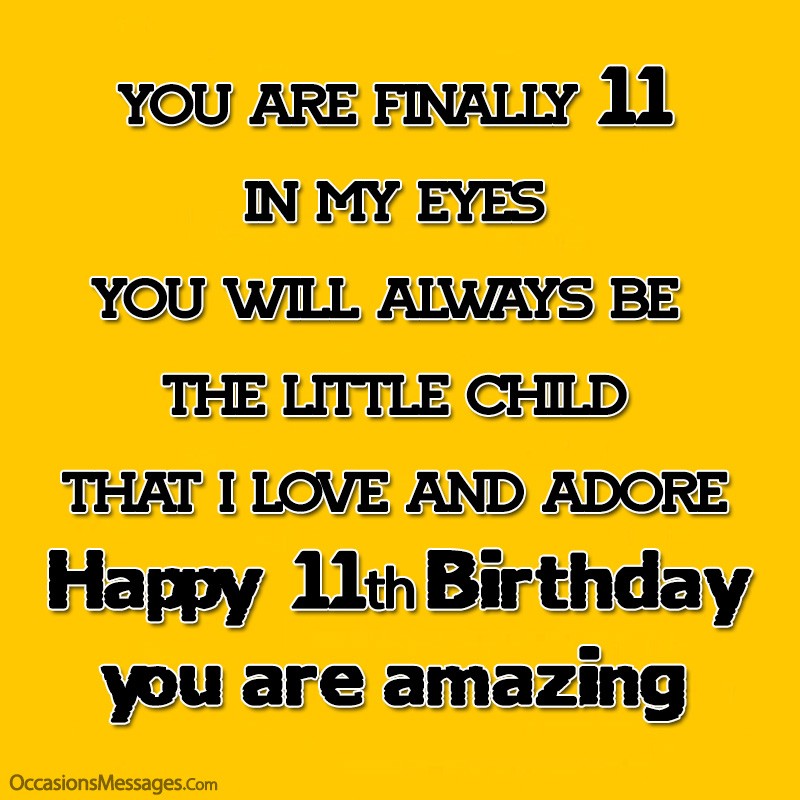 If I am smiling, the reason is only you. If I am happy, the reason is your cheerfulness. You are my cute boy. I love you loads. Have a gorgeous day.
You are finally 11, in my eyes, you will always be the little child that I love and adore, happy birthday my dearest one, you are amazing.
Have a wonderful 11th birthday. May your day be filled with laughter, exciting events, lots of gifts and fun cards.
For a Friend
Just opt the simple living and high thinking attitude. You will be successful in your life. Happy birthday.
Happy 11th birthday my friend, it is a special day and it is all for you, may this birthday bring you joy, cheer and lots of good time. Cheers.
The perfect place for you to grow up to what God has made you for is with us, thanks for coming to our family. Have a magical day dear. Have lots of fun.
I wish you a happy 11th birthday; today will be so much fun, I look forward to the free cakes and chocolates, it is a beautiful day.
I have rehearsed my dance moves for your 11th birthday; I intend out-dancing everyone because I am most excited about your achievement.
For a Boy
May your day filled with happiness, wonderful gifts and goodies too. Enjoy your day.
Every passing year of your life making you more sharp and bright. Wish you good luck for your future.
I am happy to be part of your life, I get to share in each and every celebration in your life and for that, I am genuinely blessed. I love you so much.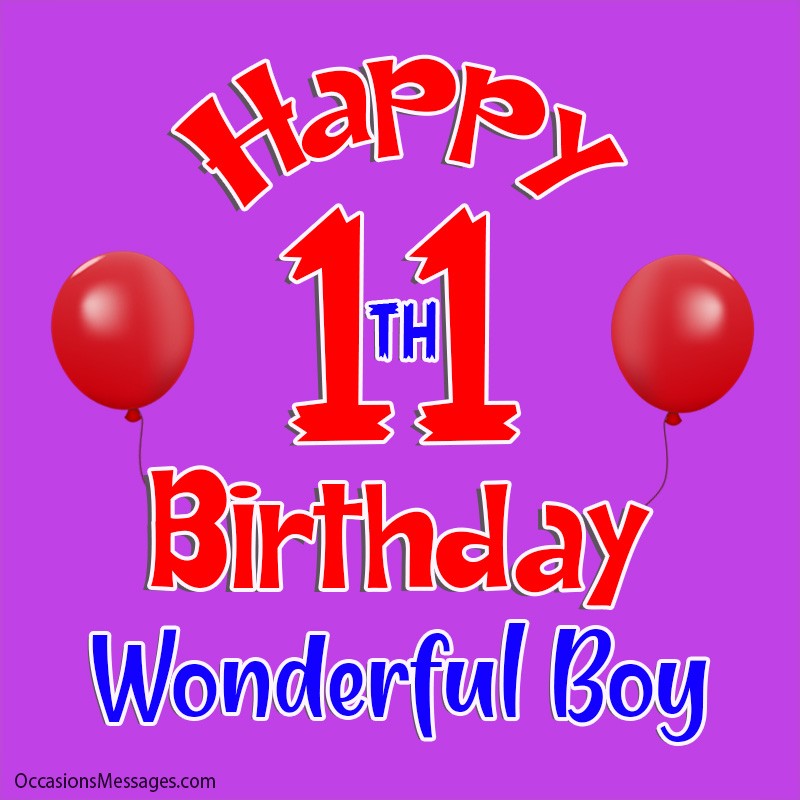 May the angels that have watched over you so far continue to do so. I am thankful that I get to share in your 11th birthday, with love always.
I hope this age will bring together the needed things for you to attain greater Heights as you grow. Enjoy your special day.
For a Girl
Happy 11th birthday, the golden heart girl. Wish you all the best.
You are the happiest child of our home. Your presence transforms the desolateness of our home into cheerfulness. Thank you for spreading so much fun in our lives.
May this birthday bring more gifts than you can count, you are a gift to me and I am happy that I forever get to be part of this day.
I will always be here to protect you, love you and be with you. You are growing older and that is a chance I am glad I didn't miss. I love you lots. Have a sweet day.
I want to officially declare to you that you are no longer a kid and let that stick into your mind. Enjoy your special day today.
For Son
Happy 11th Birthday son, I've seen you laugh on several occasions and it brings melody to my heart. Have a good time son.
I know your wishes will be shallow for now, so I want to wish you the best in your choice of career and in your family in the future. Stay blessed.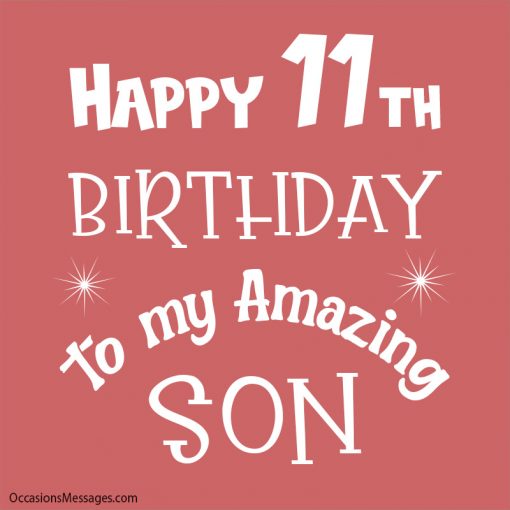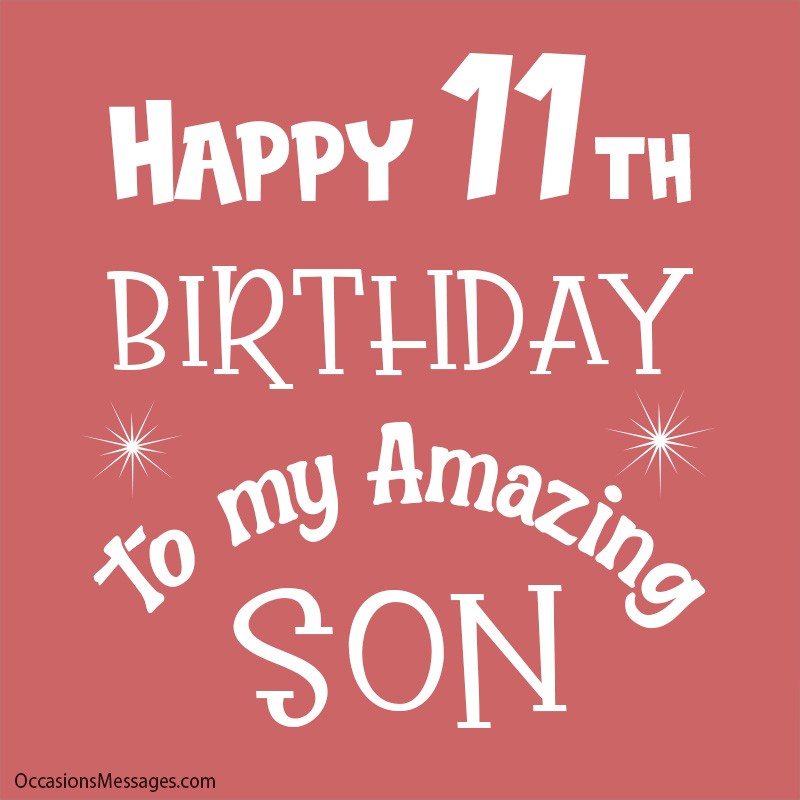 You've grown so strong and rigid; I hope you'll get better in tenderness as you grow up. Have an awesome day son. Enjoy your special day.
It's so good that you're on your own way at this age; this will allow you to move fast in life. Enjoy your beautiful year.
You are a smart boy with smart thoughts. I feel so proud that you are my son. Wish you a very happy celebration.
For Daughter
You were chosen by God Almighty to come lift this family from dirt. Since you came into our lives. Things got better. Happy 11th Birthday daughter.
Today your dad and I will be busy; we hope you'll have a special time with your friends in school on your special day.
Every parent increase their worries over their children whenever they grow older, but I hope I'll worry not too much because you're a good girl.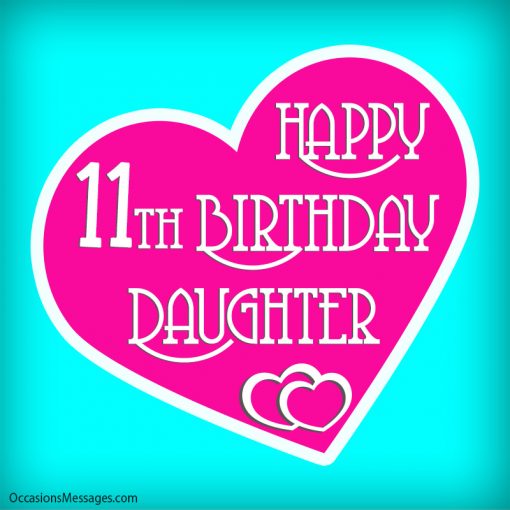 Change your way when hurdles arise but must reach your destination, don't lose hope. Have a beautiful day and perfect life.
Your ability to understand every message passed onto you is intriguing, I'm proud I have a daughter that obeys all the time.
For Brother
Your steady development is very much important to us and we are delighted that you are growing this way, may God continue to guide you brother.
Together with you, we want to make your life full of beautiful things that make life easy and convenient. May you find life easy.
For all the time that you've represented this family for the past 10 years and you never brought us shame, you deserve the best of wishes. Have a great time today.
Seeing you talk and walk like this made me call up the memory of when you suffered as a kid. I'm glad you overcame all those hurdles.
Your determination, consistency, and hardworking can open all the locked doors of success. Wish you a very happy 11th birthday. May you have hundred hours of happiness.
For Sister
Happy 11th birthday sister, you are the joy of my life and I will forever be indebted to you. I love you so much, count on me for anything and I will be here for you always.
You are cute little eleven years old girl and everyone loves to talk to you, spend time with you. Your cuteness is mind-blowing. Have a gorgeous day, my princess.
 I can never forget the first time you came to my life, it was 11 years ago today, I hope I forever feel the joy I felt when I first laid my eyes on you. Love you lots.
The best 11 year old of the century is you sister, because you know what adults know. Have a good time smart girl. Stay blessed.
Have a great 11th birthday princess, you were born for greatness and I hope you never forget that. I love you and will always be here for you whether you need me or not.
For Granddaughter
I hope you'll be earnestly happy as you celebrate age 11 today. You deserve all the joy in the world after all you've endured at a tender age.
You are the smartest boy as ever I met. I wish you all the best for your life.
11 years ago, you came into this world, sweet and innocent, 11 years later you are still so sweet and innocent. I love you so much darling, do enjoy your day!
You are not just eleventh. You are too cute, too funny, and too smart. Wish you a very happy birthday granddaughter. May all your desires come true.
For Grandson
You are at the growing stage; make your childhood memories as these cannot be taken away from you. Have a great evening.
Your childhood is the most exciting and beautiful season of your life. Live it as much as you can.
You have the greatest heart and I know you will do great and amazing things. Live longer than all the trees and mountains my sweetheart.
I am always happy to see you smile, happy 11th birthday little one, you still have a lot of years ahead of you to make a difference so have fun today.
For Nephew
Build your dreams, build your personality. Have a very Happy 11th birthday nephew.
Make your own opportunity and work hard, not wait for the opportunity to knock at your door. You are sensible and you can make your own way.
Put a massive confidence in your personality and try to ignore criticism, then you can achieve what you really want from life. Have an awesome day, my sweet boy.
Beauty with a hollow mind is useless but beauty with an intelligent mind is the bonus. Have a wonderful day, my nephew.
For Niece
Special people deserve special things. For a special and an excellent boy on his special day, I want to wish you an all-round blessing.
Birthdays can be beautiful or a calamity, it all depends on the mood of the celebrant, so wear a beautiful smile and be happy that you are 11 years old today.
Your fairy godmother revealed in my dream that your 11th birthday wish would come to pass, all you need to do is believe and keep being a good fellow.
I wish I had the ability to give you the world, for in my eyes you are all I need to go on in this world, Have a lovely day sweetheart, may you grow old and happy.
For Cousin
Congratulations to the celebrant of the day, not all restrictions will be in play today because you are the royalty of the day and you have to celebrate like a royal.
You act more mature than your age yet you are only 11 years old today. I look forward to you performing exploits in your future discipline.
I bought a puppy and named it after you as a reminder of your 11th birthday, so stop feeling too important, I now have two of you types. hehehe.
May your 11th birthday give you a chance to appreciate life more, love selflessly and live peacefully, I love you so much.
More 11th Birthday Wishes
I realized that our world is truly found and established in the people that we love. You are my world, my great son.
Do sleep late and do hard work, this is the peak time for getting the higher education. Wish you all the best.
May you forever have a great time as you live each day. You are special little 11-year-old and I hope you have fun each and every time. I love you so much my dearest.
---
You May Also Like:
Happy Birthday Wishes to my Dear Granddaughter
Heartwarming Birthday Wishes for Son
Happy Birthday Wishes for Niece – Niece Birthday Messages
---