Happy 9th Birthday Wishes: If I were asked, I would say birthdays are for children for you never see an adult as happy as a child gets when they realize they are getting older. It's like their own little person achievement which we all don't get. But kids aren't about their age as much as the presents and who came to their parties, to make a day unforgettable for a sweet nine year old,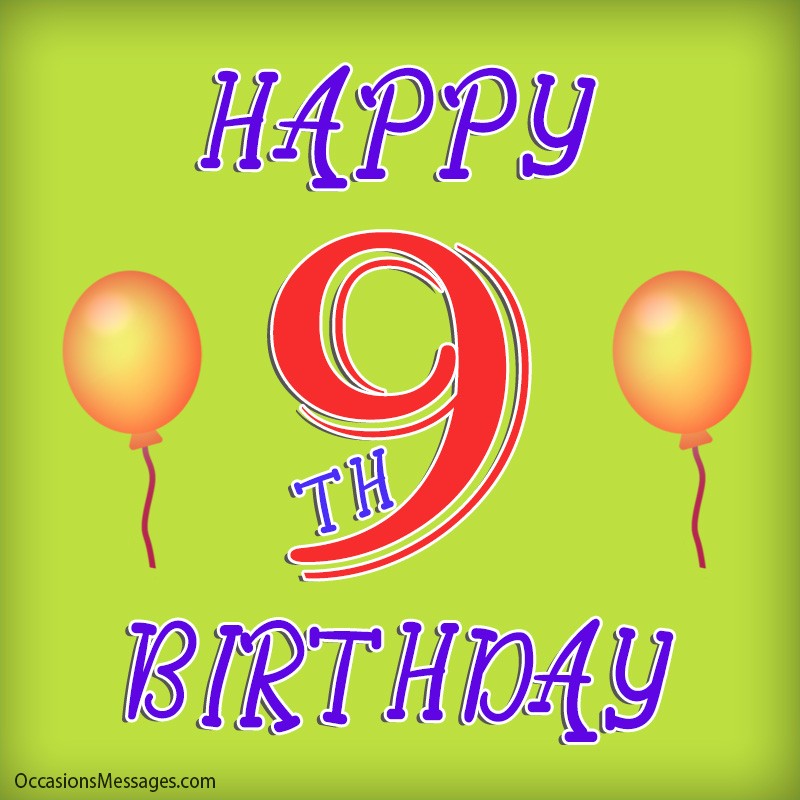 Send them a message that will always remind them of the birthday party that meant the world to them and that you attended with a special wish for them as they were getting older. Here are some happy 9th birthday messages you can send to a nine year old during their special day.
Sweet & Short | Boy | Girl | Son | Daughter | Brother | Sister | Heartfelt
Happy 9th Birthday Wishes
Happy 9th Birthday. Say cheers and enjoy your big day. I wish you all the best.
Happy 9th Birthday. Today I am sending 9 cuddles, 9 presents plus the best wishes in the world. Have a special day and be glad.
You are as sweet as honey, as charming as nature and as beautiful as flowers. Enjoy your 9th birthday.
May you receive the fabulous surprises and beautiful gifts. Wish you a very Happy 9th birthday.
Birthdays are supposed to be unforgettable, so don't be shy; it's your 9th birthday. Enjoy today, like there is no tomorrow. I love you.
Happy 9th birthday. May your birthday filled with grand celebration, joy, and fun.
Today is your last digit years on earth. Now you must keep climbing the ladder of maturity, I hope you'll reach three digit of age as well. Happy 9th birthday precious son. You are greatly loved.
Happy Birthday. A perfect gift for a perfect friend at the perfect moment.
There are so many attractive reasons to live happy, one of them is you. Wish you a wonderful 9th birthday, sweet friend.
How fast you have grown my dear, just one year before you clock ten, a decade of years. I am glad for you my dear son. Happy 9th Birthday. Stay blessed and enjoy yourself.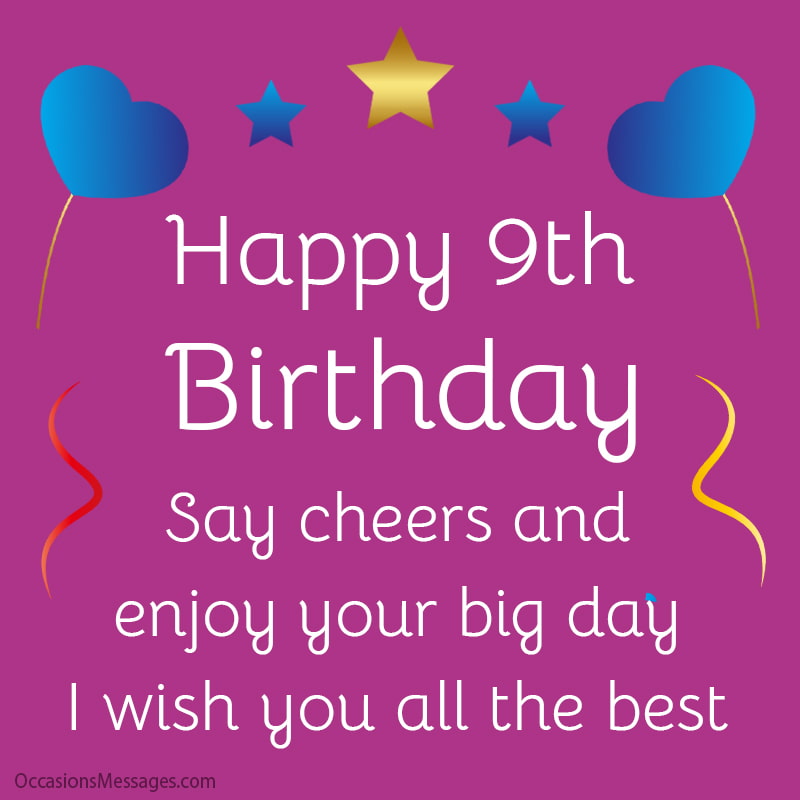 All my moments become perfect when you are with me. Have a great 9th birthday.
The older you get, the more courageous you become, the more of a man I see in you and the brighter your future looks. Have a nice day.
Happy 9th birthday my littler love, you are the most precious gift to me and I hope I can make this birthday unforgettable for you. Enjoy dear one.
If there's one thing a 9 year old need, it is freedom. Freedom to eat as many as possible, to play as much as possible and freedom to be the best child. Happy 9th birthday dear. Stay blessed.
My life will never be the same without you in it. You add color and brightness to my life and I am glad God blessed me with you. May you live long and enjoy life.
May you have a pot of gold in which you preserve all the joy and good memories. Have a wonderful 9th birthday.
You are an apple of eyes in our family, without you, we are incomplete. Wish you a very Happy celebration.
I wish only wonderful things appear in your life and never face any mishap, misfortune and adversity ahead. Have a fabulous 9th birthday, my sweet boy.
Your cuteness is the conduit of my happiness. Wish you a wonderful 9th birthday.
You will forever remain to be the coolest kid in my life, so go out and enjoy your ninth birthday. Have fun with friends, and appreciate family.

My world resides within you. Take good care of yourself. Wish you a wonderful 9th birthday.
Learn to appreciate, learn to give thanks and most of all, learn to appreciate days like these. Happy 9th birthday kiddo!!
After a year, you will be completed your first decade of life. Enjoy this last of this decade to its fullest. Wishing you a wonderful birthday, my dear brother.
It's your 9th birthday my precious, you are growing to be one awesomely awesome person and I am honored to be able to bear witness.
May all your heart desires fulfilled and you achieve whatever you want from life. Have a beautiful 9th birthday.
Also Read: Top 60+ Birthday Wishes for Kids
Birthday Wishes for a 9-Year-Old Boy
Be courageous, be happy and most of all, have a heart of gold, these are my wishes to you as you turn nine. Happy birthday baby boy!
Happiness is what I felt when I remembered it's your 9th Birthday today; I want you to know that you're cherished and adored by your family and loved ones.
My wish to you this day is that you may grow wiser than Solomon, stronger than Samson and braver than David. Happy Birthday.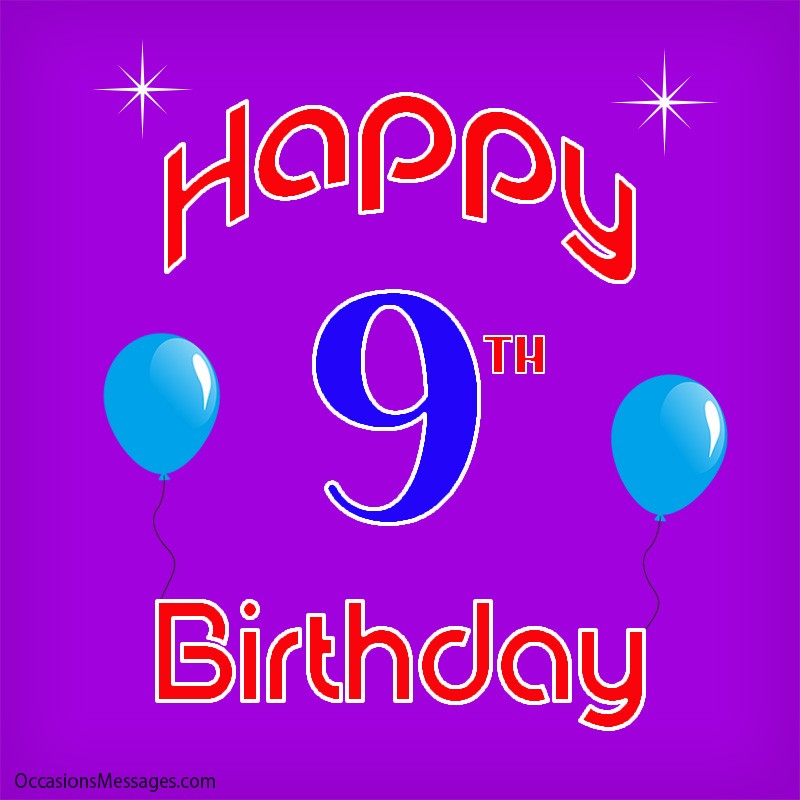 I wish you a flamboyant 9th birthday party, we all deserve to be happy, and I join you in merry.
You grow so fast, I am happy to be part of your 9th birthday, you are amazing boy and I hope you get to enjoy this day and all that comes with it.
As you celebrate your 9th birthday today my boy, I rejoice with you because I'm anxious to see you witness many more years as you grow.
Birthday Wishes for a 9-Year-Old Girl
Happy 9th birthday my sweet girl, you make me smile each time, remember, in my eyes you are better than the best and I am lucky just to linger in your life.
Every 9-year-old lady should have their own style of doing things now, style of hair, of shoes and of clothes. I won't dictate for you my daughter. Go ahead and be unique.
I'm incredibly in love with the way you sing, hum, laugh and giggle. It's all just like me. I hope the bond of love between us will keep growing strong.
Happy 9th birthday girl. Enjoy your day with cake, celebration, party, friends and gifts.
You deserve only happiness, joy and love. May your life never meet any harsh conditions. Hope you live a long happy life.
Look around and always remember this day, you had your friends around with you, your family and most of all wishes and presents. Happy 9th birthday sweetheart!
Happy 9th Birthday Wishes for Son
Happy 9th birthday my son! This is a special day to celebrate a special kid who makes special smiles every time I am sad.
You are my child; you make each and every part of me complete. Happy 9th birthday son, you are more important to me than anything.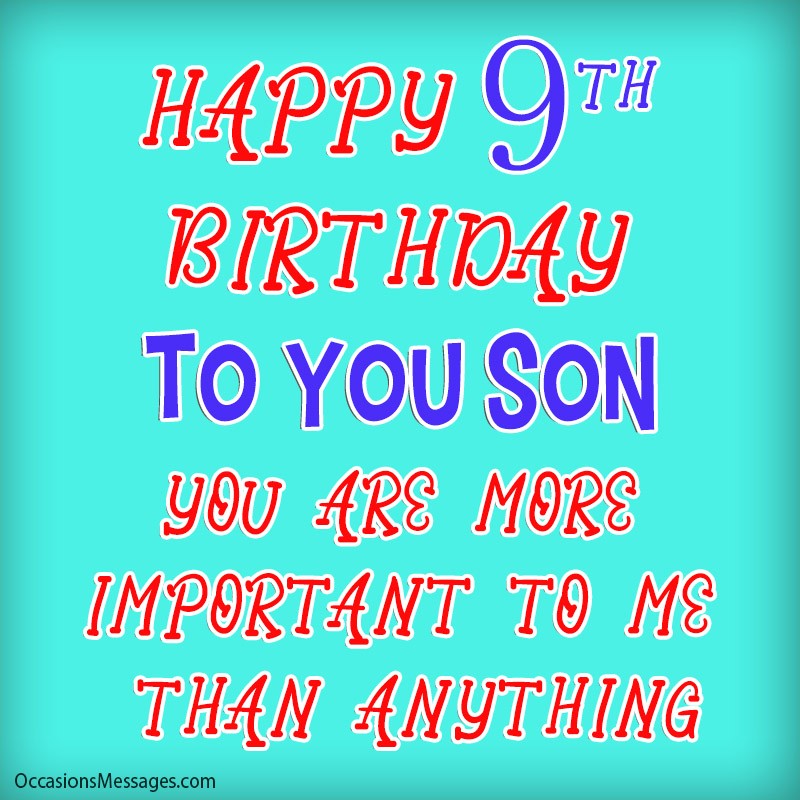 Sweet moments and sweet memories create heavens in your birthday party. May this year bring you loads of happiness. Have an awesome day beautiful son.
Make your footprints that will be followed by people. Have a wonderful 9th birthday my son.
Your cute smile is the sources of our peace. Have a wonderful 9th birthday, my dear little son.
It's true that I don't know what you'll become in the future but one thing I'm sure of is that you'll be a good person. Which is more important than any other things. Happy Birthday son.
For More Options, See 200 Happy Birthday to You Son
Happy 9th Birthday Wishes for Daughter
Happy 9th birthday daughter. You are an angel for our family; you are very precious and special. May your life bring you loads of happiness and joy.
It's your 9th birthday princess, may all your wishes come true as you blow out each and every candle. Remember, I am always here for you.
My wonderful daughter. I am glad you've grown this fast. At least now you can help with the house chores. Enjoy your special year my love.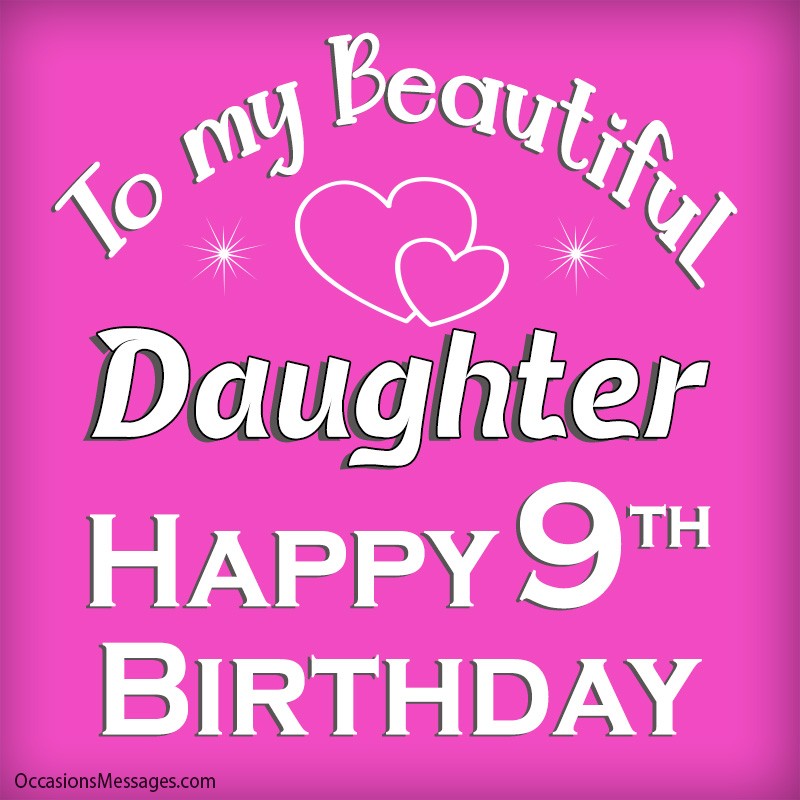 Happy 9th Birthday my sweet princess, you are a great little girl and I hope you have fun as you celebrate this new age. Love you daughter!
A growing daughter is one of the greatest pride of every mother, and I'm really happy because you have become my friend, my love and my life. Keep growing in love.
Have a great 9th birthday sweetie, you are a great kid and I know you will grow to be strong, healthy, wealthy and more blessed than all others. I love you, enjoy each day!
9th Birthday Wishes for Brother
Happy 9th Birthday to my fantastic brother, May your day be filled with joy, and endless fun!
Wishing the coolest 9-year-old brother the best birthday ever.
I just made a special cake for my sweet loving younger brother on his 9th birthday.  Do not eat too much cake but without me. Have a great birthday.
You will always have me, in times of laughter in times of despair. You will always have me all the time for I am here for you always. Never forget that.
Never look back. Live in your present and thinks about your future. That's my advice for you. Happy 9th birthday.
9th Birthday Wishes for Sister
To the sweetest 9-year-old sister. Have an amazing birthday!
Happy Birthday princess! You're 9 today, and I know your day will be as magical as a fairy tale. Enjoy every moment!
This age is the best age to capture the sweet memories which last forever and gives pleasure whenever you feel them. Make out your best memories and enjoy life.
May you always find joy in everything you do and may the love of your parents be sufficient for you till you get old enough to move on. Enjoy your special day.
Your life is a real testimony and a great inspiration for kids of your age going through hardship. Happy 9th birthday my angel and my pride. I love you so much. have a glorious birthday.
Related: 200 Birthday Wishes for Sweet Sister
Happy 9th Birthday Messages
I've never seen a kid as positive as you, I must confess you have made me to do things I wouldn't do ordinarily because I'm easily discouraged.
You make me so happy and I am glad to be a part of this day. May you grow older than Methuselah and may all your wishes come true.
It's not possible for me to have forgotten today because your 9th birthday brings back so much awesome memories. I'm looking forward to you celebrating a 90th on the surface of the earth.
We are friends forever, Happy 9th birthday, my dear friend.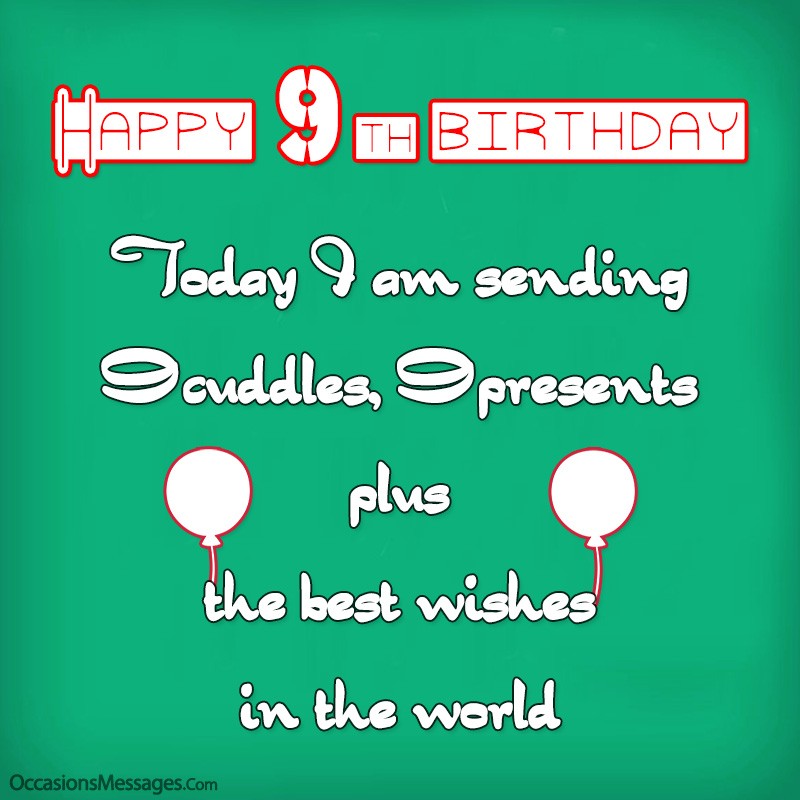 I am feeling so proud to have a friend like you. Wish you a very Happy 9th birthday, my best friend.
Only genuine friends and family makes birthday a worthwhile one. I hope you'll enjoy this special day with them all. Have a cute day my dear son.
I have no fear about you growing up fast and end up leaving me for the man you love. I am only joyful for having you in my life. Let's enjoy every bit of it while it last.
Health is the key indicator of good success, mental sharpness, and activeness. Take a balanced diet and enjoy your life. Have a fabulous 9th birthday.
I cannot protect you from everything the world has to throw at you, but I hope you will one day be strong enough to face any situation.
Life is beautiful as you pass through stages of life especially as a little child, it's like an adventure. May you live long and enjoy the fullness of life.
I wish you all the luck in the world to reach heights that are not unimaginable and to make us your parents proud for every day till we die. Happy 9th birthday son. Stay blessed forever.
Our life as your parents is good and we love it. But it's better with you in it. May God bless and honor you in all ways.
Happy 9th birthday to the future great leader in this present dispensation. May you become a leader to reckon with and a leader to love and follow. Enjoy your growth young leader.
I hope this day makes all your wishes come true. Happy 9th birthday my niece, may this day bring you endless laughter.
Just believe in yourself and never lose your courage. You are the only ambassador of your success. Have a joyful 9th birthday nephew.
You are the source of our joy, when you are happy it lights up cherishes. Have thousands of hours of happiness.
Related Content: Happy 10th Birthday Wishes and Messages
SHARE ON