Happy 5th Birthday Wishes: Birthday messages to a five-year old should send out your love, appreciation and devotion towards them. Be a person whom they will always remember at their 5th birthday party by sending them a card written with so much thought it will be hard for them not to remember your face smiling at them as they turned older. 5 year old birthday parties are rarely remembered, can you remember yours? But if you had a card that showed someone you hold dearly was there, wouldn't it be easier to remember how much fun you had during that special time? Here are some birthday messages you can send to a five-year-old to serve as a memory when they get older that they really enjoyed themselves on their 5th birthday.
Happy 5th Birthday Wishes
Here are some sweet birthday wishes for any 5-year-old, boy or girl.
Happy 5th Birthday sweetie, you are an amazing kid and I hope you get to enjoy this day. I love you so much and hope you always remember you mean a lot to me.
Happy fifth birthday sweetheart, you make me proud, glad, happy and I will always be your biggest fan. Love you so much.
You are the coolest kid around. Happy 5th Birthday young one. Smile. You are awesome!
Wow! You are so big for such a young one. I see wonderful things for you in the future. Happy 5th Birthday!
You have no idea how much happiness you brought to your parents. Everyone here was losing their minds by how often your cuteness made them laugh.
I wonder why your mom and I didn't name you cute, because that is your true identity whenever anyone gazes upon you. Happy 5th birthday cute little baby. May you enjoy longevity of life.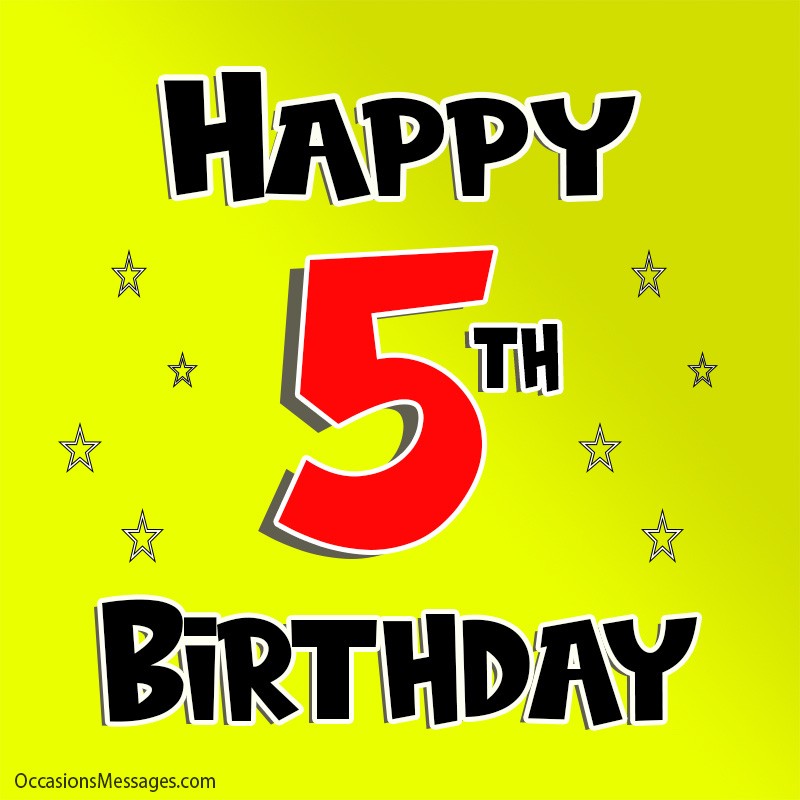 When I was told my wife gave birth to a girl, I was scared because I thought she'll love me less. But I'm glad that you love me even more than her.
Happy 5th Birthday darling, you are such a princess and I am glad you are growing into a beautiful queen. I wish you the best, always dear.
Happy 5th Birthday! This is going to be an awesome time to be alive as I got you something that is guaranteed to make you scream.
You amaze me every single day little one. It's amazing how fast you grow and even more amazing how fast you learn. Happy 5th Birthday! Don't get old too fast.
Difficult to believe we have passed through so many years in our marriage and so many years with you in our lives, it looked like forever already. Happy 5th birthday daughter. Have lots of fun.
May all your wishes come true as you blow out those 5 candles. I wish you good health, happiness and a whole lot of happy memories. I love you.
There are some things I imagined and dreamt of but I couldn't achieve, I hope you will fulfill some of these dreams. Happy 5th birthday my son, May God lead you through life.
Enjoy your 5th birthday darling, I hope you make a lot of unforgettable memories and share a lot of unforgettable moments. You are awesomely awesome kiddo.
There is nothing more you can do to be so loveable. Happy 5th birthday! We are going to make this such an awesome birthday party. Let's get it started.
Hey little one. You are growing up to become someone truly special. I know this because I know both your parents are someone very special. So you got very lucky.
Funny 5th Birthday Wishes
Make your kid smile by one of these funny birthday messages for 5-year-olds.
The best things in life are shared, so on this special day, don't forget to share everything with your friends, including your presents.
Congratulations on your 5th birthday dear! I wish you strength and lots of breath to blow out so many candles!
Happy 5th Birthday honey! I wish you all the best, including my company! Hehehe. Have fun.
Just like a little puppy, you are aging better and better. Congratulations on your 5th birthday my love!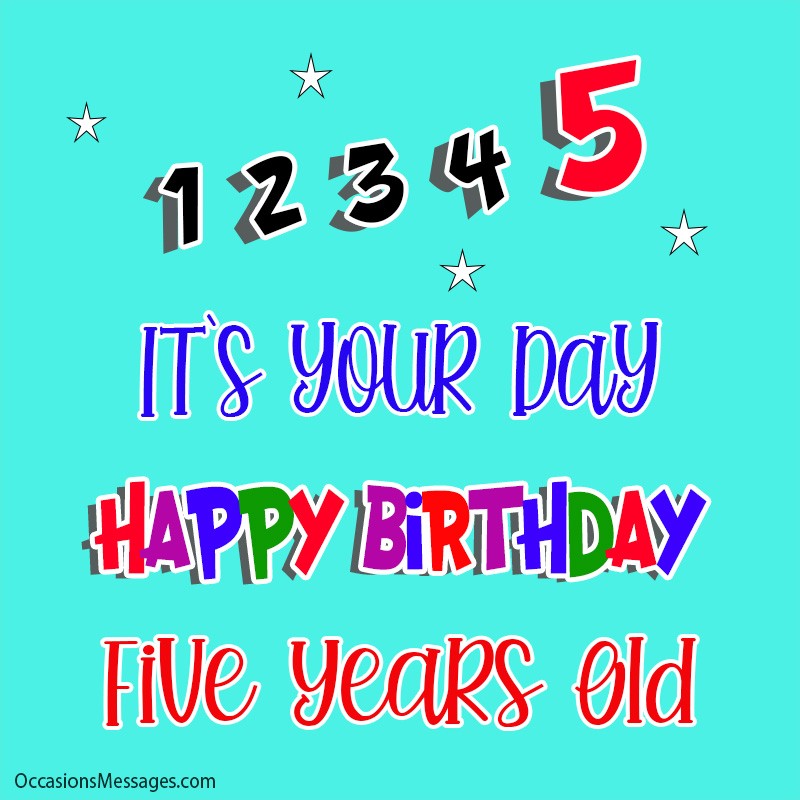 Two people are definitely good at home, but I understand what it means to be three in the house, we fight for the love of the third. Heheheh, happy 5th birthday my girl. Love you.
Congratulations on your 5th birthday honey. I hope your day is as fun and amazing and as I am. Cheers!
Related: Amazing Birthday Wishes for Kids
For a Baby Boy
Here are some cute birthday wishes aimed at a boy turning 5.
I hope very soon you will uncover all the good that is hidden in you; I am earnestly waiting for that to happen. Happy 5th birthday baby boy. May you become better than what we are today.
Happy Birthday little boy. How old are you, fifty? I'm just kidding. I know you are like forty. I love you. Enjoy your special day.
Have a beautiful celebration my dear, you are an amazing person and I will always love and be here for you. Have a blast little one.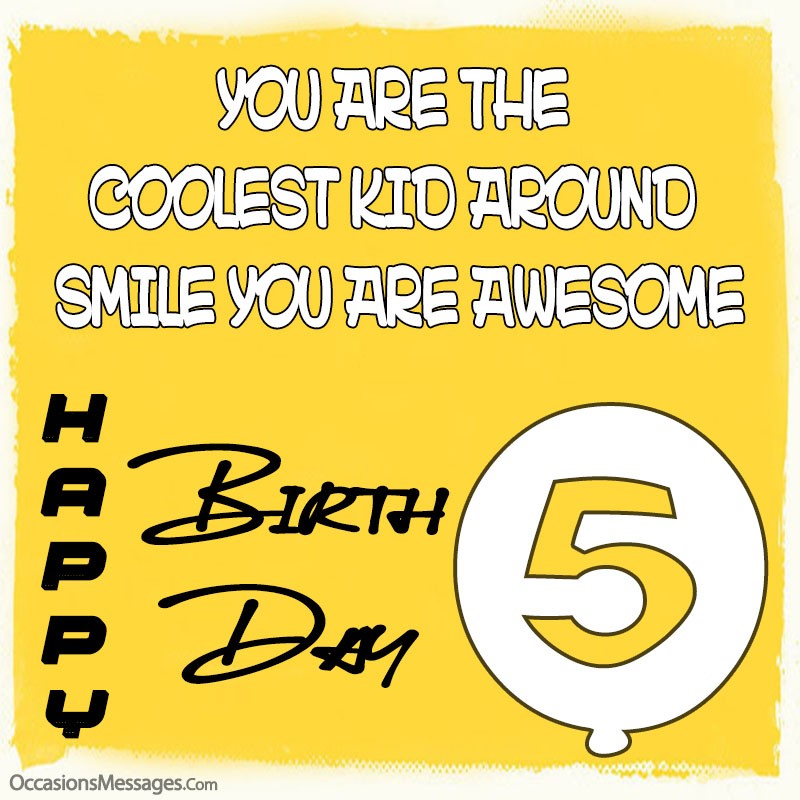 Birthdays bring people together, look around, all these people are here because they love you and hold you in high regards. So cheers to your 5th birthday baby boy.
For every parent looking for a child, my prayer is that they'll get a boy like you because you are such a troublemaker and a lovely lad still.
For a Baby Girl
These sweet birthday messages for a girl celebrating her 5th birthday.
The little baby of few years back is now a big girl, we have joy for bringing you into this world but we found joy that you became part of our lives.
This is going to be an awesome party! Pinatas, candy, cake, music, dancing. What else could you need from a birthday party? Have a lovely day baby girl.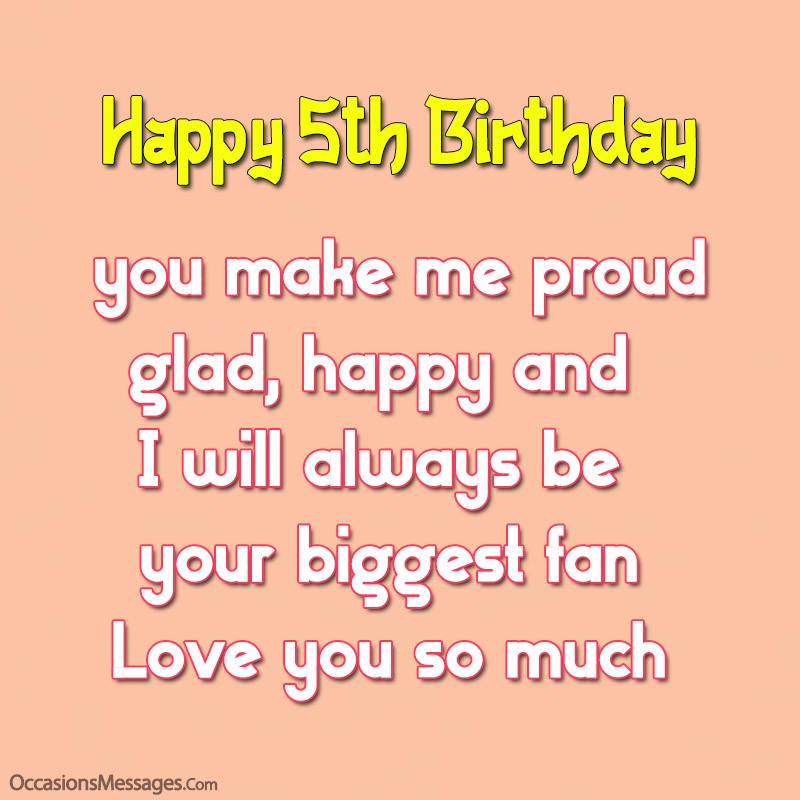 I lost love in my life when I lose your mother, but seeing as a replica of hers filled me with so much of gladness. I love you my baby girl.
Happy 5th Birthday sweetheart, you make my heart swell with so much joy, I will never take this day for granted, will forever and always love you darling.
I know you are good at math girl, count your fingers and your toes, then add them together, then divide them by four, that's your present age. Happy 5th birthday. Increase in every way.
Read More: 80+ Cute Birthday Wishes for Girls
For Son
Wish your son a happy 5th birthday by one of these wishes.
Happy 5th Birthday son. You are now five, may this day remind you of all you can be sweetheart, you are great and I will always love you for that.
I wish you a Happy Birthday as you clock five years today, may your light never go dim but shine brightly to the whole world.
I don't know what to tell you. You are five years old! Your biggest concern is what cereal are you going to eat this morning. Have a wonderful day son!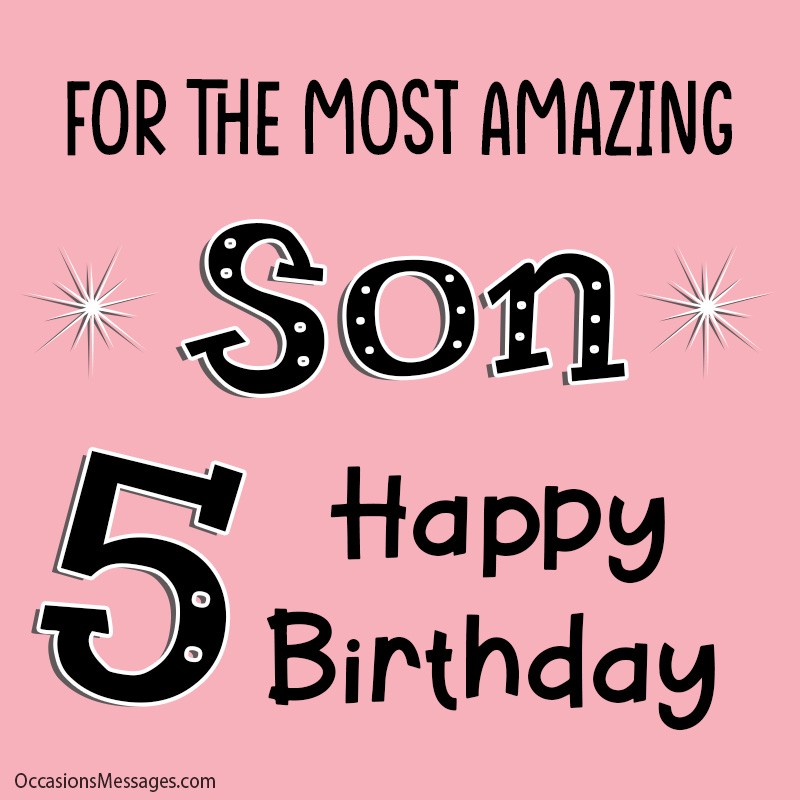 I know that you have a big surprise waiting for you later today. Happy 5th birthday son. What is that surprise? Well, it's a surprise for a reason silly!
May you encounter in life, things that will build strength in you for the hard times that always happen to everyone. Enjoy your glorious day. Love you so much.
For Daughter
These are the cutest happy 5th birthday wishes for daughter.
It's your 5th birthday daughter, I hope you know how much joy this day brings me, seeing you grow older is surely a blessing.
You made us fruitful when we gave birth to you, may you become fruitful in all areas of life and may your fruits do greater exploits.
It's important to count our days as human to know how blessed we've been, you've received natures blessings for five years, and I pray you continually flourish as you grow older.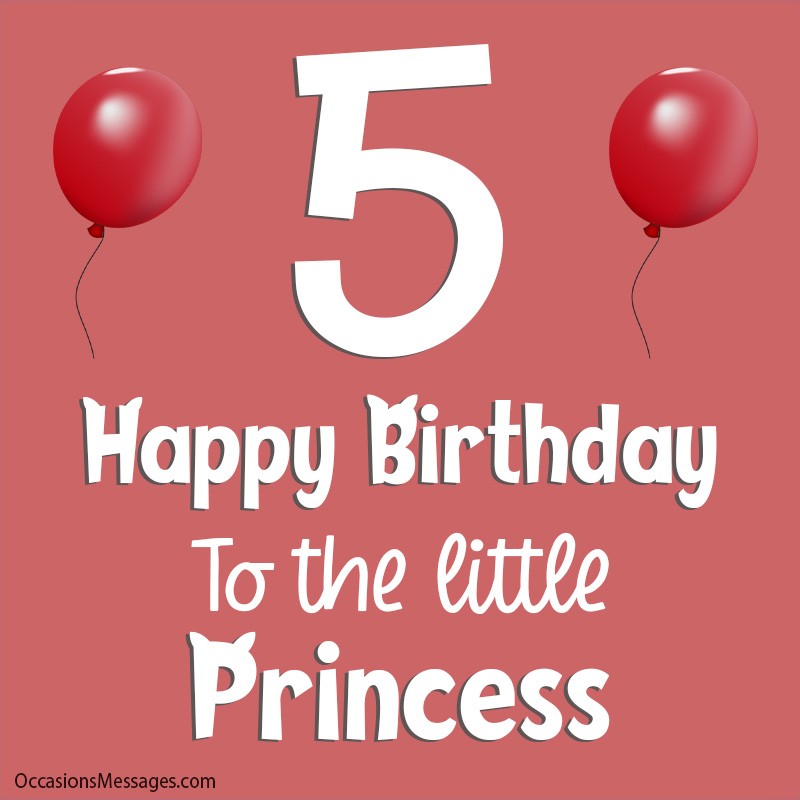 Have a great 5th birthday my dear, I will always be here for you come rain or sunshine. Enjoy each and every moment of your beautiful birthday my daughter. Have an unforgettable time.
You are so brilliant and sharp, that you made me feel so glad every time. I hope time will only prove that you are even better than now. Have a magical day daughter. God bless you.
For Brother
Here are some 5th birthday wishes for a brother.
Remember to be kind always my brother, the world has too many millionaires already, but it lacked kind people. May God help you to change this world through kindness.
It's time to act like a kid, so go out have a piece of your birthday cake and enjoy each and every moment of being five years. Have a sweet day bro!
Happy 5th birthday darling, may this day turn out to be unforgettable for you, you are precious to me and I will always be here for you.
Birthdays are always a good time, especially when you are five years old. You will have such a yelling contest with all your friends. It's going to be glorious.
Happy Birthday brother, you make my days' worth living and I wouldn't want anyone but you. I hope you enjoy your 5th birthday with all that comes with it. I love you.
Read Also: Best 70+ Happy Birthday, Cool Boy
For Sister
Here are some cute ways to wish your sister a happy 5th birthday.
Happy 5th birthday sister. May each and every day be a great day for you, may you grow to be a hard worker, an honest person and someone we will all be proud of.
Have an awesome day sister, you are a blessing and I am so glad to be part of your fifth birthday, may this day bring you a lot of joy and cheer and cakes to.
This is a time where you won't even remember your own birthdays as time feels like it moves faster. But for now, enjoy your special day. Have a great day sister.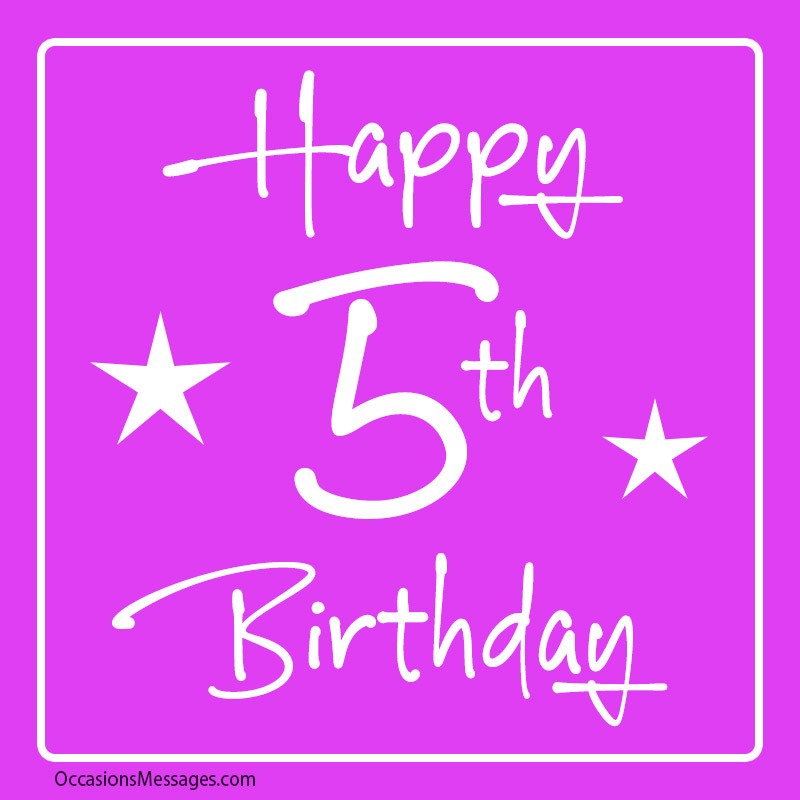 Happy 5th birthday to my naughty little sis, who always come for a cuddle whenever she sees me with a piazza. Heheheh. I love you so much in your wisdom. Stay blessed.
The present state of the whole world makes it difficult to want to celebrate anything, but because it's you, we'll throw a party. May God keep you for us.
For Nephew
Here are some cool birthday messages for a 5-year-old nephew.
My dear beautiful nephew, you make each day a great day, I will always be here on each and every occasion you have. Be blessed, be five.
You are a special kid. You are going to become someone truly inspirational and strong as you have shown time and time again what a special kid you are.
Your value is so high not because you are the world's most valuable being, but because you are the best thing that ever happened in this home. Have a beautiful birthday nephew. Stay blessed.
The attention I get from you my nephew is so enormous, it's just like I'm the kid and you are the parent. Heheheh. Keep taking care of me my love.
For Niece
Here are some amazing birthday wishes for a niece turning 5.
May all your wishes come true my sweet 5 year-old niece, you are a blessing to all of us and we love you more than you can imagine.
Girl, I don't remember what it's like to be five years old. All I know that it is that you better enjoy every second you get of it.
You say I'm your inspiration? That you want to be like me when you are older. Well, what if I told you that I want to be like you? Happy 5th birthday. To the little niece.
May you never be limited in life, and may your environment make you to become really great in this generation. Have a lovely day good niece. May God grant you long life and good health.
For Grandson
Here are some happy 5th birthday wishes and messages for grandson.
Wow, you're five today. I hope you receive your birthday blessings in fives, also don't forget to make a wish while you blow your candles. Have a good time Grandson.
I am happy to see you grow into healthy and happy 5 years old grandson; I pray that the happiness and purity of your childhood remain with you until old age.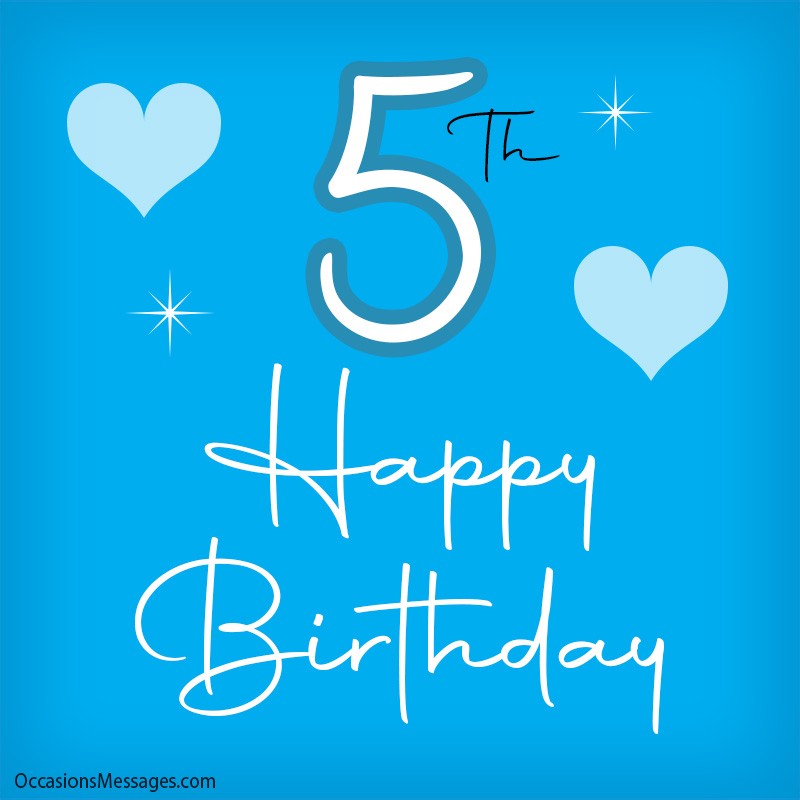 You are going to have to remind not to act like an old man little one. Happy 5th birthday grandson.
I hope that your fairy godmother made plans for your 5th birthday because I dreamt that Santa Claus and the Tooth Fairy would surprise you. Have a cute day grandson.
For Granddaughter
The cutest birthday wishes for granddaughter turning 5.
You are a special addition to my life; you've changed me and made me a better version of myself. I love you and adore you my beautiful 5 year-old granddaughter.
Happy Birthday my little bundle of joy, you are an awesome 5 year old and I hope to spend forever with you. Do have fun on your day sweetie.
You've grown quite fast and robust, and I'm happy to witness your Birthday, have loads of fun while it lasts.
I experience an uncontrollable joy when it is this period of the year. Have a wonderful day my little cutie, you are as sweet as a candy bar.
For Cousin
These sweet 5th birthday wishes are written for a cousin.
I wish you an excess chocolate and candy. Happy 5th birthday celebration; today is the only official day that permits you to eat whatever you want. Have a magical day cousin.
Happy 5th birthday to my cousin, I know that you will grow up to become a charming and intelligent citizen.
Congratulations to the latest 5-year-old lad in town, show them what you got in you on the dance floor, it is your day so that nobody will steal your spotlight.
Even though you are five today, you display the maturity of an elder; I cannot wait until you are an adult. Have a sweet day.
 Happy 5th Birthday Messages
One of the prettiest smiles any parent would love to see is when their child is at age 5. It's a blessing to see you with that smile all over your face.
Looking at you now made me forget all the hardship your mom and I went through when you came into our world. Happy 5th birthday. May God guide you. We love you so much.
It's your 5th birthday my dear, you are a blessing and I hope you enjoy each and every second of your birthday.
Related Article: Sweet Happy 6th Birthday Wishes
SHARE ON