Wedding Anniversary Wishes for Sister. From the time they are little girls, many women dream about being swept off their feet by Prince Charming and living happily ever after in marital bliss. After they find their prince and welcome him into the family, the love and support of her family is key in helping a young couple navigate the many challenges presented by the married life.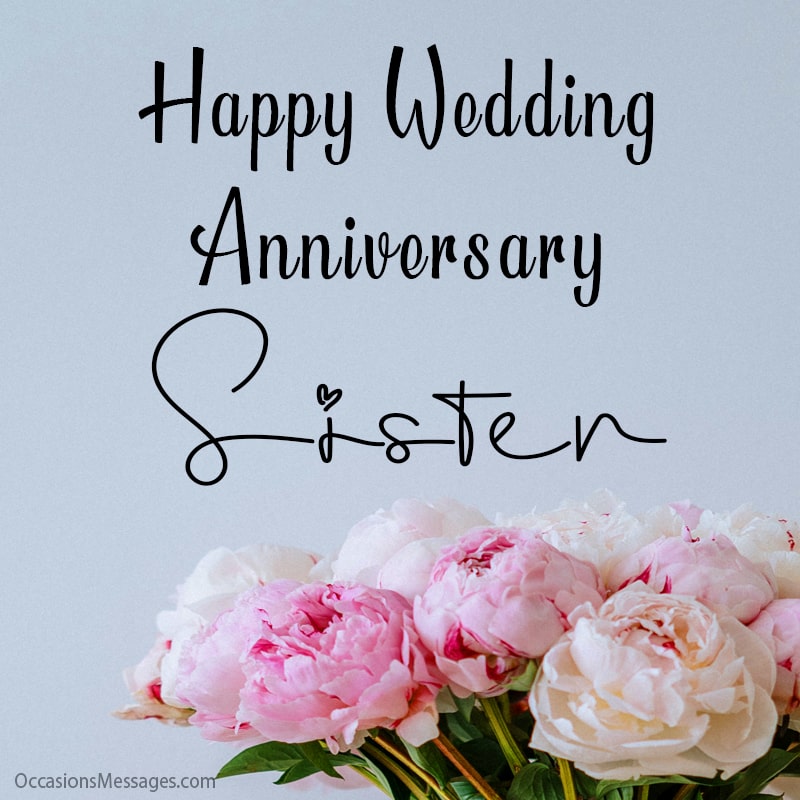 Here are a selection of wedding anniversary messages that will help you let your sister know how much you love and cherish the lifelong commitment she has embarked upon.
Wedding Anniversary Wishes for Sister
Happy wedding anniversary, sister! I am so glad you've found the happy life you always wanted.
Sending you both oceans of love and a sky full of happiness on your anniversary day.
Nobody deserves a happy, fairy tale marriage more than my sweet sister. Have an amazing anniversary!
Happy wedding anniversary. You've found your soulmate, and I wish you many years of bliss and joy.
I'm always inspired by how you managed to find the path to a rewarding life. I wish you two a very happy anniversary!
Happy Wedding Anniversary, sister! May your anniversary be a reflection of the beautiful love story you've written together.
It won't always be easy, but the challenges only make the fruits of marriage all that more sweet. Have an awesome anniversary, sister!
Recommended: 200 Beautiful Wedding Wishes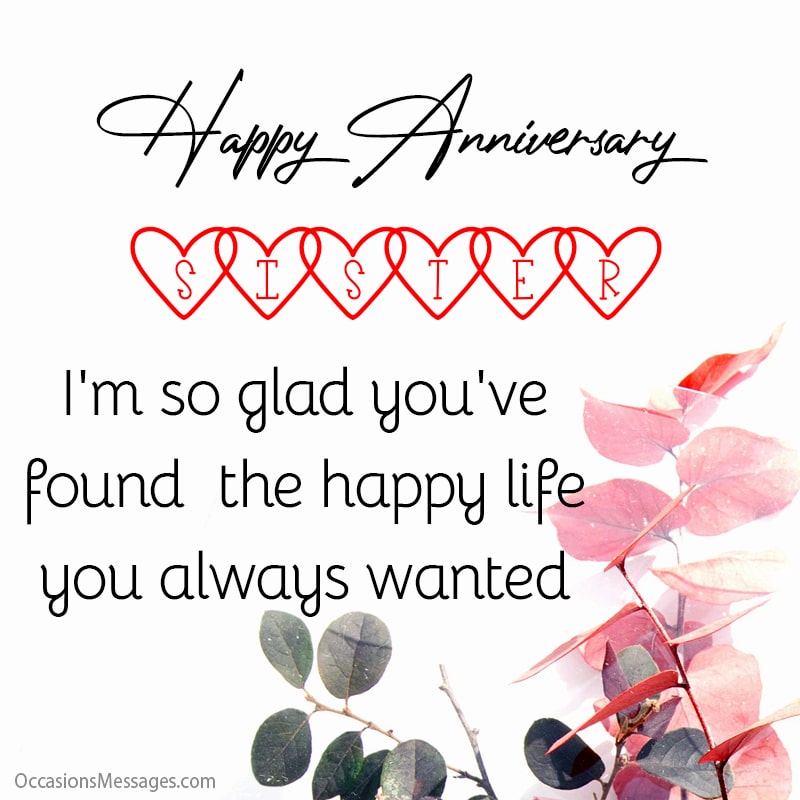 I can already tell you're going to have many joyous years of marriage, sister. You make it look so easy! Happy anniversary.
When the chips are down, you'll always have each other's love to turn to. Happiest 1st wedding anniversary my sister.
As you mark another year of togetherness, may your love grow stronger. Happy Anniversary my wonderful sister.
I know two people sharing a lifetime adventure of love and companionship. Let's celebrate! Happy anniversary, sister!
Let's blow up some balloons and get this party started! My sister is celebrating a lifetime of happiness with her soulmate. Happy anniversary!
No marriage is perfect. But you two have made yours seem as close to perfect as anyone could imagine. Happy anniversary, sister!
As you celebrate another year of love, may your bond continue to deepen, and your hearts remain forever entwined. Wishing you a fantastic anniversary!
It's obvious that the two of you are destined for a long life of mutual love and respect. Best wishes on your anniversary!
If everyone had a marriage as happy as yours, the world be a much better place. Happy anniversary, my sister!
We honor your marriage once a year, but you two celebrate your commitment every day of your lives. Happy anniversary, Sis.
I'm always amazed at how you face the challenges of your lifelong journey together. Have the best anniversary ever!
With each passing day, it is obvious how much stronger the bond between you two grows every year. Have a super awesome anniversary, Sis!
Read More: Wedding Anniversary Wishes for Friends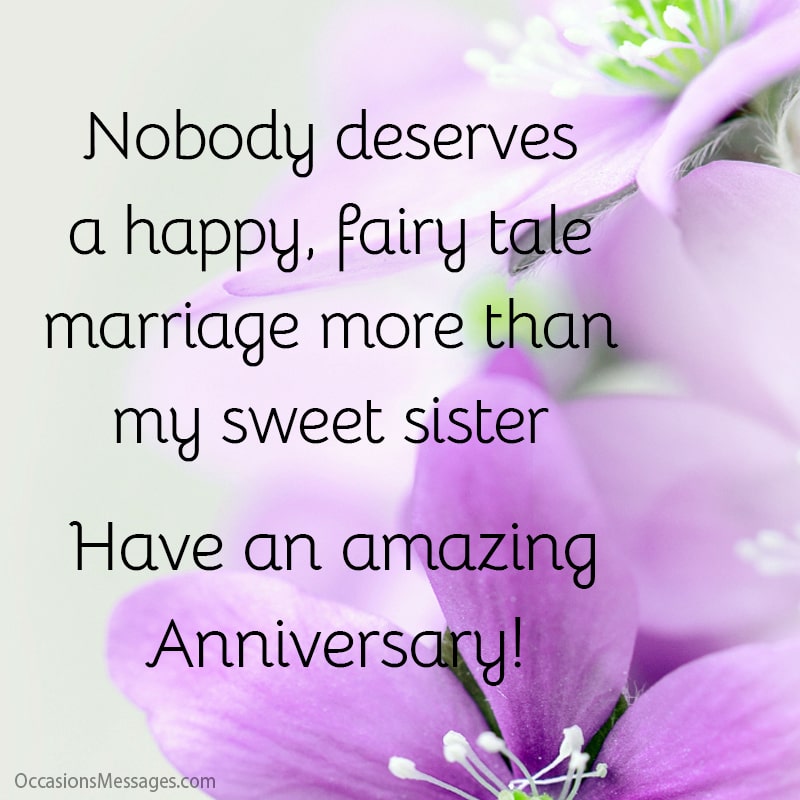 To my dearest sister and her better half, may your love story continue to be a beautiful journey filled with laughter, love, and endless adventures.
I'm sure you have problems like any couple. But you two make marriage look like a piece of cake. Congratulations on your anniversary.
I've always hoped for a life of true happiness for my sister, and you definitely seem to have found it. Happy anniversary!
It's official! My sister is the happiest woman in the world! Happy wedding anniversary, Sis!
Marriage can be heaven or hell. You've made yours a paradise! Have an amazing anniversary, my sister!
You have the most charming marriage I've ever seen. It's almost like a movie. Have a spectacular anniversary, Sis!
Happy anniversary, Sister! To get the most out of marriage you need love, trust and mutual respect. Or a really good lawyer.
Marriage is like an insane asylum. They both start with a commitment, and you have to be a little crazy to get into it. Have a great anniversary, Sis!
To have a successful marriage you need to put on either your kid gloves or your boxing gloves. Happy anniversary, sister!
People often recite vows at their weddings. The lying starts from day one. Happy anniversary, Sis!
Your spouse puts up with your temper, tolerates your snoring, and sees you without any makeup. Sounds like a saint! Happy anniversary, sister!
More Options: Beautiful Marriage Wishes for Sister
SHARE ON