Wedding Wishes for Cousin: I am sure everyone has cousins they love and adore, the cousin that becomes more of a sibling than your other siblings, the cousin that is part of you and you'd do anything for, so what happens when they get married? Close or not, weddings are events that bring family together and I am sure that if it's your cousin's wedding they'd love to hear a word or two from you showing your support. Share a wedding wish with your cousin on their special day and make them happier than they already are tying the knot to the love of their lives. Choose from one of these messages.
Wedding Wishes for Cousin
Happy married life cousin. May your marriage be full of love. Congratulations.
Can't believe I finally get to see you walk down the aisle, you look beautiful my dear cousin, wishing you a happy wedding full of lovely smiles.
From a little girl, to a princess and now a queen, you are truly a beauty worth a thousand words, wishing you every ounce of happiness on your wedding.
When I first heard you were getting married dear cousin, I thought the man was really lucky; you are truly someone to settle down with. Congrats on your wedding.
Another day a special reason to attend an event, you will be a wonderful wife dear cousin. Congrats on your wedding.
Invisible tears are the hardest to wipe. I hope you'll have a perfect marriage made in heaven. Congratulations dear cousin.
I'm glad you are able to get this man who is difficult to find just anywhere. Happy married life cousin. May your home become filled with good children that will delight you.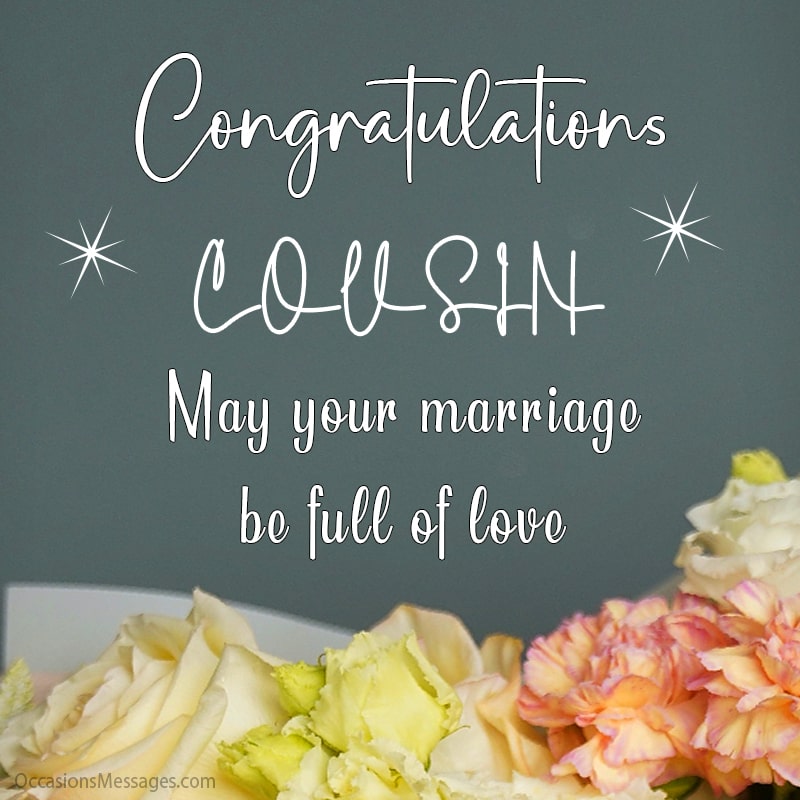 From a play boy to a husband responsible and handsome, I am proud to be part of this day dear cousin, congrats on your wedding.
Marriage is never easy but with the right person, it sure will be fun, wishing you all the best dear cousin, it's a journey worth taking.
Congratulations dear cousin. I hope that you will enjoy love that never dies, joy that never fades and enjoyment that never ends. Happy married life cousin. May peace and love forever reign in your home.
Have a memorable wedding dear cousin, may all your hopes for the future live on, I am blessed to be called as a witness to this marvelous event.
May marriage show you of what you have and may it be the greatest experience in your life. May death be the only thing to pull you two apart, congrats on your wedding cousin.
It's not about us, it's about you and your happiness, may today be the beginning of a happily ever after, you deserve it dear cousin.
No life is bad enough to be written off and no marriage is bad enough to lead to divorce. Solve everything that comes up in your home and don't stop loving. Happy married life cousin.
Don't ever get bored of yourselves, talk together like best friends do, sit down together, weep together if need be and laugh together over simple things. Happy married life cousin.
Happy are those who find in each other in a torn world, wishing you the very best dear cousin, I love you and hope this wedding goes as you'd planned.
May you have children great enough to fill in the greatest positions in the world in order to cause a ground breaking success. Happy married life dear cousin. God bless your home so much.
A journey begins with one step and forever begins when you marry the one you truly love. Have a blessed and happy marriage dear cousin, you are loved.
Recommended: Top 200 Wedding Congratulations Messages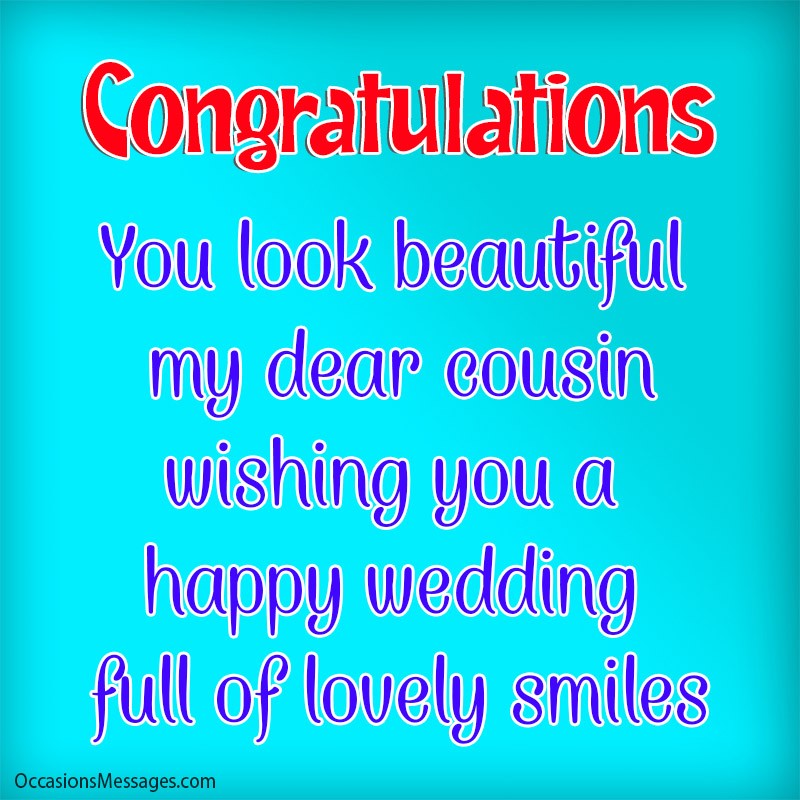 All that a woman need is a perfect shield from an imperfect man. I hope you'll understand that cousin. Always shield your woman. Happy married life cousin.
Transition is the best part of life; you are going to make unforgettable memories with the one you love. Can't wait to hear of a baby soon dear cousin, enjoy your wedding.
I know you love each other from the way you look at each other, I am glad to be a witness to such a beautiful wedding. Congrats dears!
Congrats on your wedding dear cousin, hope someday I'll be the one to find the one, but until then, I will learn from you what love really is about.
Congratulations on your wedding day excellent couples, your ways aren't two but one. Go through the same way, don't ever break away. Happy married life cousin. I am so delighted with you.
It is a long time since I last saw a couple that looks perfect together until your wedding. You nailed it with your partner. Congratulations.
Read More: Best 60+ Wedding Wishes for Brother
Funny Messages for Cousin
My cousin is happily married today, I cannot wait to see you become a grumpy wicked person because that what marriage can do to you.
The easiest part of a marriage is courtship, so I hope you do not chicken out of the relationship when the going gets tough. Congrats dear cousin.
Cousins are to guide each other at least on their wedding, so I will tell you the plain truth; you just gave away your freedom and privacy.
Happy Married Life to a dummy cousin who decided to enter the worst prison ever known to humankind, it is hard to get out alive.
Dear cousin, you really look happy on your wedding, nevertheless, I observed that the laughter later makes way for an unending nagging and yelling.
I really cannot believe my cousin will get married after so much persuasion; it is as if you started looking in a mirror lately.
Happy Married Life Cousin
Just as the sand cleaves to the ground, you two must cleave to one another, then you'll enjoy a fruitful and an exciting home. Happy married life cousin. May your homes be full of children.
Today I celebrate a new cousin in my life, wishing you happiness, true unfading love and lots of respect as you tie the knot. Congrats cousin!
It doesn't take much for us to see you guys are in love, have the perfect wedding for you are perfect dear cousin. Hearty day as you tie the knot.
Related Article: Cute Wedding Messages for Sister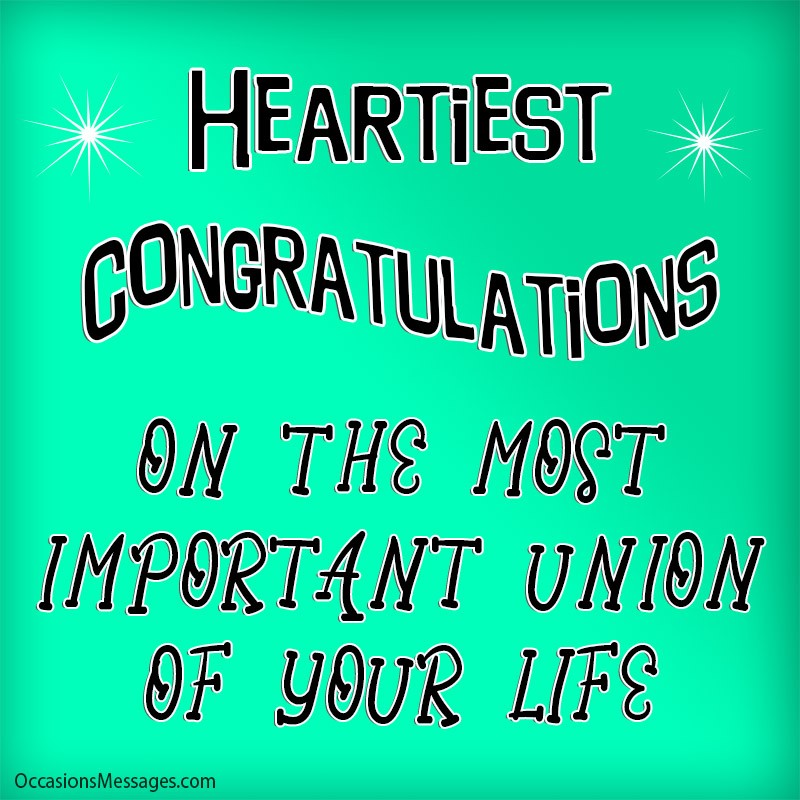 Happy married life cousin, your way of life has been excellent and today brings joy to us and everyone aware of your good nature. Congrats .
Never stop to incline your hear to the plea of one another. It is the basis upon which all marriage should stand. Congratulations on your marriage cousin. Enjoy your new home.
As you tie the knot today, I hope you'll live to see your children's children and see them grow up to great and valuable people in the society. Happy married life cousin.
You have found a place not just to live, but a habitation to share with the love of your life. Happy married life cousin. Cherish your wife always.
Congratulations on this wonderful occasion of yours great cousin, everyone actually dream about it, but I'm glad you're experiencing it in a massive way. I wish you a progressive home.
Little homes become great when respect and honor aren't put aside; it must always stand out for a home to survive. Happy married life cousin. Enjoy your great home.
Remember life is short and man is like vanity, so hold that pretty woman by the hands always and enjoy each other's company. Happy married life great cousin.
Through hard times and happy times, know you are one bonded by holy matrimony, wishing you an unforgettable wedding dear cousin.
Couples usually wear a happy face, and a victory look during their wedding, but the intrinsic factor to staying comfortable is mutual understanding and respect.
SHARE ON