Wedding Messages for Boss: Any event is a joyous occasion; weddings are no exception especially your boss' and when such events come around, sometimes the best gift you can give someone is good words that will give them hope for the unknown future. Being as it may, bosses can sometimes be hard people but when you get to understand them as people first, everything else is set at ease. Wedding congratulation messages for a boss should be as hearty as the feeling the occasion brings. Don't be shy to send your boss one of these fine wedding congratulation messages on their special day.
Wedding Messages for Boss
Congratulations. I am honored to be part of your day. Wishing you the best in marriage boss.
I am happy you finally found your missing half. I wish you success, and an exciting married life.
You are the best boss I have ever had, and I wish you all the happiness and good fortune the day has to offer. Good luck in marriage boss!
Wishing you a happy married life dear boss, good luck in your future together.
Happy married life to my mentor; I wish you all the good tidings you deserve and need. Congratulations!
Congratulations on finally tying the knot with your soul mate. I hope you have the happiest of marriages,
As you open a new chapter of your life, may your love story not have a tragic ending like that of Romeo and Juliet but have a sweet and happy ending. Good luck in marriage!
When I heard you were getting married I thought of how lucky your partner is, you are an awesome boss and awesome person too. Wishing you the best in marriage!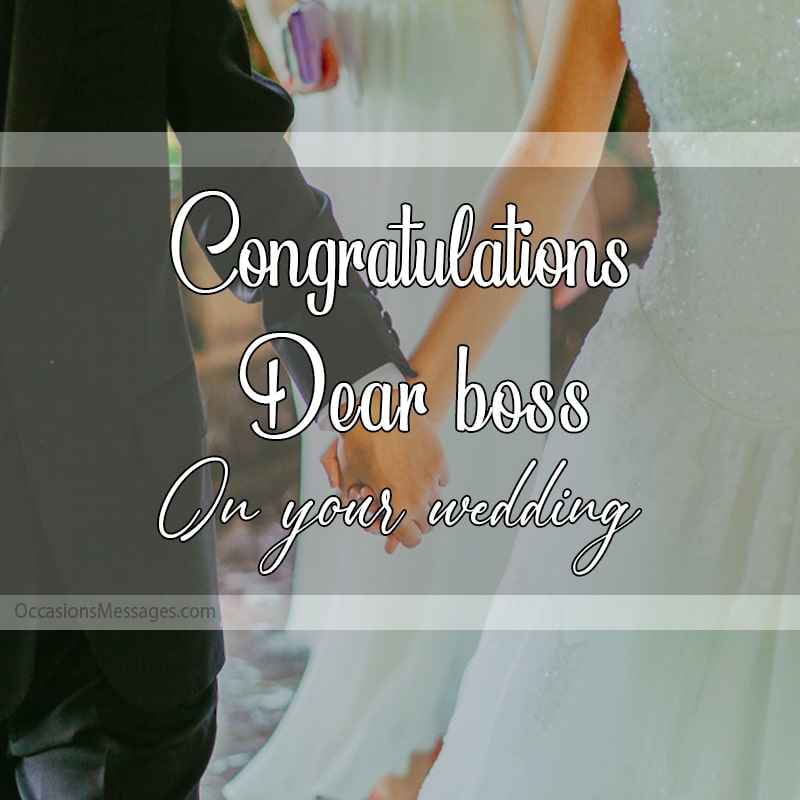 I will always respect and admire you dear boss, thank you for inviting me to your wedding, I hope happiness, grace and peace follow you even in marriage. Congrats!
Today is your special day boss, you're finally settling down with the person of your dreams, May you happily ever after be forever happy.
Congrats. I wish you a lifetime of togetherness and fulfillment.
Your wedding was uniquely filled with a lot of memorable moments; it was some worth a fairytale, I pray you live happily ever after.
I never knew marriage could be this interesting and tempting; I enjoyed every bit of the event, thanks for the invitation. Wish a lot of happy years together!
Thank you for being my boss and my friend, I wouldn't miss the day for anything in the world. You look happy, and I hope you stay happy in marriage too dear boss.
Hurray to the newest couple in town, boss you looked so happy on the altar, and I am proud to have witnessed the moment. I hope you have fun on your honeymoon.
In the arithmetic of love 1+1 equals 1, may you have the strength to remain as one for ages to come. Congratulations on your wedding!
I have never seen you happier than you look today dear boss; I hope marriage treats you kindly. Thank you for making me a part of your day.
Read More: Best Wedding Wishes for Colleague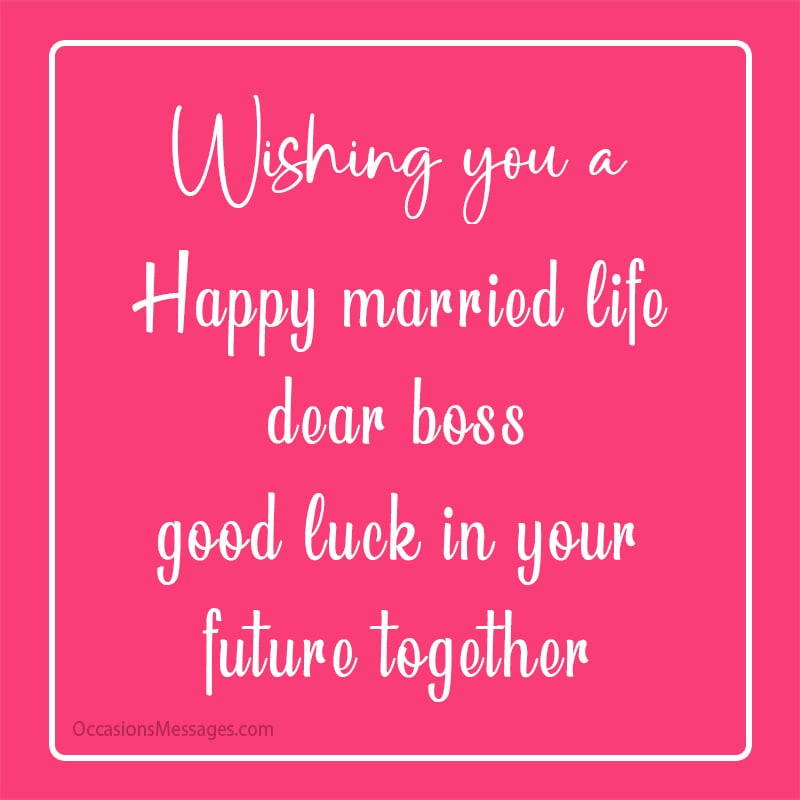 I am honored to be part of the day dear boss, thank you for making me a witness to such a beautiful event.
Congratulations on your wedding sir, I was highly fortunate to witness tour unification of love, I look forward to you guys doing great things together.
Today's event will shape how your future will look like, you have made a good choice boss, and we are all happy for you and what you have achieved. Congratulations!
You are someone I want to emulate and be like dear boss, you are loved and appreciated and today, you have my support as you marry the person of your dreams. Congrats!
Marriage takes two to work; I hope you'll put in as much effort in your marriage as you do at work boss. Have a great and awesome wedding and married life.
I want to inform you that you are unique and unusual to us boss; we are in full celebration mood on the success of your wedding ceremony. Happy married life.
Your love has made me understand true love still exists amongst humans, and it is what ensures a long and lasting home. You will be temporarily missed at the office.
Wedding brings a lot of people closer, have a happy married life dear boss, you definitely deserve the best out of life.
It is always important to recognize a kind gesture, thank you for reserving me a seat to witness the unification of your love. Happy Marries life boss.
I applaud your courage to have traded your last name with another, may the newly formed union add only goodies and no sorrow to you and yours.
Related: Advance Wedding Wishes, Quotes and Messages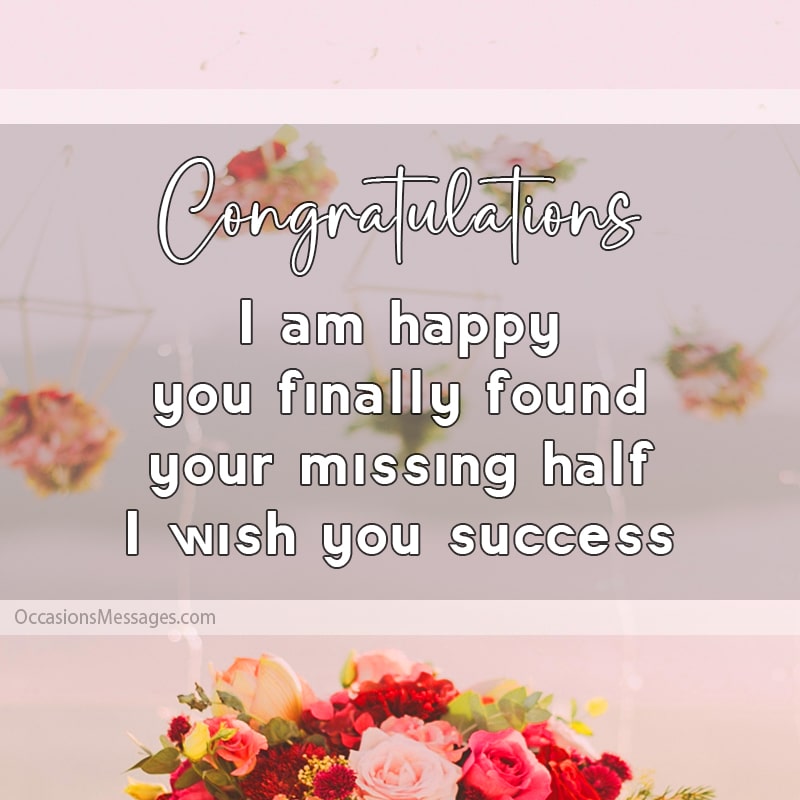 May today be the beginning of a beautiful and stronger relationship dear boss; I really do wish you the best in everything you'll encounter in marriage. Congrats!
You have a kind and gentle soul, and I am glad you finally found someone who loves and understand you. I hope you enjoy married life and all the fruits it will bear.
I cannot remember my boss looking this happy; I am looking forward to working a "happier" boss, I never knew marriage have that effect on people, see you at the office.
Thank you for being kind, considerate and honorable, you deserve every ounce of happiness in life dear boss, may you have a successful marriage.
It was nice sharing such an occasion such as your wedding with your family and friends; it provided me the opportunity to know and understand you better. Congratulations!
May marriage be the thing that lifts your moods, gives you a reason to smile each day and fills your soul with peace dear boss. Congratulations!!
There will undoubtedly be cold and foggy intervals in your newly established union but understand that it is for a small period and should not consume your love.
The wedding is finally over, but the marriage just began a moment ago so work on quickly adapting to the new change in status.
More Options: Belated Wedding Wishes and Quotes
SHARE ON