There are thousands of ways to show how much you care about someone. There is no specific way to do this, just show your feelings and mix words, some people prefer to do it with gifts, and others prefer to recite poems or write romantic texts.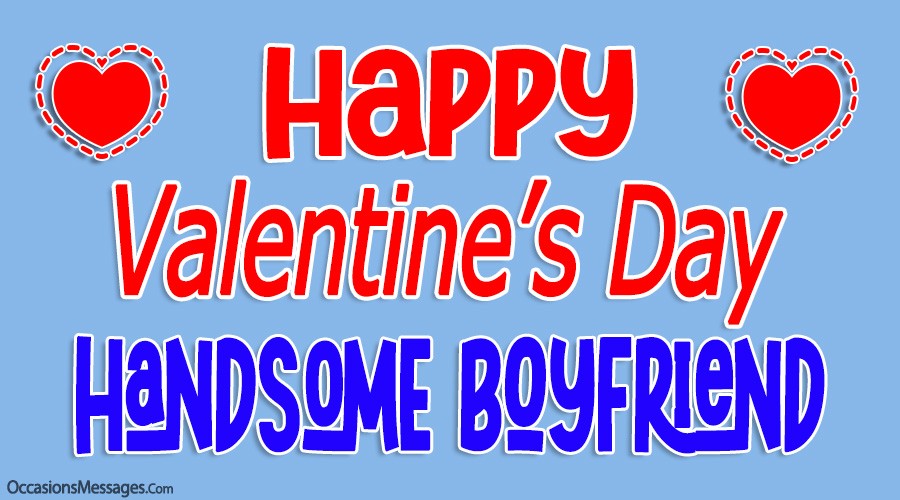 One way or another, what counts is how much you love your Boyfriend, If you want to declare your love to this person, but you don't know how, please read the following phrases may help you for this occasion.
Romantic Valentine's Day Messages for Boyfriend
make sure that I will be always by your side supporting you. Happy Valentine's Day my boyfriend.
Dear boyfriend, I owe you a dozen kisses and a special treat on today's Valentine, it will serve as a little token for being a faithful and responsible fellow.
I want all of you to myself forever, I love it when I wake up in your arms, I cannot wait to make you make it official, as of today, let us celebrate Valentine like married couples.
Let me take this beautiful day to say that my heart belongs to you completely.
The best of my body, spirit, and soul is what I offer you my boyfriend as a valentine day gift; please don't misuse it, so I would not end in ruins.
I do not know how to explain that nice feeling that I feel inside me when I see you; it's like a bolt of energy that runs through my body.
I know that you came in my way for a reason. Since you're in my life, everything has changed for the better, Happy Valentine's Day Sweetheart.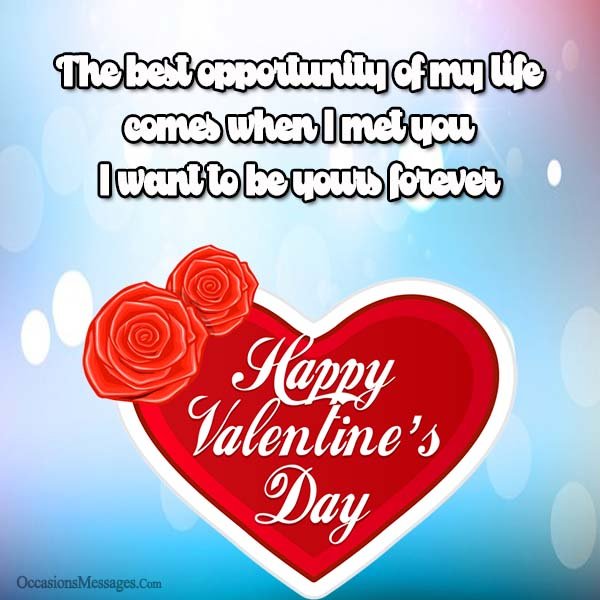 When we're not together I feel that the hours pass slowly but when you're beside me time passes like lightning.
Happy Valentine, Love, Falling in love with you was not my intention; I could not help but fall for a man like you because you love me more than I love myself.
Every day I spend part of my time thinking about you, I will never stop loving you.
I observed numerous prayer sessions for a God fearing man, and I am reaping the dividends of the prayer, you are God sent to wipe my tears. Happy Valentine's Day.
My valentine, I'm surprised how deep your eyes are, I am thinking about your eyes and your smile.
Today's valentine day celebration will be over by midnight, but my love for you will grow more rigid as time flies. I love you boo.
The best opportunity of my life comes when I met you; I want to be yours forever, Happy Valentine's Day my heart.
You held me close, never to let go, you became my hero and I was willing to be your victim. I am trapped in the nest of your love, Happy Valentine's Day.
Honey. There are so many things I would love to say to you. So many things I would love to share with you. But for tonight let's get lost, take my hand, look into my eyes, don't be afraid to fall for me. For I have already fallen for you.
I will always be our rock, I'll be your strength and I will always be the shoulder you need to lean on. I will do this because I love you more than anything in the world. You are planted deep in me.
You are my best and worst feelings and I find strength in just being close to you. If that is wrong, then I would rather be mistaken, for nothing is as good as what I have here and now. I am with you, you with me, and nothing is better than that.
You showed me a brand new world, one with care and protection. I cannot live without you, your guidance, your love and wisdom. You are the most important person to me. I love you darling.
The decision to forget my past failed relationships with other people and moved on with you is one of the best I have ever made. You mean the world to me. Happy Valentine.
Promise me that you will always love and treat me like a princess and I will treat you as my king and shield.
I am madly in love with you, I hope you can see how deeply I have fallen for you, and today's Valentine makes it even more profound. Never joke with woman's love.
you're the only person who can break the walls around my heart. You have made me a really happy person.
You were the first man I laid eyes on, the first man who held me so I wouldn't fall. The first man who carried and rocked me till I fell asleep in his arms. The first man to whisper into my ears, I love you and I hope this lasts forever.
My love, If I had to choose one person in this whole world, I will choose you a thousand times.
I learned a lot by your side, you're a very special person. I love our long talks; I love you, Happy Valentine's Day Sweetie.
Best of my day is when I see you. We always spend pleasant moments. I love you Sweetie.
I asked god to always protect you, because my life would be meaningless without you.
I cannot believe that you are real. Sometimes I think i am dreaming. If the end is just a dream, please do not ever wake me up.
S.T.I.C.K means: (S) sending kisses – (T) thanks for being in my life – (I) inside my heart you are – (C) close your eyes thinking of me – (K) Krrish is my favorite movie – So when you need me, just say "S.T.I.C.K"  Happy Valentine's Day honey.
all I ask is to take the path that will lead me where you are, I love you honey.
Despite how hard life and the problems it brings, you're a rainbow in the storm, Happy Valentine's Day.
My heart I just need a minute with you to recharge all my happiness and feel full again.
I'm sure we're meant to be together. We have many things in common and our chemistry is unique, we must take this opportunity to the fullest, Happy Valentine's My Sweetheart.
My hero, I would love to spend the rest of my life listening to your advice. I Love you.
You've become someone so important to me that I feel you in my skin and I cannot imagine my life away from you, Never let me because my life would become meaningless without your love.
I cannot imagine my life without you, just thought makes my eyes fill with tears, I feel that my life revolves around yours; you are the only person that can quench that thirst for love that I have for you, Happy Valentine's my only love.
I am grateful to God for putting you on my way, I would die for you because I love you more than myself.
My boyfriend, I love you and will always be the great love of my life, Happy Valentine's.
You make me the happiest woman in the world, I love you immensely and I hate to live without you one second of my life.
I cannot deny that I have met many interesting boys but none of them has filled me with the way you've done, I love you so much.
That is why that person should show how much the estimate and Love; Do not miss the opportunity to say what you feel; because someday it will be too late, I love you.
My life, you have no idea of the void that you left me. Since you left I have not stopped feeling bad, I miss your touch, your eyes, your mouth, your hands, everything about you, Happy Valentine's Day.
My valentine, No matter how many kilometers that separate us, I always remember who you are, I Love you.
I see your face in other people, I hear your voice everywhere. I feel like I'm going crazy because of your absence, I will wait you forever. Happy Valentine's Day my love.
Happy Valentine's Day, I want you to know that I miss all of you, but especially your warm hugs. I miss you every step I take.
Nobody in the world can make me feel the way you make me feel. I can never ask for more, I love you, Happy Valentine's Day.
honey, The way you touch me, the way you cater to me, the way you listen to me and even when you nag about something. I am satisfied with you in every way.
My valentine, you are made for me and I for you. I will never let you leave because without you, I would not be complete.
Love is a beautiful feeling, it is simple yet complex, it is sweet yet bitter, it is safe yet you find insecurities. But along the way, you find the person you can't spend a day without.
I always carry with me those unforgettable moments that we lived in our youth, so remember them better, I miss you very much and hope to come home soon, Happy Valentine's Day my love.
I loved our beautiful and deep conversations, the great times we spent together, nothing can change the love I feel for you. I hope you write me soon, take care.
Every day I think of you; my love, you're the most special person to me, You're one in a million and no one can ever take your place. I'll wait here for all eternity, if necessary.
I know its love, because what I feel for you, I had never felt by anyone else.
I want to announce to the whole world that I love you and I fell in love, but I'm telling you because you are my world, Happy Valentine's Day.
I'm a millionaire and I own the whole world, when I have you by my side. Happy Valentine's my love.
I keep thinking about you. No matter the time, I will love you forever.
I am not asked to be in your dreams, I ask to be by your side, I love you honey.
My love for you is like the plants in my garden, every day grows up and you do not realize. Happy Valentine's my love.
My valentine, wheever my mind ges, there you are.
I ended the year thinking about you and I started the New Year thinking about you, I love you, Happy Valentine's Day.
I was afraid of falling for you and now that I have I can't help but fall more in love with you each day. I love you and I am happy to be spending valentine with you, boyfriend.
Thank you for protecting my heart and for feeling the same way I do. You are an amazing boyfriend and I am glad to be sharing valentines with you.
You set each part of me on fire and I never want to lose you, thank you for not only being my boyfriend, but for being my valentine and the man I will always love.
I don't want to see you every day, I want to see you every moment, every second, don't go away from me.
I never knew how good was my memory, until I saw you again and remembered our love moment in Valentine's, happy Valentine's Day.
I am ready to walk a thousand miles just to see your face, to see your smile, to hear your voice. I would walk all the way to laugh with you, cry with you, and to be by your side. But I would just walk all the way to tell you I love you and thank you for loving me back, Happy Valentine's Day love.
You are in my dreams every night, don't be late today, its Valentine's.
Love is the feeling of wanting, being wanted and having the person in the end. I wanted you, I could tell you wanted me too, and now that I have you, I will hold on to you because, my love is the simplest, the sweetest and the safest of them all. I love you darling.
You are my partner, my love, my boyfriend, my everything. Happy Valentine's Day.
I walk alone yet I have four legs. I feel the same yet I have two hearts. Whenever I cry, I hold myself with strong arms. When I am happy I jump around with light feet. I love you 'because you are me.
All love songs remind me of you, Happy Valentine's my Love.
the good boyfriend is who gives sweetness to his girl life. You are that guy and I'm happy with you.
I am you and you are me, you will never feel alone, for when you cry, I cry. Where you move, I move too. I will always be here for and with you. I love you.
You are the light of my life. I used to be enclosed in my own dark world, I was cold, I looked around and there you were, with the light upon your head like a halo, I knew I was safe. I will never be alone because you are right by my side.
There is nothing more special than sharing new experiences with you. I love you, Happy Valentine's Sweetie.
I thank the Lord every day for having you in my life, you are my love, you are my valentine.
I have thought about the best gift I could get on a day like this, but none would be pleasing like having to spend the whole day with you. Happy Valentine's Day eternal love.
Happy Valentines my king, you bring me higher than any drug, I am addicted to you and that is something I can say proudly.
Your eyes are like ice: leave you freeze over being nearby. Happy Valentine's Day with snow fall.
When I'm doing my daily activities I smile of nowhere and then I realized that the reason for that smile, you.
Valentines would not be as special without you, thank you for being my boo, babe and the sweetest man I have ever met. Love you to the moon and back sweetheart.
Love is sacred and also the most wonderful feeling when it's reciprocated, thank you for loving me and for always being the one I can be myself with. I love you sweetheart!
my honey, you are the most valuable piece of the puzzle of my life.
I wish I could tell you how much you're worth to me. You know how wonderful you are my love.
Happy Valentines my dear boyfriend, you are more special to me than anyone else I have ever met. I hope to spend each and every valentine with you.
Guys that are romantic as you are scarce, so I will hold on to you until strength fails me or death part us. Today's valentine will be with you.
I look forward to the best of Valentine's Day celebration with my lovely boyfriend. I know just how to make the day pleasant for you.
---
You May Also Like:
Romantic Valentines Messages for Male Crush
Sweet and Romantic Valentine's Day Messages
Happy Valentines Day Wishes and Messages for My Husband
---